When Apple unveiled the new lock screen customization features in iOS 16 at the WWDC this year, there were speculations in the community that the company might include an Always-On Display in the new iPhone lineup.
And they turned out to be true, even if partially. Part of the new iPhone 14 lineup does include an Always-On display – iPhone 14 Pro and iPhone 14 Pro Max, to be exact. But not everyone's a fan of the Always-On Display. Fortunately, it's a choice to keep the Always-On Display enabled. And if you find that it's not your cup of tea, you can easily disable it. But before you go on to disable it, let's first understand the workings of the display so you can be sure it's what you want.
How Does the Always-On Display Work?
Using a new screen technology, the Always-On Display on your iPhone 14 Pro or Pro Max dims your lock screen while still showing the helpful information on it. So, even when your iPhone is idle or locked, you can see the date and time, widgets, new notifications, and your wallpaper with a glance.
It uses a refresh rate as low as 1 Hz combined with a low power mode to make it extremely power efficient. Moreover, it uses the multiple coprocessors in the A16 bionic chips in iPhones 14 Pro and Pro Max to refresh the display in the Always-on display mode with minimal power.
You can tap the screen or use raise to wake to return your display to normal brightness when you need to use it.
There are also instances where the Always-On Display automatically goes dark when you don't need it to save battery life. When your iPhone is lying face down or it detects being in your pocket or bag, the display will go dark. It also won't work in Sleep Focus, or Low Power mode.
When using the iPhone with CarPlay or as a Continuity Camera, Always-On Display goes dark. It also goes dark if you haven't used your iPhone in a while or the iPhone detects that you have moved away. The latter is for Apple Watch users who move away from the iPhone while wearing the watch. The display turns on again when you come close to the iPhone again.
Apple has put a lot of thought into the Always-On Display on the new iPhones, even if it is late to the party. The Always-On Display works extremely efficiently to consume a minimal amount of power.
But if you still don't want to use it, here's how you can disable it.
Disable Always-On Display
Always-On Display is turned on by default. To disable it, open the Settings app on your iPhone 14 Pro or Pro Max. Then, go to the option for 'Display & Brightness'.
Scroll down to the 'Always On' option and turn off the toggle to disable it.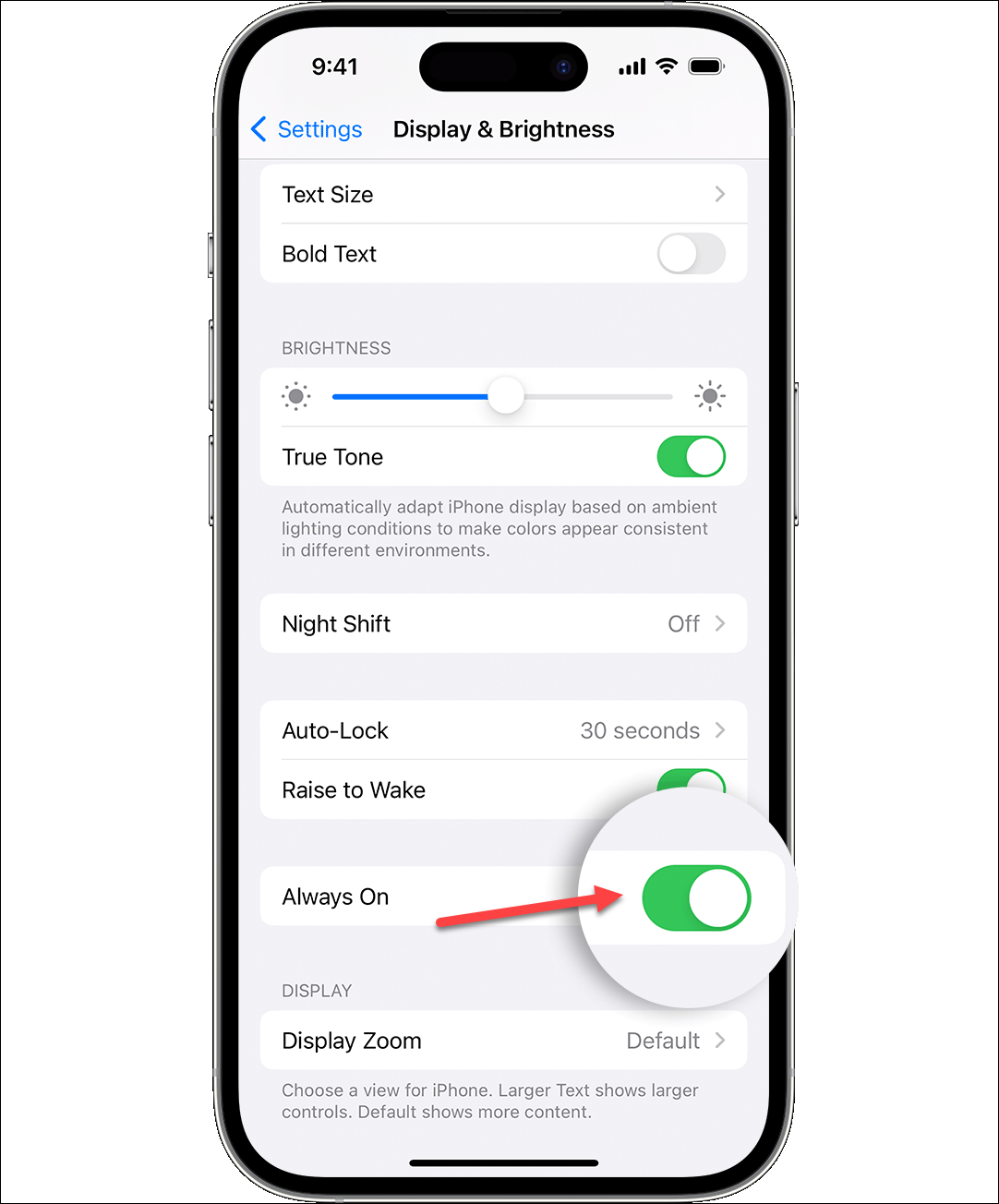 And that's it. If you change your mind, you can follow the same steps to turn on the toggle again.
---
Always On Display might not be up your alley. And iPhone's Always On Display is certainly a lot different than the toned-down version you usually find on Samsung devices. With this guide, you can easily enable or disable it.