11 Best and Easy Journaling Apps for iPhone and iPad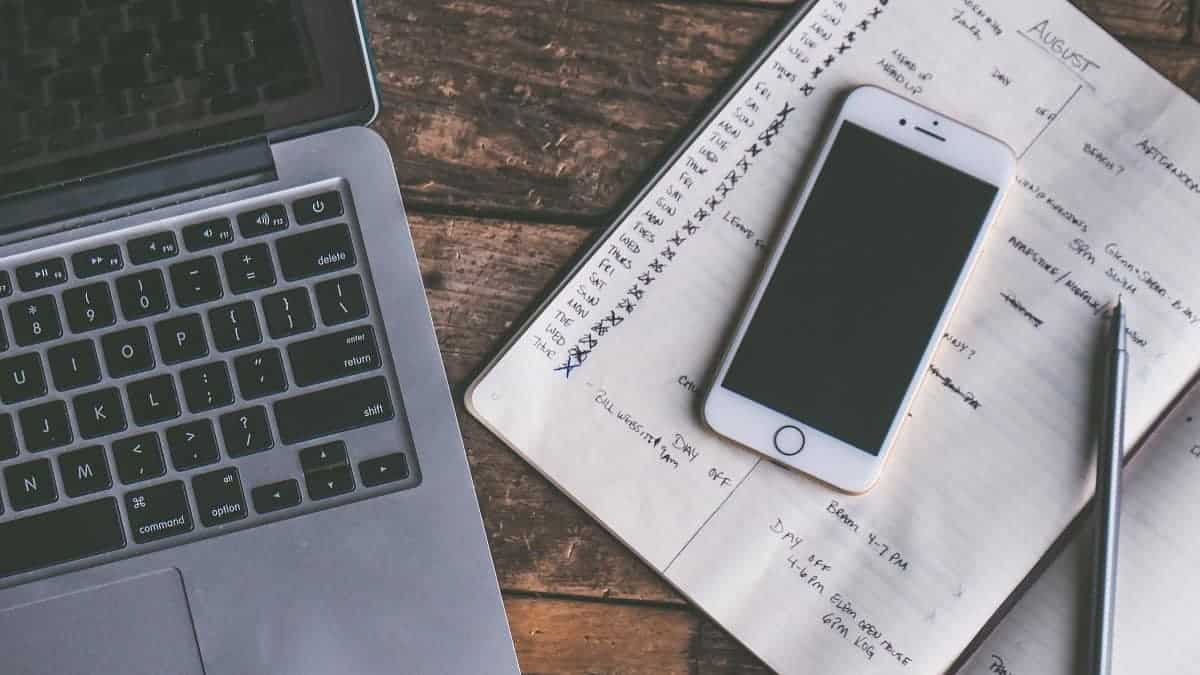 Journaling is a mindful practice that can make you feel cathartic, engaged, and get a better hold on your life. It helps you sort your life, make better decisions, and improves your productivity and growth. There's a reason history's great minds advocate journaling.
It also doesn't mean perfect bullet lists, sketches, and different colored pens (who has that many colored pens, really?) in a notebook anymore. When everything else has changed in our lives and shifted towards the digital platform, how can we expect journals to remain the same? It is something you do for yourself, and as such, you should be able to choose how you want to do it. And that means if you want to do it on your phone, you should. Many people are choosing journaling apps over pen-and-paper journaling and with good reason too. There are so many features apps provide like mood tracking, tagging for an efficient organization that your traditional journals don't.
But choosing the right app from the App Store when there's literally an overabundance of all kinds of apps today can be overwhelming and daunting. That's why we have compiled a list of some of the best journaling apps to make your decision easier. These apps are easy to use, with so many features at your fingertips that won't only help you get started, you'd want to come back every day to log your day into the journal.
Tinythoughts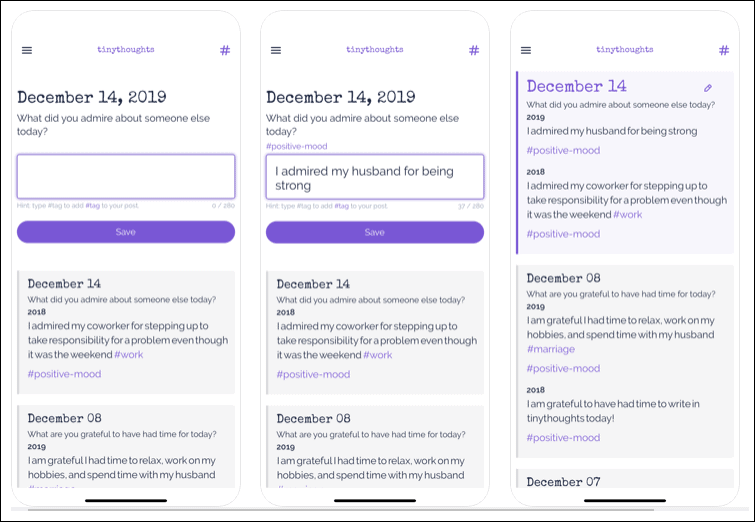 Tinythoughts is an app that does exactly what its name suggests. It is a 'one sentence a day' kind of a journal. It is great for people who don't have the time or patience to pour their heart out in a journal. You can write about your life in up to 280 characters every day. It even has daily prompts for people who find journaling a difficult task and don't know where to start or what to write about. You can also tag and filter your entries using a '#' that gives you easy access to past entries.
Tinythoughts also analyzes your text and adds a corresponding positive or negative tag with it to help you track your daily mood. You can also upload images and set daily reminders. It is a great app for people who are just getting started in journaling and it is free.
---
JOI: Mindful Mood Tracker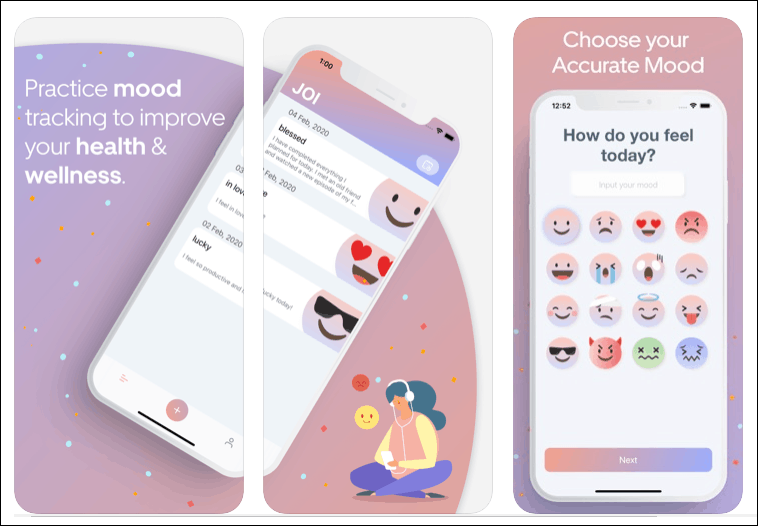 JOI is not just a journal, it is a mood tracker. Keeping a mood journal can lead you to a more stable and happy life. Using JOI, you can track your mood every day. Tracking your mood can help identify real issues like depression and anxiety that need to be resolved. It can also help your physician, or therapist give you a more accurate diagnosis.
You can record your mood every day using JOI in a fun way. Choose from the various emojis that depict your mood accurately for the day. Answer questions based on your choice of the mood to analyze why you are feeling the way you feeling. Record daily activities and weather and analyze how they impact your mood. The app also helps you track your consistency and how many good and bad days you had, enabling you to lead a healthier, more productive life. The basic app is free, but it also offers an optional premium subscription.
---
Happyfeed: Gratitude Journal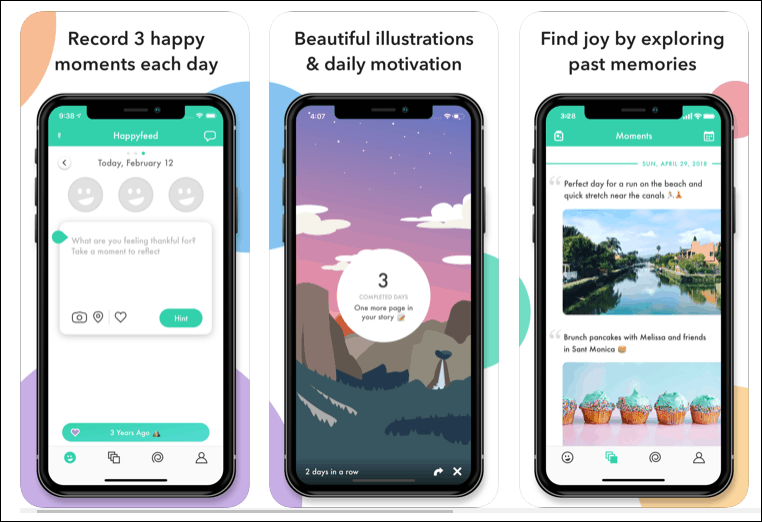 Happyfeed focuses on gratitude journaling. You have to record 3 happy moments every day in the app. As Cesare Pavese said, " We do not remember days, we remember moments." Even if you had a bad day, you must have had some happy moments and Happyfeed helps you focus on them to create a journal of happy memories to remember in the future. It helps you focus on the positive and become more resilient in harder times.
And on top of that, it has great features and a fun interface. You can add photos, and locations, keep track of your mood, reflect on past memories with the help of daily throwbacks, share your progress with friends and much more. The basic app is free, with the Happyfeed Plus subscription providing additional features.
---
Maslo Dream Journal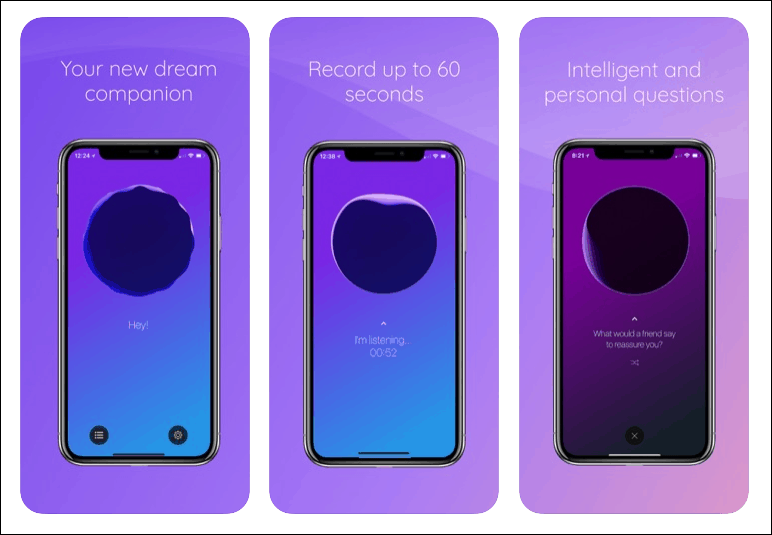 Maslo is an AI-powered voice journal. If writing about your thoughts is not your forte, you can instead talk about them. Maslo lets you talk in short sessions of 1 minute. It even asks questions to let you better analyze your thoughts. As it is an AI-based journal, it doesn't just listen, it also empathizes with you based on what you say through animations, sentiment analysis, and reflections. It's like having a mini-therapist in your pocket and it won't judge. It is, after all, an AI.
---
Sunset Micro Journal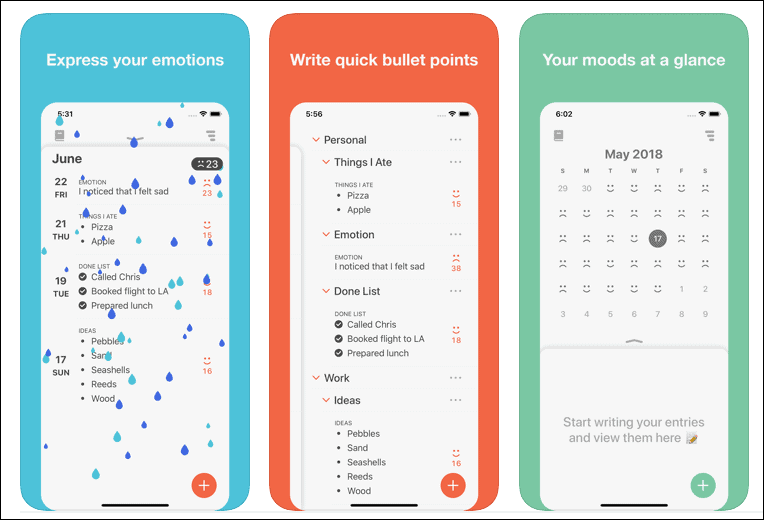 The Sunset Micro Journal helps you keep track of your thoughts and feelings in the form of micro entries. You can use quick Bullet Points to enter thoughts quickly. You can create your own journal, and templates for the future to record your entries. It also helps you keep track of your emotions using mood animations. You can easily organize your various entries into sections and sub-sections to analyze at a later point.
It also allows you to lock your entries with a passcode, TouchID, or FaceID so you can journal in peace without having to worry about your most vulnerable thoughts being read by someone else. The app can be downloaded for free from the app store and offers a Pro Subscription.
---
Grid Diary – Journal, Planner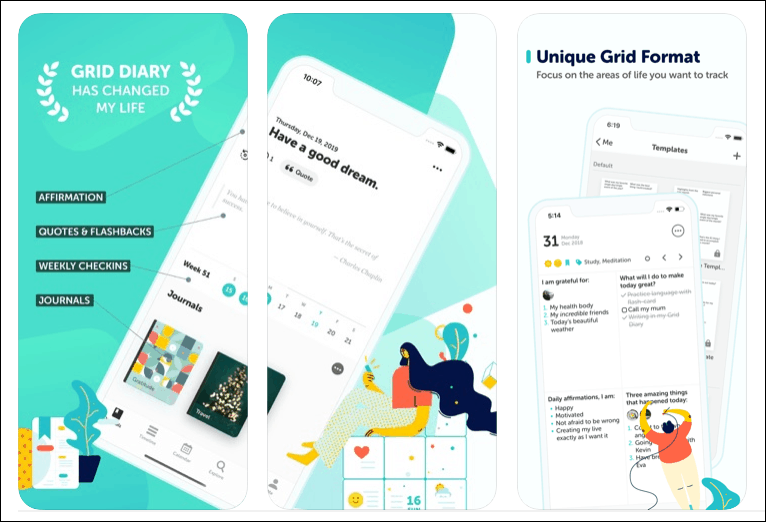 Grid Diary is a simple, yet powerful way to keep a diary. It offers a unique grid format that makes it really easy to visualize your goals and thoughts. It has a plethora of features that make it perfect for all your journaling needs. It provides insights, custom journals, affirmations, quotes and flashbacks, weekly check-ins, daily to yearly perspectives, an organized timeline, and much more.
It is an intuitive app with a well-designed interface with the sole purpose of making journaling easy. Most of the features of the app are available in the free version, but it also provides additional features with a subscription.
---
Gratitude Happiness Journal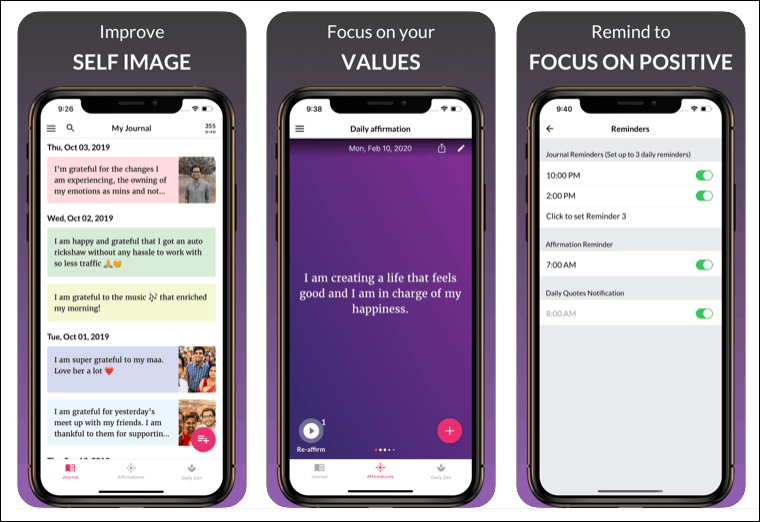 The Gratitude Happiness Journal is yet another app that helps you focus on the positive aspects of life and be more grateful. It helps you improve your life by improving your self-image. Being grateful in life can create positive emotions like joy, love, and contentment, which help undo the grip of negative emotions like anxiety and depression, and that is the goal here.
The app has a simple, user-friendly interface. You can upload images, set daily reminders, use different colors according to your mood. It also has many more features like daily affirmations, privacy protection, protected cloud backup, helpful prompts, etc. to help you make gratitude a way of life. The app is available for free in the app store, and it also offers a pro subscription for additional features.
---
Once – Journal/ Diary/ Note App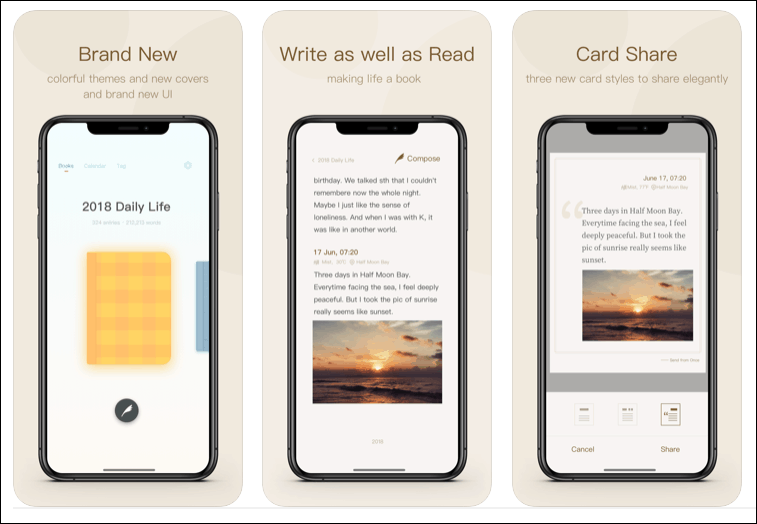 Once journal app has a writing-friendly design and UI that will make you feel as if you are writing in a traditional diary. You can create multiple journals within the app to keep track of different areas of your life. The app provides an experience of reading like a book, with features like focused reading and immersive writing in full-screen mode. You can customize your journals and also select from various themes.
It also has features like passcode protection, calendar overview, text searching to make your journal experience seamless. The app is available for $3.99.
---
Card Diary – Memories Journal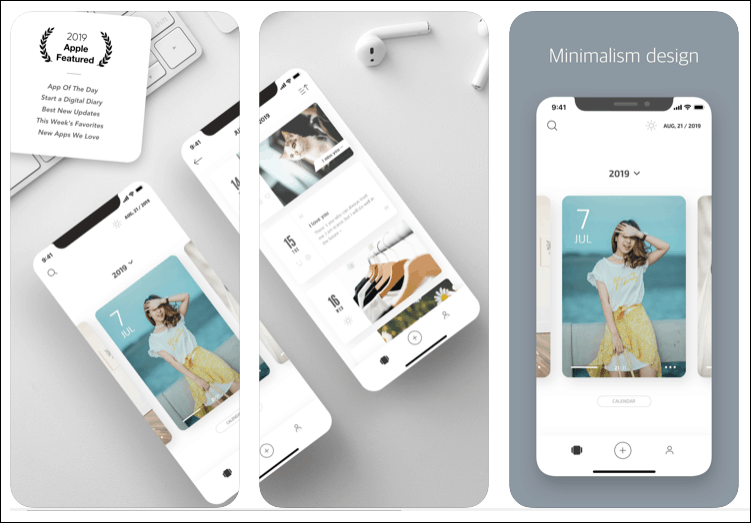 Card Diary is 'App of the Day' in over 80 countries and for good reason. With minimal design and light-weight UI, its focus is on making journaling an effortless yet fun activity. It is great for people who love aesthetically pleasing journals and is not cluttered with unnecessary functions that take away the focus from journaling.
There are many useful features that the app provides like reminders, passcode and Touch/ Face ID lock, social media sharing, cloud backup, search diary entries. It is easy to use with a lot of convenient functions available for free in the app store.
---
Goodnight Journal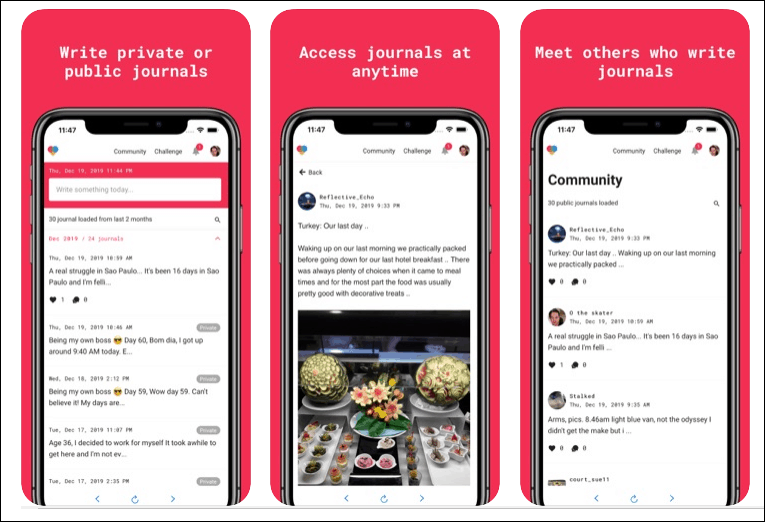 Goodnight journal app is not just a journal app, it is an online journal app where you can connect with other community members who like to write journals. You can write private journals for yourself, or you can choose to share your journals publicly with other journal writing members of the community. It's the best place to unwind and meet like-minded people in the process.
The app has loads of other great features too like easy UI for writing, rewards for writing journals to keep you motivated, organized journals for easy access. And it is free to use!
---
Darry – Daily Mood & Journal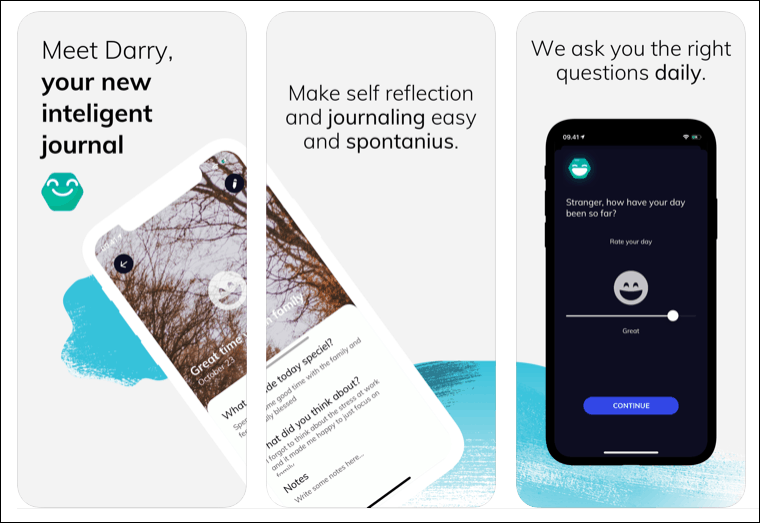 Darry is a good journaling app whose goal is to make self-reflection and journaling easy and spontaneous for you. It has a very aesthetic interface intended to make journaling a satisfying experience for you. It also has some great features like mood tracking, mood analysis, daily questions to help you journal better. You can also keep track of your entries conveniently in the app and share your stories with other users. The basic app is free with an optional premium subscription.