Have you ever accidentally locked yourself out on your iPhone? Surely, you must have. All it takes is a forgotten passcode and too many failed attempts, and bam! You're locked out of your iPhone.
What happens when your iPhone is disabled? When you first enter a wrong passcode, it takes 5 wrong attempts for the iPhone to get disabled. Initially, the timeout is not even long. It starts with 1 minute.
Gradually, it keeps on increasing. 6th attempt will take the timeout to 5 minutes. Then, you'll have to wait 15 minutes to get the passcode entering screen. Eventually, after a couple of 15-minute timeouts, the time will become 1 hour. But how long does this goes on?
If you have the setting to erase your iPhone after 10 failed attempts on, well, you've only got 10 attempts. It takes almost 3 hours to reach 10 failed attempts. If you enter the wrong password on the 11th attempt, your iPhone will be automatically erased and you'll have to set it up again.
Before the Security Lockout
But what if you don't have the 'Erase my iPhone' setting on? Does this go on forever? It doesn't. You only get limited attempts to enter a passcode whether or not you have the setting on.
Previously, until you had attempts left, the only thing to do was enter the passcode. If there was a chance you could remember your passcode, then, all you had to do was wait out the lockout period and enter the passcode again. That is, until the option to enter the passcode stopped appearing.
But if you couldn't remember the passcode or when the option becomes unavailable, the only way to get your iPhone back used to be resetting it with the help of a computer by putting it in recovery mode. The Security Lockout feature changes that.
What is Security Lockout?
Security Lockout is a new feature in iOS 15.2 and later that allows you to reset your iPhone without needing to connect to a computer. The feature lets you erase and reset your iPhone or iPad from the device itself with the help of your Apple ID and password.
This makes your iPhone or iPad truly independent; you don't need an external device to get it back in case you forget your passcode.
What Does Security Lockout Mean?
If you're seeing the "Security Lockout" message on your screen, it means the wrong passcode was entered too many times. So, does it mean you'll have to erase and reset your device to be able to use it again? You'll be relieved to hear that it does not mean that.
Just like before, you'll still get 10 attempts to try to guess your passcode. So, even if you get the "Security Lockout" message on your screen, there's no need to panic. Just wait out the timer and you can try entering your passcode again. But once you're out of tries, you won't get the option to enter your passcode. The only way forward is to reset your iPhone after that.
How to Use Security Lockout to Reset your iPhone
If you want to use the Security Lockout feature to erase and reset your iPhone when you have forgotten your passcode, here's what you need to know.
Pre-Requisites
To use the Security Lockout:
You should be on iOS 15.2 or later
Your device should be connected to Wi-Fi or a cellular network
You'll need the Apple ID and password used to set up the device
Note: If you were not connected to the cellular or Wi-Fi network, the option to reset the device won't be available. Moreover, if you restart your device after the "Security Lockout" message appears on the screen, it'll disconnect from the Wi-Fi network and you won't be able to connect again until you unlock the device. The only option, in this case, is to use a computer to put your iPhone into recovery mode. If you were using the cellular network, the device will reconnect to it again, though.
Resetting your iPhone
Keep entering the wrong passcode on your iPhone. After 5 attempts, you'll reach the 'iPhone Unavailable' screen with a timer for trying again for 1 minute. The option to erase the iPhone won't appear until your 7th attempt. If you're seeing 'iPhone Disabled' instead, you might be on an older version of iOS.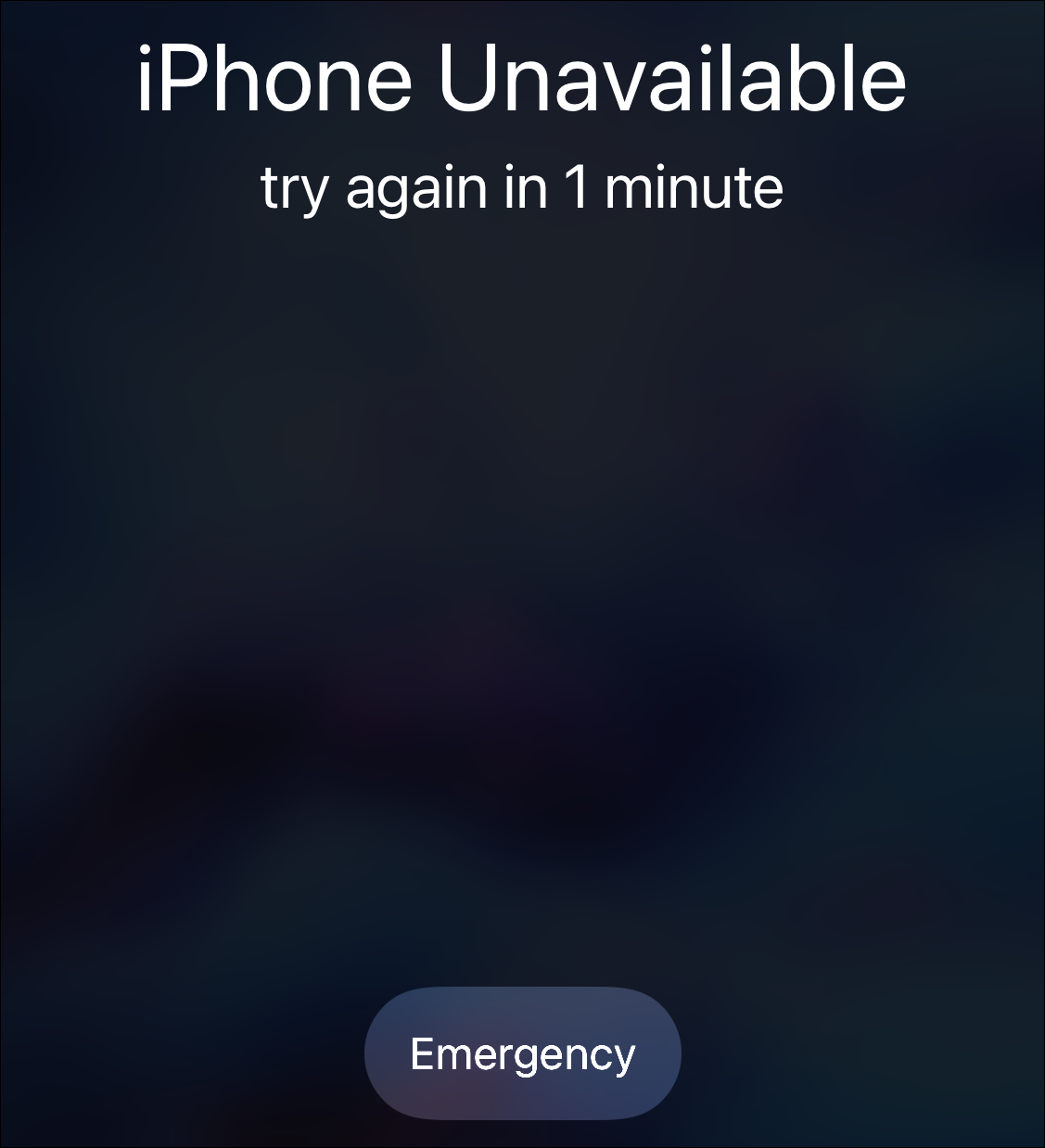 So, keep entering the wrong password until you reach the 'Security Lockout' Screen. Then, tap the 'Erase iPhone' option in the bottom-right corner of the screen.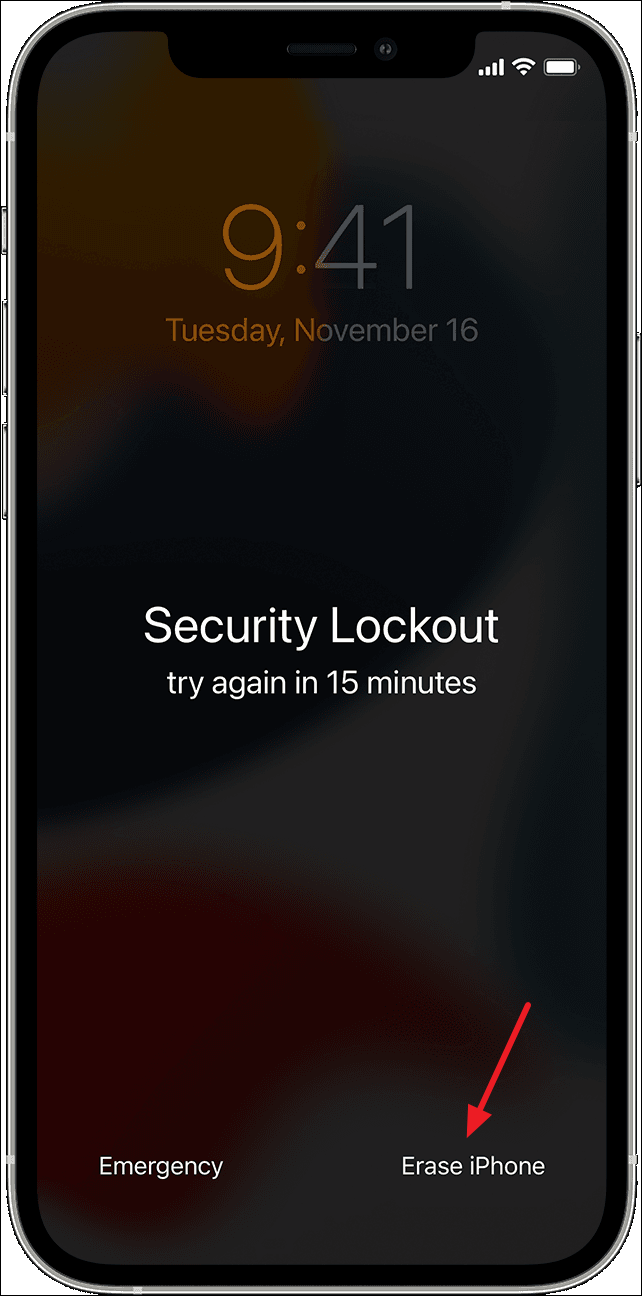 A confirmation prompt will appear. Tap 'Erase iPhone' again to confirm and proceed.
Enter the password for your Apple ID to sign out of your device and tap 'Erase iPhone'.
Your iPhone will erase and restart. Then, follow the instructions on the screen to set it up as a new device.
---
If you've really forgotten your password, then security lockout is a great way to reset your iPhone without the need for a computer. But if you've accidentally reached the security lockout screen, there's no need to panic.