Video conferencing apps have become the sole solution for all our connecting needs these past few months. Whether it's been connecting for office meetings or online classes, there has been nowhere to turn to but a video conferencing app.
Pretty much all of us have been using one or another SaaS application to connect with other people during these unprecedented times. But when you're using a SaaS app to connect with others, you are storing your data on external servers. And that means your data is not under your control. For a lot of teachers and schools holding classes on these apps, that means making the information about your students vulnerable. And it is vulnerable – so many data breaches in these past few years are proof of that.
If this worries you, you're not alone. You need a solution where you can have more control over your data. And BigBlueButton might just be the answer to your worries.
What is BigBlueButton?
BigBlueButton is an open-source video conferencing software for GNU/ Linux servers. You can self-host BigBlueButton on your own server and use it to host a video conference with your students like any other commercial video conferencing platform. And a self-hosted server means, you will have complete control over your data, and there will be no unknown variables involved.
You also won't have to pay for the subscription for any premium services of a SaaS app, as with open-source software, the complete code of the app is available at your disposal. Granted, you will need to invest in a server to host BigBlueButton.
Using BigBlueButton for video calls is just as easy as any other app, and you get all the features that these other apps have, possibly even more.
With BigBlueButton, you can have personalized rooms for video calls, breakout rooms, call recording, public and personal chat, screen sharing, polling, collaborative whiteboard, shared notes, and much more. So if you know or are willing to learn about self-hosting, BigBlueButton might just be your cup of tea.
Minimum Requirements for a BigBlueRoom Server
If you are thinking of self-hosting BigBlueButton, these are the minimum requirements that your server should meet according to the BigBlueButton installation guide:
Ubuntu 16.04 64-bit OS running Linux kernel 4.x
8 GB of memory with swap enabled (16 GB of memory is better)
4 CPU cores (8 is better)
TCP ports 80 and 443 are accessible
UDP ports 16384 – 32768 are available
Port 80 is not in use by another application (so a clean Ubuntu server is recommended)
Maximum Simultaneous User Support
When thinking about using a video conferencing app, a legit question is how many users can be present in a meeting. If your server meets the minimum requirements, BigBlueButton should be able to support a maximum of 150 simultaneous users. But there should not be more than 100 users in a single session.
So how can you have 150 simultaneous users? You can have more than one session running at the same time. So, you could have 2 sessions with 100 and 50 users respectively, 3 sessions of 50 users each, 6 sessions with 25 users, and so on.
If your server exceeds the minimum requirements, you can ideally have more than 150 simultaneous users, but the extent of scalability will depend on a lot of variable factors.
---
How to Use BigBlueButton
BigBlueButton is an HTML-5 based web application that runs completely on the web browser and does not require you to install any software. Whether you're using it on your desktop, laptop, Chromebook, and even Android or iOS smartphone, it'll work on the web browser.
You can try out BigBlueButton on the demo server with a few limitations. Like, recordings are suspended, and the video meetings have a limit of 60 minutes because of the high demand.
Getting Started
Go to demo.bigbluebutton.org and click on the 'Sign Up' button at the top-right corner.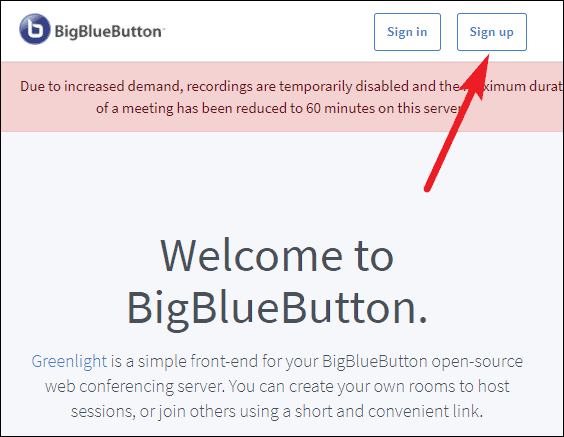 It'll present you with a few options to sign up with, like Twitter, Google, Office 365, or an email account. No matter which option you choose, it'll only take a couple of seconds to sign up. When you are hosting it on your server, you can customize all these options and choose which authentication service you want to allow.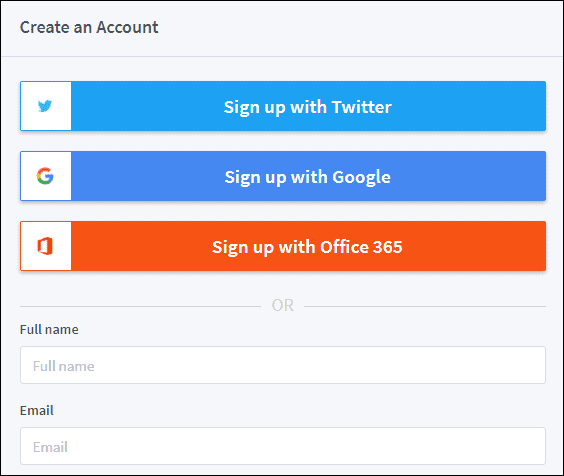 Hosting a Video Conference
Once you create an account, you'll reach the Homepage for your account. BigBlueButton offers the feature to create separate rooms for holding video conferences. The one that's created by default is called 'Home Room'. You can have a video conference in the Home Room, or create a new room.
Each room has a unique link that you can share with others so they can join a meeting in that room.
Click on the 'Start' button to start the meeting. You will enter the meeting as a moderator. There can be only one moderator in the meeting.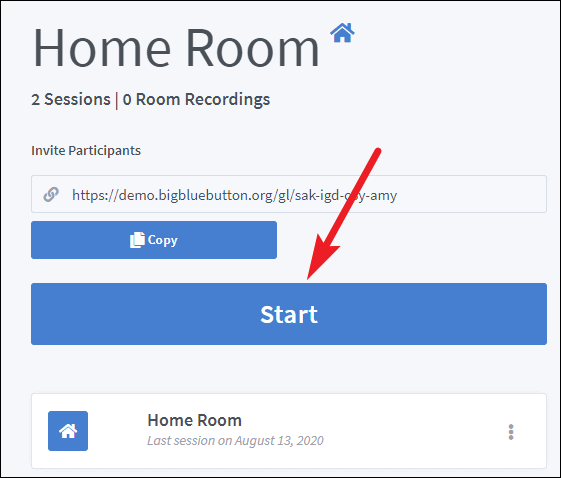 You can either join the conference with a microphone or audio-only. When you select 'Listen only', you will be present in the meeting only as a listener.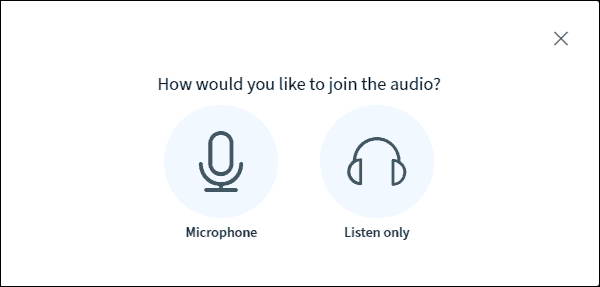 If you select 'Microphone' and you're using the app for the first time, your browser will ask for permission to access your mic. Click on 'Allow'.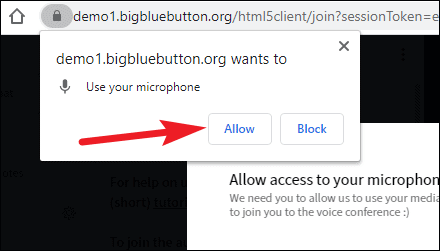 You can do virtually everything with BigBlueButton that you could in any other commercial video conferencing platform. From real-time video sharing, public and private chats, collaborative whiteboard, breakout rooms, shared notes, to screen sharing, BigBlueButton has everything you could need to successfully give remote lessons.
Of course, organizations can also use BigBlueButton and its versatile set of features to hold office meetings, but being able to help educators make remote learning better is BBB's whole mission. You cannot record meetings currently on this server due to the high usage caused by the pandemic. But if you are using it on your self-hosted server, this shortcoming would disappear.
Creating and Managing a Room
You can have more than one room to have meetings on BigBlueButton and all these rooms can be password protected, and have a waiting room if you want. The 'Home Room' doesn't have these settings on by default, but you can change it at any time you want.
Click on the 'More options' icon (three dots) and then click on 'Room settings'.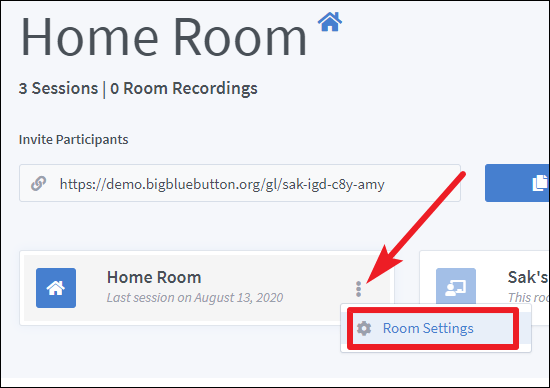 A setting window will open. Here, you can generate an access code for the room, create a lobby for the room (by turning on the setting to require moderator approval) and tweak some other settings. Click on the 'Update Room' button to save the changes.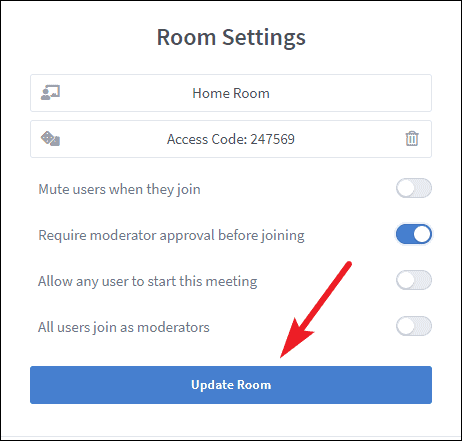 To create a new room, click on the 'Create a Room' button on the Homepage.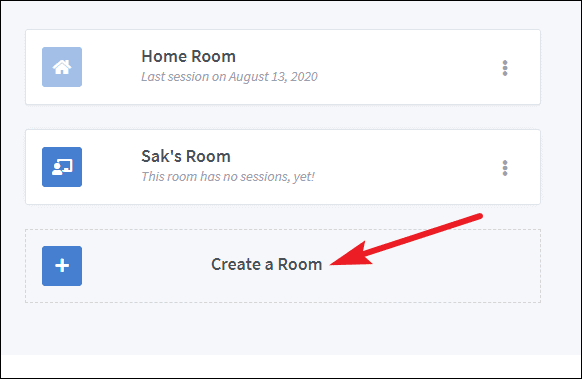 The room settings will open. Enter a name for the room and turn on the toggles for any settings you want to configure, just like before. Then, click on the 'Create Room' button.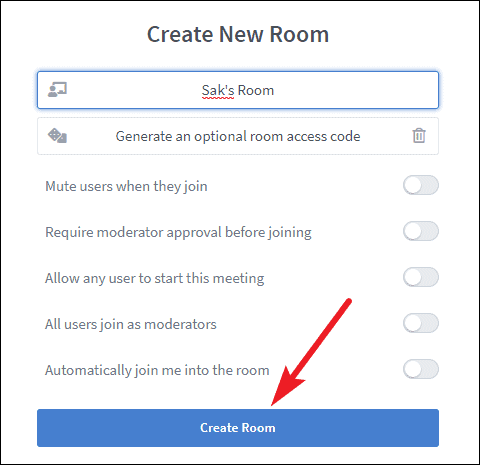 The new room will be created that will have a unique link and separate sessions than the Home Room.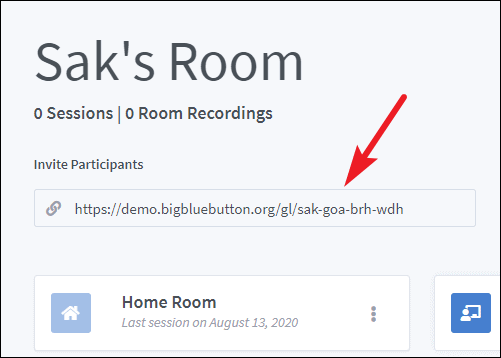 ---
So, there you have it, a basic rundown of the BigBlueButton open-source video conferencing app. You can have video meetings with some limitations on their demo server right now. Or, you can host it on your own Linux server and completely customize how you want to use BBB within your organization.