While using Microsoft Teams, you might have heard of either Microsoft Teams Free users (limited functionality) or Microsoft Teams licensed users (full functionality with an Enterprise subscription). But there is another variable in this equation that might have escaped your notice – Microsoft Teams Exploratory!
Microsoft Teams Exploratory is a free trial experience that users can avail to try out Microsoft Teams. Organization users with Azure Active Directory (AAD) and no Microsoft Teams license can initiate an exploratory experience for Teams. With Microsoft Teams Exploratory, users get the same functionality as an Office 365 E3 license at no additional cost on their current license.
Who Can Get Microsoft Teams Exploratory?
Only the organizations with a 'Microsoft 365 for business' plan that doesn't include Microsoft Teams are eligible for this service as an AAD license is required. Users with a Microsoft 365 Family plan or organizations with no Microsoft 365 subscription don't have access to the service. Microsoft Teams Exploratory will also not be available to users of an organization with a license that already includes Microsoft Teams but have the service turned off. Any users who already have a Microsoft Teams license are also ineligible for Microsoft Teams Exploratory.
Also, if you are a GCC, GCC High, DoD, or EDU customer, your organization is ineligible for Microsoft Teams Exploratory.
---
How to Get Microsoft Teams Exploratory?
Users in an organization can get a Microsoft Teams Exploratory license but the organization admin cannot get it for them. But the organization admin can turn the option to get Microsoft Teams Exploratory on or off for organization members.
Initially, the organization admin also has to enable the members to be able to sign up for trials and services for the users to be able to avail Microsoft Teams Exploratory.
How to Enable Sign Up for Trials and Services (for Admins)
If you are your organization's Microsoft admin, you can enable the option for the users to sign up for trials and services. This is the option that allows the users to get Microsoft Teams Exploratory.
To enable the service, go to Microsoft 365 Admin center and login with your admin account.
Go to 'Settings' from the navigation panel on the left and again select 'Settings' from the expanded options. Under the 'Services' tab, go to 'User owned apps and services'.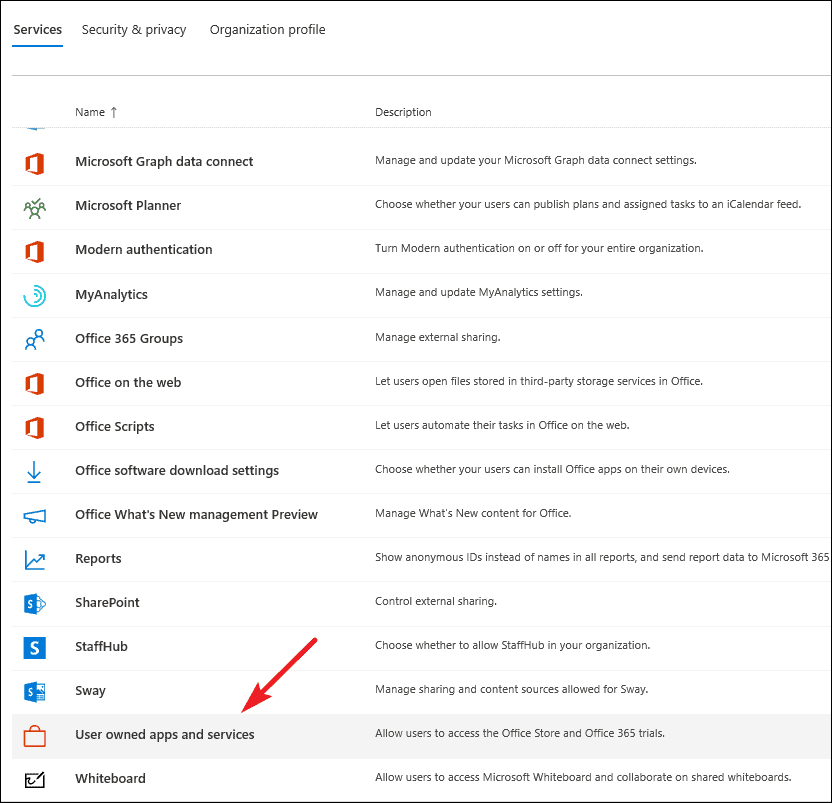 Then, select the checkbox for 'Let users install trial apps and services' and click on 'Save changes'.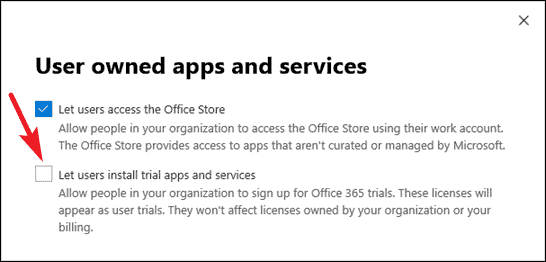 Now, members of your organization can avail a Microsoft Teams Exploratory license.
If you don't want the organization members to have access to Microsoft Teams Exploratory, then keep the option for trial services and apps disabled. But keep in mind that it also prevents the users from access to all other trial services that they could avail.
---
Getting Microsoft Teams Exploratory (for Organization Members)
Once the admin has enabled the permission to install trial services and apps for organization members, members don't have to do much. Go to teams.microsoft.com and sign in with your organization account with the AAD domain.
And that's all it takes! A Microsoft Teams Exploratory license is assigned automatically to the eligible users.
The license will be valid until your next agreement anniversary or renewal after January 2021. The validity for the Exploratory license is 1 year otherwise, for example, if your license expires within 90 days of starting the Microsoft Teams Exploratory license, or if you are on a monthly subscription instead of a yearly subscription.
---
Organization admins can also turn off the access for Microsoft Teams Exploratory for a user who is already using it.
Note: You cannot prevent a single user from signing up for the service as the trial service option is turned on or off for the entire organization. But you can manage their access to it after they have signed up for a Microsoft Teams Exploratory license.
In the Microsoft 365 admin center, go to 'Users' and then select 'Active Users' from the options. Then select the box next to the name of the user for whom you want to manage the access. Click on 'Edit' in the 'Product licenses' row on the right. Then, turn off the toggle for Microsoft Teams Exploratory in the Product Licenses pane.
---
Microsoft Teams Exploratory is a great way to get Microsoft Teams for your organization if you want to try it out first without making any commitments. The name is completely apt – Exploratory, as using the license, organization members can explore Microsoft Teams without an immediate impact on your pockets.
Your organization members can use Microsoft Teams with an Exploratory license for up to a year after which you will have to shift to a paid license to continue using the full Microsoft Teams functionality or it will revert to Microsoft Teams Free. If you're worried about losing the data while making the shift from the exploratory license to the paid license, don't be. There won't be a loss of data with the new licenses.