Spotify is not your average music player. Though it may seem like just a music app, the platform not just plays music and a bunch of other audio entertainment, but it has also given users something to eagerly look forward to, every single year. Spotify Wrapped! Any passionate Spotify user would testify to this introduction.
This year-end excitement is not just a playlist of your favorite music, it's the embodiment of the user's year-long journey with Spotify. Generally, Spotify releases the wrapped playlist during the first week of December. This time too, Spotify Wrapped is officially available for all its users on the 1st of December, 2021.
Apart from getting the audience to await their wrapped playlists, Spotify always ensures to welcome users to a whole new wrapped experience every year. A little something to remember at the end of a whole year. The music platform, likewise, has a bunch of new and exciting experiences to unfold this year as well.
Read on to know more about Spotify Wrapped 2021 and how you can check out your Wrapped playlist and stories, and share the excitement!
What's New on Spotify Wrapped 2021?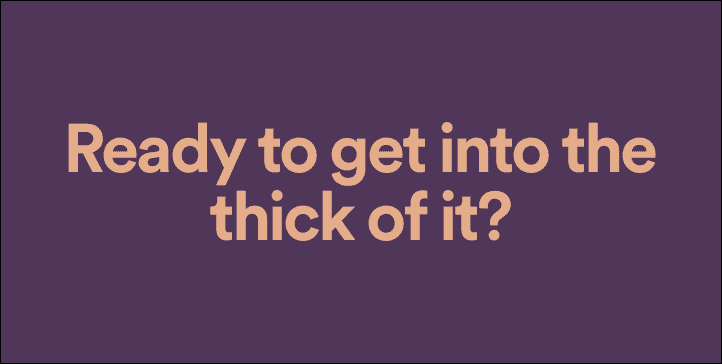 Spotify features a fun and engaging wrapped edition this season. Your top artists and songs form the foundation of the ride, but Spotify has done so much more with your musical interests. A cinematic experience, calculating your audio aura, and a single session of a famous group game are bound to hit the charts in your very own billboard.
Cinematic Experience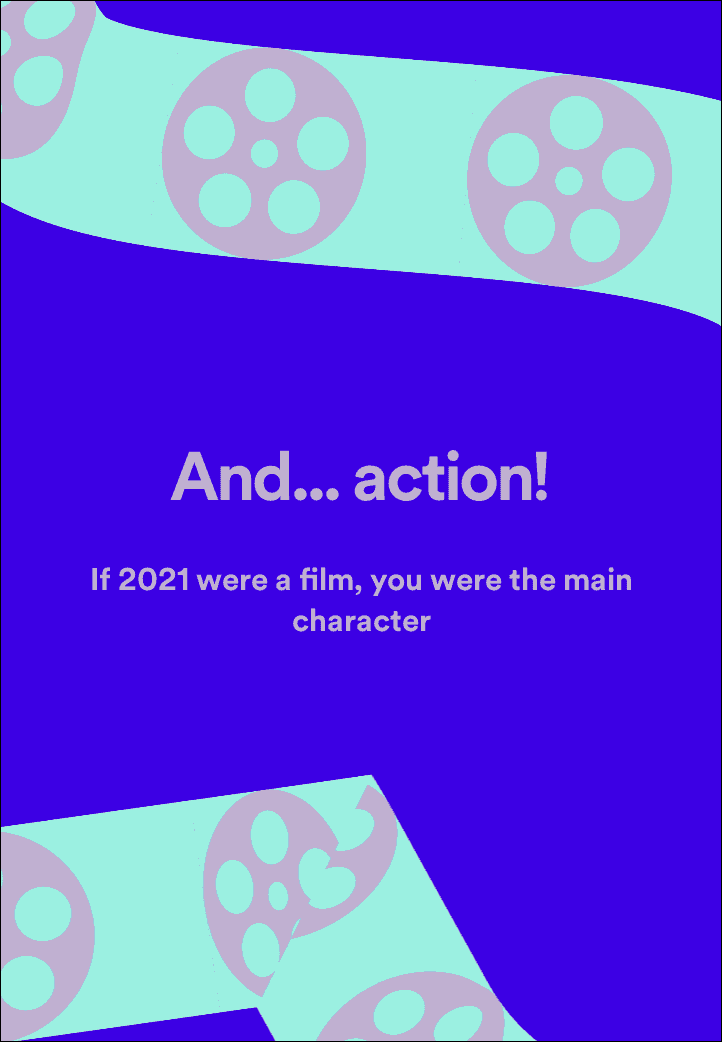 Spotify walks the user through a personalized cinematic experience where the user is the star of the show, and the movie, is, well, 2021. This is a hypothetical fantasy, nonetheless. A blissful walk through your very own musical, drama or action flick, comedy, love story, any film depending on your musical history on Spotify.
Tracks from your Spotify Wrapped 2021 Playlist are picked and used as BGM for different parts of the typical movie layout. The main parts in this Wrapped experience are the opening credits theme, a song of revenge, dance music, and a love song. There may be a bunch of other rotational but whimsical plot scenes too, all backed by your music.
It's a fantastic little experience Spotify has put together as a special part of its 2021 Wrapped release.
Your Night Music
We all get vulnerable in the dark, especially with our music. We listen to tunes that align with our deepest and most personal emotions and states of mind. Spotify notices your night music routine and gives a shoutout on this as well! You get to see your night music genre and the top artists, songs, and playlists related to the same.
The NFT Season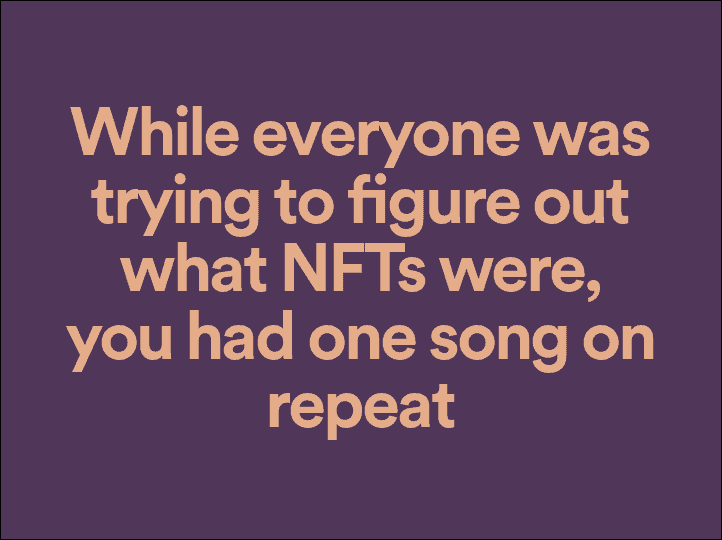 NFT or Non-Fungible Token became the popular talk of the world during early 2021. While this was running in mainstream media both online and offline, and people were figuring out what it was, we, Spotify-ers were busy listening to some impeccable tunes. Spotify highlights our favorite song during one of this year's crucial periods of learning. Check out what you were doing during the NFT rage. It may be a nostalgic turn.
Spotify Gets Quirky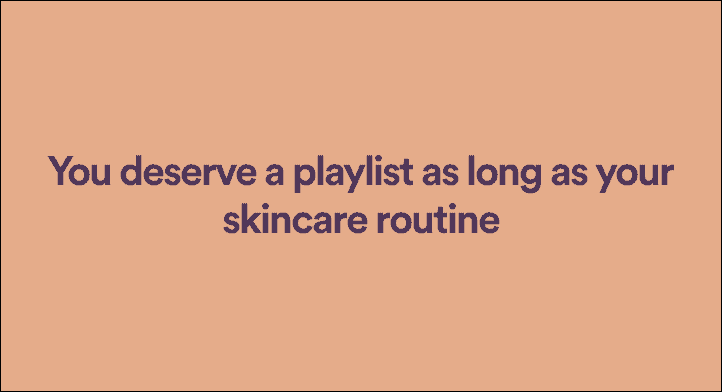 The pandemic directed us in different routes. Some of us learned new skills, some, tried out new recipes that either ended and were forgotten as disasters or remembered as lessons, and some began skincare routines. Spotify picks up on the last bit of some of our 2021 to introduce the Spotify Wrapped 2021 playlist. Spotify's quite quirky this time.
Multidimensional Mode – Your Audio Aura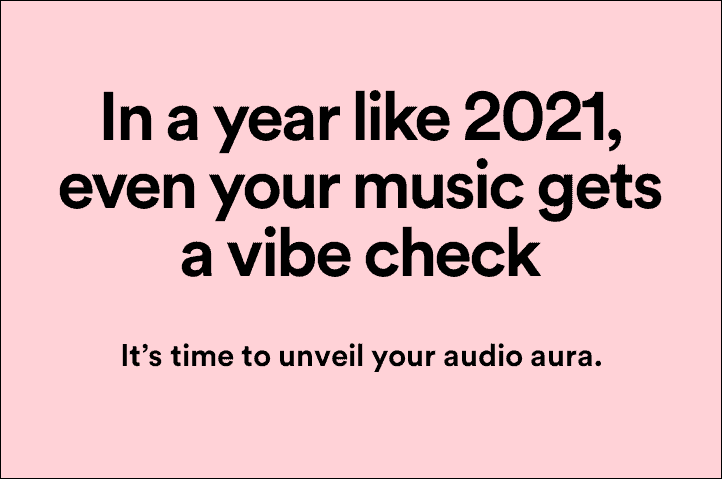 Spotify takes you into a mini multidimensional world where everything is just about auras. Audio aura is a music vibe check, because what best way to test out your vibration than with auras. Turns out, much like your own, your music too has an aura.
Based on your listening activity in 2021, Spotify merges meaningful tints symbolic of your top music moods. Along with a pretty color card of your musical amalgam, Spotify highlights your favorite music moods corresponding to the colors expressed below it.
Two Truths and a Lie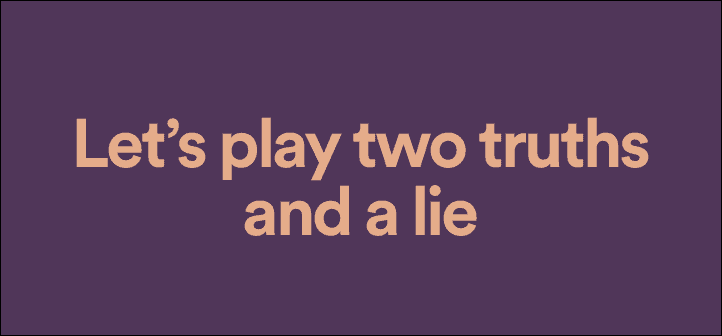 This is the popular group game we mentioned earlier. 'Two truths and a lie' makes for a great drinking game and an even better ice breaker. Spotify breaks the ice about your knowledge of your own musical interests. This is an experience to watch out for irrespective of whether you're new to Spotify Wrapped or not.
All you need to do to play along is just tap the lie, and Spotify will reveal if you're right or wrong. In case you tapped the truth instead of the lie, Spotify will confront you with the actual truth.
Spoiler Alert – Thank You Videos by Artists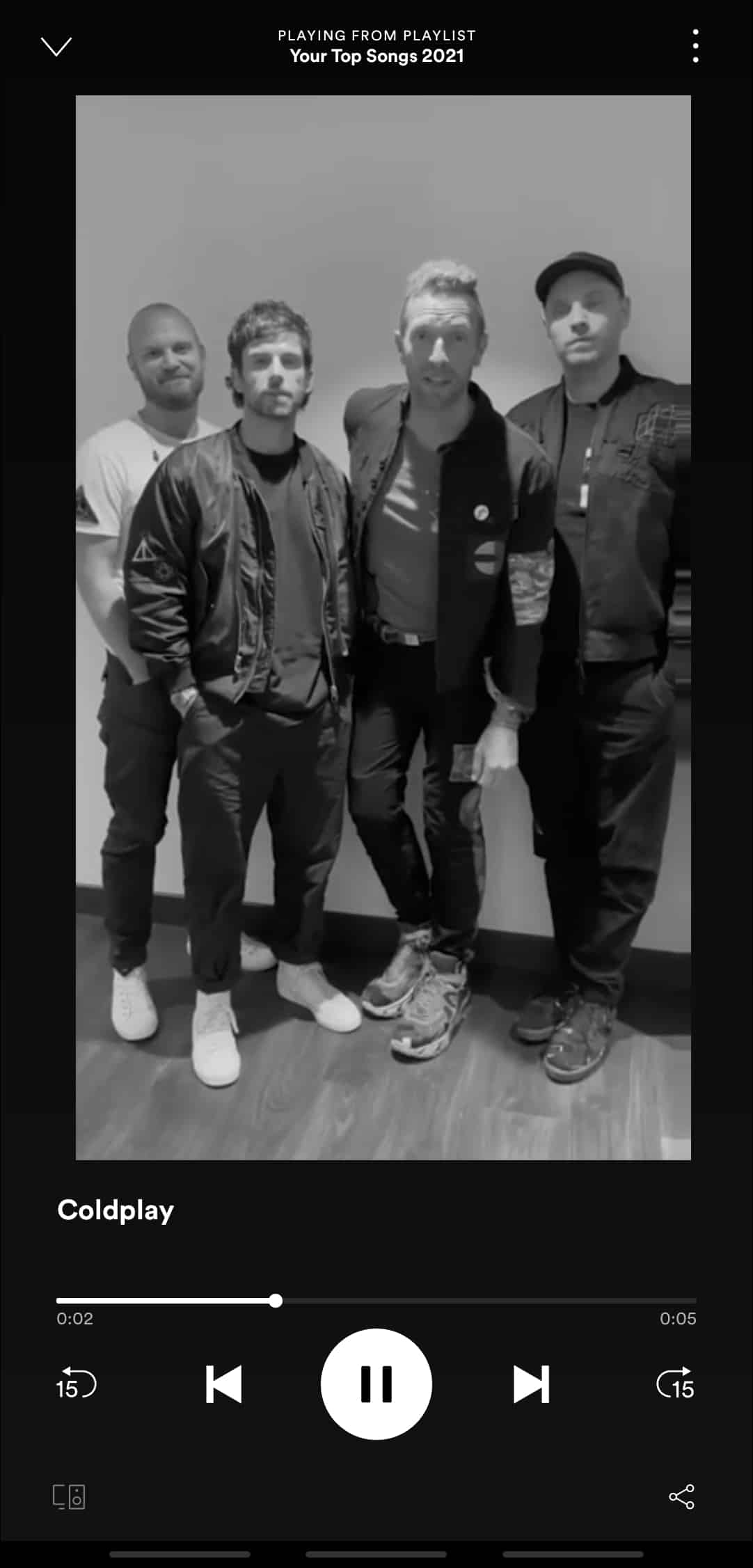 This is a spoiler, but your Spotify Wrapped playlist for 2021, would not be just a compilation of your 100 favorite songs. You would also see a couple of videos from your favorite artists!
The list's count would hit over a hundred, and the extras, aka non-songs, are thank you videos by artists. These videos lasting just a couple of seconds speak directly to you as each user's compilation is as unique as their musical tastes.
---
Spotify Wrapped Stories
Spotify Wrapped stories accompany your Spotify Wrapped playlist. They feature all the fun we discussed at the start of the guide. Other slides besides the ones mentioned include your Top Artists, Top Genres, #1 Artist, #1 Song, and so much more. Each slide is a play of both information and your corresponding favorite songs. Additionally, you can also share each story on the social platforms of your choice.
Here's how you go about it.
Opening Spotify Wrapped Stories on Mobile
Before you check out your Spotify Wrapped 2021, make sure the Spotify app is updated on your mobile device. An old version of the app would not show you the Wrapped stories. Next, launch Spotify on your phone.
The Spotify Wrapped combo (playlist + stories) is visible right on the home screen – typically below your top playlists. The stories block is to the left of the playlist. Hit the 'Play' button on this block to play your Wrapped stories.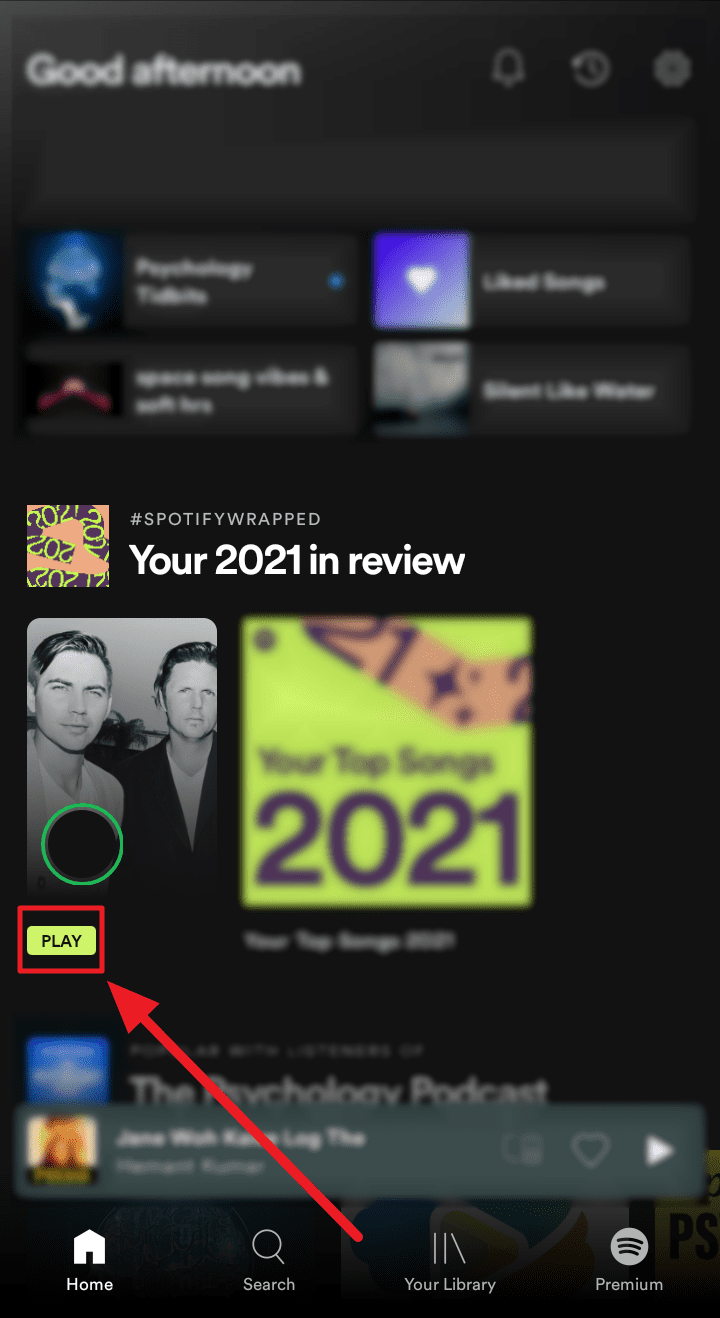 Your Spotify Wrapped stories will now uncover. All songs are rotational, playing a new favorite each time, from your Wrapped 2021 playlist.
If you're familiar with stories on social networking platforms, and you're the kind to race through stories, stop. Refrain from tapping the Wrapped stories to get through them. Each slide is an experience of its own and you wouldn't want to miss it. Consume every story before moving on to the next.
Sharing Your Wrapped Stories
Almost all slides on Spotify's Wrapped stories are shareable. Simply tap the 'Share this story' button at the bottom of the slide to open your sharing options and further share the chosen story.
To mute your stories (which we don't recommend), tap the 'Loudspeaker' icon to the top right corner of the story. And to close it, hit the 'X' mark right next to it.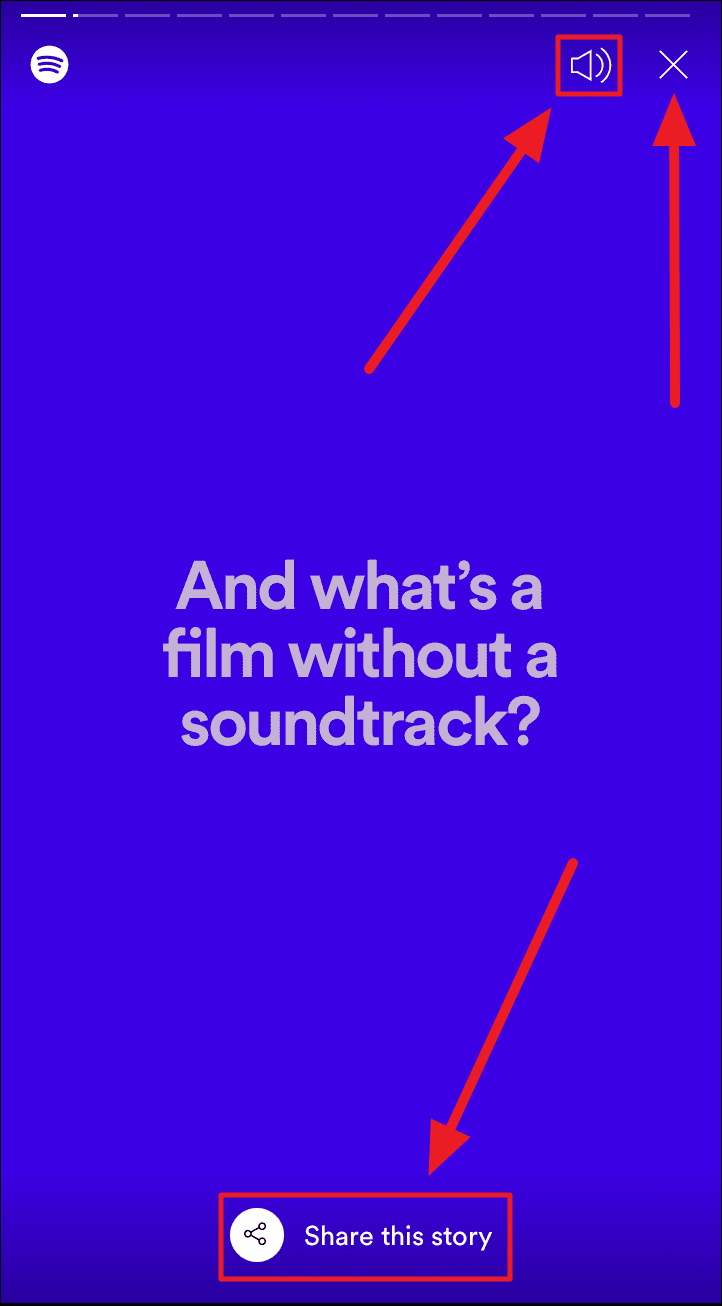 ---
Thanking Your Favorite Artist
Besides just binging on your favorite music and tracks, you can also thank the artist behind the masterpiece you feel so in love with!
You'll come across a Twitter embedded slide towards the end of your Wrapped story (approximately on the 10th slide), featuring your top artist. Click the 'Say Thanks' Twitter button below the information of your time together to redirect to Twitter where you can directly send your favorite artist a tweet of gratitude.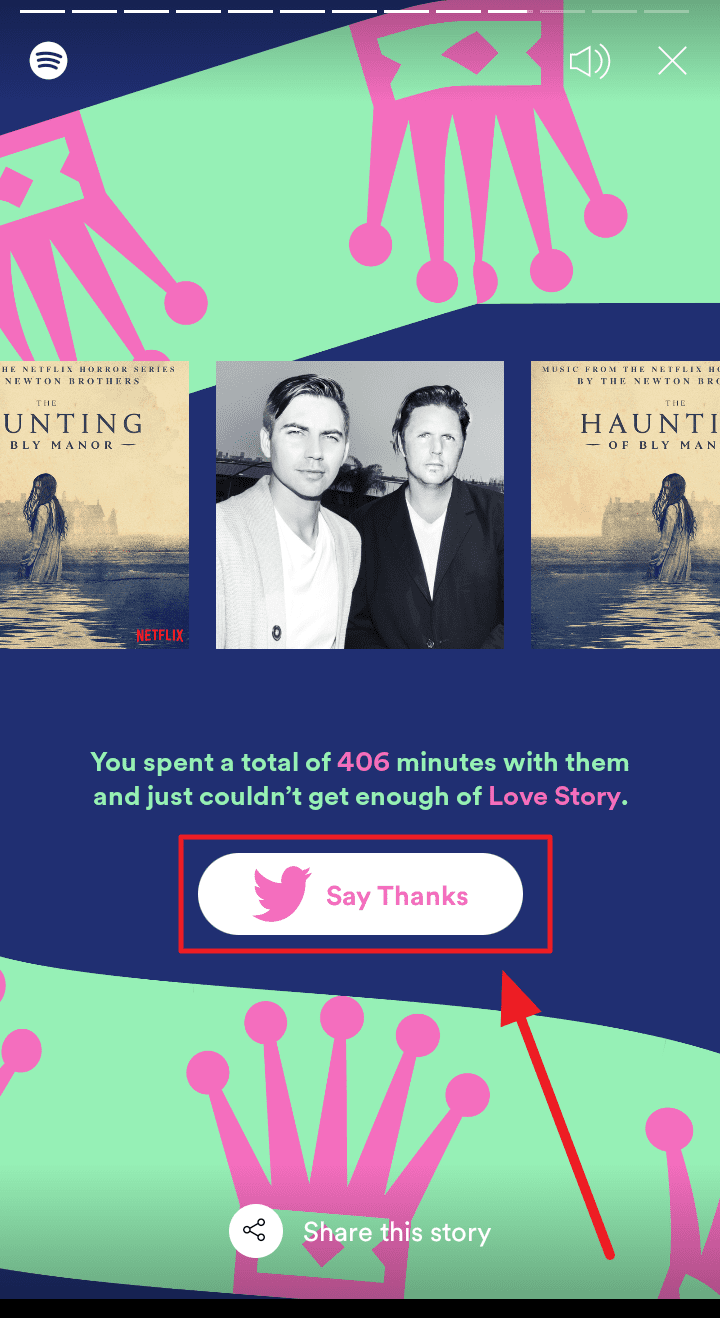 This Tweet is pre-formatted along with a Spotify link to your top artist's profile. You can customize the content of this tweet, and once you're done, hit the 'Tweet' button.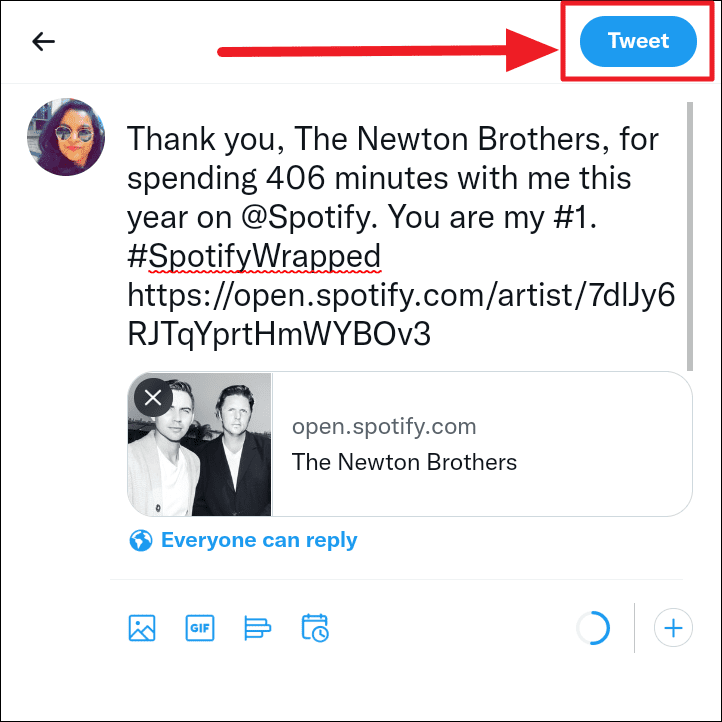 ---
Where to Find Your Spotify Wrapped 2021 Playlist
Since the Wrapped playlist release is still brand new, you may continue seeing it on your home screen, where you can easily access your top 100 songs of 2021.
Tap the 'Your Top Songs 2021' block right next to your Wrapped story, below 'Your 2021 in review', to start jamming to your favorite tracks of 2021.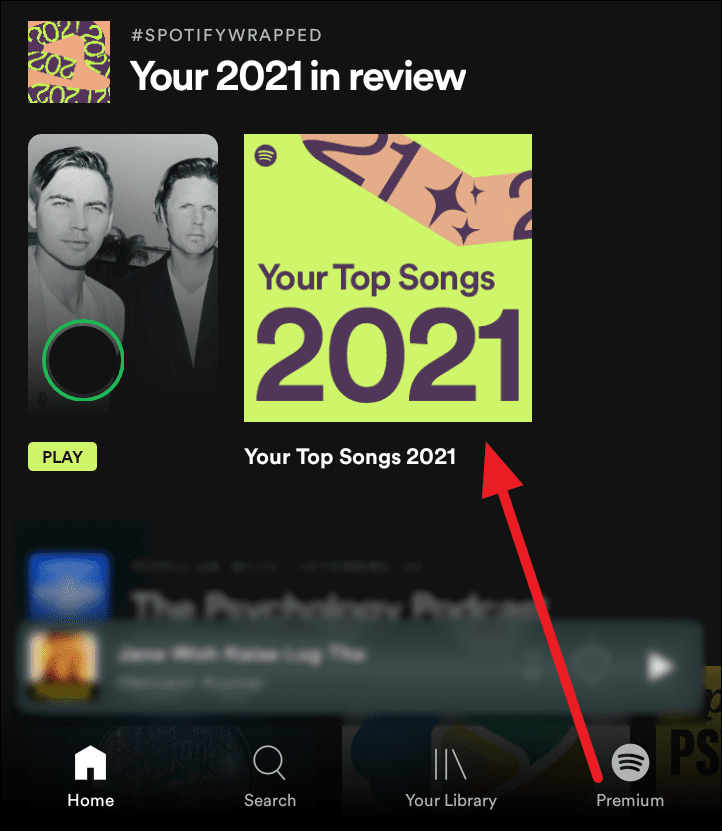 Another way to find your Spotify Wrapped Playlist is via your Spotify Wrapped stories. Around the fifth screen of your Spotify Wrapped story will be the quirky 'Skincare routine' story, followed by a button that leads to your Spotify Wrapped playlist.
Hit the 'Add to your library' button to instantly save your Spotify Wrapped playlist to your library for future reference.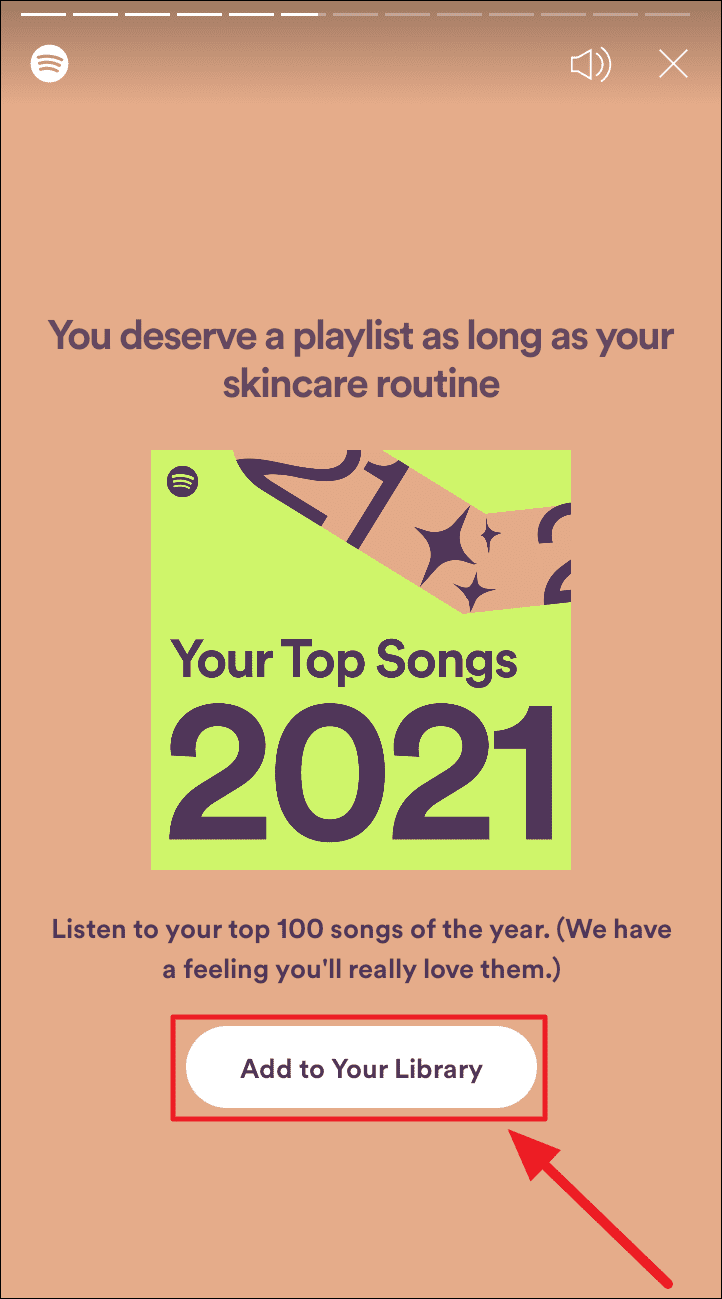 You can now see your Spotify Wrapped 2021 playlist in Your Library.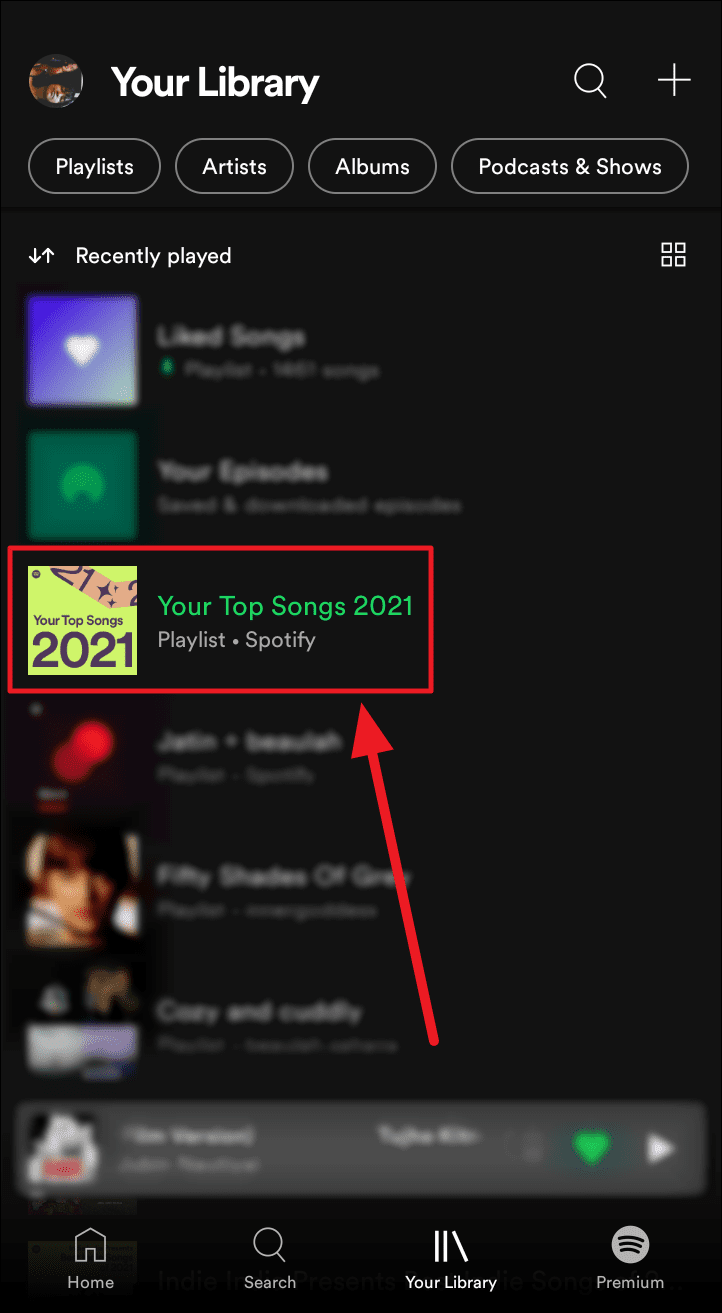 ---
Viewing and Saving Artist Videos
Spotify has something brand new in their Wrapped 2021 edition – artist videos. Scroll through your playlist to find a video button (if on desktop) or a bridge in the playlist consisting of the artist's name with '2021 Wrapped' below it, the duration of the video, and a couple of buttons.
Hit the 'Play' button to play the video. You could also add an artist's video to your episodes by clicking the '+' button in a circle. To download the video, click the 'Download' button with a downward arrow icon. And to share the video, select the 'Share' button with the share icon next to the download button.
To immediately remove the video from Your Episodes, tap the same '+' button which is now a green tick mark.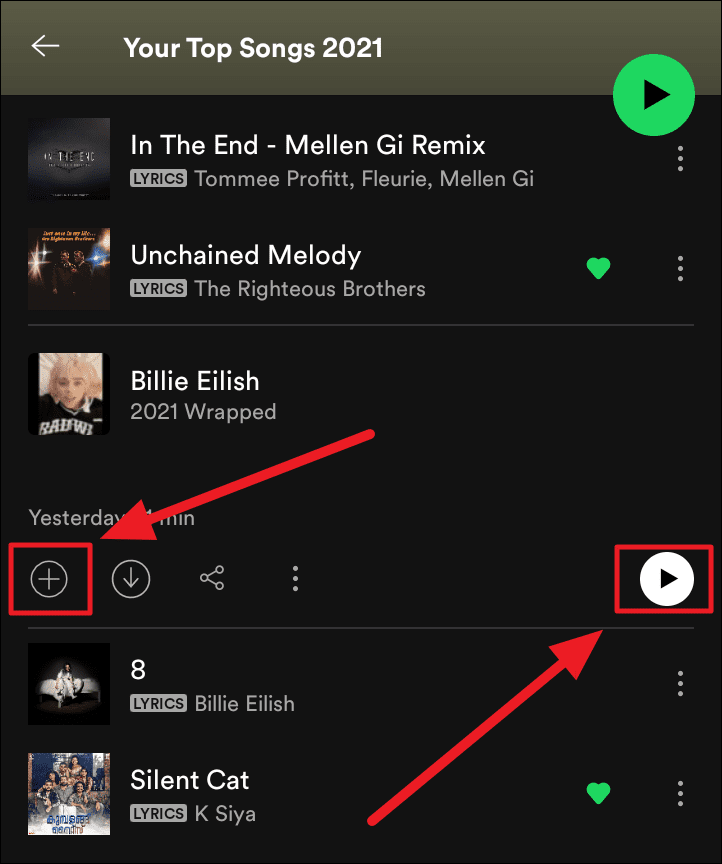 To find the newly saved video in your episodes, click the 'Library' button to the bottom right of the screen to reach 'Your Library'. If you don't see it on this screen, click the 'Podcasts & Shows' tab to find it.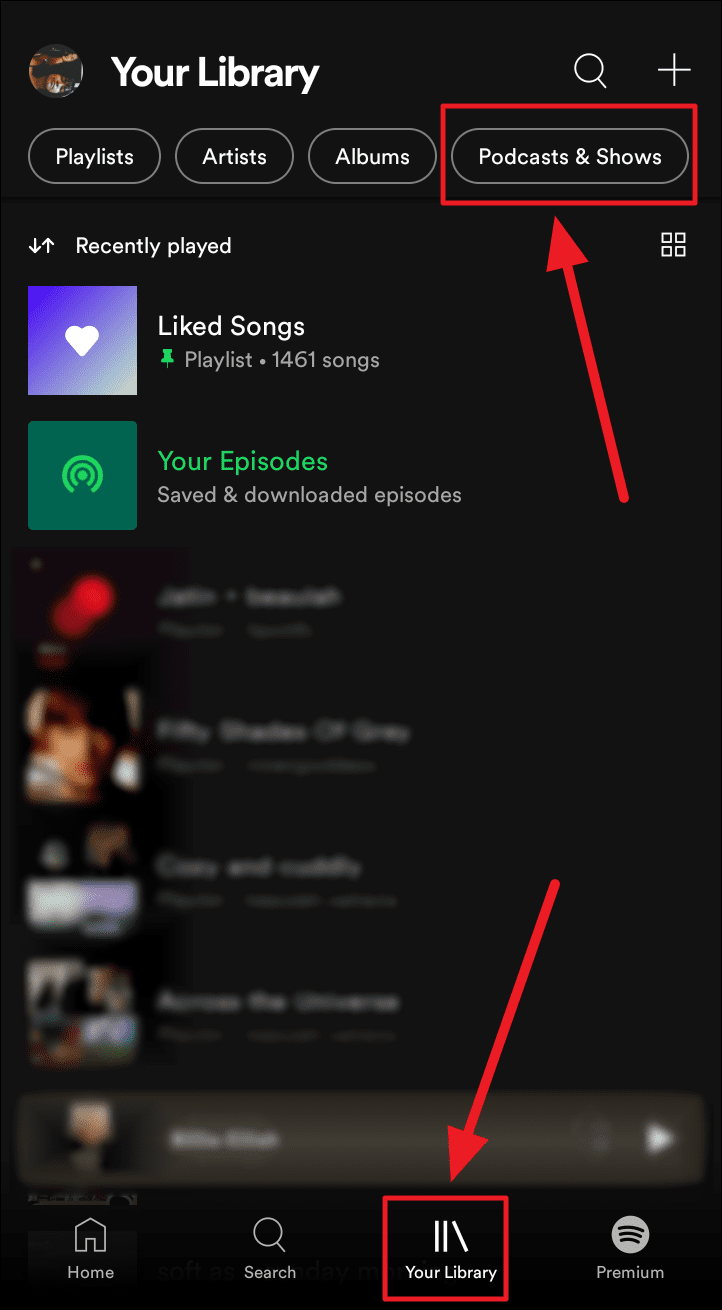 You will now see 'Your Episodes' under 'Podcasts and Shows'. Click it to find the recently added artist video. Irrespective of whether you save or download it, you will find it here.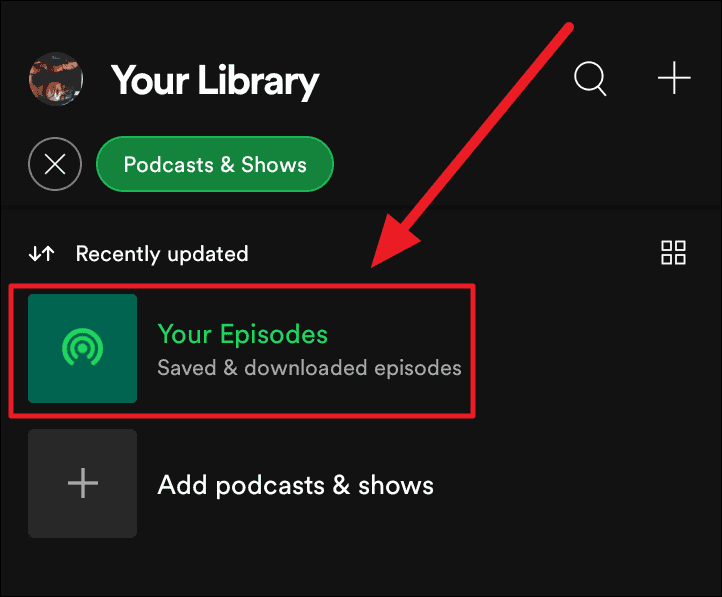 All your saved and downloaded episodes will be on the following screen. To remove the artist video from Your Episodes, click the 'ellipsis' icon (three vertical dots) below the title of the episode.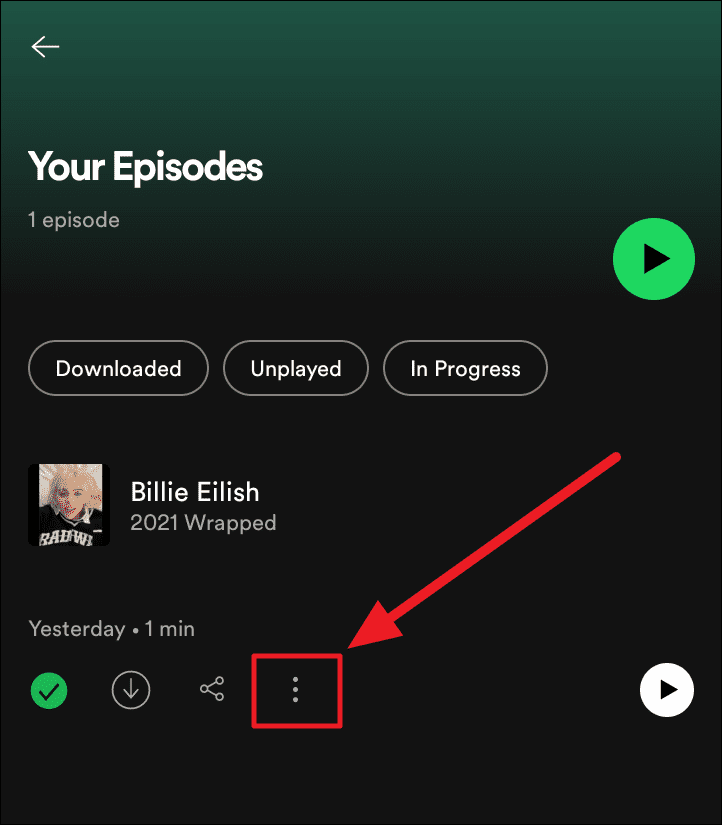 Now, choose 'Remove from Your Episodes' in the context menu.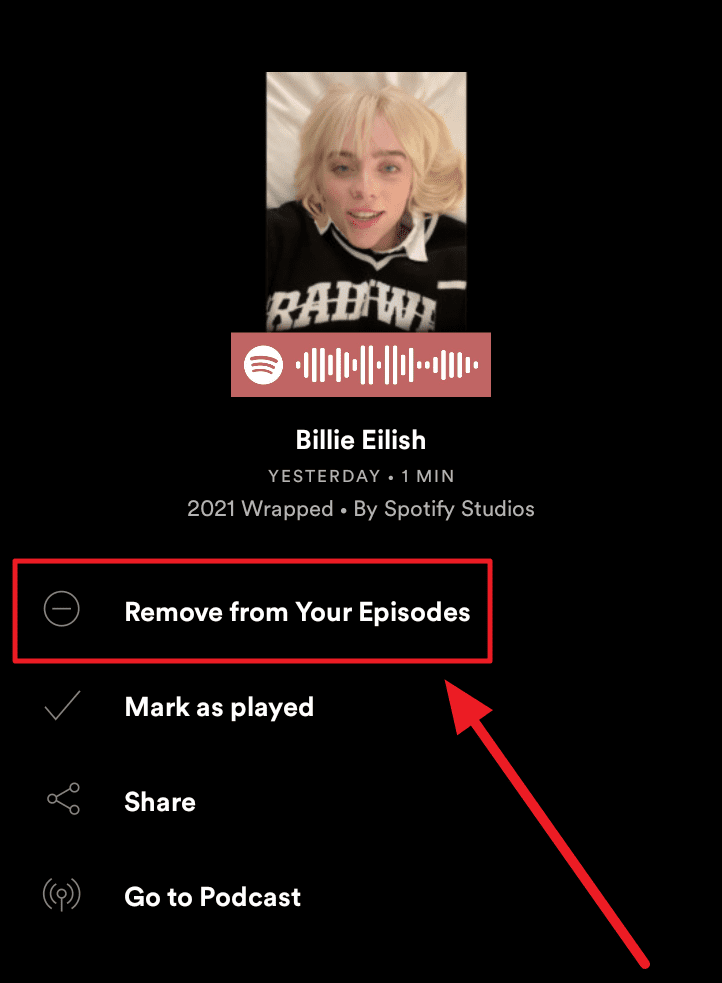 The artist video is now out of your episodes.
---
Other Wrapped Collections
Apart from a Wrapped curation for you, Spotify also releases 'Wrapped' for other genres like podcasts, albums, artists, etc., on a bigger level – globally or locally.
To find these Wrapped collections, click the 'Your 2021 in review' title just about your Spotify wrapped stories and playlist.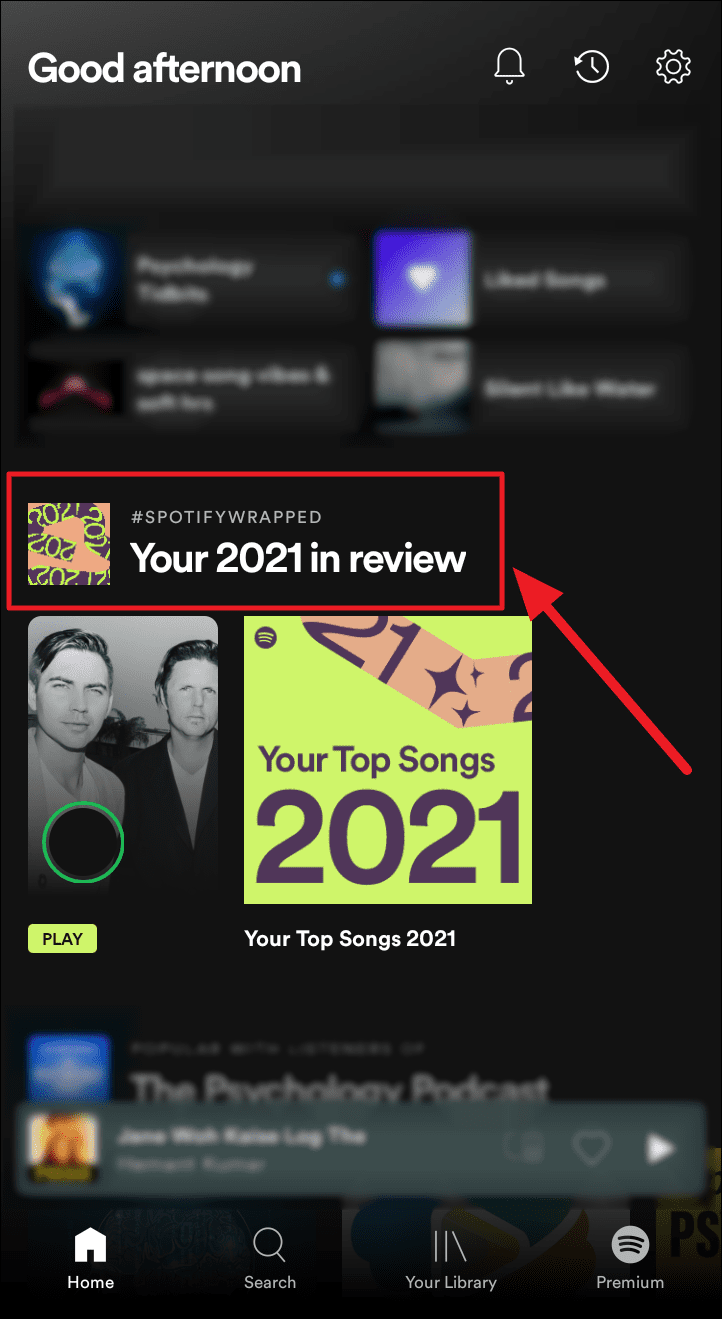 You will now be viewing all of Spotify's Wrapped collections.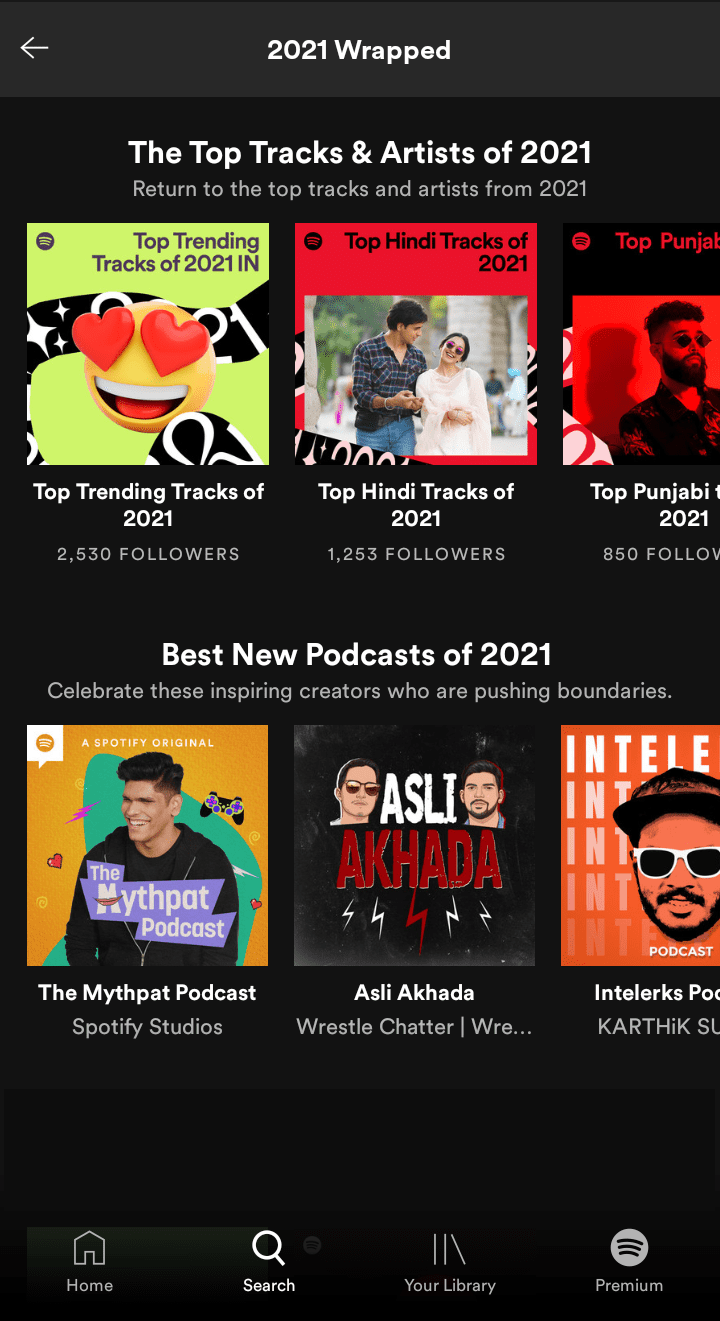 ---
And that's about Spotify Wrapped 2021! Spotify welcomes you to a whole new experience of nostalgia, magic, fantasy, and your very own music personality with its 2021 Wrapped edition. Check out your Spotify Wrapped 2021 journey, now!