Microsoft created big ripples in the community when they previewed Windows 11 earlier this summer. Considering how Windows 10 was supposed to be the last OS from the company, users everywhere were intrigued.
And the preview event for Windows 11 made users even more interested in the OS. Windows 11 is as aesthetically different from its predecessor as it could be. With a recentered taskbar and glass windows, it's closer to macOS than Windows 10.
It's no surprise if you've been waiting to get your hands on the OS. Microsoft officially released Windows 11 on October 5th, but chances are you haven't still got it. So, if you're wondering what's the status of Windows 11, stop right there. Here are all the answers.
Windows 11 Latest Version
| Version | OS Build | KB Number |
| --- | --- | --- |
| 21H2 (original release) | 22000.258 | KB5006674 |
As of October 5th, Windows 11 is officially released to the public. This is the latest version of Windows 11 that's available generally right now. The original and current versions for Windows 11 are the same right now, codenamed Version 21H2. This is the most stable Windows 11 version available to date. Prior to the official release, Windows 11 was (and still is) available through the Windows Insider Program in various channels.
But the thing to note is that even though Windows 11 is now officially released, it is still a slow rollout. Microsoft plans to roll the OS to all eligible devices by mid-2022. So, if you're on an eligible Windows 10 system that meets all the strict hardware requirements set by Microsoft, you'll get the Windows 11 upgrade from your 'Windows Update' section in the settings app.
But it could be a while before you get the upgrade due to the slow rollout pace. If you don't want to wait for your PC to get the update through Windows Update, there are other official channels.
Also read: How to Check your Windows 11 Version
---
How to Get the Latest Version of Windows 11
The easiest way to get Windows 11 is through Windows Update in your settings. Users will get a notification when Windows 11 is available for them. But if you want to be sure you haven't missed the notification, open the settings app on your PC and head to the 'Windows Update' option.
Wait for the Windows to scan if there's an update available. The latest build for Windows 11, released a few days ago, is the OS Build 10.0.22000.258. This is not a major update, it's part of regular servicing updates Microsoft offers. If Windows 11 is available, it'll start downloading and installing the latest version. Once the install is complete, you'll need to restart your PC to finish the installs.
If the update isn't available for you yet, head over to the download page for Windows 11 on Microsoft's website. Before installing Windows 11, make sure your PC meets the hardware requirements. You can use these methods to download Windows 11 on a device that doesn't meet the hardware requirements, but your system won't get any updates, security, or otherwise.
There are three ways you can get Windows 11 from here:
Use the Windows 11 Installation Assistant. This is the best way to donwload Windows 11 if you're downloading it for the same device you're currently using. You can download it on a Windows 10 device with a licence and on the version 2004 or higher.
Create Windows 11 Installation Media. If you want to perform a clean install of Windows 11, you can opt to make an external bootable media for Windows 11 by downloading an ISO file.
Download Windows 11 ISO Disk Image. If you want to create a virtual machine or bootable media to install Windows 11 on multiple PCs, you can go for this option. It is a multi-edition ISO which uses the product key to unlock the correct Windows 11 edition.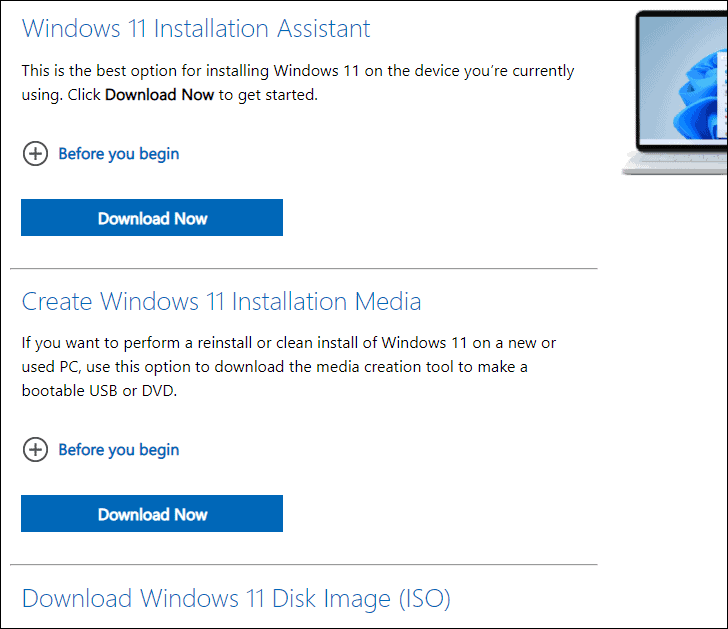 ---
Windows 11 might be a controversial update, but many users cannot wait to get their hands on it. If you, too, are one of them, here's everything you need to know about the latest version.