Icons are great navigators, they help remember and locate things online. These icons come in handy when you need to indicate something to your readers. Instead of using words for the same thing over and over again, you could replace them with icons. The best part about icons is that they are creative, cute, and quite easy to remember.
If you're in need of some icons but you're broke too, then this list is for you.
Iconbros.com
Iconbros.com hosts a vast collection of black and white icons, ranging over eight thousand varieties. A welcoming fact about this website is that they upload new icons almost every single day.
These 8000 and odd icons are classified into 200+ collections, all of which are easily accessible and downloadable on the site. There are both outlined and filled icons. The chronology of the added icons follow a satisfying evolutionary journey. This means you will have to go to older pages to find simpler and more plain icons.
---
Fluent Icons
Fluent icons by Icons8 is a wholesome website for icons, it's quite iconic actually (all puns intended). Apart from offering a diverse and vast array of over 20 styles and 50 auto-generated categories, the site also hosts above 190 icon trends. You can also create your own categories by marking any of the icons as favorites.
Downloading icons is quite simple too, you can drag and drop multiple icons and download them together as a collection. However, these self-created collections can be downloaded only in the PNG format for free. Icons8 has another exciting feature. You can customize the icons! From color to text, overlays, and even visual effects, each icon can be recreated in thy own sight.
---
Animated Icons
This is another icons8 product that offers an added feature of animation to the usual icons (just as the name suggests). There are over 400 unique animated icons categorized into 11 divisions, all available for instant use. You can download them as gifs, after effects, or even copy the JSON link.
---
Iconshock.com
Iconshock is another place to find some cool icons. With over 450 icons spread across 30 different categories, iconshock also displays a couple of featured icon categories that are ready to use.
The site also has 30+ icon styles with varying icon and background color-customizable features. However, downloadable options are limited only to the PNG format (as this is the only free format). There are four icon sizes available for PNG download; 32px, 72px, 128px and 256px.
Iconfinder
Iconfinder in itself is not an entirely free icon site, but, there are hundreds of free icons across 50 categories and 10 varied styles. All you got to do is look for the icons you want and push the toggle to 'Free icons only' and you'd have an array of options to choose from. You can settle with 'No Link Back' if you don't wish to give a backlink to the website.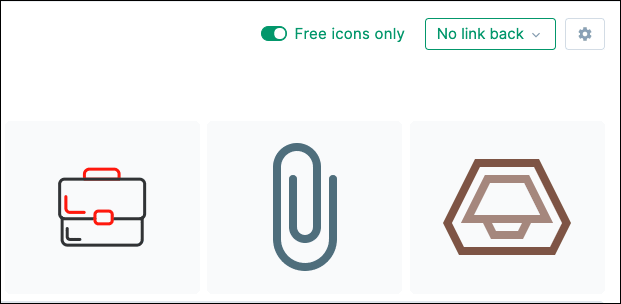 There are also a couple of free icons across the three different icon sets; 'Featured', 'Newest', and 'Most Popular'. You could also add your favorite icons into personalised categories too. Downloading these icons is quite easy and efficient. You can download them either in a PNG or an SVG format, and choose the size of the PNG download too. You could also copy the Base64 codes for both PNG and SVG formats.
So, go on get those free icons and give your website an iconic facelift!