Microsoft Outlook doesn't need any introduction. It has been around for what feels like since the days of Yore, helping people manage their personal information. But sometimes there are troubles with Outlook, the most common being that it keeps closing on its own. Most of the time, the first piece of advice you'll hear in a situation like this is to open Outlook in Safe Mode.
So, how do you open Outlook in Safe Mode? There are plenty of ways. But first, let's talk about what it is. Outlook uses a lot of add-ins to enhance user experience. Safe Mode opens Outlook with a limited set of features and without any add-ins so you can troubleshoot what's wrong. Let's dive in and see all the ways you can open it.
Use the Run Command
One of the easiest and a surefire way to open Outlook in Safe Mode is through the Run command. It works with every version of Outlook and Windows. Open the Run box on your computer from either the Start menu or by using the Windows logo key + r keyboard shortcut.
Then type or copy/ paste the following run command.
Outlook.exe /safe
Type the command as it is, taking note of the space between the command and press the Enter key. A dialog box will open, asking you to choose a profile. Click on the 'OK' button and run Outlook with the default settings.
---
Use the Ctrl Key
If for some reason you can't use the Run command to open Outlook in Safe Mode – say, your organization has disabled the Run mode for you – you can use other methods to open it. This method is even easier to use than the previous one, but there is a chance that it might not work with certain versions of Outlook, and hence, it's not on the top. Still, it is worth a try and will only take a second of your time.
Press and hold the 'Ctrl' key on your keyboard, and while holding the key down, open the Outlook app from a desktop shortcut, Taskbar, or Start Menu.
A dialog box will appear, asking that "You're holding down the Ctrl key. Do you want to start Outlook in Safe Mode?" Click on 'Yes' and Outlook will open in Safe Mode.

---
Create a Shortcut for Outlook Safe Mode
If you need to use Safe Mode more than once, creating a shortcut is the way to go. This way you won't have to go through the steps involved with the above methods every time you need to open Outlook in Safe Mode.
Before you start creating the shortcut, you need to have the complete location of Outlook.exe handy.
Generally, you can find it at these locations, depending on your Windows version or Office suite.
32-bit Windows:
C:\Program Files\Microsoft Office\Office <version number>
64-bit Windows:
C:\Program Files (x86)\Microsoft Office\Office <version number>
Office 365 installation or Click-to-run installation:
C:\Program Files (x86)\Microsoft Office\root\Office16\
If you still can't find it, go to the search box on your Taskbar and type 'outlook.exe' in it. Wait for the search results. Then, click on 'Open file location'. The folder containing the file will open. Copy the path of the file.
Now, right-click on an empty area on the desktop and go to 'New' and then select 'Shortcut' from the sub-menu.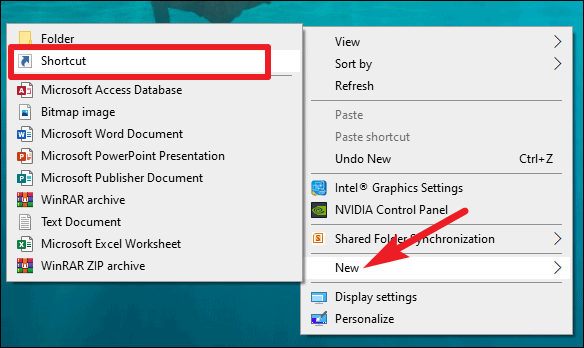 Then, paste the location of the 'Outlook.exe' file you copied previously and start typing \outlook.exe at the end. If the path that you copied is right, it will show the suggestions for the file automatically. Select it.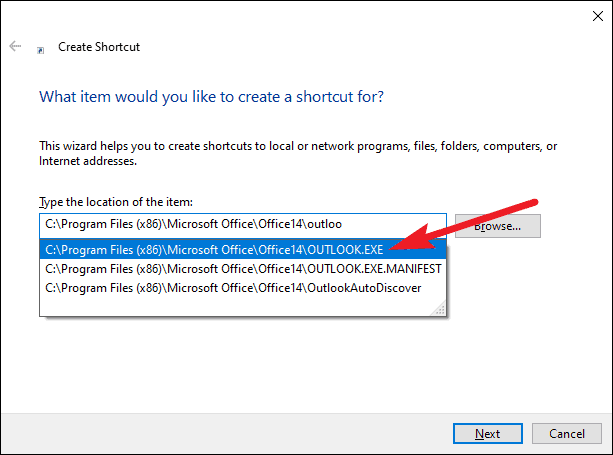 Now add double-quotes at the end and start of the file path. Then, enter a space and type /safe at the end.
So, the final string of what you have to enter would look like this:
"C:\Program Files (x86)\Microsoft Office\Office14\outlook.exe" /safe
Click on 'Next'.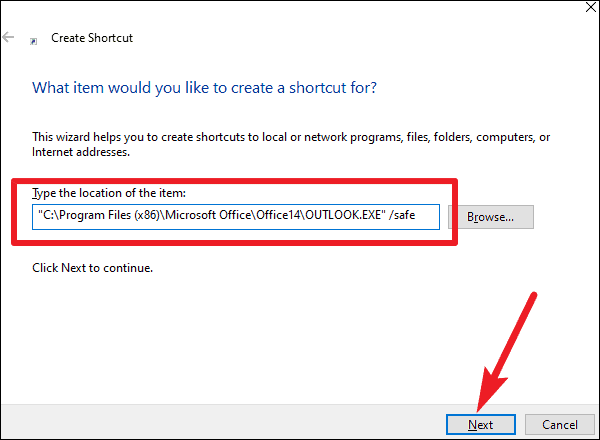 Enter the name for the shortcut on the next screen, something like 'Outlook Safe Mode' to distinguish it from the normal mode Outlook shortcut on the screen and click on 'Finish'.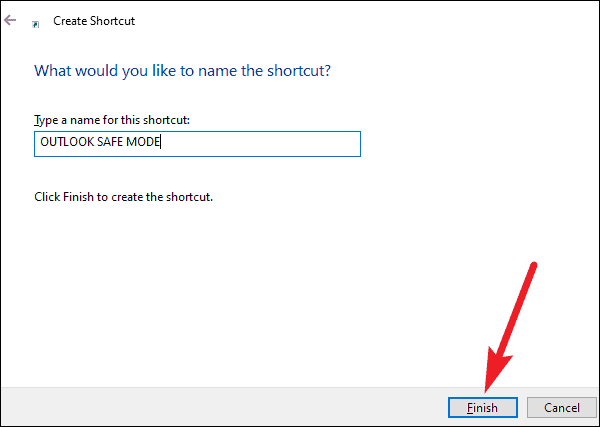 The shortcut for Outlook Safe Mode will appear on your desktop. Double-click to open it like any other shortcut. You can also verify that Outlook is running in the Safe Mode as it will say so on the Title Bar.
---
There could be a number of reasons why you have to open Outlook in Safe Mode. But if you're trying to open it in Safe Mode because there are troubles with Outlook and it keeps closing automatically, check out our guide "FIX: Outlook Closing Automatically after Opening Problem". Whether Outlook opens successfully in Safe Mode or it doesn't, it will also help you determine your next steps in diagnosing and solving the problem.