Microsoft Teams is truly a powerhouse. The in-built features it offers are undoubtedly outstanding, but the additional integrated apps it offers have to be what gives it an extra edge over its competitors. It offers countless integrated apps and collaborative software that can be used effortlessly and make collaboration even easier for organizations using the platform.
The integrated apps have one and one purpose only – to increase productivity. You can use the apps for just your benefit by adding them as apps or add them as tabs in channels and chats to collaborate with team members. Microsoft Teams has hundreds, quite possibly thousands of integrated apps for you to choose from, but when there are so many apps, how do you make sure you don't get lost in the sea?
Well, you don't need to worry your pretty little head with such trivial matters! We have compiled a list of some of the best tasks and to-do lists apps available on Microsoft Teams for your benefit so you don't have to go through the hassle. Find the best fit for you and watch your productivity shoot through the roof. Let's dive right in!
Trello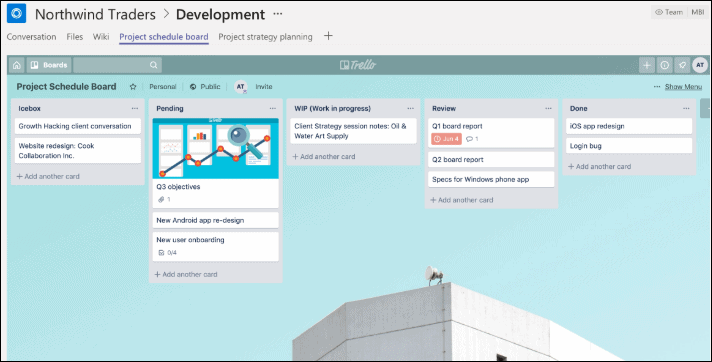 This highly visual work management tool is very popular with a lot of users for collaborative services. But when integrated with Microsoft Teams, it will take your productivity to a whole new level. With individual boards for different projects, to-do lists, templates, and its intuitive drag-and-drop functionality, it is a must-have for your Microsoft Teams account.
When it comes to management tools for your work, it's best to stick with apps that offer a simplified functionality without any bells and whistles. Complicated apps will subvert your agenda to be productive and rather, you would end up with hours and hours wasted on learning to navigate through the clunky setup of the tool. If you happen to share the opinion, Trello would be a great fit for you.
In addition to its fundamental task management functionalities, the integration also offers other Microsoft features, like you can use it in a tab to collaborate with teammates, and chat with the app Bot to get work done faster and much more.
It offers various pricing models, with limited functionalities under the free account, and additional features for paid accounts for Business, or Enterprise needs.
---
Wrike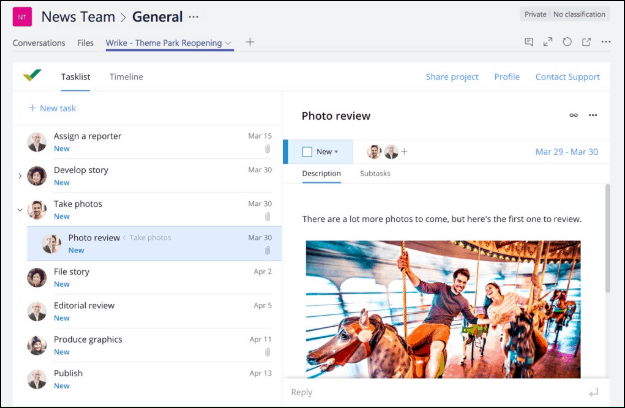 Wrike is another collaborative app available in Microsoft Teams. It might be relatively newer in the market than its predecessor on this list, but it's packing way more power. With a lot of innovative features like Gantt Charts, drag-and-drop cards, to-do lists, custom workflow statuses, automated task assignments, and multiple projects and task views, the list for what you can do with it is almost never-ending.
When added to Microsoft Teams, it works seamlessly as if it's at home in this environment. You can add it as an app to manage your tasks, or as tabs to collaborate on project management with your teammates. Not only can you view all your tasks, and Gantt charts in tabs, but even the content from the app can be inserted directly in messages. So, you can even send and receive task updates in chats with your colleagues.
The app offers a basic free model for up to 5 team members, and then priced plans like Professional, Business, and Enterprise for businesses of different sizes. You can also get a free trial for paid plans to see whether or not it's the right fit for you.
---
MeisterTask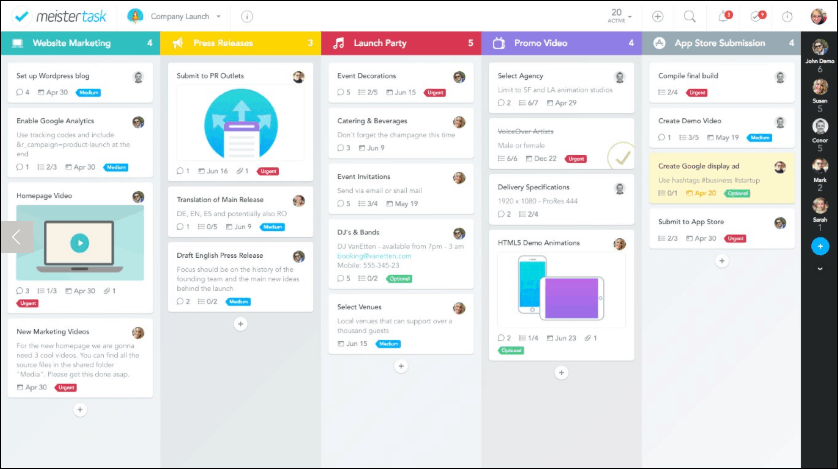 MeisterTask is a task management tool that can be used by teams to organize and manage their tasks. It has a completely customizable environment that can adapt to your task management needs. It offers a simplified, easy to use interface that allows maximum productivity with no hours wasted in training for how to use the tool.
Microsoft Teams users can take advantage of the Kanban-style boards the app offers to easily manage all their tasks and also maintain a birds-eye view of all your projects. It offers elements of task and project management tools in a collaborative environment. Add it in a tab to collaborate with your teammates or as an app for personal use. You can even assign tasks to your teammates effortlessly.
Users can take advantage of different price plans as per their needs: Free (Basic functionality), Pro, Business, and Enterprise.
---
Tasks (for Microsoft ToDo)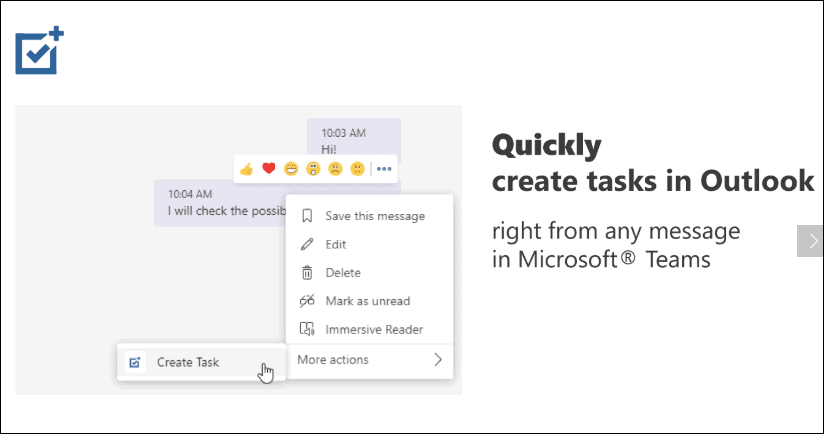 Tasks is an eerily simple app that's for personal use in Microsoft Teams. It is more like a Bot that helps you create tasks and to-do lists. But what's so different about that? Well, the app quickly creates tasks in Outlook from any messages in Microsoft Teams that you want.
So you can add any important events straight from the message just in a couple of clicks to make sure that you always stay ahead of your work schedule and never miss out on tasks you need to complete. The app also includes the original message in the task body while creating it so there is no room for any confusion. Moreover, it even adds the task to the Microsoft ToDo app automatically for you. The app is simplicity personified!
Note: As it is not collaborative and is strictly for personal use, you cannot add it as a Tab in any channel or chat.
---
Tasks in a Box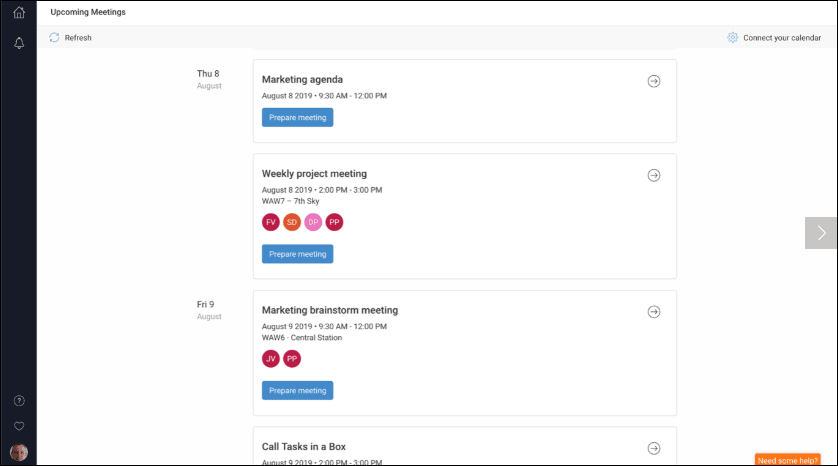 Tasks in a Box is a simple, yet powerful management tool that your teams can use to streamline their meetings and stay on top of things. The app offers designated tools to manage your tasks and meetings with their Tasks and Meeting Hubs. You can easily take control of all your daily meetings and projects to maximize efficiency.
The app is also collaborative so you can use it with your teams as tabs in channels and chats to facilitate communication and increase productivity. The tool enables you and your team to get work done faster by structuring processes into tasks, hence creating a better work-life situation for everyone involved. With Tasks in a Box in your Microsoft Teams arsenal, your meetings will be as streamlined as they can get.
The app offers paid plans for users with different needs: Starter, Pro, and Enterprise and you can get a free trial to decide whether it is right for your company. There is also a free plan with limited functionalities for a maximum of 5 users.
---
myTask2do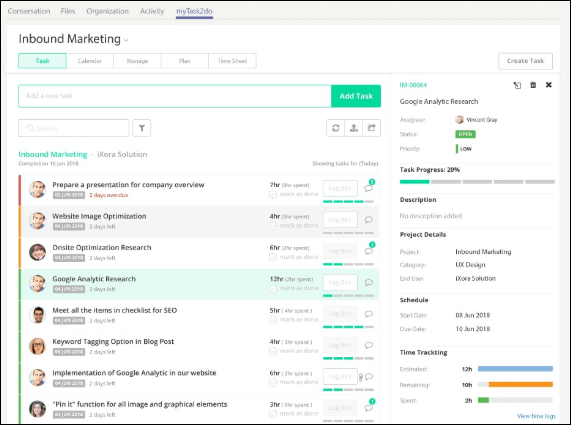 It might be yet another task management and collaboration tool on this list, but it unlike any other. It offers a calendar view for all your tasks so you can prioritize every task as per the deadline. Its intuitive drag-and-drop mechanism makes it very easy to assign tasks to any team members.
Additionally, it also offers time-logs, timesheets, and activity log for efficient resource management. You get a real-time picture of your work progress leading to an increasingly enhanced productivity. You can also create different calendars for projects, teams, clients, and even campaigns to efficiently manage different tasks. It also offers other features like a Dashboard to keep an eye on everything, email notifications, attachments, and even an Outlook add-in.
The app has no free plan, but you can get trials for their paid plans that include Basic, Startup, and Enterprise for different businesses with varying needs.
---
Everyone wants maximum productivity out of their working hours, and task management tools will prove to be your holy grail on this quest. But choosing the tool with all the essential features that exactly fit your needs is the most important thing to keep in mind while shopping for your needs. A wrong tool will inadvertently subvert your agenda of increased productivity and you will be back to square one.