Illustrations are the life of the party. They add emotion, visual appeal, and most importantly, human touch to your design. But when you're thinking of bringing in some color and curiosity to the table, it comes at a price. However, the good news is that to every internet product, there's always a priceless commodity. Priceless because it needs no money and priceless because it needs no money.
So, read on to know more about the 5 best sites to find some great illustrations that you could use to take your design to the next level.
Manypixels.co
This website is one of the best ways to fill in a last-minute need for an engaging illustration. The one endearing quality about manypixels.co is that although it offers a pre-designed gallery of illustrations, it still allows you to pick the overall colour for each of these designs. You can find sketches for a variety of topics including, business, shopping, food, recreation, you name it.
The makepixels gallery provides four distinct color formats of illustrations. The 'monochromatic' section deals with hues of a single color. The 'two-color' format offers illustrations with two prominent colors. The isometric section is all about three-dimensionally colored and charactered illustrations and the 'flatline' gallery has comical illustrations, which are simpler drawings, all in a single custom color.
You can download each of these illustrations as an SVG file or a PNG file.
---
Openpeeps.com
As the name suggests, openpeeps.com is a human-centric illustrations website (peeps means people in the millennial slang, in case you didn't get it). Like manypixels, here too you can download illustrations, but individually. These individual vector pieces can further be mixed and matched as per your liking.
The illustrations come in 3 postures; bust (half body or torso), sitting, and standing positions. You can merge each of these postures separately and add details too by downloading the free zip file. There are some pre-designed peeps on the site too, you can use them as an SVG image or a PNG image.
---
Blush.design
Most of the downloadables on openpeeps are black and white peeps, you can add color and more variety to your peeps by using it with 'Blush'.
Blush is an efficient illustrations plugin by Openpeeps. It offers a much more creative, colorful, and interesting format, wherein you get to choose the skin color, bg color, and even the outfit, posture, and accessories of the peeps. Essentially, Blush ain't a pre-designed peep page and unlike openpeeps, you don't need to make purchases or even download any zip files.
All you need to go is get those creative brain cells burning and mix up and match any of the illustrations to create your own unique piece. If you're not really feeling creative, you can also randomize the illustrations and Blush would give you some unique ideas. You can easily download your creations or even copy the image/editor link. (psst. there are COVID accessories too).
---
Paper Illustrations
Paper Illustrations by iconscout.com is a free pack of 22 simple cartoons following a particular style of animation and design. These illustrations are instantly downloadable either as an individual PNG image or as a collective zip file. It is wiser to scroll through the paper illustrations and find the one you like the most, because hitting the 'search bar' would bring you paid items from iconscout.
---
Control.rocks
It definitely does. Especially when you get to change the face of your website with the illustrations you choose. Control.rocks has two broad kinds of illustrations packages; one is free and the other isn't. Both these packages have their own pros and cons.
The free package offers a limited number of illustrations (108) and the paid one offers a diversity of options. Free package items can be accessed by downloading the zip file through a purchase procedure (you can add $0 for each of the purchase procedures on this list). These illustrations can further be easily used in your design.
Opendoodles.com
Just like the name says it all, Opendoodles offers doodled vector illustrations. The website has a range of instantly usable illustrations that can be used as an SVG file, a PNG file, or even as a GIF. There are a couple of colorful 'compositions' too, wherein each illustration has a background and added colors.
Opendoodles is also an illustration generator! You can add your own spectrum of colors to a pre-designed gallery. If you wish, you can download individual cartoons, or the entire library/pack too.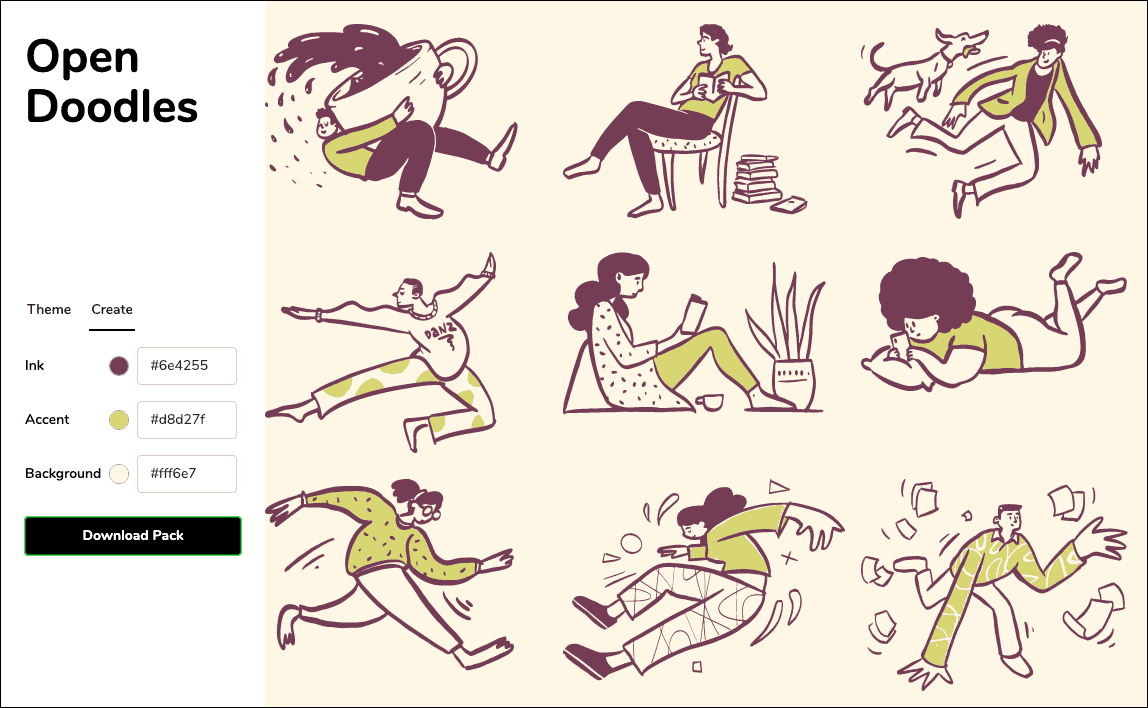 ---
Most of the illustration websites here offer free and paid services. They have a variety of free packs too that you could incorporate into your design. Figure out which of these free illustration websites are your comfort spot and use them to the fullest!