Zoom has literally become a lifesaver for many people helping them connect with the outside world, whether it's for work, school, or personal reasons. Life without a video conferencing tool these days can be very dreary. So obviously it's beyond annoying if said video conferencing app starts acting up and you are stuck with a less than properly working app.
We understand your pain. That is why we have compiled a list of issues that could badger you in Zoom and how to handle them. Let's sally forth!
Camera Not Working
Let's start with the most common but also the most annoying problem from the bunch. The "camera not working" issue has to be the most distressing because what's the point of a video conference without a working camera? Not much. But there are few quick and easy fixes you could try that almost always work.
It is possible that Zoom might have the incorrect camera chosen and you can verify the same from Zoom settings. Go to 'Video' from Zoom settings and see that the listed webcam against the 'Camera' option is the correct one. If it isn't, select the same from the drop-down menu.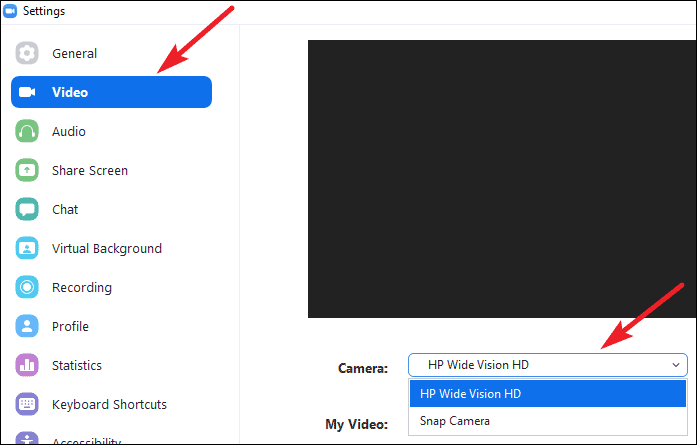 Make sure the camera isn't in use by any other app. Zoom cannot access your camera if that's the case. If you are not sure whether it is in use or not, then close any app that could be using your camera. But most webcams have a white light next to them that turns on when it's in use, so that should make it easy for you to deduce.
Confirm that Windows isn't blocking access to the camera and also that Zoom and other apps have permission to access your camera. Open your privacy settings from the Windows settings, and go to 'Camera' permissions. Then make sure that toggle for the settings 'Allow Apps to access your Camera' and 'Allow desktop apps to access your Camera' is on. Turn it on if it isn't.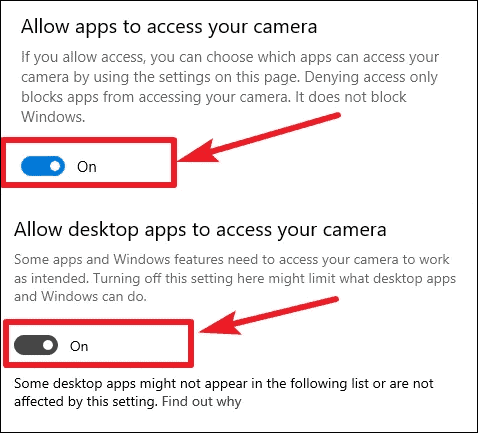 Check that your anti-virus software isn't blocking the camera access. A lot of anti-virus software provide privacy protection and it's easy that it might have slipped through the cracks.
Try restarting your computer – the "Hail Mary" for a lot of problems and most of the time it works wonders!
If none of the simple fixes worked for you, the problem could be more deep-rooted and might need you to dig deeper.
👉Head over to our elaborate guide "FIX: Zoom Camera Not Working Problem" to get exhaustive solutions for your problem.
---
Audio Not Working
Almost as common as the above problem and just as annoying, if not more is the issue of "audio not working". At least without the video, you can still make it work as an audio call but without the audio, what's the point of being in the meeting anymore? Thankfully, you can fix this with some basic troubleshooting tips.
Before heading on to some serious troubleshooting, check that you haven't accidentally put yourself on mute if others can't hear your audio. Also, if you can't hear other participants, make sure that your audio device (speakers, headphones, etc.) are working properly.
Confirm that Zoom is using the right microphone. This can be a problem if there is more than one microphone available in your system – physical or virtual. Go to 'Audio' settings from the Zoom settings, and check that the correct device is showing against the 'Microphone' option. Otherwise, change it from the drop-down menu.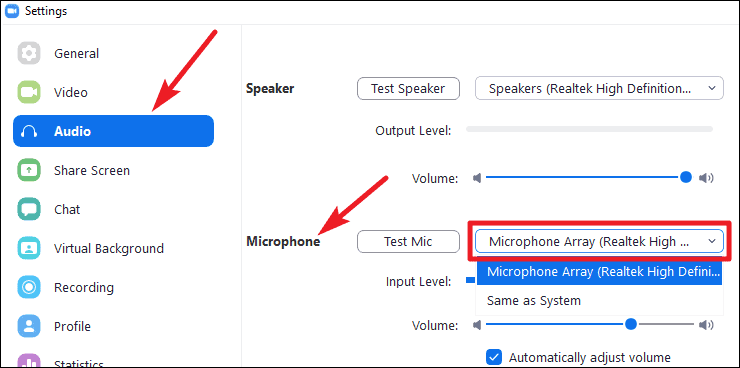 Make sure that the access for the Microphone is on and Windows isn't blocking it. Go to Privacy from the windows settings and open Microphone permissions. Confirm that the Microphone access for the device is on. If it isn't, change it to on. Additionally, also make sure the toggle for 'Allow apps to access your microphone' is on otherwise Zoom cannot access it.
---
Echoes During a Call
One of the most headache-inducing problems people face in calls is the echo. And although in most instances, it seems like there's not much you can do about it. But that's not true. Like any other issue, there are a few things you can try to fix it.
Zoom has an advanced 'Echo cancellation' option. By default, it set to 'Auto'. When you are experiencing an echo, you can tweak the settings and hope that it solves the problem. Open settings and go to 'audio' settings from the navigation panel on the left. Then, go to Advanced settings.
Now, click on the drop-down menu next to 'Echo cancellation' and select 'Aggressive' from the list of the options.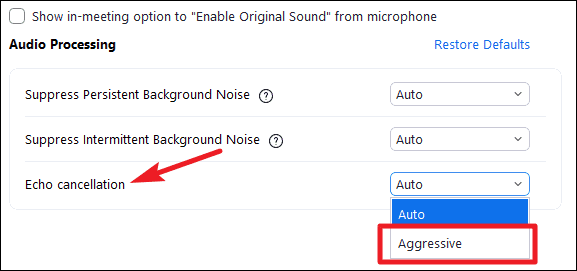 If it doesn't solve the problem, try one of the other fixes.
---
It's possible that the reason for the echo is that someone in the call has the computer audio as well as the phone audio active at the same time. The only solution then is that the person would have to choose one out of the two and manually leave the other. You can ask them to do so.
Another reason could be that someone might be using external speakers and their microphone is picking up the sound from the speakers creating the audio feedback. Recommend to the meeting participants to not use external speakers while on a call.
One more scenario could lead to echo during calls. Multiple participants could be attending the meeting while being in close proximity to each other. In such a case, they will either have to use headphones or move away from each other.
---
Problems with Screen Sharing
Sharing your screen is an essential part of the whole remote working package. So, it goes without saying that experiencing problems with screen sharing can be a deal-breaker for many users.
When sharing your screen, there are a few things to keep in mind to steer clear of troubles. Screen sharing requires a good internet connection, so check your connection speed before starting a screen sharing session. If you're still experiencing trouble, stop your video before starting a sharing session. It should free up bandwidth for a smooth sharing experience.
If the problem is that other participants in the meeting can't hear the audio from your computer while screen sharing, it's because you didn't share your computer audio with them. Zoom needs you to explicitly share the audio. If you're already sharing your screen, click on the 'More' option (three dots) on the meeting toolbar and select 'Share computer sound' from the menu.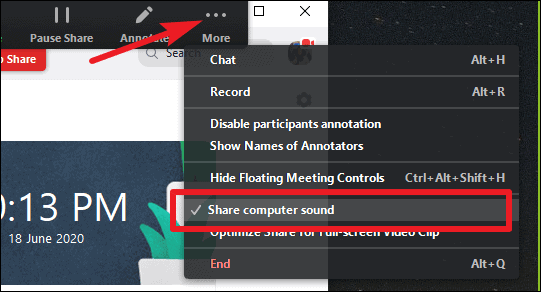 You can also enable this option before starting the sharing session. When the window to choose the screen you want to share opens, enable the checkbox for 'Share computer sound' from the bottom left corner of the window.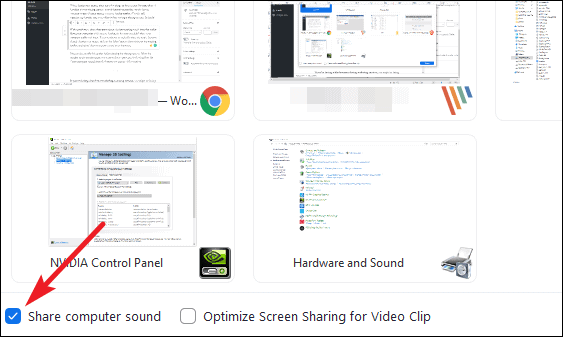 ---
If the issue is a black screen during a sharing session, you might be facing an issue larger than a slow internet connection. The automatic switching of the graphic card (such as an NVIDIA card) could be the reason.
To solve this, open the Control Panel, go to 'Hardware and Sound' and open 'NVIDIA Control Panel'.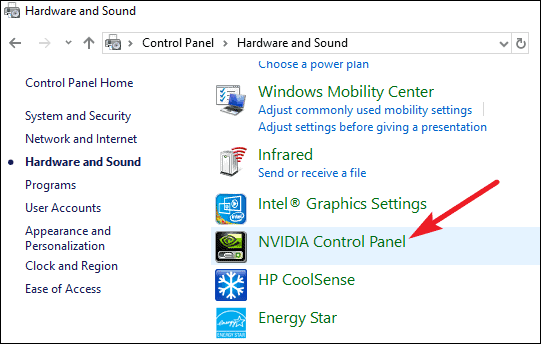 Click on 'Manage 3D Settings' once it opens.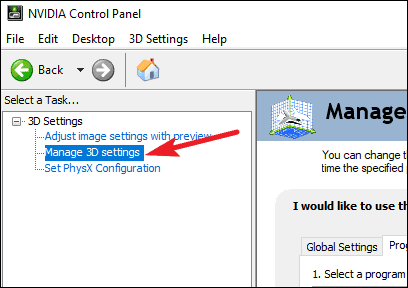 Then switch to the 'Program Settings' tab.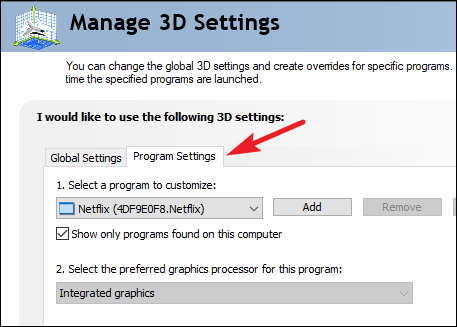 Now under the 'Select a Program to Customize' option, click on the 'Add' button and add the 'Cpthost.exe' file from the Zoom bin. You'll find the file at the location C:/>Users>YOURUSERNAME>AppData>Roaming>Zoom>bin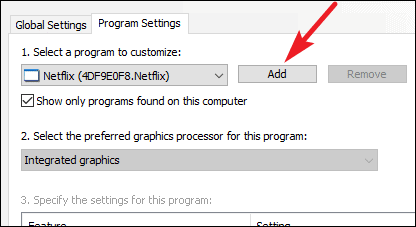 Now, click on the drop-down menu under 'Select the preferred graphics processor for this program' and select 'Integrated Graphics' from the list of options.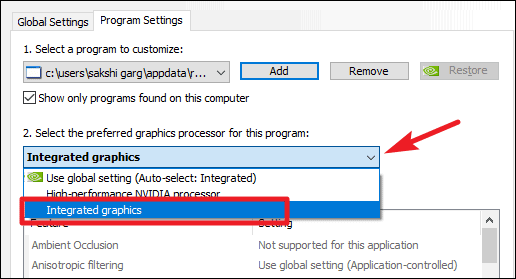 Finally, click on the 'Apply' button and try screen sharing with Zoom again.
---
Not Receiving Emails from Zoom
Another common problem users face with Zoom is not receiving emails from Zoom, both activation and notification emails. Remember that although for most servers the email is received within a few minutes, some servers might take 30 minutes or longer so you'll have to wait.
You should also check your spam or junk folder as a lot of emails get thrown into these.
If you are not receiving emails at all and your organization manages your email, the problem might not be at your end. Check with your organization's IT admin and make sure that Zoom's IP addresses are whitelisted by your company's email server.
List of IP addresses:

198.2.128.0/24
198.2.132.0/22
198.2.136.0/23
198.2.186.0/23
205.201.131.128/25
205.201.134.128/25
205.201.136.0/23
205.201.139.0/24
198.2.180.0/24
198.2.179.0/24
198.2.178.0/24
198.2.177.0/24
---
Zoom is essential for a lot of users to connect with the outside world these days and it can be quite vexing when it starts giving you troubles. Fortunately, a lot of these issues are fixable with some rather simple troubleshooting tips as above.
Additionally, make sure that you are using the latest version of Zoom's desktop client.
👉 Also Read: Zoom Update Not Working? Here's How to Properly Update It