Zoom has truly made large online gatherings possible during the pandemic. The free plan on the platform itself offers group meetings for up to 100 participants. However, it comes with certain limits.
You can have unlimited meeting duration in one-on-one meetings on Zoom's free plan. However, when it comes to group meetings, the time is limited to 40 minutes. This might not serve the purpose of webinars and seminars or even large group meetings for certain organizations. For this reason, Zoom offers three different paid plans to upgrade participants to up to 300, 500, and even 1000 participants in a single meeting. Let's discuss these plans in detail and find out what might suit your needs the best.
Different plans on Zoom to increase the number of Participants
The three plans on Zoom are named 'Pro', 'Business', and 'Enterprise'.

In the Pro plan, you can host a meeting of up to 100 participants without any time limits for group meetings. This costs $15 per month.
In the Business plan, you can host a meeting of up to 300 participants. It costs $20 per month.
In the Enterprise plan, you can host a meeting of up to 500 participants. It also costs $20 per month only, but you have to contact the Zoom sales team to avail this plan.
Tip: Opting for the annual plans can get you a good discount.
Add-on Plan Specially designed for Large Meetings
Zoom also provides an add-on plan called 'Large Meetings' that lets you increase the participant capacity for your meetings. You can have a meeting of up to 500 or 1,000 participants with this plan.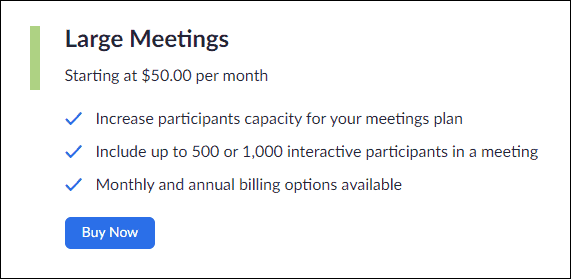 For 500 participants, this add-on can be availed at $50/month.
For 1000 Participants, the cost is $90/month.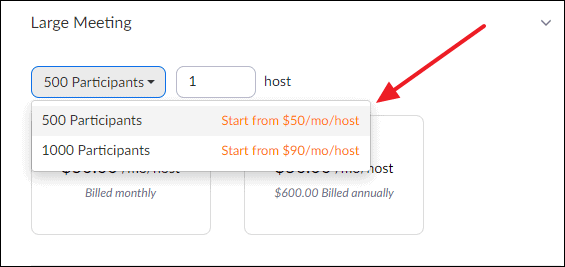 However, know that you cannot get this add-on on your free account. You will have to sign up for either a Pro, Business, or Education account to get the 'Large Meetings' add-on. You can also get this add-on on a Zoom Room at nominal costs for seminars or webinars.
---
That is all you need to know to upgrade the number of participants in group meetings on Zoom. Now you can choose the right plan as per your requirements and conduct meetings with more people with ease.