Google Meet has made it easy for everyone to connect over video meetings and share their screen with fellow meeting participants. However, when sharing a video in a meeting, you may have noticed the audio wouldn't work. Unlike Zoom, Google Meet doesn't support audio sharing from any app on your computer except Chrome.
So, for example, if you want to share a video file with audio on Google Meet. You need to play the video in Chrome first, and then present it with Audio using the 'A Chrome tab' option while presenting in Google Meet.
To know how to use Chrome for sharing audio on your computer or on the web, you first need to be on an active meeting and start screen sharing. To share the screen on Meet, you need to click on the 'Present Now' button on the bottom-right corner of the control panel in your meeting window. From the expanded menu, click on 'A Chrome Tab' as only this option has the option to share audio from the computer.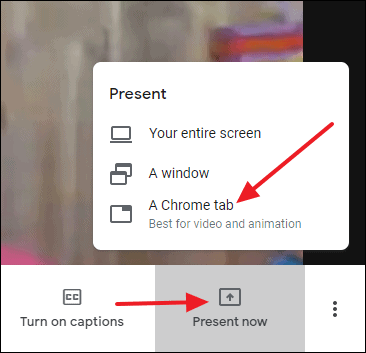 A new window will spring up on your screen displaying the tabs open on your Chrome browser. Select the tab you want to screen share in the meeting and make sure to check the 'Share Audio' box at the bottom left corner. Clicking on share audio will let you share the audio of the tab with other members of the meeting.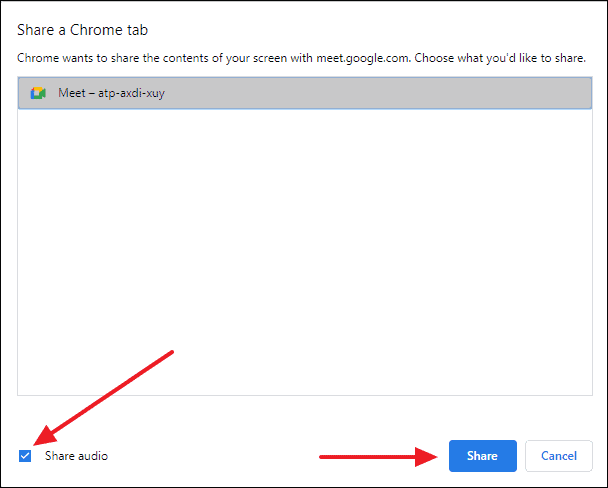 After checking the Share Audio box, click on the 'Share' button and you will successfully start sharing your Chrome tab.
How to Share Video (with audio) from your Computer on Google Meet
When it comes to streaming videos on the web and sharing them on Google Meet through the Chrome tab, you just have to stream the video on a tab and then the above process is to be followed.
However, it is to be noted that if you want to share audio or video files present on your computer in a Google Meet, you will need to play those files in a Chrome tab. Files playing in any other app on your computer won't share audio because Google Meet only supports audio sharing from Chrome when presenting.
Launch Chrome and then open the folder on your computer where you have the video file you wish to share on Meet.

Click and hold the file to drag & drop it into the Chrome window.

Right after you drop a video file in Chrome, it'll start playing automatically. But you might want to stop or pause the video before sharing it on Google meet.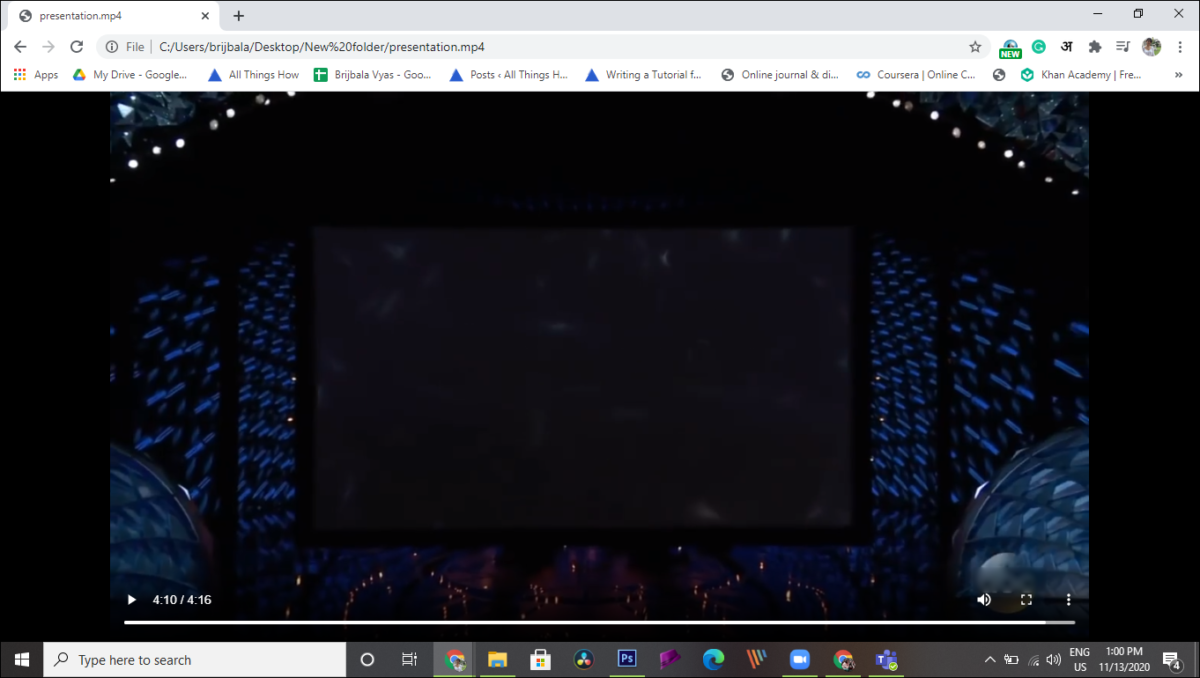 Now, head over to your Google Meet session, click the 'Present now' button, select 'A Chrome Tab' option, and then select the Chrome tab that you want to share. Make sure the 'Share audio' option is ticked while you do so.
---
As the sharing Chrome tab enables a better screen-sharing experience when you want to stream videos or animations, this feature might just prove to be a boon. Enjoy sharing screens more conveniently on Google Meet.