Canva is a great tool for creating presentations, professional as well as personal. With thousands of templates and a rich content library for images, videos, and graphics, the presentations you can create with Canva are sure to stand out.
But that's not all Canva is great for. Have you ever seen the words 'Talking Presentation' on Canva's Home Page and wondered what they are? It's Canva's solution to a very real problem people face all the time.
A lot of people use presentations in webinars these days, or it's a part of their website. The point being, presentations aren't confined to just conference rooms these days. They have far greater reach. But presenting on the internet can be daunting. Talking presentations can help with that. They're also great for when you cannot be present in person or maybe when some other people couldn't attend.
Now, obviously, it isn't really a presentation that talks, as in it doesn't have any talking elements. You're the one doing all the talking. It is basically a recording of the presentation with your video and voice-over. Canva studio makes the task so easy that you could do it with your eyes shut (metaphorically speaking, of course).
Creating a Talking Presentation
Go to canva.com and click on 'Presentations' to get started. It's better to start with a template instead of a blank slate, but you can do either. Canva has a different category for 'Talking presentations'. But it doesn't matter whether you choose 'Presentations' or 'Talking Presentations', you can record for both types.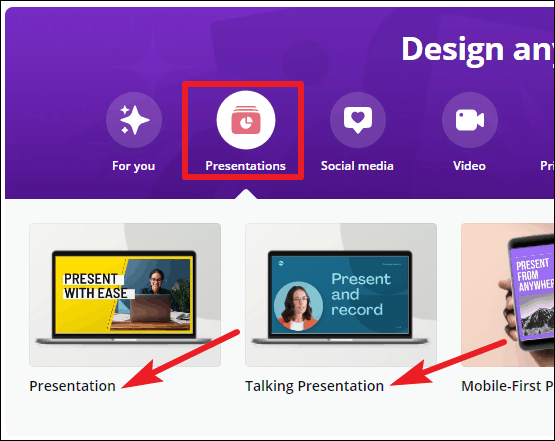 Create your presentation as you normally do. You can also go to Canva and open any of your existing presentations to convert them into a talking presentation.
Once your presentation is complete, go to the toolbar at the top of the editor.
Now, if you chose 'Talking Presentations' while creating the presentation, the option for 'Present and Record' will appear on the toolbar itself.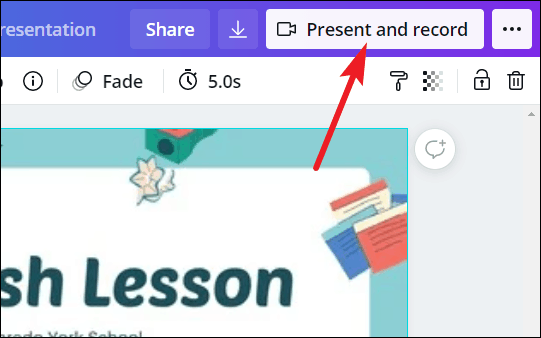 Otherwise, click the 'three-dot' icon next to the 'Present' button.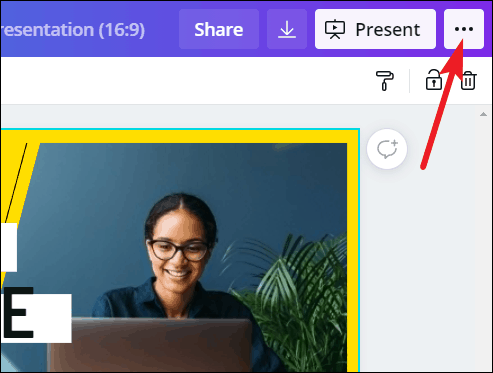 Then, select 'Present and Record' from the menu that appears.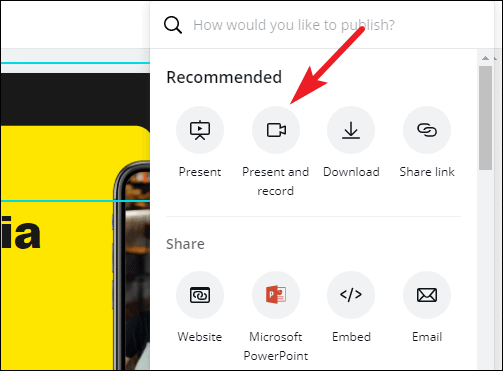 Click the 'Go to Recording Studio' button.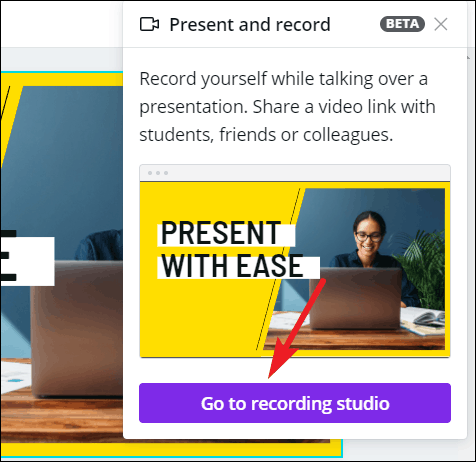 Recording the Presentation
Your browser will display a pop-up that Canva wants access to your camera and microphone. Click 'Allow'.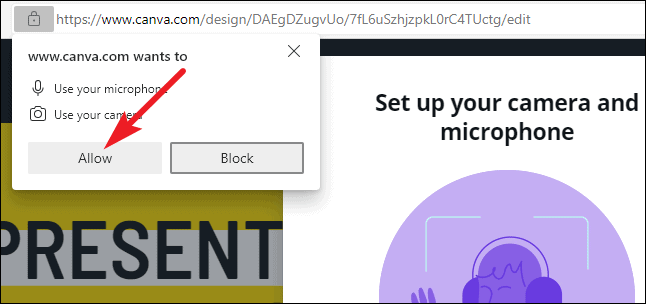 Once Canva has access to both, the 'Start Recording' button will become clickable. Canva needs access to both your camera and microphone for the Present and Record feature. If for some reason, access to either of these being blocked, you won't be able to use the functionality.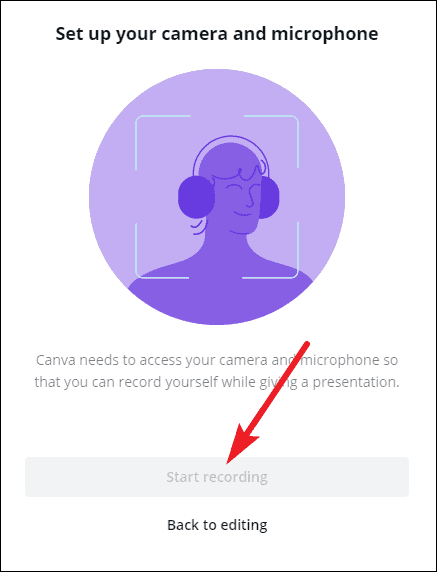 Before proceeding, check that your camera and microphone are working. You can see the preview of your video in the pop-up. You can also adjust your camera based on this preview, as this bubble represents how your video will appear while recording the presentation.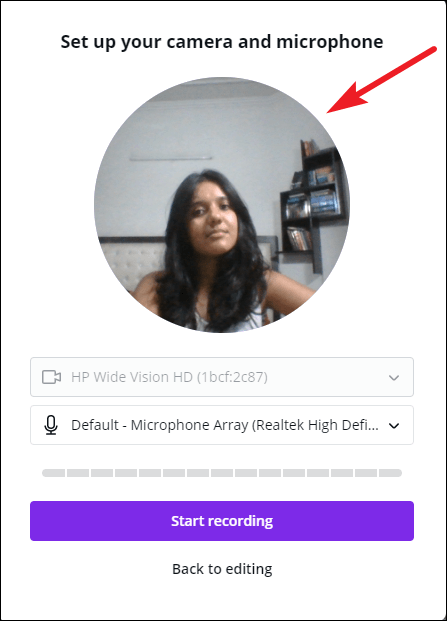 To check your microphone, say something. The bar beneath the microphone option will turn blue from gray if your microphone is working properly and Canva detects sound.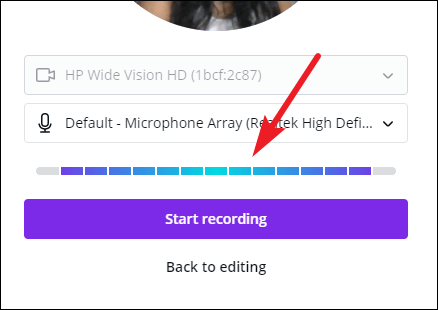 You can also change which camera or microphone to use (in case you have multiple) from the drop-down menus.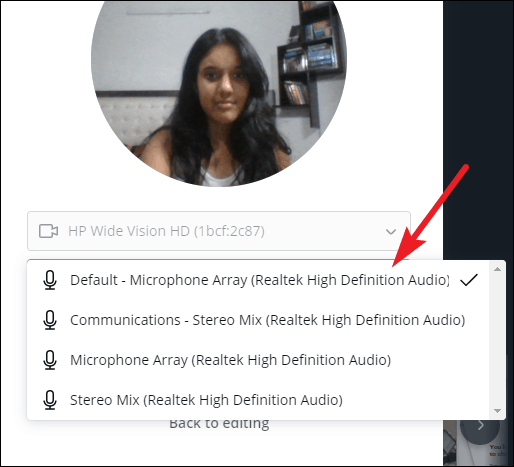 Once everything is spick and span, click the 'Start Recording' button to begin.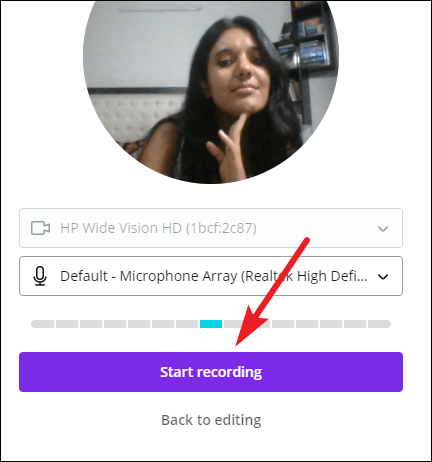 A 3-second timer will display on your screen; ready yourself for the recording during this time.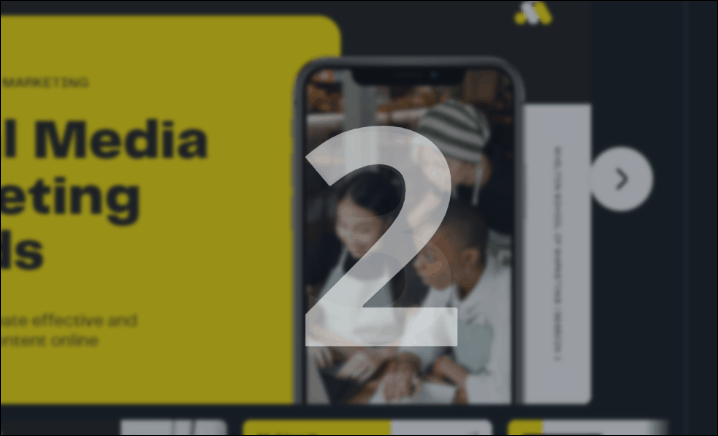 The recording screen will show all the slides in thumbnails and your notes in the right panel. But in the actual recording, only the presentation part (with your video in the lower-left corner) will be visible, which is highlighted in red during the recording session.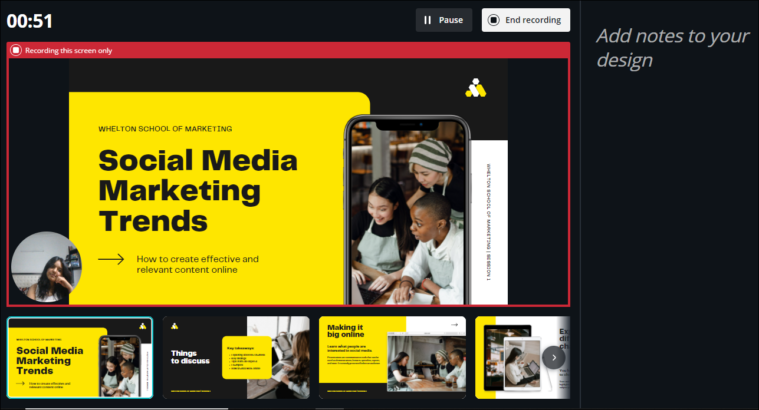 You can pause the recording at any time for a breather. Click the 'Pause' button to pause the recording.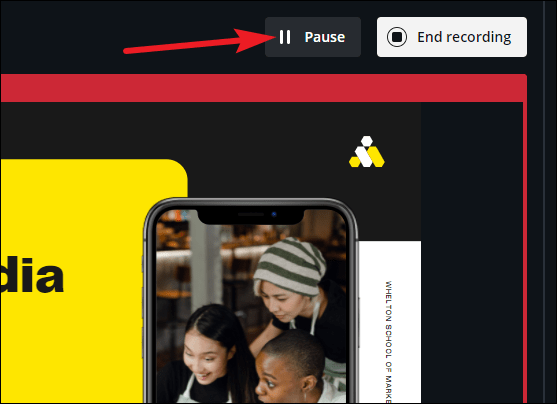 It'll become the 'Resume' button when the recording is paused, click it restart the recording.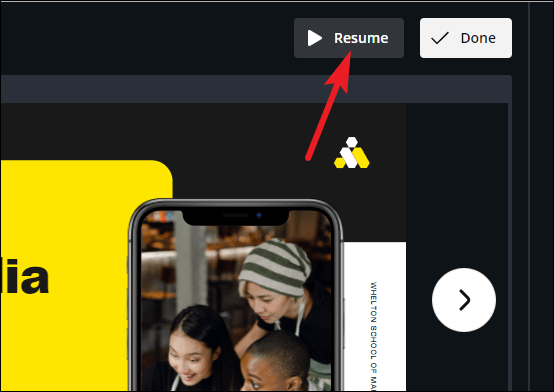 When you're done, click the 'End Recording' button next to pause.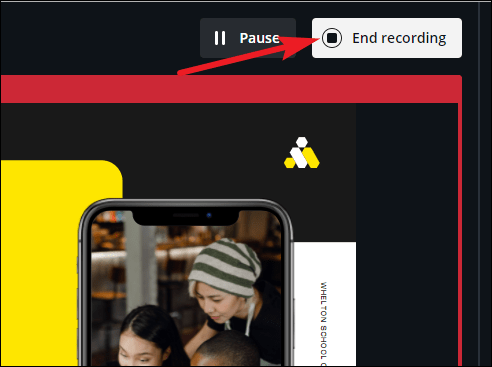 Sharing the Presentation
It'll take a few seconds for your recording to process and upload. You can discard the recording at this stage if you weren't happy with it and begin again.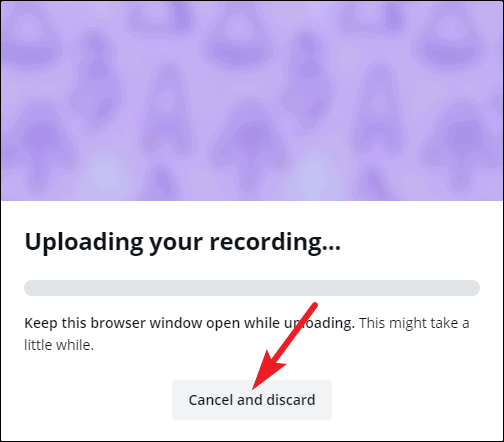 Once it uploads, the link for your recording will be ready. You can share it with others directly. Or you can download it on your computer. If you want to watch the recording before sharing it with others, you can either go to the recording link yourself or download it and then watch it.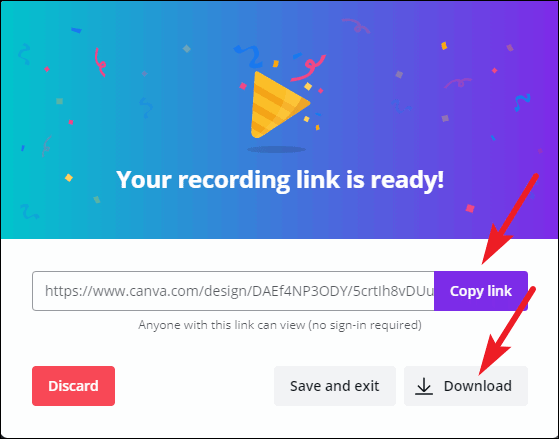 You can also just 'Save and exit' instead of choosing from either of the above options. Or click 'Discard' if you want to record again.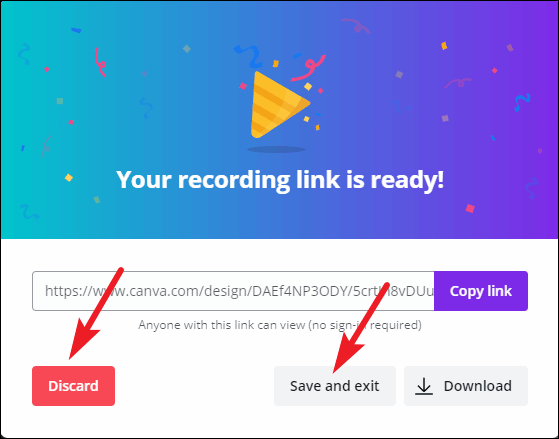 If you click 'Save and exit', you can access the recording again at any time. Open the presentation, and click the 'Present and Record' button.
The Present and Record menu will open, and it will have the link to the recording as well the options to download and delete it. If you want to re-record, you'll first have to delete this recording.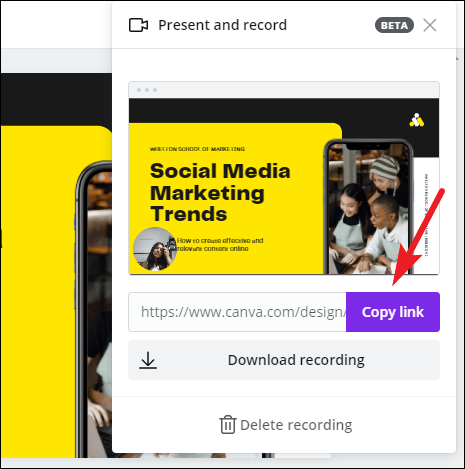 Anyone can go to the link and watch the presentation without any requirement for a sign-in. Or you can download it and upload it to your website, or use it in your webinar. The options are boundless and it's up to you.
If you want people to no longer be able to watch the presentation recording, simply delete it from the 'Present and Record' menu, and the link will no longer show the recording.
---
Canva is the perfect tool for your presentations. Not only can you create amazing presentations, but it also provides tools for what comes after. Like presenting it in circumstances when you cannot do it live. Recording the presentation adds that personal touch that simply sending it to people cannot capture.