Imagine if going through the mails at your house had to be like this: you go out to the mailbox, get an envelope, you decide not to keep it. So you go to the trash can and dispose of it, and then return to the mailbox for the next envelope.
This is what going through your emails in Gmail feels like. Every time you delete, archive, snooze or mute an email, you end up back in your inbox. For people who get hundreds of emails every day, it can be exhausting. But we know how to save the day! Gmail has an auto-advance feature that lets you move directly to the next email (newer or older, that's your choice!) after you delete, archive, etc. an email. Where has this gem been all our lives?
To get started, open Gmail on your computer and click on the Settings gear icon. Then, select the Settings option from the pop-up menu.
From the Gmail settings screen, click on the 'Advanced' tab right below the settings header.
The 'Auto-advance' feature will be the first on the screen in the Advanced settings of Gmail. By default, it will be disabled. Select Enable to start using it.
After enabling Auto-advance, scroll down and click the Save changes button. The next step in this guide won't work until you save the changes first.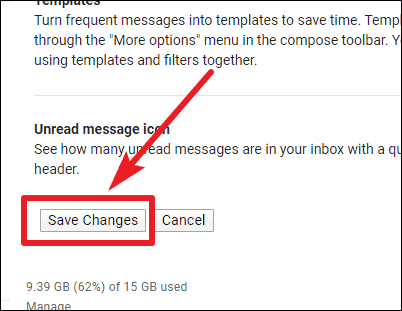 Saving changes will take you back to the Inbox screen. Go to Gmail settings again, and this time, in the 'General' tab, scroll down until you see Auto-advance options on the screen. There will be three options.
Go to the next (newer) conversation,
Go to the previous (older) conversation,
Go back to the threadlist.
Select the option you want from the first two options as there's really no point in selecting the third option. It just takes us back to square one. Then, scroll down and click 'Save changes' once again.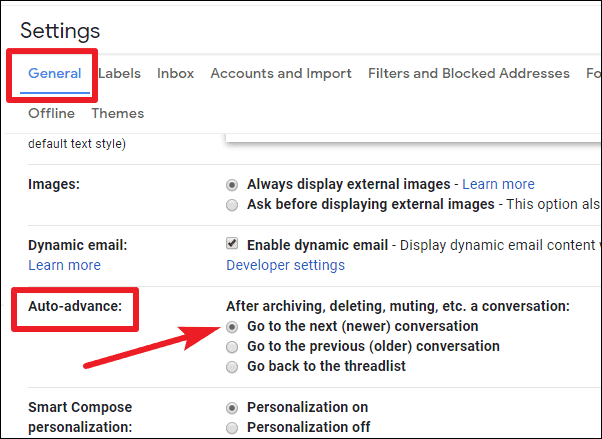 Now, you can go through your emails without wasting your time going back and forth, opening a new email every time you archive or delete one.