A few months ago, no one could have imagined such heavy usage of video conferencing software, especially in workplaces and schools. But this drastic turn of events we are now a witness to, completely changed the way we connect with people around us. Meetings and classes are happening entirely through video conferences now.
Microsoft Teams is one of the front runners in the video conferencing ecosystem. And it is working hard to maintain that status. From bringing a lot of essential features to just as many innovative ones, folks over at Microsoft have been hard at work. One of the latest innovations coming to Microsoft Teams is the 'Together Mode'. Get the scoop about what it is!
What is Microsoft Teams Together Mode
Although video conference meetings and classes have been quite literally our saviors, there's no denying that they don't hold a candle to their real-world counterpart. The Together Mode in Microsoft Teams is an attempt to bridge the gap between the virtual and the physical.
The Together Mode uses AI segmentation technology to give users the experience of almost being in the same room. How does it do that? It digitally places participants in a shared background like at a conference table, or an auditorium, etc. Essentially, it makes you feel you're all in the same room together, hence, making it more personal and more engaging. Microsoft claims that it allows you to focus on other people – their faces as well as their body language – better and thus makes it easier to pick up non-verbal cues.
It might not be something you'd want in every meeting, but it'll come handy in brainstorming sessions and group discussions. The feature has already started rolling out and will be generally available to everyone in August. So if you already see it in your meetings, lucky you! But if not – Patience, young grasshopper.
---
How to Enable Together Mode in Teams App
Before you can use it, you need to enable the "new meeting experience" that the Together Mode is part of along with other new features such as Large Gallery View, Focus Mode, separate meeting window, etc. Click on the 'Profile icon' on the Title Bar of the desktop client and select 'Settings' from the menu.
By default, the General settings will open. This is exactly where you need to be. Under the 'Application' section of the general settings, go to the very last setting and enable it. That is, click the checkbox next to 'Turn on the new meeting experience' so that it will be selected. Now, restart your Microsoft Teams so these changes can take effect.
If the aforementioned option is not there in your settings, make sure you're using the latest Microsoft Teams desktop client. Click on the 'Profile' icon and select 'Check for Updates' from the menu.
This will manually update your app if there is an update available. If there isn't, that means the update hasn't reached you yet as it is still in the rolling out phase. But it should reach you soon as Microsoft is targeting general availability by the end of August.
---
How to Use Teams Together Mode
Once you have enabled the "new meeting experience," using Together Mode in Microsoft Teams is as easy as pie. Click on the 'More actions' icon (three dots) on the meeting toolbar in the meeting. The meeting toolbar will now appear towards the top of the screen instead of the middle of the screen where it previously used to be. An options menu will open. Click on 'Together Mode' from the list of options.
Note: Together Mode is only available in meetings with 5, or more, people. For meetings with less number of people, it will appear in gray and hence, unclickable.
Enabling Together Mode will change the view on your screen to the auditorium mode. And all the participants who have their video on will appear in one of the seats. The "size" of the auditorium will change based on the number of people in the meeting. So, for a smaller number of participants, there will be fewer seats, but it also means that the video of all participants will be bigger and have better visibility than for vice-versa.
Currently, the Together Mode is rolling out with the Auditorium view, but more views like a round-table, coffee break, a meeting room, and much more will be coming in the future.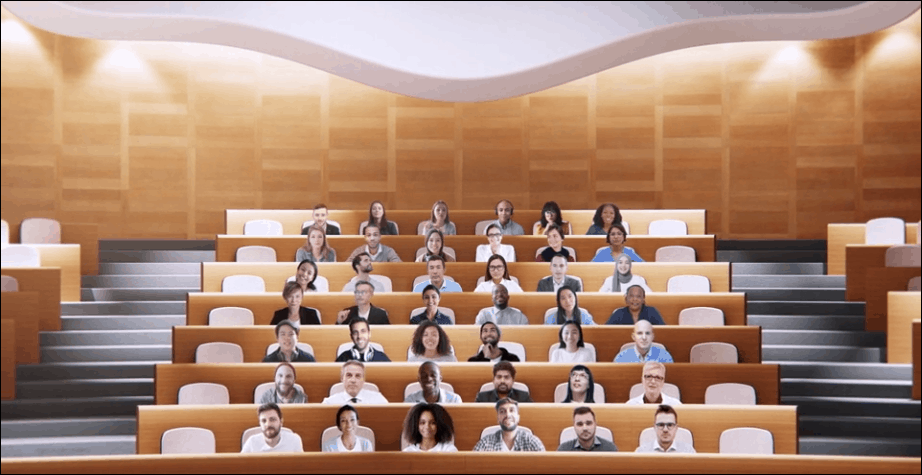 ---
Now, whether it is an important intimate meeting or a big event, you can feel like you're all together even when you're apart with the Together Mode in Microsoft Teams. If you're a student, you can once again feel like you're sitting in a class with all your peers right from your living room. Together Mode will make your meetings and classes more engaging and make your connections even stronger during these dire times.