People use Microsoft Teams for communication and collaboration with their teammates. In fact, so much so, that a lot of users have entirely shifted from email to Microsoft Teams for communication purposes.
So, it's natural that you are looking for some way in Microsoft Teams to let your teammates know when you can't get their messages and won't be able to reply, so there's no scope of miscommunication. Whether you are away from your desk for an hour, a day, or a week, whether you stepped out for a client lunch, seminar or you're away on a vacation, it's always a good practice to let your status reflect that and that is exactly what you can do with an 'Out of Office' Status in Microsoft Teams.
If you don't know what status is in Microsoft Teams, it's the green/ yellow/ red dot that appears next to your Profile Picture in Microsoft Teams and indicates to your fellow team members whether or not you're available for a connection.
If you're a bit confused with this new status option, it's not your fault. As you might've noticed, the Out of Office option is not one of the standard options available in the 'Status' feature in Teams. Setting an 'Out of Office' status in Microsoft Teams is also not as simple as changing your status from 'Available' to 'Busy' or 'Do Not Disturb' – something you can do in a jiffy.
Where to Set the 'Out of Office' Status in Teams from?
"Where do I set this Out of Office status in Teams if not from the Status option?" Well, the thing is you cannot set an Out of Office status from Microsoft Teams at all. You need Outlook to do it.
Microsoft Teams syncs with your Outlook account and picks up the Out of Office status from Outlook and automatically reflects it on your Teams account. So, it's no wonder that you didn't find the option to set the status right away. Microsoft certainly doesn't make it easy.
---
How to set Out of Office in Outlook?
To set an Out of Office status in Teams, you need to set up 'Automatic Replies' in your Outlook account. What are automatic replies? The feature sends a message automatically to any emails you receive while it is on. Microsoft Teams sees when you have automatic replies on in Outlook, and changes your status to reflect your whereabouts.
You can set up automatic replies in Outlook from both the desktop app or Outlook web.
To set up automatic replies from the Outlook desktop app, open the app and click on the 'File' option on the Menu Bar.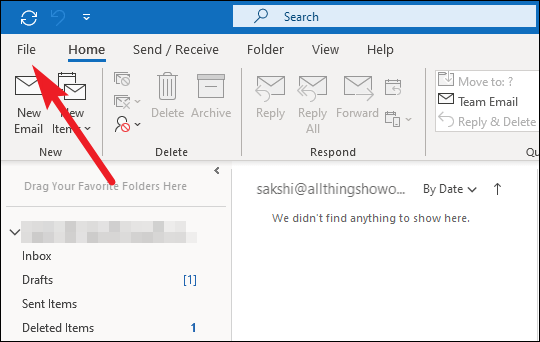 Now, click on the 'Automatic Replies' option on the Account Information screen.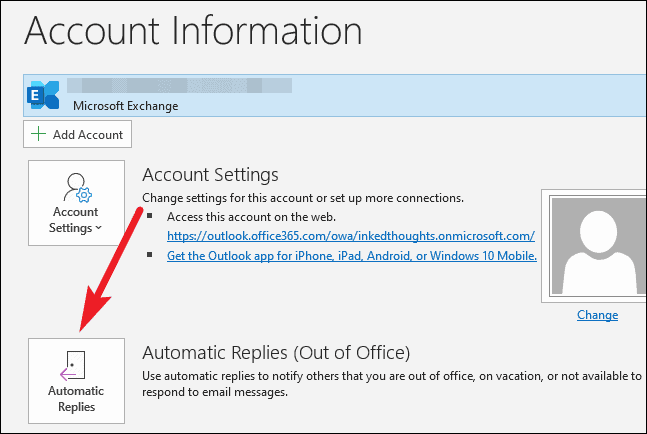 The dialog box for setting up automatic replies will open. Currently, it will show 'Do not Send'. Select the radio button for 'Send Automatic Replies'.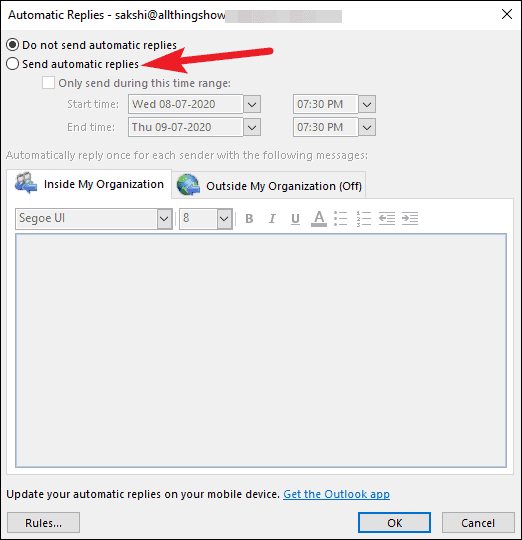 You can also specify a time range during which to send the out of office message. Check the box for 'Only send during this time range' and select the date and time.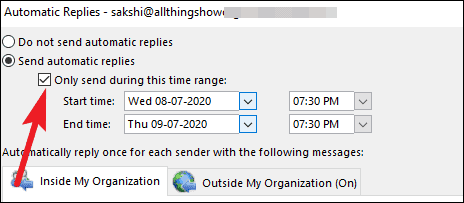 You can set a custom message for what to reply with to messages received. Now, if you are using an organization account, there will be two options for the message. You can set different messages for people internal and external to your organization. For a personal account, there won't be a distinction. Finally, click on 'OK' to save the changes.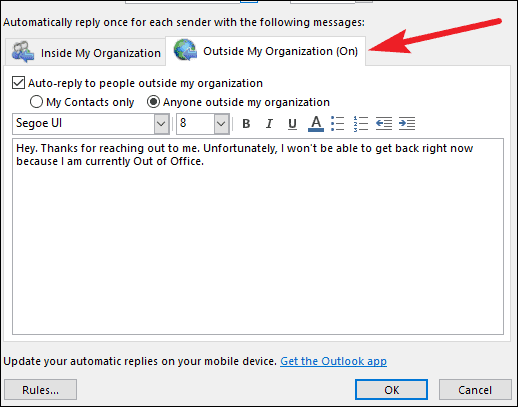 After turning on Out of Office replies, go to Microsoft Teams. Your status will change to Out of Office, and the message you set up in the automatic replies will also be displayed with your status when someone hovers over your profile picture.
---
To set up automatic replies from Outlook for Web, go to outlook.live.com and log in with your account. Then, click on the 'Settings' option (gear icon) on the top right corner of the screen.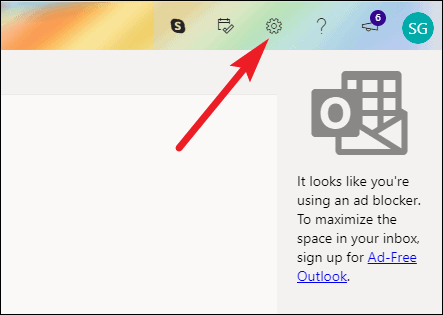 In the search text box, type 'Out of office' or 'Automatic Replies' and then click on the search result for Automatic Replies setting.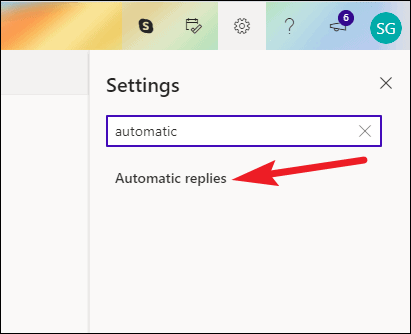 The dialog box for automatic replies will open. Turn on the toggle for 'Automatic Replies On'.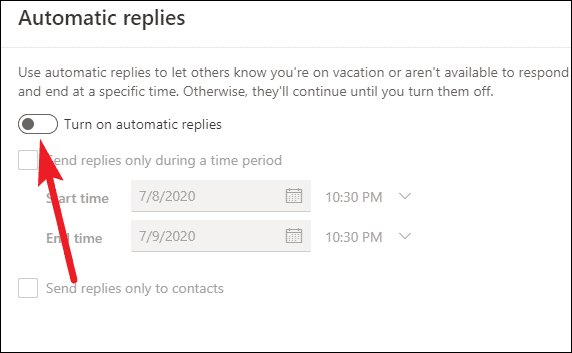 If you want to send automatic replies for a specific period, check the box for 'Send replies only during a time period' and specify the date and time and set your custom message.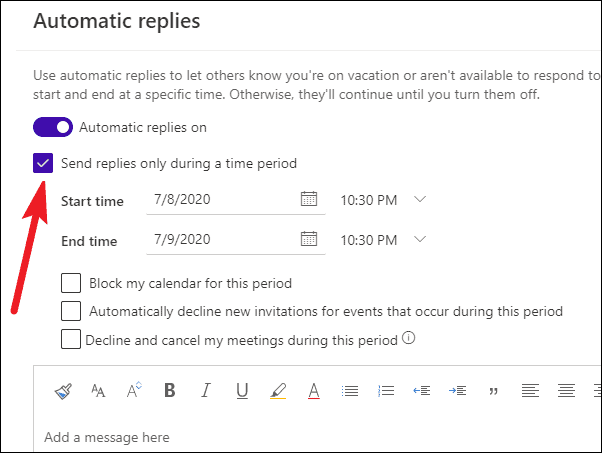 ---
Setting up automatic replies is the best way to set Out of Office status in Microsoft Teams. You can set the status for a specified time period, and also have an explanatory custom message along with it. But it is definitely not the only way.
You can also set an out of office status by creating an appointment in your calendar and setting it to 'Out of Office'. Open the Outlook desktop app and switch to the calendar instead of email.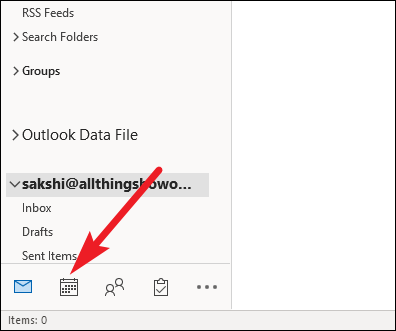 Click on the 'New Appointment' option in the Home menu.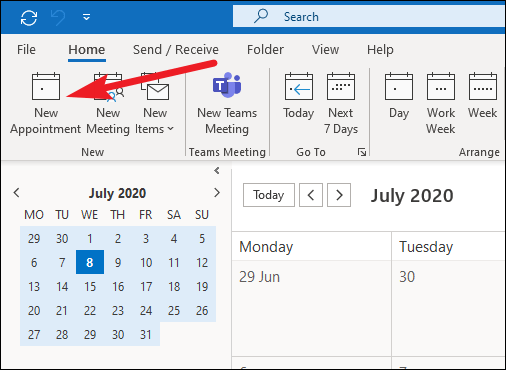 The dialog box for creating an appointment will open. Create an appointment for when you will be out of the office. Now, click on 'Options'.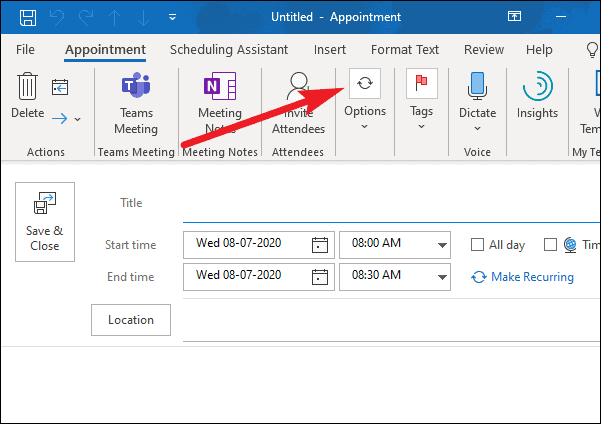 From the drop-down next to 'Show as', select 'Out of Office' and save the appointment.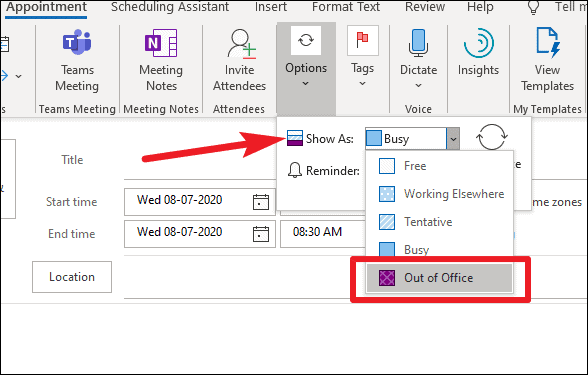 Microsoft Teams will change your status to Out of Office during the time you set your appointment in Outlook.
---
Now, you can step away from your desk without any worries. Everyone will be able to see your Out of Office status. In personal chats, an alert at the sender's side will remind them that you are out of the office and might not be able to get back to them right then.