Windows 10 is the most advanced of all iterations of the OS and offers users a wide variety of features and tools. Many a time, Windows users are stuck with one thing or the other and are unable to find their way across it. To ensure that users do not face any such hassles, Windows provides a lot of helpful features.
Windows 10 offers help with almost everything and helps you resolve the issue quickly and safely. The main advantage of using Windows 10 help and not other third-party applications to fix an issue is that it knows all about the system and will never make changes that can harm the system which is not the case with third-party applications. In this article, we will discuss how you can get help in Windows 10.
Press the F1 Key to Get Help in Windows 10
The F1 key is a useful keyboard shortcut for help in Windows 10. Many software and apps support this shortcut, while some do not. Whenever you are working on the system and find something beyond your understanding or are having trouble with a particular tool or feature, press F1, and it will do a Bing search to help resolve your issue.
Let's say, you are using File Explorer and are having trouble with something, hit F1, and Windows will perform and Bing search and display the results.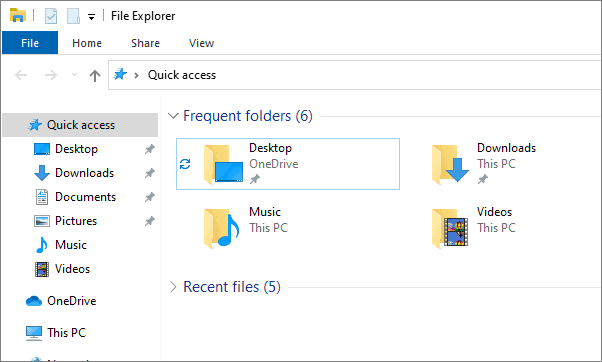 The results are displayed on the Bing search. The results display most of the common issues encountered and their fix. You can now go through the complete guide and resolve the issue.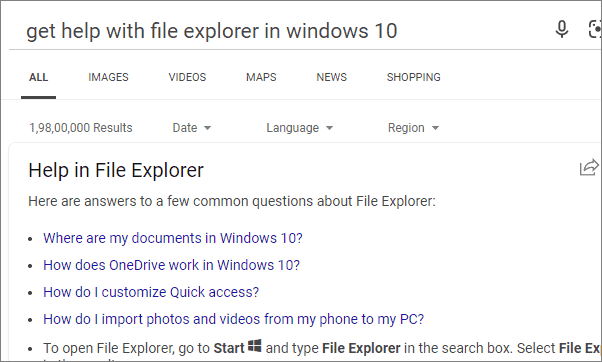 Now assume, you are having some trouble with the browser, again press F1, and a Microsoft Edge help window will open.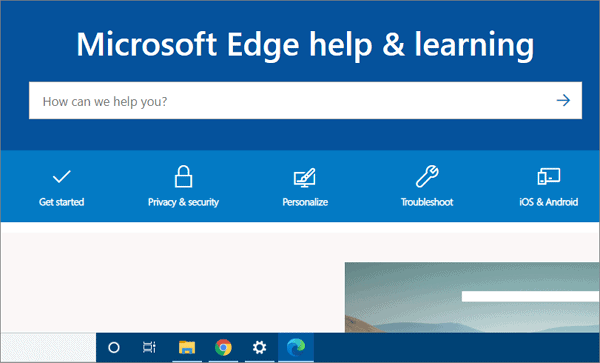 To get help with Windows using the F1 shortcut, go to the desktop and then press the F1 key. It will open a Bing search results for the common Windows errors. In some cases, like Microsoft Office, instead of a Bing search, an internal help guide will open on pressing F1.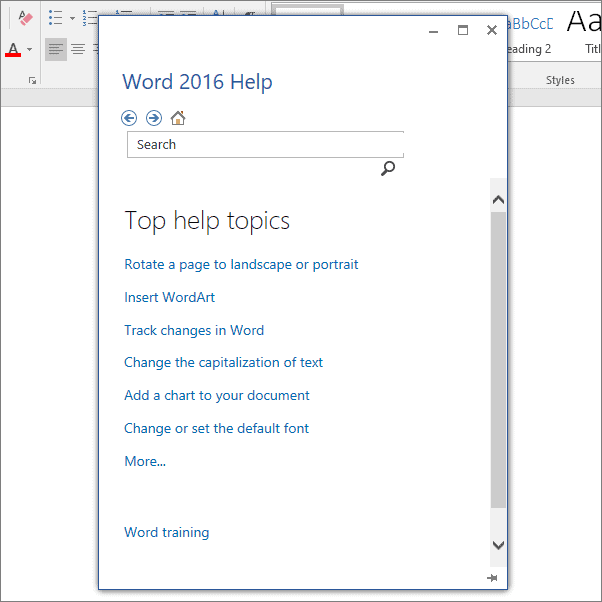 ---
Use the 'Get Help' App
'Get Help' app is one of the best features of Windows 10 that allows you to talk to a virtual agent to resolve any error or issues with the system. The app comes preinstalled and is very efficient in its role. Search for 'Get Help' in the Start Menu and then click on it.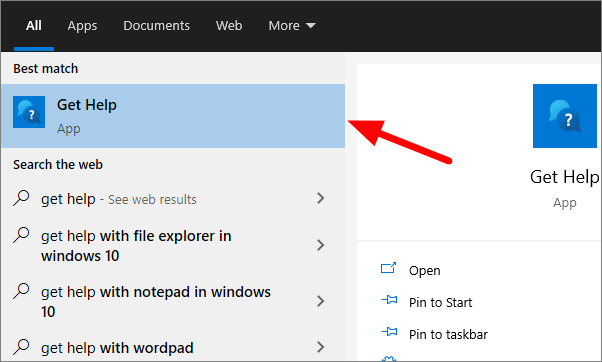 By default, you will be connected to a virtual agent and you can ask for system related queries over here using keywords or full sentences. It's extremely accurate in finding a solution and also helps a user learn a lot of new things.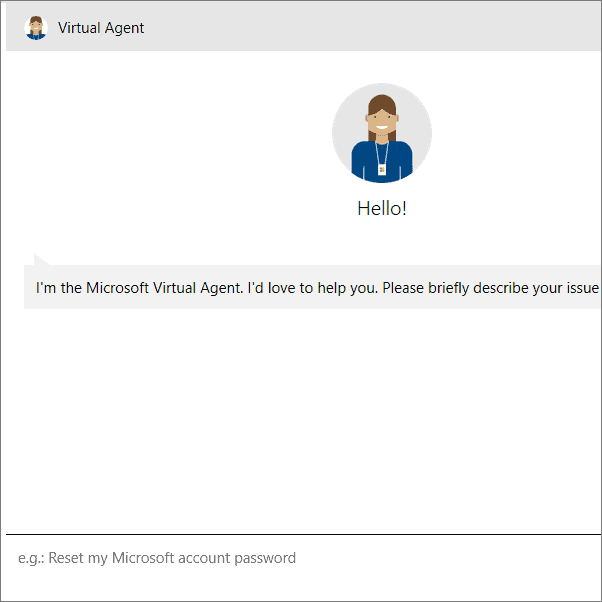 Some users don't prefer communicating with a virtual agent, rather they want to be connected to a person to resolve their queries. The Get Help app offers this as well. Just type 'Talk to an Agent' in the chatbox and press ENTER. It asks you for some basic information about the product and the issue and will connect you with an executive. You can also schedule a call at a preferable time if not comfortable with an instant call back.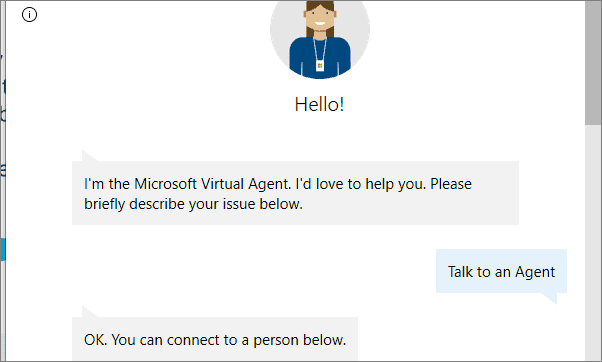 With such amazing features at disposal, the Get Help app proves to be the most efficient and user friendly amongst all the options.
---
Ask Cortana for Help
For users who prefer to talk rather than to type, Cortana is the perfect solution. Cortana is the in-built AI assistant in Windows 10 that works both with voice and text commands but most users prefer the voice command. You can get help with all system related issues here.
All you have to do say your problem out loud and Cortana will give you all the possible solutions. It also comes with video links that are relevant to your problem and can help resolve it.
To launch Cortana assistant, click on the circular-shaped icon near the Start Menu.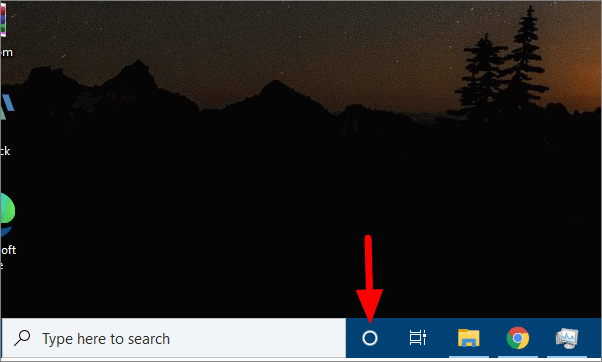 Next, click on the Mic shaped icon and start speaking. Once you have narrated the issue, the app will automatically search for solutions.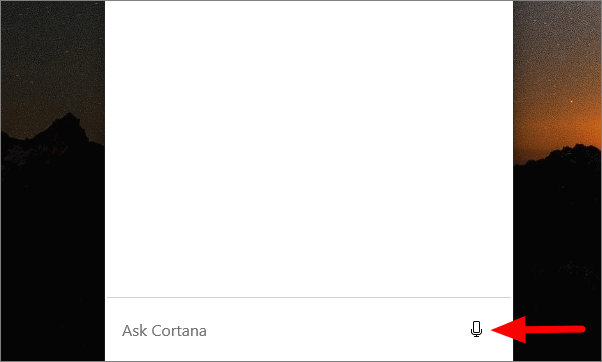 The app already has several solutions preloaded in its database and can fetch them real quick. For other issues, it will search the web and display the most relevant results.
---
Windows 10 Troubleshoot can Help too
Troubleshooting helps identify the problem and lists the ways to fix it. Windows 10 offer a troubleshooting section to help you find issues with your system. It is helpful for those who are not technically sound and want Windows to resolve the issue by itself without any external interference.
The built-in Windows 10 troubleshooting capabilities are a good option as Windows will never go with solutions that might harm your system. If you use third-party software to identify and fix issues, it can cause harm to your system and render it unusable.
To access Windows 10 Troubleshoot options, right-click on the Windows icon on the extreme left of the Taskbar and select 'Settings'.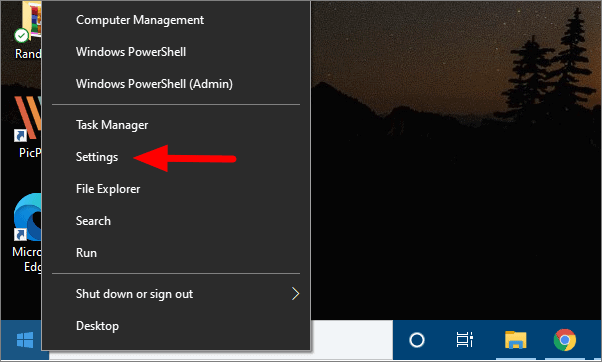 In Windows Settings, click on 'Update & Security'.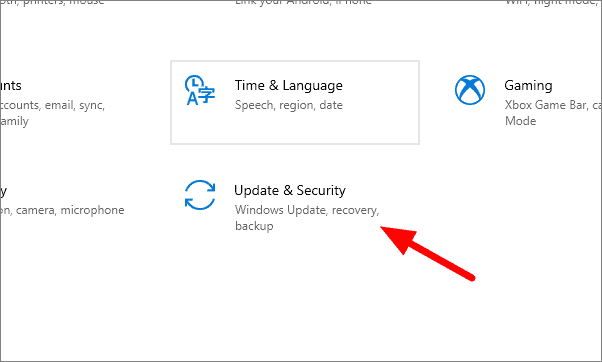 On the next window, select 'Troubleshoot' from the options on the left.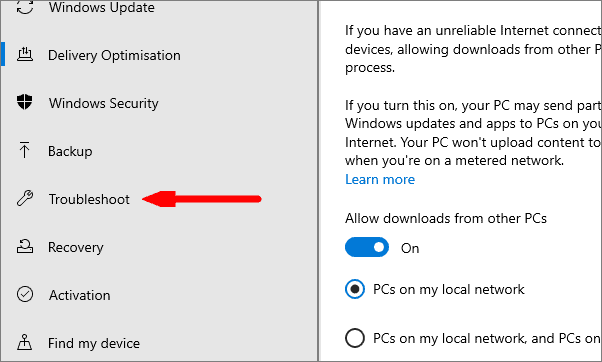 Here you will see multiple options, click on any one of these to check for any issue. In case there is, Windows will also display the solution and help a user fix it.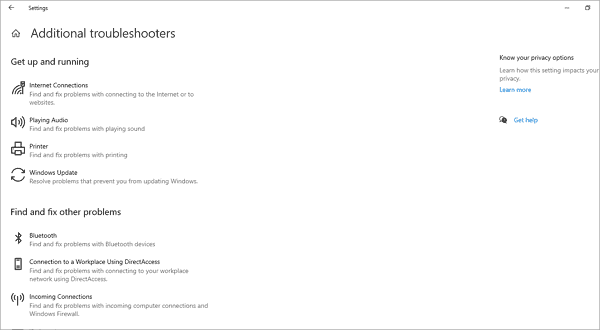 Windows, also automatically troubleshoots various errors on its own, thus saving users time and also ensuring a good user experience. This feature has to be activated from the settings and is not activated by default.
---
Use the Start Menu Search
The Start Menu is comprehensive and apart from displaying just the apps and software on the system, it also displays web results based on the input keywords. This feature helps users find fixes to a lot of system-based errors and issues.
Let's assume, you are facing trouble connecting to the Wi-Fi, search for it in the Start Menu and it will display relevant software/applications and solutions from the web. You can click and open a relevant result to resolve the issue.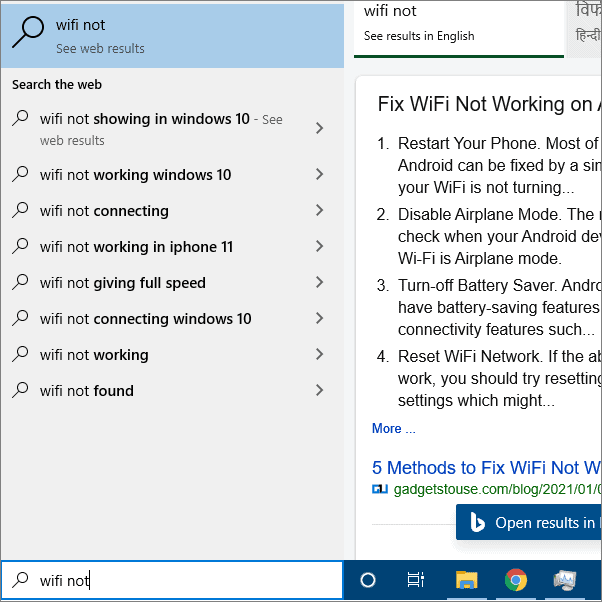 If you find the web result on the right relevant, click on it, and it will open. Windows 10 also displays other related keywords on the left. While in other tools and apps, you have to enter the complete problem to get a solution, here you can simply mention keywords, and Windows will do the rest for you. This works great when you are not sure about the exact nature of the problem as it will display other related results as well.
---
Use the Tips App
Windows 1 offers a plethora of options that many users are not aware of. Almost every couple of months, new features and fixes are introduced with updates. If you do not have any particular error or issue in mind and want to learn about the various shortcuts and other related stuff, 'Tips' is the app for you in Windows 10.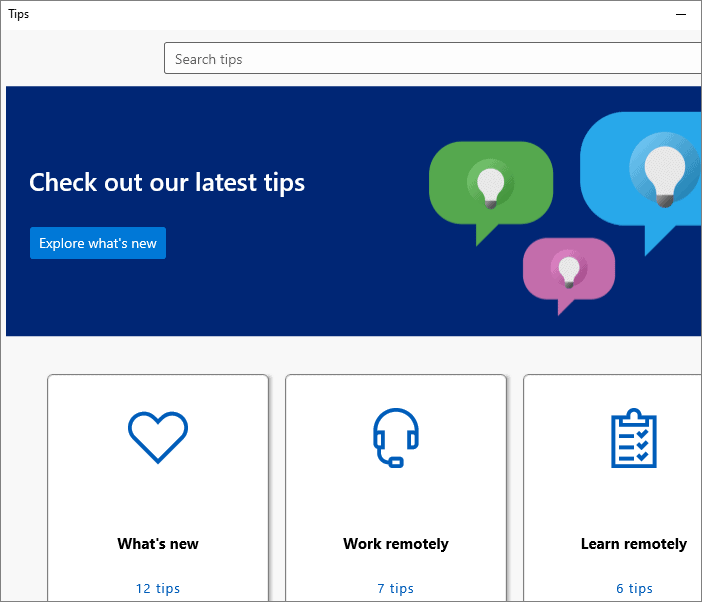 The Tips app comes preloaded with Windows 10 and does not need to be downloaded or installed in the system. If users use this app every couple of days, they will be aware of all the new features and shortcuts in Windows 10, major improvements and updates, and all the simple and intricate things their system is capable of.
---
Self-Troubleshooting Tips
The computer, although a complex machine, is meant to be used by average human beings. Its interface is kept simple and easy to learn so that even someone new can start working within no time. Moreover, its troubleshooting is just as simple, and one needs not take it to a service center every time there arises a minor issue. In this section, we will discuss some self-troubleshooting tips which will come in handy in the future.
FIX: Unable to Turn the Computer On
This is one of the most common problems faced by users. Most of the time, the solution is simple, and rectification can be done easily.
Whenever your system doesn't turn on, the first thing to look out for is the power supply. Check if the adapter is working fine and whether the charging port is alright. Also, try using another charger. If the charger works fine, leave the device on charging for some time and then try starting it.
If the power supply is okay, make sure the display is alright and there is no issue with it. In case, you are using a Desktop, try changing the monitor. If the issue is still not resolved, look for hardware and software related issues.
FIX: Computer Getting Slower
This is another common problem users face generally after their system gets old. The first thing to do is to check if there is enough free space on the system. Try clearing some of the rarely used software to create space on the hard disk.
Scan your device for malware and virus as these can considerably slower the device and even render it unusable.
Also, you can disable the autostart programs as they lead to a longer loading time when the system is turned on. You can disable these programs from the Task Manager under the Start-up' tab. Select a program that you want to disable and then click on the 'Disable' option at the bottom.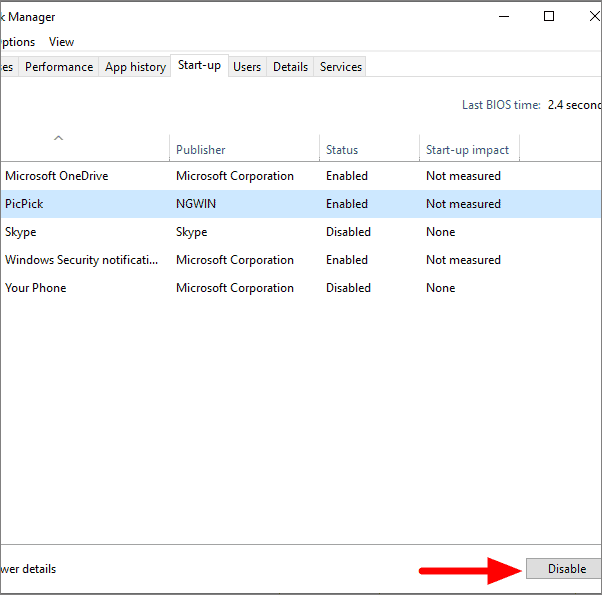 FIX: Poor Internet Connection
If the Internet is not working on your device, check if you are connected to a network that has a stable internet connection. Connect with the network using another device to see if there is an issue with the network or your system. Restart your router if the problem persists or you could also reset the router.
If you are using a wired connection, check that all the cables are plugged in properly and that none of them are damaged.
Some background apps also consume large volumes of data and can considerably lower your Internet speed. You need to stop these apps from Task Manager.
If all the above steps do not help improve the situation, try contacting your internet service provider for any issues from their end.
Tip: Always Update Windows
Most problems and errors occur when an older version of Windows is running on the system. Each new update has major and minor fixes, information regarding recent malware and their detection, and other upgrades. When a system is up to date, it will work smoothly and minimum problems will be encountered.
---
Now that you have read about multiple ways to get help in Windows and some simple self-troubleshooting tips, it should be easier for you to resolve a problem or error the next time in Windows 10.