Arc Browser, with its innovative design and user-friendly interface, has revolutionized web browsing. But when it comes to its approach to Bookmarks, not everyone is happy. Simply put, Arc Browser does not have Bookmarks in a conventional sense.
Now, navigating the digital landscape efficiently often hinges on how well we manage our bookmarks online. Therefore, the lack of a Bookmark manager in Arc Browser prevents many users from giving it a chance.
To recap: Arc Browser has a sidebar where you can add Favorites and Pinned Tabs, which are supposed to act as a cross between Bookmarks and Apps. However, the reality is that we bookmark so many websites that we don't want to visit daily but also don't want to lose. Putting all these websites in the Pinned section does the opposite of what Arc wants to do – cure your tab overload and rein in the chaos.
But there are better ways to manage your bookmarks in Arc rather than just dragging and dropping them aimlessly into the Pinned section. Here are some ways you can manage your bookmarks in Arc without letting them overwhelm you.
1. Use a Bookmarks Folder
The first solution to solving the bookmark problem in Arc is really quite obvious. You can create Folders in the Pinned section in Arc, so that's what you should do – create a Bookmarks folder and drop the websites you rarely want to use but keep handy in that folder.
In fact, if you import your data (including bookmarks) from another browser, Arc automatically creates a folder named 'Imported from [browser]' for you where you can find all those websites. Folders in Arc can also have an 8-level hierarchy, so you can create folders within folders to organize your bookmarks, just like in a traditional browser.
To create a folder in your current Space, click the '+' icon in the bottom right of the sidebar.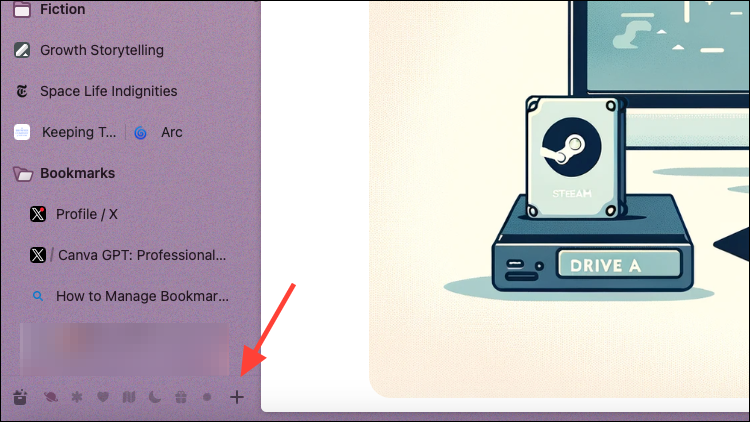 Then, select 'New Folder' from the menu.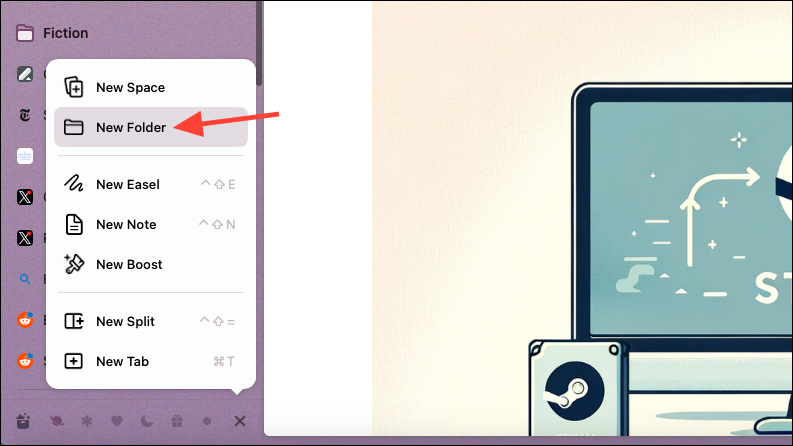 A new folder will be created in the pinned section of the sidebar. Name it 'Bookmarks'.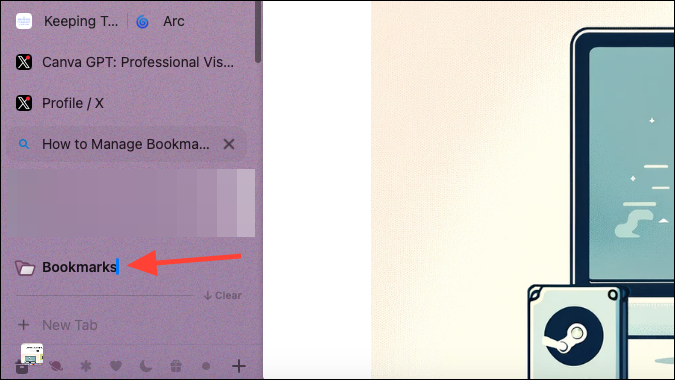 Then, drag and drop the tabs that you want to bookmark onto this folder.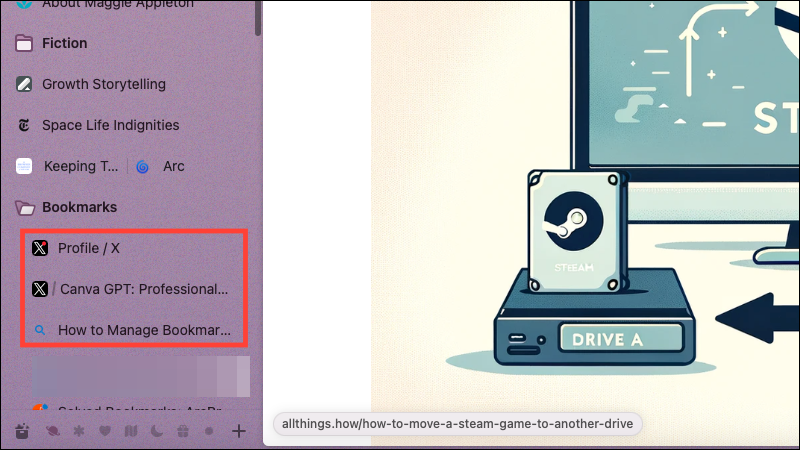 Managing the Bookmarks folder: Arc users often think that the Bookmarks folder is not a very practical solution since the folder will expand, flooding your sidebar when you want to open/ find a pinned tab from it. But that's not the case.
When you open a website from the Command Bar that's already in your Bookmarks folder, only that website will appear underneath the folder and not the entire contents of it when you have the folder collapsed.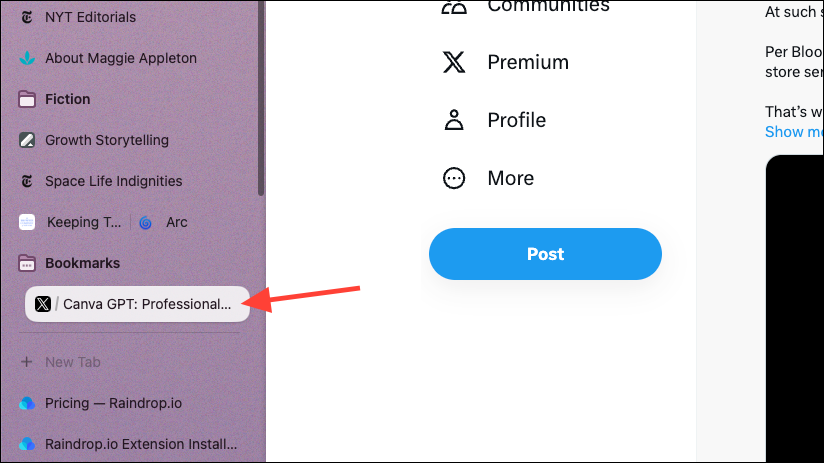 You can also search for a tab in the folder without expanding it entirely. Hover over the folder in the sidebar. A search option will appear, which you can use to find a bookmarked URL.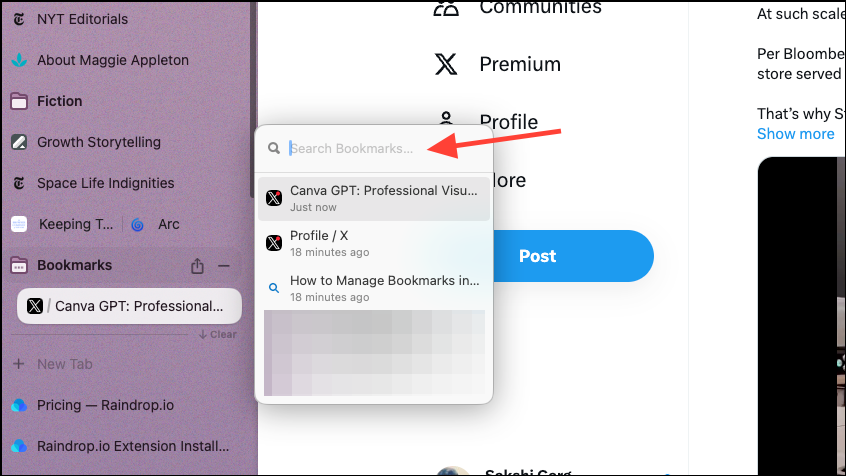 2. Make a Separate Space for Bookmarks
If you don't want a Bookmarks folder crowding your sidebar, you can simply create a separate Space, name it Bookmarks, and drop any pinned tabs/ folders to that Space to find them later. We know it's not very efficient, but it'll get the job done.
To create a new Space, click on the '+' button from the sidebar and select 'New Space' from the menu.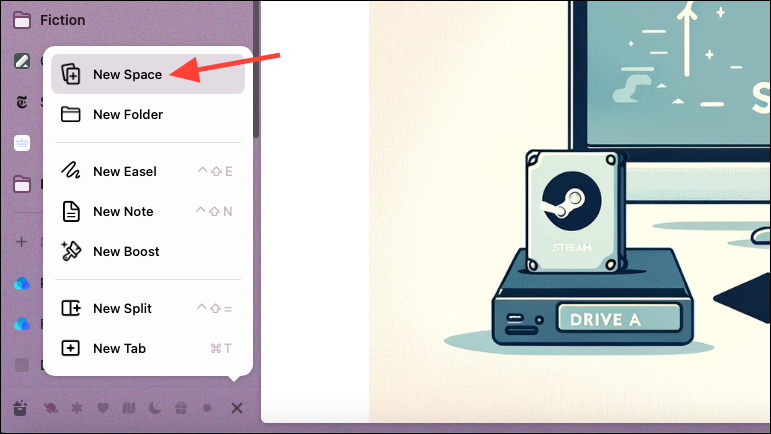 Enter the name (Bookmarks), and select the icon, profile, and theme.
Click on 'Create Space'.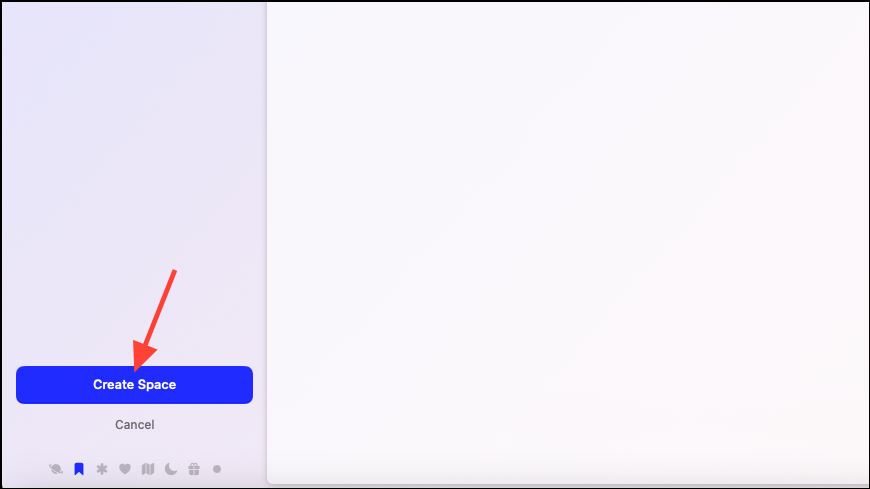 Move it to the left end of your Spaces.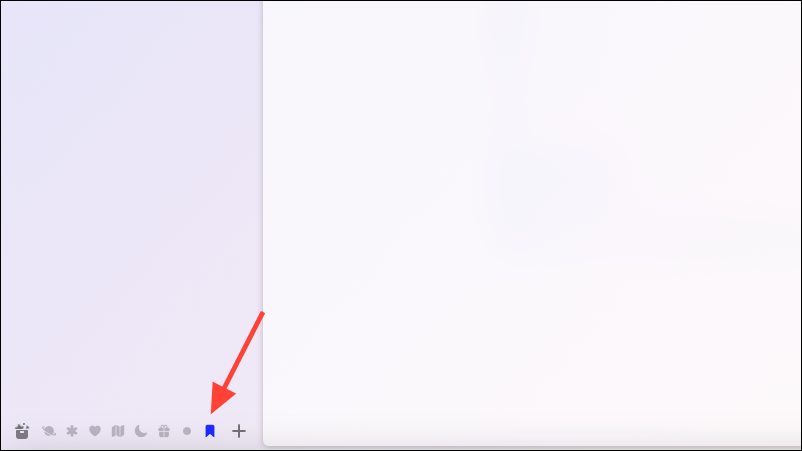 Then, move any tabs you want to bookmark to that Space and forget about them.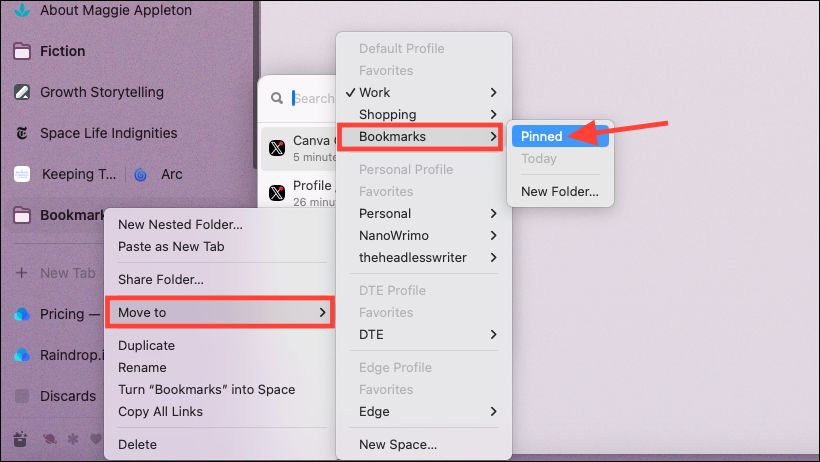 3. Pin the Chrome Bookmarks Page
Since Arc is built on Chromium, the Chrome bookmarks page still exists in the browser.
You can find it by opening a new tab (Cmd + T) and navigating to chrome://bookmarks.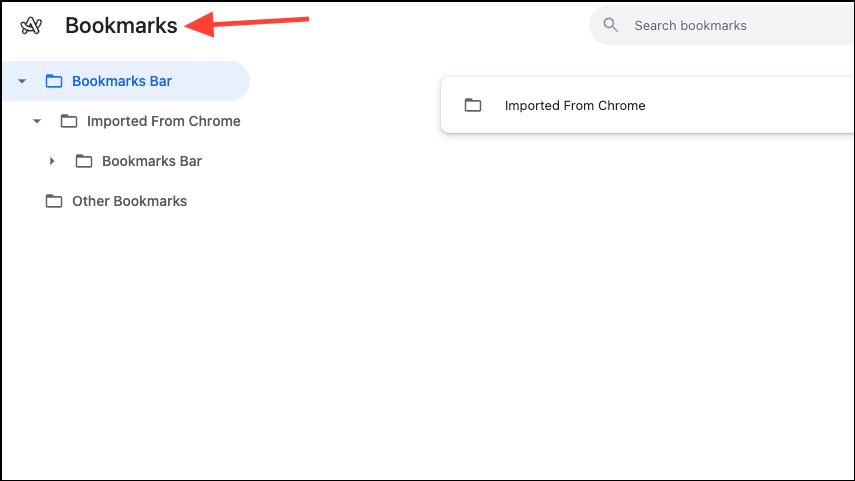 Then, you can even pin this tab to keep your bookmarks handy at all times.
The one downside, though, is that you cannot add new bookmarks to this list from Arc automatically. You'll need to manually add a new bookmark by clicking the 'Organize' button (three-dot menu) in the top-right corner.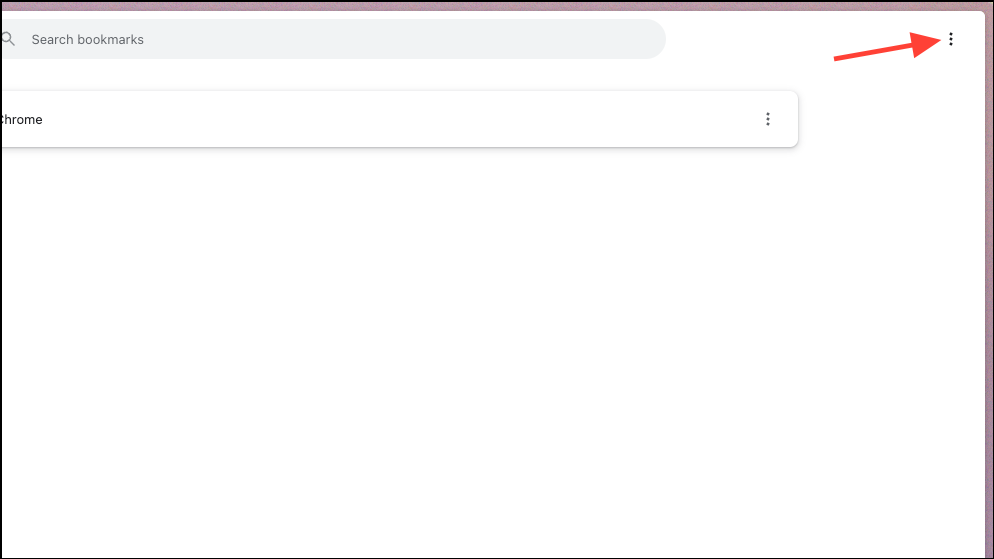 Then, select 'Add new bookmark' from the menu and manually add the details of the website you want to save for later.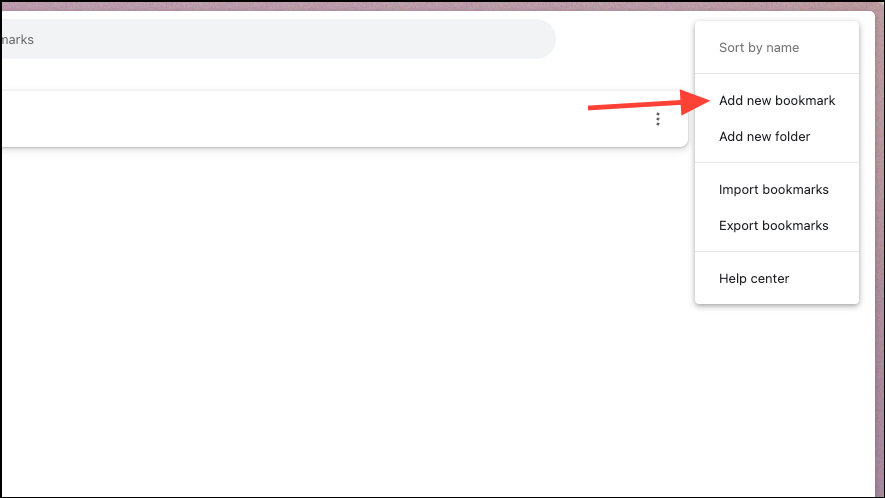 4. Use an Extension
You can also use a Chrome extension, like Raindrop, to manage your bookmarks. When using an extension like Raindrop, you get the additional benefit of having your bookmarks available on any browser/ device. (Importing your pinned tabs from Arc to another browser will be a headache since you'll need to manually do it).
Raindrop is a freemium bookmark manager where you can easily save anything from the web and organize it efficiently as well.
Go to the Chrome web store and search for 'Raindrop.io'. You can also click this link to open the extension.
Then, click the 'Add to Chrome' button.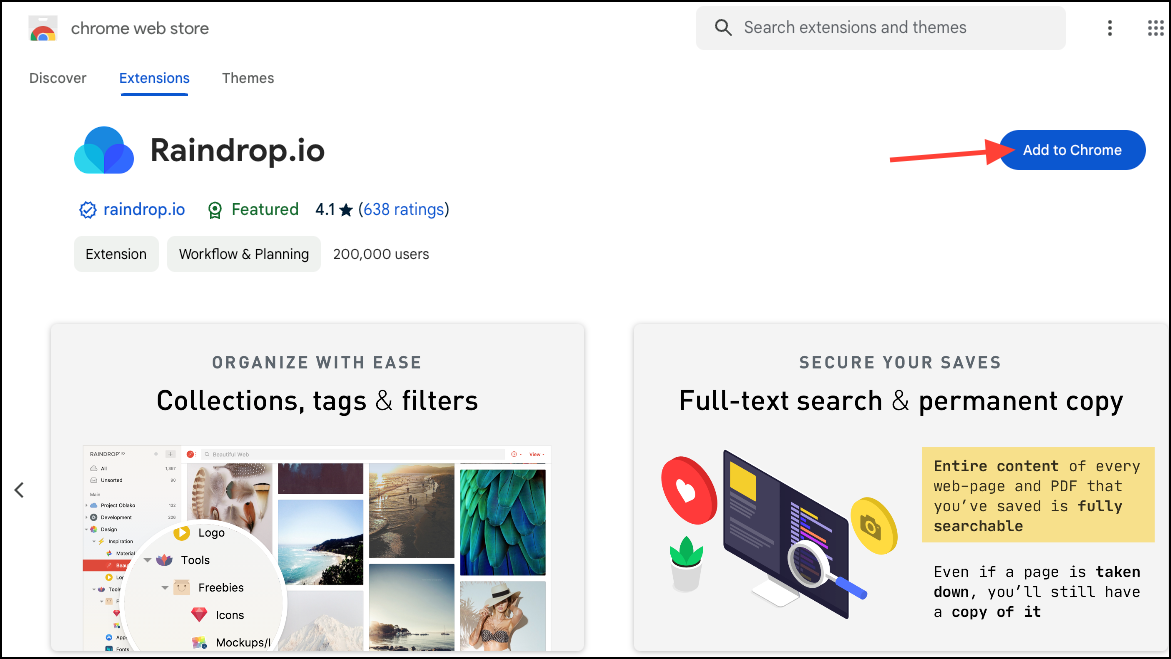 Click the 'Add extension' icon from the dialog box that appears to add it to Arc.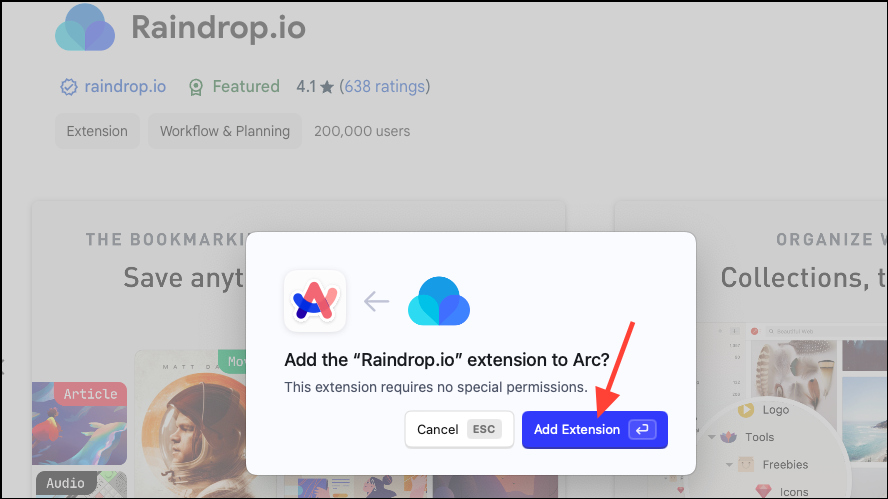 Then, click the 'Site Control Center' icon from the URL bar.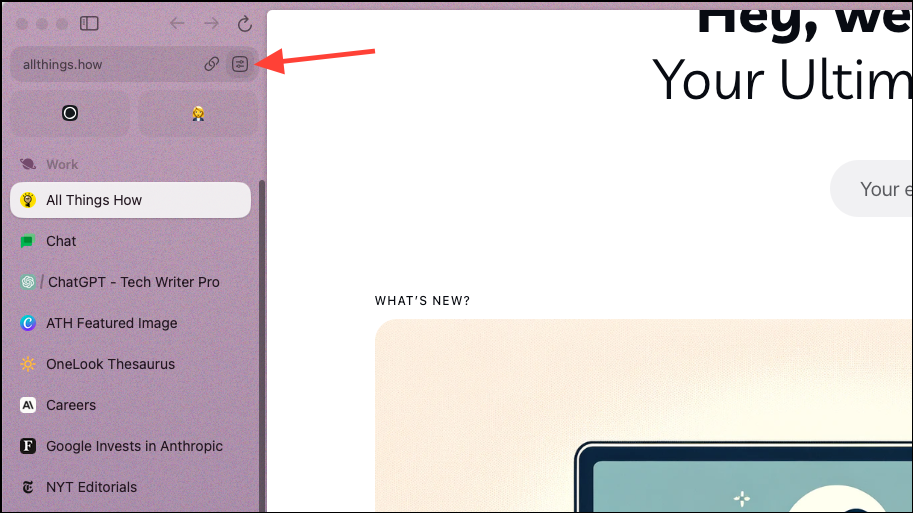 Click the 'Raindrop' extension icon to open it.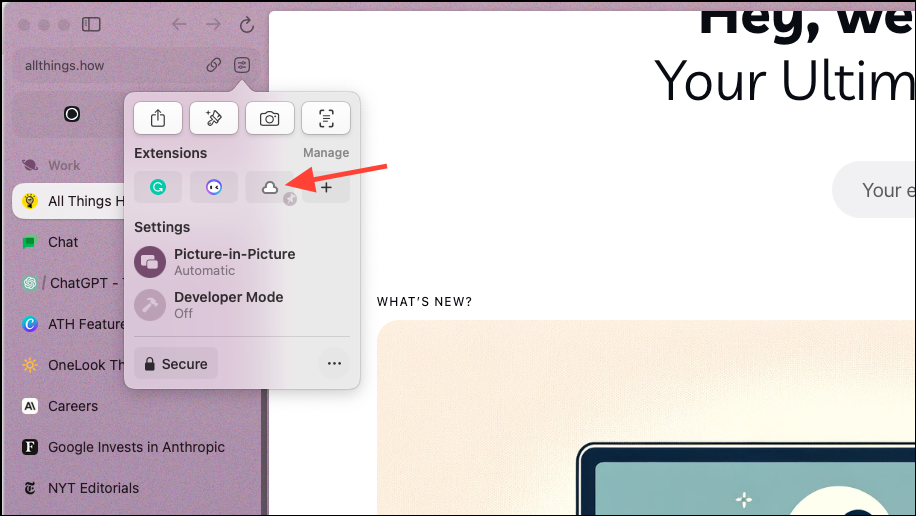 Click on Sign In and sign in/ create an account on Raindrop to use the extension.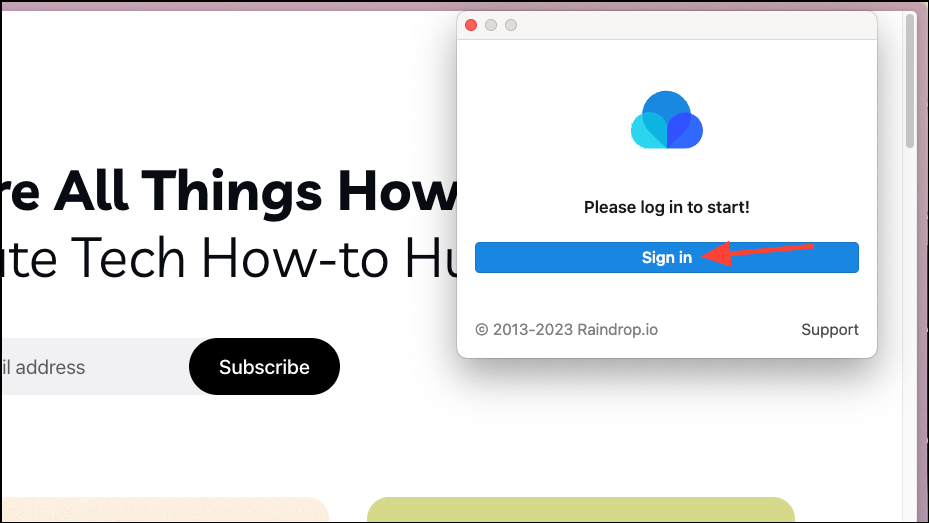 Then, when you want to bookmark a website, click the 'Raindrop' extension icon from the Site Control Center.
Raindrop clipper window will open. Tweak the settings according to your preference (change the screenshot, name, add a description, choose the collection, mark it as a favorite, etc.) and click the 'Save' button.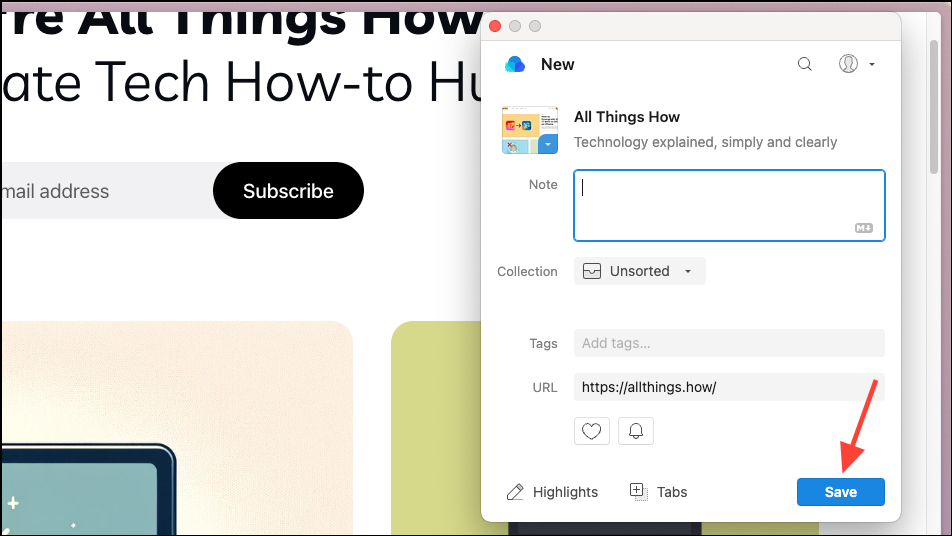 You can find your bookmarks by going to app.raindrop.io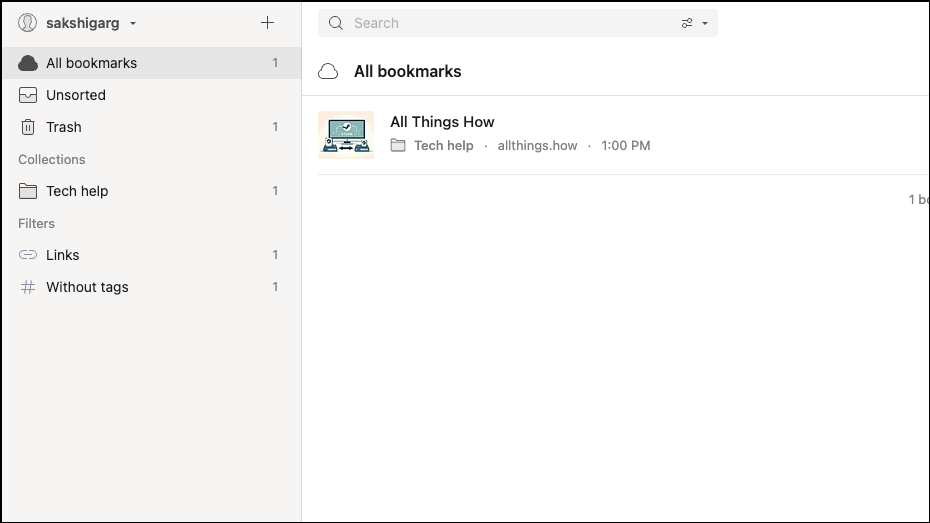 ---
One thing about Arc has always been clear – there's a learning curve to it. And that applies to bookmarks as well. You need to re-learn how to manage your bookmarks when it comes to Arc. While it takes a novel approach to bookmarks by focusing on favorites and pinned tabs, there are still effective ways to manage bookmarks without a traditional bookmarks bar.