According to the Steam Hardware and Software Survey, the 64-bit version of Windows 10 has been dominant among users when it comes to running games on their computers. Although, after Microsoft officially released Windows 11 to the public on October 5th, 2021, users are expected to start switching to the new OS to check out new features and changes. Microsoft itself marketed the OS as best for gamers while promising gaming exclusive features like Direct Storage and more.
Whether you like exploring the story-driven scenic atmospheres of Single-player games or climbing the ranks of your favorite competitive multiplayer games is your cup of tea, the experience largely depends on your computer's performance.
Although it is true that you are limited by the hardware you have on your computer, it is still possible to squeeze out few more frames if you know where to look for them. And if you think how does "few more frames going to help me?", you have heard of the term "Frames win games", right?
Why Optimize Windows 11 for Gaming?
Windows 11 is a feature-packed OS. It not only improves on existing features from Windows 10 but also adds numerous new ones, making it quite a heavy OS to run. You also have to take the visual upgrades into consideration.
Having this many features turned on and running all the time, even in the background means it will take up a lot of processing power. When you are running games, you want your computer to put the maximum processing power into running the game for you to have a good experience.
Read: How to Speed Up Windows 11
There are multiple ways to Optimize Windows 11. These range from turning off certain settings to unlocking features hidden inside windows 11. This guide will cover all the necessary methods for you to ensure that you get the maximum performance while gaming.
1. Make Sure You're Running the Latest Windows 11 Version
One of the easiest methods of optimizing Windows 11 for gaming is to make sure that Windows is always up to date. This is crucial even more for those who are running insider or preview builds. The OS just got released and for the next few years, Microsoft is expected to release plenty of bug fixes, stability improvements, and performance improvement patches to further perfect the OS.
This makes it very important to keep Windows updated if you wish to maximize your gaming performance. Windows updates also contain security patches which you should consider if you are an online gamer.
To keep Windows updated open up 'Settings' by going into the Start Menu.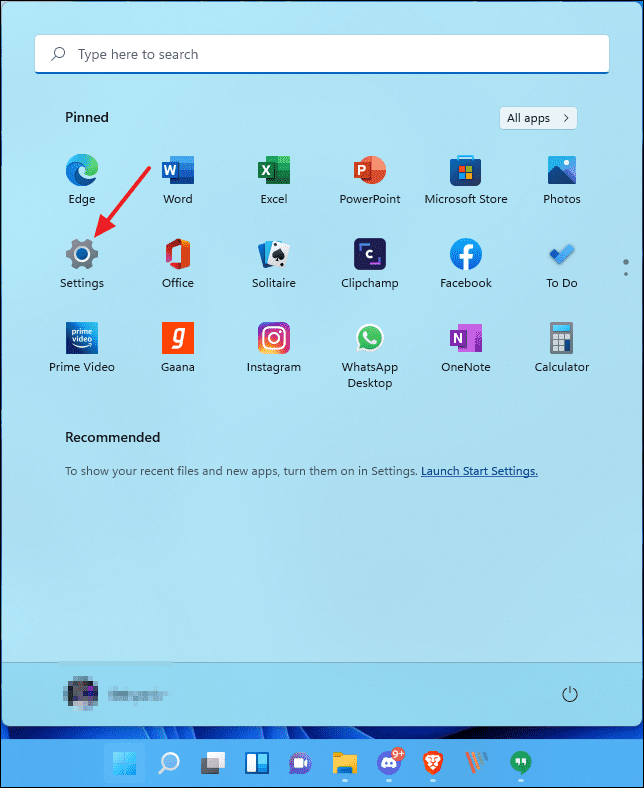 On the Settings window, click on 'Windows Update' located on the left side of the window.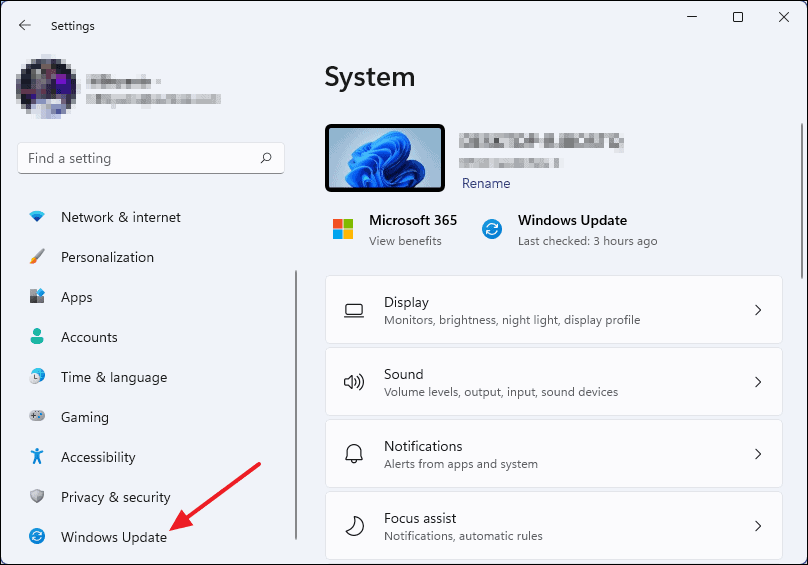 From there, click on 'Check for updates' and let the checking process finish.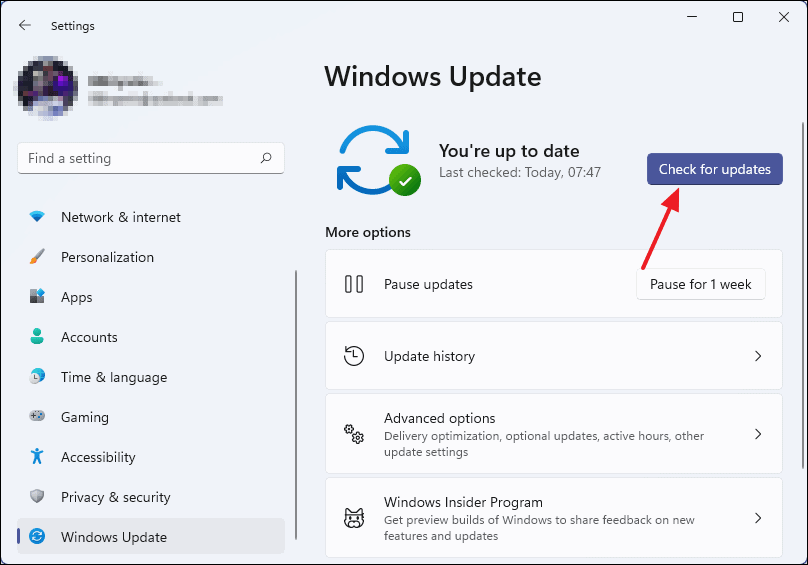 If there is an update pending, it will start installing automatically. In some cases, you might have to restart your computer to finish the installation process.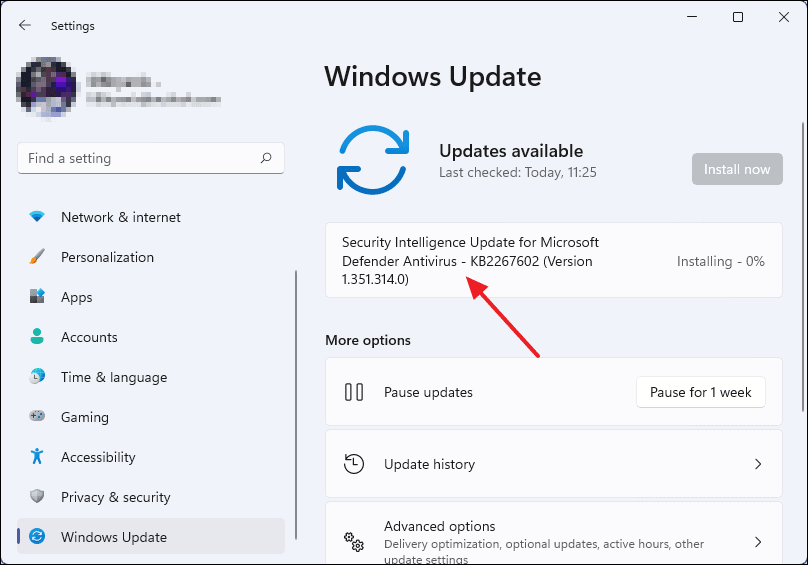 Note: Some updates might seem optional for you but we will highly advise you not to skip any updates. Do them as soon as you get notified to make sure that your system gets the latest optimisation or performance patches.
2. Update the Graphics Drivers
Most of us game a graphics card installed in our computer for gaming and other graphics-intensive tasks. Instead, if you have an integrated graphics card or an APU, you will get driver updates via Windows Update.
In case you have an AMD or Nvidia graphics card, it is best to use their dedicated software to update the graphics driver. For AMD that will be 'AMD Radeon Software', and for Nvidia, it is 'GeForce Experience'. To get this software, head over to the respective websites of the manufacturers.
In this article, we will describe the process for Nvidia cards. Start by going to the GeForce Experience download page.
On the GeForce Experience download page, click on the green 'DOWNLOAD NOW' button.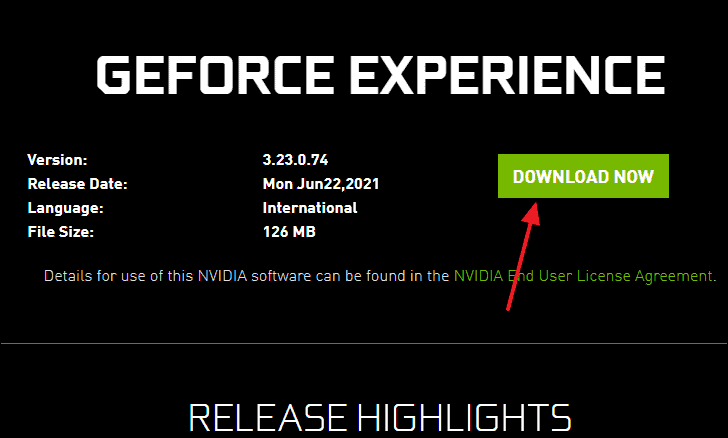 If prompted to selected a location to save the installer file, navigate to your preferred directory and click on the 'Save' button on the dialog box.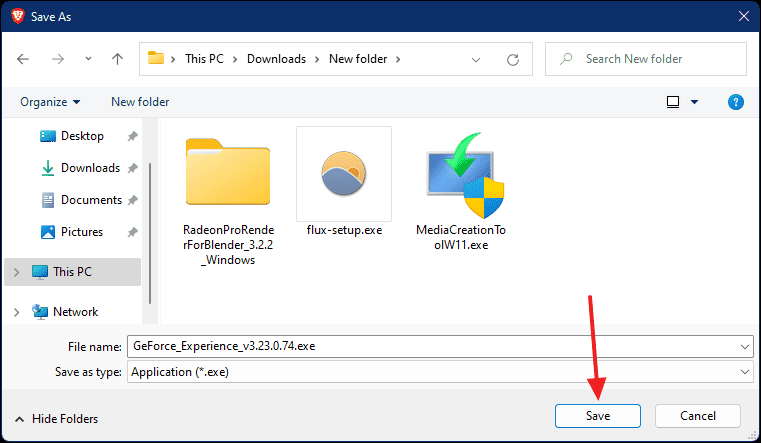 After the download finishes, click on the GeForce_Experience.exe file to launch the installer and continue with the simple installation process.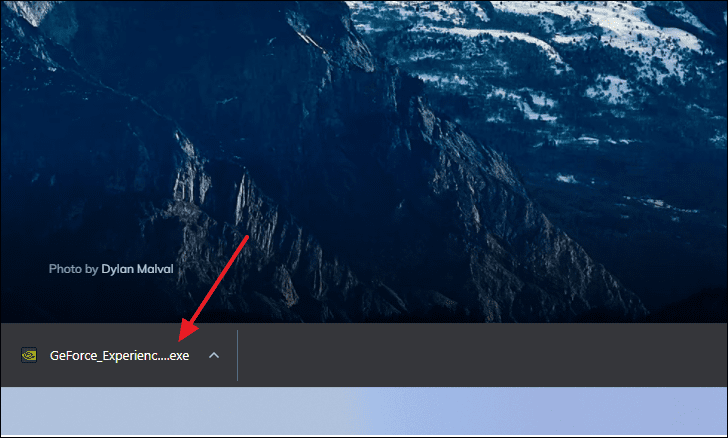 Once installed, launch the 'GeForce Experience' app on your PC. It will ask you to log in. If you do not have an account, you can create one. Unfortunately, you have to log in, in order to continue.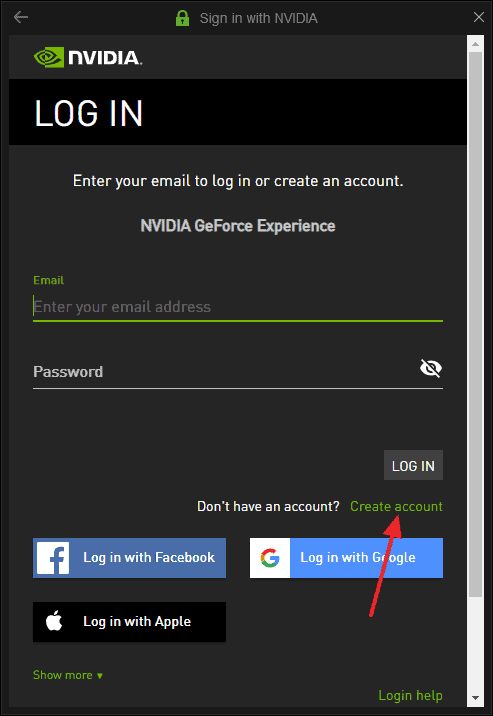 On the 'GeForce Experience' window, after you are done signing in, click on 'Drivers' located on the top of the left side of the window.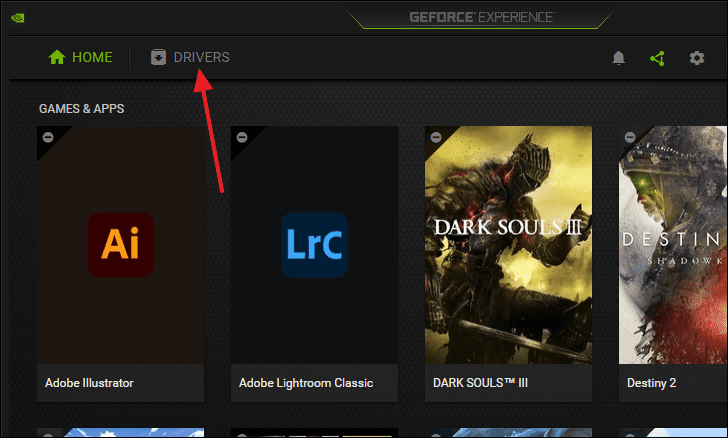 In this window, click on 'CHECK FOR UPDATES' to check if there is an update available. If there is an update pending, you will have a green 'DOWNLOAD' button below it. Click on it and the download will start.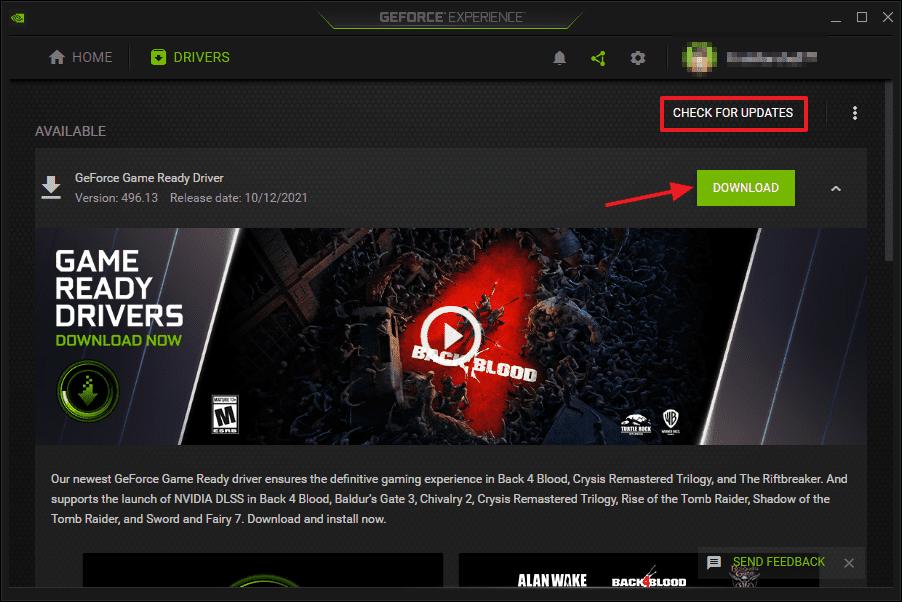 After the download finishes, click on 'EXPRESS INSTALLATION'. You will get a UAC prompt. Click 'Yes' and let GeForce Experience update the graphics drivers.
Note: During the driver installation process your screen might go black or you might hear sound cues. This is normal, don't worry and let the installation process finish. Also, make sure that your computer wont shut down during this process.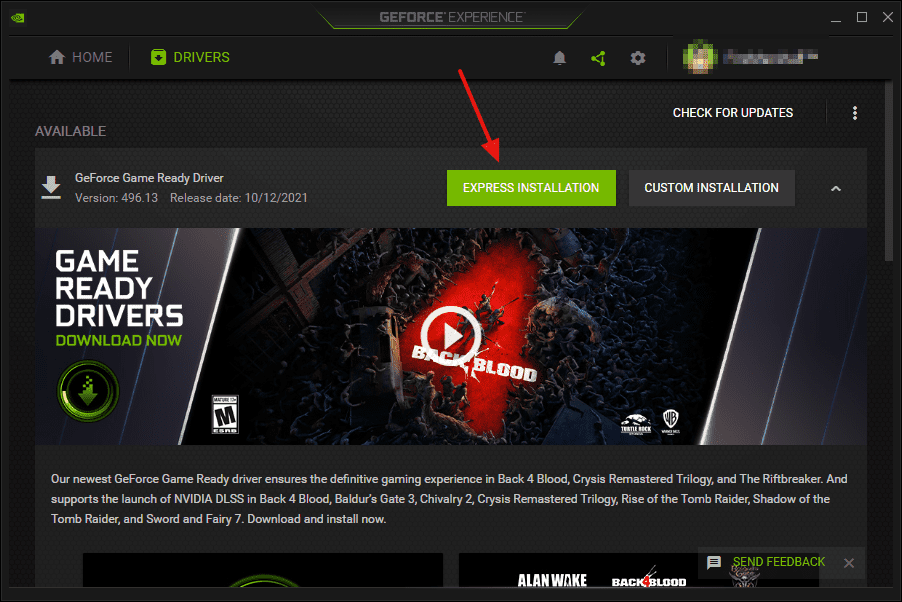 Once the driver update is complete, it will show 'Installation Complete'. You have successfully updated the driver of your Nvidia Graphics Card.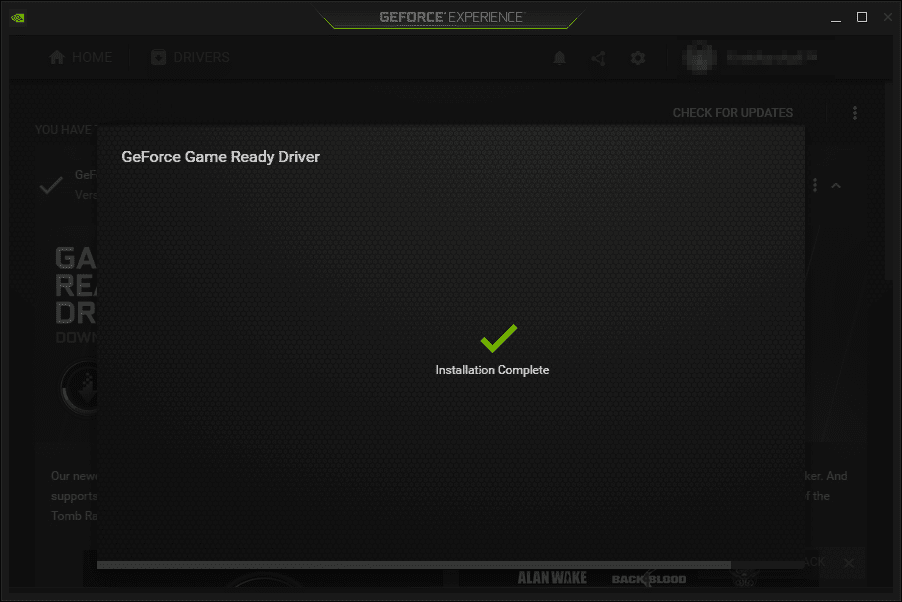 If you are an AMD user, the process is similar and easy. Follow the instructions on AMD Support page and you will get it done in no time.
---
3. Turn on Game Mode in Windows 11
Game Mode was introduced in Windows 10 and has been improved over the years. It is recommended to keep this setting on as it helps in boosting the performance, especially in systems with old or low-end hardware.
Game Mode increases performance in different ways, such as by blocking background apps from running or allocating/prioritizing resources to game-specific components, etc.
To enable Game Mode, first, open the 'Settings' app from the Start Menu.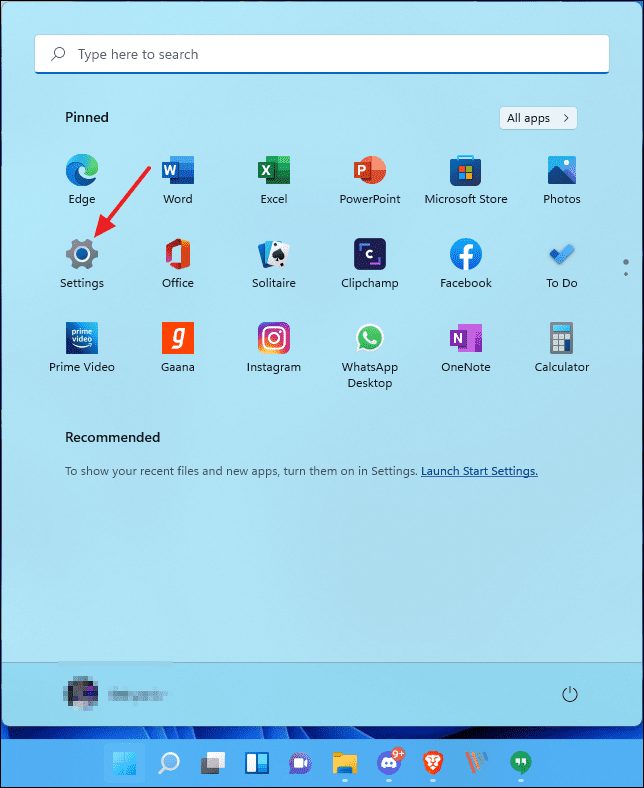 On the Settings window, click on 'Gaming' on the left panel.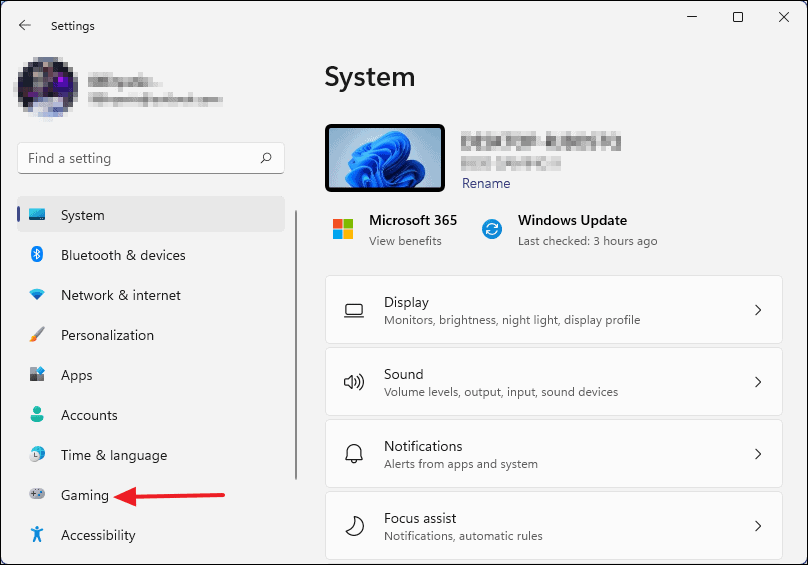 From the Gaming settings page, click on 'Game Mode'.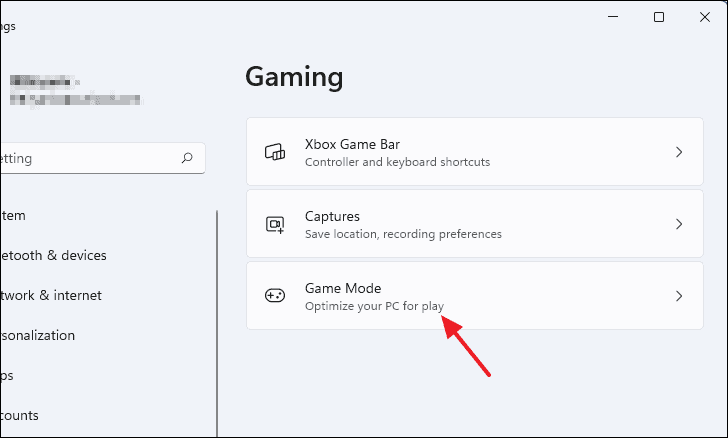 After that, click on the toggle next to Game Mode to turn on the feature.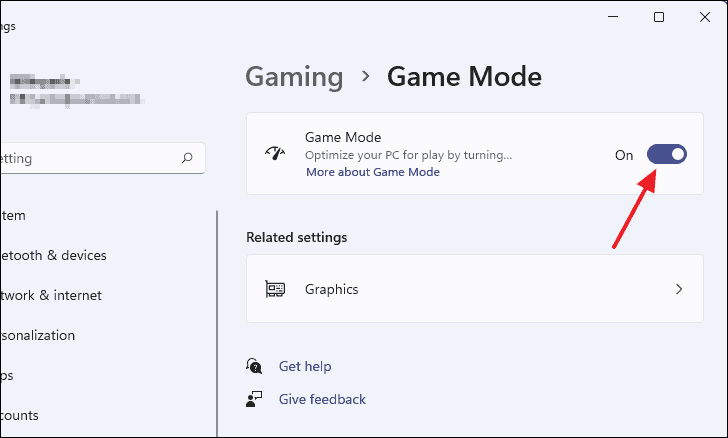 Now that you turned on Game Mode, it should increase your gaming performance.
---
4. Turn Off Xbox Game Bar
Xbox Game Bar allows you to record and share gameplay similar to Nvidia ShadowPlay. If you never use this feature, it is best that you remove this feature completely from your system to conserve CPU usage and Memory. Alternatively, if you wish to turn the background process off then but keep the feature, you can do that as well.
Unlike Windows 10, in Windows 11, you cannot completely disable the Xbox Game Bar feature. In case you don't use this feature, you can completely remove it using PowerShell. First, look for PowerShell in Windows Search.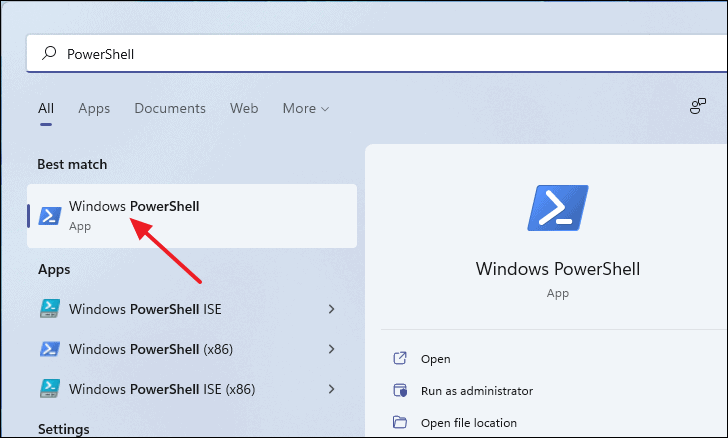 Right-click on the PowerShell icon and then select 'Run as administrator'. Click 'Yes on the UAC prompt window.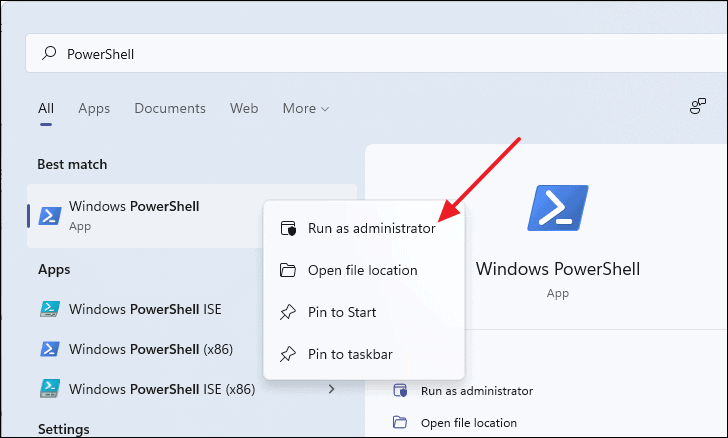 On the PowerShell window copy & paste the following command and hit Enter.
Get-AppxPackage Microsoft.XboxGamingOverlay | Remove-AppxPackage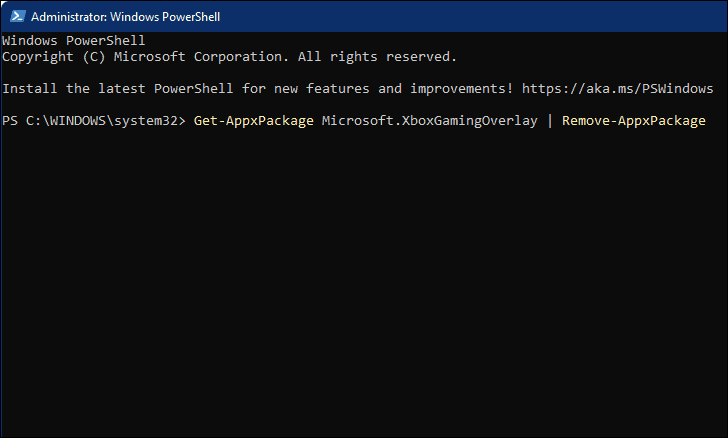 This will completely remove Xbox Game Bar from your system. If you wish to get it back in the future, you can always visit the Microsoft Store and download it from there.
If you only wish to terminate the background process instead of removing the feature completely, Launch 'Settings' by pressing Windows+i on your keyboard.
On the Settings window, click on 'Apps' While you are still in the Settings window.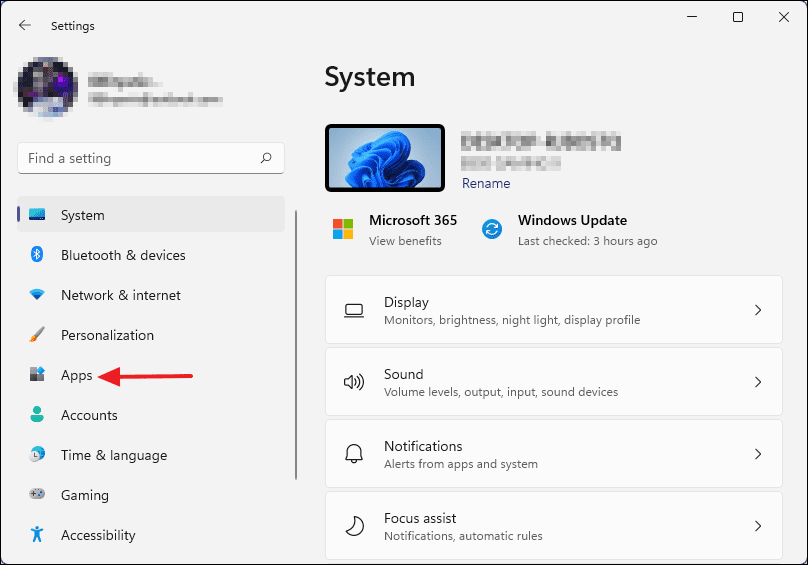 After that, click on 'Apps & features' from the right-side panel.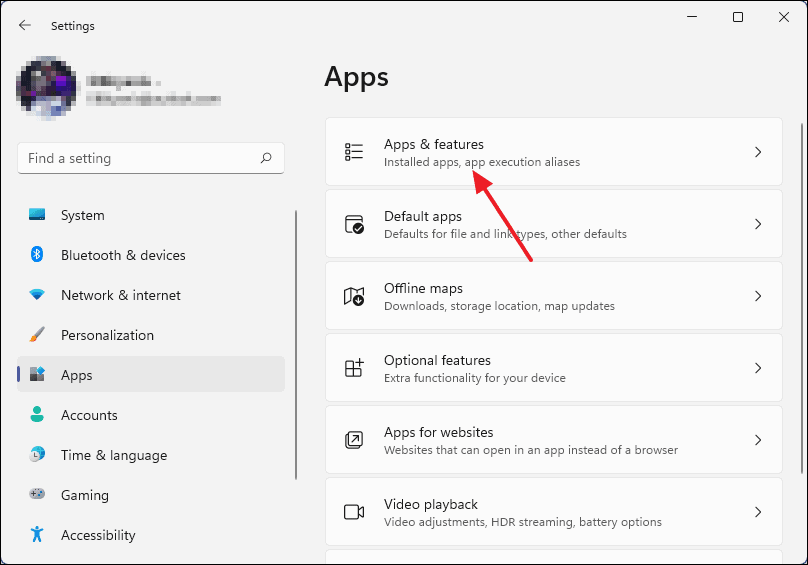 Now, scroll down until you find the 'App list' and in the search bar below, type Xbox Game Bar'. The Xbox Game Bar app will come up in the search result.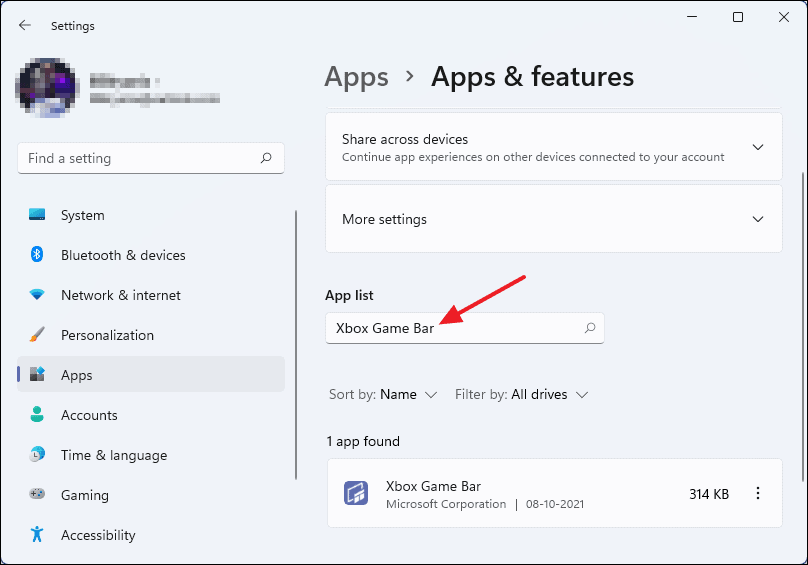 Click on the 3 vertical dots to open a menu and then click on 'Advanced options'.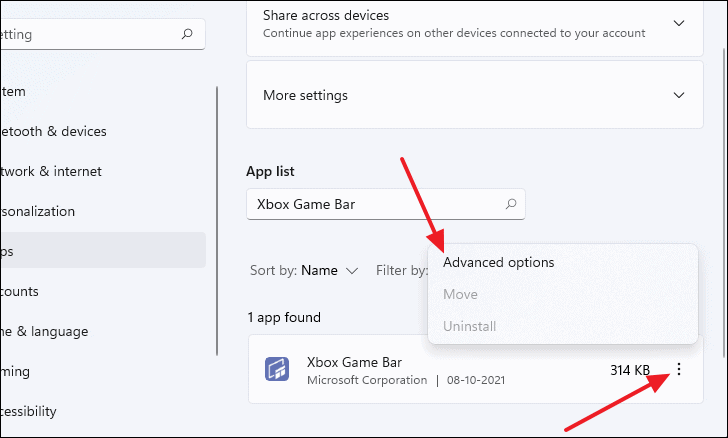 After the Advanced options page opens, keep scrolling down until you see Terminate. Click on the 'Terminate' button to close the background process.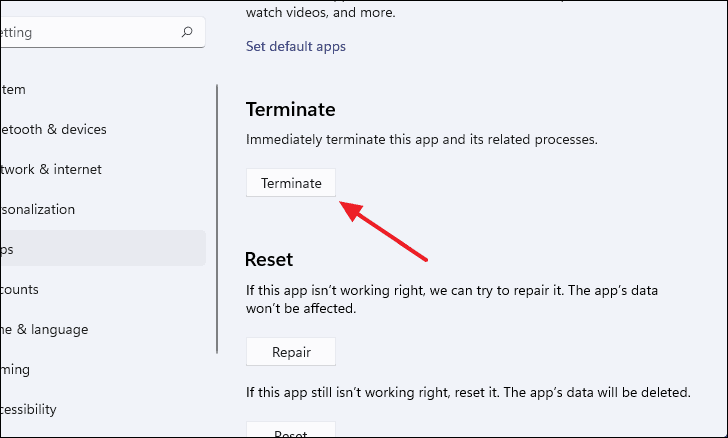 If you wish to keep Xbox Game Bar running but without any significant performance damage, you can turn off the resource-intensive Captures features in Xba Game Bar.
In the Windows Settings screen, click on 'Gaming' on the left panel.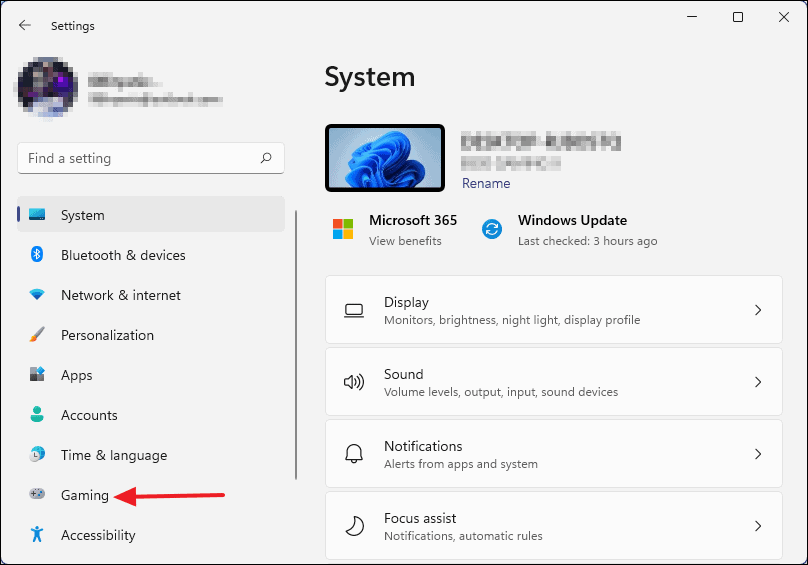 Next, click on the 'Captures' option.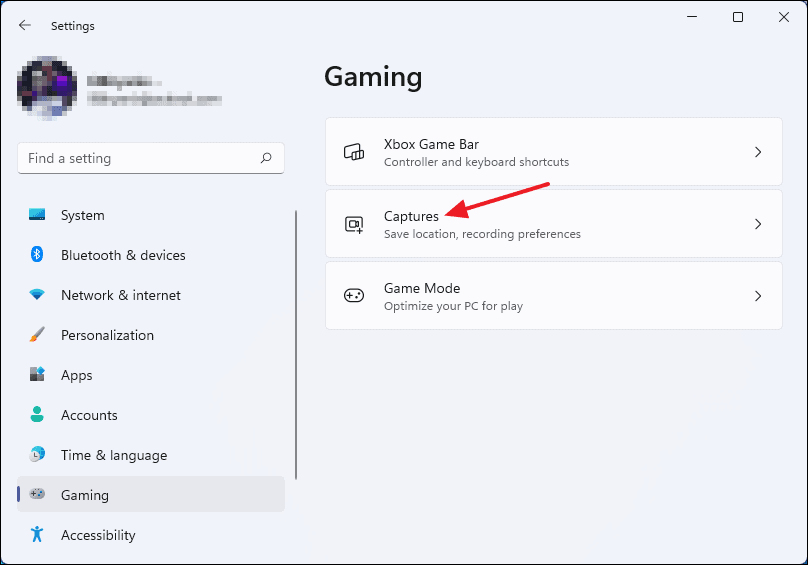 Now, disable the 'Record what happened' and 'Capture audio when recording a game' features by turning off the toggle switch next to the respective options.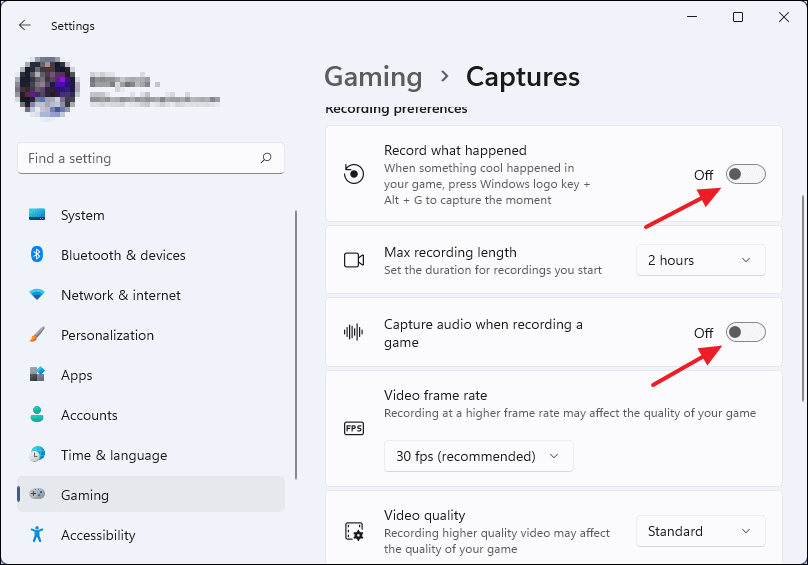 This will ensure the Xbox Game Bar isn't unnecessarily consuming your system's resources.
---
5. Deleting Temporary Files
Deleting temporary files helps in freeing up cache data and improves performance. To delete temporary files in Windows 11, first open up the Run window by pressing the Windows+R keys together. Then, type temp inside the command bar and press Enter.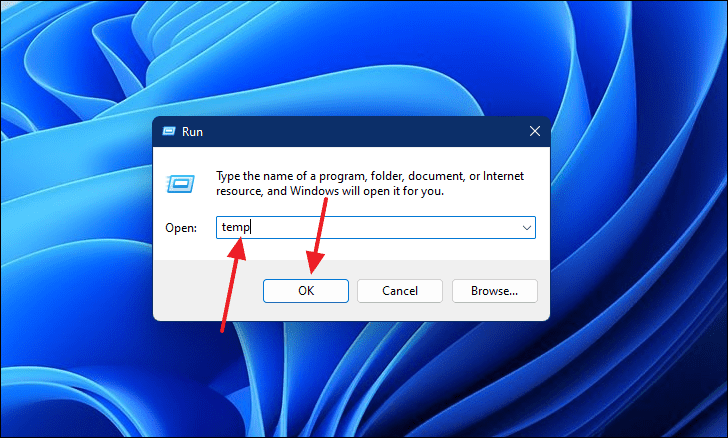 This will take you to the directory where all the temporary files are saved on your PC.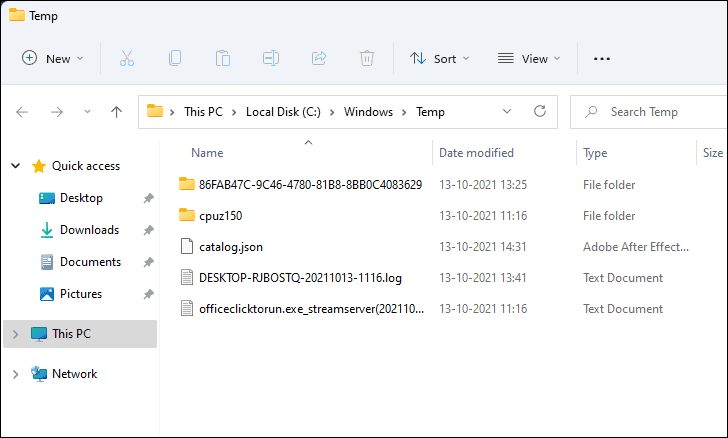 After that, press CTRL+A to select all the files and then press the DEL key to delete them or right-click on the selected files and select the 'Delete' icon from the context menu. There will be some files that you cannot delete. Simply skip then and you will be done with it.
Note: There are two more directories that you should clean often. You can access them via the Run window. Instead of temp, type %temp% and prefetch to open those folders.
---
6. Uninstalling Unnecessary Applications
If you are having performance issues while gaming, try installing apps and software that you have never used or no longer use. This will not only free up space for more games but also reduce the number of apps that run in the background. There are two ways you can use to remove unnecessary apps and software from your system.
Firstly, to remove the apps that you have downloaded from Microsoft Store, open up 'Settings' from the Start menu and then click on 'Apps'.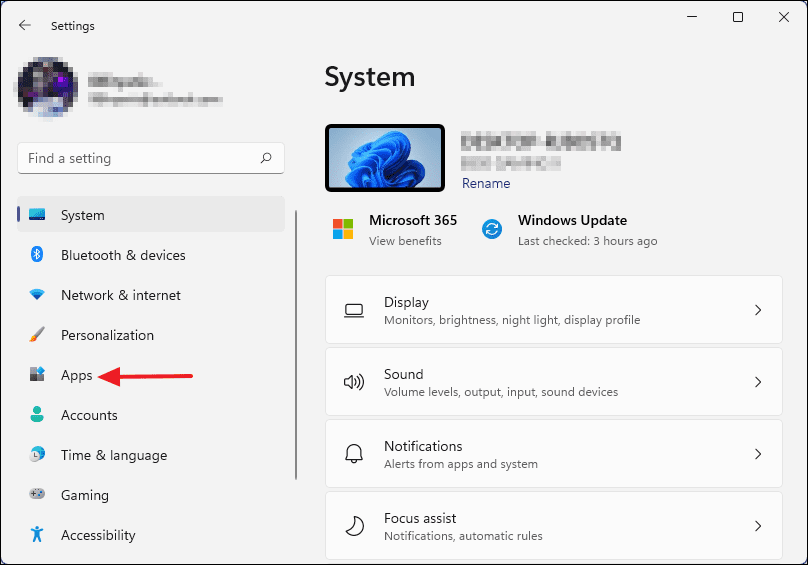 After that, click on 'Apps & Features' to open the list of all of the applications that you have downloaded from the Microsoft store and also the preinstalled Apps.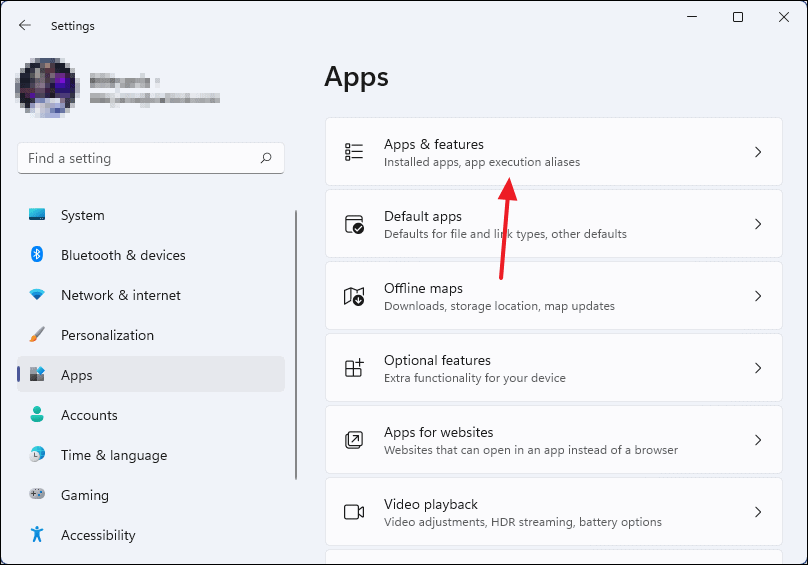 From there, scroll down until you see the App list. Here click on the 3 vertical dots beside the App which you want to uninstall and click on 'Uninstall'.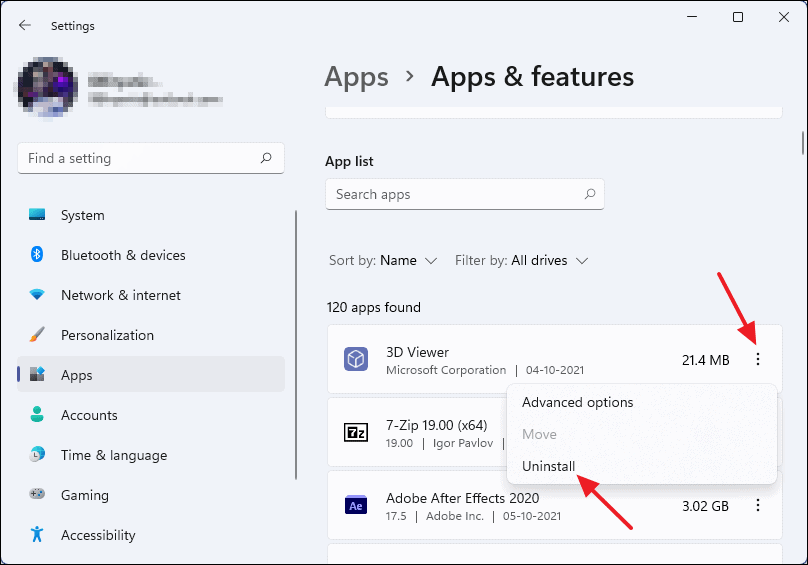 Secondly, to delete any software not downloaded from Microsoft Store, you need to go to the Control Panel. To do that, start by searching 'Control Panel' on Windows search and then select it from the search results.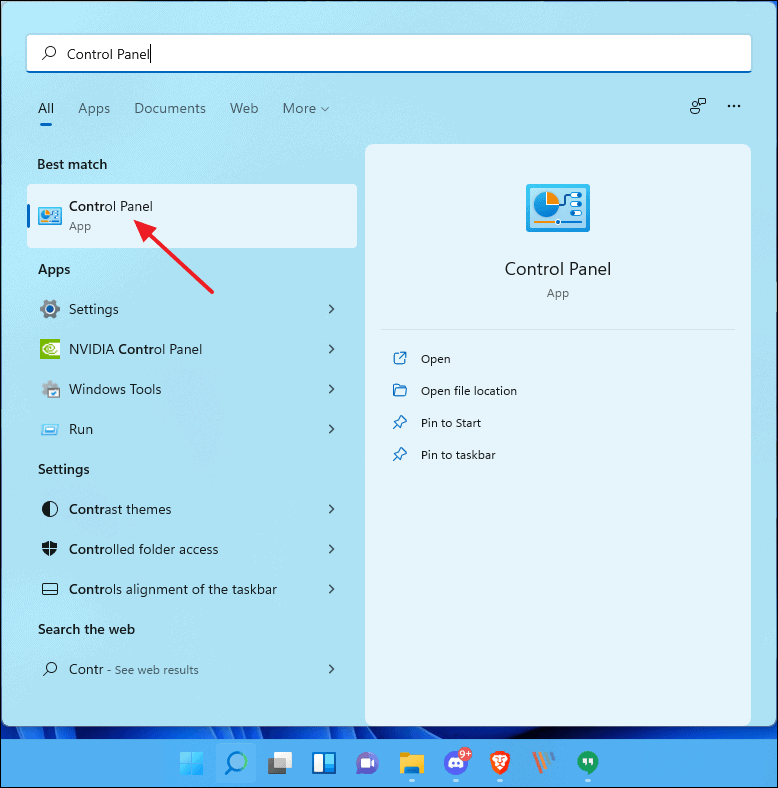 On the Control Panel window, click on the 'Uninstall a program' option.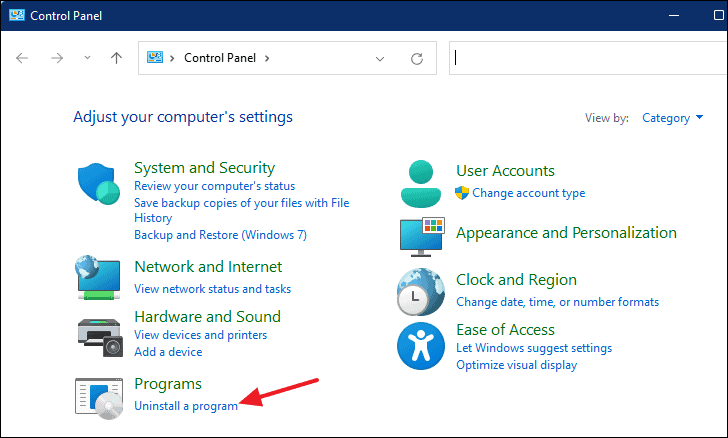 It will open a list containing all of your Desktop applications. From here, you can select and uninstall any application you want.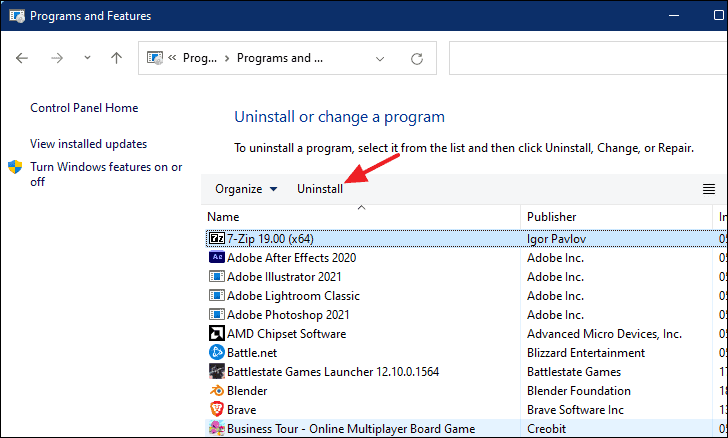 ---
7. Choosing a Performance Power settings
Choosing the correct Power Plan is important because based on it, Windows might limit how much processing power goes into gaming to save battery life. If you have a Laptop, you might want to skip this step as this will make your battery go down faster.
First, search for 'Choose a power plan' in windows search and select it from the search results.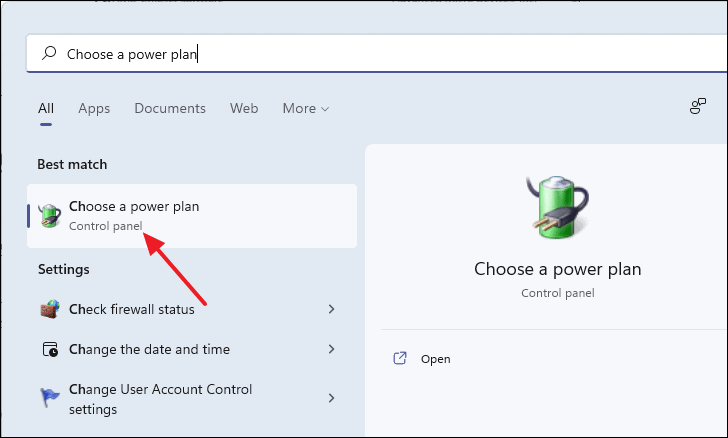 After the Power Options window opens up, click on 'Show additional plans'. By default, the 'Balanced' plan will be selected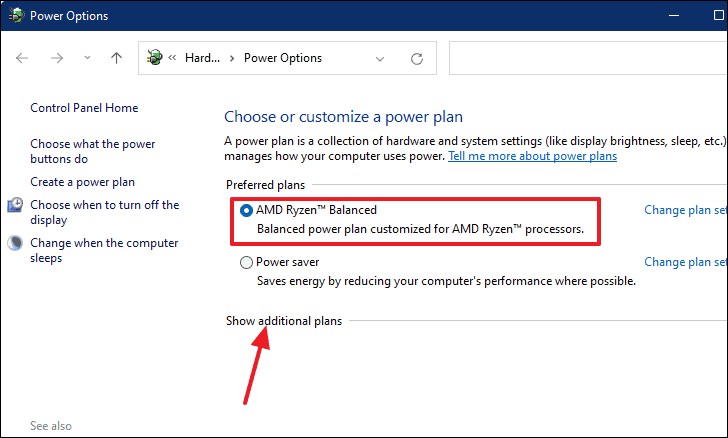 To get the most gaming performance, select the 'High performance' plan. This will make your computer consume more power but if you are on a desktop, you don't have to worry about it.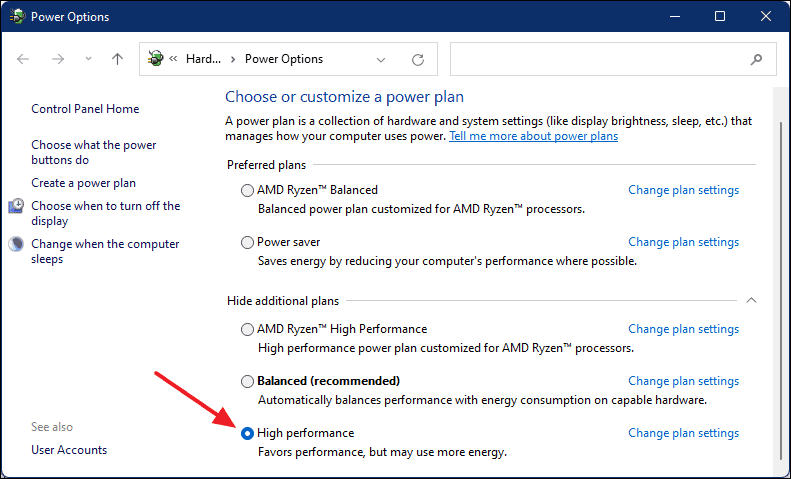 You can go further by unlocking 'Ultimate performance' mode, although this is not necessary. To do this, type 'Command Prompt' in Windows search. Right-click on it and select 'Run as administrator' from the context menu.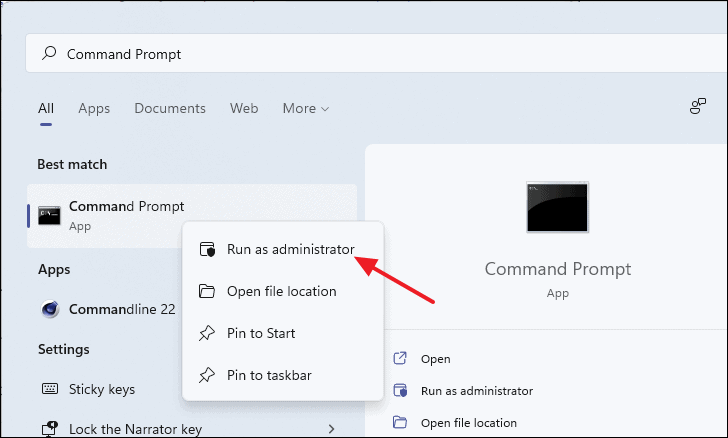 In the Command Prompt, copy and paste the following command and press Enter.
powercfg -duplicatescheme e9a42b02-d5df-448d-aa00-03f14749eb61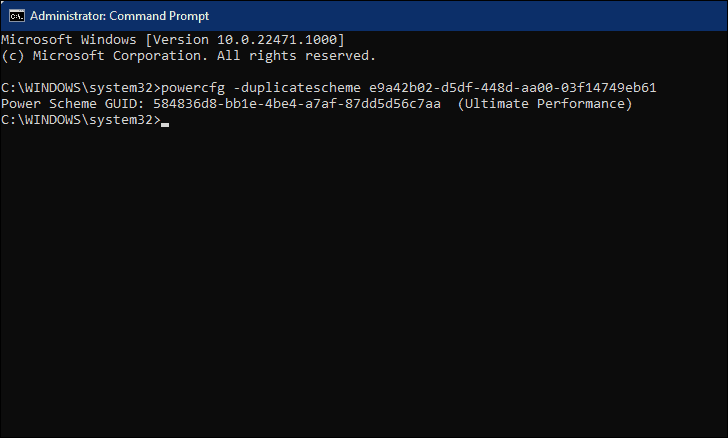 Now go back to the Power options page and click on the 'Refresh' icon and you will be able to select the 'Ultimate performance' plan.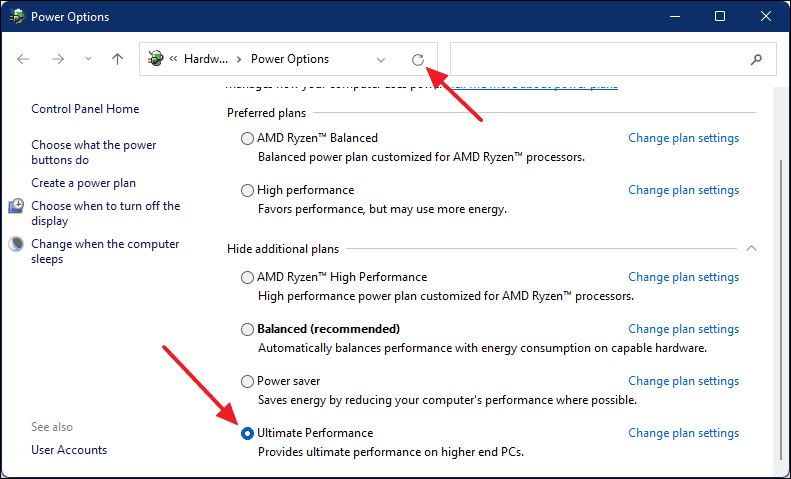 ---
8. Using Per-App Graphics Option
In Windows 11, you can set games to use maximum performance mode. This will improve your gaming experience significantly. First, click on the Start Menu icon and open up 'Settings'.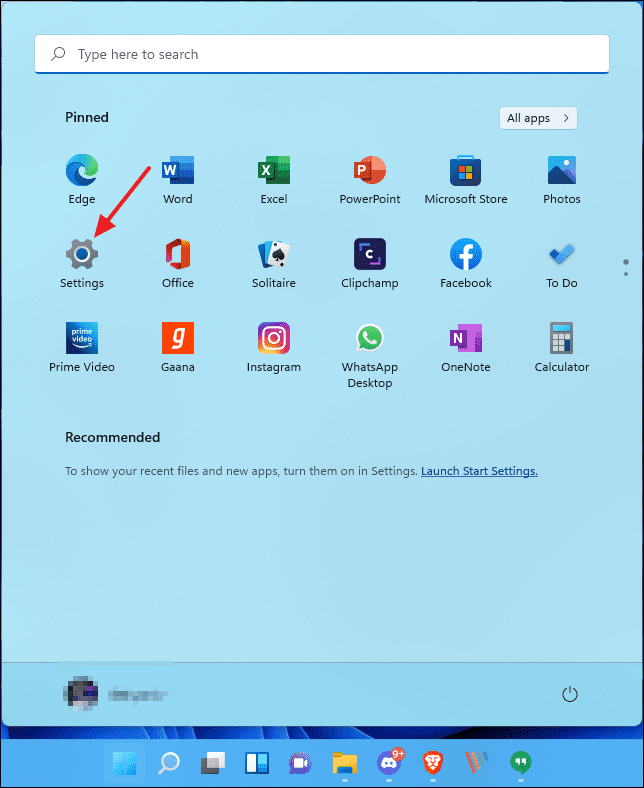 On the Settings window, click on 'Display'.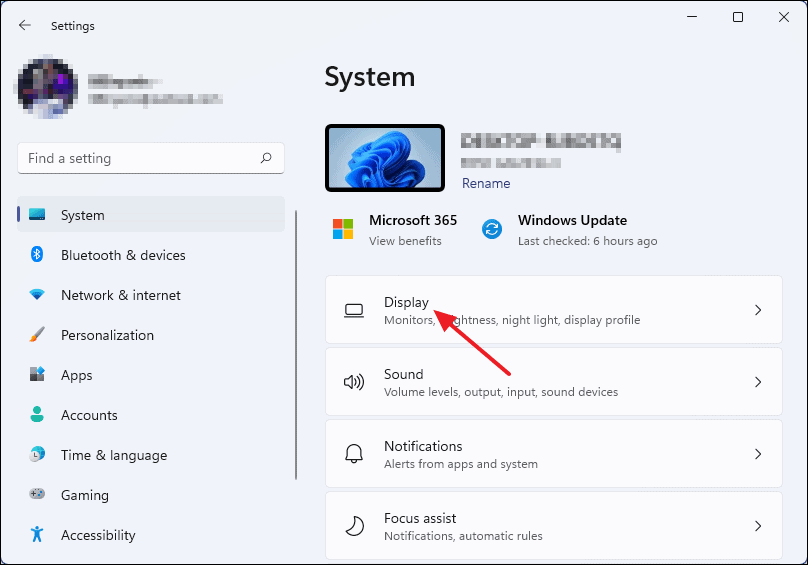 From there, scroll down until you gee 'Graphics' and click on it.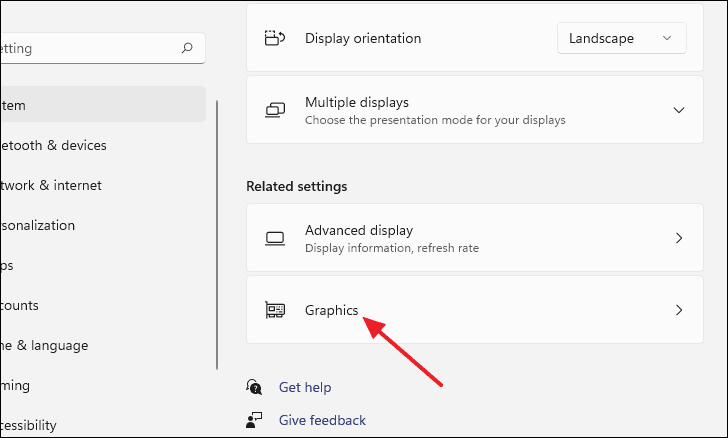 A list of apps will appear. Select any game from the list and then click on 'Options'.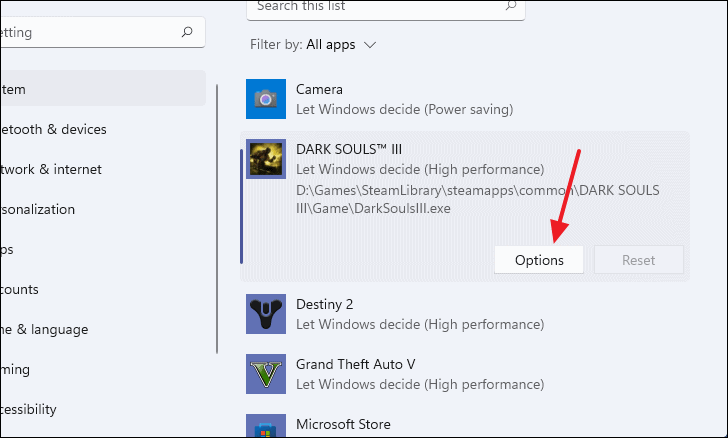 On the new window, select 'High performance' and click on 'Save'.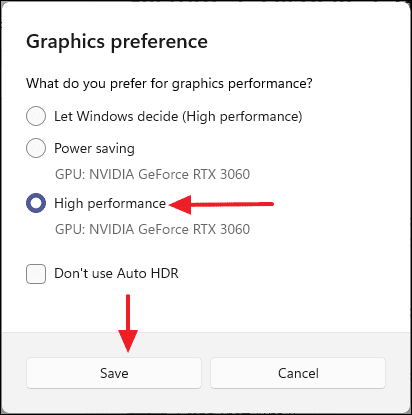 ---
9. Performing Disk Cleanup
Disk cleanup removes junk files and frees up space on your computer. Start by going to Windows Search and type Disk Cleanup. Then, select it from the search result to open the Disk Cleanup dialog box.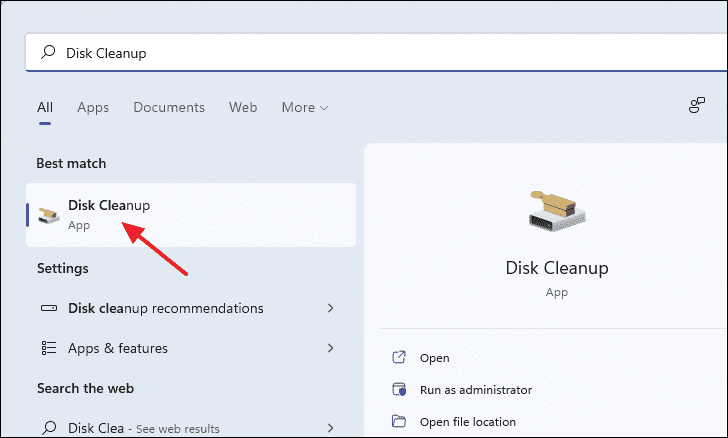 A small window will come up. Select the drive you wish to clean and then click 'OK'.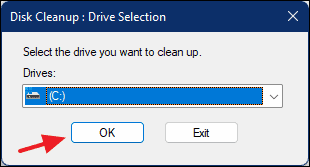 Note: It is recommended to clean all drives once a few months starting with the one that has Windows installed in it.
After selecting the drive, another window will open. Under the 'Files to delete' section, select everything you wish to remove and then click on 'OK'.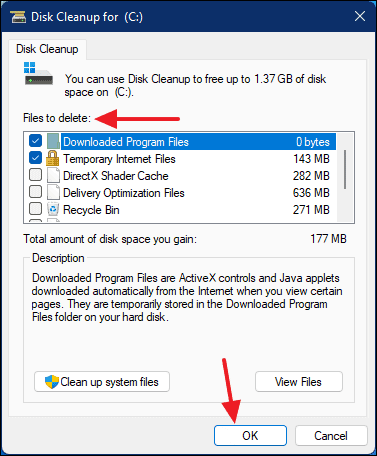 You will receive another popup box asking you to confirm your action. Click 'Delete Files' and wait for the process to complete. Depending on how many files you select, it can take some time.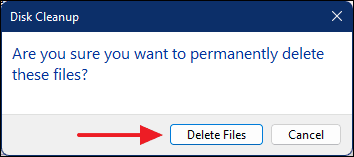 ---
10. Defragmenting Drives
Defragmenting a drive optimizes and makes it run more efficiently. This improves the computer's overall performance too.
To defragment a drive, first, go to Windows Search and type 'Defragment and Optimize Drives' and then open the app from the search results.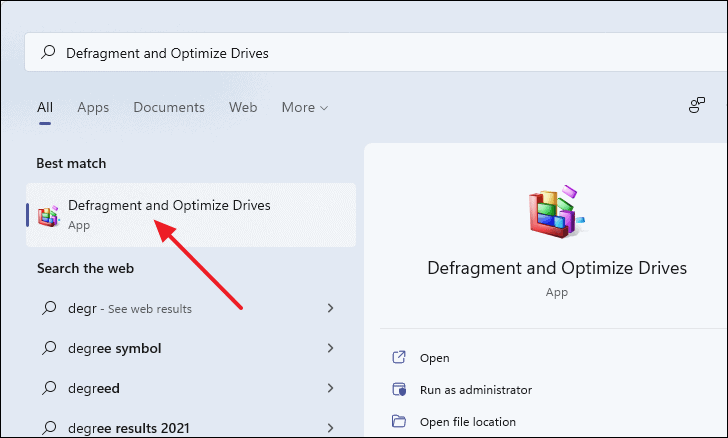 On the Optimize Drives window, select a drive and then click on 'Optimize'.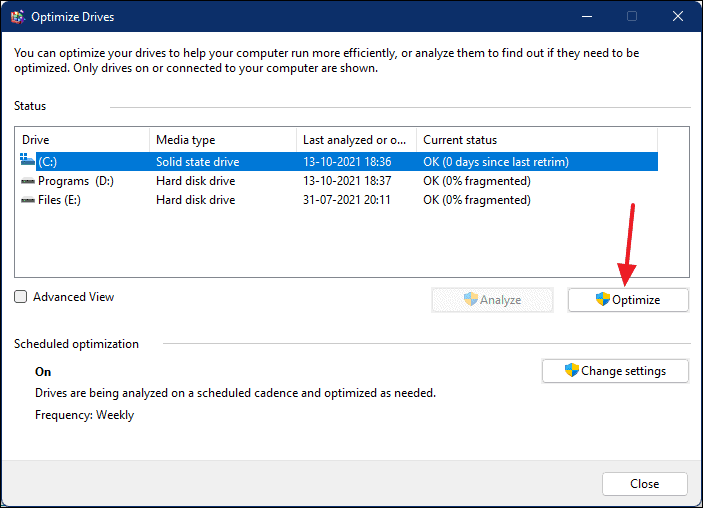 Note: You should defragment all of your drives once in few months. While drfragmenting, prioritise Solid State Drives before Hard Drives.
---
11. Verifying System File
Broken or corrupted system files can slow down your computer and hamper your gaming experience. To check if you have any such files you can use the sfc /scannow command.
First, open the Start menu and type Command Prompt in the search bar. Then, right-click on the 'Command Prompt' app from the search results and select 'Run as administrator' from the context menu.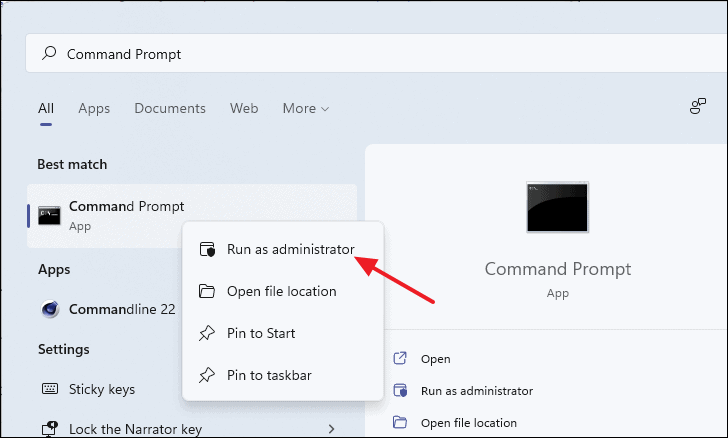 In the Command Prompt window, type the following command and press Enter.
sfc /scannow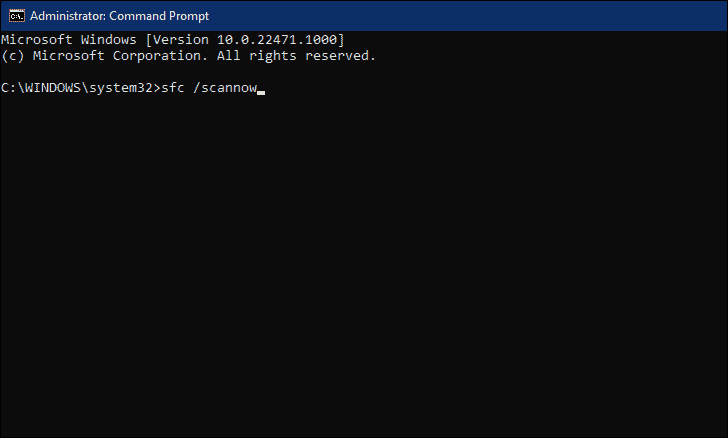 Wait until the scanning process finishes. If any corrupt files are present in your system, you will be notified.
---
12. Turn Off Hardware Acceleration
Apps usually depend on the Processor while running. Though certain graphics-intensive tasks like gaming or 3D rendering require power that is beyond the Processor's capacity.
In such tasks, Hardware acceleration is used to reduce the load from the Processor by making use of specialized components like Graphics cards or GPUs. Although, if the hardware acceleration is always active, it can create a bottleneck situation where it can slow down your computer.
You can turn off Hardware acceleration universally on your computer using the graphics card software. First, search for 'NVIDIA Control Panel' in Windows Search and select it from the search results.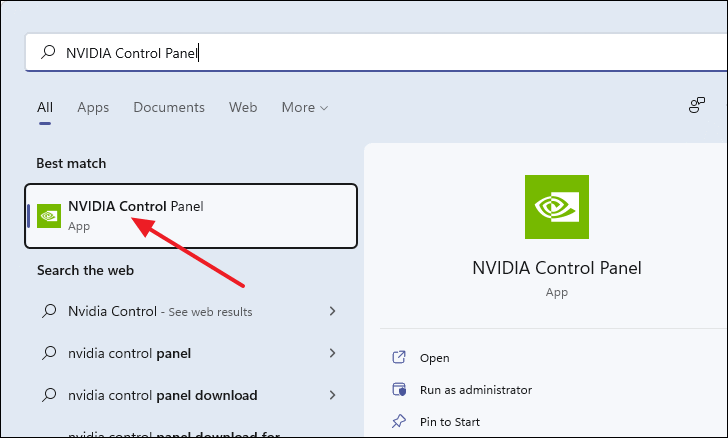 On the NVIDIA Control Panel window, click on 'Configure Surround, PhysX'.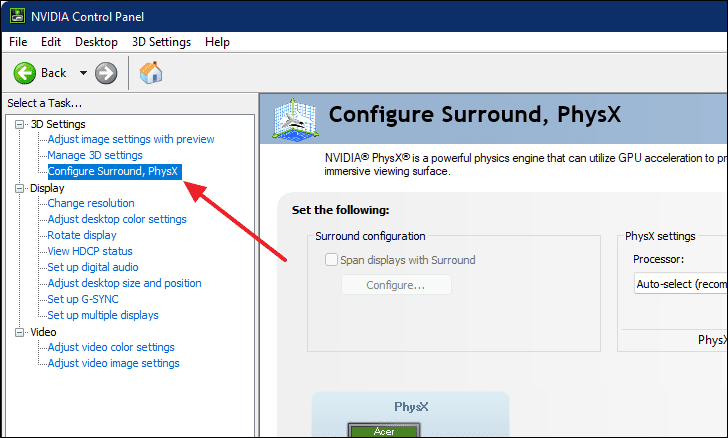 From there, under the PhysX settings, set the 'Processor' to 'CPU'.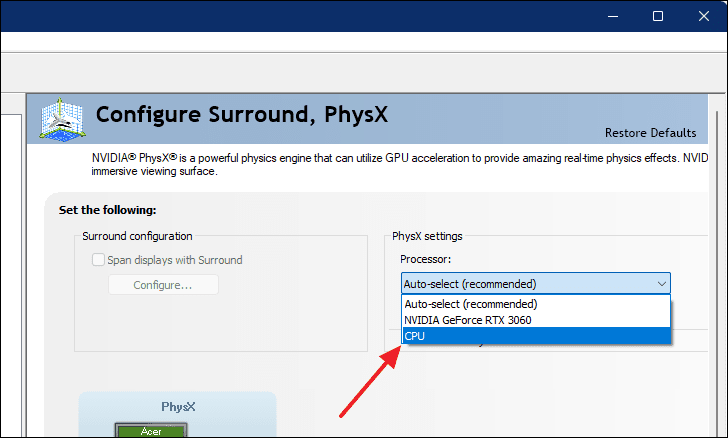 Now, to save the change, click on the 'Apply' button.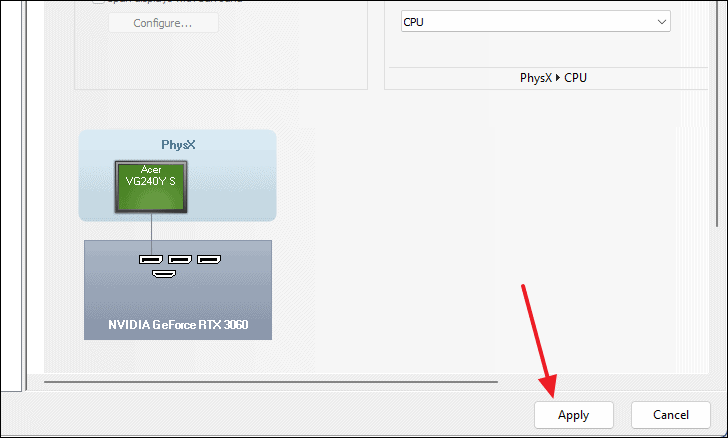 You can also disable Hardware acceleration system-wide on Windows 11 using the Registry Editor. First, open up the Registry Editor by searching for it in Start Menu Search.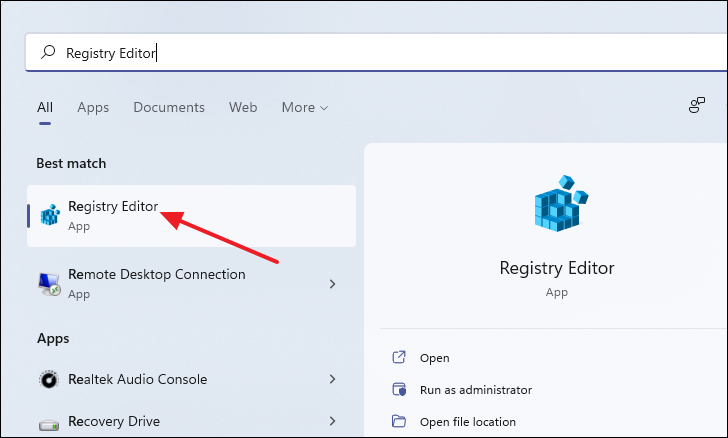 After the 'Registry Editor' window opens, copy and paste the following text in the address bar.
HKEY_LOCAL_MACHINE\SYSTEM\CurrentControlSet\Control\GraphicsDrivers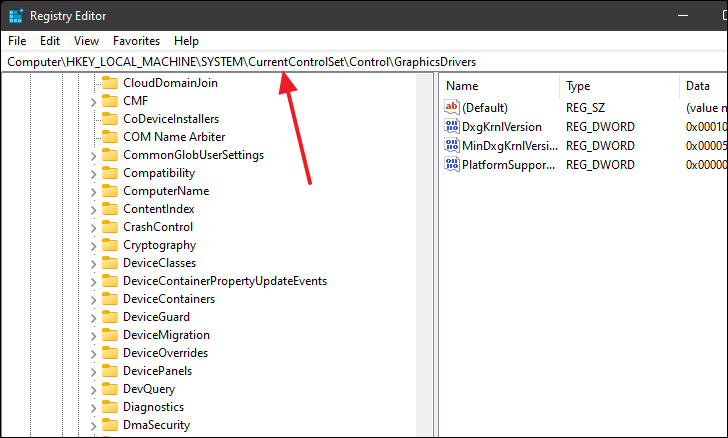 Next, right-click anywhere on the right panel, select 'New' followed by 'DWORD (32-bit) Value' from the context menu to create a new registry value.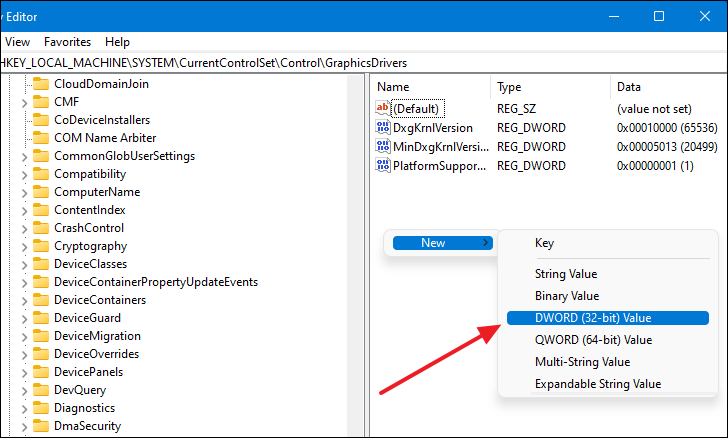 Name the newly created registry value DisableHWAcceleration and press Enter.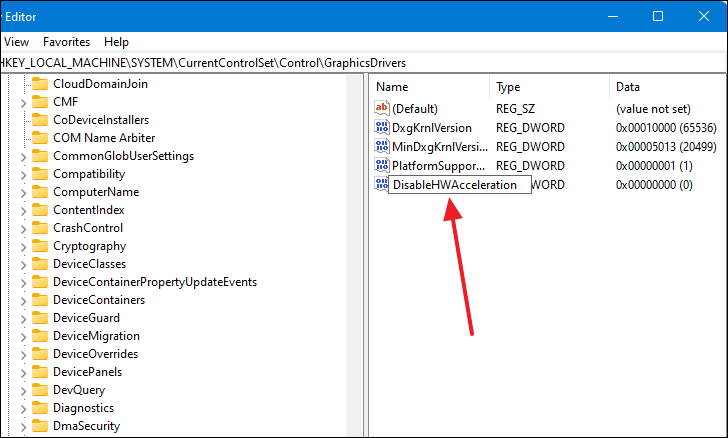 Now, double-click on the newly created 'DisableHWAcceleration' value to open the editor dialog box and set the 'Value Data' to 1. Then, click on 'OK' to save the changes.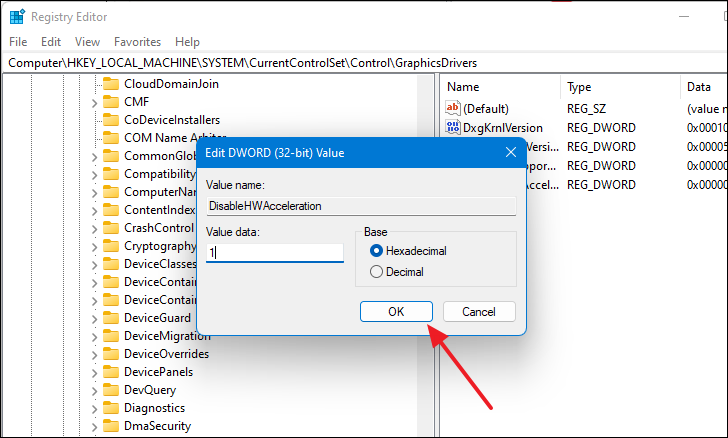 Now, restart the computer for the changes to take effect and disable Hardware Acceleration system-wide on your PC.
---
13. Disable Overlays from Third-party Apps like Steam
Software like Steam, Discord, etc. has overlays to provide you with additional information or to help you with tasks like inviting friends in your group. Even though having these overlays enabled can be very helpful, they increase the memory and CPU usage a lot. If your PC is struggling to run games, try disabling these overlays.
In this guide, we are using 'Steam' to demonstrate how you can easily turn off overlays in these applications. The process should be similar in other apps too. What you need to do is open the Settings page of the specific app that is displaying an overlay interface and then disable the overlay feature from the app's settings.
First, launch the app drawing overlay interface on your PC's screen. Since we are writing for Steam as an example, we'll open the Steam app by searching for it in the Start menu.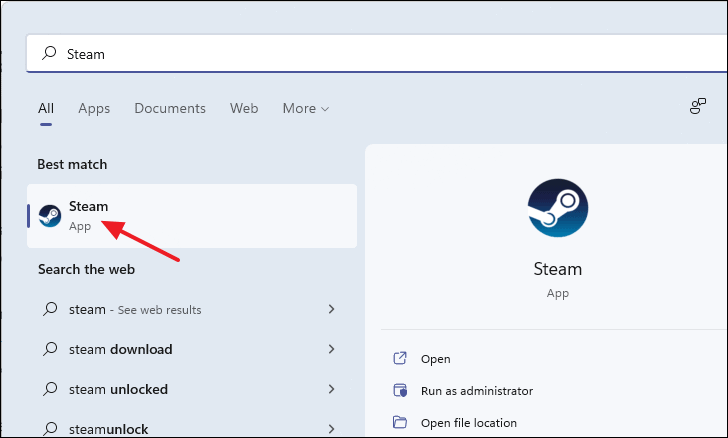 After the Steam window opens, click on 'Steam' on the top left corner of the window.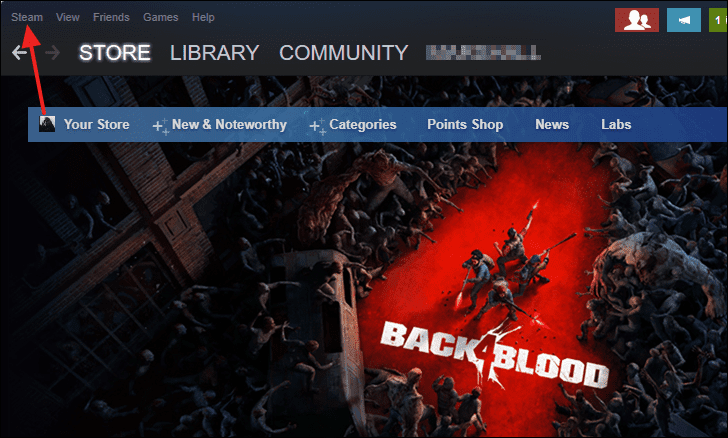 Then, select 'Settings' from the available options in the menu.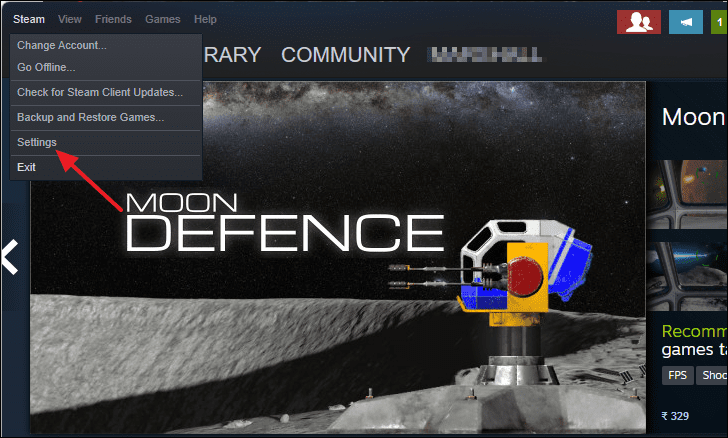 On the Steam Settings page, select the 'In-Game' option from the left panel.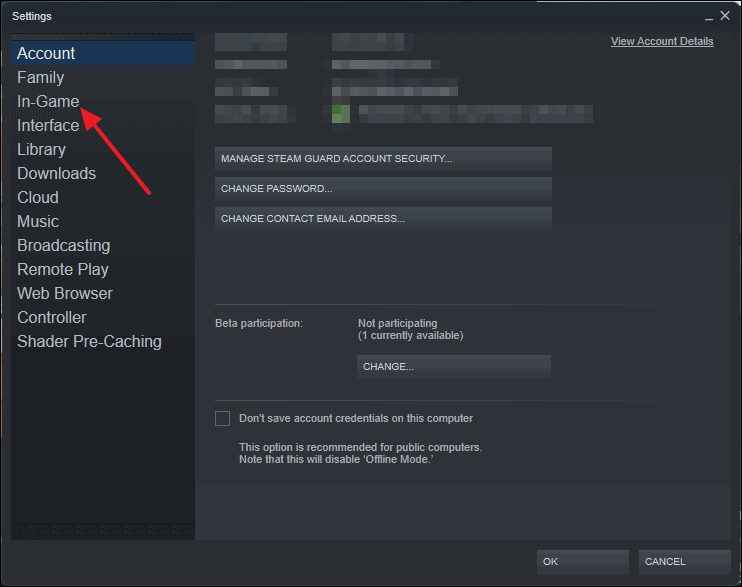 From there, uncheck the box that says 'Enable the Steam Overlay while in-game' and click on 'OK'.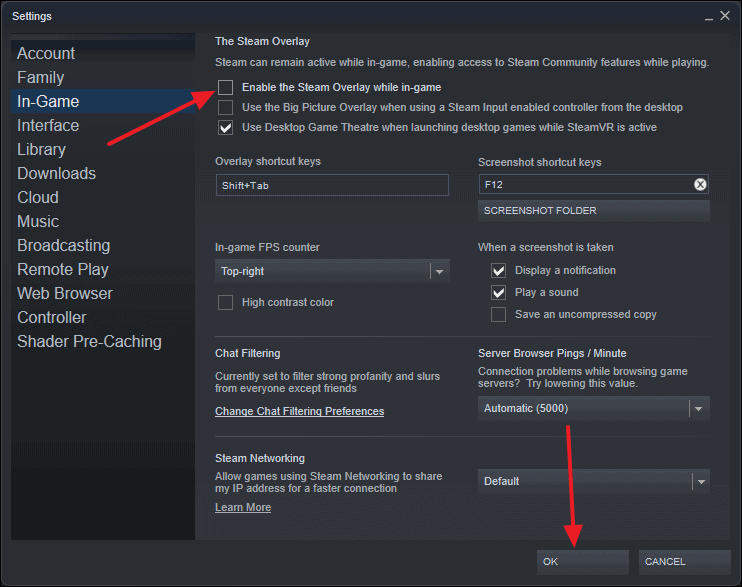 That is how you disable Steam overlay. You can use this method as a reference to turn off overlays in other software like Discord or Teamspeak as well.
---
These are some methods that you can apply to optimize your Windows 11 computer for an excellent gaming experience.