Zoom is one of the most popular video meeting apps right now. But there was also a time when Zoom became notoriously popular for something else – its grossly inadequate security measures. Remember Zoom bombings?
Ever since then, Zoom has been actively trying to avoid any such disasters in the future by enhancing its security with regular new additions to the platform. The latest update includes new measures to enhance security in your Zoom meetings. The newest enhancements will help combat disruptions in your meetings.
Starting now, meeting hosts can temporarily pause meetings and remove disruptive participants. The new option to Suspend Participant Activities lets you do it.
Note: This newest feature is part of the latest version of the desktop or mobile app, so make sure your app is updated. The support for the web client and VDI will be coming later this year.
How to Suspend Participant Activities and Pause a Meeting
Only hosts and co-hosts of a meeting can suspend participant activity and pause a meeting. To pause a meeting, go to the meeting toolbar and click the 'Security' icon.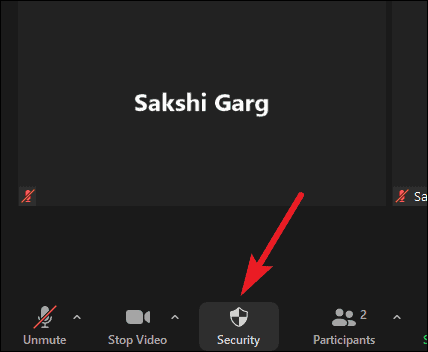 A menu will appear. Click on 'Suspend Participant Activity' from the menu.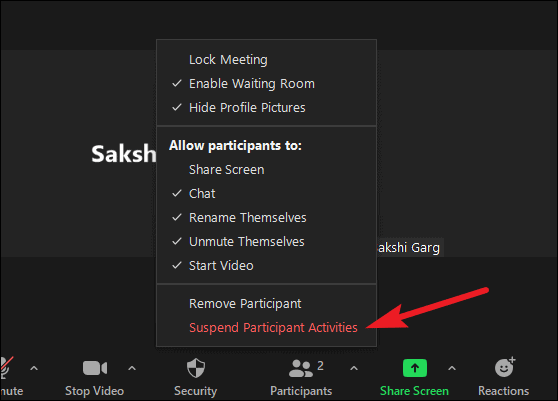 A confirmation dialog box will appear. Click the 'Suspend' button to suspend all activity. But before clicking the suspend button, decide whether you want to report this to Zoom. By default, the 'Report to Zoom' option is selected. So, if you want to report the disruption to Zoom's Trust & Safety Team, you don't need to take any additional action. Otherwise, uncheck it and then click the 'Suspend' button.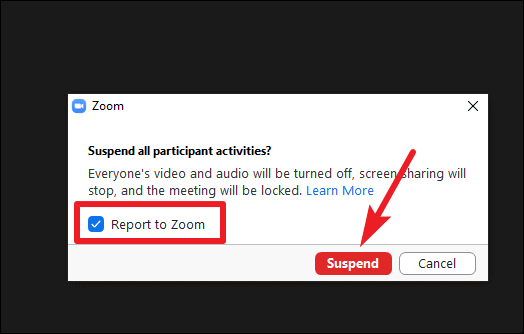 If you check the option for 'Report to Zoom', the Report Users window will open as soon as you click the Suspend button. Select the user you want to report, specify the reason, and click the 'Submit' button. Zoom will remove the user you report from the meeting, and it'll also notify Zoom's Trust & Safety Team. Zoom's team will also email you after the meeting to gather more information on the matter.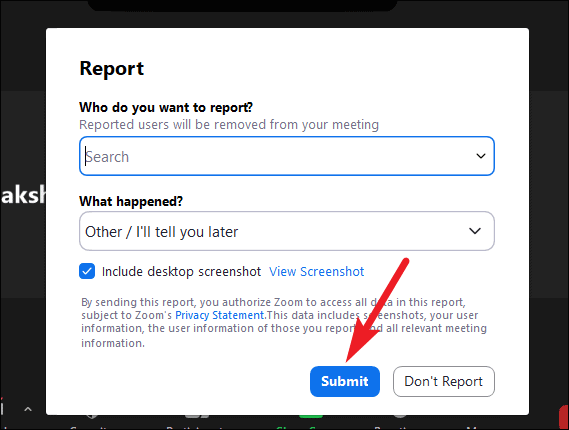 Now, when you click the 'Suspend' button, all activity in the meeting will temporarily suspend. All video, audio, in-meeting chat, screen sharing, annotation, and recording during that time will stop. Break-out rooms will also end. It'll even hide profile pictures. Essentially, you'll enter a state where the meeting is on pause.
Once you're ready to resume the meeting, the host or co-host can individually re-enable the features they want to use. That doesn't include just starting your video and audio.
You also have to resume most options that are generally available by default. That includes options like re-display profile pictures, allow participants to chat, rename, and unmute themselves, and start their video. Other options that you may have previously enabled, like allowing users to share their screen, will also have to be enabled again. Click the 'Security' icon on the meeting toolbar to access and enable these options.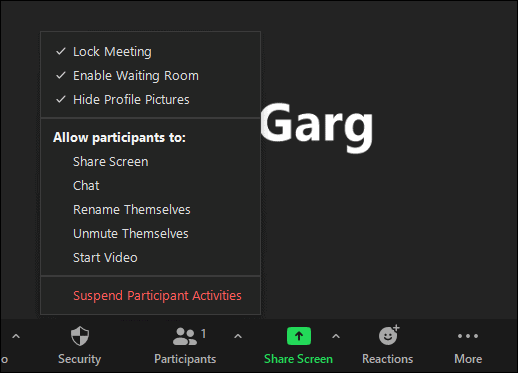 ---
The Suspend Participant Activities option is available to all users, free and paid alike, and will be enabled by default as soon as you update to the latest version.
Along with this, the newest update also includes the feature to allow participants to report other users in the meeting. This functionality was previously available only to hosts or co-hosts of the meeting. Non-hosts can use this feature only if account owners or admins enable reporting capabilities for them.