Mastodon is a microblogging platform that many users have started using since Twitter has become too much of a nuisance. But Mastodon is not like other social media platforms you often use.
And apart from the obvious divergence – the existence of servers, that is – you'll find another huge difference. You cannot change your username on Mastodon. Once you've created your profile, that's it. So, what if you decide you've outgrown your current username and need to adopt a new one? Well, the only thing to do is create a new account with the desired username. And then you can redirect your old account to point to the new one.
What's the Difference between Redirecting and Moving your Account?
Mastodon has another option for users who want to create new accounts on the platform – moving accounts. So, what's the difference between the two?
There's only a slight difference between the two:
If you put an account redirect notice, this action is completely reversible. It puts a notice on your account and excludes you from searches. Anyone who visits your current account will see that you have moved to another account and they can follow you there if they want it. Redirected accounts also become unfollowable, i.e., people cannot follow it until a redirect notice is up.
Other than that, no other data from your account is moved automatically but you can manually move it. Your current account isn't fully usable afterward. You cannot post from it. But it's always available for exporting data and re-activation. And whenever you activate it, all your followers and other data will be intact.
But when you move your accounts, a couple of additional things take place. For starters, the move is irreversible. When you move your accounts, Mastodon forcibly makes your followers unfollow your current account (if their software supports Move activity, i.e., if they're on Mastodon 3.0.1 or newer version) and follow your new account. In short, moving your accounts moves your followers to the new account. And this action is not directly reversible. You'll have to perform the steps for moving your account from the new account to the old account again. And you can only move accounts once every 30 days.
Everything else, like your account getting a redirect notice, being excluded from searches, not being fully usable afterward, as well as having access to data export and re-activation is the same in both cases. Although the process for re-activation will differ, as explained above.
But that's the major difference between both – in one, your followers are moved while in the other, they are not.
Redirecting your Account
Go to your current account's domain and log in with your credentials. Then, click the 'Preferences' option from the menu on the right.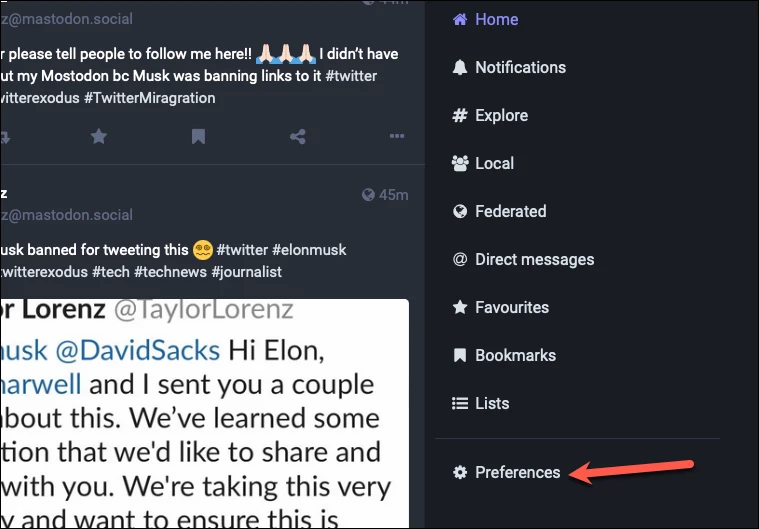 Go to 'Account' from the navigation menu on the left.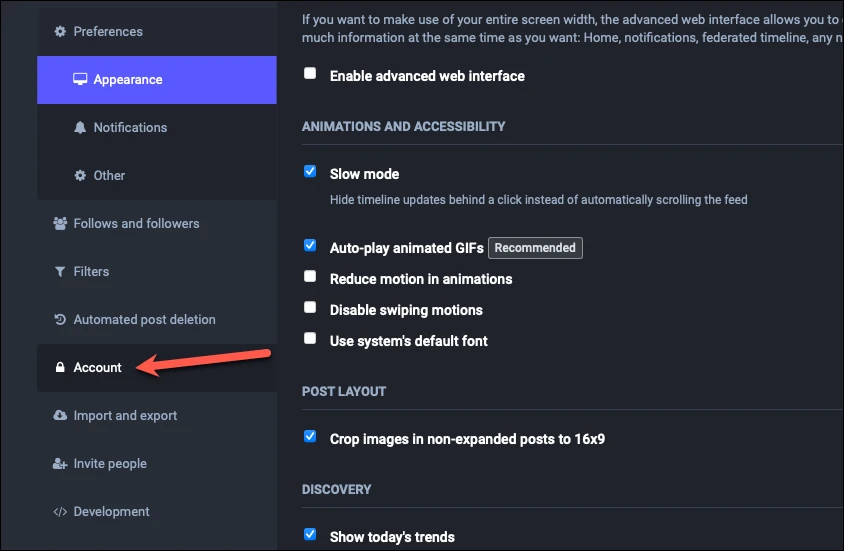 Then, scroll down and click the 'configure it here' link under 'Move to a different account'.
Now, click the link in the 'Alternatively, you can only put up a redirect on your profile'.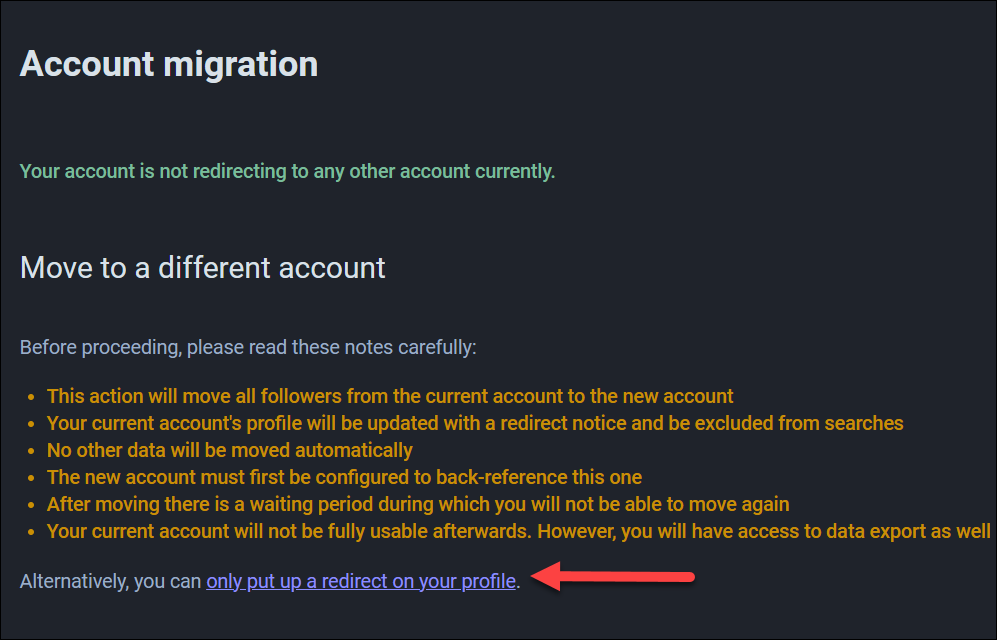 Enter the complete handle of your new account where you want to redirect your current account. We're assuming you already have your new account set up. If you don't, first create a new account on either the same or another server you want to join. Now, enter the complete handle of your account, with the server's domain, even if your new account is on the same server as your current one.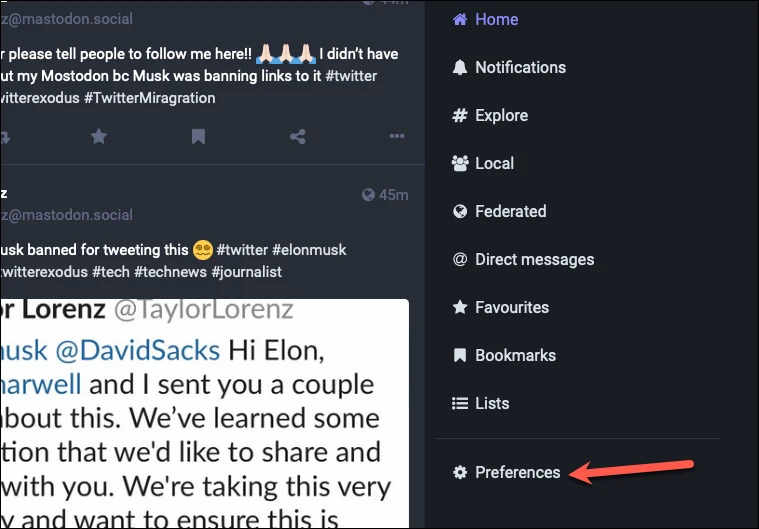 Next, enter the password of your current account in the 'Current Password' field.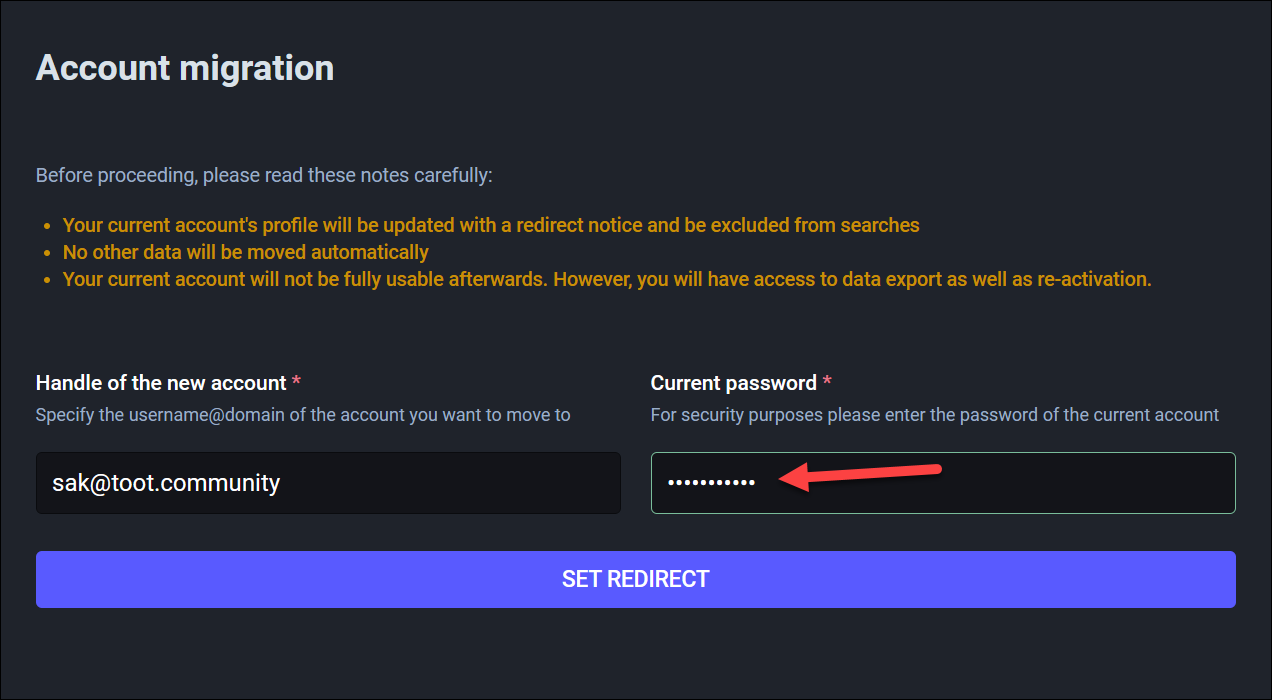 Finally, click the 'Set Redirect' button.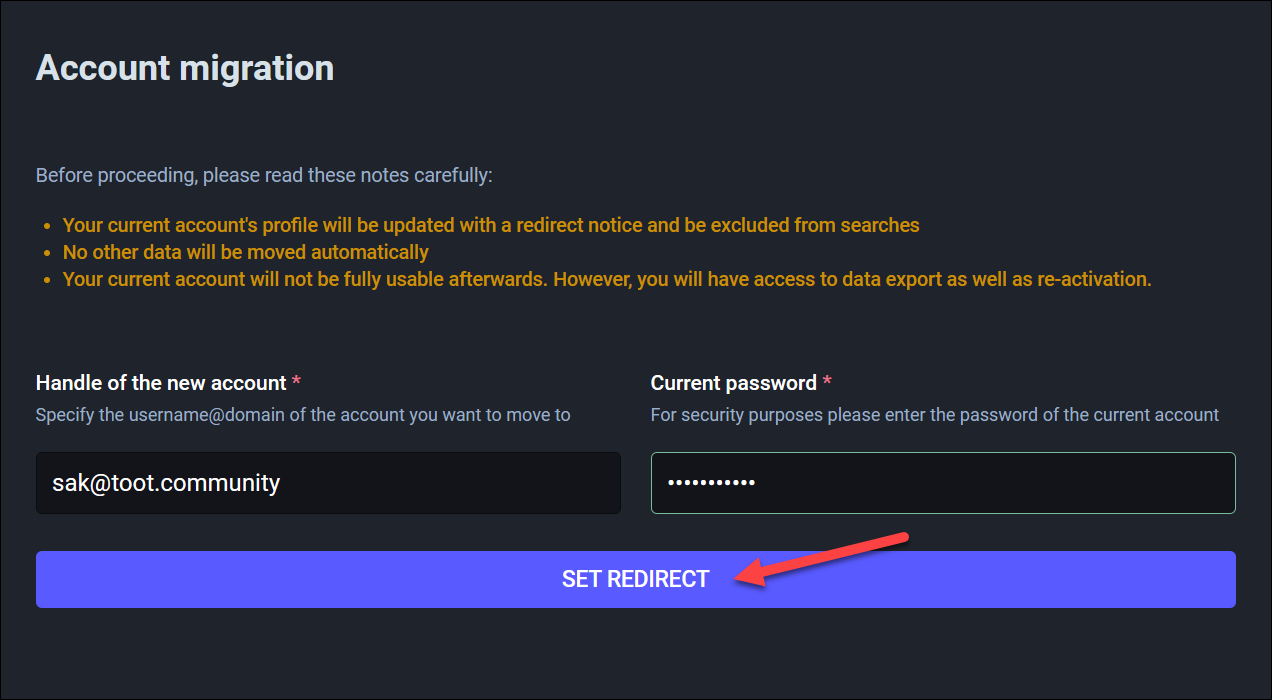 Your current account will be updated with a redirect notice pointing to your new account.
---
While you can't change usernames on Mastodon, redirecting your account is the next best alternative. And redirecting your account is a walk in the park.