The cameras and microphones on our computers have undoubtedly made life easier for us. We can connect with loved ones over audio and video conferences or use the equipment to indulge in various hobbies.
The past year has made us even more dependent on video calls to connect with people, whether it's for work or friends and loved ones. But when you're on a video call, you don't always want your camera and microphone to be in the same position. We're always switching it up, turning one on while disabling the other. Wouldn't it be a lot easier if we had a keyboard shortcut for the same, that wasn't app specific? If you use multiple conferencing apps, as many people do, it can be frustrating to have to learn different keyboard shortcuts.
What if we told you that you could have global keyboard shortcuts to toggle your camera and microphone on or off? I bet you're saying, "sign me up!" Fortunately, there is a little something that can solve this problem for you. This little something comes in a utility package with PowerToys. We are talking about the Video Conference Mute utility in PowerToys.
What is Video Conference Mute in PowerToys?
Video Conference Mute lets you quickly mute your microphone and/ or turn off your camera and enable them again with keyboard shortcuts globally. It works regardless of the app, and it also works even if the app isn't in focus. So, if you have another app open on the desktop while on a conference call, you don't actually have to switch to the app to turn your camera or microphone on or off.
But chances are that even if you use PowerToys, you might not know of its existence. Why is that? Because it isn't a part of the stable version of PowerToys. It needs you to run the experimental version.
Installing Experimental PowerToys
If you go to the GitHub page for Microsoft PowerToys, the version you'll see is the latest stable version. You'll have to scroll down a little to find the experimental release. You can get the experimental version of PowerToys from here.
Scroll down to assets and download the .exe file for v0.36.0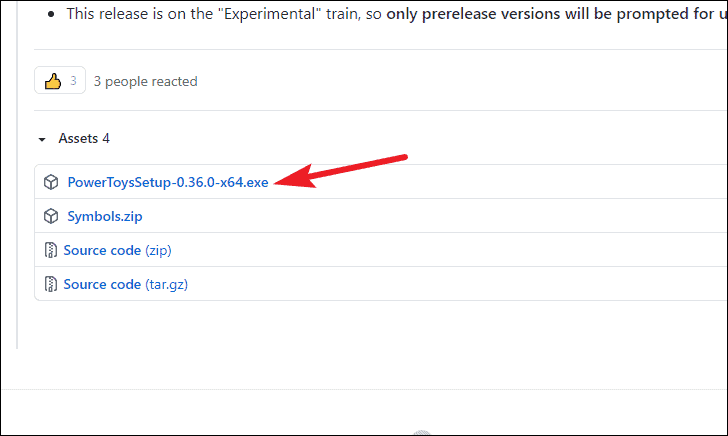 Then run the setup and follow the instructions on the wizard to install PowerToys. If the latest version of PowerToys is already installed, you'll need to uninstall it.
While installing PowerToys, check the option for 'Automatically Start PowerToys at log on' as PowerToys should be running in the background for this utility to work. This way, it'll be running in the background, and you won't have to worry about it. But, of course, this is optional, and you can also run PowerToys manually.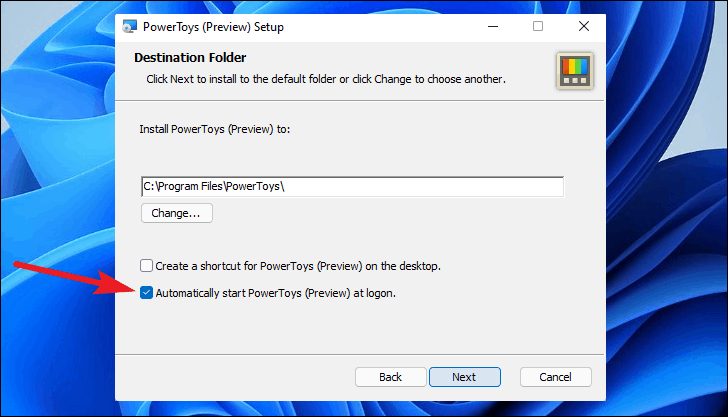 Using Video Conference Mute
Launch PowerToys from the Start menu or desktop shortcut (if you created one). PowerToys settings windows will open.
To use most of the utilities, including Video Conference Mute, you have to run PowerToys in administrator mode. But by default, it'll run in user mode. From the General tab, click the 'Restart as administrator' button.
Once PowerToys restarts in administrator mode, you can also enable the toggle for 'Always run as administrator'.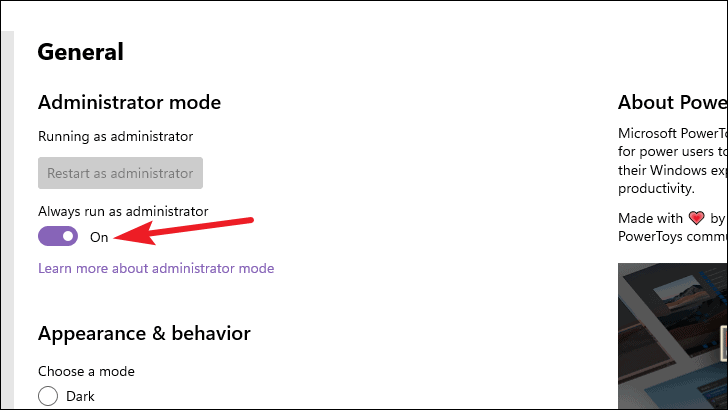 Now, go to 'Video Conference Mute' from the navigation pane on the left.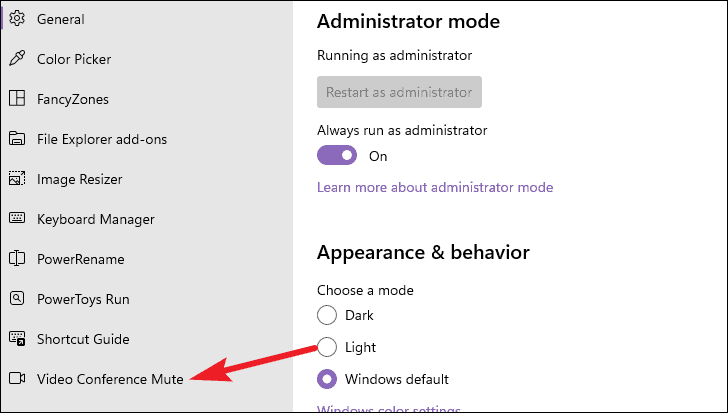 Turn on the toggle for 'Enable Video Conference' to use this utility to control your camera and microphone.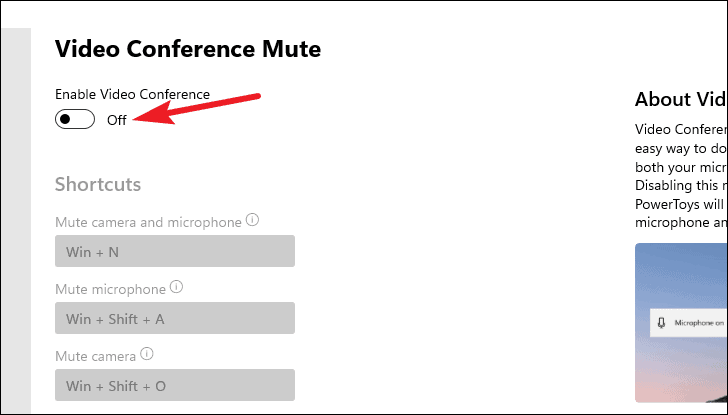 Now, as soon as you turn on the toggle, all the options on the screen will become active. There are three main options:
Mute camera and microphone – To toggle both Camera and Microphone at the same time. Default shortcut is Windows + N
Mute microphone –To toggle only microphone. Default shortcut is Windows + Shift + A
Mute camera – To toggle only camera. Default shortcut is Windows + Shift + O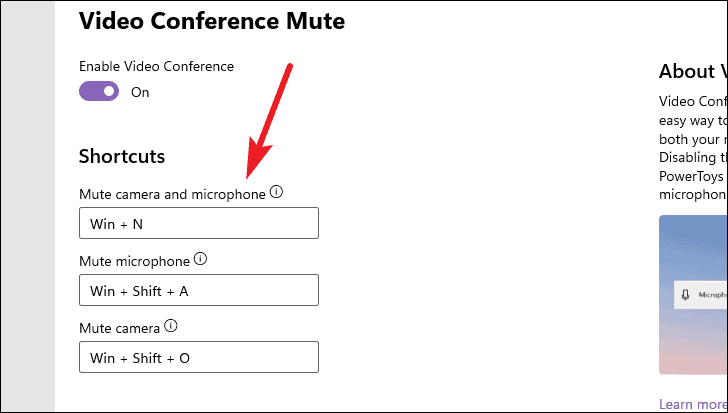 But you can also change these shortcuts and create custom shortcuts that are easy for you to remember. Any new shortcut you create must have only these hotkeys: Windows, Alt, Ctrl, Shift. To change the shortcut, go to the textbox. When the textbox is highlighted, press the keys for the new shortcut.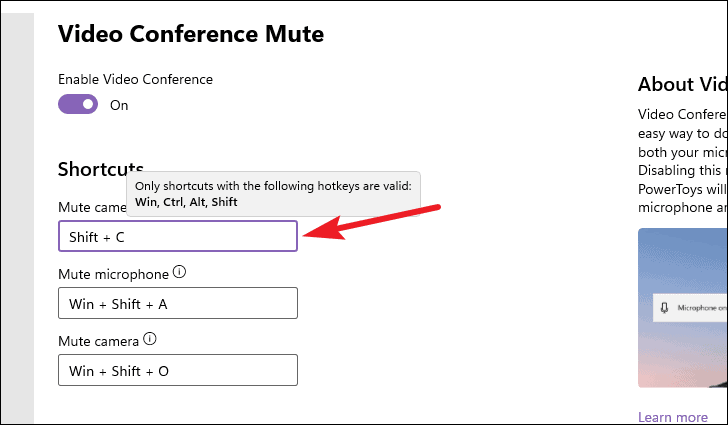 Note: If you disable Video Conference Mute or completely close PowerToys, these shortcuts won't work.
Once you enable the Video Conference Mute, ideally, the settings should apply on their own. But if it doesn't, restart PowerToys, and it will start reflecting the changes.
There are also a few more settings you need to configure, or at least, confirm that the default settings work for you.
Under Microphone, you can select which microphone will Video Conference Mute work on. By default, it is set to 'All', but you can select specific devices from the drop-down menu.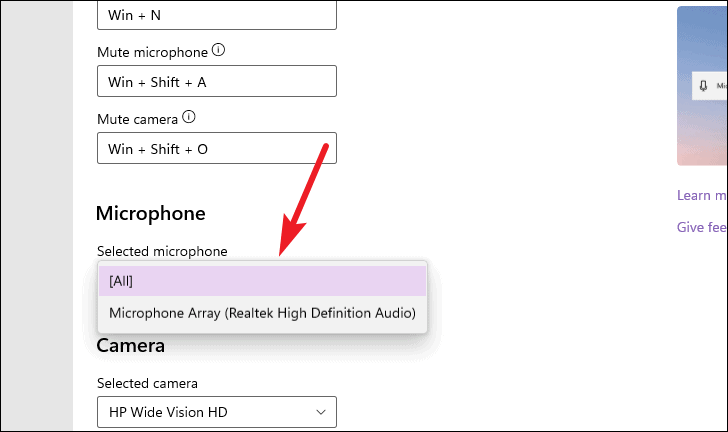 Then, select the camera from the drop-down menu. Now, there's the Camera overlay image. The camera overlay image is the placeholder image PowerToy will display to others in the call when you disable the camera. By default, it displays a black screen. But you can also select any image from your computer. Click the 'Browse' button to select an image.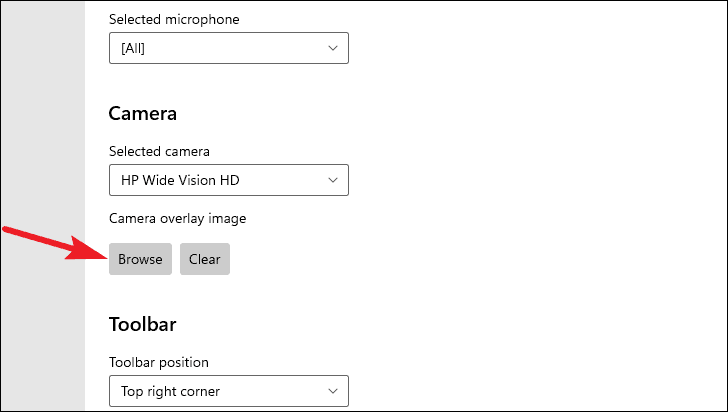 To apply the changes in the overlay image, you have to restart PowerToys.
Next, when you do a global mute using Video conference mute, a toolbar will appear indicating the status of the camera and microphone.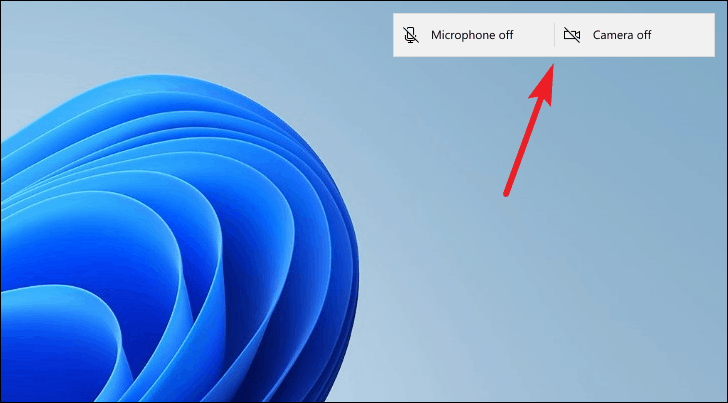 You can decide the position of the toolbar on the screen, which screen to display the toolbar on, and whether or not to hide the toolbar when both the camera and microphone are unmuted.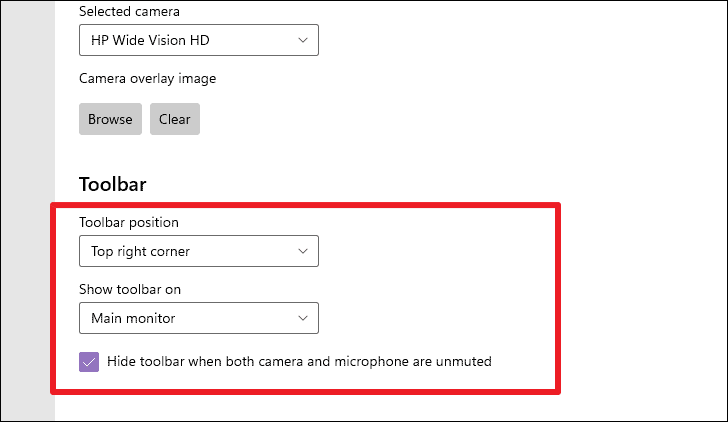 Alternative: Create Desktop Shortcut to Toggle Camera and Microphone
Maybe you came here looking for a way to disable the camera and microphone from settings completely unless you need to use them. Whatever your reasons for using the camera and microphone on your system may be, that's your business. But the same equipment can sometimes make our lives other people's business.
Wanting to cover your camera with black tape isn't paranoia anymore. Hackers (and other agencies) can access your camera and microphone remotely to spy on you. But the tape isn't always the best solution, especially if you have to take it off and on a lot. And it still leaves the microphone to deal with.
The more elegant solution would be to turn your camera and microphone on and off when you need them. But having to go fishing into settings every time isn't practical. And for some users, neither is downloading and using an experimental app that could be buggy.
There is an alternative that you can use. It might not be as quick as a keyboard shortcut, but it's near there.
Go to your desktop and right-click on the screen. Then, select 'New item' from the context menu.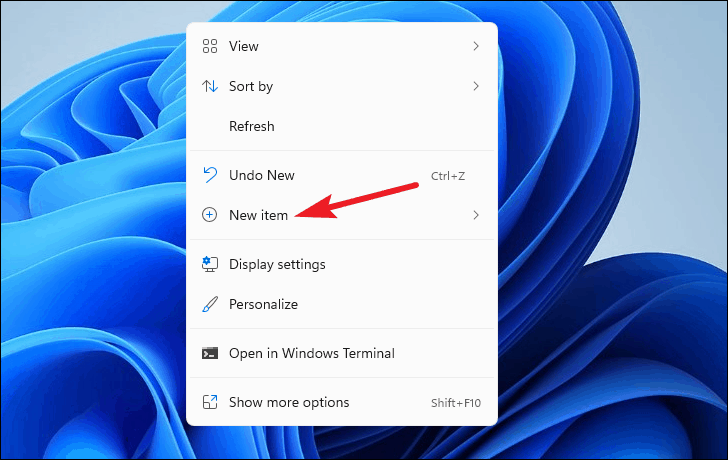 Then, select 'Shortcut' from the options.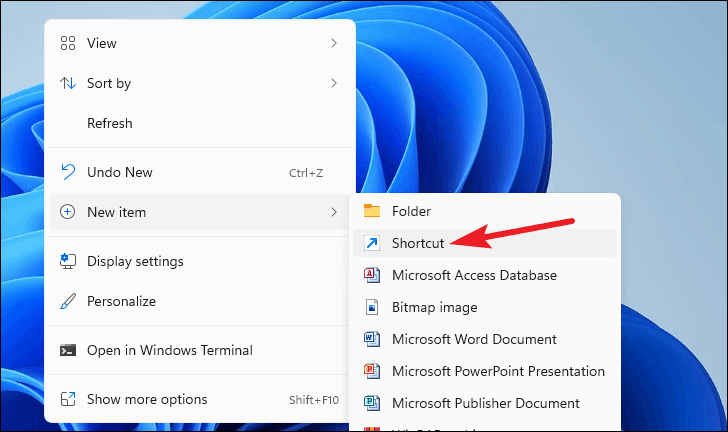 The dialog box for creating a shortcut will appear.
First, let's create the shortcut for the Camera. Type ms-settings:privacy-webcam in the textbox for location and click 'Next'.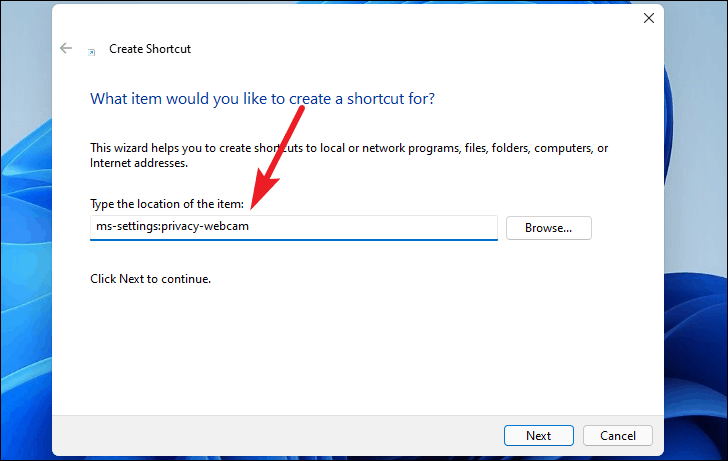 Then, enter the name for the shortcut, something like 'Camera on or off' or whatever suits you, and click 'Finish'.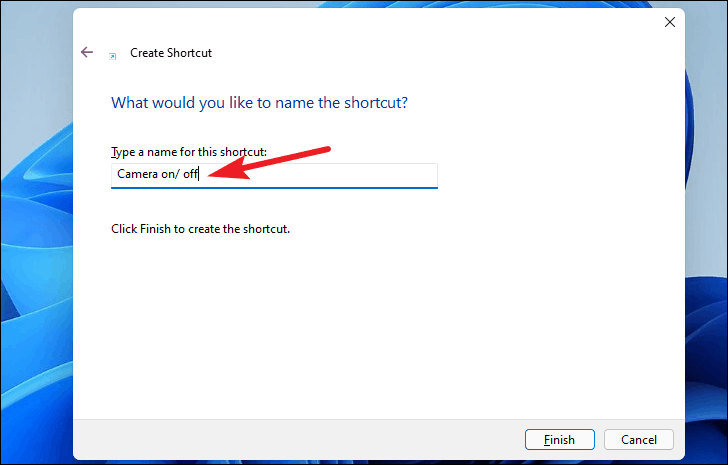 A desktop shortcut will be created that'll open the Camera settings and you can turn on or off the toggle with a single click.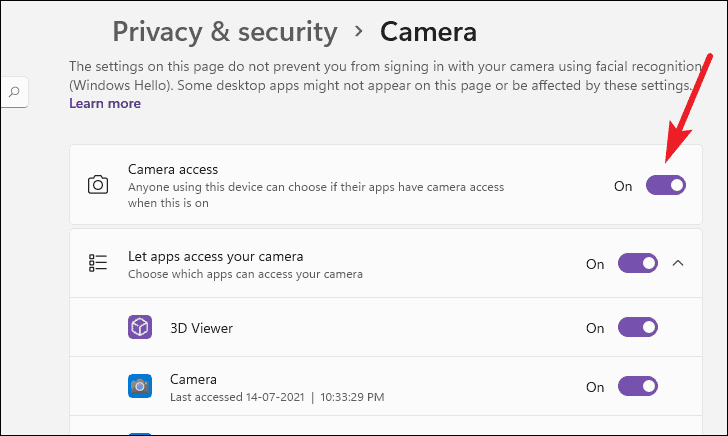 Similarly, for Microphone settings, create a new shortcut. In the Location textbox, enter ms-settings:privacy-microphone. Give it a name and click 'Finish'.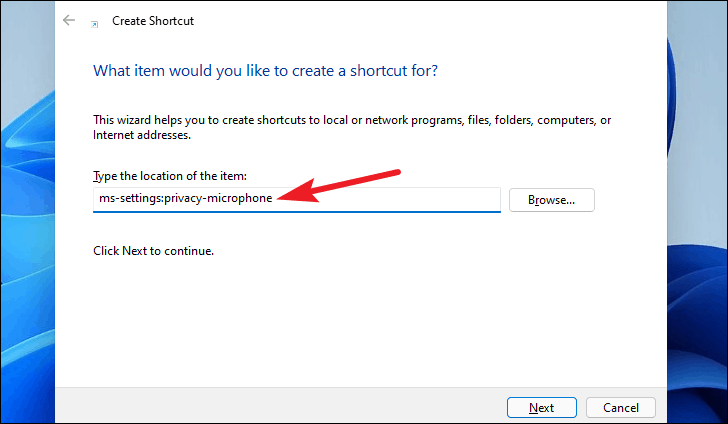 ---
Being able to quickly control your camera and microphone settings can save a lot of time. With these shortcuts, you can do exactly that, whether you're looking to control your devices in a call or system-wide.