How to Use ChatGPT on Android
Accessing ChatGPT on your Android device is easy - all you need is a web browser and you'll be talking to the chatbot in no time!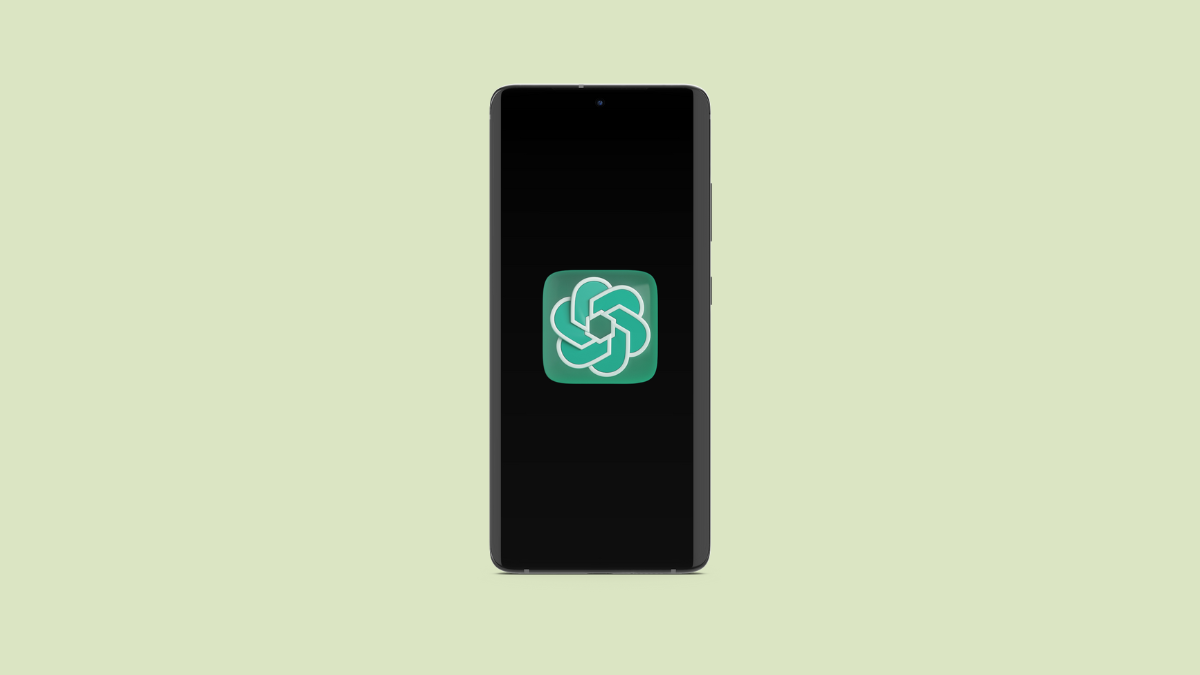 Ever since its debut, ChatGPT has been making waves in the AI and natural language processing communities. Chat Generative Pre-Trained Transformer (ChatGPT) is an AI-based chatbot developed by Elon Musk-founded independent research company OpenAI. It can help you with a wide variety of tasks including answering your burning questions, helping with homework, or just having a good conversation.
As of now, there is no official app available for ChatGPT on Android and iOS devices. ChatGPT can only be used via the OpenAI website chat.openai.com. You can easily access the ChatGPT website via web browsers like Google Chrome, Firefox, Opera, or any other web browser on your Android or iOS devices. For using ChatGPT on an iPhone, check out our guide on the same.
There are a few different ways you can use ChatGPT on your Android device – access ChatGPT using an application that integrates with the OpenAI API (like Replika, Hugging Face, and DialoGPT) or access the ChatGPT through the OpenAI website on your mobile browser. We'll explain the latter in the guide.
Use ChatGPT on Android
For Android users interested in using the ChatGPT chatbot, here's a handy mini-guide to how to step up an OpenAI account and use the chatbot on an Android device:
First, open any of your mobile browsers, such as Google, then type and search for 'ChatGPT'. Then tap on the first result to open the OpenAI website. It should be openai.com/blog/chatgpt.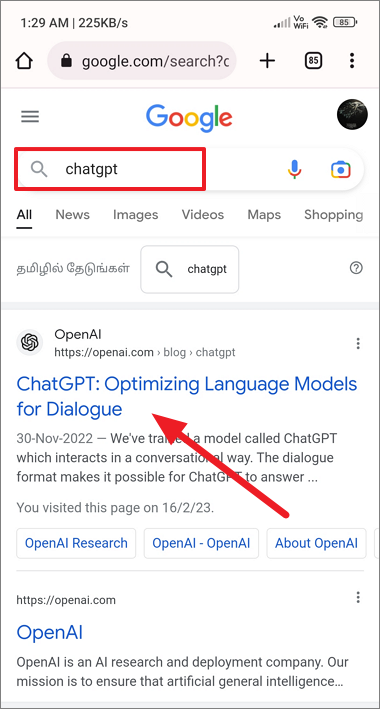 You'll see an introduction page explaining the chatbot and how it works. Just click the 'TRY CHATGPT' button below.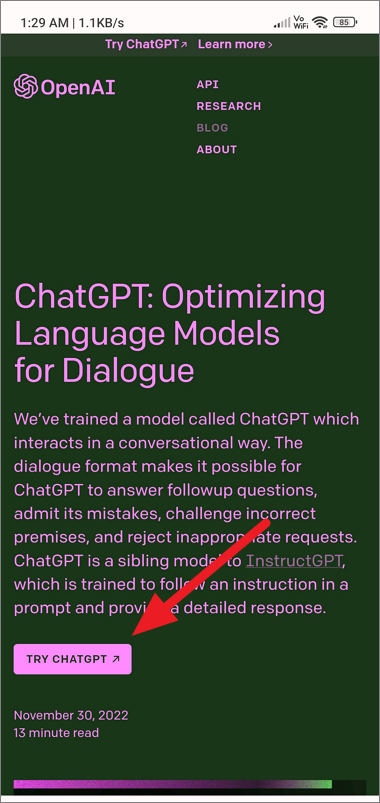 If you don't have an OpenAI account, create an account by clicking the 'Sign up' button.
Then, enter your email ID and a password, or continue with a Google or Microsoft account.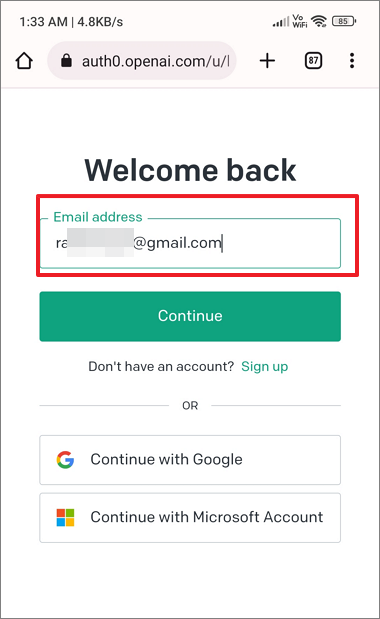 After that, you need to verify your email address. Go to your email account, open the email from OpenAI, and click 'Verify email address'. Next, you will be asked for your phone number followed by a code.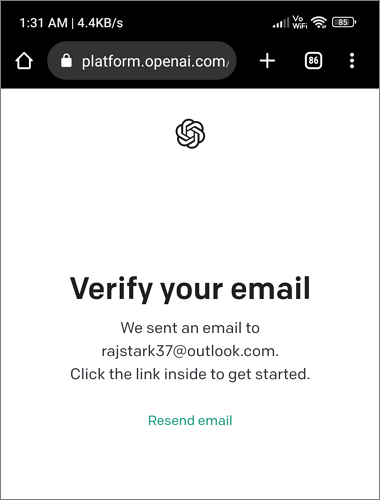 Once it's done, a new chat window will open. Alternatively, go back to the OpenAI website, click the 'Try ChatGPT' button and then select 'Log in' on the following page. Enter your credentials and log in.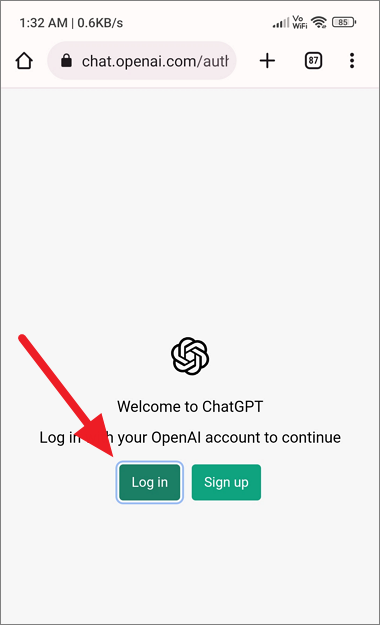 When the chat box opens, type your query in the text field at the bottom and click the send icon. You can ask anything you want and the AI will answer it. The better detailed your prompt is, the closest answer you'll get. You can even ask the AI to give you instructions and codes to build an android and it will provide you with full information.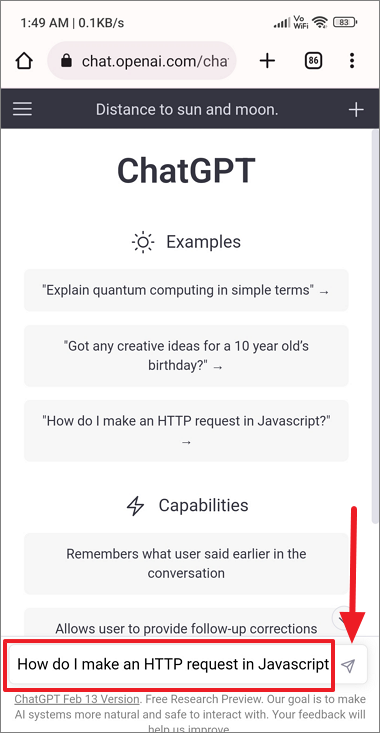 As you can see below, it provides step-by-step instructions and Javascript code for HTTP requests in Javascript.
If you wish to stop it in the middle of the response, click the small square button next to the query field.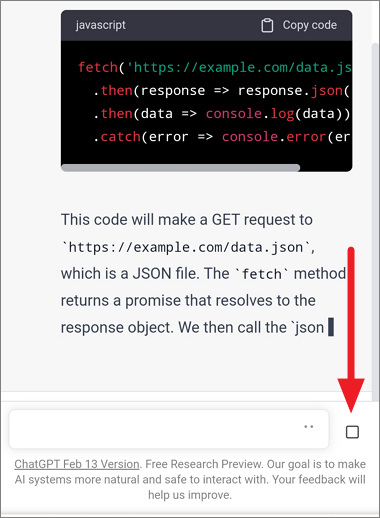 To create a new chat, click the '+' icon at the top left corner.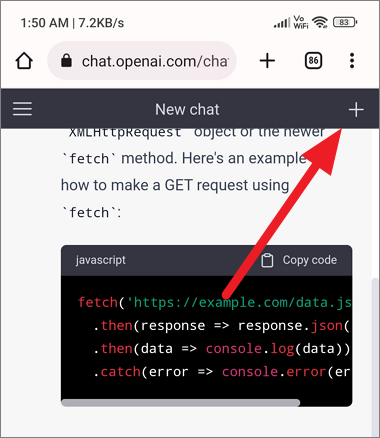 If you want to clear all the conversions, tap the hamburger icon (three horizontal bars) and select 'Clear conversions'.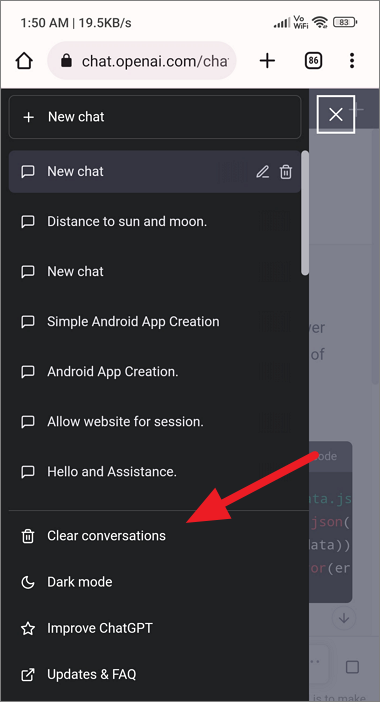 To quickly jump to a particular conversation, tap the hamburger icon (three horizontal bars) and select the conversation from the list.
You can switch to dark mode by tapping the 'Dark mode' option in the menu.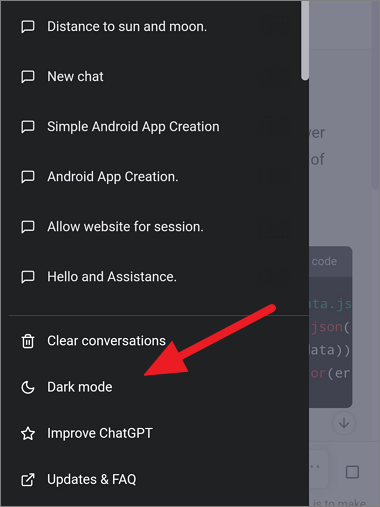 ---
Although ChatGPT is one of the most powerful AI in the world, it is not free from errors or limitations. It may produce responses that sound plausible but are incorrect or nonsensical at times. Moreover, it cannot answer queries that depend on real-time information and cannot access the internet to find answers.