After almost two months of testing and six beta releases, Apple is finally releasing the iOS 13.4 update for iPhone, and iPadOS 13.4 for iPad to the public.
The update released to developers a week earlier, and we have been running it on our iPhone 11, iPhone XS Max, iPhone X, and an iPhone 7 since then to test and try the latest iOS version for this review.
🆕 New Features in iOS 13.4 Update
Memojis, iCloud Drive Folder Sharing, and more
There are plenty of new features and performance improvements in iOS 13.4 update for iPhone. These features may not be groundbreaking but are subtly beautiful and helpful.
🧑 New Memoji Stickers
Use iMessage a lot? There are about nine new Memoji stickers included with iOS 13.4. Our favourite of the new lot is the 'Namaskar' Memoji.
☁️ iCloud Drive Folder Sharing
You can now share folders in iCloud Drive from the Files app with the ability to limit access to people who you invite or to people who have the folder link. You could also set permissions to who can make changes to the folder and who can only view and download files.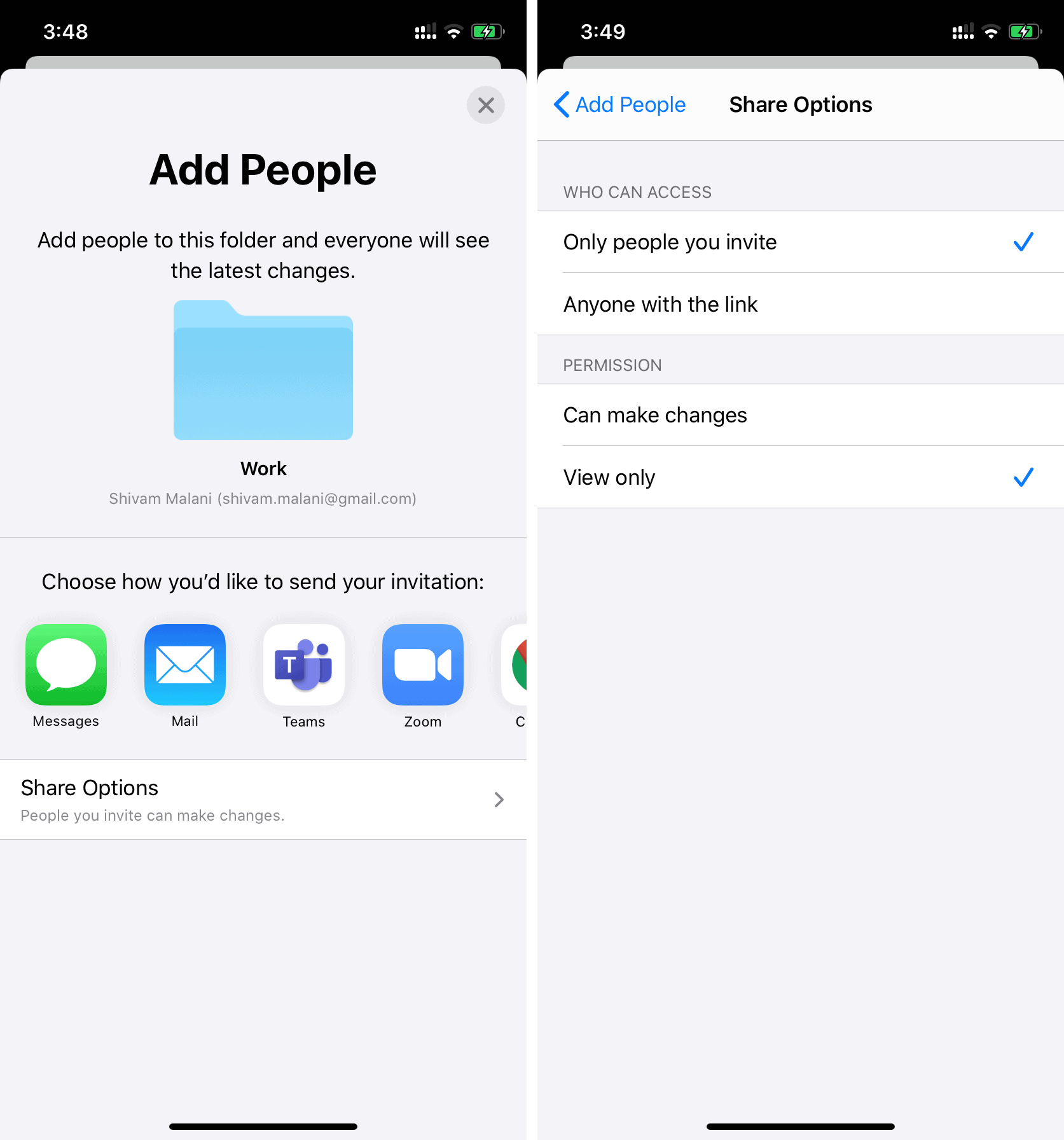 To access iCloud Folder Sharing options, first long press on the folder you want to share in the Files app, selecting 'Share' from the over-lay menu, and then select 'Add People' option from the Share Sheet screen.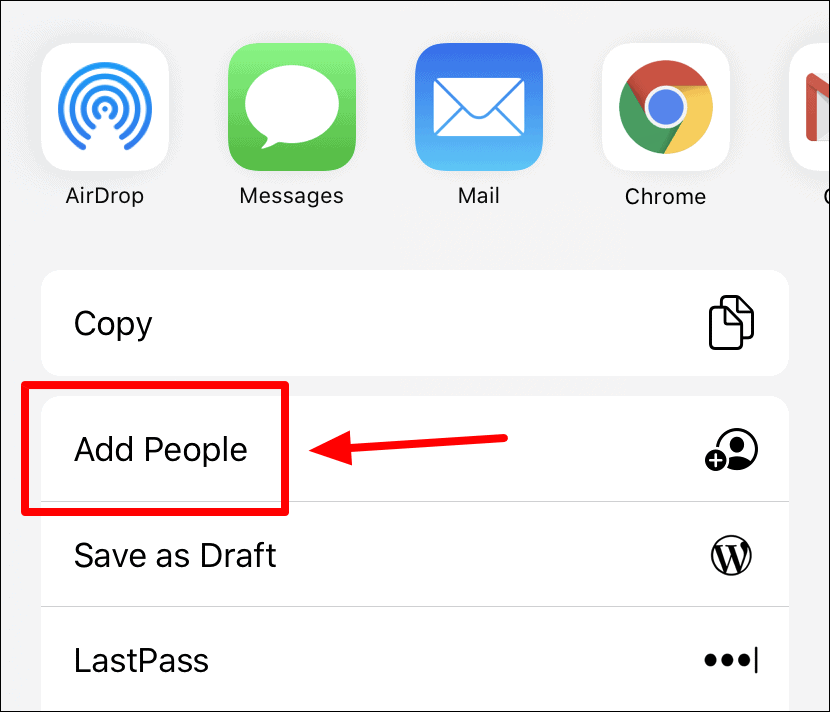 💰 Single purchase for iOS and Mac versions of an App
Developers can now enable singular purchase for all platforms supported by their apps on the App Store. Meaning, you could buy an app for your iPhone, and if it's available for macOS, you can download it on your Mac as well without having to purchase it again from the store.
However, know that it's voluntary for the app developers. They may choose to not allow single purchases for their multi-platform app versions.
🗒 Mail, Apple Arcade, CarPlay, and AR
Other notable iOS 13.4 features (straight from the update changelog).
Mail
Always-visible controls to delete, move, reply to, or compose a message in conversation view
Responses to encrypted emails are automatically encrypted when you have configured S/MIME
App Store with Apple Arcade
Recently played Arcade games appear in the Arcade tab so you can continue playing on iPhone, iPod touch, iPad, Mac, and Apple TV
List view for See All Games
CarPlay
Third-party navigation app support for the CarPlay Dashboard
In-call information appears on the CarPlay Dashboard
Augmented Reality
AR Quick Look supports audio playback in USDZ files
Keyboard
Predictive typing support for Arabic
⚙ Improvements
Below are some of the minor improvements that iOS 13.4 update brings to iPhone.
Adds status bar indicator to display when VPN has disconnected on iPhone models with all-screen displays
Improves the Burmese keyboard so punctuation symbols are now accessible from numbers and symbols
---
🐛 What are the bug fixes in iOS 13.4?
Stuff related to Camera, Photos, iMessage, CarPlay, and plenty more
iOS 13.4 comes with plenty of bug fixes. Here's a list of all fixes included in the update in the official changelog. And while this list is long enough already, we believe there are plenty more minor fixes in the update that didn't make to the list.
Fixes an issue in Camera where the viewfinder may appear as a black screen after launch
Addresses an issue where Photos may appear to use excess storage
Resolves an issue in Photos that may prevent sharing an image to Messages if iMessage is disabled
Fixes an issue in Mail where messages may appear out of order
Addresses an issue in Mail where the conversation list may display empty rows
Resolves an issue where Mail may crash when tapping the Share button in Quick Look
Fixes an issue in Settings where cellular data may incorrectly display as off
Addresses an issue in Safari where webpages may not be inverted when both Dark Mode and Smart Invert are active
Resolves an issue where text copied from web content may appear invisible when pasted when Dark Mode is active
Fixes an issue in Safari where a CAPTCHA tile may display incorrectly
Addresses an issue where Reminders may not issue new notifications for an overdue recurring reminder until it is marked as completed
Resolves an issue where Reminders may send notifications for completed reminders
Fixes an issue where iCloud Drive appears to be available in Pages, Numbers, and Keynote even when not signed in
Addresses an issue in Apple Music where music videos may not stream in high quality
Resolves an issue where CarPlay may lose its connection in certain vehicles
Fixes an issue in CarPlay where the view in Maps may move away briefly from the current area
Addresses an issue in the Home app where tapping an activity notification from a security camera may open a different recording
Resolves an issue where Shortcuts may not appear when tapping on the Share menu from a screenshot
---
📡 Bluetooth, Wi-Fi, and Cellular Connectivity on iOS 13.4
Everything works as usual
Given the history of some of the recent iOS updates, it's understandable if you doubt the integrity of the updated software. We have seen iOS updates break vital connectivity features of iPhone before. Thankfully, iOS 13.4 is safe to install.
We have been running iOS 13.4 beta releases on our iPhones for two months, and the final build (as a developer preview) for 6 days. We can say that this update doesn't break any of the vital connectivity features of the iPhone.
Observations
✅ Wi-Fi works as expected. We tested connectivity with both 2.4 GHz and 5 GHz networks.
✅ Bluetooth works in car, with headphones, and with AirPods.
✅ LTE and Cellular signal were the same as before on iOS 13.3.1.
✅ eSIM works the same. No issues.
---
🚅 iPhone speed on iOS 13.4
Apple wouldn't dare slowing your iPhone again
Apple learned its lesson when it slowed down the performance of older iPhones with iOS 10 and iOS 11 updates. Earlier this month, the company agreed to pay $500 million to settle a lawsuit against slowing down the performance of iPhone devices. We don't think Apple will ever intentionally slow down iPhone performance again.
That said, iOS 13.4 is an incremental update with minor changes in the software code. It's highly unlikely that it would slow down your iPhone. Also, we have been running it pretty smooth on our old iPhone 7. So no issues on speed front with iOS 13.4.
If you do experience slow performance or sluggish UI after installing iOS 13.4, know that that it is common with any iOS update. It happens because your iPhone re-indexes the file system after installing an update which puts pressure on the processor and thus slow speed. It mostly happens on older iPhone models only.
---
🔋 Battery Life on iOS 13.4
Not better, nor worse
Battery life on iOS 13.4 update is normal. Not better, nor worse. Our iPhone 11 did overheat on the iOS 13.4 Beta 3 release which resulted in poor battery life but it fixed itself in the Beta 4 release. There haven't been any issues with the battery since beta 4 and the final build.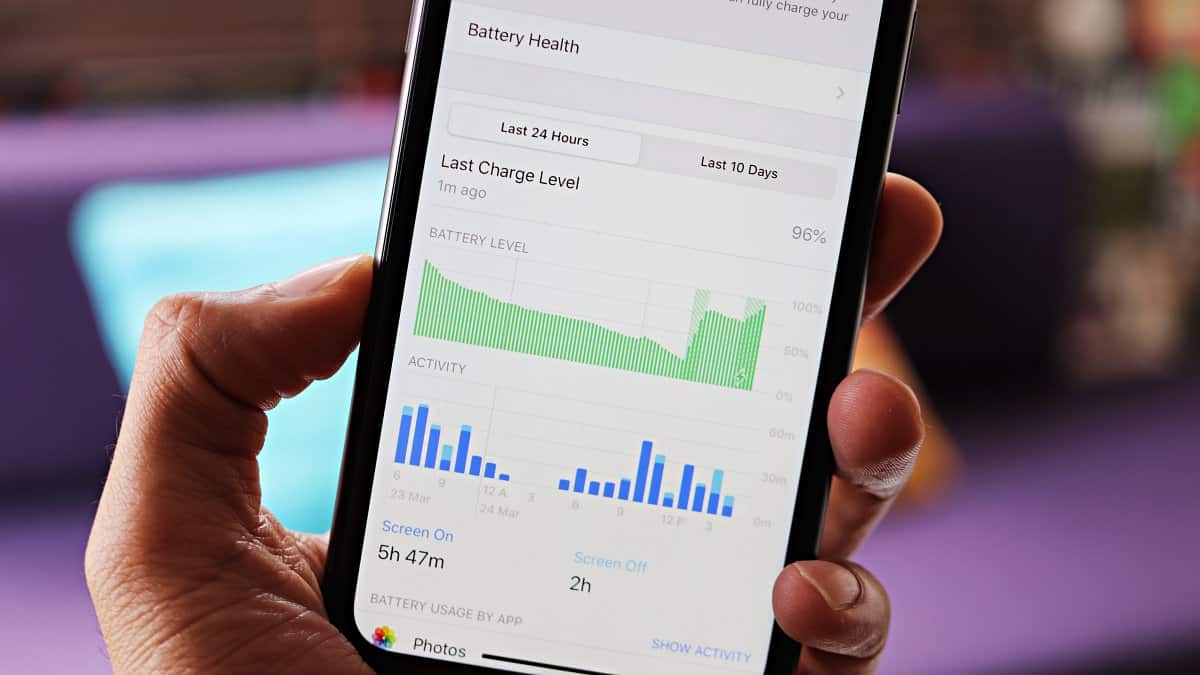 However, know that you may still experience a battery drain for up to 24 hours of installing the iOS 13.4. This is normal for any iOS update as your iPhone re-indexes the file system using aggressive CPU policy.
Battery drain on iOS 13.4 will wear down after a day or two of installing the update. If it doesn't, then you may need to see which apps on your iPhone are consuming the most battery. If you find an app using unnecessary power, then remove it from your iPhone and let the app developer know about it by writing a feedback on the App Store so that the developer can fix any incompatibility issues with the app for iOS 13.4.
---
Conclusion
iOS 13.4 packs some features, fixes many issues, and is safe to install
For an incremental update, iOS 13.4 packs useful new features for your iPhone. The new Memojis are cute and fun to use, and iCloud Drive Folder Sharing feature makes it very convenient to share a bunch of files in one link.
Most importantly, the new option for developers to offer a single license for iOS and macOS versions of their apps is a great relief for the end-user. We hope developers participate in this initiative by Apple.