Even though video conferencing apps like Google Meet became popular when almost everyone was working remotely, they're still as relevant today when users are returning to offices or adopting a hybrid work model. To make sure its software remains relevant, the tech giant has taken great care to add new features.
One such feature that caters especially to hybrid meetings is the Companion Mode in Google Meet. Let's see exactly what it is and how you can use it to make your meetings more productive.
What is the Companion Mode?
Companion mode allows you to join the meeting on a second screen. Now, if you're in the office and using meeting-room hardware or Nest Hub Max for a hybrid meeting, participants in the meeting don't have access to any in-meeting features. Features like chatting with other remote participants, or using polls, Q&A, or other meeting controls become impossible with simply the meeting hardware.
But joining the meeting from your laptop normally can create a ruckus in form of audio feedback. That's where Companion Mode comes in.
In Companion Mode, the mic and video are turned off to avoid any feedback, echo, or bandwidth bottleneck. In fact, while you can turn your video on, the option to turn on the audio is entirely missing in Companion Mode. But other controls like in-meeting chat, polls, Q&A, etc. are all available. So, while you can use the meeting room hardware for audio and video needs of the meeting, for individual controls, you can turn to your personal laptop in Companion Mode.
Companion Mode isn't reserved only for users who are joining meetings from a conference room in a hybrid model though. If you're working remotely, you can use companion mode for an additional second screen.
For instance, if you have to present something in the meeting, your presentation takes up most of the screen leaving no room for other participants' videos. But interaction is a key player in delivering a successful presentation. Using an additional screen via Companion mode, you can view the participants' video on your primary device and present via the additional device. Even while viewing another presentation, you can unpin it from your primary device and view it on the second screen to see video feeds on the former.
Companion Mode is available for all users and not just Google Workspace users. However, it is only available when joining from a browser on your desktop and not the mobile app. Additionally, each companion mode connection counts toward the participant limit.
Features Available in Companion Mode
Not all Google Meet features are available in Companion Mode. You get access to the following features in this mode:
In-meeting Chat
Whiteboard
Share Screen for Presentations
See Presentations
Closed Captions
Raise Hand
Meeting controls (For Meeting Hosts)
Visual Effects (if you choose to share your video)
Google Workspace users also get access to these features, depending on their edition:
Share and gather opinions in polls
Conduct and participate in Q&A
Breakout Rooms
Record meetings
Features Unavailable in Companion Mode
While the experience of joining a meeting in companion mode is largely similar, these features are unavailable:
Meeting Audio and Microphone input
Camera input is disabled by default but can be enabled.
Video feeds for other participants are unavailable; you can see presentations though. Since video feeds are unavailable, there's no option to change the layout.
Is Companion Mode Right For You?
So, if you're wondering if Companion Mode is right for you, here's a small cheat sheet:
If you're in a conference room and meeting with remote users using Google Nest Hub Max or other meeting hardware, use Companion Mode to get the same interactive tools and controls as the remote participants.
If you're attending a meeting remotely and you (or someone else) will present, use Companion Mode on a second device to view/ share the presentation. Hence, you still get to see the video feeds for other participants on your primary device.
If you're remote and only have one device to join the meeting from, don't use Companion Mode. Join the meeting normally with audio and video.
Now that all that's settled, let's see how you can use the Companion Mode.
How to Join a Meeting in Companion Mode?
Joining a meeting in companion mode is relatively easy. There are two ways you can join a meeting in companion mode. And which way to take depends on how you were going to join the meeting.
If you have a meeting link/ invite:
For users who have a meeting link or invite, clicking the invite is the easiest way to join a meeting. So, that's how we'll also be joining the meeting in Companion Mode. Click the meeting link/ invite.
You'll reach the meeting landing page where you normally check your audio or video before joining the meeting. Here, click on 'Use Companion mode' under the 'Other Joining Options' section. And that's it.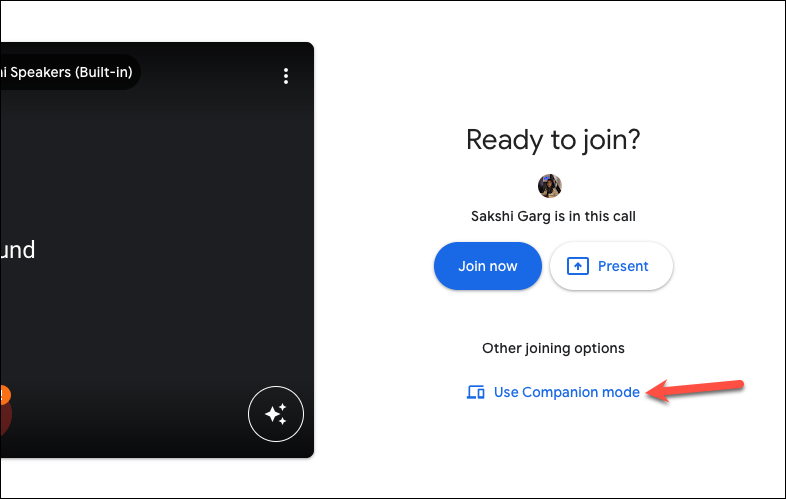 If you have a meeting code:
When you have a meeting code, you don't have to go to meet.google.com, enter the code, and then join the meeting in Companion Mode from the meeting landing page. Instead, navigate directly to g.co/companion. Then, enter the meeting code in the textbox provided and click 'Start Companion'. And you'll join the meeting in Companion mode.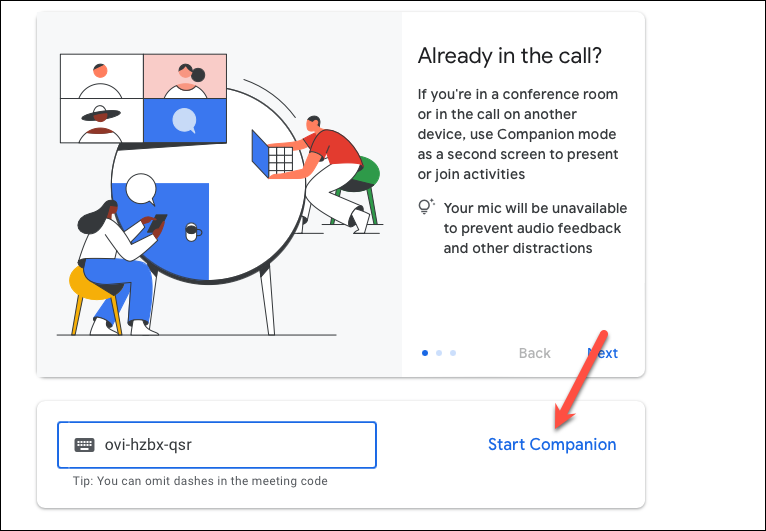 When you join a meeting in Companion Mode, the host of the meeting can see that people in the meeting are using companion mode by a green icon in the top left corner.
The participant list also tags the companion mode users which everyone in the meeting can see.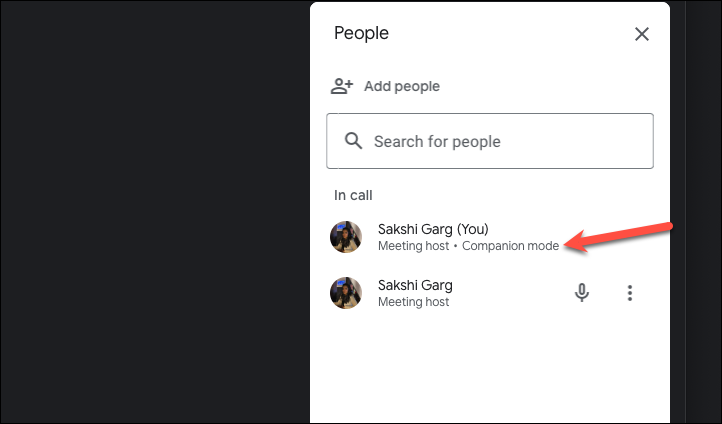 Using Companion Mode in Google Meet
Now that you've joined the meeting in Companion Mode, it's easy to navigate your way around it. When you enter the meeting in Companion Mode, the first thing you'll notice is that instead of any video feeds, your screen will simply say 'Using Companion Mode'. It'll also show an overview of features available to you in the mode.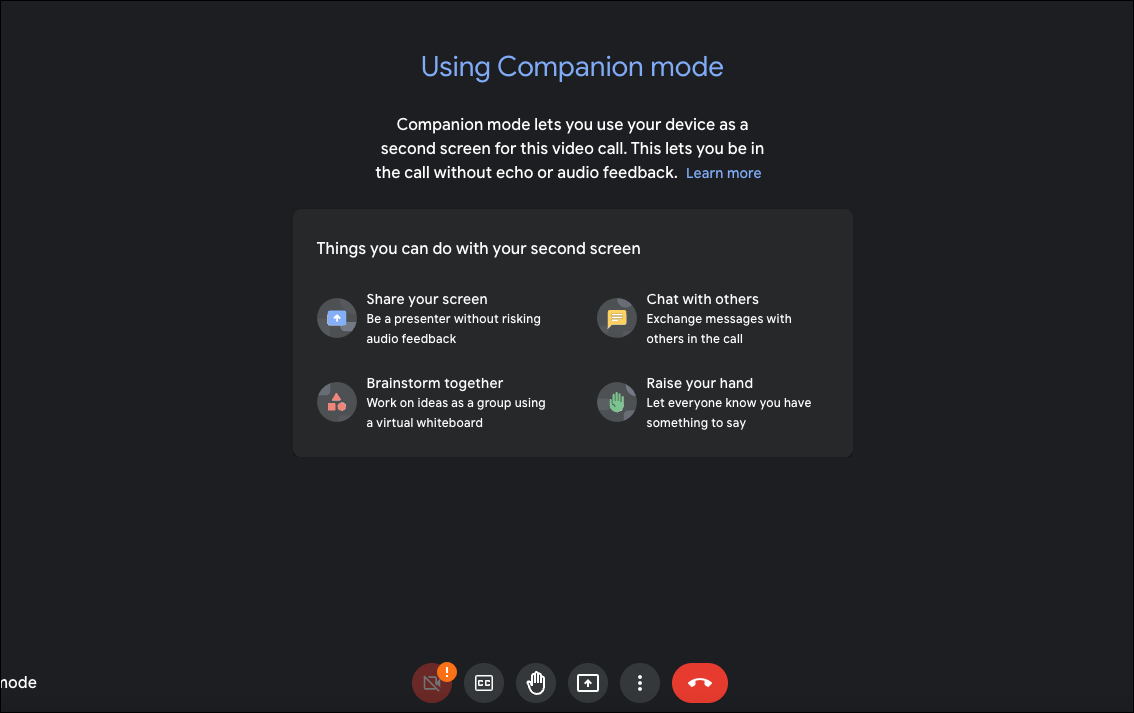 In-Call Messages
Providing access to in-meeting chat is one of the main purposes of Companion mode, especially when being used by individuals in a conference room. The in-call messages panel will open automatically on the right when you join in Companion mode.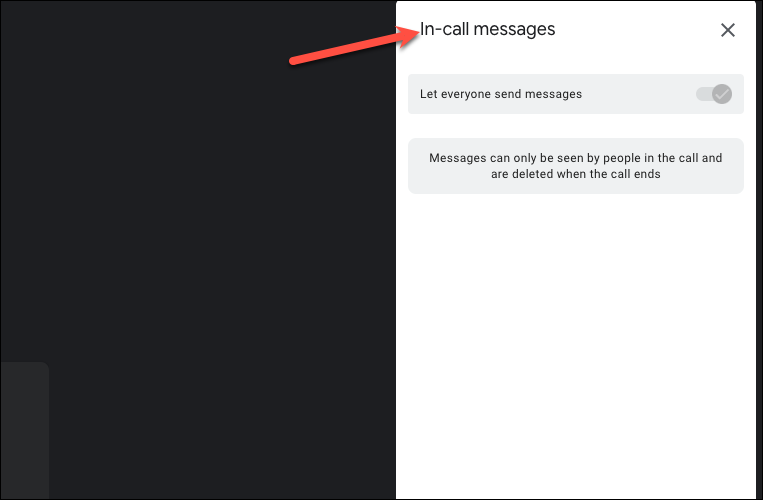 You can only view the messages that are sent after you join the meeting. So, if you want access to all meeting messages, remember to join with Companion mode at the beginning of the meeting.
If you close the meeting panel, you can access it anytime again by clicking the 'Chat' icon at the bottom right.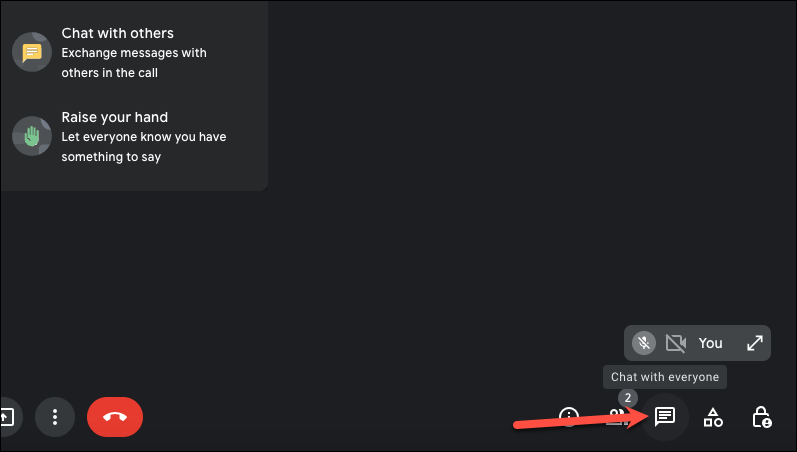 Present Screen
Another purpose for which Companion Mode was made was to give users a second screen to attend meetings where they can share and view presentations. If you want to present in a meeting in Companion Mode, simply click the 'Present Screen' button from the meeting toolbar.
Then, select what would you like to present – Your entire screen, A window, or A tab – as you would in the normal meeting mode.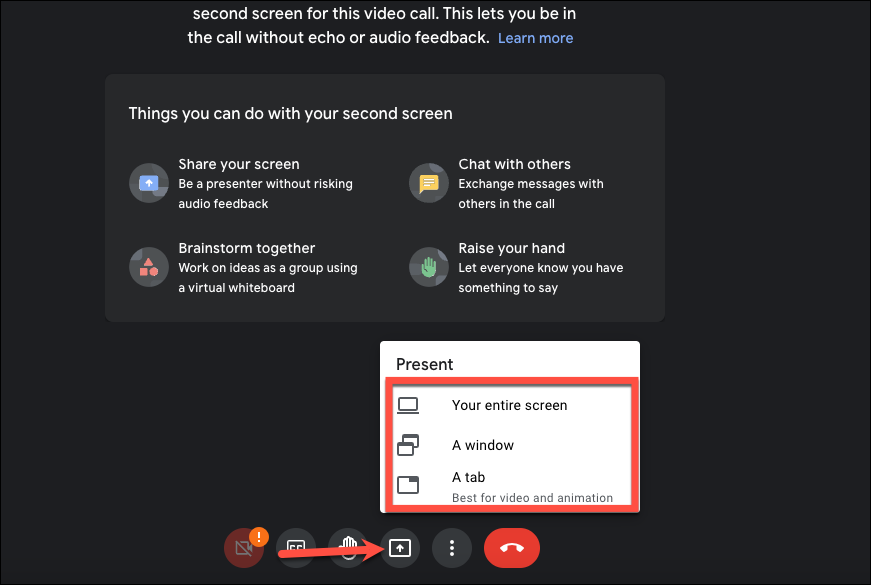 If you're viewing a presentation, you don't need to do anything on your companion mode screen. But on your primary device with the normal meeting, click the 'Unpin' button on the presentation so you can see video tiles instead.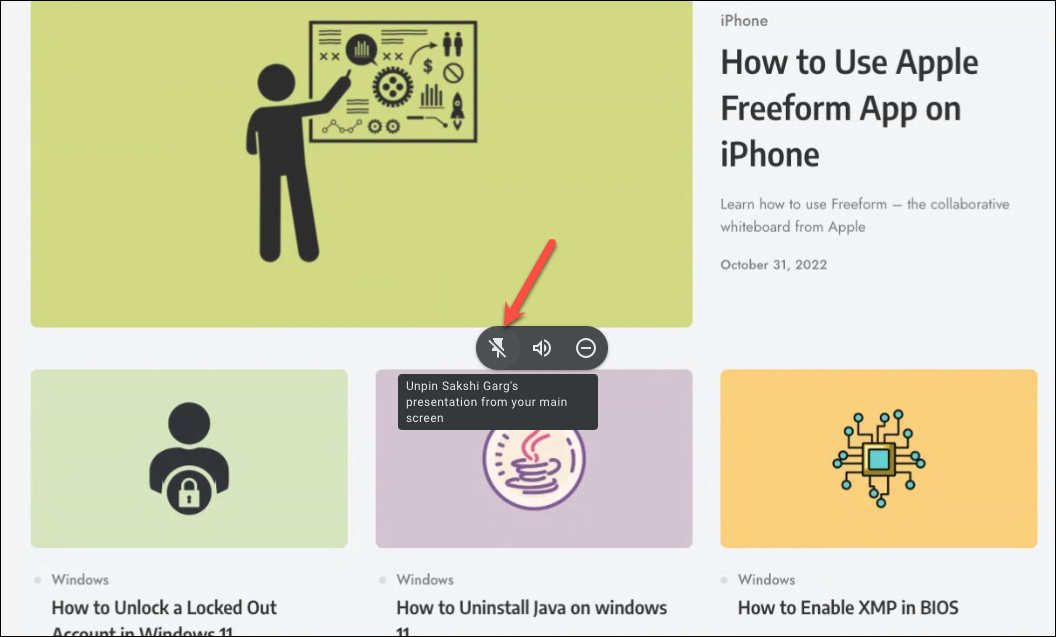 Share your Video
You can also share your video from the Companion mode if you're using it in the conference room. (If you're using it as a second screen, you won't need to turn on the video in Companion Mode).
Audio is never shared with Companion mode, and hence, your tile will never show as an active speaker. Moreover, your video will never appear on the meeting room hardware even when it is visible to other users in the meeting. But if you raise your hand, your video becomes visible on the meeting room hardware as well.
Click on the 'Turn on Camera' button from the toolbar to share your video.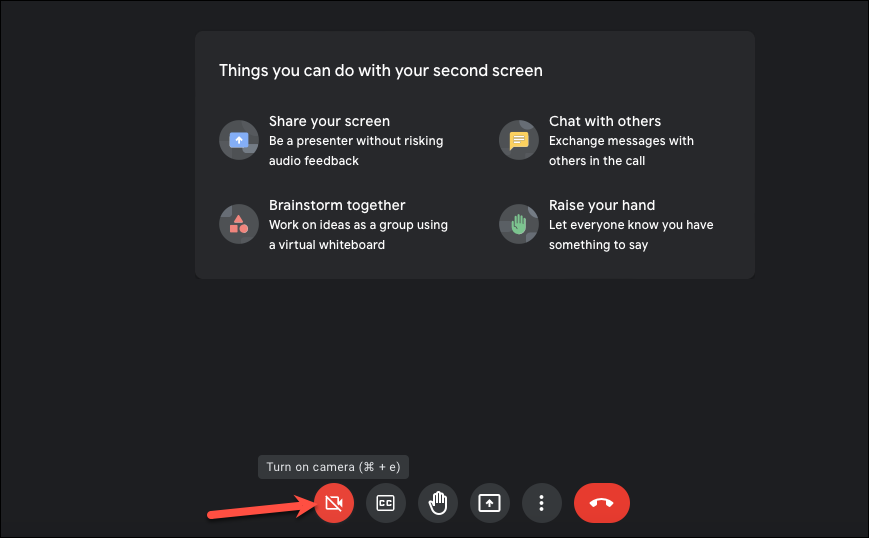 When you're sharing your video, you can also use visual effects by clicking the three-dot menu and selecting 'Apply Visual Effects' from the menu. Then, select the effect from the panel that opens.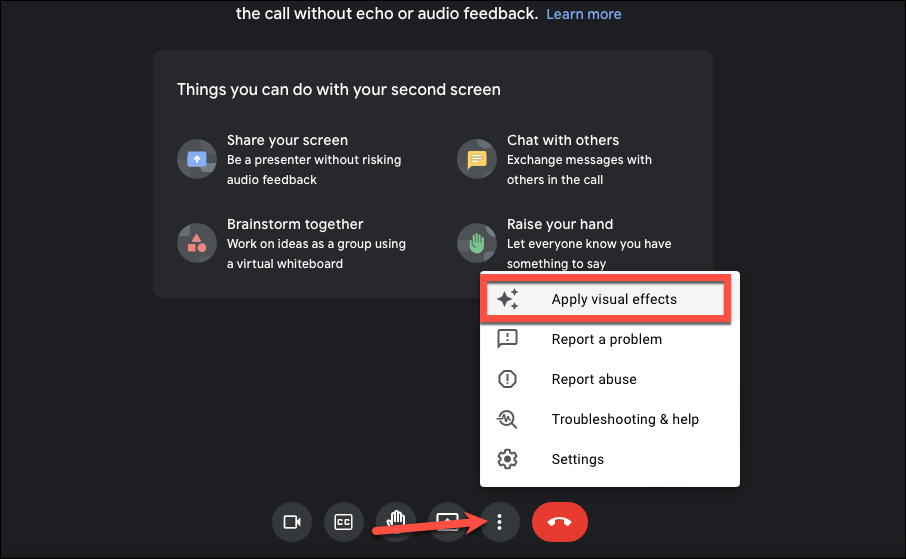 Other Features
Most features available to you according to your account, i.e., whether it's a free account or a Workspace account, work as they do in a normal Google Meet meeting.
For instance, you can access the whiteboard to collaborate, raise your hand, enable captions, vote in polls, participate in Q&A, set up breakout rooms (if you're the host), and assign other Companion mode users to the breakout rooms, etc.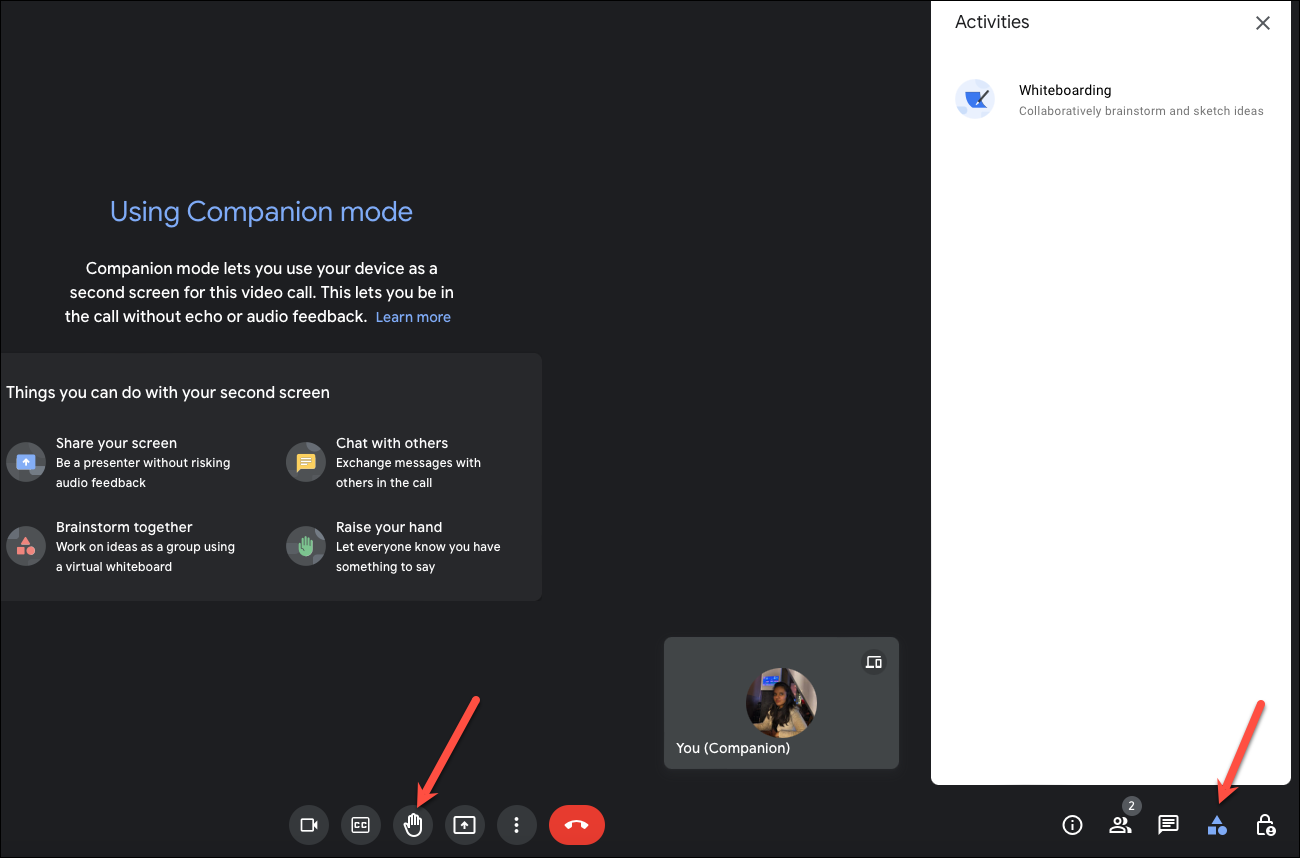 But when setting up breakout rooms, it's important to remember that there is no audio in companion mode. So, if you assign companion mode users to the breakout rooms, they can't speak or hear. Additionally, meeting room hardware can't be assigned to breakout rooms.
---
Using Companion Mode in Google Meet isn't complicated, as it shouldn't be. But there are a few points you need to keep in mind. Hopefully, this guide helped you with everything.