Google is a part of almost everyone's life at this point, one way or another. And even though Google enjoys the most popularity in mundane life, its presence in the business ecosystem has been just as undeniable.
But recent events have transformed the way businesses work. And this transformation has also found its way to Google's set of productivity services. Google Workspace is the end result of this metamorphosis that started last year when the whole world saw an unprecedented change in the way we work. Let's take a look at exactly what this service is and what it has to offer.
What is Google Workspace?
If you're unaware of Google Workspace, maybe you are familiar with G Suite – the former moniker for Google Workspace. A deeper dive into the past would also remind you of Google Apps for Domain, the starting point for this journey. But all this changing of names has also created confusion.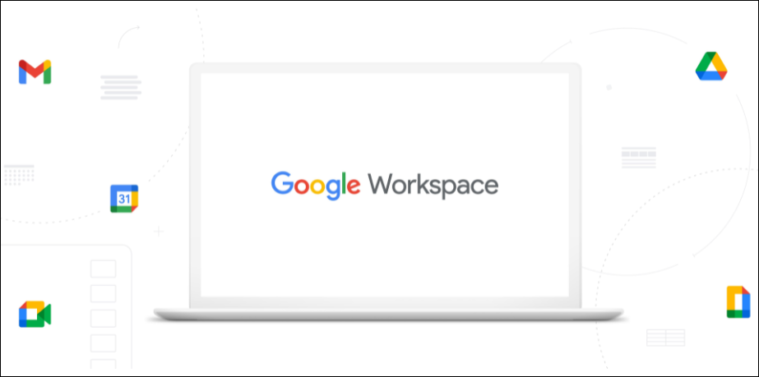 Simply put, Google Workspace is a more evolved form of G Suite which itself was an evolution of Google Apps for Domain. Think of it as the evolution process for the Pokemon!
In the same vein, Google Workspace offers a richer experience with more features than its previous iterations. The apps now have a deeper integration with each other instead of being a standalone experience.
Previously, all of Google's services had to be accessed separately because that's how they were designed. With Google Workspace, you get everything you need in one place – Gmail, Chat, Calendar, Drive, Meet, Docs, Sheets, Tasks, etc. – you get the point. This deeper integration allows businesses to collaborate more efficiently, instead of hopping between apps all the time.
Is Google Workspace Free?
Although the individual services that Google offers like Gmail, Meet, Chat, Drive, etc., are available at no cost to users with a personal Google account, Google Workspace as a whole is a paid service. That includes the complete business solution that Google Workspace is.
Google Workspace for Everyone is free to use, but we'll get to it in a moment. Google Workspace, in its real essence, is only available to paid subscribers, or education institutes and Nonprofits for free.
There are features that users get access to only as part of Google Workspace, like the deeper integration of Meet that allows Picture-in-Picture of the meeting in Chat, Docs, Slides, and Sheets. The feature allows one to collaborate and present more effectively.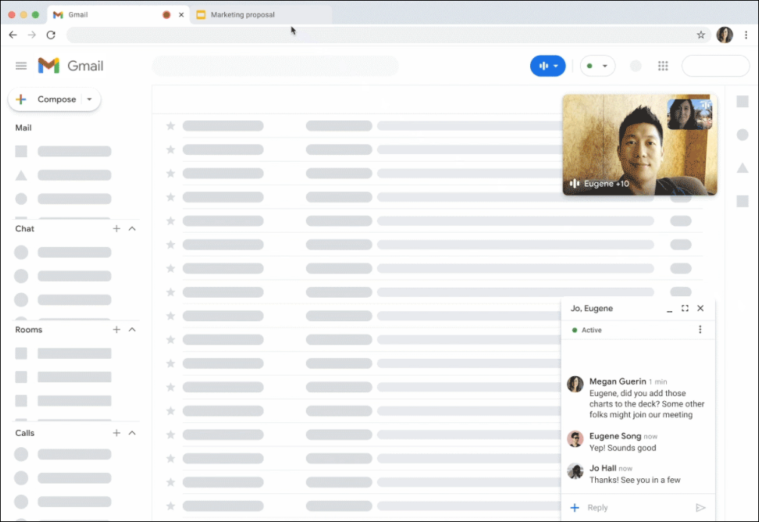 What is Google Workspace for Everyone?
Google recently announced that it has made Google Workspace available for everyone. And that means people with a free Google account as well. But what does that really mean? The free version of Google Workspace doesn't really involve that much change right now.
It basically involves a complete rebranding and a deeper integration of the Google apps just like Google Workspace for business. Google has been slowly rolling out these changes since last October and chances are you might be already using it. The only difference is that it is now officially available to everyone, and not in early access.
To enable this Google Workspace experience for your Google account, you need to activate Google Chat. Once you activate Google Chat, it will replace Google Hangouts, and the Chat and Rooms will be integrated into Gmail.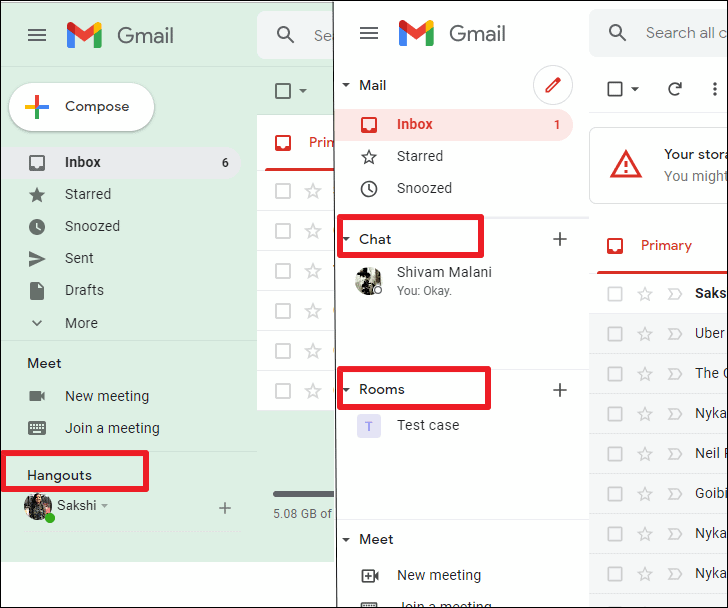 Rooms allow you to have a space for collaboration where you can communicate, share ideas, and keep track of important information.
Later this year, Google will transform Rooms into Spaces with a more streamlined user interface. Spaces will be available for everyone, paid and free Google Workspace accounts. Spaces will also offer features like in-lin topic threading, presence indicators, custom status, expressive reactions, along with a new interface.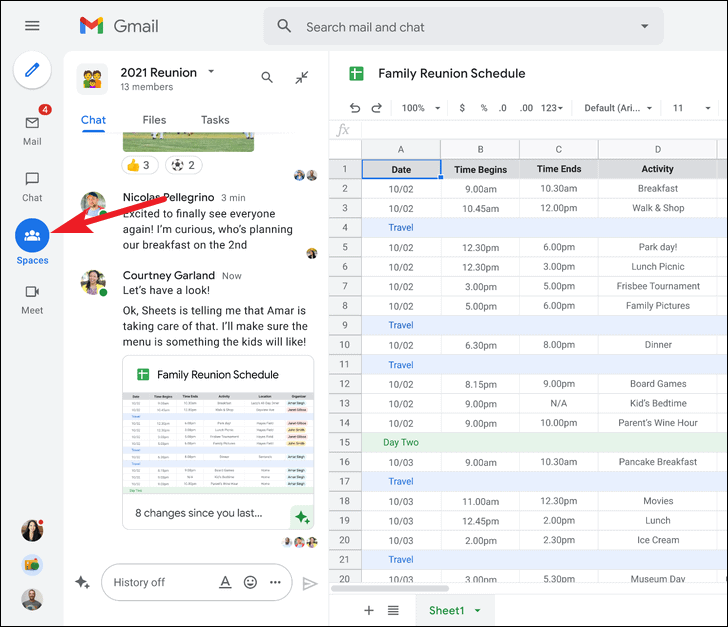 Once Spaces arrive, the interface for Gmail will also change. The left navigation menu will become more like the bottom toolbars from Android and iOS apps. The sidebar would be more compact and will be collapsible.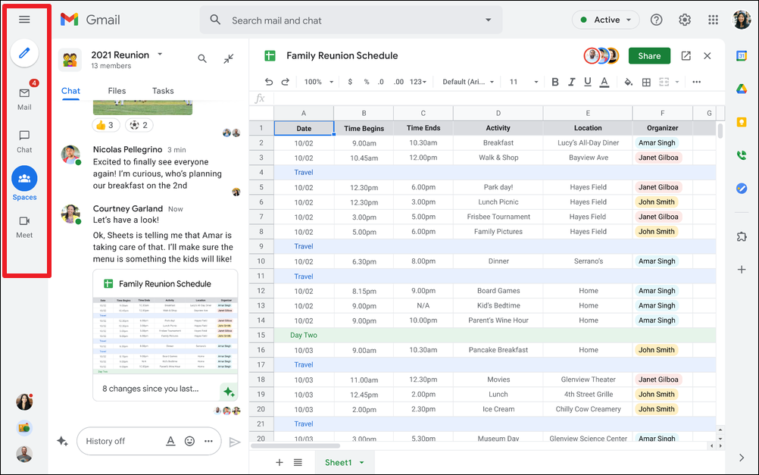 Using Google Workspace, users will be able to keep important information in one place, plan the next family trip, keep their photos and videos in one place, keep track of family budget with Google Sheets.
But that's all Google Workspace brings to the table for free Google Workspace accounts for now. Well, that and the new color scheme that's part of the rebranding. But, seemingly, Google also plans to bring more changes and enhancements to Workspace over the course of the year in form of Smart Canvas.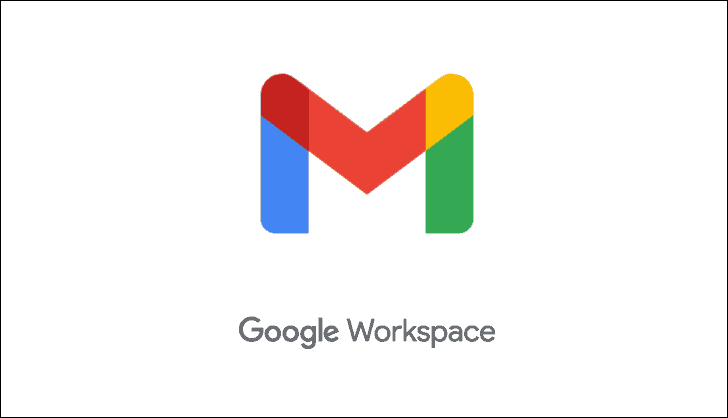 Smart Canvas: The Future Direction Workspace is Headed in
Google is serious about making Workspace a place where collaboration thrives. Later this year, Google will be introducing a lot of changes to Google Workspace in form of Smart Canvas that'll evolve collaboration across Google apps.
Smart Canvas will be enhancing the apps like Google Docs, Sheets, and Slides. Available already, when you use @-mentions in Google Docs, a smart chip appears that shows additional information like recommended people, files, and meetings that you can insert in the document.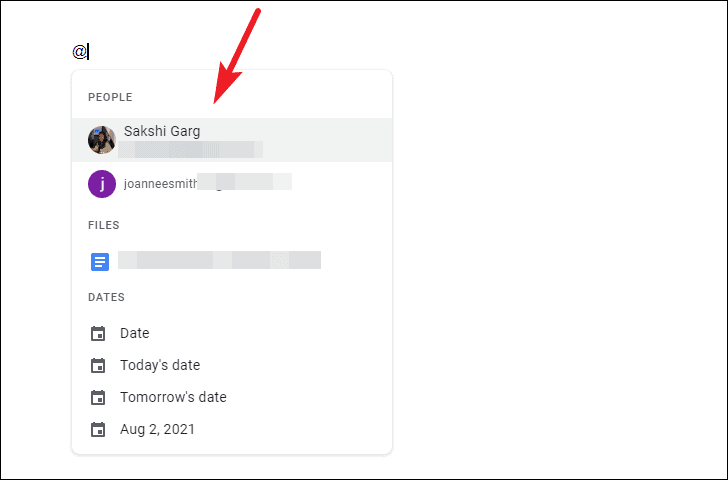 Other collaborators in the document can then quickly skim meetings and people, or preview documents without having to change tabs. Smart chips are also coming to Sheets in the coming months.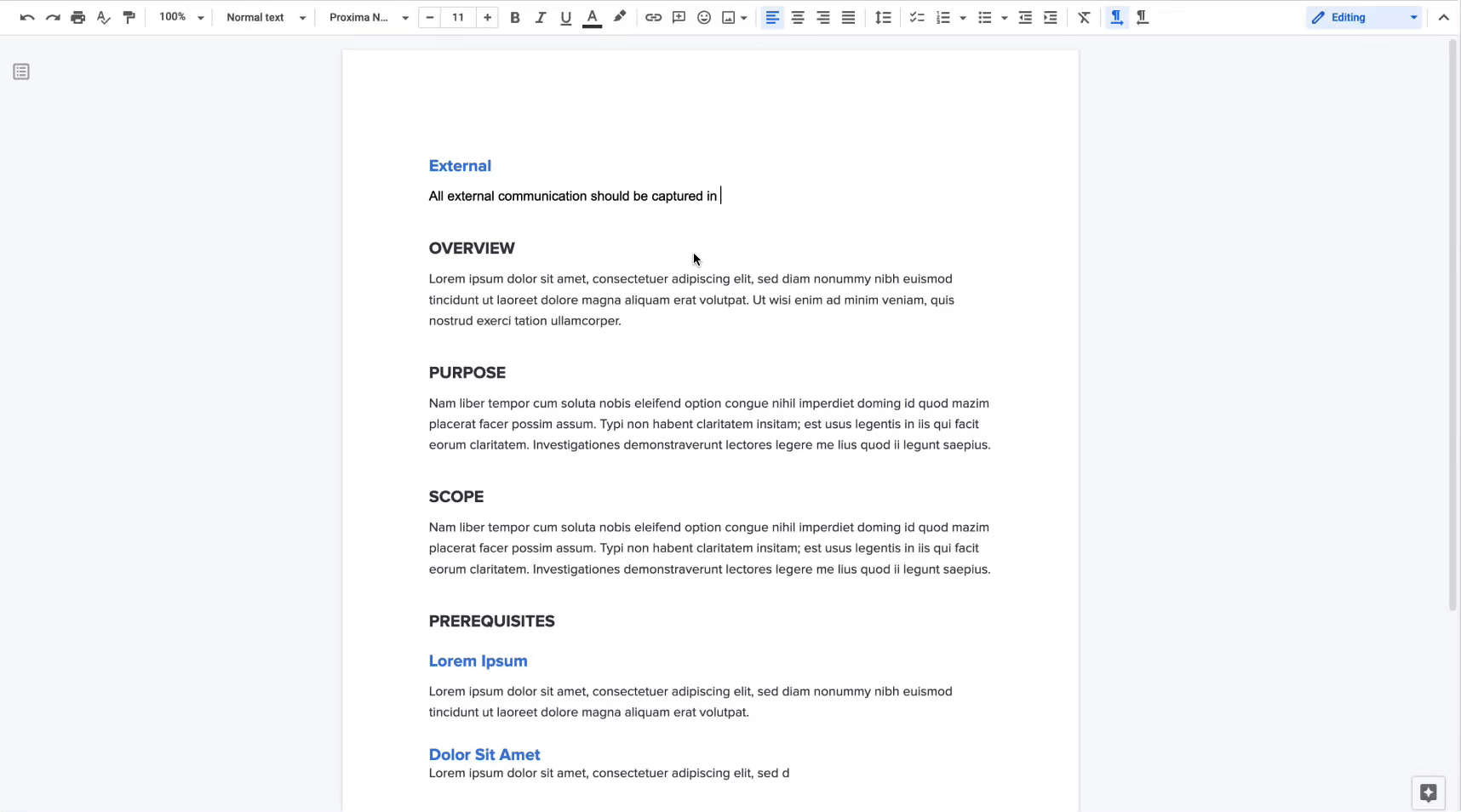 In the coming months, these smart chips will be a part of interactive building blocks. The new interactive building blocks will contain smart chips, templates, and checklists.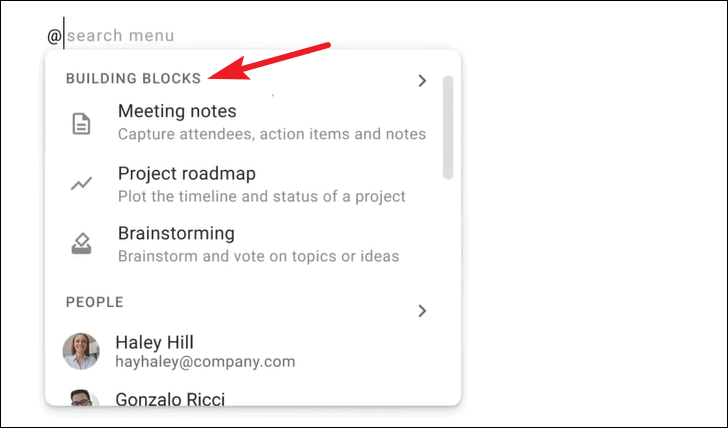 You'll also be able to assign checklist action items to other people from Google Docs. These action items will also show up in Google Tasks automatically, making it easier to manage your To-Do lists.
Another change coming as part of the Smart Canvas is table templates in Docs. A few template types will include 'topic-voting' tables to gather team feedback and 'project-tracker' tables to capture milestones and statuses.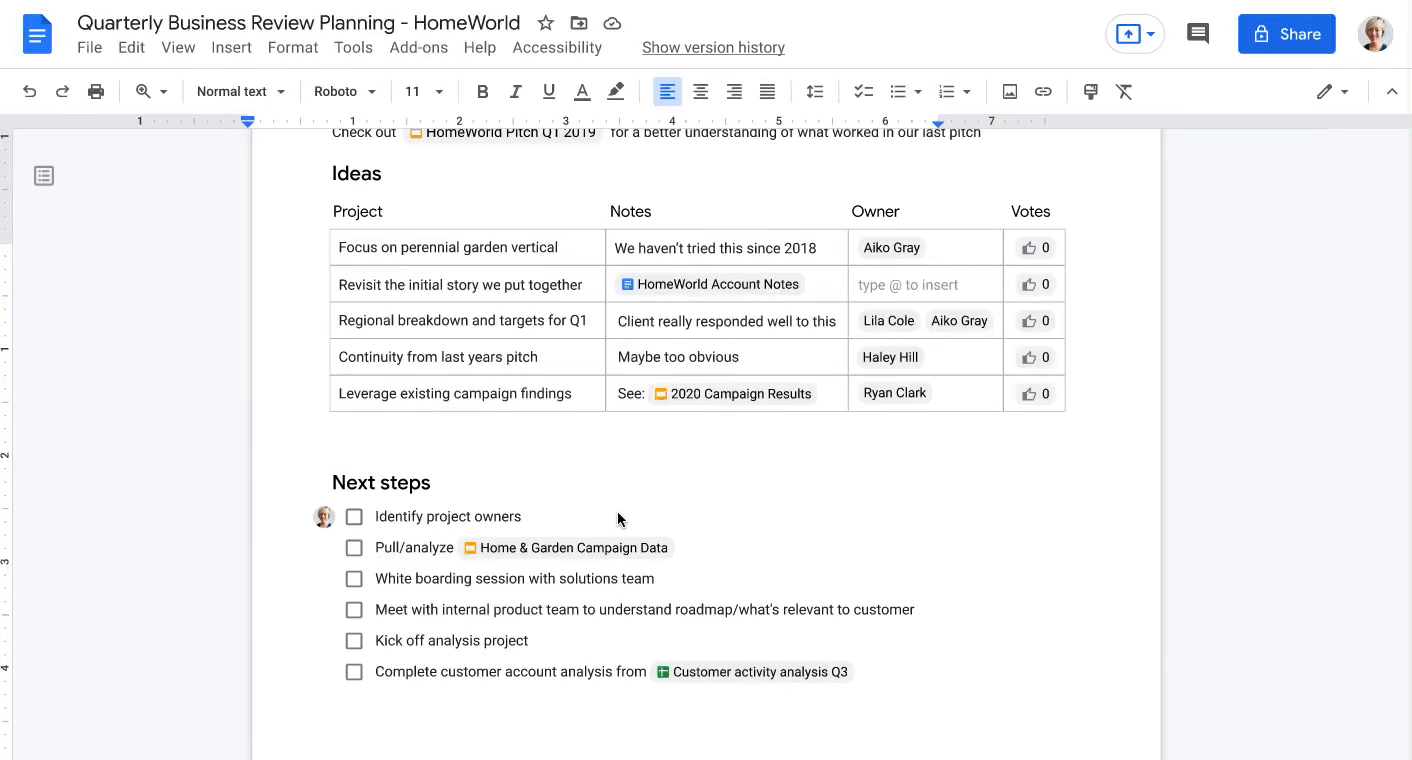 Sheets will also be getting some major upgrades. Along with Smart chips, Google is also introducing new views in Sheets. Timeline View, one of the views that are a part of this upgrade, will rearrange sheets in a view that'll make it easier to track tasks.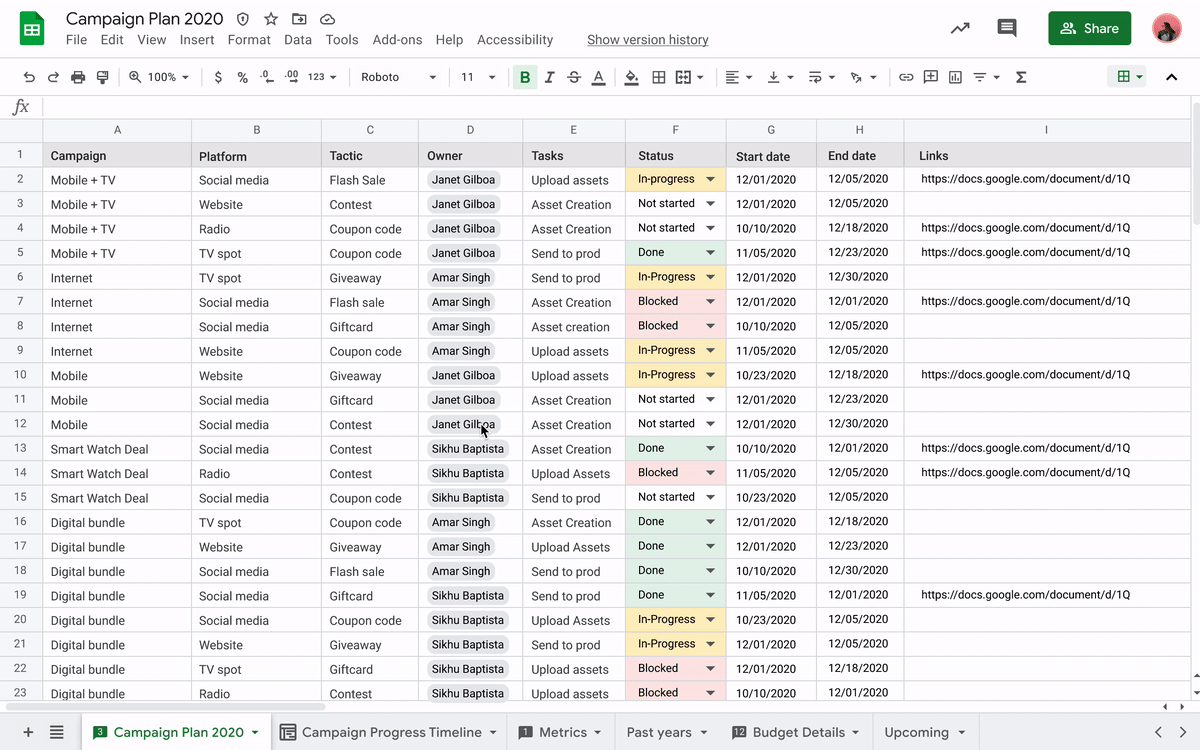 To make collaboration easier, a 'Google Meet' button is also being added to Docs, Sheets, and Slides. Available already, you can use this button to present the document you're already working on directly in Google Meet without having to go to Google Meet to start a meeting. Any meetings on your calendar will show up automatically.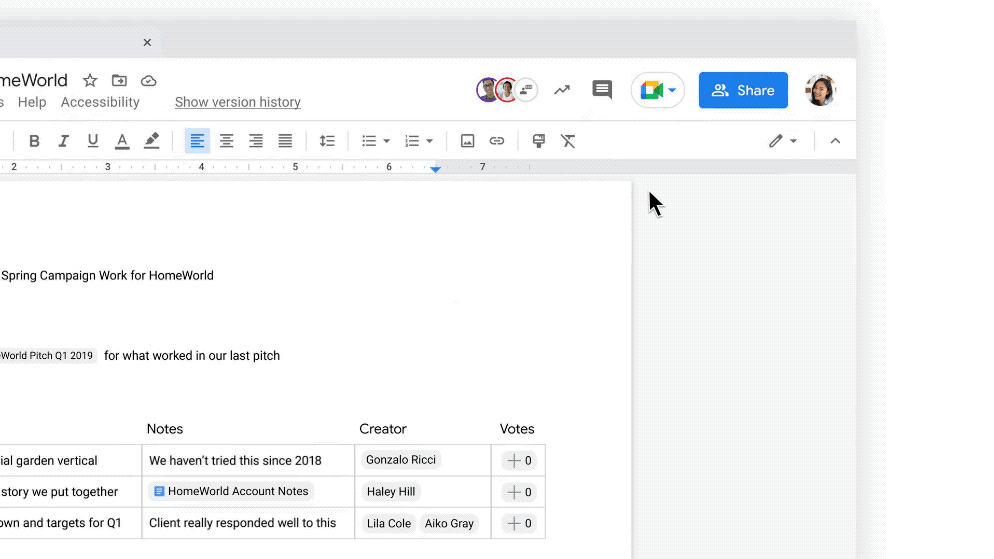 It's safe to say that over the course of the year, Google Workspace will be becoming a much better experience with collaboration at its center. And it'll be available to all Google Workspace users, free and paid.
Plan Types (Editions) for Google Workspace
Google Workspace is a service for business owners and it has different editions (monthly plans) for different types of businesses. But when Google Workspace first debuted, it only made sense for big businesses and small businesses that have at least few employees, just like G Suite, as those were the plans it offered.
But now, Google Workspace is also the perfect fit for small business owners that's essentially a one-person team. In a move to make Google Workspace a place for everyone, Google has now also launched 'Google Workspace Individuals'.
Google Workspace Individual is for individual business owners who are turning their passions into business ideas. But when you are a small business, your needs from a Productivity and Collaboration tool are different than those of large business owners. Google Workspace Individual keeps that in mind and is designed specially around those needs.
Google Workspace Individual offers the premium features a business needs while keeping out the complexities that a one-person operation doesn't require. It offers unlimited meetings, call recordings, noise cancellation, polling, and Q&A in Google Meet, a professional calendar that makes appointments easier, a customized Gmail experience with email lists, brand logos, and much more.
Note: Google workspace Individual is currently available only in the United States, Canada, Mexico, Brazil, Japan, and coming soon to Australia.
Here's a rundown of all the plans or editions that Google Workspace offers.
Business Starter – $6 USD/user/month
Business Standard – $12 USD/user/month
Business Plus – $18 USD/user/month
Enterprise – Custom pricing that you can get by contacting the Sales Team for Google. It's the most expensive edition but also the one that offers the most features.
Google Workspace Individual – $9.99 per month ($7.99 per month till January 2022 as part of a promotion)
Google Workspace for Education – Free for Fundamental features. Premium features can be bought under paid plans that include Education Standard, the Teaching and Learning Upgrade, and Education Plus subscriptions.
Google Workspace for Nonprofits – Google offers the features of Business Starter plan to Nonprofits for free and Buisness Standard $3/user/month and Business Plus plan for $5.04/user/month. Enterprise editin is also offered at a 70% discount than the standard pricing.
Why Google Workspace?
The most important question is what does Google Workspace has to offer. Why is it the right fit for you? One of the most important aspects of Google Workspace is that Workspace accounts are created by an organizational admin, as opposed to basic Google accounts that individuals create.
This essentially means more control. The admin has more control over the defaults for a Workspace account as well as app access and security settings. And all of that happens in the cloud. The IT Team does not need to configure the devices individually or physically for your employees or students. You can also have separate policies for people or groups of people.
So, this allows you control over what apps and settings you want to allow for your employees or students which you simply cannot have with personal accounts.
Google Workspace also has a lot of additional features that you don't get access to with a free, basic account. Keep in mind that the extent of features that Workspace offers differs according to the edition or plan type, though.
Basic Apps in Google Workspace
Most editions of Google Workspace offer these apps as part of their core experience with enhanced features.
Gmail: Custom business email for your business with spam and phishing protection and an ad-free mail experience
Meet: Upto 250 meeting participants depending on your edition. You also get additional features like digital whiteboarding, meeting recordings, noise cancellation, polling and Q&A, breakout rooms, attendance tracking, moderation controls, hand raising, in-domain live streaming (subject to the Workspace edition).
Chat and Rooms (Soon becoming Spaces): On top of the basic features of Google Chat and Rooms where you can collaborate seamlessly, Google Workspace allows for more enhanced features. These include advanced chat rooms with threaded rooms and guest access. Guest acess allows you to connect woth customers and partners who are not part of your organiztion. You can collaborate with them on files and documents from the chat. And with same level of access and visibilty, your work doesn't suffer.
Calendar: Schedule appointments, share calendars and browse and reserve conference rooms with Workspace.
Drive: Extended cloud storage (from 30 GB to unlimited), Drive for desktop, shared drives for yout team, target audience sharing, and support for over 100 file types.
Docs, Sheets: Create collaborative documents, Writing assistance with smart compose, spelling autocorrect, and grammar suggestions, Interoperability with Microsoft Office, and Custom branding for documents.
Slides: Collaborate on presentations
Forms: Survey building that includes easier analysis with smart fill, smart cleanup, and Answers, Custom brand template forms
Keep: Capture ideas with collaborative notes
Sites: Collaborate while building sites
Currents: Social Networking for your organization where employees can communicate and engage with each other
Additional Apps in Google Workspace
Depending on your Google Workspace Edition or additional purchases, Google Workspace also offers these apps to subscribers.
Domains: Domain registration with integrated Google Workspace sign-up and configuration
Cloud Search: Smart search across your Google Workspace (1st & 3rd party data)
Groups and Groups for Business: Email lists and access management
Vault: Data retention, archive and eDiscovery
Jamboard: Collaborative digital whiteboard that you can even use in meetings
Voice: Smart Voice calling with virtual phone system that works on all devices and the web
Apps Script: Increase the power of Google Apps like Calendar, Docs, Drive, Gmail, Sheets and Slides with Apps Script. You can publish the scripts to the whole world or keep them private for your domain.
AppSheet: Build apps without code
Classroom: Structured learning spaces for teachers and students
Add-ons: Integrate third-party applications and Apps Script add-ons
Google Workspace also offers hardware for Google Meet, Voice calls, and Jamboard. The hardware allows organizations who are opting for a hybrid model right now – in the office and work from the home approach – to effectively work.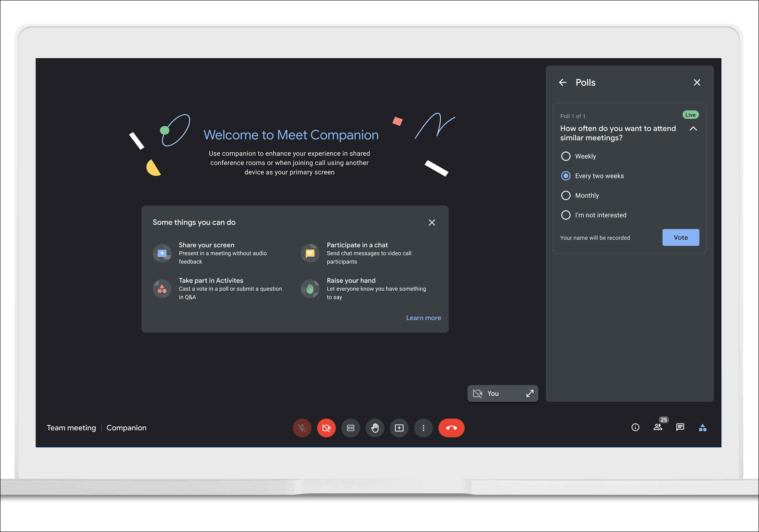 Google is also soon going to launch Companion mode in Google Meet to foster collaboration equity in a hybrid workplace. It's for organizations where few people are in a conference room while connecting with others remotely.
Companion mode gives those in the conference room their own video tile and access to other features of Google Meet like raise a hand, polling, etc. on their screen while they leveraging the best of in-room audio and other video conference capabilities that Meet Hardware offers.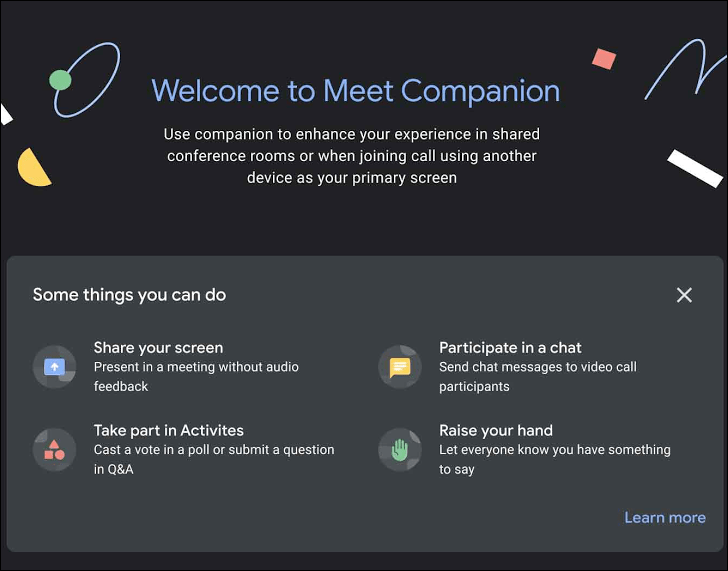 How to Use Google Workspace
The experience of Google Workspace is different for paid (especially admins) and free users and as such, learning to use it are two entirely different curves. For end-users of Workspace though, using the apps in Google Workspace is a lot similar, except for the exclusive features.
To access the apps available for your Google Worskapce account, go to the 'Google Apps' menu icon from any Google service. The menu will list all the apps available for your use.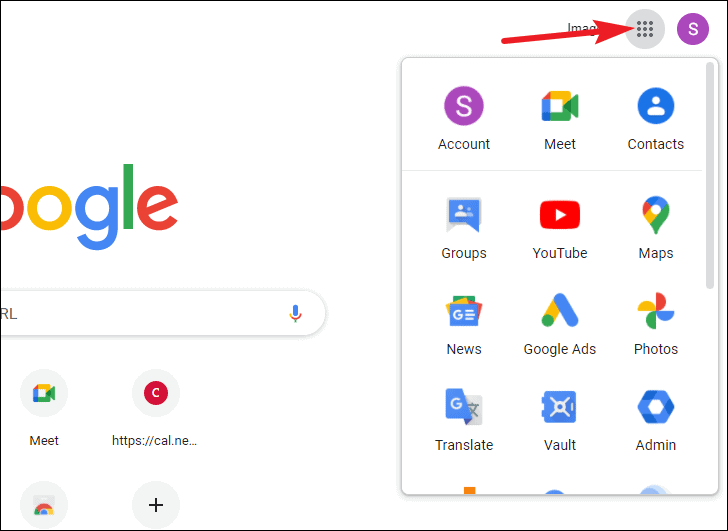 Here's a tip. Whether you're a free or paid Google Workspace user, Google offers quick '.new' shortcuts that you can enter directly in the address bar of your browser and it'll create a new item of that app.
Using Google Workspace as a Paid User
To get started with Google Workspace, go to workspace.google.com. Click the 'Get Started' or 'Start Free Trial' button, depending on what you see on your screen. For a small business, Business Starter or Business Standard might be the way to go. Google offers a free trial for 14 days so you have plenty of time to get your bearings and see if Google Workspace is the right fit for you. Cancel your trial before the 14 days are up, and you won't be charged for the subscription.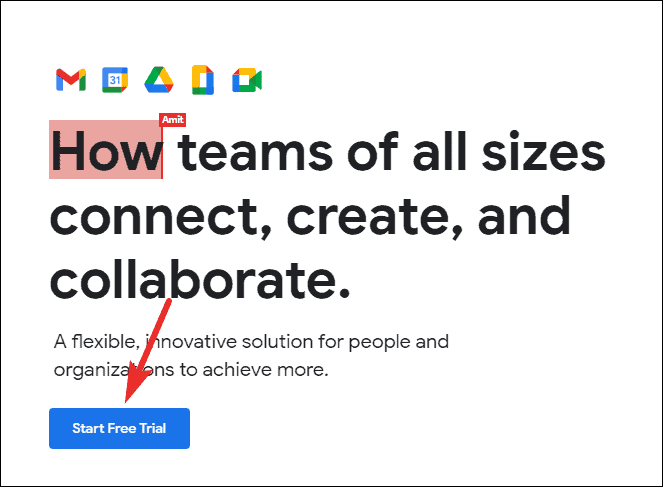 If you are a one-person team and live in one of the supported countries, you can try Google Workspace Individual by going here.
Note: Google Workspace Individual does not support custom email addresses.
As Google Workspace is for businesses, you automatically become the admin for your organization when you set it up. But when you add new users in your organization, you can make someone else admin.
Enter your business name, number of employees, and your country and click 'Next'.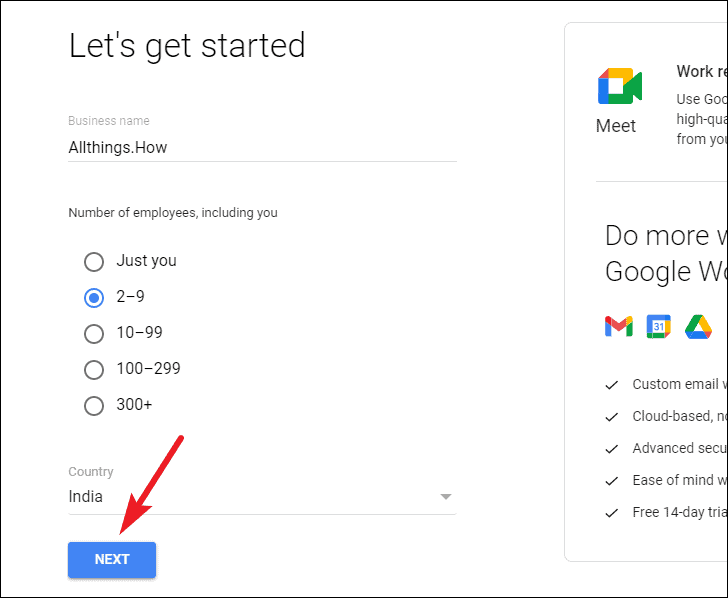 Then, provide your contact information and click 'Next'.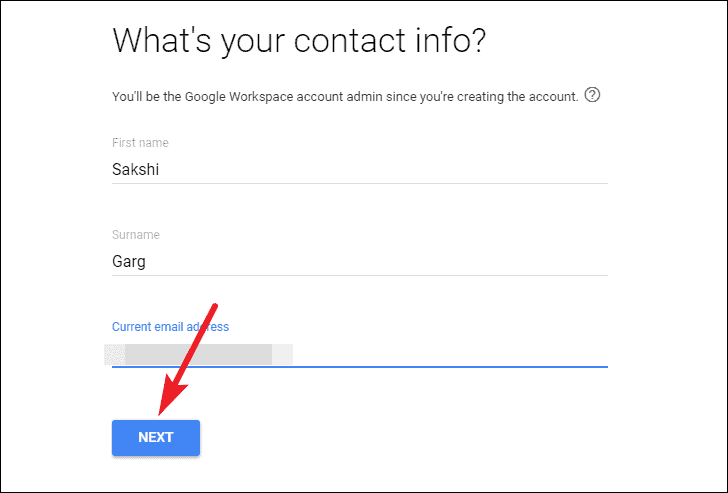 Now, you have to choose whether or not you have a domain. If you have one, click the 'No, I have one' option and you can enter the domain you already own and use it. You'll have to verify that you own this domain before you can actually start using it. Otherwise, you can buy one using Google Domains. Click the 'Yes, I have one that I can use' option. If you don't have a domain, you can also buy it from somewhere else instead of Google Domains, but when you buy it through Google, you won't have to go through the verification process.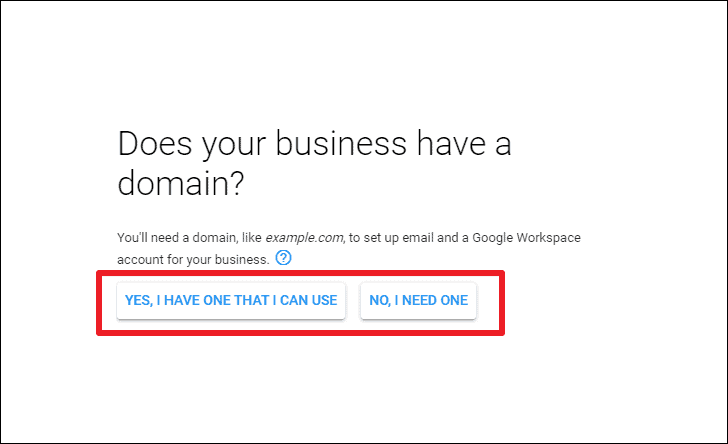 Then, you'll need to create a username for your Google Workspace account. This would be the first business email address for your domain. You can create more business addresses for your team later on once you set up Google Workspace. Create a password and then click 'Agree and continue'.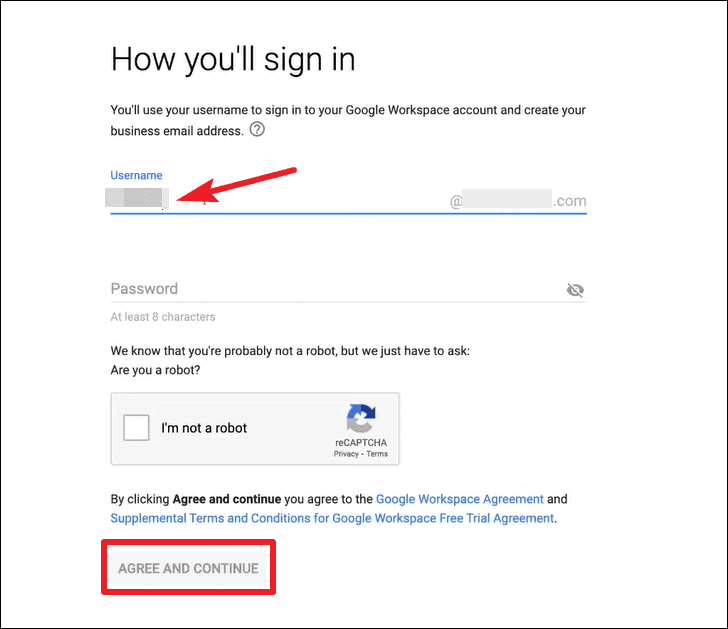 Your Google Workspace is set up with a business Google account. Click 'Go to Setup' and you can manage Google Workspace for your organization from the admin console.
Once you verify your domain, you can add new users to your organization and set up apps like Gmail from the admin console. But if you don't want to do any of that right away, you can skip it for now and do it from Google Admin at any time later on.
Managing Google Workspace
As an admin, you can manage and control Google Workspace from the admin console. Whether you want to add or remove users, manage organizational units (Google's lingo for creating policies for your organization), create and manage groups for mailing lists and applying policies, manage which apps users in your domain can access and from what device, and everything else, the admin console is where you'll find it.
To access the admin console, either go to admin.google.com and log in with your Google Workspace account. Or you can access it from the 'Apps' menu from any Google service. Click the 'Google Apps' icon from virtually any Google service where you are logged in (google.com, gmail.com, etc.)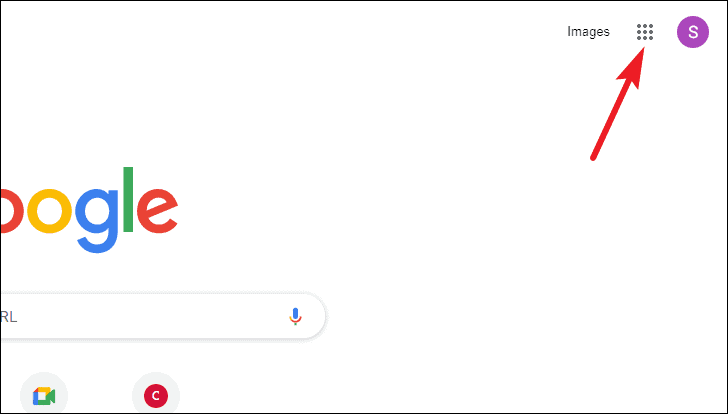 Then, click the option for 'Admin' from the apps. The option for 'Admin' is only available to those Workspace users who are an admin for the organization.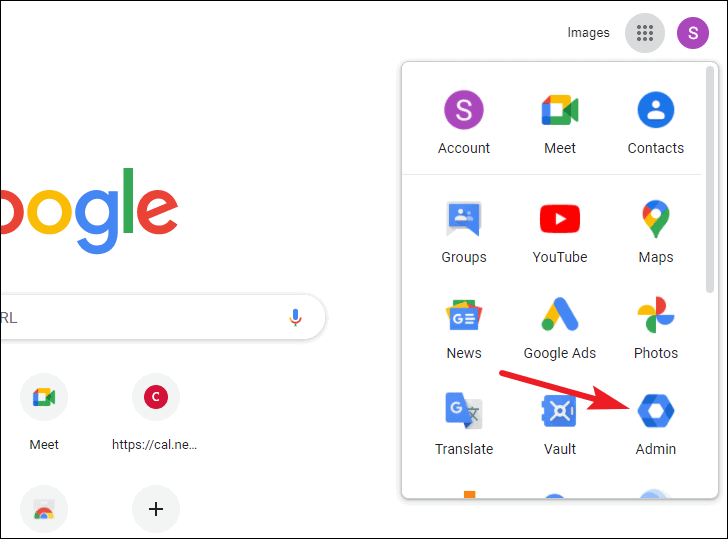 The admin console homepage will open. The collapsible navigation menu on the left allows you to browse through all the options for managing Google Workspace for your organization quickly.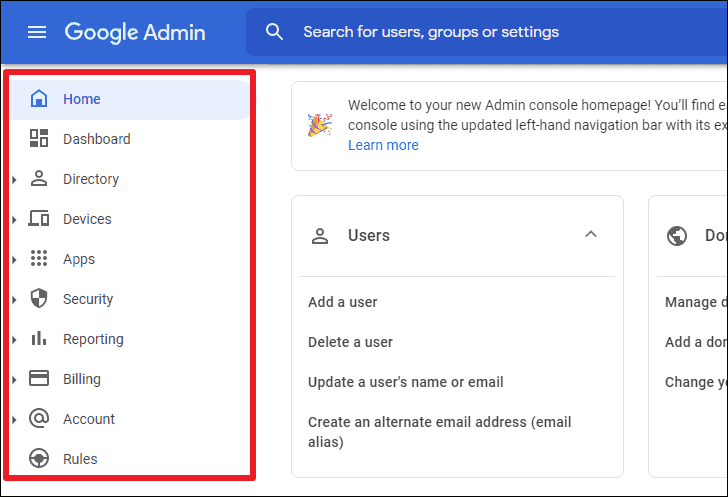 Adding Users to your Organization
Once you've set up Google Workspace for your organization, the most crucial step is adding users to your organization. Just like creating a business address for yourself, you have to create usernames and passwords for other users you want to add and share the credentials with them. You also have to assign licenses for them to be able to use the services.
Go to your admin console and click the 'Directory' option from the navigation menu on the left.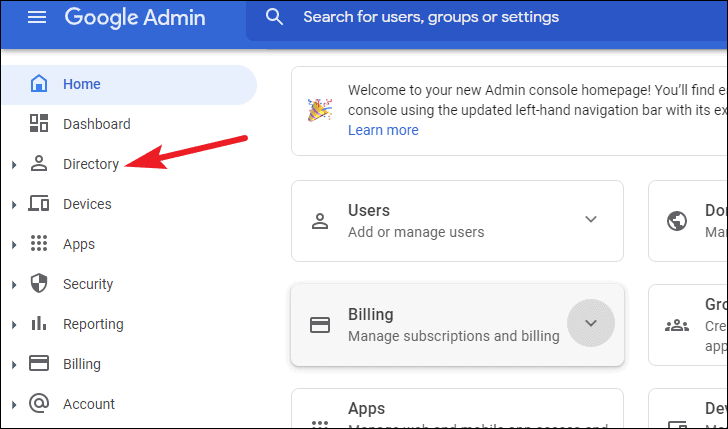 Few options will expand underneath it. Click 'Users' from the available options.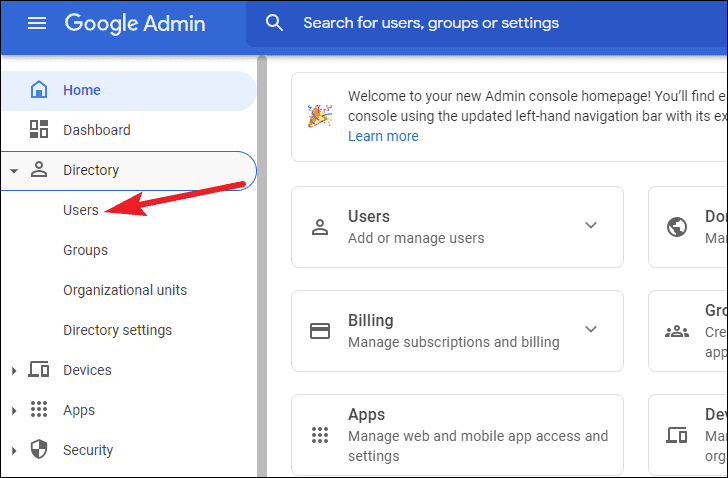 Then, select the organizational unit from 'All organizations' to which you want to add the user. Click the 'Add a new user' button to add users one at a time if you don't have a large team.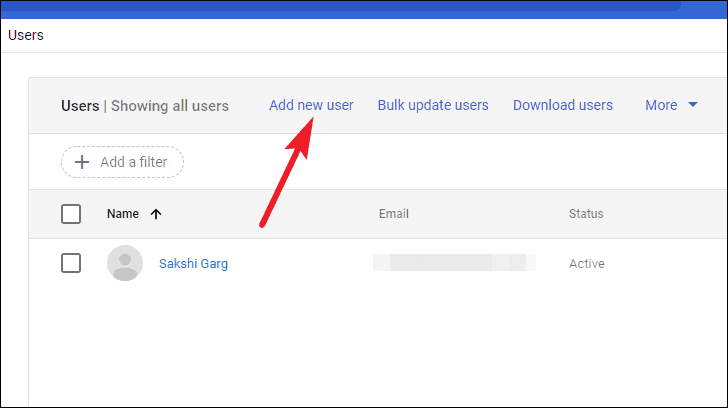 Enter the user's information: their first and last name, then their primary email. Workspace would suggest a username for the primary email that would be different from all the existing emails in your domain; you can use that or enter one on your own.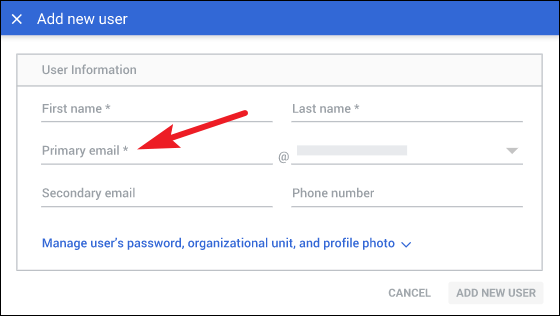 If your organization has more than one domain, you can select another domain. Click the down arrow next to the @ sign and select the domain from the drop-down menu.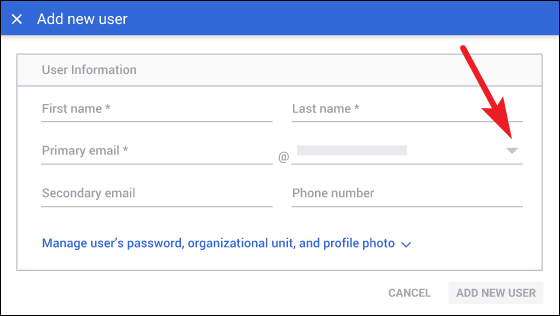 Then, enter the secondary email for the user. The secondary email can be their personal email where they'll receive the account details. You can also enter your own email address to capture the login information and forward it to them later.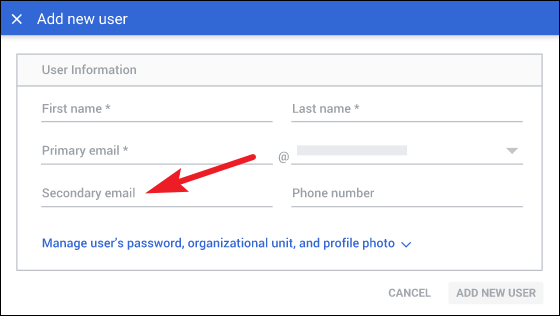 Then, click the arrow next to 'Manage user's password, organizational unit, and profile photo. Setting a profile photo or editing the organizational unit is optional.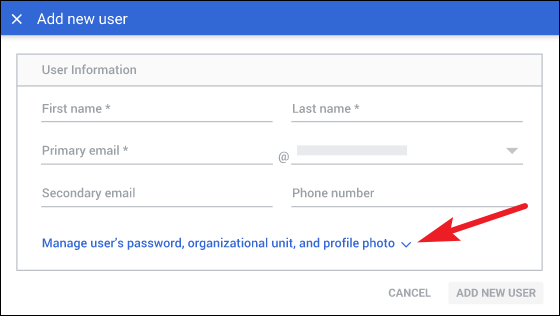 But you have to set a password for the new user. You can automatically generate a password, or enter your own. To ask the user to set a new password when they sign in, you have to enable the option.
Once you have added all the information, click the 'Add New User button.
Provided that the username doesn't clash with an existing username, the new user will be added successfully. If not, you'll get a prompt asking you to fix the conflict.
Now, all that is left is to share the login credentials with the intended person and they can start using Google Workspace. If you asked the user to change their password after sign in, they'll have 48 hours to change the password. When the time is up, the reset link will expire, and you (the admin) will have to create a new password for them.
For a new user, it can take up to 24 hours for all Google Workspace services to become active. If you try to access a service during this period, you might get the message that you don't have access.
Adding Users in Bulk
For a large organization, you can also add users in bulk and there are a lot of options to do so. Depending on your organization type, you can choose what's right for you.
Add users from a CSV file
Use the Admin SDK Directory API if you know programming
Sync data from your LADP server, such as Microsoft Active Directory
Migrate from HCL Notes to Google Workspace
Add users with existing Google Accounts
Before adding users in bulk to Google Workspace, you need to make sure you have enough licenses. Otherwise, buy more if your plan allows for it.
Make a User an Admin
You can make another user(s) in the organization the super admin. By default, the person who creates and sets up Google Workspace for the organization is the super admin. The super admin has complete access to the management tasks of your organization, so only assign this role to people you trust. For restricted responsibilities, you can assign them specific admin roles such as Groups Admin, User Management Admin, Help Desk Admin, Services Admin, etc.
From the navigation menu on the left, click the 'Directory' option and select 'Users' from the expanded list. Find the user from the user list and click their name.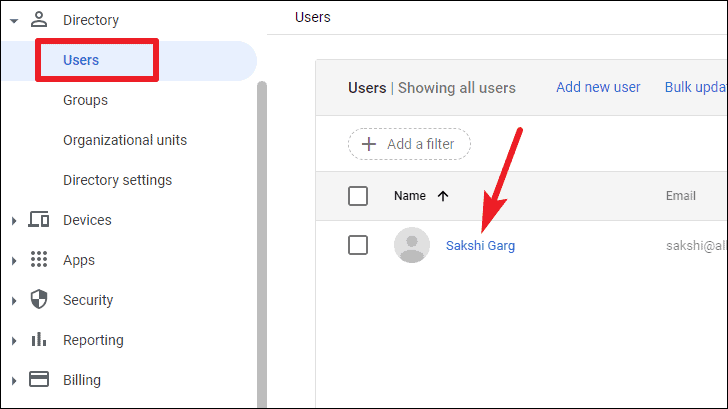 Their account page will open. Scroll down and click the option for 'Admin roles and privileges'.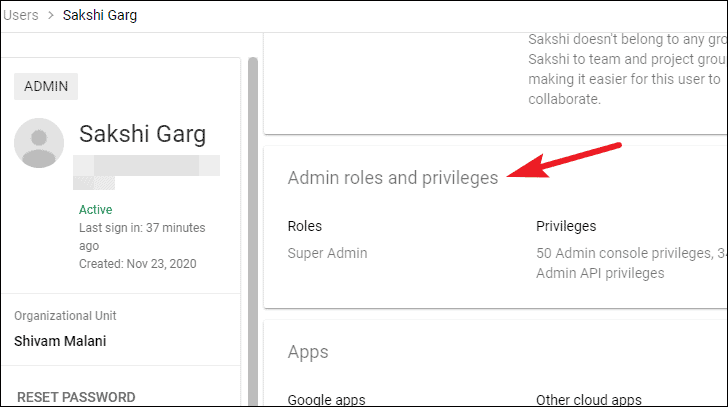 Then, click the option for the 'Super Admin' role.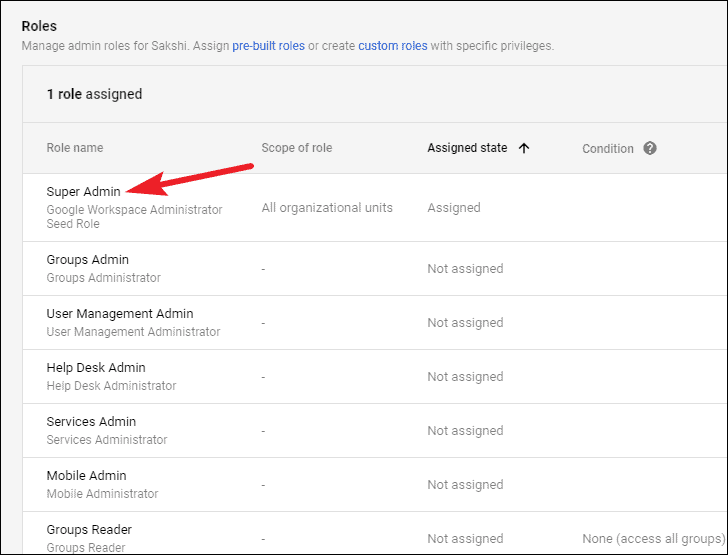 This will display toggles next to all the available pre-built roles. To make them super admin, enable the toggle next to it. To assign them a specific admin role, enable the toggle next to the desired role. You can also create custom roles if the pre-built roles aren't up your alley.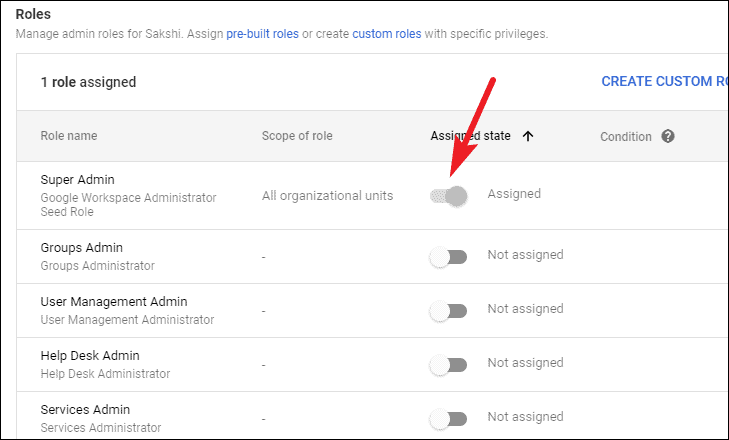 And ta-da! You have someone else to share the admin responsibilities with you.
Using Google Workspace as a Free User
To enable the integrated experience Google Workspace offers for free accounts, go to your Gmail account and click the 'Settings' icon in the upper right corner.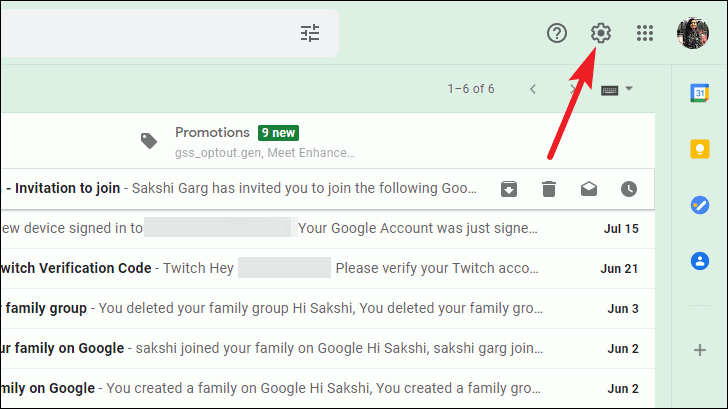 A quick settings panel will appear on the right. Click 'See all settings'.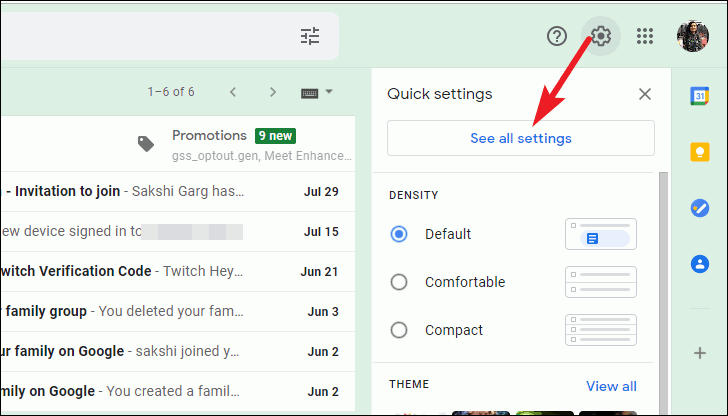 Then, select the 'Chat and Meet' tab from the setting options.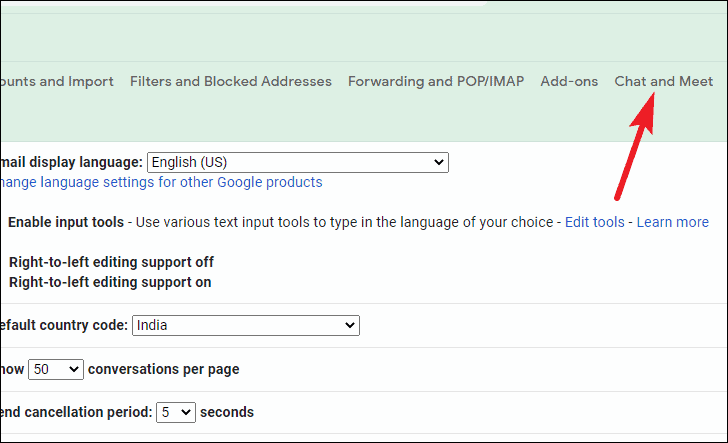 In Chat, select 'Google Chat' instead of 'Classic Hangouts'.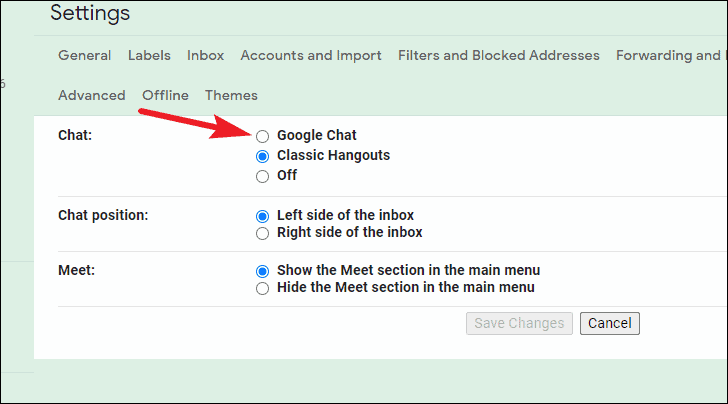 A welcome banner might appear. Click 'OK' to proceed.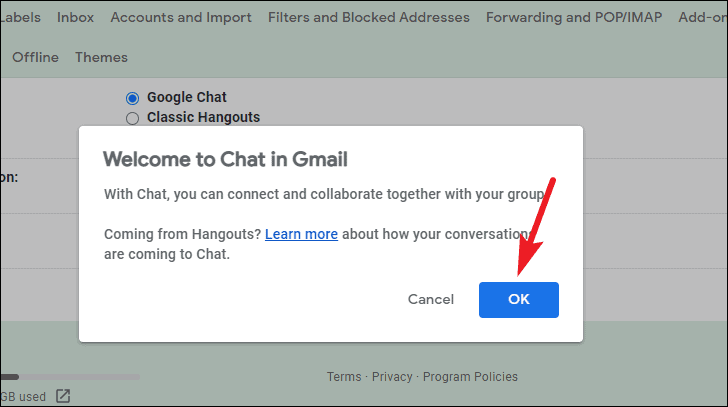 Then, click 'Save changes'.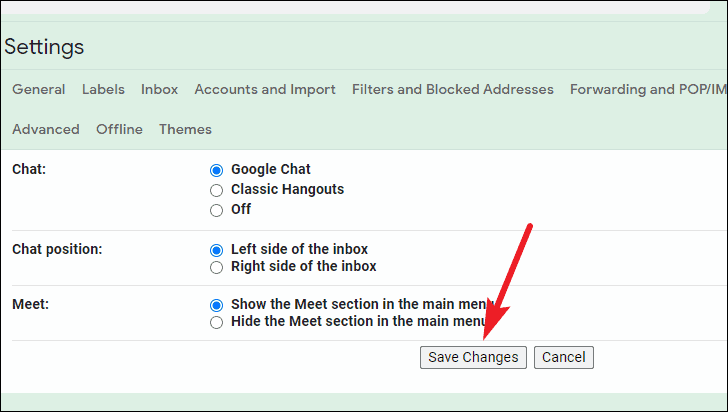 Gmail will reload and you'll now have the new integrated experience with Chat and Rooms in Gmail.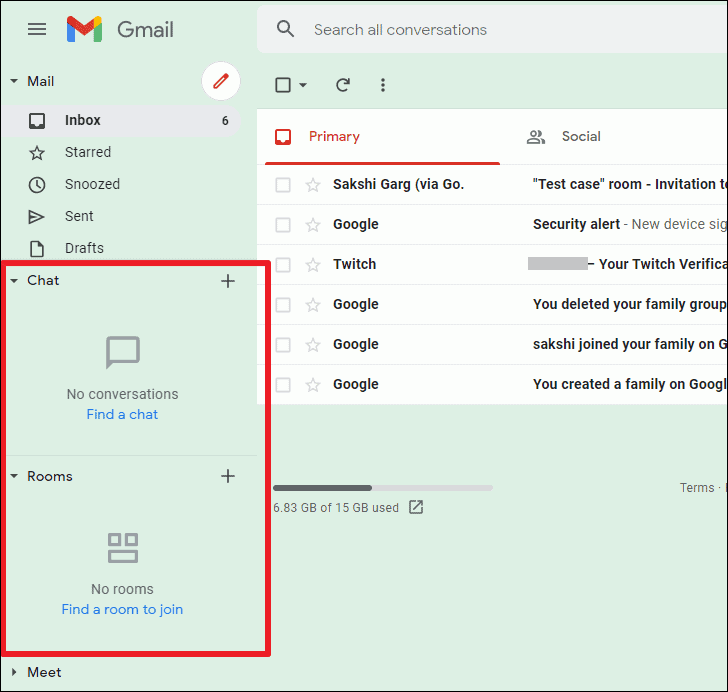 One of the best additions that come with Google Workspace is Room (soon to be Spaces) in Google Chat. Rooms are a hub for communication and collaboration. You can chat with the room members, share files, assign tasks, and do much more, all in one place with Rooms. If you've ever used Microsoft Teams, Rooms are like Teams channels.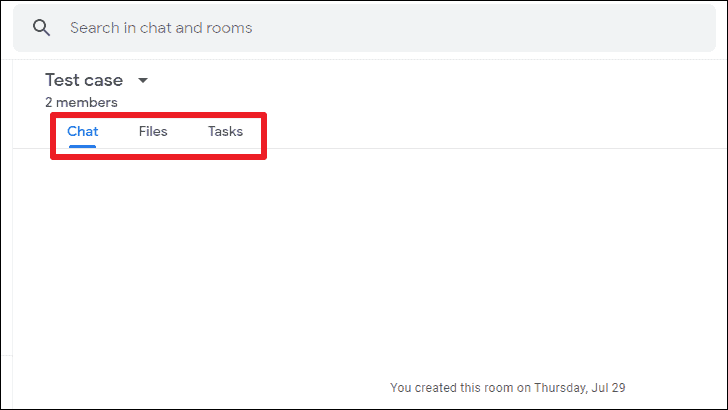 You can also open files in Google Docs, Sheets, and Slides directly in Rooms and work on them right there. Any files you upload to the Room are always easily accessible from the 'Files' tab. And you can keep track of the tasks the team needs to do and assign them to people from the 'Tasks' tab.
To learn how to use Rooms in Google Chat, hop over here.
---
Considering the way work has completely transformed the past year, Google Workspace is bringing much-needed changes to make collaboration seamless, whether you're working remotely or not. And with Google Workspace for everyone, you can even use it to keep your personal life organized.