iOS 14 brought support for Home Screen widgets on iPhone for the first time ever. And the feature is already one of the most popular additions to an iOS update. But it would be safe to say that this popularity didn't exactly stem from the exact function they were supposed to serve.
Apple introduced Home screen widgets with the purpose of getting your most important information from an app at a glance. But they have become something of a cult favorite for another reason entirely – Home screen aesthetics. And a huge part of this trend is because of the Photo Widgets.
All customized home screen aesthetics trending on the gram have photo widgets, whether they are purely for design purposes or act like having memories on your home walls. But if you're just getting started, it's all too easy to get lost in the sudden sea of too many photo widget apps that have popped on the App Store. But fret not, we've compiled a list of the best and only photo widget apps you'd ever need on your iPhone.
Photo Widget Collage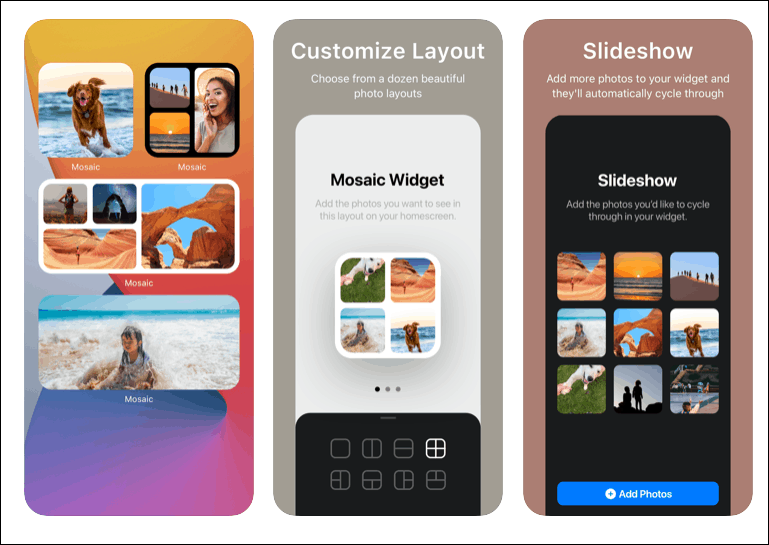 Photo Widget Collage is a great app to have photo widgets on your Home Screen. As the name suggests, you can have photo collages as your home screen widgets. It's probably the only app that lets you have a collage as a widget, so you don't have to fill your entire screen with widgets. And even if you want a single photo widget, you can have multiple photos circulate through the widget in the form of a slideshow.
So, now you don't have to choose between either having too many widgets on the screen or only having one or two photos make the cut. You can have widgets in all three sizes: small, medium, and large. Other than that, you can also change the background color for collages to match it with your phone's wallpaper. The only drawback is the fact that you cannot have different photos in two widgets of the same size.
---
Widgetsmith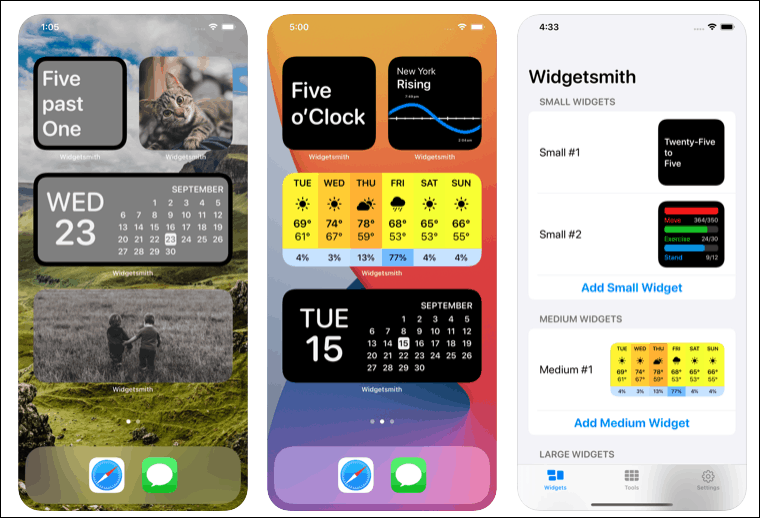 Widgetsmith is a literal widget magician for your iPhone screen; the number of things you can do with a widget with this app is nothing short of magic. With Widgetsmith, you can have multiple photo widgets, even of the same size, on your screen. But if you don't want to litter your screen with multiple widgets, but still want more than one photo on the screen, you can have a different photo every hour. Literally every hour!
With timed widgets in Widgetsmith, you can schedule different photos to appear on the widget, and you're in control of the entire process. You decide which photo appears when. You can even replace the photo widget momentarily with one of the other widget formats the app offers, and there's quite a few to choose from. And it too supports all widget sizes. It's a must-have app for widgets in general, but photo widgets in particular.
---
Photo Album (Photo Widget)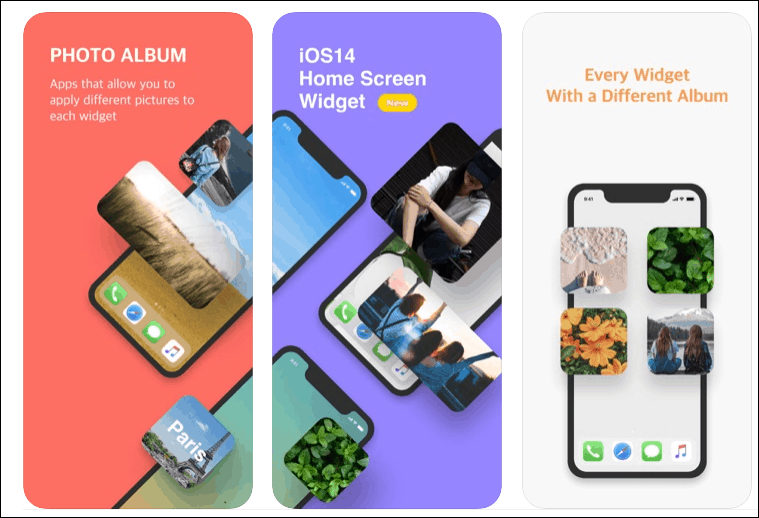 The Photo Album widget is another app that can help make your aesthetic screen dreams come true on your iPhone. You can have a widget with a single photo or circulating photos on your Home screen. And it also lets you have more than one widget of the same size as well. And the best part is that it lets you configure those settings. And it does all that while keeping the interface incredibly simple and easy to use.
Also, having a slideshow of photos in the widget is rather quick. It isn't a choice between having a random slideshow or spending time on scheduling the widgets. All you need to do is select the interval between the pictures, and your photos will circulate in the order you selected them. You can even have the album name on the widget, allowing you to give it a personal touch. It's truly one of the best apps out there.
---
Photo Widgets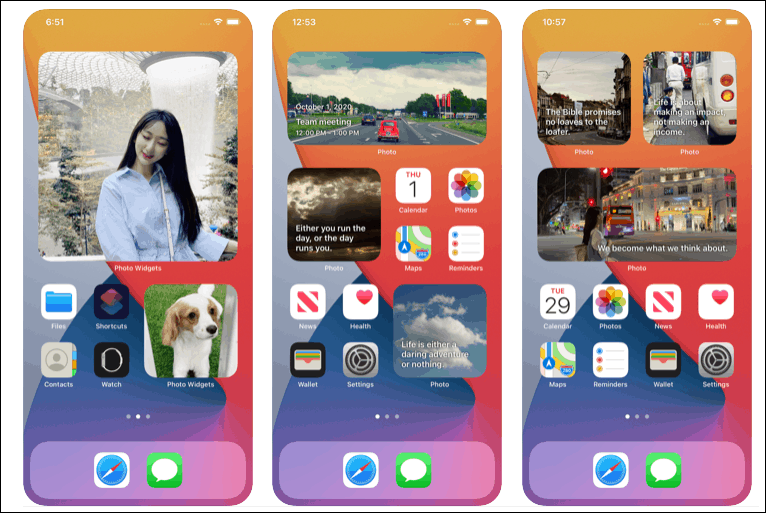 Photo Widgets is another stellar app to create photo widgets in iOS 14. You can have multiple widgets of the same size with different photos, as well as have a slideshow of photos. But it offers something more. With Photo Widgets, you can not only have simple photo widgets, but also photos with dates and calendar events, or memos on them.
So you can have photos showing you your appointments throughout the day, all the while adhering to your screen's aesthetics. And it offers a lot of control over the photos. You can choose the intervals at which the photos should change, which order they should appear in, or make them appear in a random order.
---
MemoWidget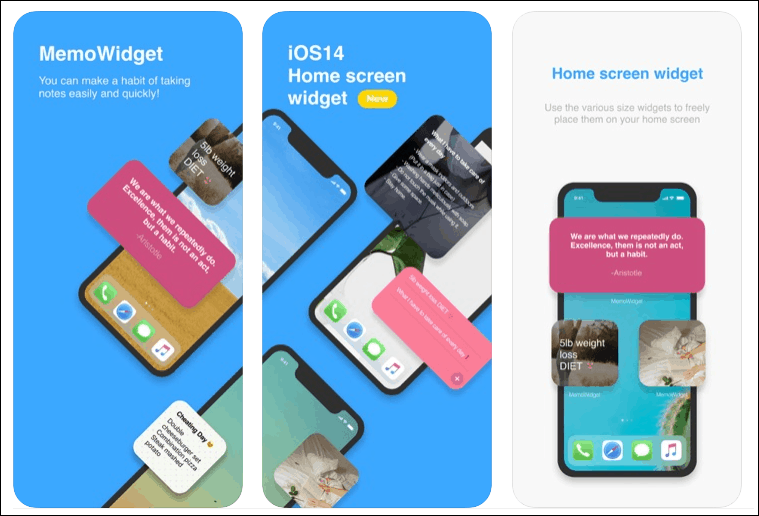 MemoWidget is another fantastic app from the developer of the app Photo Album that's already on the list. While the focus of Photo Album is entirely on photos, MemoWidget, as the name suggests, is focused more on memos. Or rather, you could also call them notes. But unlike the native Notes app widget, it won't mess with your phone's aesthetics.
You can even leave yourself rather pretty sticky notes with the MemoWidget app. There are some fetching backgrounds to choose from in the app itself, or you can select any photo from your gallery. The Memo can have a title and text (like the Notes app), but both are optional. It also offers control over the size and color of the text that appears on the photo, making it truly an app for memos. Whether you need to have grocery lists or some motivational quote on your screen, it's got your back.
---
Whether you're just hopping on the train of photo widgets or were looking for better alternatives to the ones you're already using, one (possibly, more) of the apps on this list is bound to become one of your favorites. And they're all rather easy to use, even if you're just a beginner. Now there's nothing much left but trying out photo widgets for your iPhone with one of these apps. Go on; your photos are waiting for you.