Portable Document Format, largely known as 'PDF' is a file format created and developed by the American multinational computer software company, Adobe. This format was released in 1992 and has ever since been one of the most used and favorite file formats of all time. Today, various sectors of the world like business, educational institutes, and corporates use PDFs, to securely send and receive information.
The format, abbreviated with the .pdf extension is accommodative of text, images, a variety of fonts, multimedia, raster images, vector, and bitmap graphics. Generally, all browsers including Chrome, Microsoft Edge, Mozilla Firefox, would have a built-in PDF reader. But, as we know, it's always easier to have an application for instant access and better usage. So, here are the best PDF readers that you can download and install onto your Windows 11 to ease the process of viewing, reading, and manipulating PDF files.
Foxit PDF Reader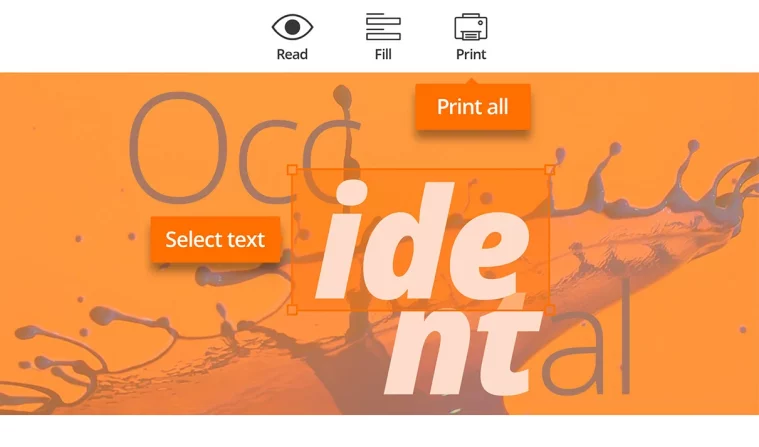 Foxit is currently one of the most favored PDF readers. A product of Foxit Software Incorporation, the latest version of the Foxit Reader was released in October 2021.
The platform has a free downloadable PDF reader that is also available as an add-on. The reader can be used to view, edit, create, print, and digitally sign PDF files across multiple languages. Very often, Foxit sees itself in a competitive place with Adobe.
Foxit PDF Reader is compatible with Windows, Android, macOS, iOS, Linux, and the web. It offers easy viewing, reading, and printing PDFs on all devices. You can also collaborate on PDF documents, provide feedback, and utilize Foxit's extensive annotation tools.
This reliable PDF reader allows you to integrate some of the best cloud storage facilities and CMS services. You can sign documents in your handwriting or via eSignature. Foxit ensures your security ad privacy with Trust Manager, Disable JavaScript, ASLR, DEP, and Security Warning Dialogs.
---
Nitro PDF Pro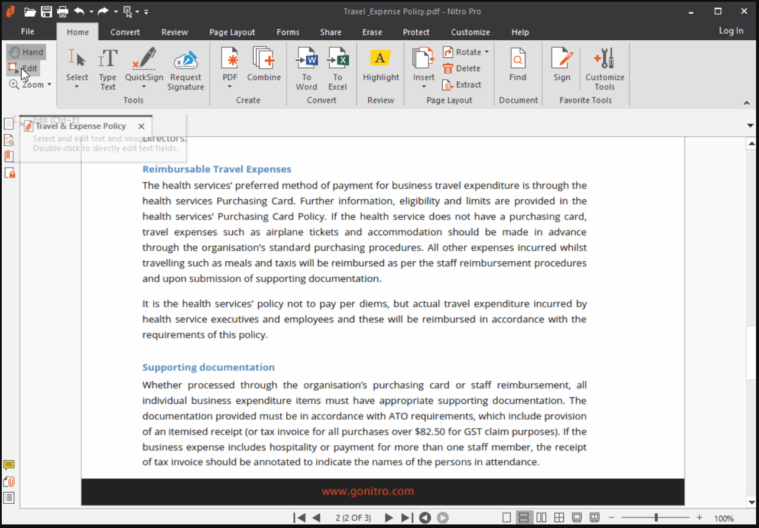 The most recent version of Nitro PDF Pro was released in April of 2021, Although this paid reader may seem a little expensive, the consolation is that the payment is for a one-time license.
This license can be employed by a maximum of 20 users. Nitro, is at the moment, running an offer that cuts the price from the initial $180 to $143. Post Oct 29th, 2021, the price may hit back to the original.
With the Microsoft Office-like Nitro PDF Pro interface, you can create, edit, view, review, annotate and read PDF files. Merging files, customizing the reader's ribbon tab converting other file formats to PDF, building and filling PDF forms, and securing your PDFs are other features of the reader. You can further integrate cloud storage, and apply digital signatures to sign and validate documents as well.
---
Xodo PDF Reader and Annotator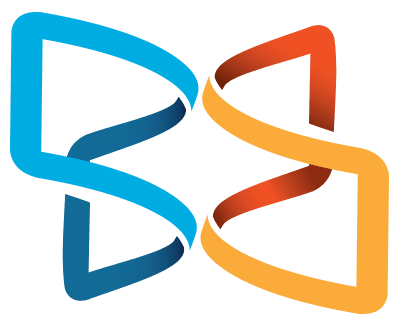 Xodo is another great PDF reader and annotator. The platform has tons of useful tools and features – some of which may require expert knowledge and applicability as opposed to a commoner's expertise.
This free reader is supported on Windows, Android (phone and tablet), iOS, and iPad. It is available as a Chrome extension and a web app on browsers like Chrome, Mozilla Firefox, and Internet Explorer.
Xodo simplifies the hybrid working scene with its collaborative features. You can now convert a PDF into a full-blown virtual workspace with Xodo's real-time collab tools to edit, write, highlight, annotate, and comment on PDFs. Besides, Xodo also has a Chat feature that further facilitates the virtual work scenario.
Apart from teamwork, Xodo also has tons of services for individual users. The platform allows you to sync PDFs from Dropbox and Google Drive, providing instant access to other existing documents. You can also finger-sign or use a stylus to sign docs, letters, or any other material. Xodo offers one of the best PDF annotating experiences.
---
Soda PDF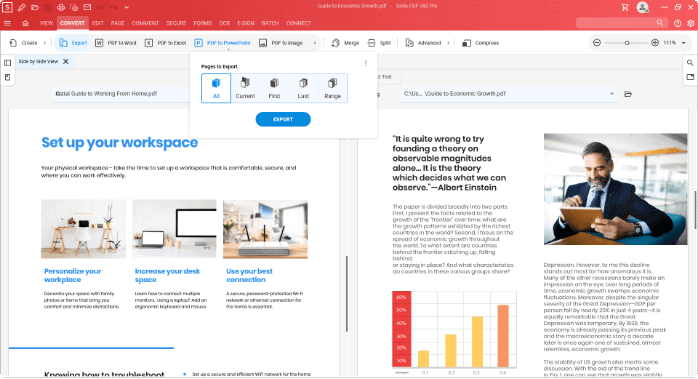 Soda PDF is a slightly expensive option. Nonetheless, the interface, features, and overall look and feel of the reader tend to make up for the pocket-dent.
Soda PDF has three plans – Standard, Pro, and Business – all billed annually. With the business plan, you can own up to 5 licenses. The prices for each would increase likewise.
The cheapest plan of all is the Standard plan. Priced at $6 per month and $48 per year, this plan allows you to view, edit, create and convert different file formats to PDFs and vice versa. The Pro and Business plans have added and better features. All plans allow only 2 devices and unlimited switches between them per year.
On Soda PDF you can also split, resize, compress, number, and protect PDFs with custom watermarks. The platform also provides a free Optical Character Recognition (OCR) facility that instantly recognizes text in an image and makes any PDF editable. You can also organize your PDFs with Bates numbering.
---
Adobe Acrobat Reader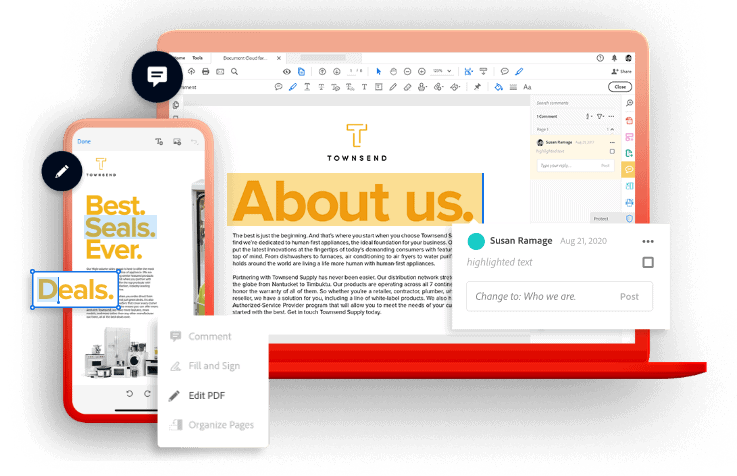 Coming to the brand that invented PDFs – Adobe. The Adobe Acrobat Reader is one of the many PDF products by Adobe. It is free, limited, and among the best PDF readers in the market.
The paid upgrade – Adobe Acrobat Pro DC, offers many more tools and features to boost PDF productivity. But, if you're looking for a free PDF reader that gives you the best of the basic, then Acrobat Reader works.
With Adobe Acrobat Reader, you can view, comment on, print, and limitedly sign, track and send PDFs. If you want advanced features like editing PDFs (both text and images), unlimited signing, tracking, and sending experience, scanning, converting PDFs, annotating PDF, and Cloud connections, then you must get the Acrobat Pro DC.
The Acrobat Pro DC plan has a 7-day free trial period, after which, you can choose to pay monthly or annually. The monthly payment is around $27, the prepaid yearly payment that is billed per month is $192, and the yearly payment that can be paid monthly is $16 – but this one requires a strict commitment.
---
PDFelement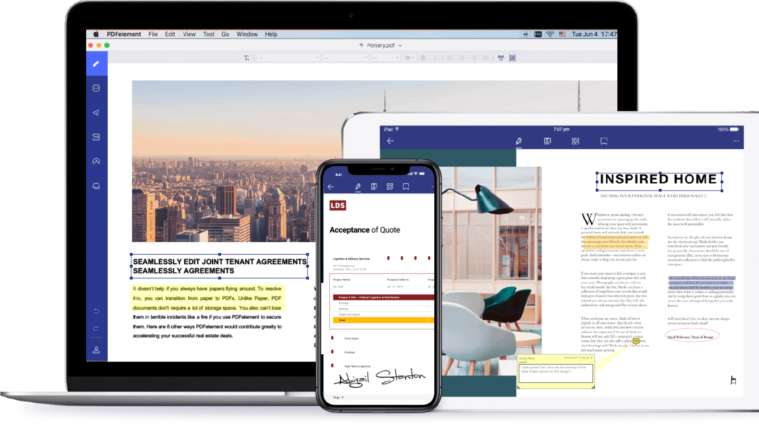 PDFelement by Wondershare is another wonderful PDF reader. It offers the whole PDF package that is often used to substitute for the expensive Adobe Acrobat Pro DC.
For individual use, there are two PDFelement plans – Standard and Pro. The former is supremely limited and a tad cheaper than the full-fledged Pro plan. Nonetheless, both plans are comparatively affordable than Adobe.
The PDFelement Pro package sums up to $10 per month and $79 for a year. You can purchase a license for the individual PDFelement plans. Both plans allow you to create, edit text and images, annotate and comment on PDF files. You can also convert PDFs, export PDF files to Word, PowerPoint, or Excel, fill PDF forms, and sign them as well.
The Pro plan has a lot more to add. OCR, Bates Numbering, digital signatures, sensitive info redaction, extracting data from PDF forms, and creating and editing fields in PDF forms are just some of the features. Other facilities include converting scanned PDFs into editable PDFs, archiving PDF/A formats, and compressing and optimizing PDFs.
---
Sumatra PDF Reader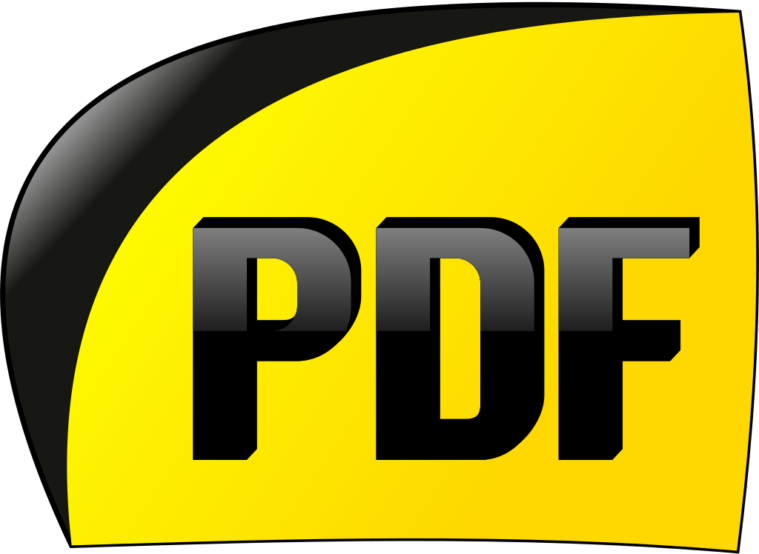 Sumatra PDF is a reader that's not quite seen commercially. Though it does not have a mainstream interface style, it does make it to the list of favorite PDF readers.
There are quite a few reasons for this favourability. Sumatra PDF is lightweight. It supports a vast majority of file formats. It's free. It's an open-source document reader. Although it looks rather simple, Sumatra PDF has some great facilities to offer.
The Sumatra PDF is a small reader in terms of size. The portable version takes up even less space (about 5 MB). It is super fast compared to other PDF readers and starts up quickly without the added and annoying wait time. Besides, Sumatra PDF is an exclusive build for Microsoft Windows but works on Linux via Wine as well.
The Sumatra PDF reader is a multi-lingual reader with a tidy interface. Currently, the platform supports 69 languages and translations. The viewer also has keyboard shortcuts, fullscreen and presentation modes, command-line arguments, and a bunch of other basic features. Sumatra PDF supports PDFs and E-books too.
---
PDF-XChange Editor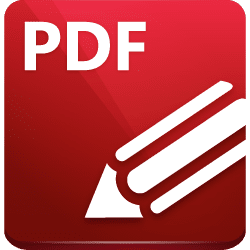 PDF-XChange Editor by Tracker Software is a simple, easy-to-use reader that offers all the essentials that make a good PDF reader.
The latest revised version of this Editor was as recent as Oct 18th, 2021. The Editor has both paid and free features – of which, the free facilities appear to top the paid ones. Most of the features, about 70%, are free.
PDF-XChange Editor is a freemium product. Some of the free facilities are OCR options, experimental PRC support, duplicate document identifier, DocuSign, Typewriter mode, Shell Extensions, a Document Search, and PDF exportation. You can also customize toolbars, the layout of the editing pane, and the font of your digital signatures.
PDF-XChange Editor makes the ordinary extraordinary with its substantial range of tools. There are tons of editing tools, commenting and annotation tools, and security options such as barcodes, and customizable watermarks. The PDF-XChange Editor Plus version offers 96 licensed products, while the free version brings 169 features to the table.
---
Slim PDF Reader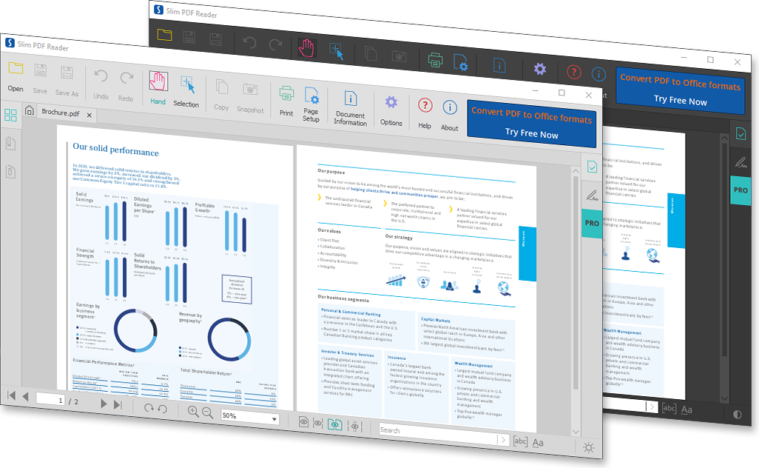 As the name suggests, Slim PDF Reader is a slim product. It offers a host of facilities and services for just about 15 MB of space per disk.
Slim PDF Reader is a free product by Investintech.com PDF Solutions. It is compatible with Windows, Mac, and Linux. The reader offers basic PDF features. Advanced features are available with an Able2Extract Professional 16 license.
The free product; Slim PDF Reader and Viewer allows you to open, view, comment on, annotate, fill forms, and insert your digital signatures on PDF documents. This super fast and super lightweight reader also has a light and dark theme, a digital signature verifier, and an overall bloatware-free interface with an improved navigation system.
With the paid product; Able2Extract, you can create printable PDFs with advanced options, convert PDFs to and from a bunch of other formatted documents, and edit PDFs with additional options like merging, adding images, vectors, and bates numbering. You can also resize PDFs, compare files side-by-side, create and edit PDF forms, and use Batch PDF tools among many other features.
---
In-built browser PDF readers don't always have the premium features available on professional PDF readers. If you're someone who encounters PDFs a lot, directly or indirectly, you will need the best PDF reader – one that's capable of doing more than the basic. And we hope you found the one on our list.