Windows 11 brings a lot of enhancements in multiple departments. The OS improves upon a lot of aspects, such as performance, design, user experience, and security. In fact, when Microsoft launched Windows 11, they declared it their most secure version of the OS ever.
And certainly, Windows 11 is big on security. Microsoft has always been a little behind in the security lane for their OS as compared to Apple over the past years. But they're definitely stepping up with the Windows 11 upgrade. In a completely unprecedented move, Windows 11 requires essential hardware security to upgrade. Even if it means that not all PCs will be able to enjoy the upgrade, Microsoft has taken the bold step.
But some users in the community have interpreted this to mean that Windows 11 no longer needs antivirus software. So, let's bust some myths and examine the whole situation under a microscopic lens, if you will, so you can use your system fearlessly.
What does the Hardware Security Mean for Windows 11?
To install Windows 11 on a PC, you need a machine that's capable of Secure Boot and has a TPM 2.0 chip. The secure boot capability ensures that your PC is secure during the booting process and malware can't attack it during booting.
TPM, or Trusted Platform Module, is a chip in your computer that provides hardware-based, security-related functions on your system. Hardware-based security is much more invulnerable than software-based security.
TPM is used to store cryptographic functions. Storing them in the TPM makes them more secure instead of implementing them in the software. Software-based random-number security algorithms are more susceptible to hacking than TPM. A lot of programs on your PC – like Chrome, Outlook, Firefox, etc. – use TPM for encryption when it is available. The Windows Hello security system also uses TPM to encrypt your credentials.
TPM is a literal powerhouse when it comes to security. And the combination of both – shielding the booting process and protecting cryptographic functions in hardware – make Windows 11 the most secure OS till now.
So, the requirement of TPM and Secure Boot does make it seem like Windows 11 is completely invulnerable. But that's not the case. Even though they protect your PC against a wide range of attacks, the modern computer is still vulnerable to many types of attacks.
The Need for an Antivirus in Windows 11
Sure, Windows 11 has eliminated a wide class of malware attacks. Many attacks that gain access to your PC even before the boot process is complete find themselves neutralized in Windows 11. But what about the other attacks?
Viruses are the bane of our digital existence and they have been for decades now. These unwanted programs that enter our system without our knowledge can wreak so much havoc. But antivirus software isn't just limited to protecting our system against traditional viruses. In fact, still calling it just an "antivirus" isn't even justified. That's why a lot of services don't do that anymore.
These programs provide total security that involves protection against viruses, internet security, protection against ransomware, parental controls, etc.
But the good news is you don't need a third-party antivirus in Windows 11. The built-in Microsoft Defender is more than capable to protect your computer from threats.
Microsoft Defender to the Rescue
Microsoft Defender, previously known as Windows Defender, is a free, built-in antivirus program that has been around in Windows in one shape or another for quite some time now. Previously, the antivirus wasn't enabled by default. Starting from Windows 10, the program is enabled automatically in the absence of a third-party antivirus. However, it does go into a sort of suspended animation automatically when it detects third-party antivirus to avoid any conflicts.
So, if you don't want to install a third-party antivirus in Windows 11, you don't have to. Microsoft Defender will protect you against viruses and malware. In addition, it also provides internet security, account protection, firewall & network protection, app & browser control, measures to check device health and performance, device security, and parental controls.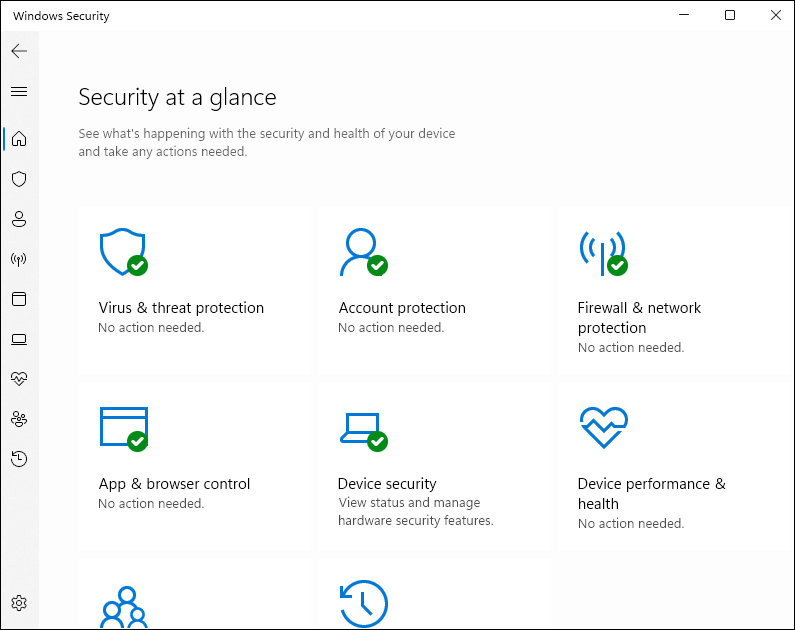 It even provides protection against simple ransomware. You can enable "Controlled Folder Access" to prevent unknown applications from making changes to your files and folders.
There are some perks of using Microsoft Defender. The program is in-built and automatically enabled in Windows 11. You don't have to install it like any other third-party software. It's also free to use and, unlike many antivirus software out there, it doesn't put too much strain on the resources.
You can also schedule periodic scans as per your suitability. Over the years, it has also improved drastically performing excellently in lab tests against other antivirus programs.
Windows 11 also makes it extremely easy to manage the defender through the central console.
Read: How to Enable or Disable Microsoft Defender in Windows 11 to learn to effectively use the program.
---
Microsoft Defender has come a long way since its initial days. For most users, the antivirus is more than capable. The combination of hardware security and Microsoft Defender makes Windows 11 the most secure OS from Microsoft to date.