It doesn't make sense to buy multiple subscriptions for the same app within the same family. Yet to maintain privacy, not everyone wants to share their IDs either. But Family Sharing with iCloud helps circumvent this problem.
A powerful feature from Apple, it allows families to share App Store purchases, iCloud storage, an Apple Music family plan, and more without having to share an Apple ID. Family Sharing makes it extremely convenient to share these subscriptions without any compromise to privacy. Let's dive right into it.
What is Family Sharing
As mentioned, it is a feature that allows you to share various subscriptions. You can share them with up to five other family members, i.e., a Family group on Apple can have a total of 6 members.
You can share Apple services like Apple Music, Apple TV+, Apple News+, Apple Fitness+, Apple Arcade, and Apple Card, along with iTunes, Apple Books, and App Store purchases. Some other app subscriptions can also be shared, but all apps offer this option. With Family Sharing, users can also enjoy family photo sharing, location sharing, and Find My to locate each others' missing devices.
While you're sharing subscriptions, it does not affect the content you see in the app. Everyone's preferences and recommendations remain private.
It also allows you to share your iCloud Storage plan while keeping the contents of the iCloud separate for everyone. With iCloud+, you can not only share your storage with other family members, but also all the features available with the subscription. These include Hide My Email, iCloud Private Relay, Custom Email Domain and HomeKit Secure Video. And while the storage is shared among the family members, every person uses their ID for iCloud which keeps all the files, photos, videos, etc. separate and private.
With Family Sharing, parents can also control their kids' experience and enforce parental guidelines.
Setting Up Family Sharing
To use Family Sharing, someone needs to set up the Family Group and invite others to it. The person setting up the group will be the organizer (an adult), and they can also set up accounts for kids under 13 years old.
To set up Family Sharing, open the Settings app on your iPhone and tap your name at the top.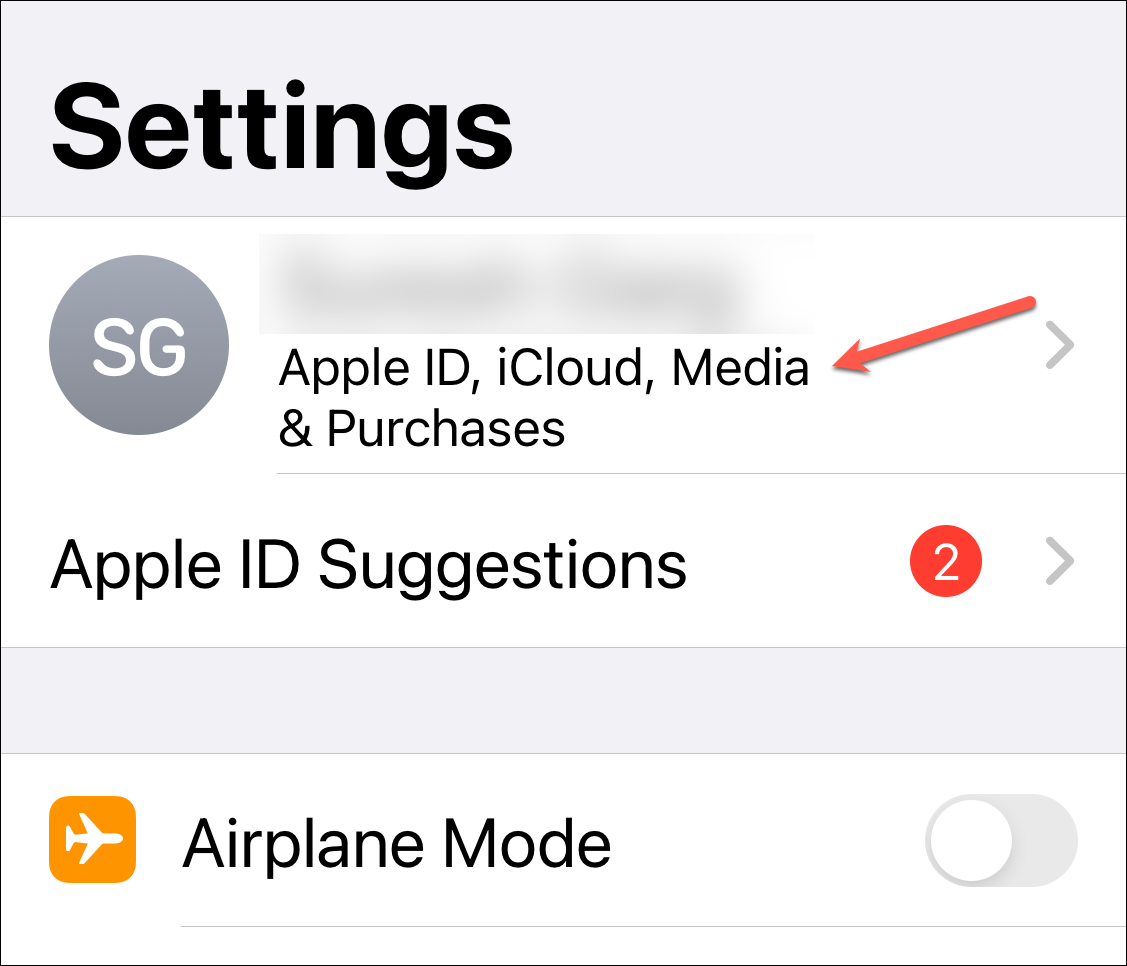 Then, tap the 'Family Sharing' option.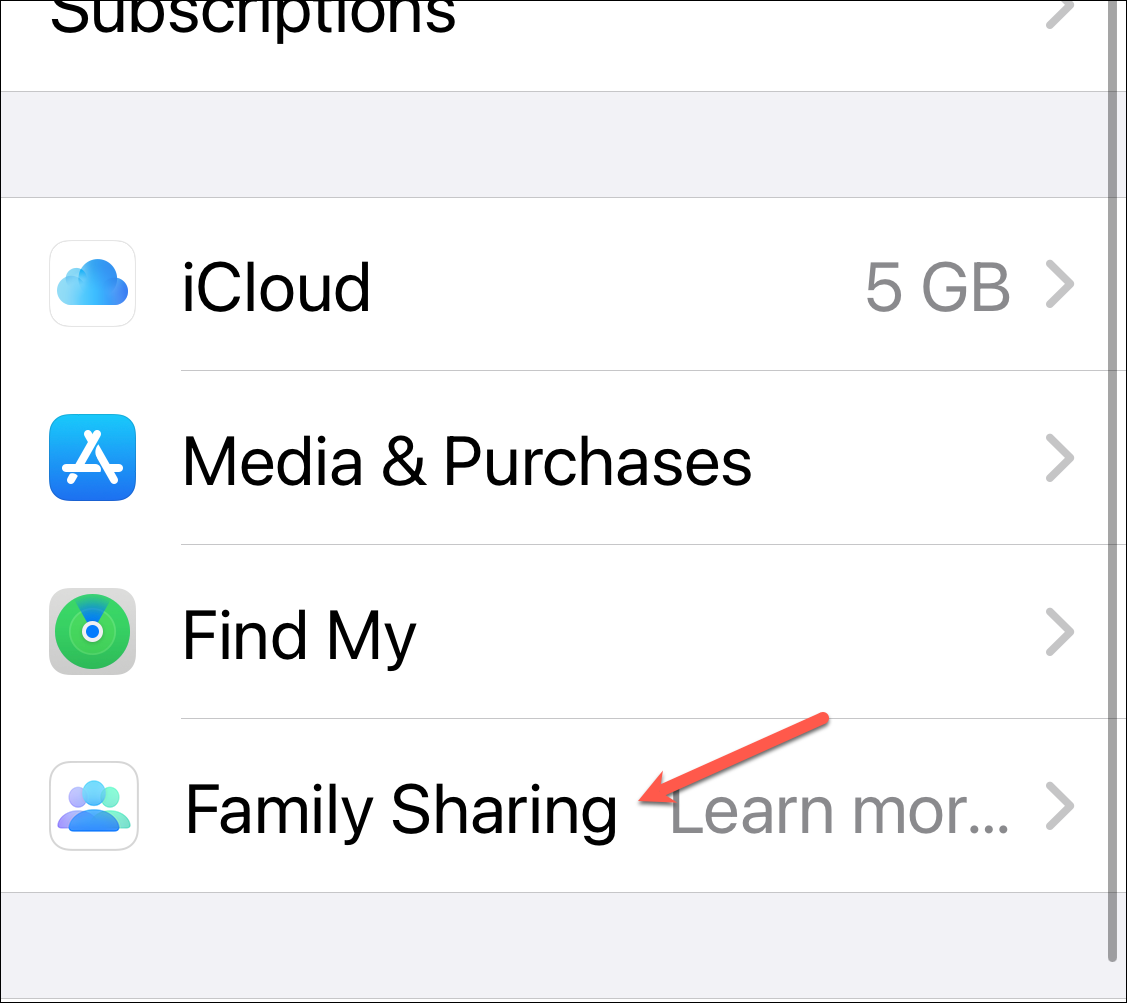 Tap 'Continue' and follow the instructions on your screen to complete the setup.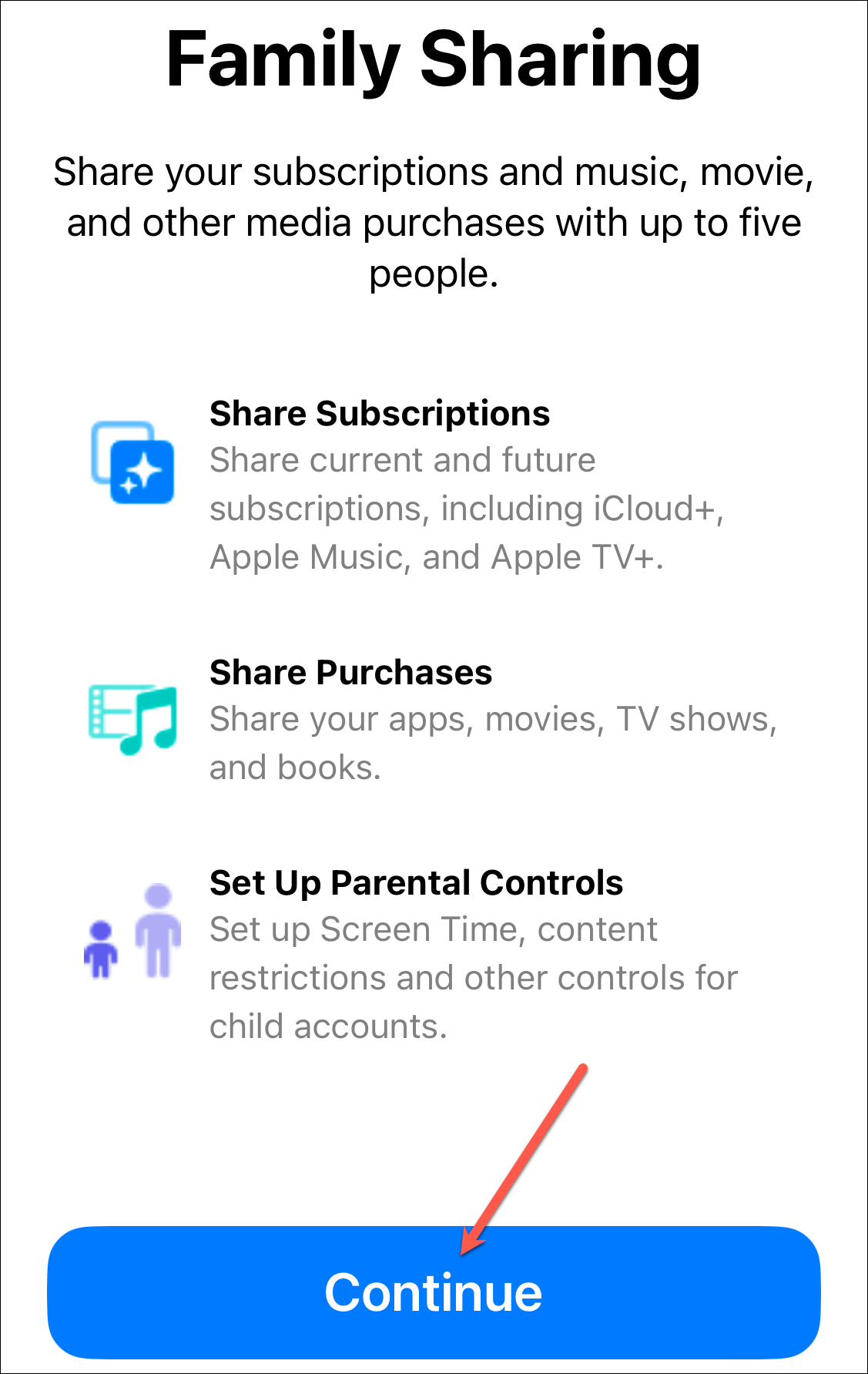 Then, invite the people you want to include in your family group. You can invite up to 5 more people to be in the group. You'll also get suggestions for inviting people. If your child (who's 12 years or younger) does not have an Apple ID yet, you can also create an account for them on the fly and add them to the family group.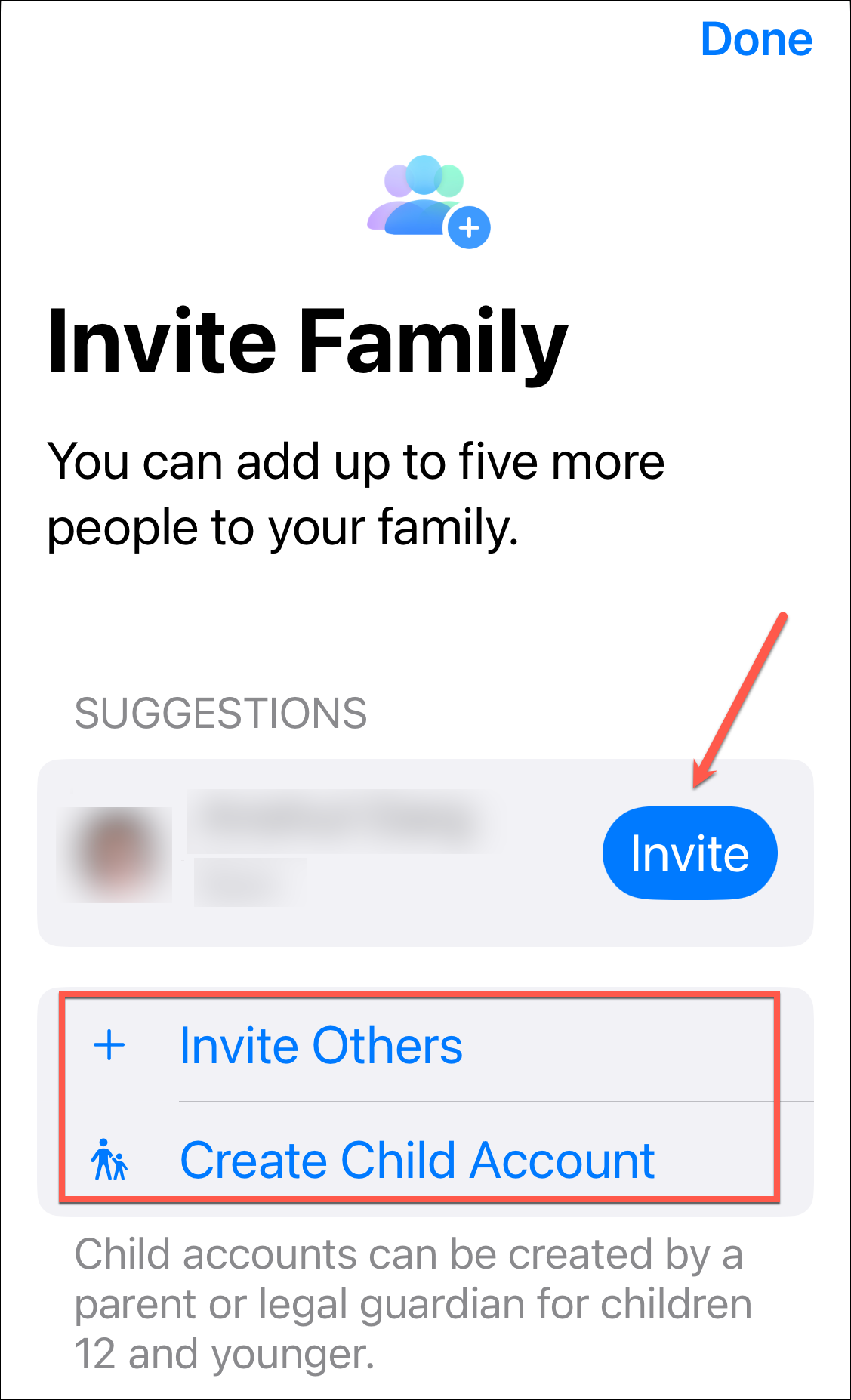 You can AirDrop the invitations or send them via mail, messages, or any other app. There's also another option to invite in person which lets the other person sign in to their Apple ID on your iPhone with two-factor authentication.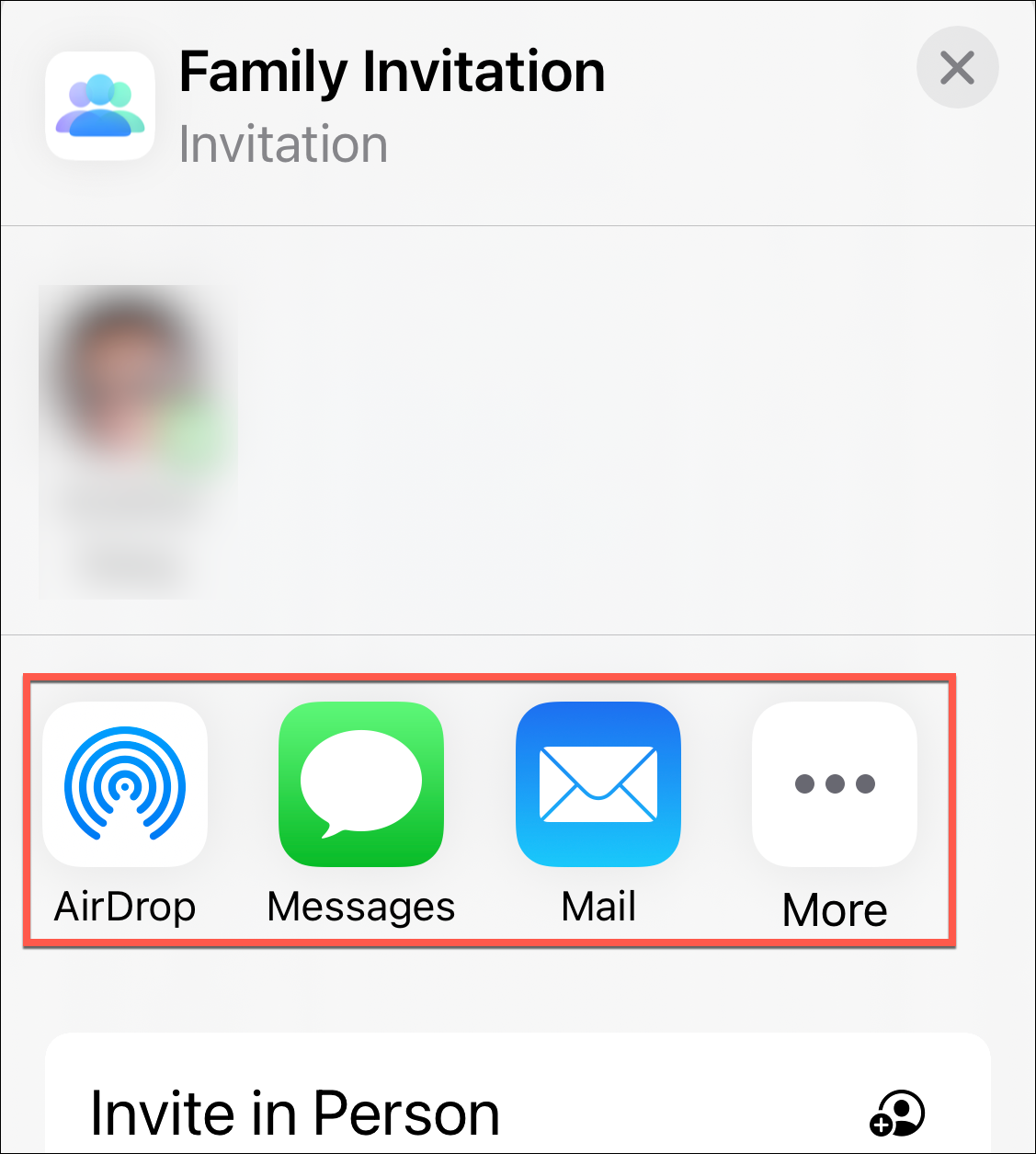 When you're inviting someone to the group, you can designate a role for them. Different types of roles in a Family Sharing Group include:
Organizer: The person who creates the group; the role cannot be assigned to anyone else. The organizer can invite and remove people from the group and disband the group entirely.
Parent/ Guardian: This role can be assigned to another adult in the group. They can help the organizer manage parental controls for children in the group.
Adult: Any member of the group who is 18 years or older (the age at which someone is considered an adult can be different for different countries).
Child or teen: Any member of the group who is under 18 (age can vary for different countries).
Once they accept the invite, Family Sharing is set up automatically on their device.
You can also skip inviting someone at the time of set up and add them to the group later. To add them later, tap the 'Invite' option in the top-right corner.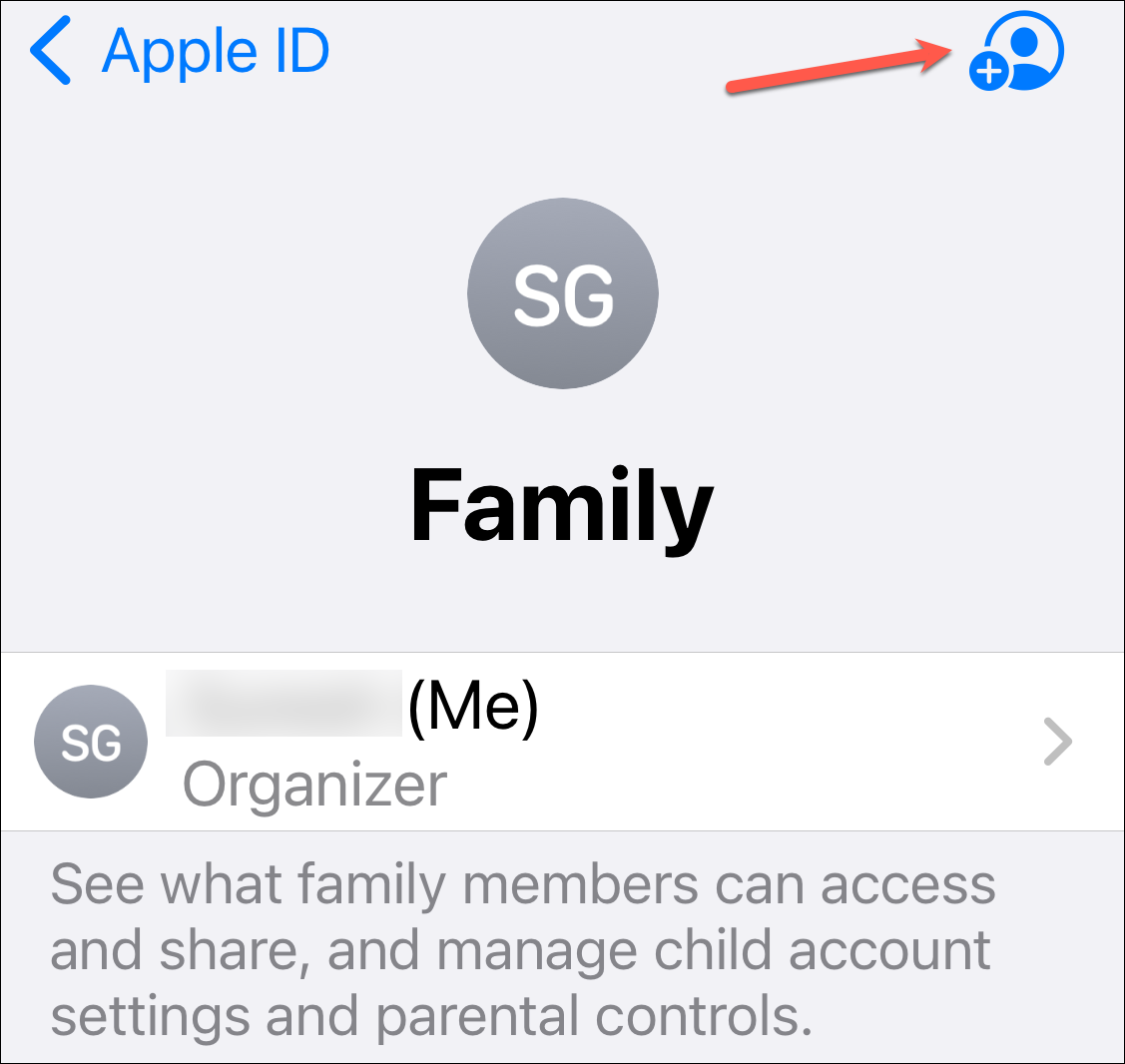 Sharing Subscriptions
Once you have set up Family Sharing, you can start to enjoy its features, starting with sharing eligible subscriptions and purchases among yourself. Any adult can share their subscriptions with the family group, not just the organizer.
To share subscriptions, go to 'Family' from Settings.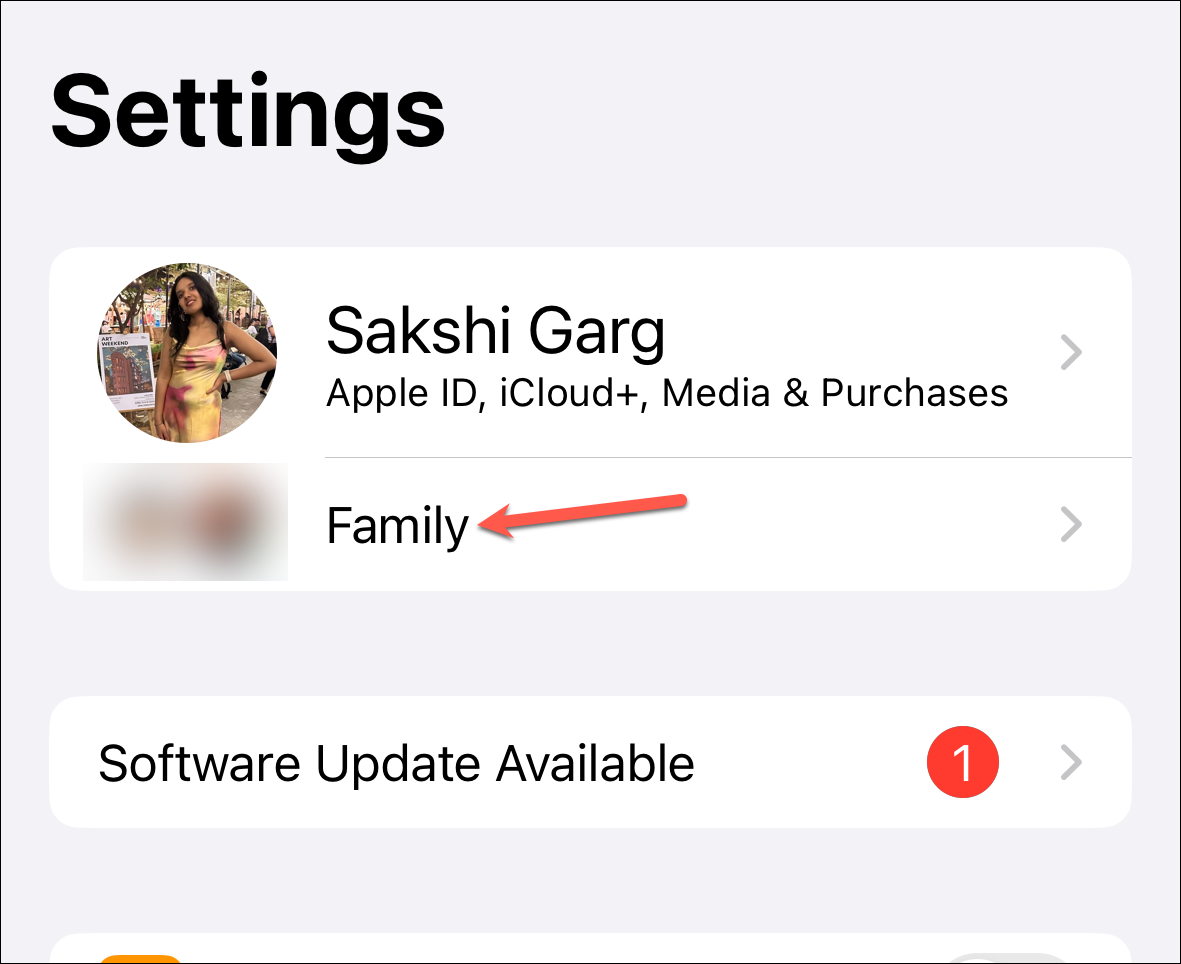 Then, tap the 'Subscriptions' option.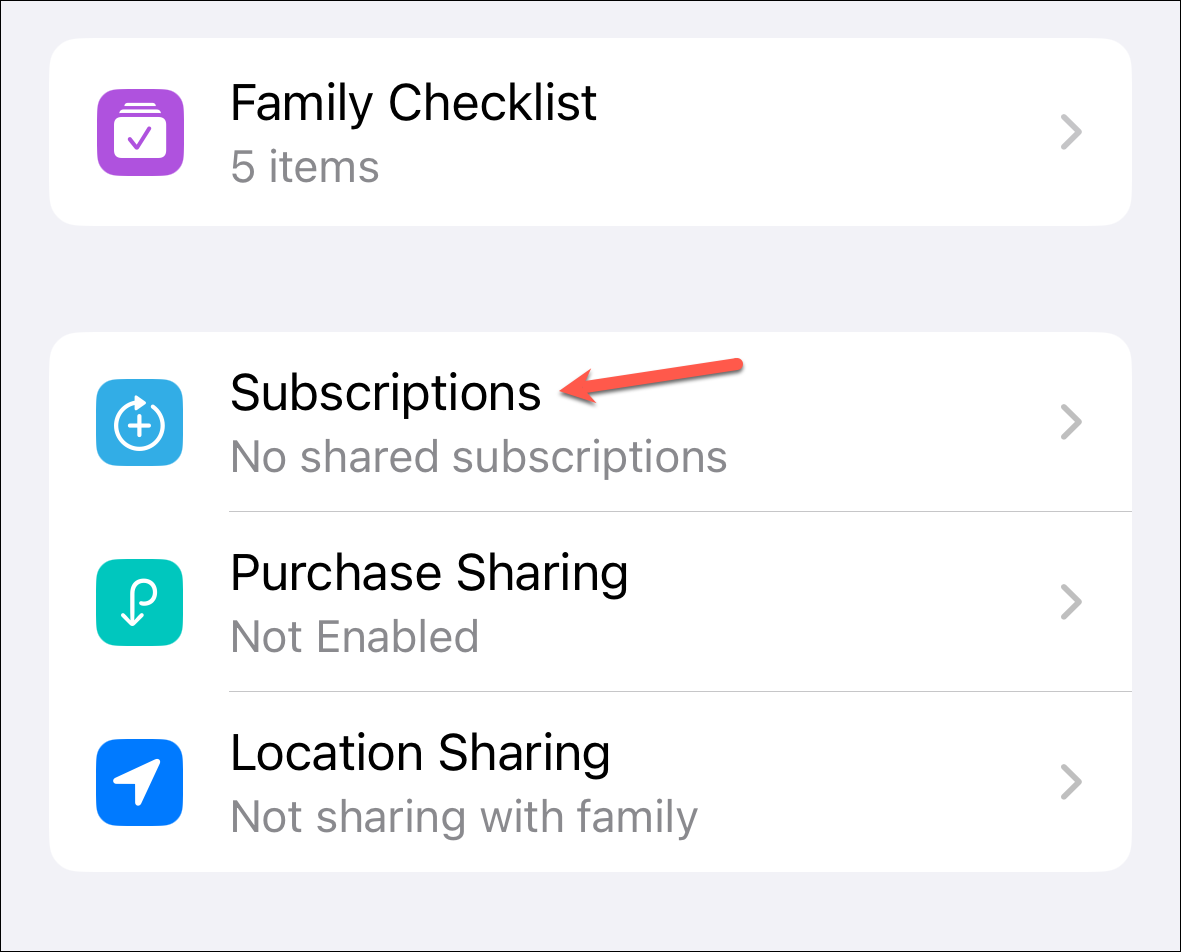 Any subscriptions that are available for sharing will appear under 'Available to Share'. Tap on the subscription you want to share to open it.
Note: Not all of your Apple subscriptions will appear in the 'Available to Share' section as they might not be eligible for sharing. For example, if you have Apple Music Individual subscription, it can't be shared with the family. You need to have the Apple Music Family plan.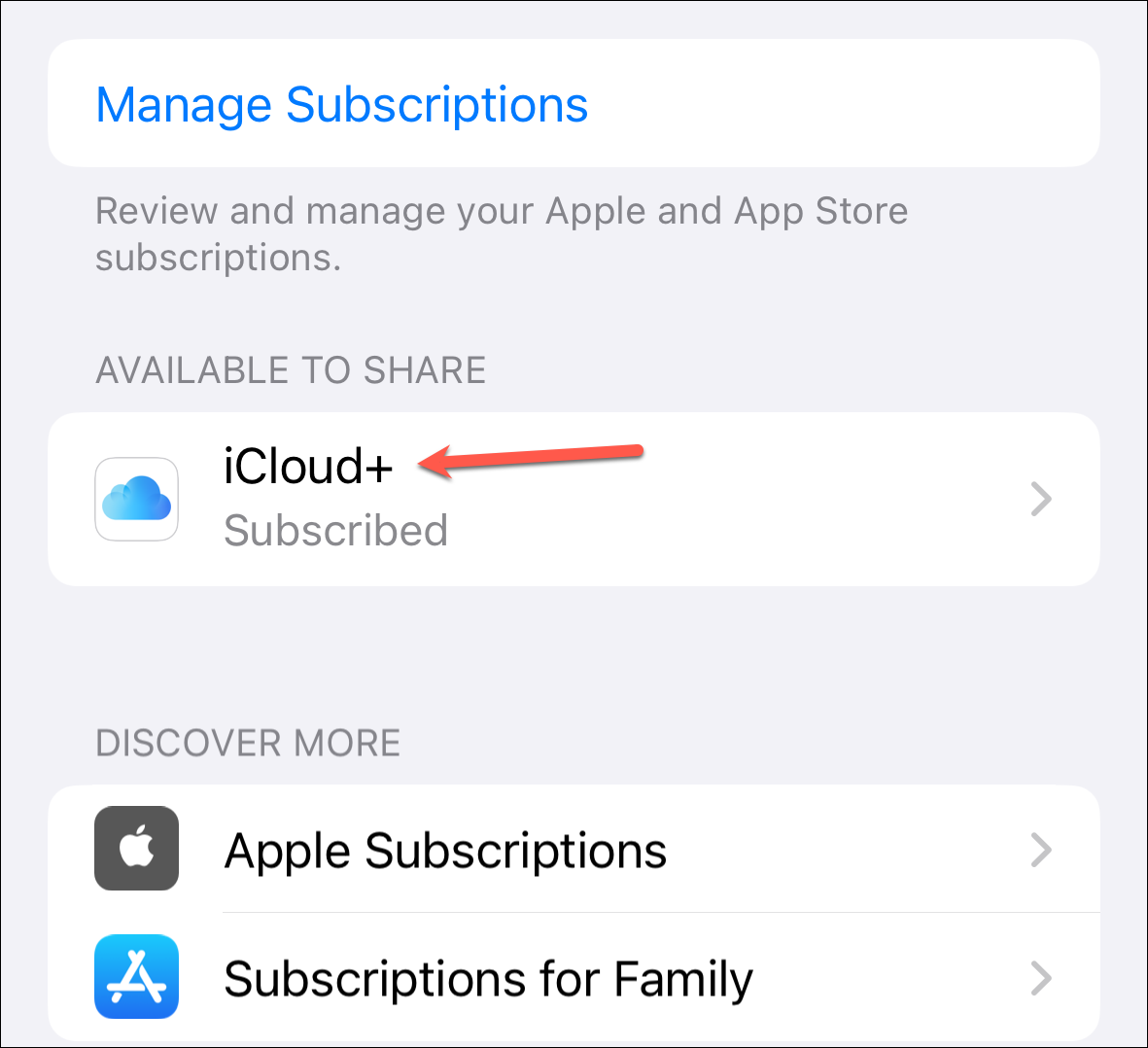 Then, tap 'Share with Family'.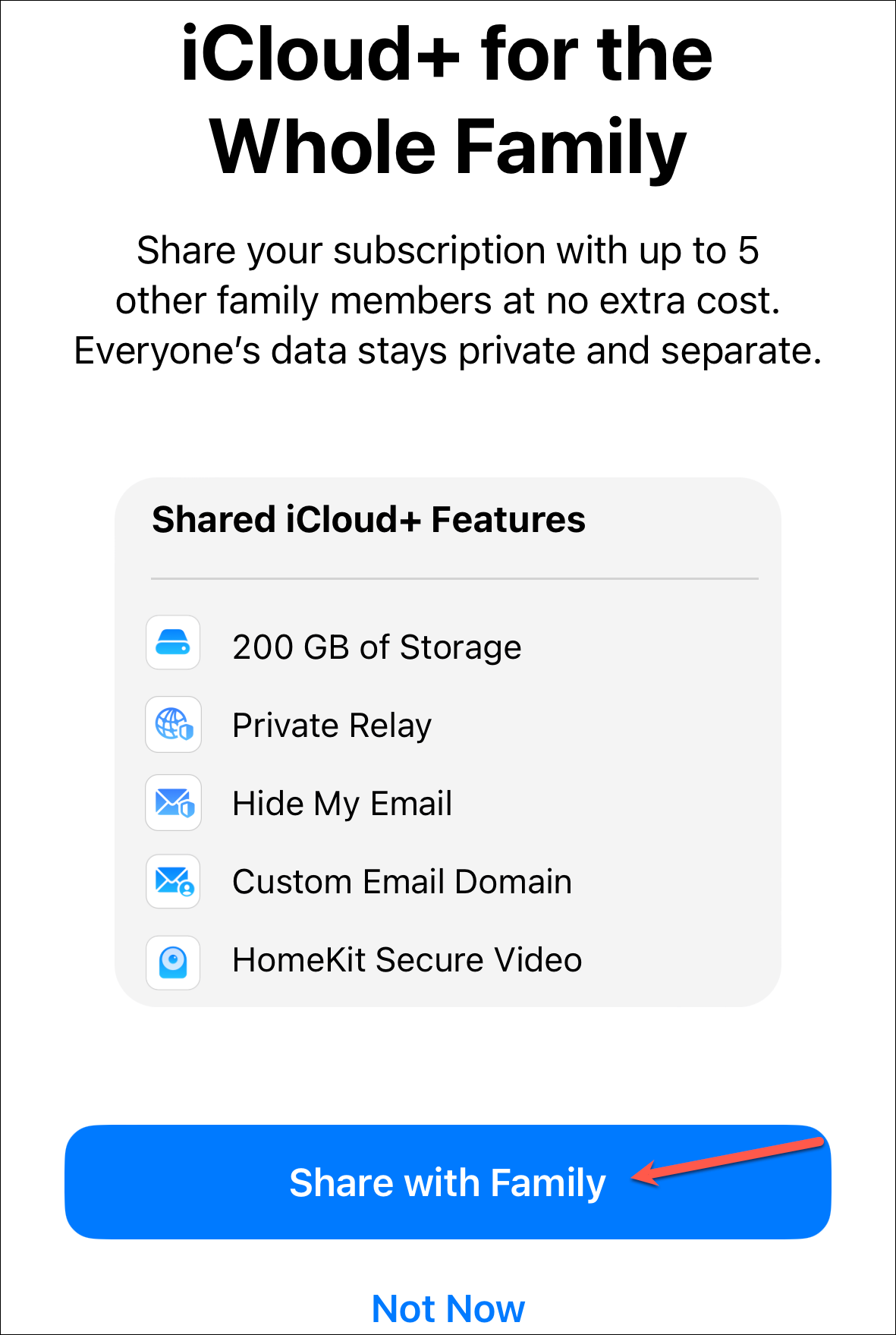 To find more subscriptions that you can share with your family, tap the 'Apple Subscriptions' or 'Subscriptions for Family' options under Discover More.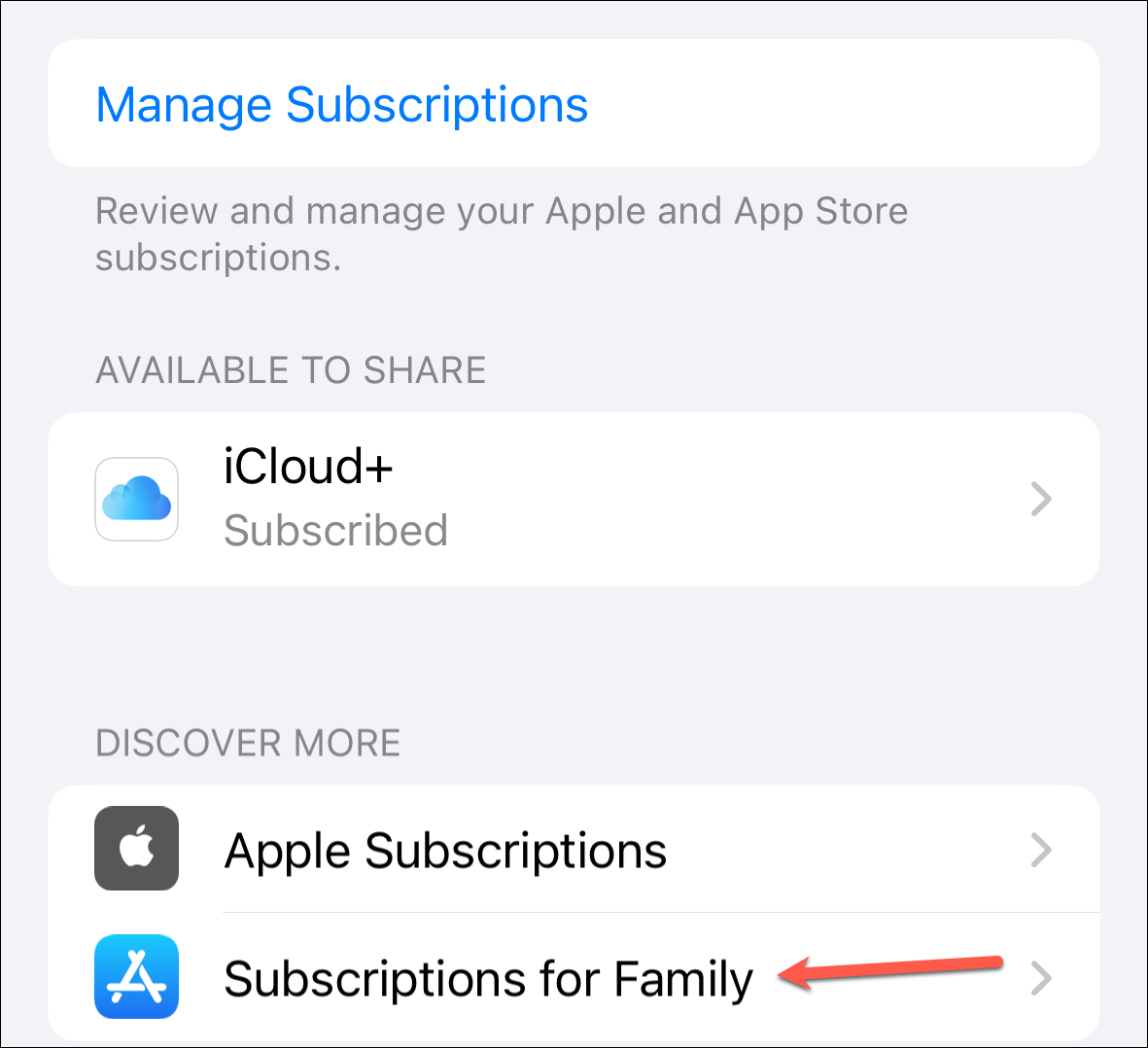 You'll find a list of Apple services or other app subscriptions that can be shared, depending on which option you tapped.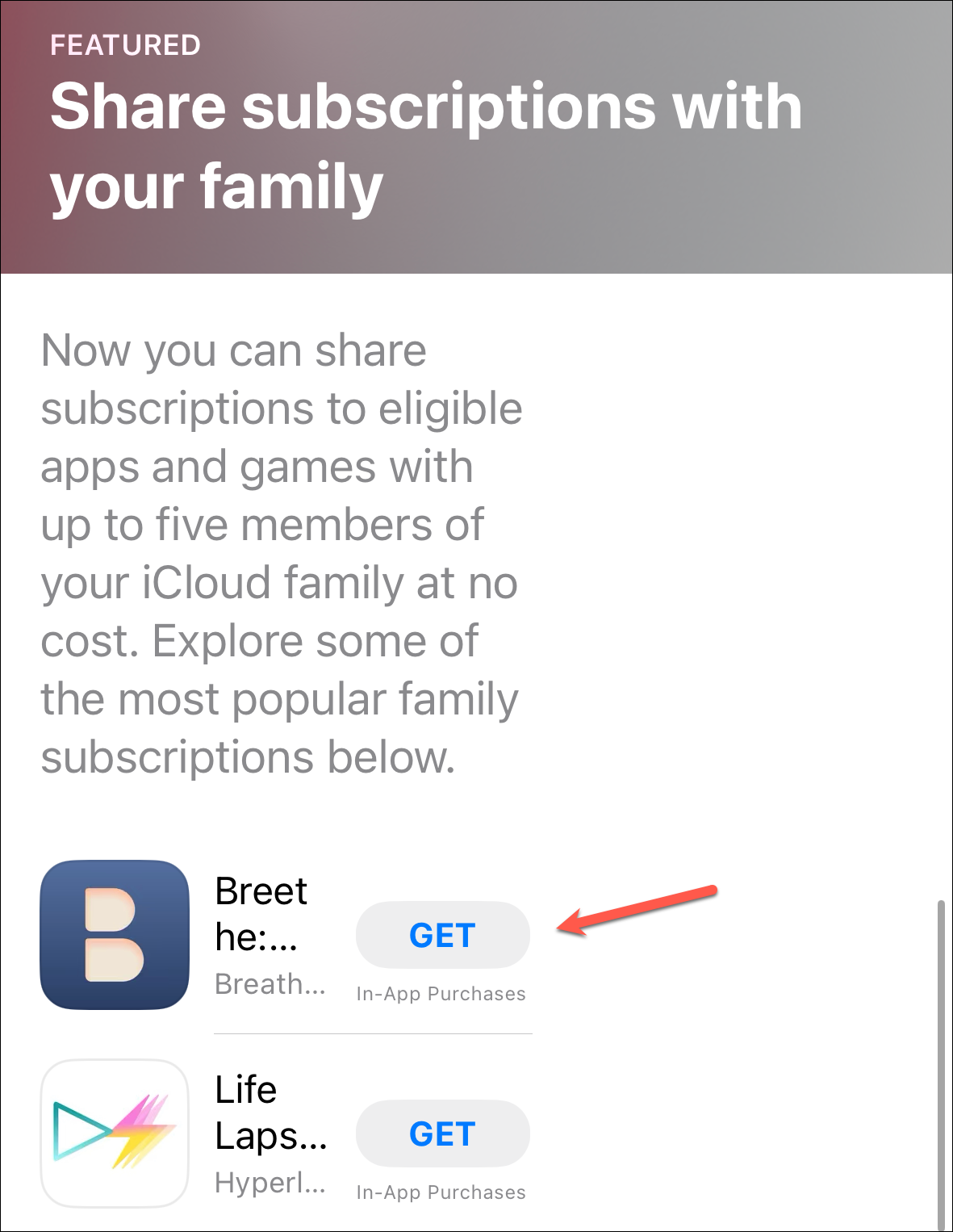 Sharing Purchases
To share iTunes, Apple Books, and App Store purchases, the family organizer will have to enable purchase sharing.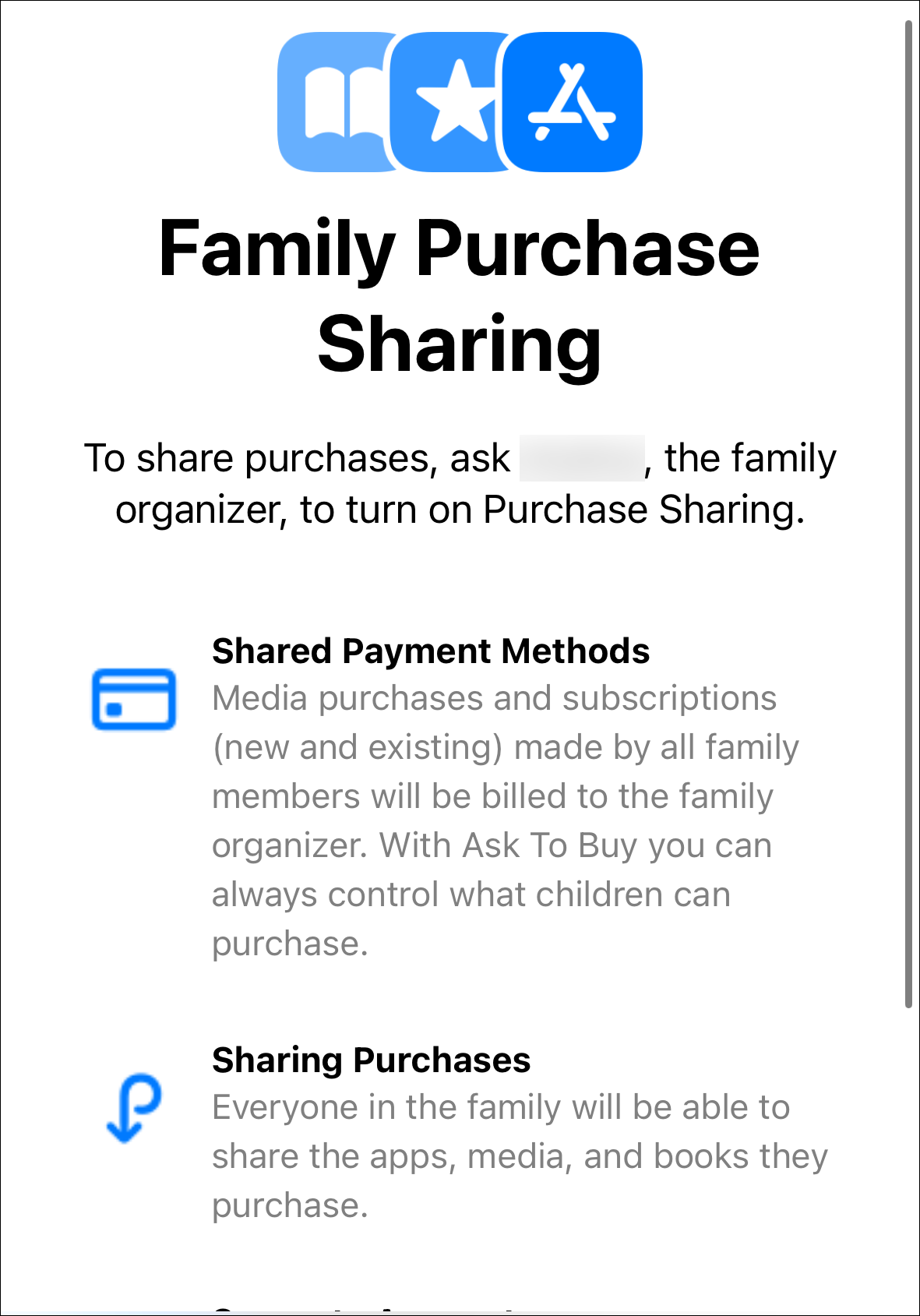 When purchase sharing is enabled, all new and existing media purchases and subscriptions are billed to the payment method that the family organizer will add. For children, the family organizer or the adult with the parent/ guardian role can enable 'Ask to Buy' so they can control what they can purchase. Then, you can approve/ deny any requests your child makes for subscriptions or other purchases.
While all the subscriptions will be shared, everyone will be able to use separate IDs in the concerned apps, so there's no compromise on privacy.
To enable purchase sharing, the family organizer should navigate to 'Family' from the Settings app on their device. Then, tap the option for 'Purchase Sharing' and enable it.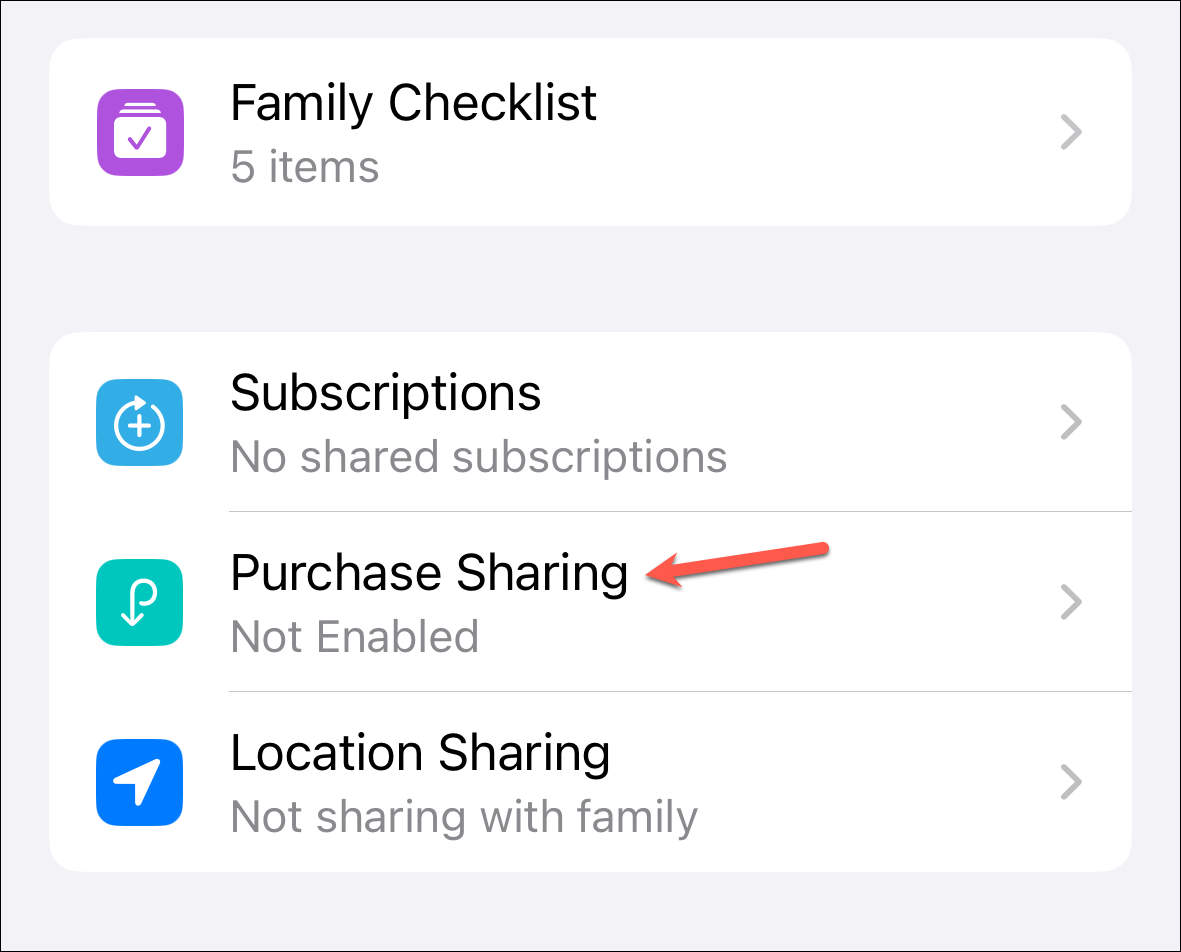 Sharing Location
Family members can also share their location with other members of the group.
From the 'Family' settings, tap the 'Location Sharing' option.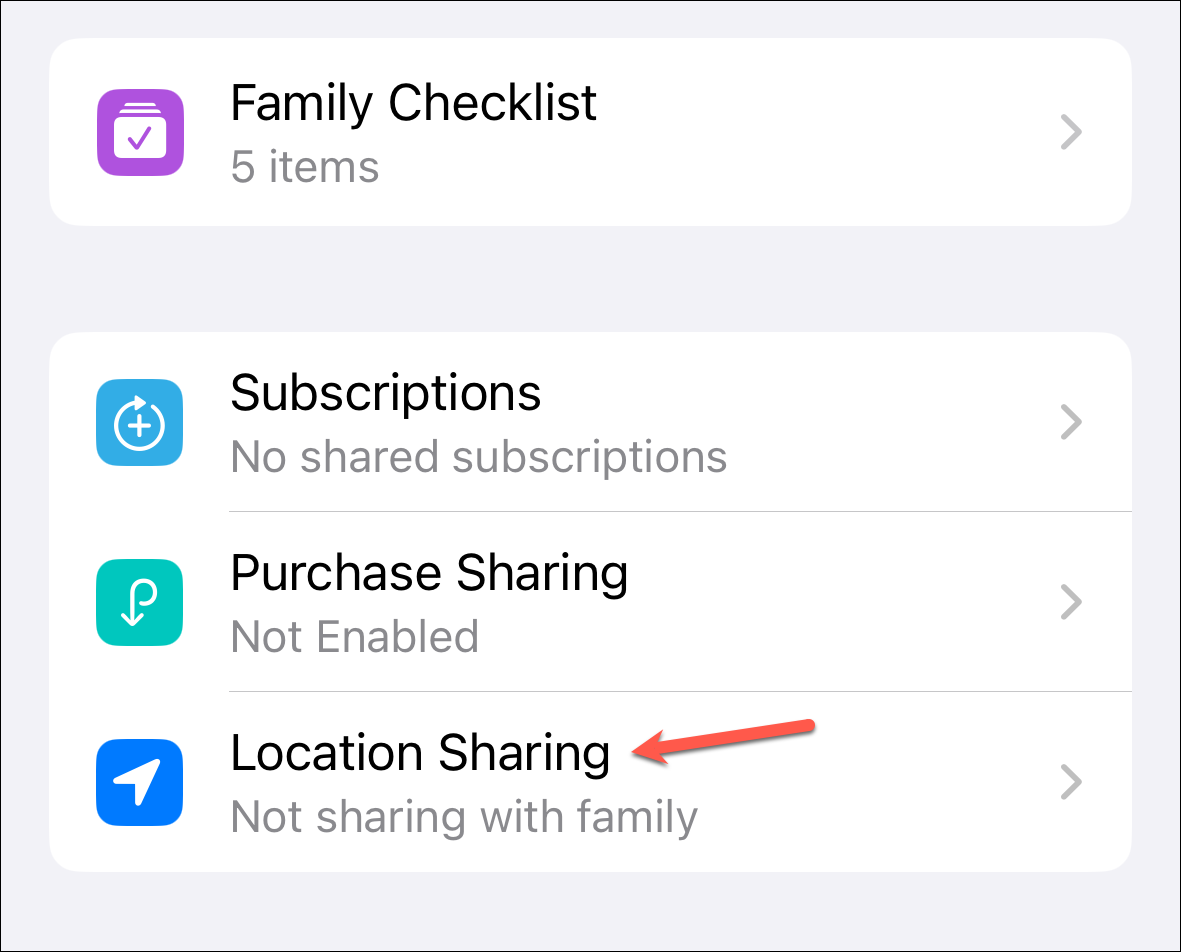 Then, enable the toggle next to those family members with whom you want to share your location. If you want to share your location with family members by default, enable the toggle for 'Automatically Share Location'.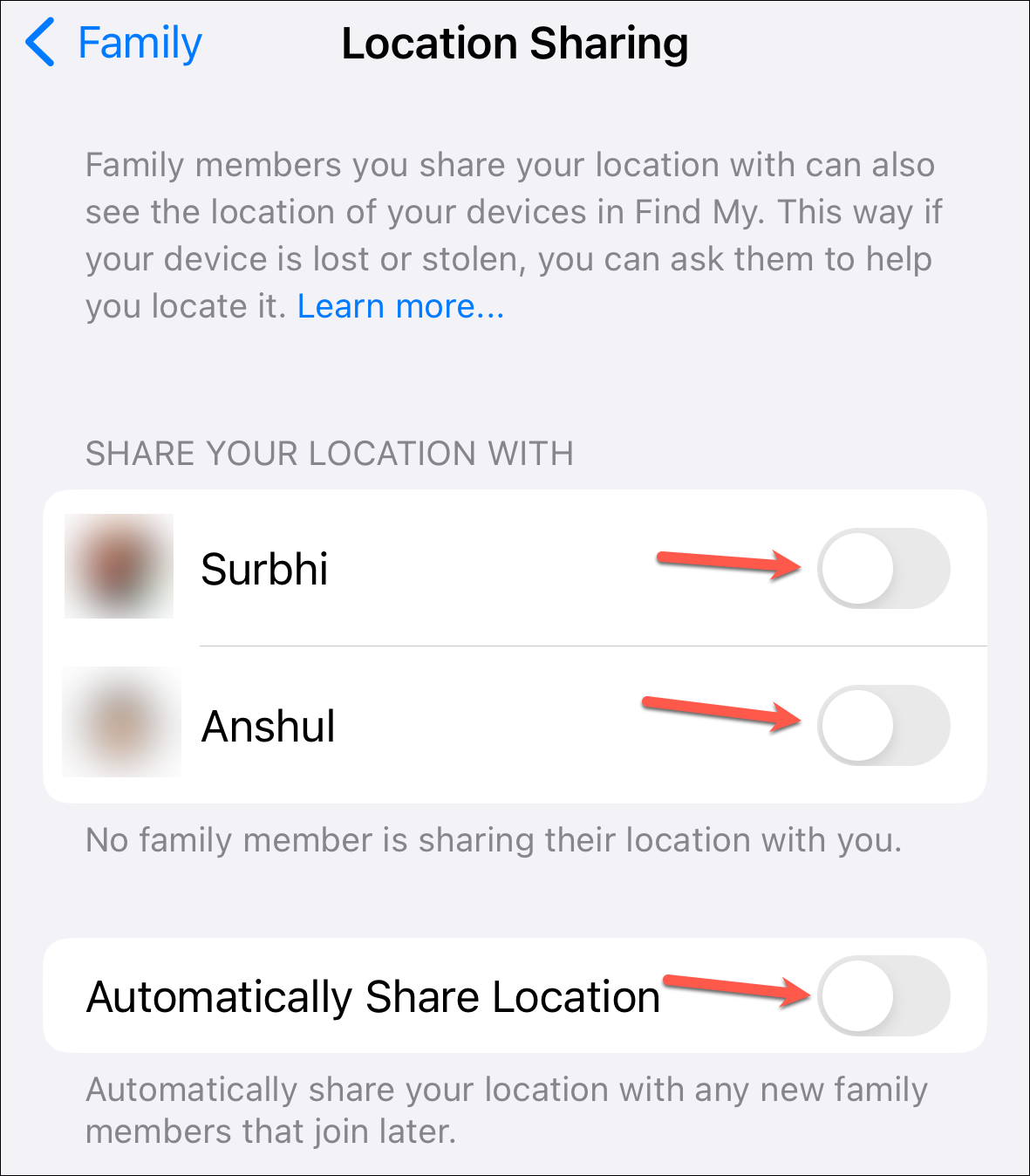 Family Checklist
Apple also provides a Family Checklist on the Family settings page. Tap on it to open it.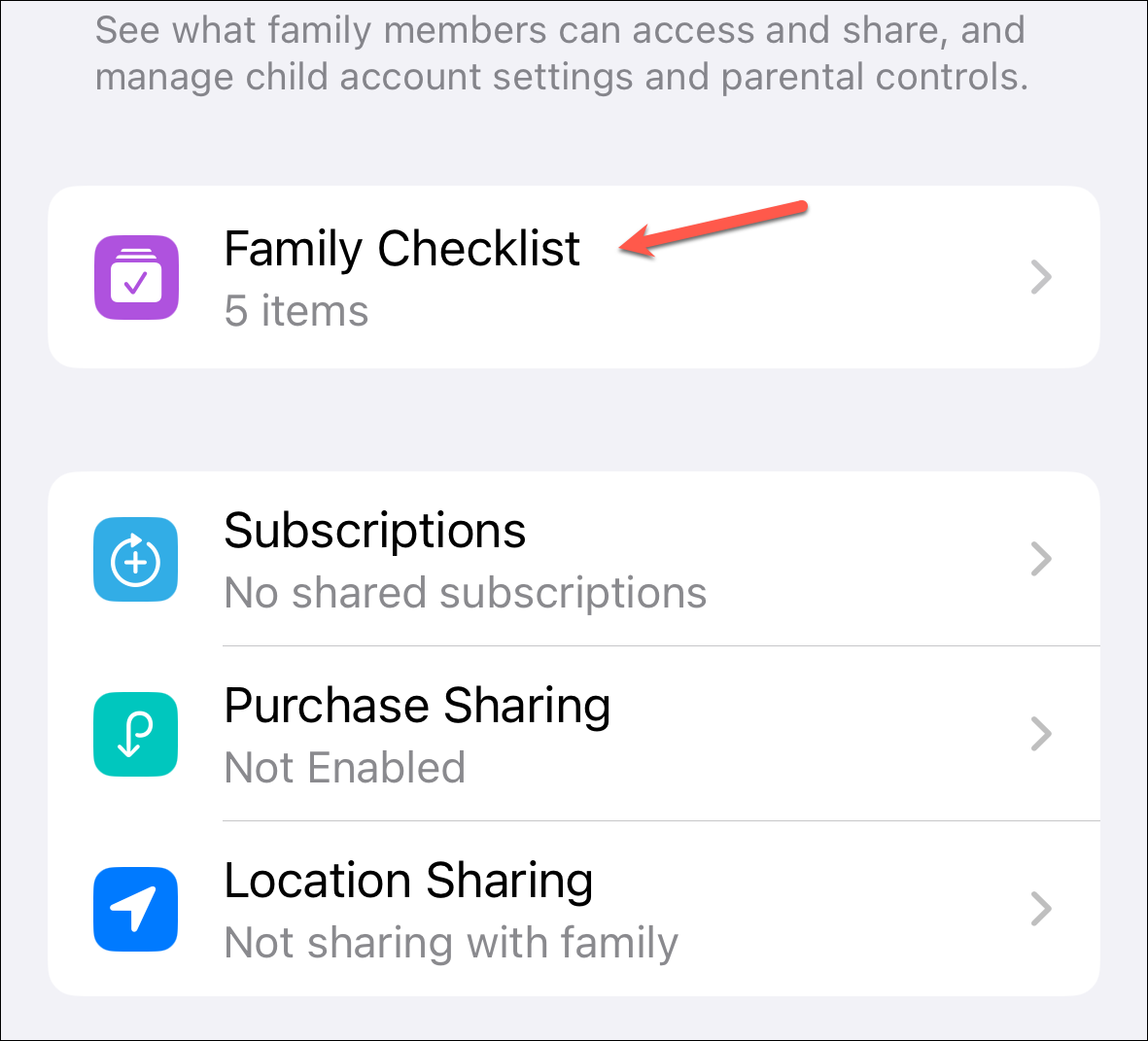 This checklist contains other items that you can configure for your family to make the most out of this feature. Depending on the settings you have already configured and the members in your group, suggestions might differ. But you might get suggestions for setting up Parental Controls, Emergency Contact, Location Sharing, Recovery Contact, Legacy Contact, etc.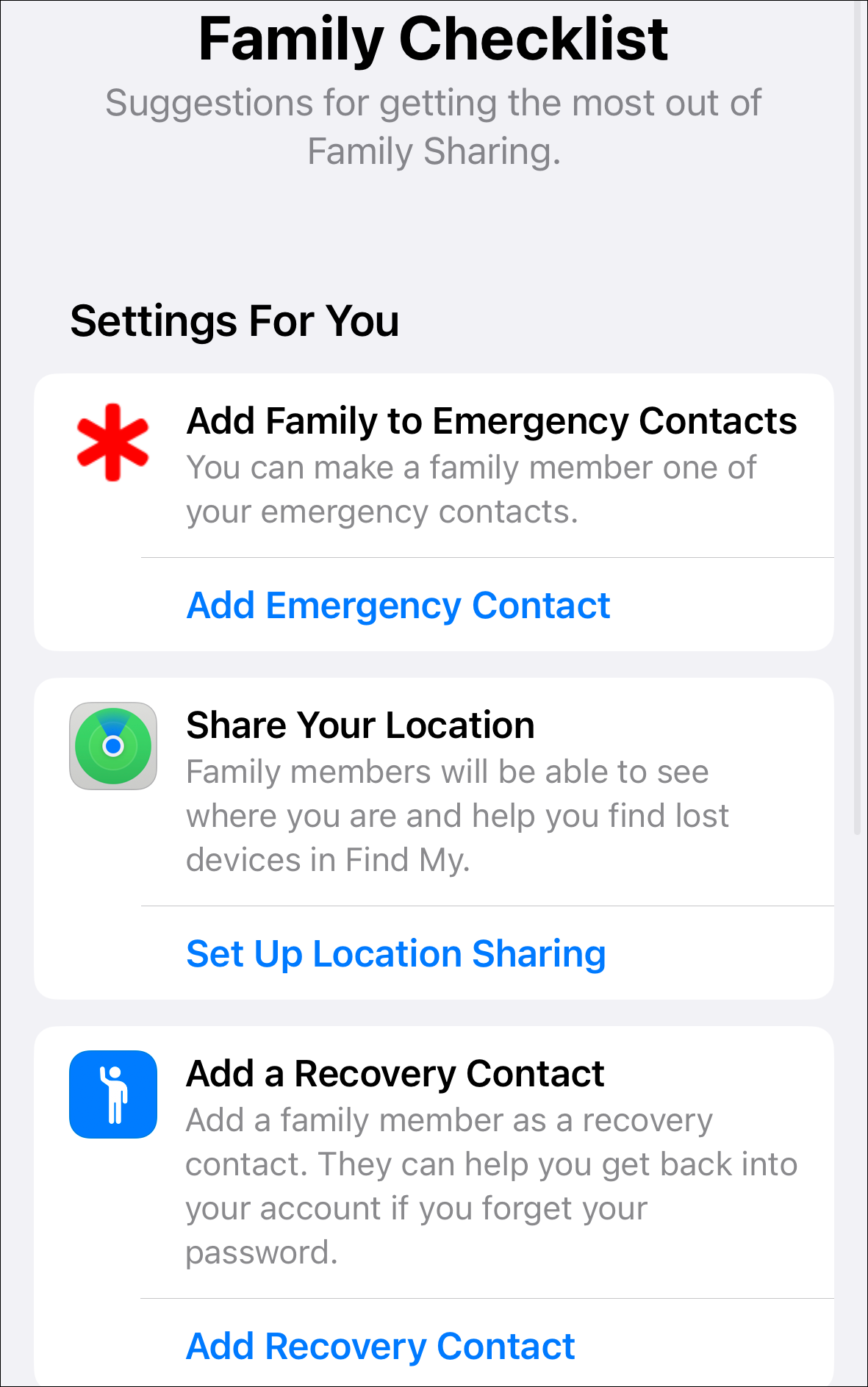 You can also set up iCloud Shared Photo Library, which automatically shares photos with your family members based on how you configure it. We have discussed the feature in detail in the guide below.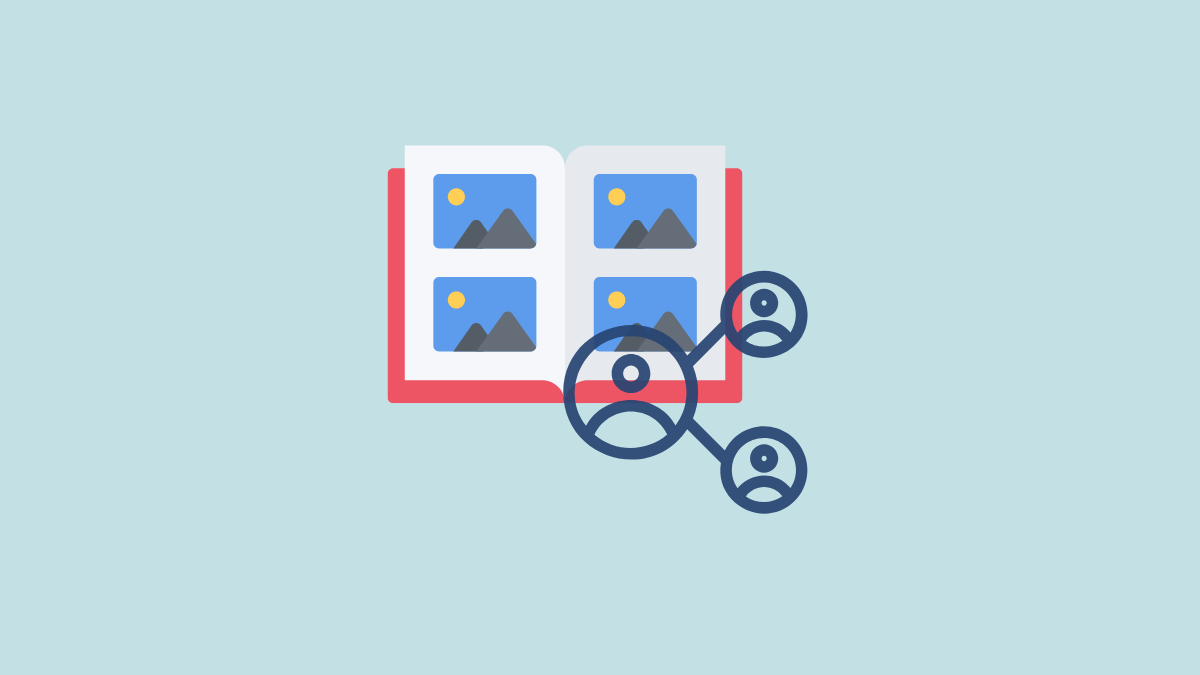 ---
Family Sharing makes it extremely easy to share your subscriptions and purchases if your whole family is also on the Apple ecosystem. With all the settings properly configured, you and your family can make the most out of your iPhones or other Apple devices.