More than 10 million users started playing Apex Legends in less than a week of the game's launch. It's one hell of a success story even for big guns like EA and Respawn. However, no matter how much fun Apex Legends is to play, but issues like freeze and crash are disappointing to deal with.
We have had Apex Legends crash in the middle of a game several times on our PC and Xbox. The connection to server timed out issue is one thing, but having your game run into a freeze and then crash in the middle of a match is a nightmare.
EA is aware of Apex Legends crashing issue and is investigating into it. But in the meanwhile, you can try the workarounds suggested by the community to fix crashing issues on your PC, PS4, and Xbox. Remember, your mileage may vary.
[PC] Apex Legends crashing issues, Engine Error 0x887A0006 and others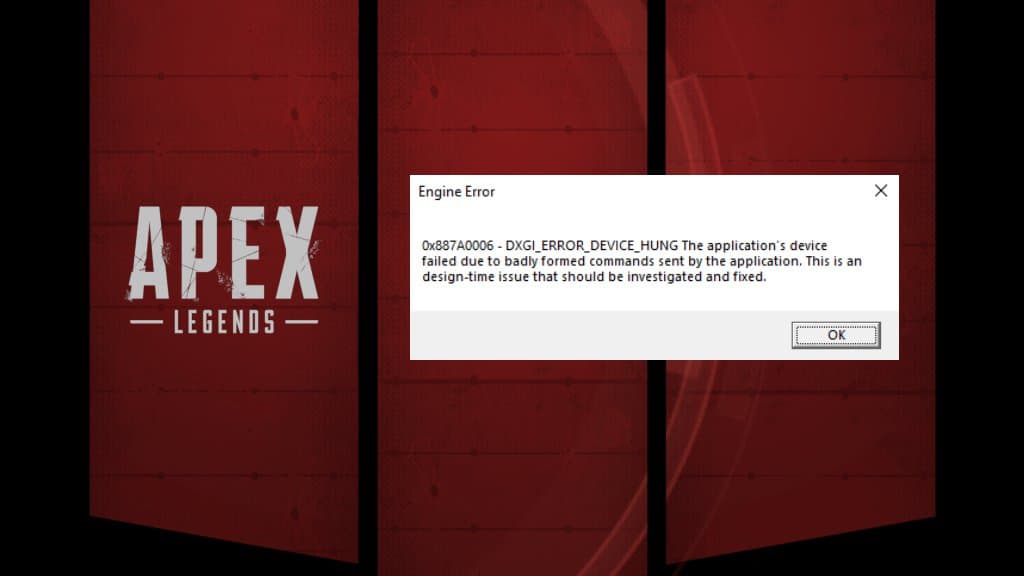 Windows PCs run on so many different hardware types that it's inevitable for any newly launched game for Windows to be perfectly running for all users. Apex Legends for PC is going through a similar phase. The game released earlier this week, and it already has millions of players across all platforms. While the folks on Xbox One and PS4 are mostly facing server timed out issue, the PC folks are going through a myriad of problems with the game.
A lot of Apex Legends players on the PC are reporting random crashes while playing the game. For most users, the crash appears with an Engine Error about DXGI or CreateTexture2D or CreateShaderResourceView failing to run. But users are also reporting Apex Legends crashing issues such as QtWebEngineProcess.exe or Origin.exe – Application Error.
PC Apex Legends Crash Error Codes
Engine Error
0x887A0006 – DXGI_ERROR_DEVICE_HUNG The application's device failed due to badly formed commands sent by the application. This is an design-time issue that should be investigated and fixed.


Engine Error
CreateTexture2D Failed to create texture _rt_updateddepth#0#1 with HRESULT 0x8007000e:
width: 1024 height: 1024 mips: 1 copies:1 imgFormat: 0x29 flags:
0x1080000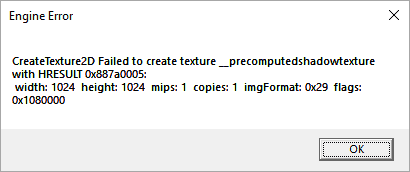 Engine Error
CreateShaderResourceView failed in Gfx_TextureAsset_ResizeAndCopy on '(no debug name)' with HRESULT 0x887a0005.


QtWebEngineProcess.exe – Application Error
The instruction at 0x000000006D80F896 referenced memory at 0x0000000000000000. The memory could not be written.
Origin.exe – Application Error
The exception Breakpoint
A breakpoint has been reached.
(0x80000003) occurred in the application at location
0x000000006BEEF341.
Best fix: Repair Apex Legends installation from Origin settings
A lot of users who were having Apex Legends crashing because of Engine Error reported that repairing Apex Legends installation on their PC via Origin helped fix the problem. Here's how to do it.
Open Origin on your PC.
Click My Game Library on the left panel, then select Apex Legends.
On the Apex Legends screen, click on the Settings gear icon right below the Play button.
Select Repair from the list of options in Settings.
Wait for the repairing process to finish. Once it's done, restart your PC.
Try playing Apex Legends on your PC now. The crashing issue should be resolved after repairing the game via Origin.
2nd best fix: Turn off overlays, downgrade Nvidia Graphics drivers to 417.71
A user over at the community forum suggested turning off overlays and downgrading the Nvidia Graphics driver to 417.71 to fix crashing issues with the game.
By overlays, the user means any software running on your PC which display an overlay over other windows like showing FPS, CPU temp, Internet Speed, Discord overlay, Origin in-game, Asus GPU Tweak II, MSI afterburner, Aura for ASUS, RivaTuner OSD, RivaTuner statistics. If you have any such thing running on your PC. Disable it before running Apex Legends.
If you've Nvidia Graphics driver version 418.81 installed on your PC, try downgrading it to version 417.71. This has been backed by a few users on the forum as a workaround to fix Apex Legends crashing issues. You can get the driver version 417.71 from the download links below.
Once you've disabled the overlays and installed Nvidia Graphics driver 417.71, restart your PC and then try playing the Apex Legends. The crashing issue should be resolved.
Other workarounds
Lower the graphical settings from the Video settings in the game. For best results, follow our guide on increasing FPS in Apex Legends.
Set Display Mode to Windowed or Borderless Switch from the in-game graphics settings menu.
Run the Troubleshoot Compatibility test on Apex Legends. Right-click on the game's desktop shortcut icon and select "Troubleshoot compatibility" from the context menu.
Try turning off G-Sync from the Nvidia control panel. If you use an AMD graphics card, turn off Freesync from the AMD Radeon software.
If you installed Apex Legends on an external hard drive, reinstall it to an internal hard drive and unplug external hard drives that aren't being used.
Add Origin to Allowed apps list in the Windows Defender Firewall exceptions by going to Control Panel » System and Security » Windows Defender Firewall » Allowed Apps setting on your PC.
---
[PC] Apex Legends Crashing Without Error
If Apex Legends is crashing without error on your PC, the issue is most likely related to GPU/CPU load. You can fix this by lowering the maximum FPS the game can reach via launch options command in Origin. Users have found out that forcing 80 FPS as the maximum frame rate in the game fixes the random crashes that happen in the middle of a match.
How to restrict Apex Legends to max 80 FPS
Open Origin on your PC.
Go to My Game Library from the left panel.
Right-click on Apex Legends and select Game properties from the context menu.

Now select Advanced Launch Options tab, then put +fps_max 80 in the Command line arguments field.

Hit the Save button.
---
[PS4] Apex Legends Crash Fix
Having games crash on a PC is a very common issue because of the differences in hardware and software on each machine. But consoles run in a controlled environment, and having games crash on a console is a serious problem.
Apex Legends is reportedly crashing on PS4 for a lot of users. While EA is looking into the issue, you can try the following fixes to resolve crashing issues on your console.
Turn off "Convert Incoming Voice to Chat Text" feature from the game's Audio settings. This fix has been reported by many users to have resolved the Apex Legends crashing issue on PS4.
Update your PS4 to the latest software version.
Force power off your PS4 by pressing the power button for at least 7 seconds. Then wait for a minute and turn it back on.
Restore license for Apex Legends on your PS4 by going to Settings » Account Management » Restore License menu.
Remove any unnecessary devices from the USB slots on your PS4.
Reinstall Apex Legends on your PS4. If you previously installed it on an external hard drive, then reinstalling the game to an internal hard drive this time around.
---
[Xbox One] Apex Legends Crash Fix
Like PS4, Apex Legends on Xbox is also facing freeze and crash issues. You can try the following fixes to resolve the problem on your end.
Remove any unnecessary devices from the USB slots on your Xbox.
Delete locally saved data for Apex Legends on your Xbox by going to My Games & Apps menu » then highlight Apex Legends and press Start » select Manage Game » and delete saved data for the game.
Clear MAC Address on your Xbox. Go to your Xbox Settings » All Settings » Network » Network Settings » Advanced Settings » Alternate MAC address » Clear, and then Restart your Xbox.
Power cycle your Xbox. Press and hold the Xbox power button for 10 seconds to forcefully turn it off. Then wait for one minute and turn your console back on.
---
That's all. We hope the fixes shared above help you resolve crashing issues on Apex Legends. Happy gaming!