The Windows 10 May 2020 update is now available, and it'll be pushed to all PCs running Windows 10 as it gradually rolls out over the next. However, given the behaviour of some of the previous Windows 10 releases, you may not want to install the Windows 10 version 2004 update right after it releases.
To be on the safe side of things, it's a good practice to stay away from the first public builds of any major Windows 10 update. If Windows 10 update history has taught us anything, it's the fact that new releases are bound to ship with bugs and known issues despite the best interests of the developers building and shipping Windows updates at Microsoft.
The Windows 10 May 2020 update will probably be no different and you should definitely block the update if you don't want your computer to be messed up in any way.
Will Windows 10 May 2020 Update Automatically Install on your PC?
Yes and no.
If your PC is running Windows 10 version 1909 or 1903 version, the May 2020 update won't automatically install on your computer. This is because Microsoft disabled the auto download and install functionality for Windows 10 feature updates which rollout every six months.
This fail-safe feature was introduced with the Windows 10 version 1903. When there's a Windows 10 Feature Update available, it doesn't automatically download as regular cummulative Windows updates do, instead, you'll be presented with a "download and install" link on the screen for the Windows 10 feature update. If you don't click on it, the update won't install automatically on your PC.
If you've Windows 10 version 1803 or 1809, then the May 2020 update will be offered on your computer. It may automatically download the update and even install it when you restart your computer.
---
To check your Windows 10 version by opening the Run command box using Win+R, and executing the winver command.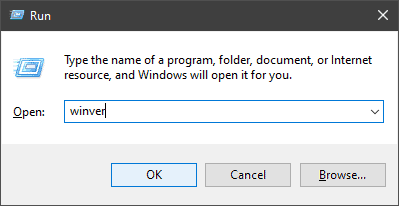 The winver command will open the 'About Windows' window where you can see your Windows 10 version.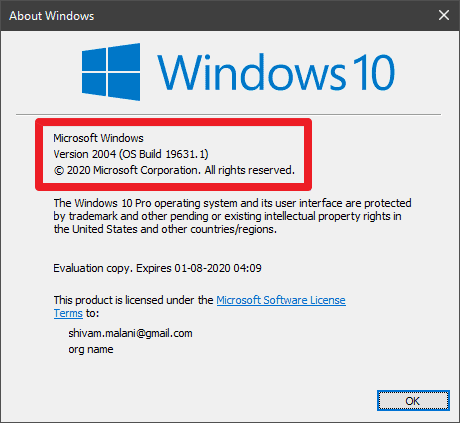 ---
How to Block Windows 10 May 2020 Update
Like we explained earlier, if you've Windows 10 version 1903 or 1909, you need not worry about the May 2020 update automatically installing on your system. Just make sure that you do NOT click on the 'Download and install' link in the Windows Update settings when the update is available for your computer.
For PCs running Windows 10 Pro Edition and have version 1809, 1803 or earlier builds, you can block the update by going to Start » Settings » Update & Security » Advanced options and defer the May 2020 update from there.
For PCs running Windows 10 Home edition, there's no direct way to block Windows 10 updates. But you can definitely use third-party tools like Windows Update Blocker to block Windows from offering unwanted updates on your system.
---
While it's a good practice to not install a Windows feature update the day it releases, but after some time when Microsoft has fixed most of the bugs and known issues of the update, you should definitely install the update to make sure that you computer has the latest and greatest features and security.