Canva recently released a suite of tools known as Magic Studio, and let me tell you, the word "Magic" in there is completely justified. It utilizes artificial intelligence to automate and enhance the design process. Whether you are looking to generate eye-catching content, automate tasks, or design like an expert, Magic Studio has got you covered.
The suite comprises various products like Magic Design, Magic Switch, Magic Grab, Magic Expand, and Magic Morph, and a whole marketplace of AI-powered apps, each serving unique purposes but collectively aimed at transforming your ideas into appealing visuals effortlessly. With the power of AI to turn your ideas into visually appealing designs swiftly and efficiently, you'll be a super-designer in no time.
What is Canva Magic Studio?
Magic Studio is a cutting-edge feature powered by AI recently introduced by Canva, designed to bring a blend of automation and creativity into the design process.
It houses a variety of tools that cater to different design needs. One of the notable tools within this suite is Magic Design. It's built to transform your ideas into designs almost instantly. All it requires is a written prompt or an upload of your media, and it takes the reins from there, crafting designs that resonate with your idea. You can use Magic Design to create images, videos, and even presentations.
Additionally, Magic Studio houses Magic Morph and Magic Switch. Magic Morph allows for the transformation of text or shapes using simple written prompts, adding a unique flair to your designs. On the other hand, Magic Switch effortlessly scales your content into multi-channel campaigns, reformatting your designs to suit different platforms and even languages, making global campaigns a breeze​.
Now that you have an idea of how Magic Studio is going to revolutionize design, let's see how to use it.
Using Canva to Create AI Art
You can use Canva to create AI art without having to turn to any other apps. There are three options at your disposal to create AI art from just your words. Magic Media's text-to-image, DALL-E by OpenAI, and Imagen by Google Cloud are all available at your disposal to get the perfect image for your design which only exists in your imagination right now.
Availability: All three tools are basically available with a Canva subscription, but Canva Free users do get a few free credits to try them out. For Dall-E and Imagen, Canva Free users get 3 lifetime credits each (1 generation costs 1 credit). For Canva's Magic Media text-to-image, the limit is 50 lifetime uses for Free users.
For Canva Pro, Canva for Teams, Canva for Education, and Canva for Nonprofit users, the limit stands at 500 monthly Magic Media uses and 25 monthly Imagen and DALL-E uses each.
Using Magic Media to Create AI Art
To create AI art using Canva's Magic Media, follow these steps.
Go to canva.com and open your design.
Then, from the toolbar on the left, click the option for 'Apps'.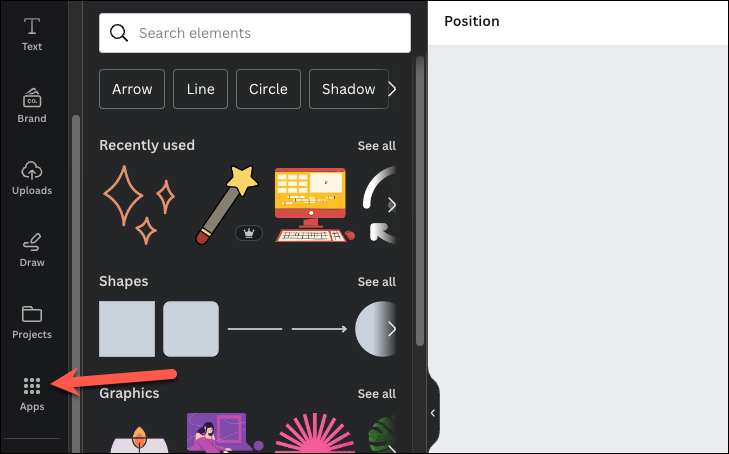 Click the option for 'Magic Media' under AI-powered. You can also use the search bar to find the app easily.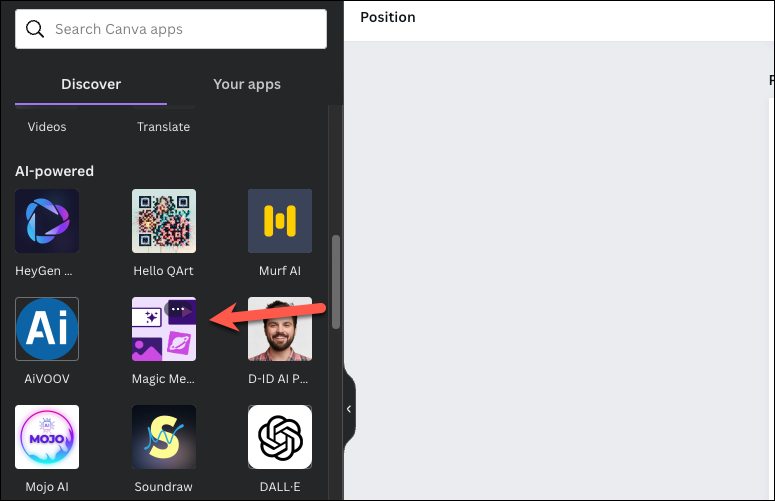 An onboarding screen will appear the first time you use the app; click on 'Open' to proceed.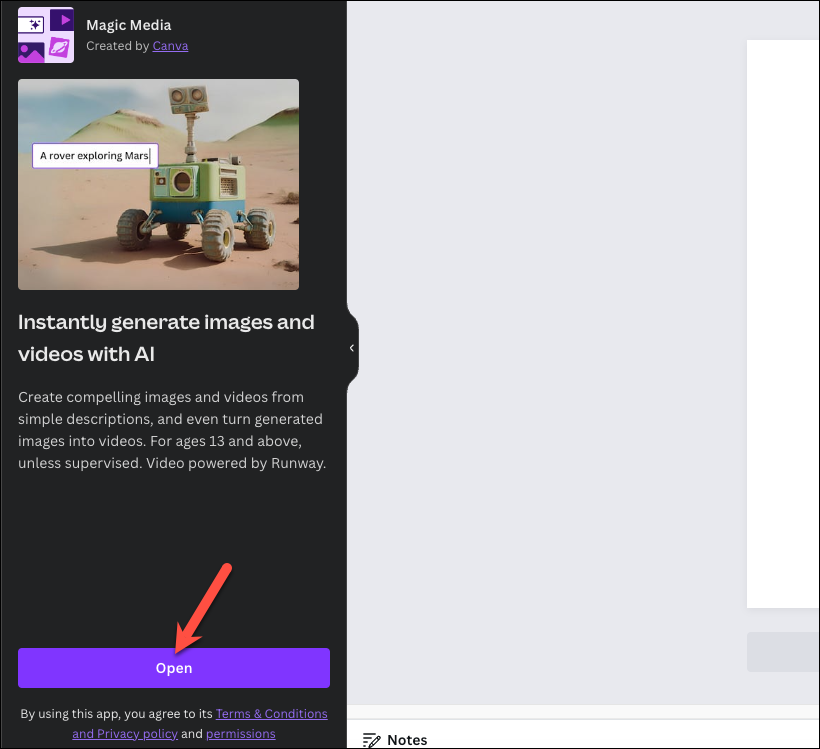 Go to the text box under the 'Images' tab and describe what you want to generate. The more specific you are in explaining what you want, the better the results will be. But remember, while being specific, leave room for AI to be creative.

For example, I gave the following prompt to Magic Media, which was a bit too specific, and the AI did not follow the instructions down to the tee: Painting of koi fish in two small ponds that run side by side in the garden in front of a traditional Japanese house

The following prompt left more room for AI to be creative, however: Painting of koi fish in a pond in front of a traditional Japanese house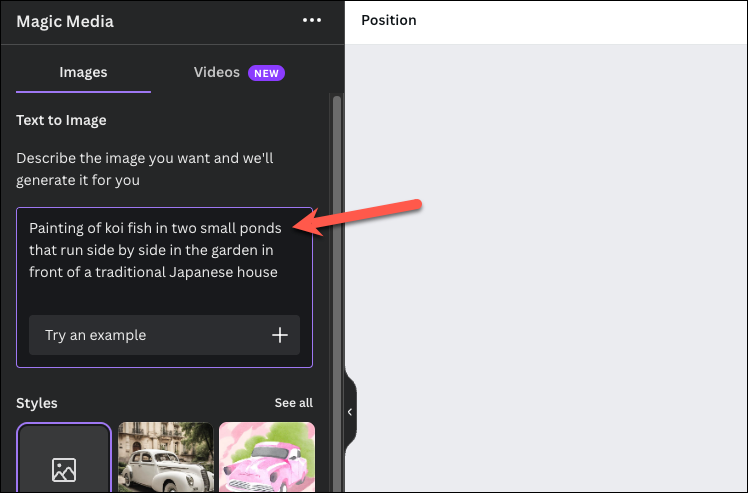 Next, choose the style you want to use for your generation (optional). Magic Media offers a range of styles to choose from, like Photo, Dreamy, Watercolor, Psychedelic, and Ink Print, to name a few. Click on the 'See All' option to see the full list of options.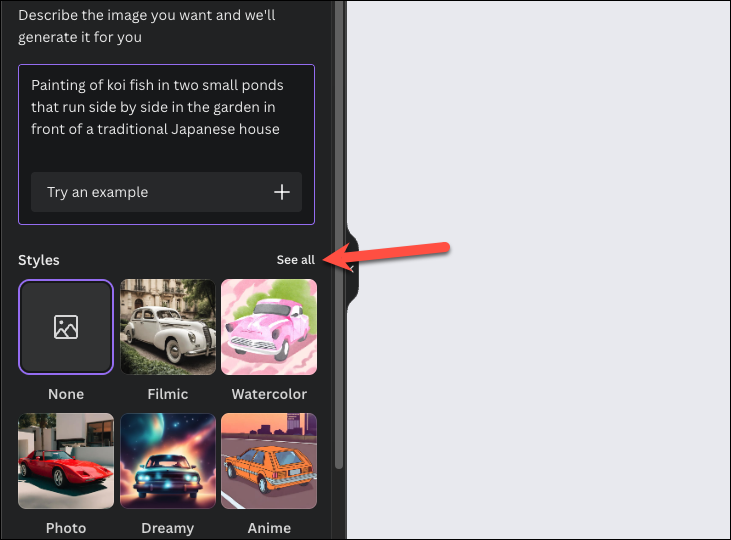 Then, click the style you want to use to influence the art.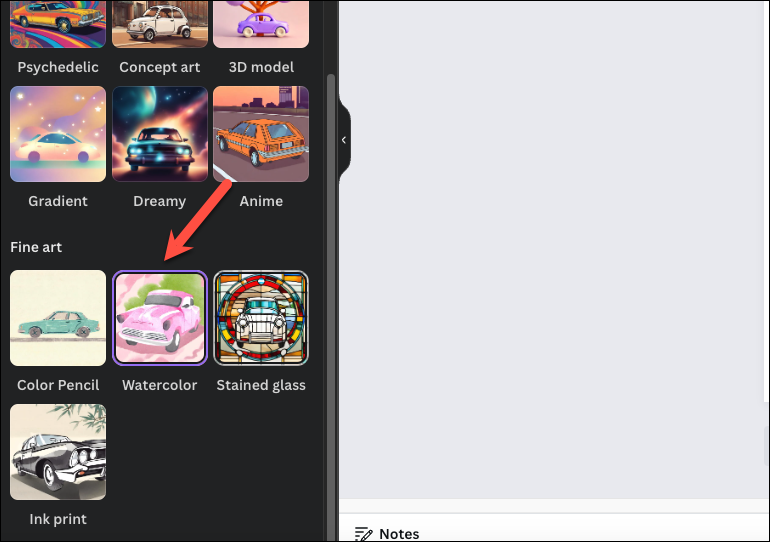 Next, select an aspect ratio from 'Square', 'Portrait', and 'Landscape'; by default, 'Square' is selected.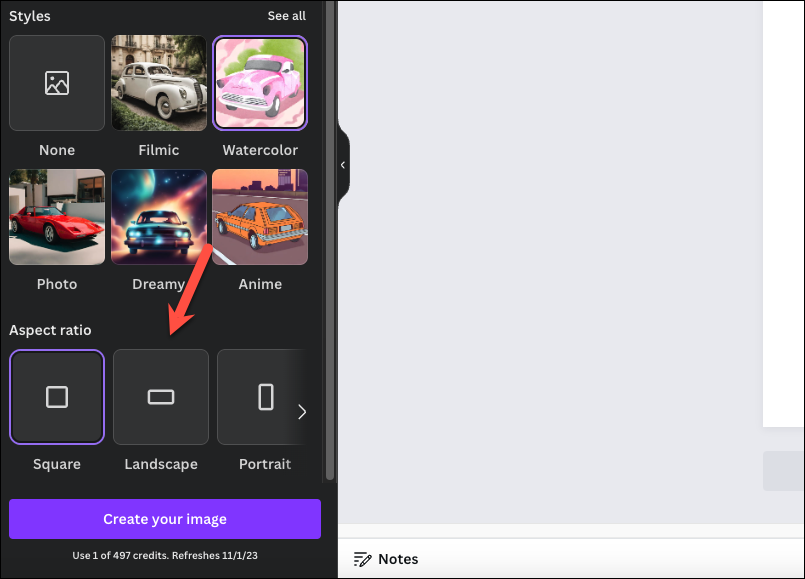 Finally, click on the 'Create your image' button.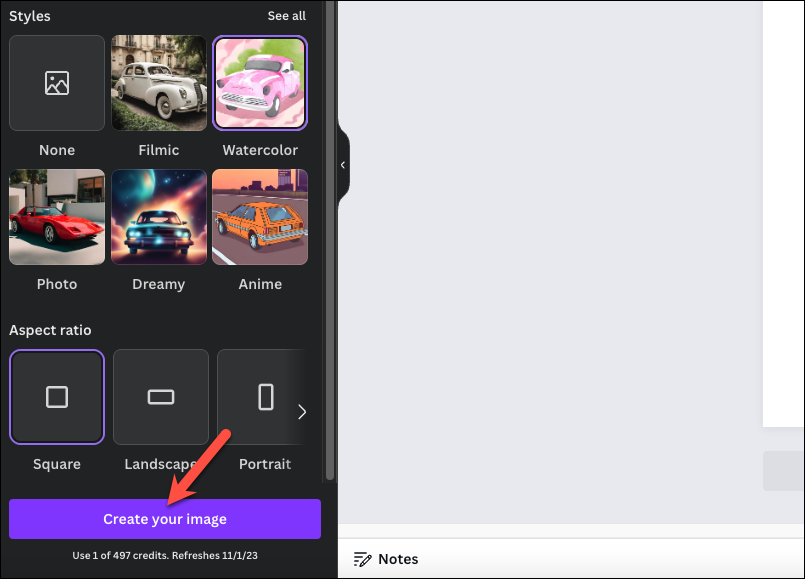 Magic Media will generate 4 images based on your description. If you like an image, you can click on it to add it to your design.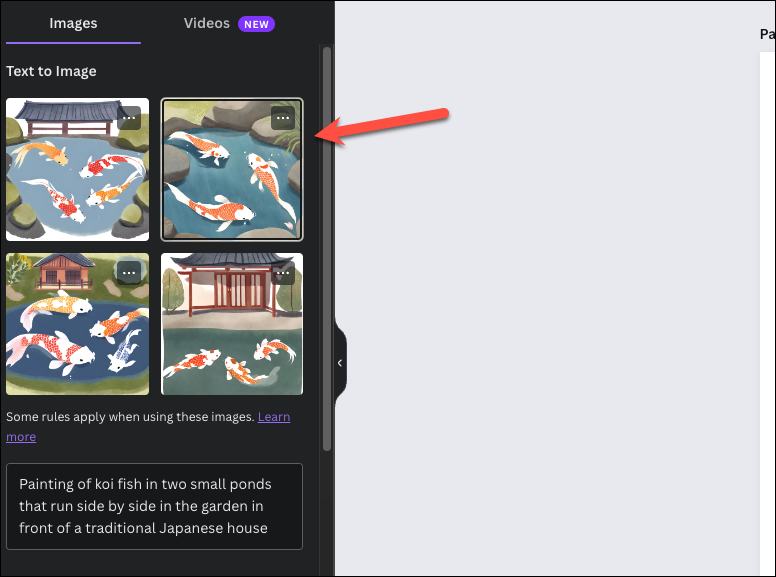 If you like one particular image from the bunch, click on the 'three-dot menu' icon in the top-right corner of the image thumbnail. Then, click on 'Generate more like this' to create variations of that image.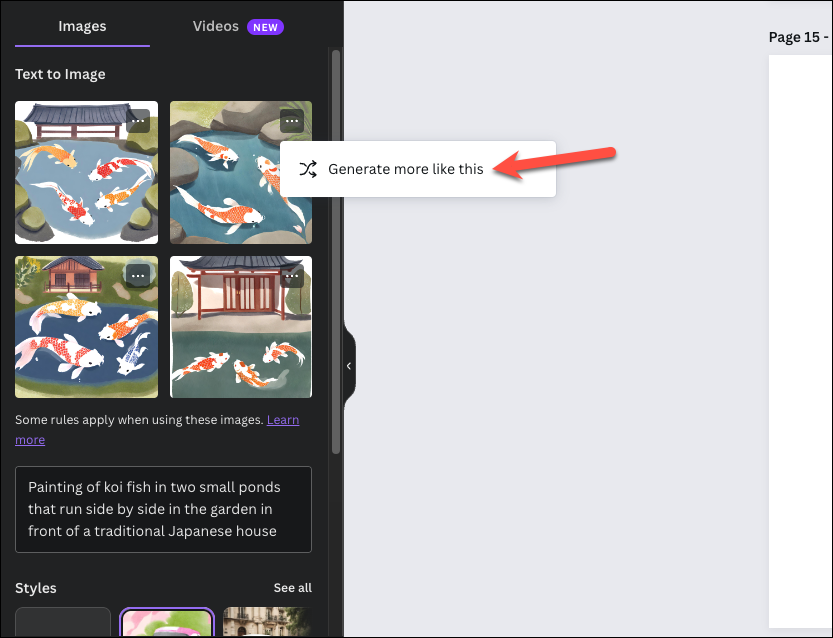 Magic Media will create 3 new images that are a variation of the original image. Creating a variation will also use 1 credit.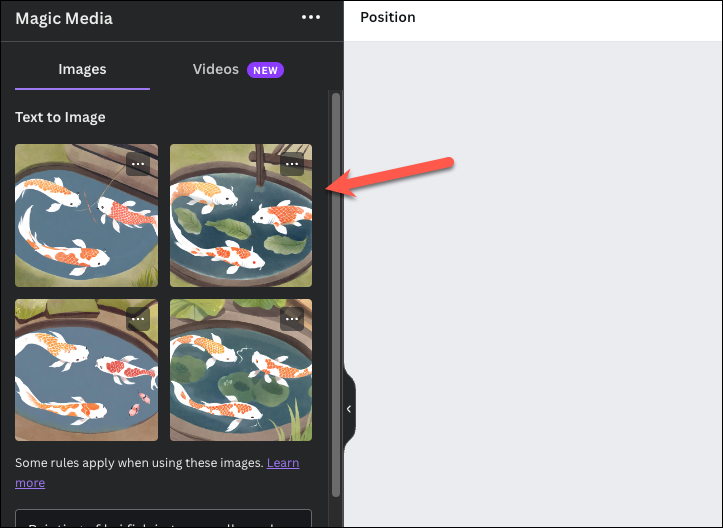 If you don't like any of the results, click on 'Generate again', and Magic Media will create a new set of images (this will use one more credit).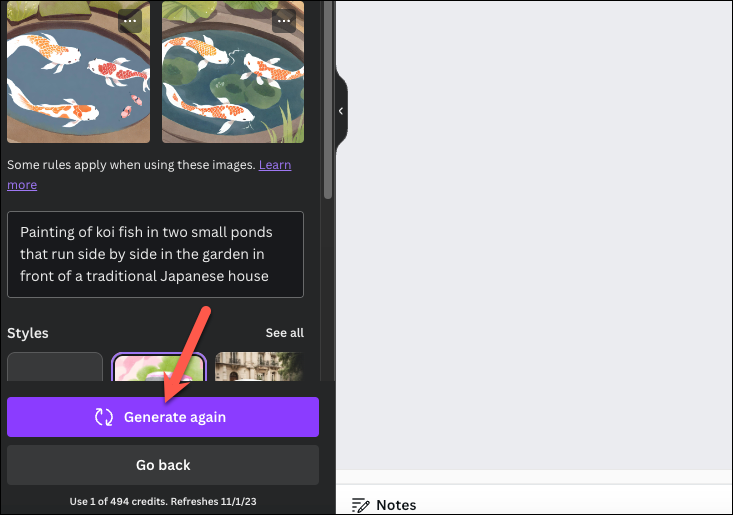 You can find the images you do add to your design in the 'Uploads' tab but not the other generated images you don't end up using.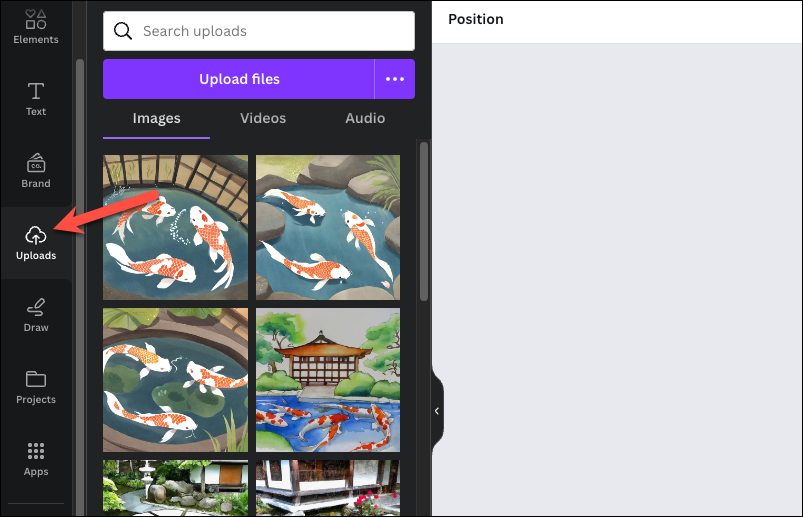 Using DALL-E and Imagen to Create AI Art
For times when Canva's Magic Media might not deliver desired results, or you've run out of credits, you can use the third-party apps, OpenAI's DALL-E and Google's Imagen, to generate images from your text descriptions. The process is similar to using Magic Media and entirely the same for both apps. So, we'll illustrate the steps using DALL-E for this guide.
From the left toolbar of the editor, go to the 'Apps' tab.
Then, click the option for 'DALL-E'; you can also use the search bar to find it.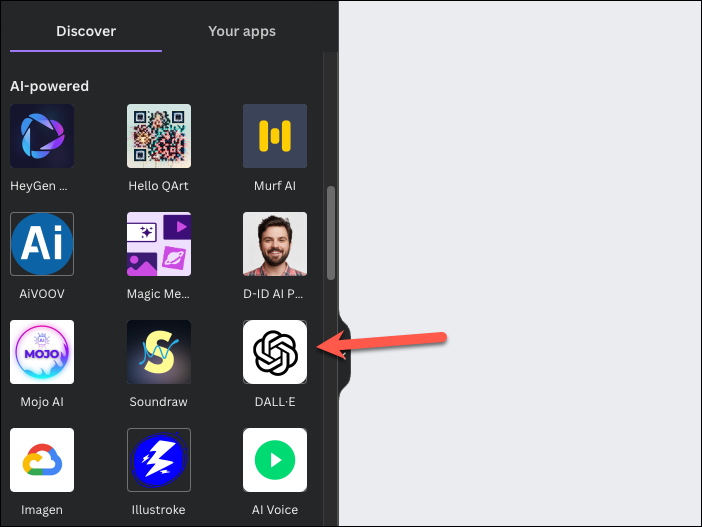 Click on 'Open' on the onboarding screen; it only appears the first time.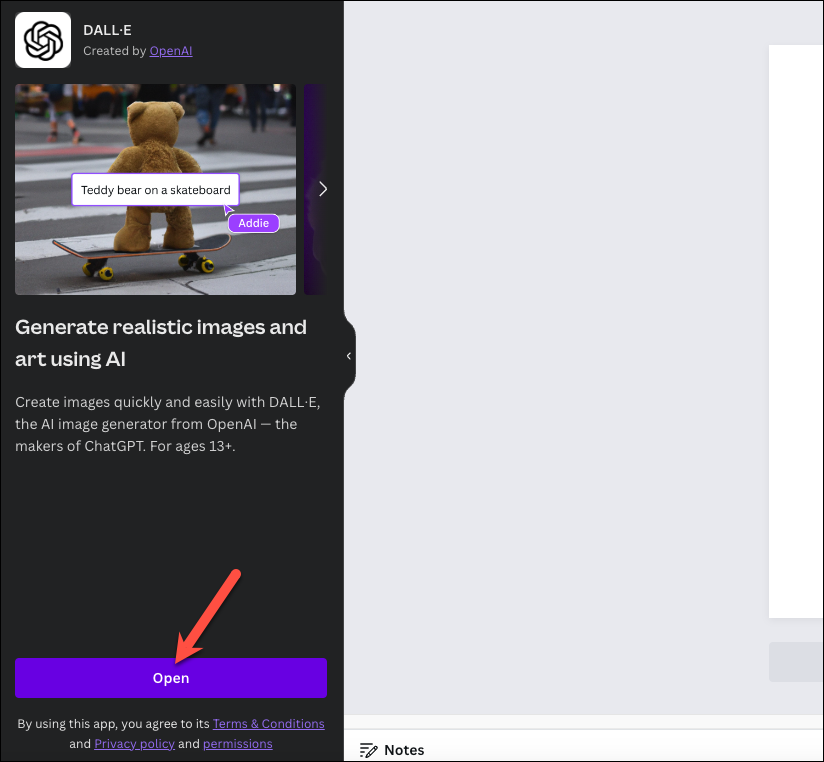 Now, enter the description of what you want to generate in the text box given, and keep the description detailed. Unlike Magic Media, there's no option to choose a style or size, so if you have any specific requests, you should accommodate them in the prompt itself.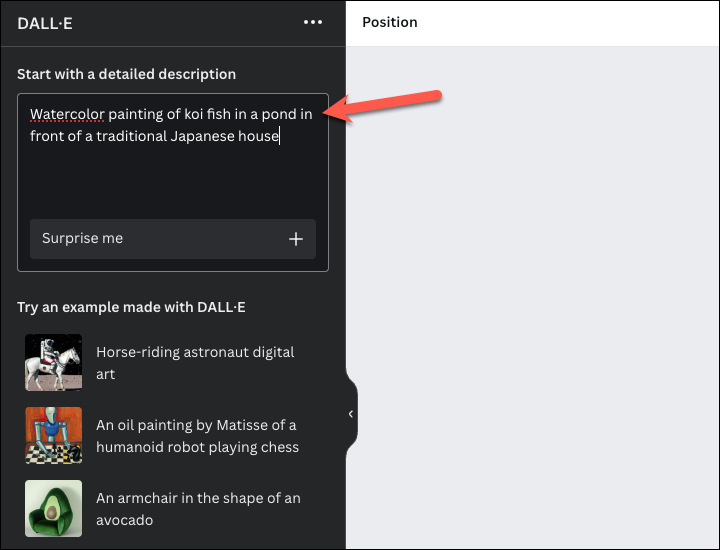 Finally, click on the 'Generate' button.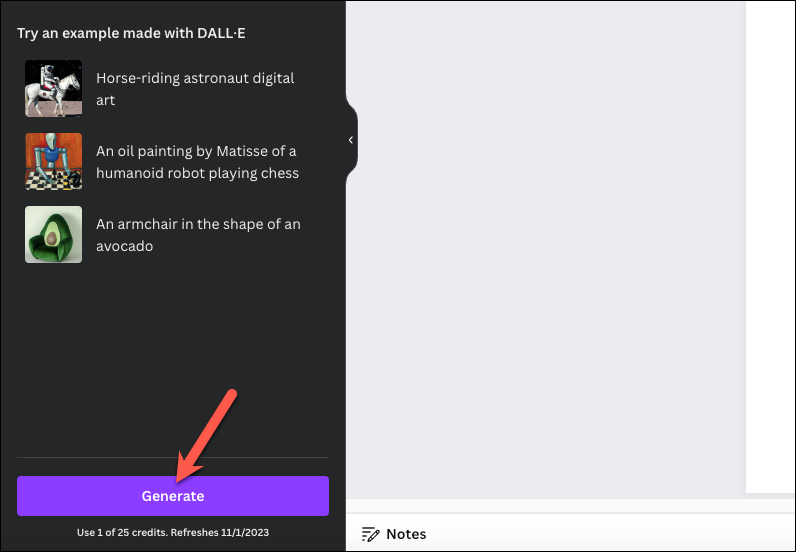 Both DALL-E and Imagen will create 2 images for your prompt. Click on an image to add it to your design.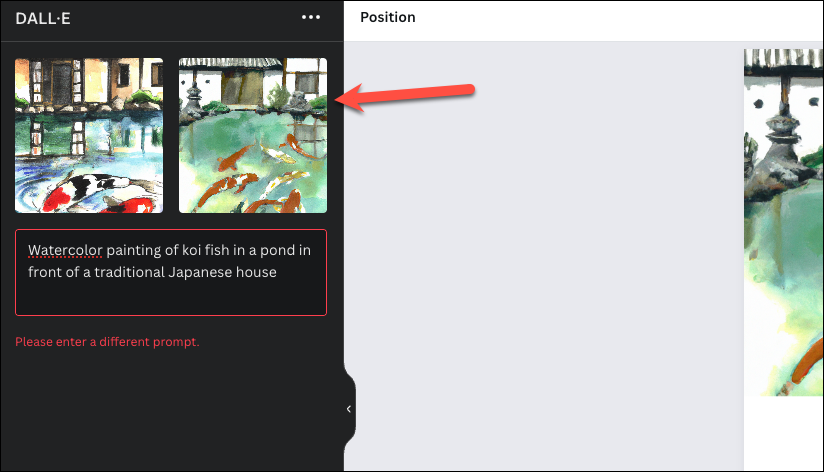 The images that you use in your design will be available under the 'Uploads' tab for both DALL-E and Imagen.
Using Magic Morph to Create AI Graphics
Canva's Magic Studio comes with another great tool using which you can create some rather cool graphics for your designs: Magic Morph. It can transform ordinary text, element, or shape from your design into unique graphics.
Availability. Magic Morph is only available for Canva Pro, Canva for Teams, Canva for Education, and Canva for Nonprofit users; Canva Free users cannot use the tool. It is also unavailable in China. There is no limit to how many times you can use Magic Morph in a month.
It also doesn't support Docs, SVGs, Illustrations, Raster Images, Painting styles, or Videos that include some animated stickers and videos. Essentially, it only morphs text, shapes, and static graphics. You cannot morph groups of elements in a single go, either.
To use Magic Morph, follow these steps:
Go to 'Apps' from the left toolbar of the editor.
Then, find 'Magic Morph' under the AI-powered section or use the search bar to find it.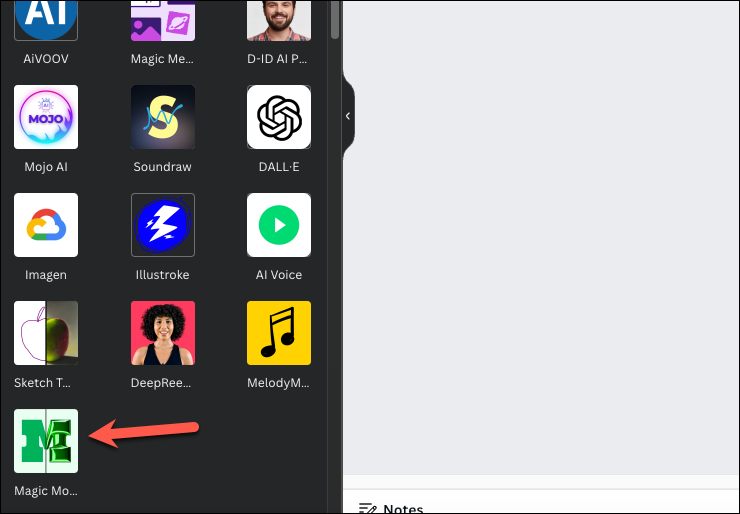 Click 'Open' on the onboarding screen to proceed.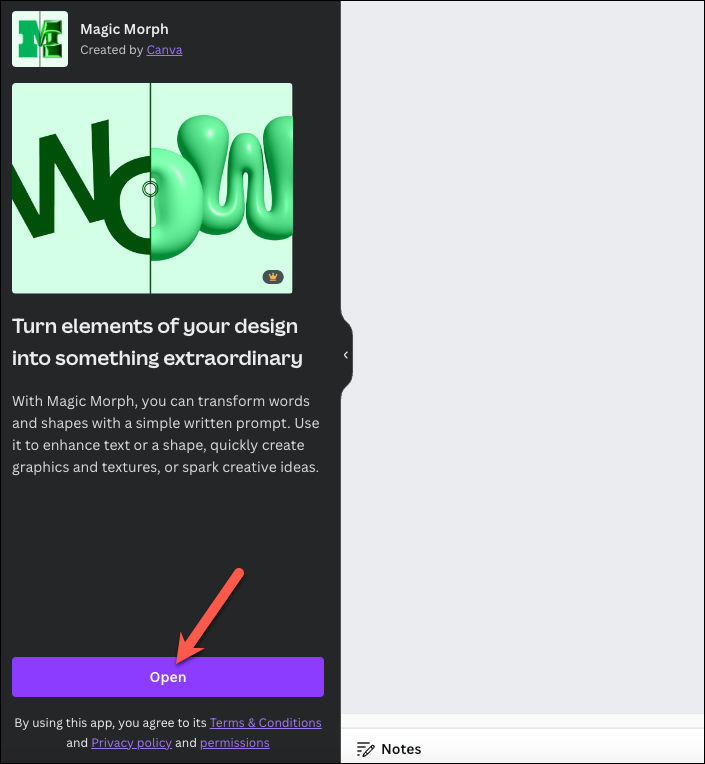 Now, choose the element from your design that you want to transform using Magic Morph.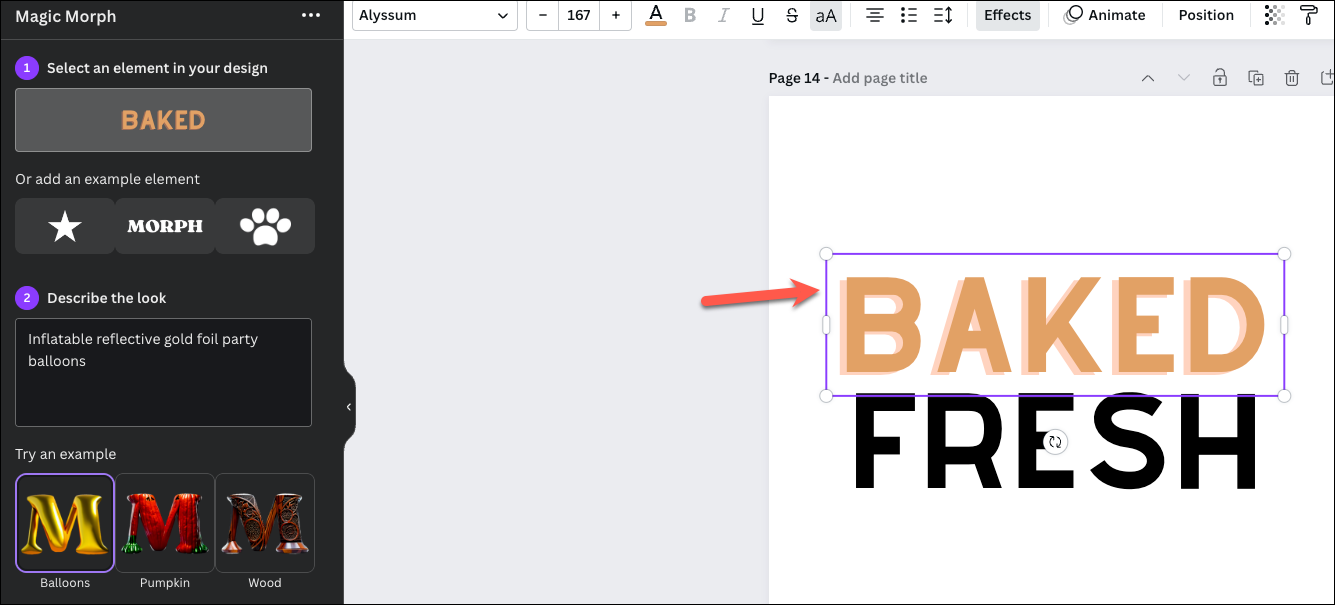 Then, provide a description of the end look you want, i.e., what you want to transform the element into. Try to provide concrete details about what you're envisioning, like an object, color, location, or surroundings.

You can also click on one of the examples given below to see how these prompts work. For example, select 'Balloons', and the prompt Inflatable reflective gold foil party balloons will appear in the text field.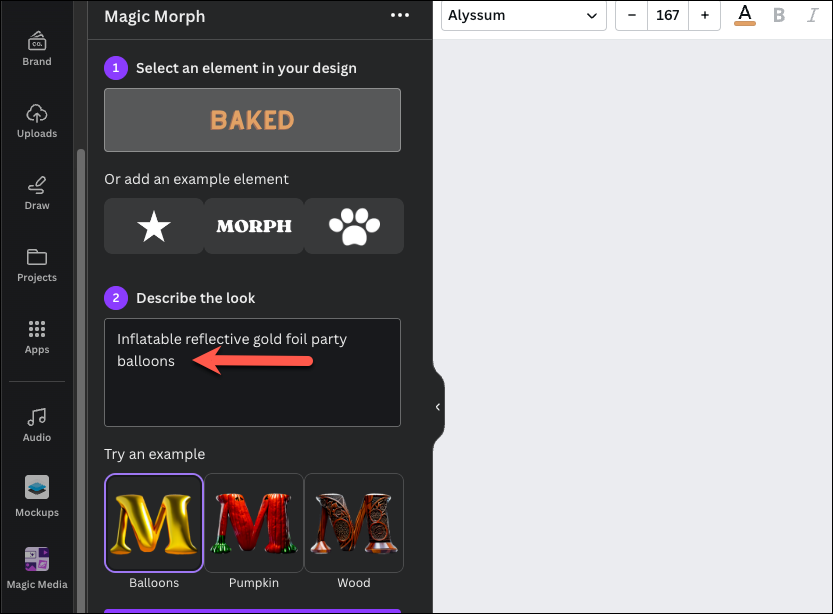 After providing the description, click on the 'Magic Morph' button.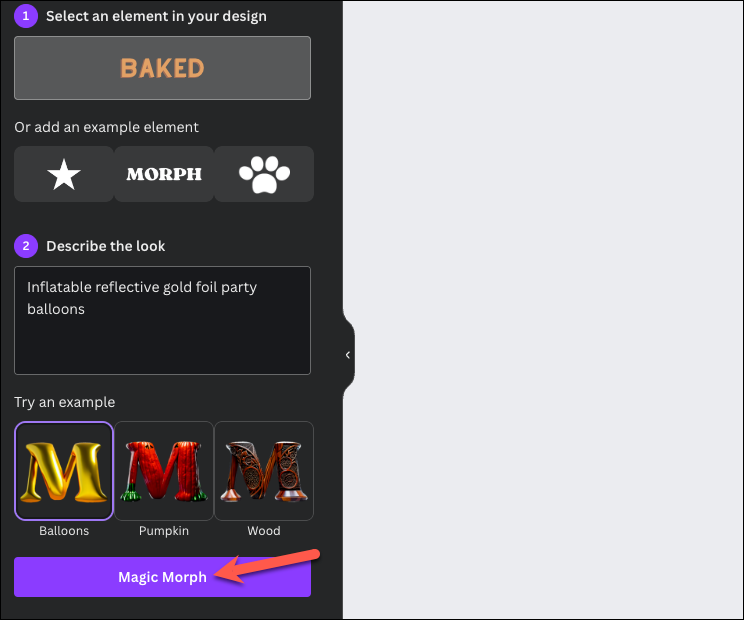 Morph will create 4 graphics based on your description; click on a graphic to add it to your design.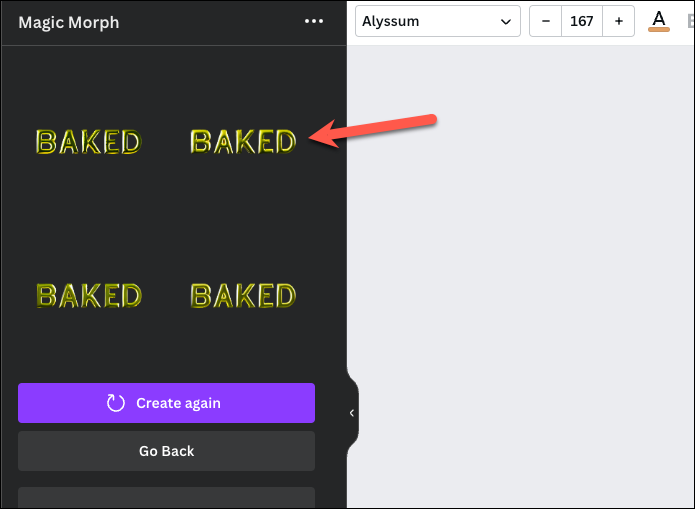 Magic Morph is a great tool to have the exact type of elements in your design when they aren't available in Canva's library.
Magic Morph also works better with bolder, thicker text fonts or images that have a lot of area to morph, in comparison to thin fonts, semi-transparent images, or text within shapes. Moreover, it works better with prompts like naturally occurring patterns (zebra stripes, candy canes, snakeskin, or rocky paths) instead of creating your own patterns like a row of tiny rubber duckies. Also, keep your instructions instructive rather than abstract, like "make it ethereal."
---
Magic Studio has many wonderful new tools using which you can elevate your design game. With tools like Magic Media, DALL-E, Imagen, and Magic Morph, it is a gateway to exploring the realms of AI art and graphic design, allowing you to bring your ideas to life with minimal effort.