Privacy has become a rare and sought-after commodity in today's world. Big Tech corporations such as Microsoft, Amazon, and Apple are always looking to gather personal details - what you do with their product, how and where you use devices, and what type of content you access. While they might say they're collecting this information to provide you with "rich, personalized, and interactive experiences", there's a catch.
Best-case scenario, they spoon-feed you algorithmic data and turn you into a product. But in the worst-case scenario, your data is stolen by ransomware and security attacks and used against you.
Windows 10 and 11 are known for gathering data about your app usage, location, online activities, device behavior, content preferences, and more. But they also provide you with numerous privacy settings and options. Here's everything you need to know to take control of your privacy.
Customizing Privacy Settings in Windows 11
Here are a few privacy settings you can personalize to safeguard your privacy on Windows 11.
1. Disable Diagnostics and Feedback
Windows 11 gathers a little bit of diagnostic information about how your computer runs to keep it secure and updated. However, there's another kind of info they collect, like what websites you visit and which apps you use. If you'd rather not share this data with Microsoft, follow these steps:
Right-click the Start menu and select 'Settings'.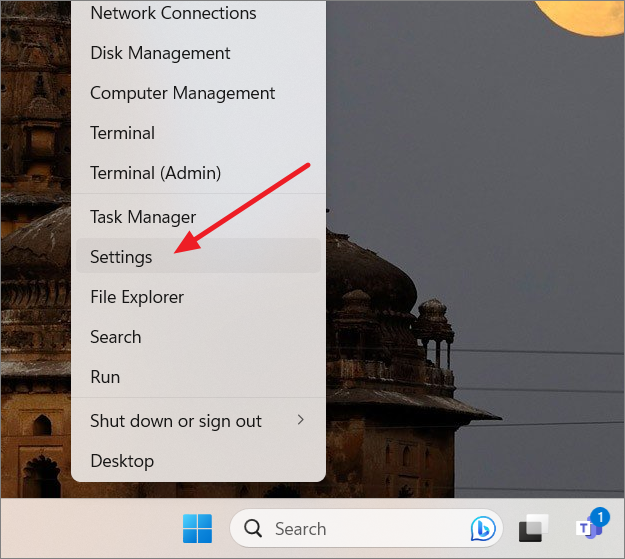 Head to the 'Privacy & Security' section and click on the 'Diagnostics & feedback' option.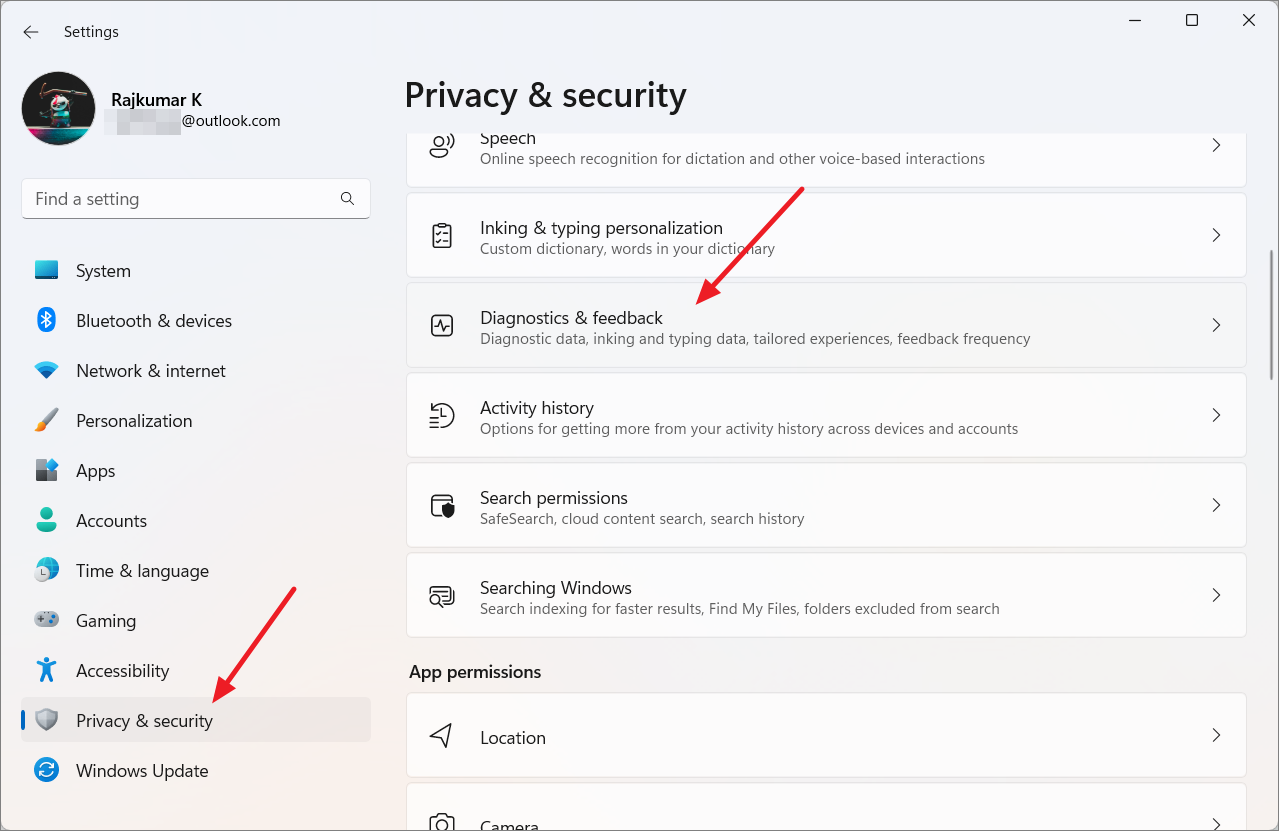 Then, turn off the switch for 'Send optional diagnostic data'.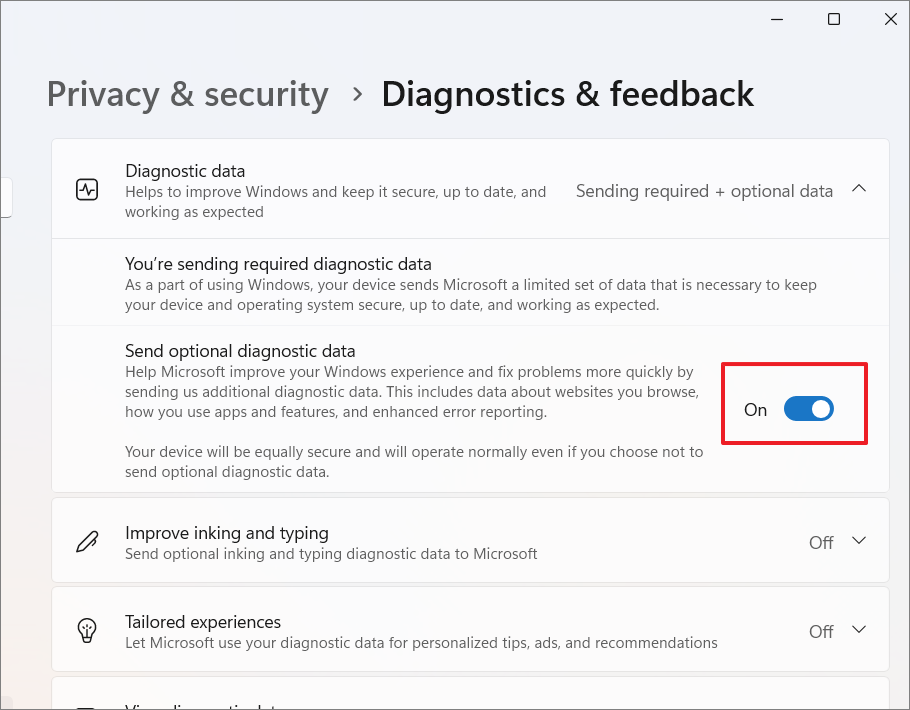 In addition, we recommend turning off the three options below: 'Improve inking and typing', 'Tailored experiences', and 'View diagnostic data'.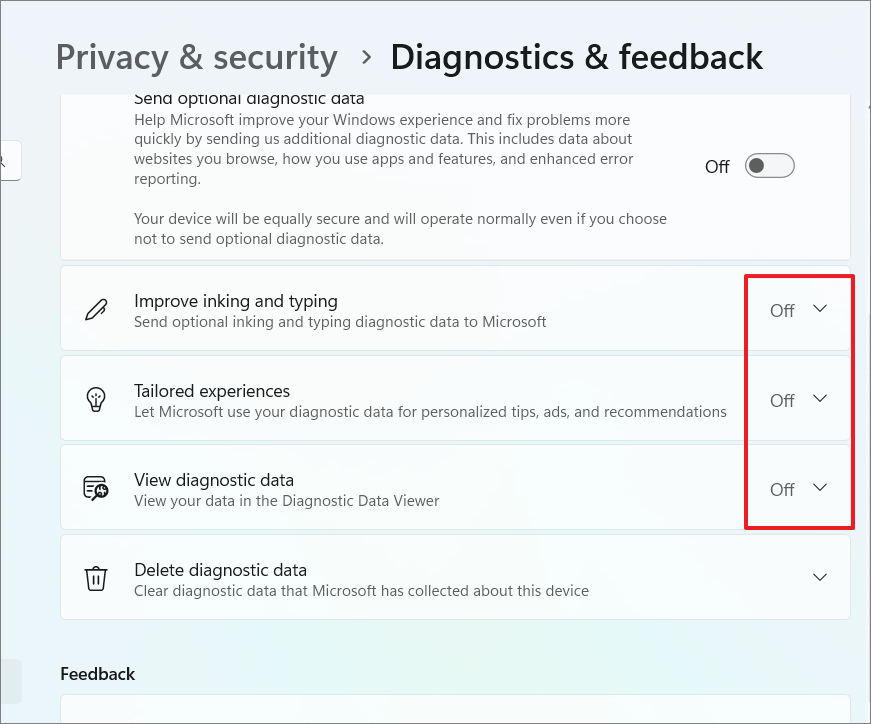 By doing this, Windows 11 won't use your information to give you tips or suggestions. It will also stop the system from sending what you write or type to Microsoft.
2. Turn Off Ad Tracking
Windows 11 has an advertising ID – a unique code used to collect data about you when you use the internet and Microsoft apps. The information is then used to build a profile of you and show you specific ads. You can disable this setting to block personalized ads.
Open Windows Settings, go to 'Privacy & security', and select the 'General' tab on the right pane.
Then, switch off the 'Let apps show me personalized ads by using my advertising ID' option.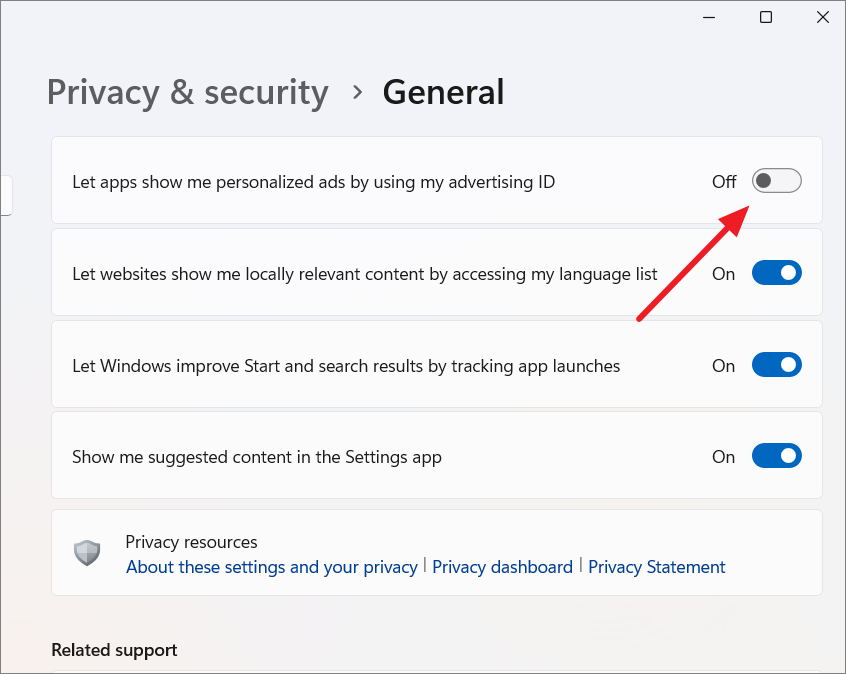 3. Turn off Activity History
Windows also has a feature called Activity History which logs your tasks and actions you do on your computer. If you want to keep your activities private on Windows 11 and make sure Microsoft isn't watching, follow these steps:
Go to 'Privacy & Security' in Windows Settings and click on 'Activity history' on the right side.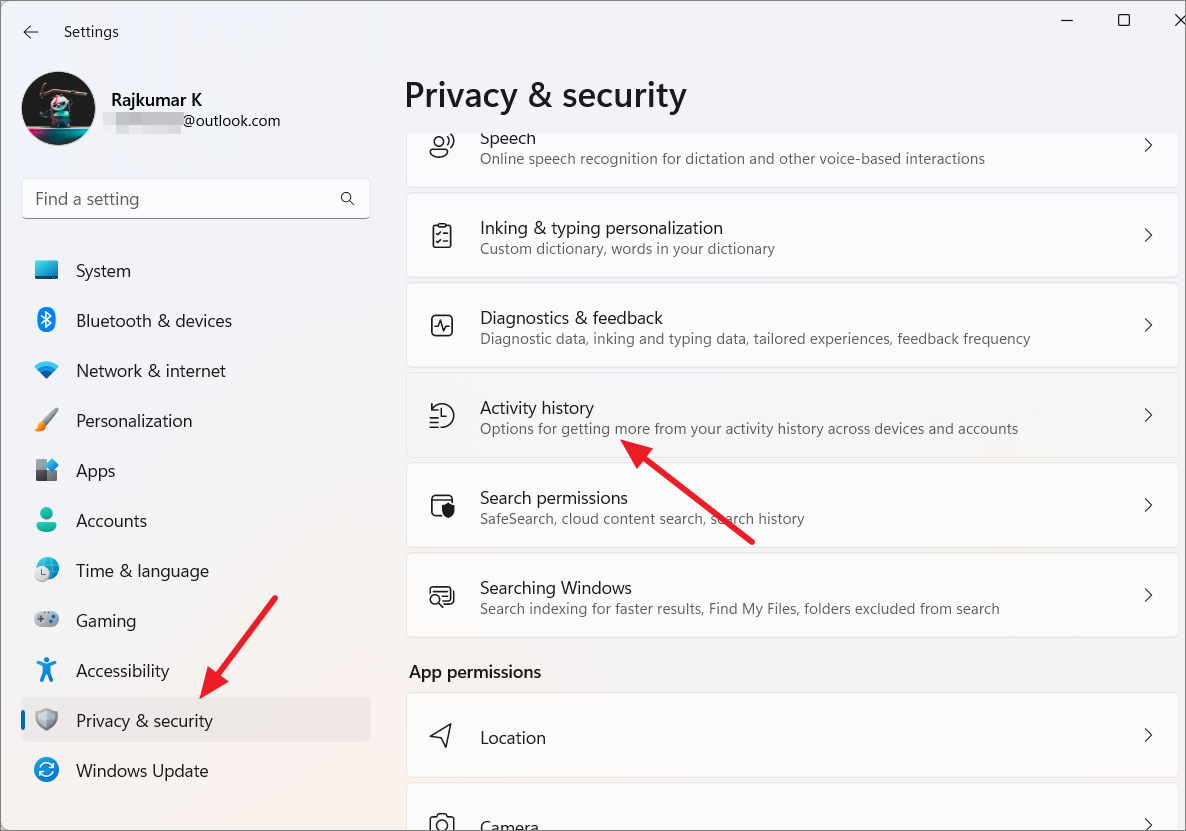 Under Activity History, disable the toggle labeled 'Save my activity history on this device'.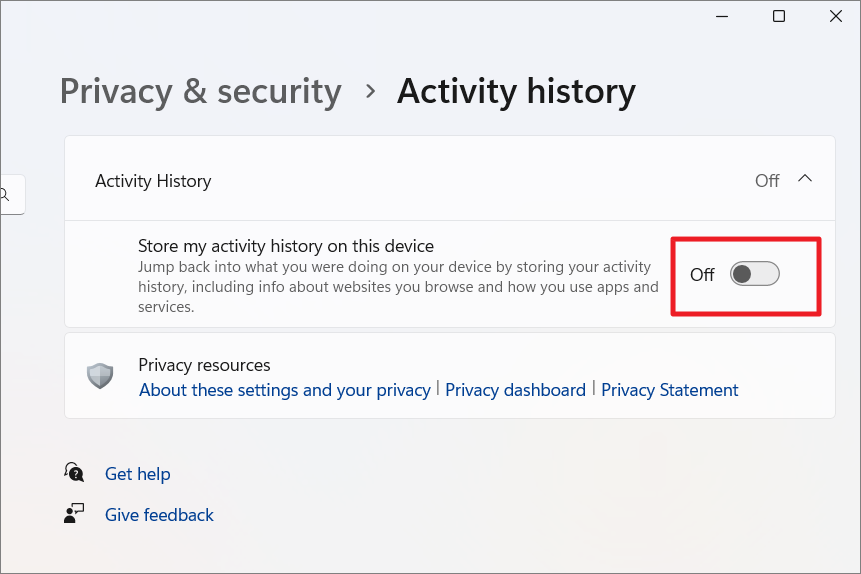 4. Manage Search Permissions
Windows Search permissions manage the type of content that can be displayed in Windows search and determine whether search results include data from other Microsoft apps you're logged into.
In the Privacy & security settings, select 'Search permissions'.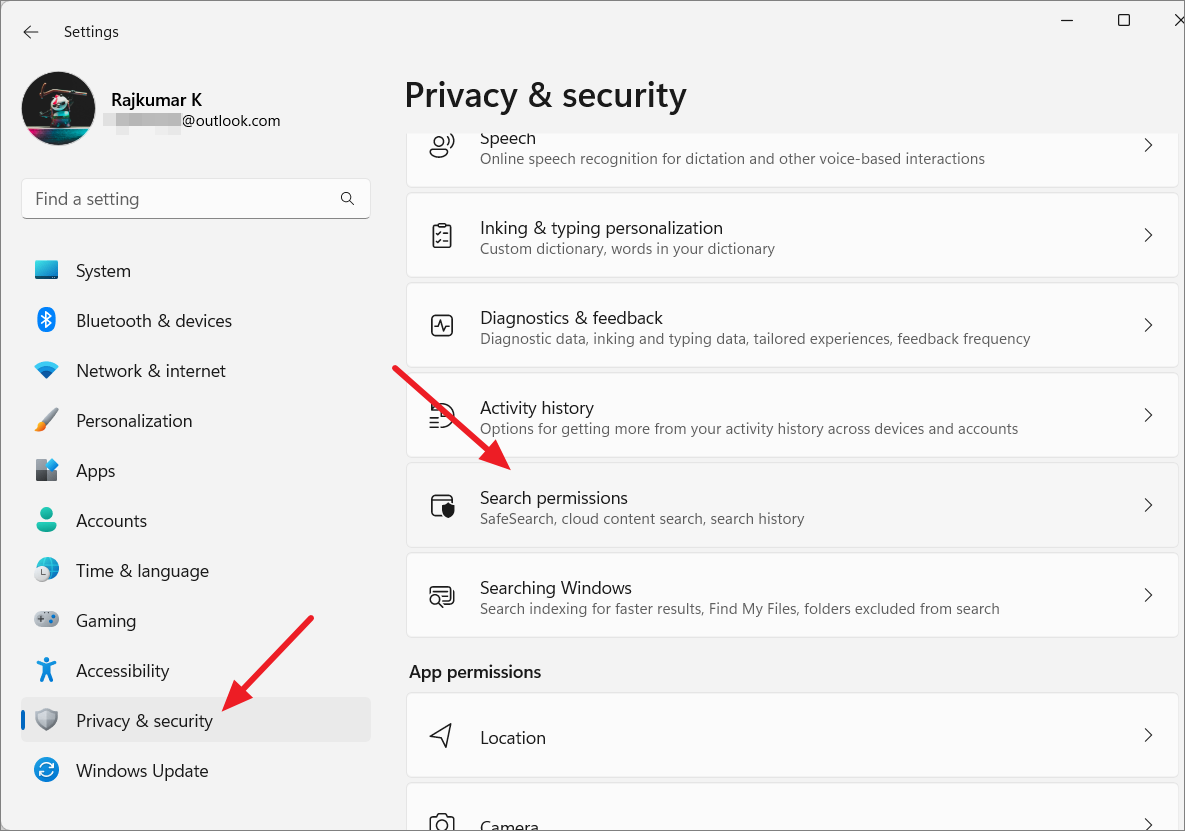 Under SafeSearch, you can choose whether you want to filter adult content and how much you want to block. You can choose between 'Strict', 'Moderate', and 'Off'.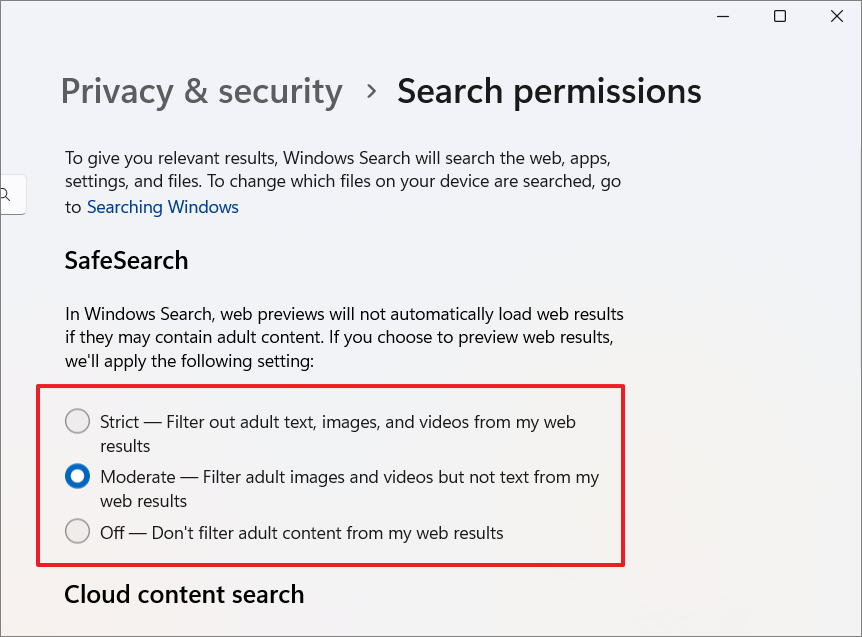 Usually, Windows Search shows results from Microsoft apps and services that you're signed into using the same Microsoft account. But if you want the search results to only come from your computer and not from the cloud, you can turn off searching for cloud content.
If you're using a personal account, turn off the toggle under 'Microsoft account'. If you want to block search results from the work or school account, switch off the toggle under 'Work or School account'.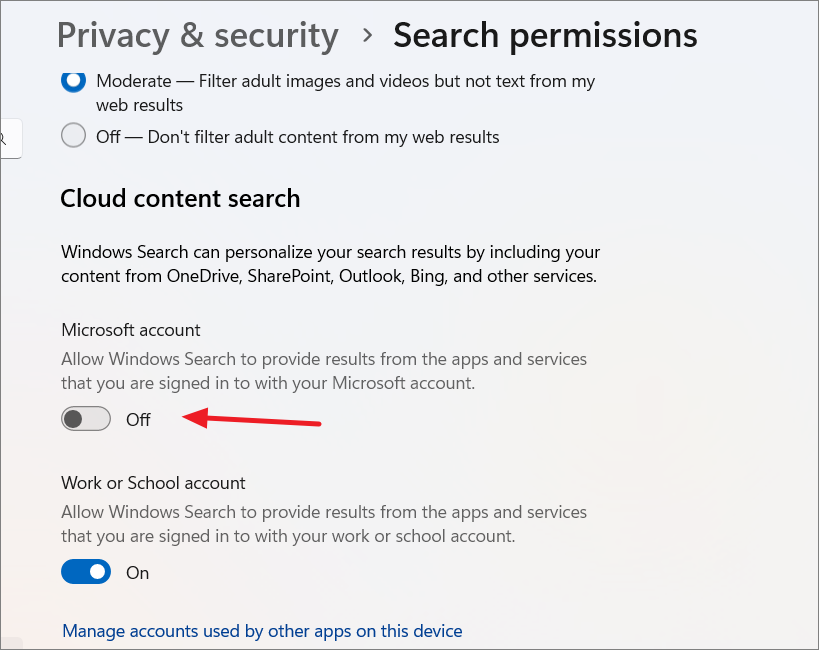 If you don't want Windows storing your search results (locally) for suggestions, scroll down to the History section and disable 'Search history on this device'.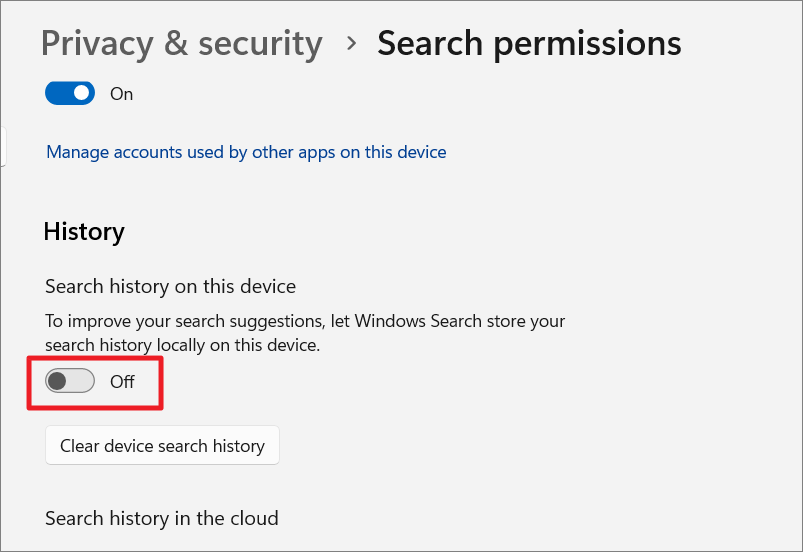 5. Exclude Folder from Windows Search
In case you have some sensitive files/folders that you do not want to be searched, you can exclude those from the Windows search.
Go to Settings > Privacy & security and click on the 'Searching Windows' option from the right.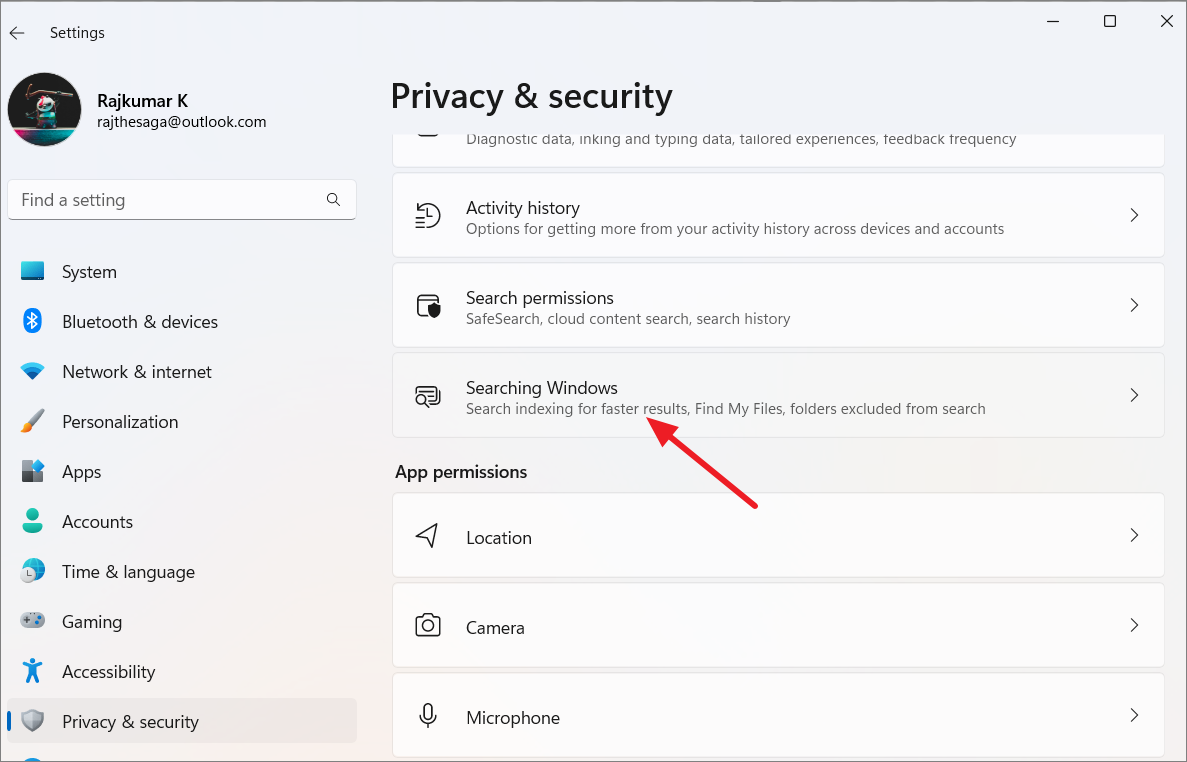 Then, click the 'Add an excluded folder' button and select the folder.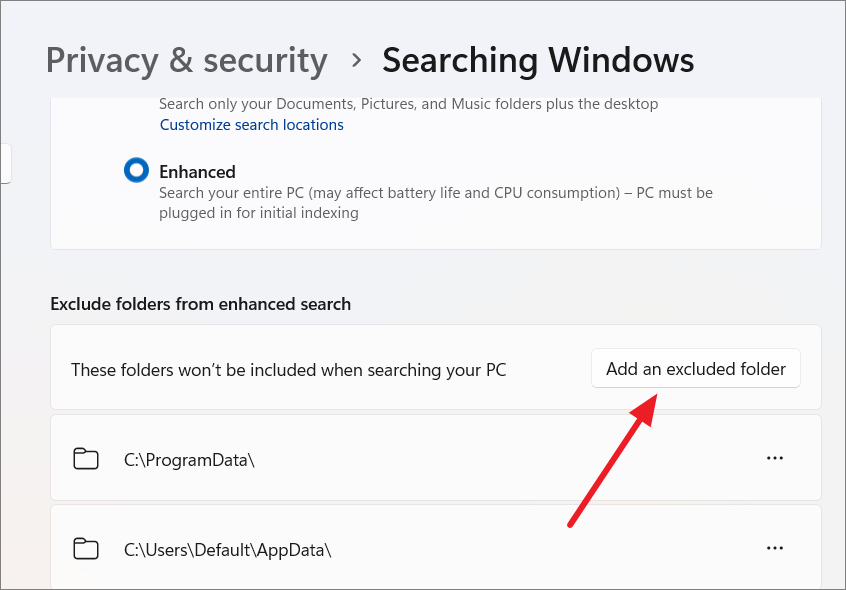 Next, navigate to the folder you wish to exclude, and click 'Select Folder'. The folder will be excluded from Windows search going forward.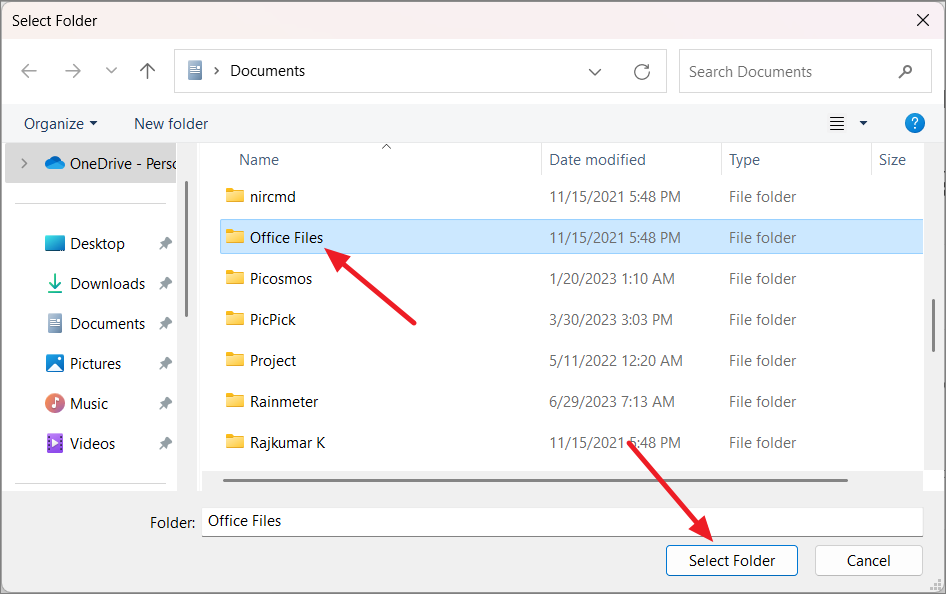 6. App Permissions
App Permissions is an important group of options that allow you to control which apps can have access to various system resources such as camera, microphone, location, contacts, and other sensitive information. These settings help you maintain your privacy and security. Where some apps require certain permission to fully function, it's not necessary for every app. You can finetune these settings as per your needs.
Disable Location Tracking
Windows and apps keep track of your locations to give you relevant information, such as your local weather, what restaurants are nearby, and so on. If you don't want Windows to track your location, you can turn the location services off. However, disabling location services altogether will make it difficult to find your device in case of theft and misplacement.
Open Windows settings by pressing the Windows+I . Then, choose 'Privacy & security'.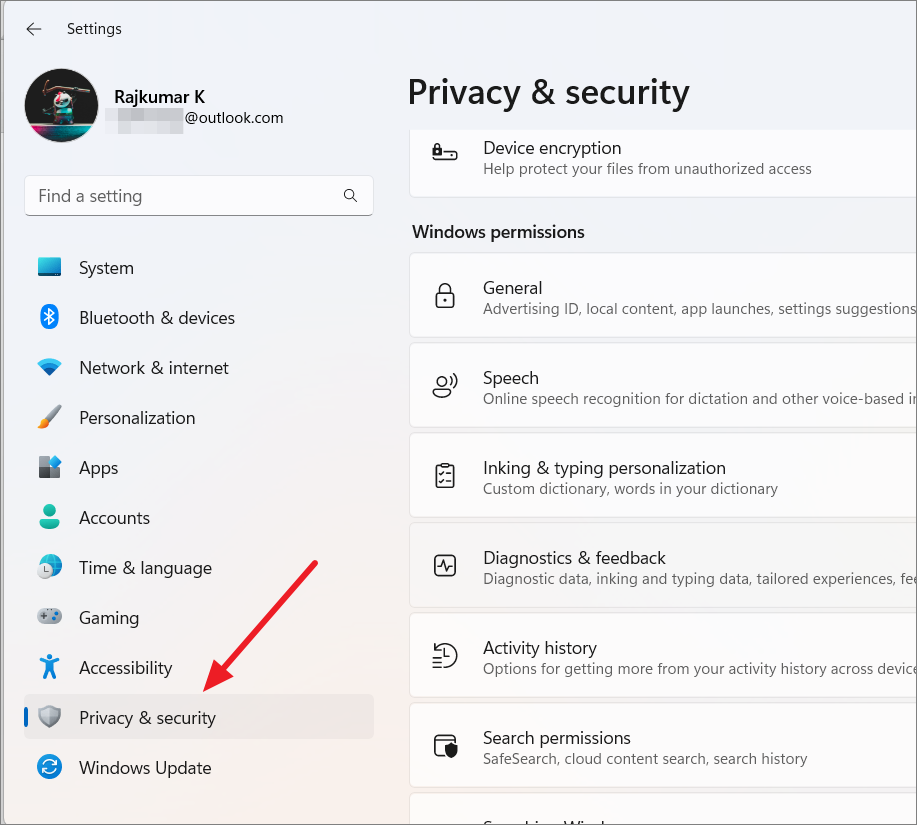 In the right part of the window, scroll down to where it says 'App permissions' and click on 'Location'.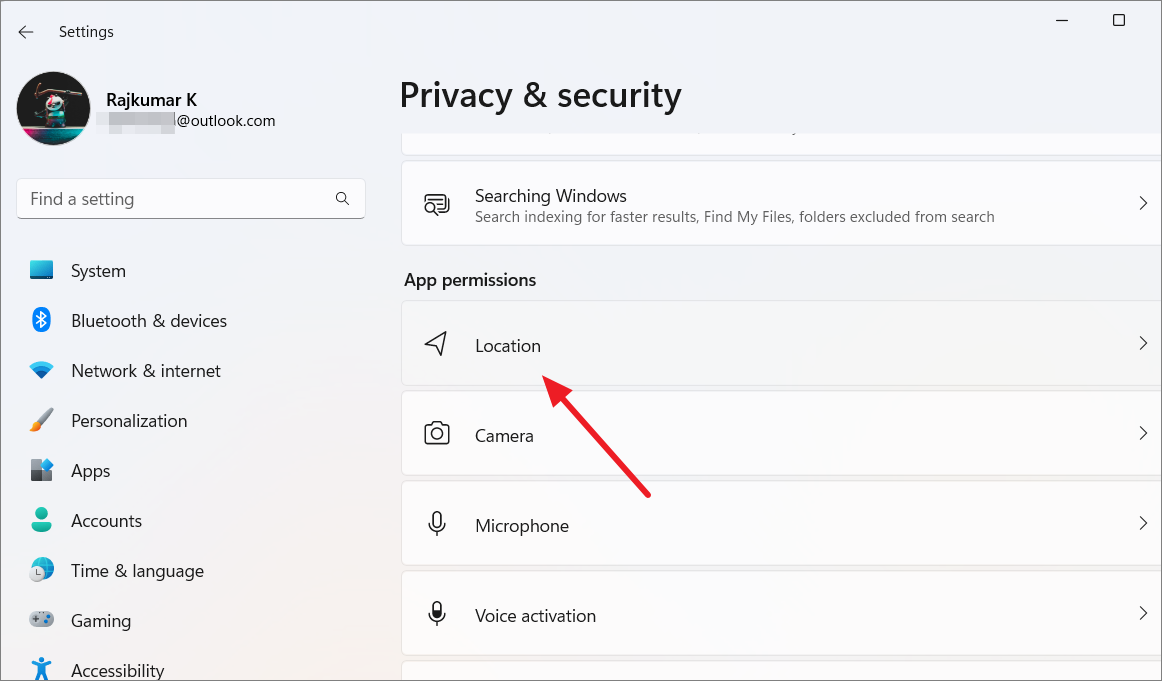 To completely turn off the location tracking, flip the 'Location services' switch to the Off position.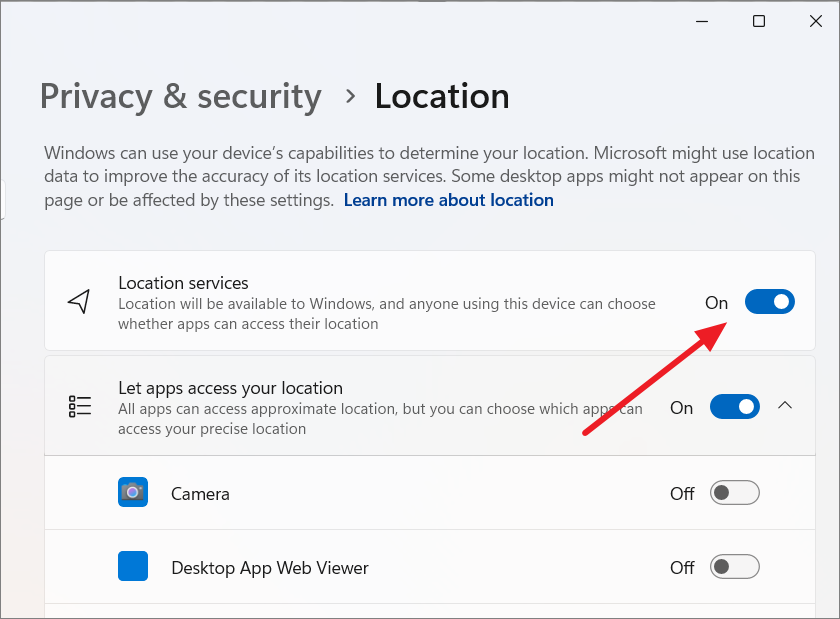 A confirmation box will pop up; click 'Turn off' to confirm.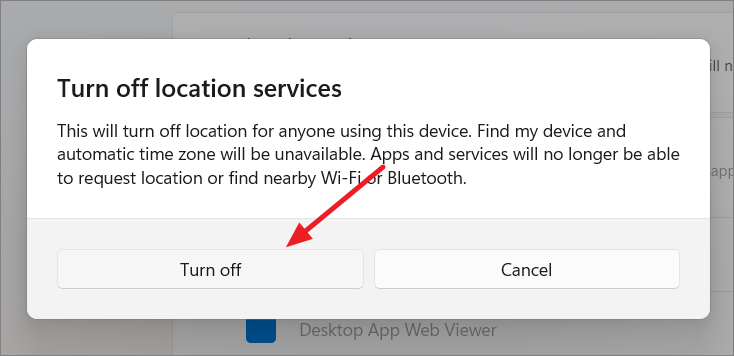 However, if you still want to find your device in case of theft but don't want other apps to know where you are, you can leave the 'Location services' switch On and turn off the 'Let apps access your location' option.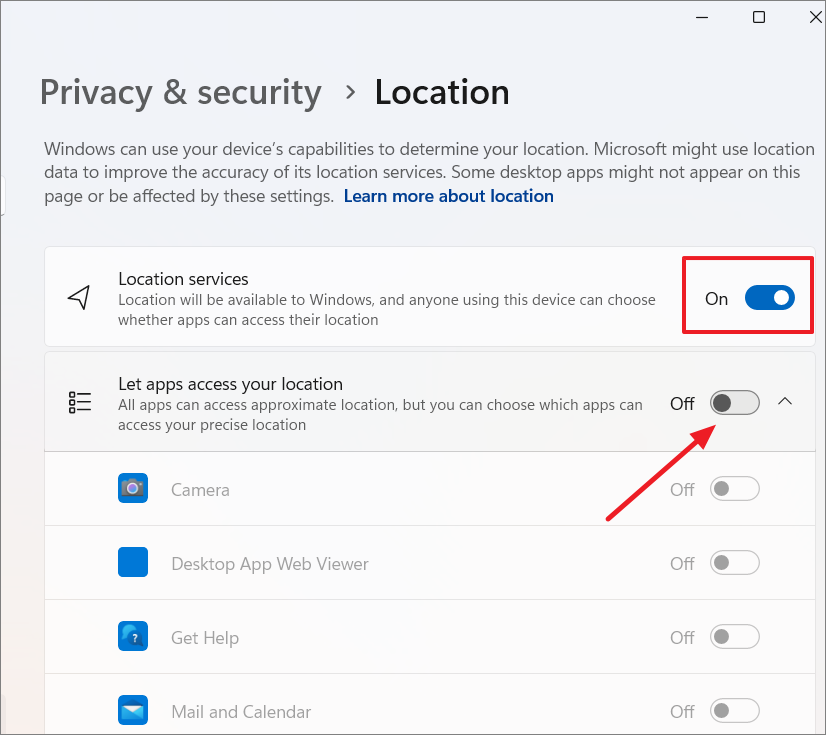 This allows Windows to continue tracking your device to find your device while restricting other apps from accessing your location information.
To give permission for apps like Weather and Maps that actually need your location, switch on the 'Location services' and 'Let apps access your location' toggles.
Then, enable the location permission for the apps that truly need it and disable it for the other unwanted apps.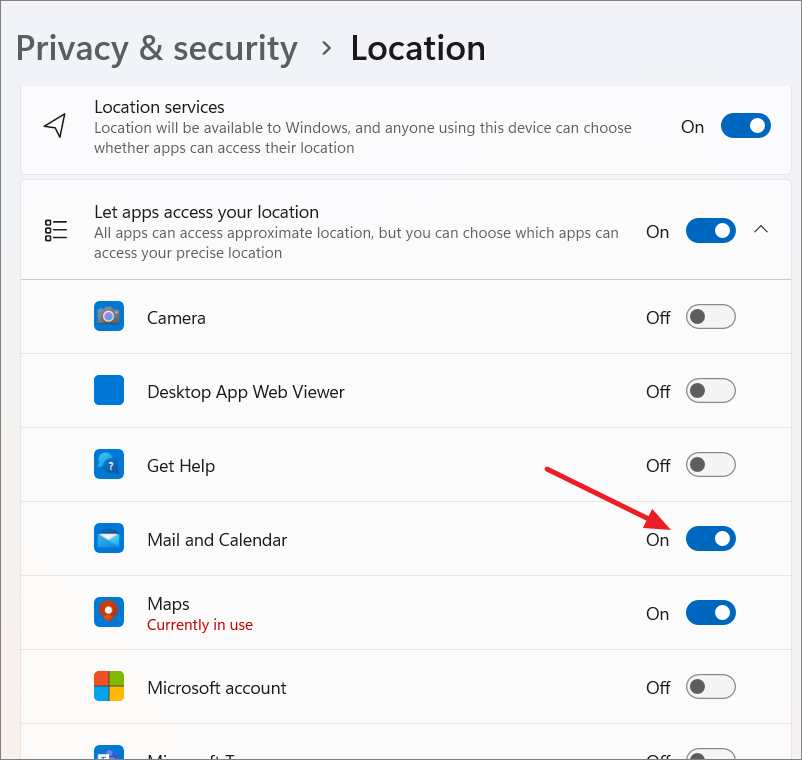 Change Camera and Mic Permissions
Out of the various app permissions, the camera and microphone are the most critical ones. To prevent malicious apps from secretly using your camera and microphone on your Windows 11 PC, you need to change their permissions. This will greatly enhance your privacy while using Windows 11. Here's how you can accomplish this.
In the Settings app, navigate to the 'Privacy & security' section, then scroll down and access the settings for 'Camera' permissions.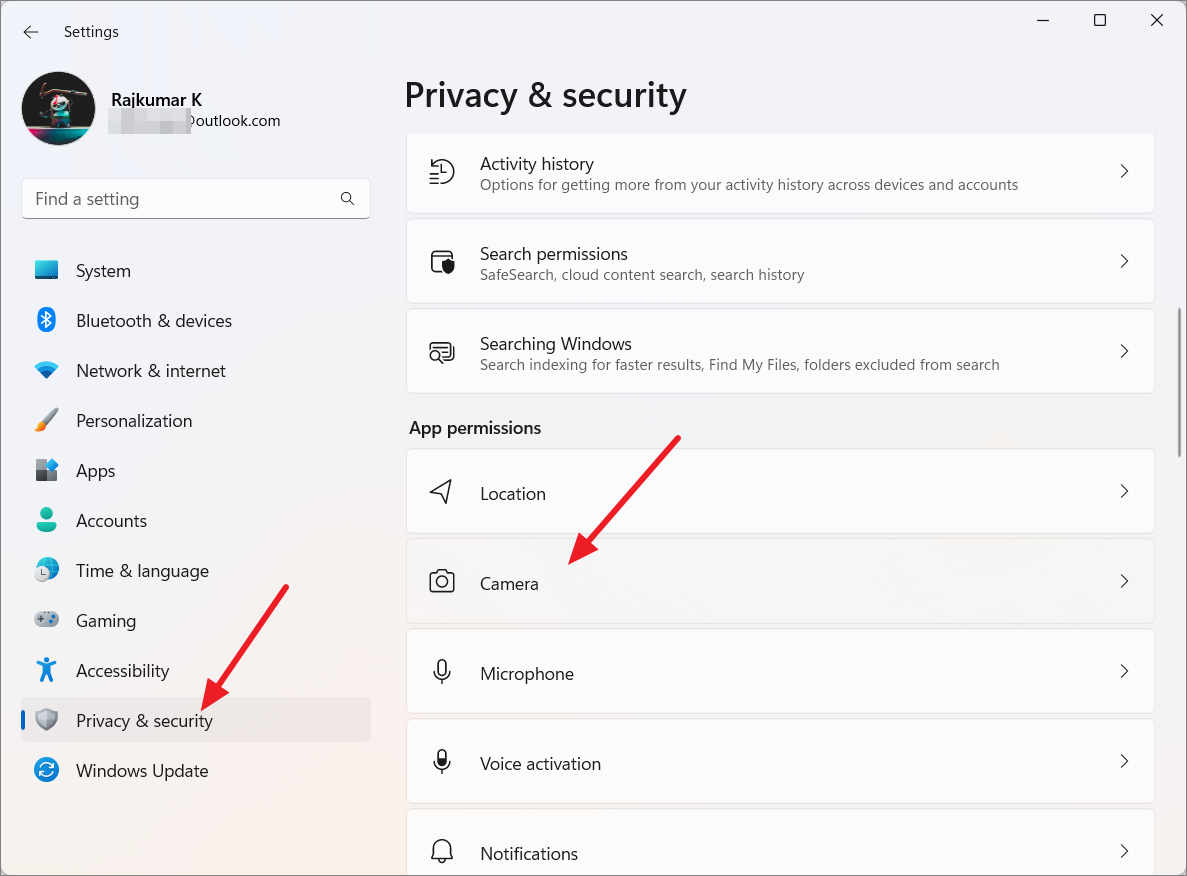 If you wish to disable the camera completely, turn off the 'Camera access' option.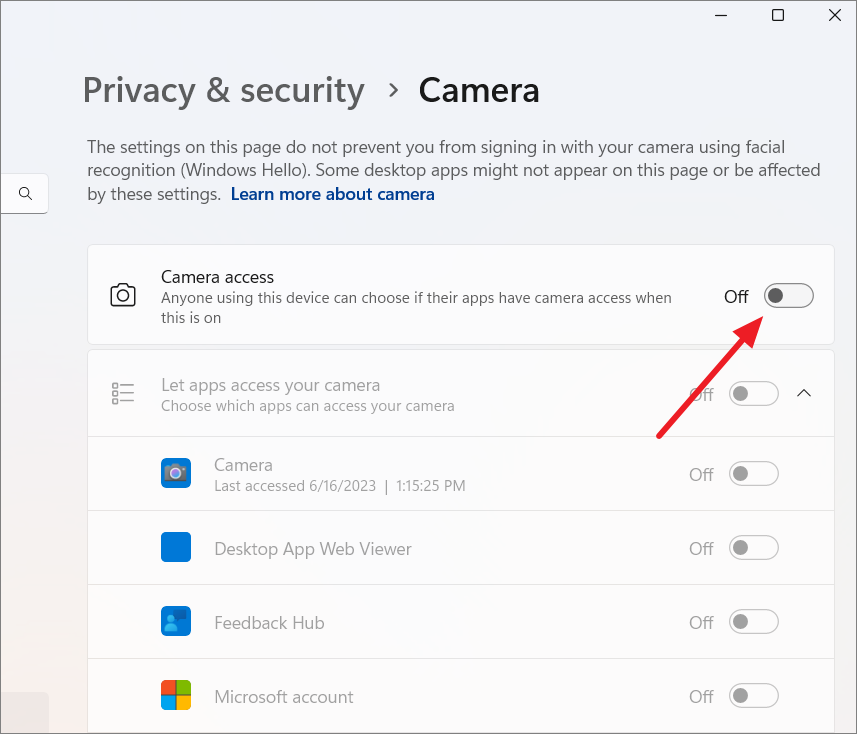 If you want to grant camera access to specific apps like Zoom, and Teams, enable the 'Camera access' option. Then, carefully check the app list and deactivate access for any unnecessary apps.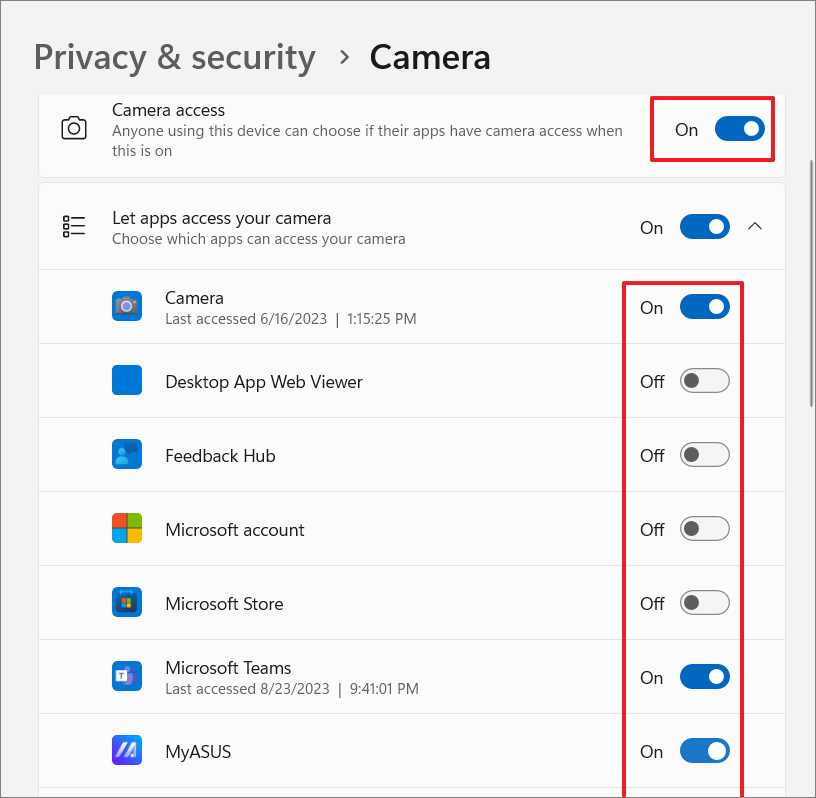 Similarly, open the settings for 'Microphone' permissions and review the app list. Then, turn off the 'Microphone access' entirely or disable the microphone for apps that don't require this permission.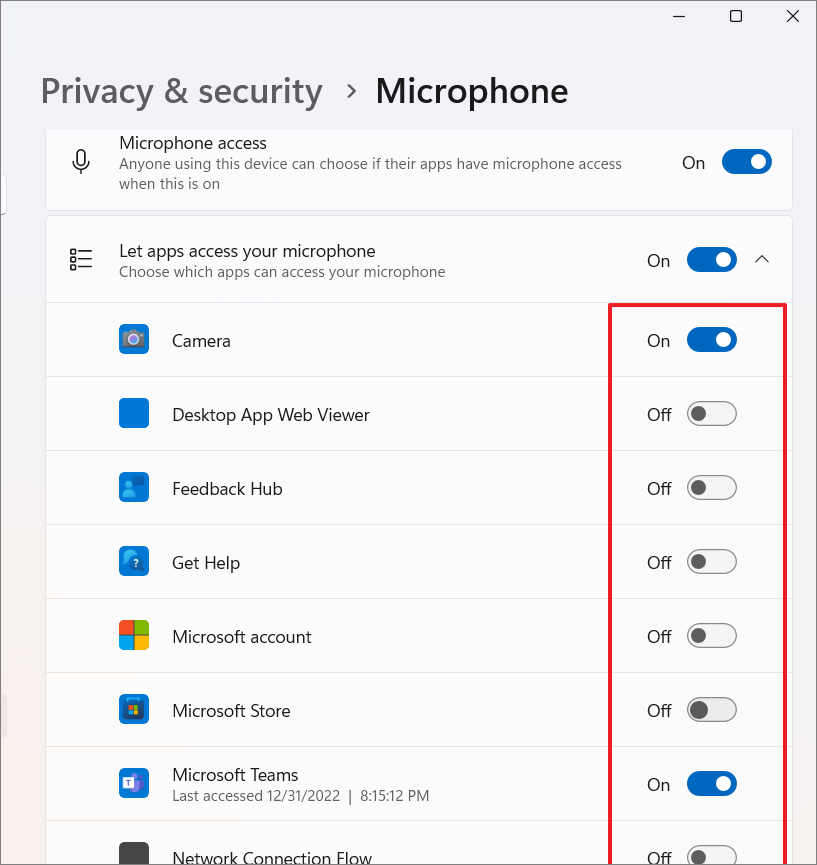 Manage Account info Permission
With Account info permission, you can control whether apps can access your account information and which apps can access the info.
Under the App permission settings, select 'Account info'.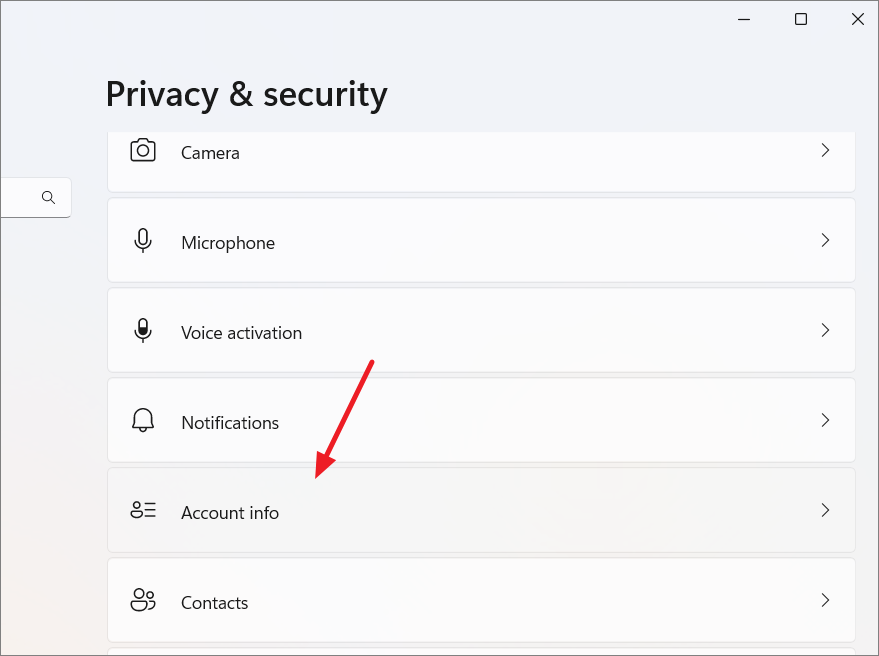 Here, you can decide which apps can have access to your account info.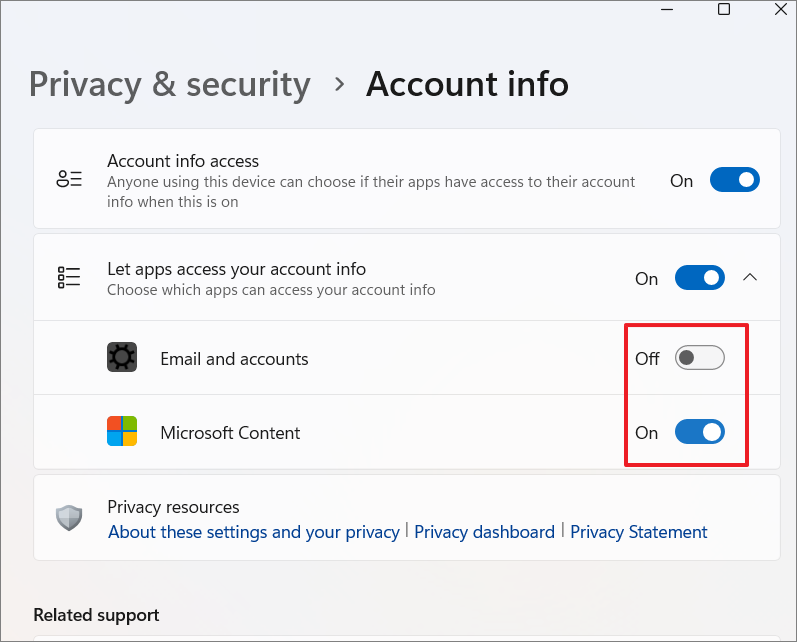 Change Calendar, Contact, Phone calls and Messaging permissions
Contact, calendar, phone call, and message permissions determine whether apps can access your contacts, calendar events, phone calls, and messages. Like with other permissions, you have the option to choose which apps can use these resources.
Navigate to each of these permission settings within 'App permissions' and review the apps that currently have access to these permissions. Afterward, deactivate any apps that you consider unnecessary. For the sake of this guide, we've showcased the process for the 'Contacts' option in Privacy & Security settings.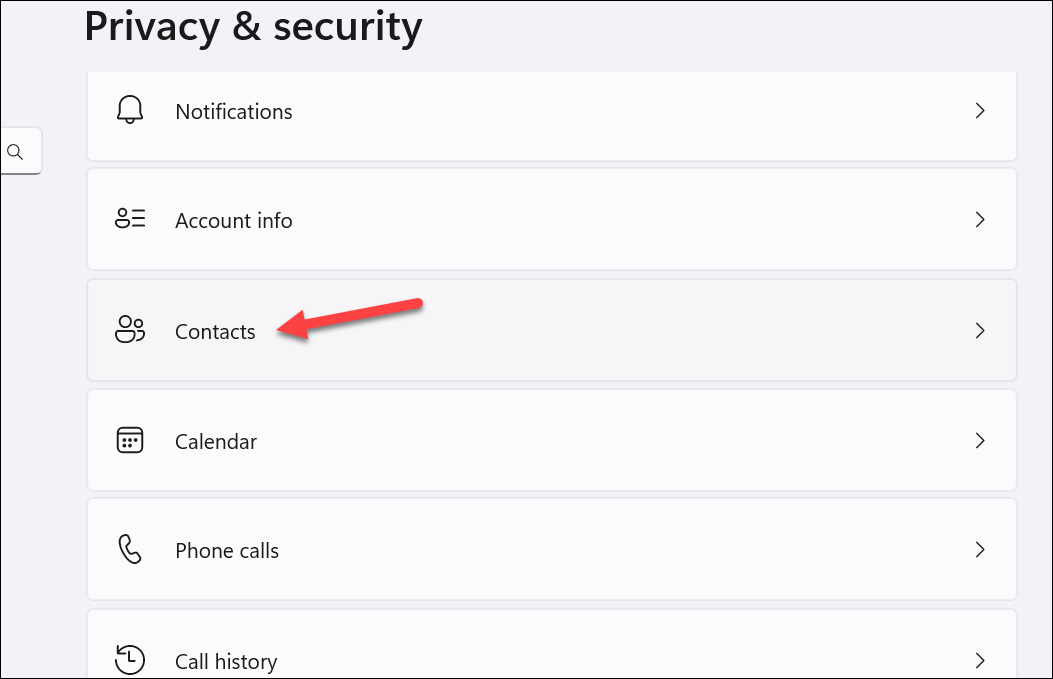 Under Contacts, turn off the toggle for apps you don't want to be able to access your contacts. Similarly, repeat it for all the other categories.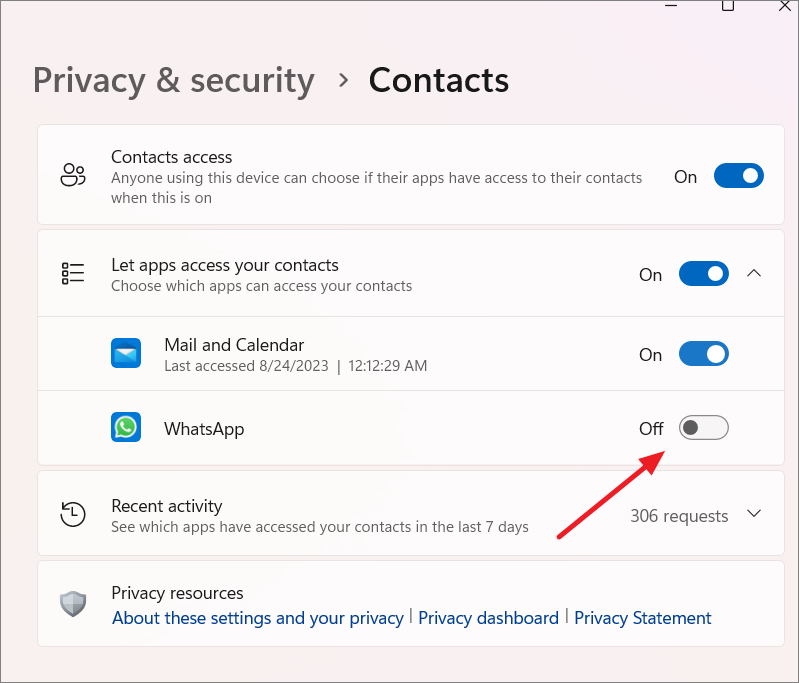 Manage Library Folders Permissions
You also have the option to control which apps can read and write files in the library folders, such as Documents, Downloads, Music, Pictures, and Videos. In Windows 11, you have dedicated options for each of these library folders where you can confirm which apps can access these folders.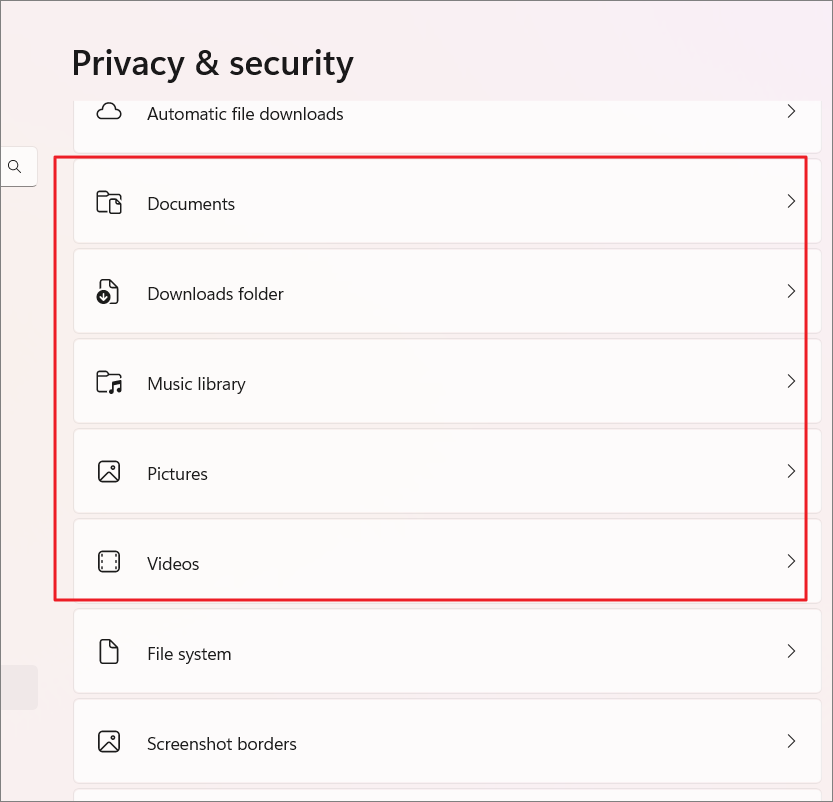 7. Turn Off Online Speech Recognition
When you use apps that use Online Speech recognition technologies on Windows 11, they'll send your voice data to the Microsoft cloud. If you don't use voice typing or voice access features on your computer, you can just turn off the Online Speech Recognition to protect your privacy.
Head to the 'Privacy & security' tab and click on the 'Speech' tile under Windows permissions.
Then, switch the toggle to the 'Off' position under Online speech recognition.
8. Switch to Local Account
When you're setting up Windows 11 for the first time, it might ask you to use your Microsoft account, and that becomes the main one. Even if you create a separate account just for your computer, sometimes Windows will still use the Microsoft account when you sign in to certain Microsoft apps.
With a Microsoft account, your data gets stored online, while a local account keeps things only on your computer. If you mostly use just one computer, it's actually safer to go with a local account. This way, even if someone somehow gets into your Microsoft account, your computer stays protected. Here's how you can switch to a local account:
Open Windows Settings by pressing Windows + I together and go to the 'Accounts' settings from the left menu. If you don't have a local account, create an account on your Windows 11 PC. There are two types of user accounts: 'Standard' and 'Administrator'. Use an 'Administrator' account for better protection.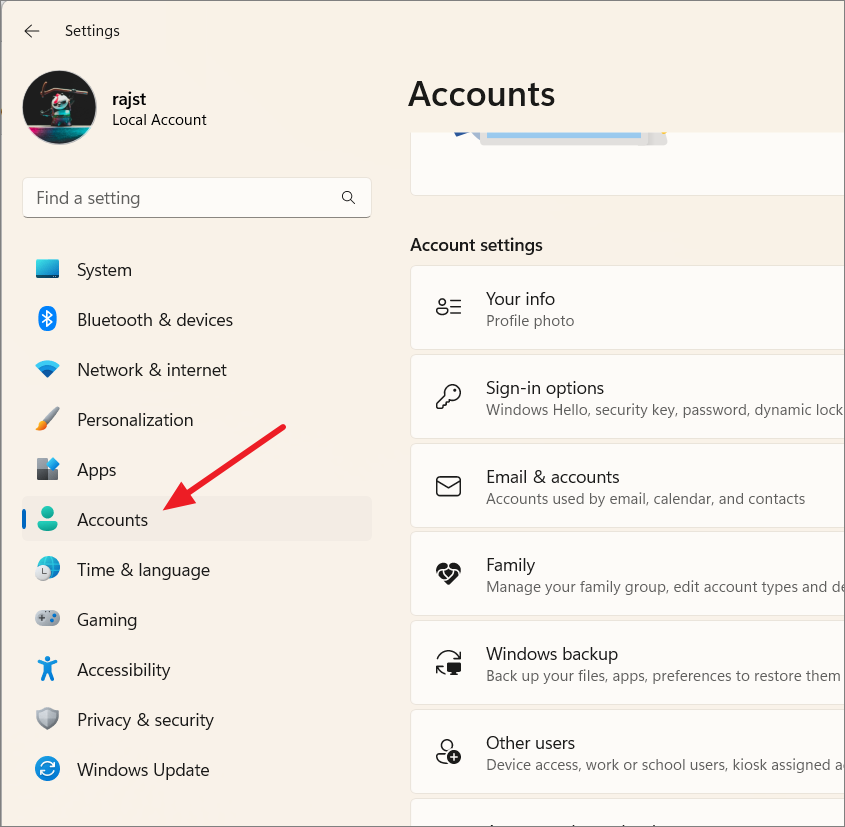 If you want to change a local account to an Administrator account, follow these steps:
Inside Account settings, click on the 'Other users' tile.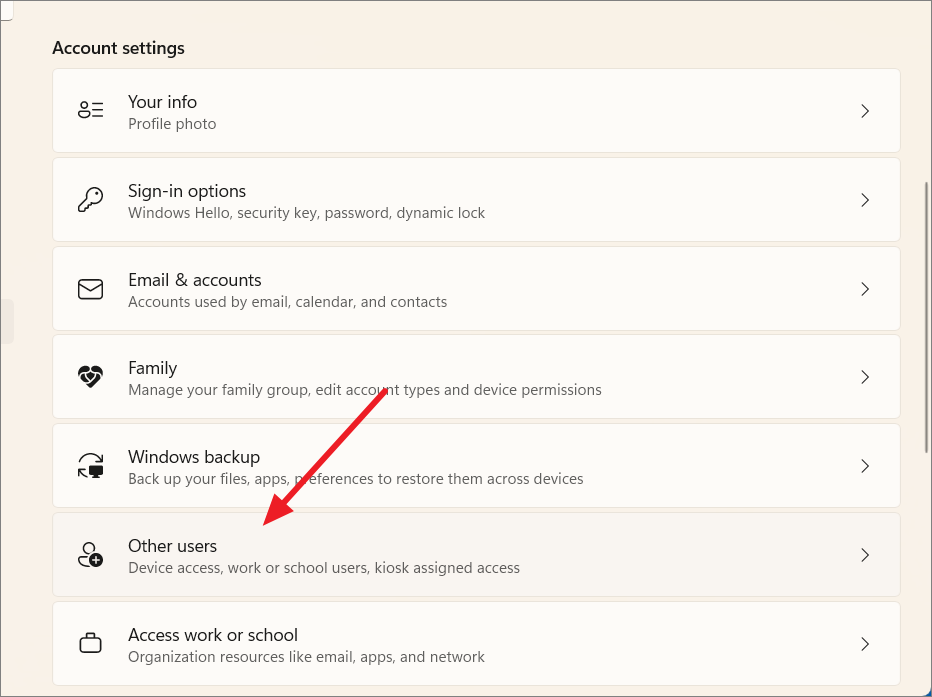 Choose the account name, and there should be an option that says 'Change account type'. Click on that.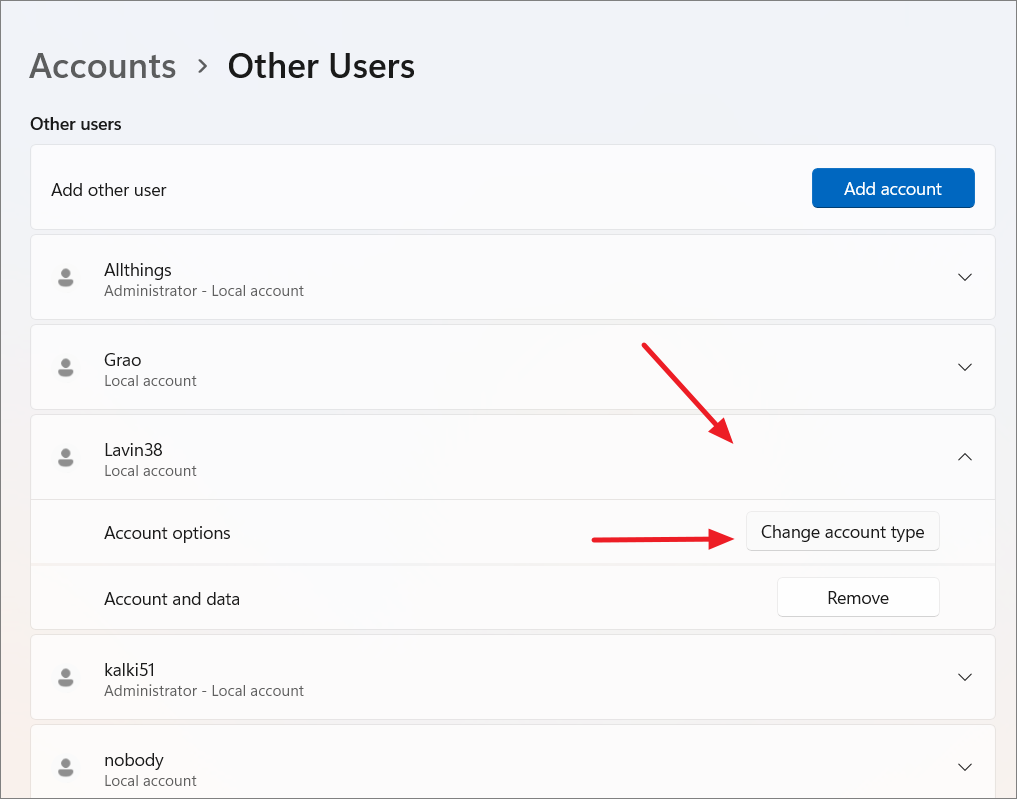 After that, choose 'Administrator' from the drop-down and click 'OK'.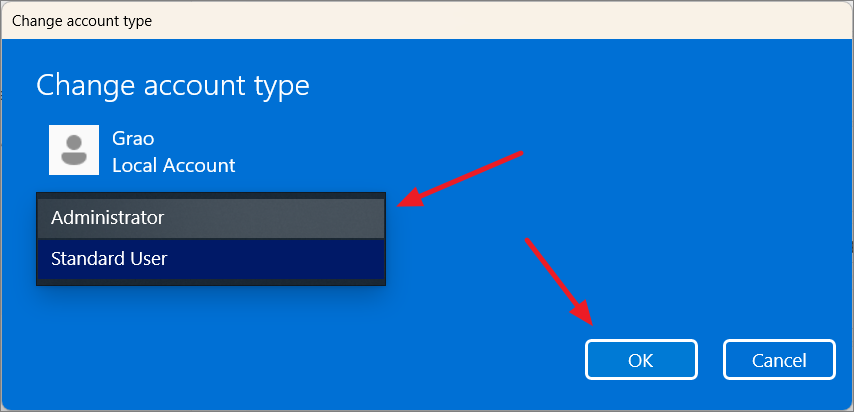 To change a local account into an Administrator account, access the 'Accounts' settings and click on 'Your info'.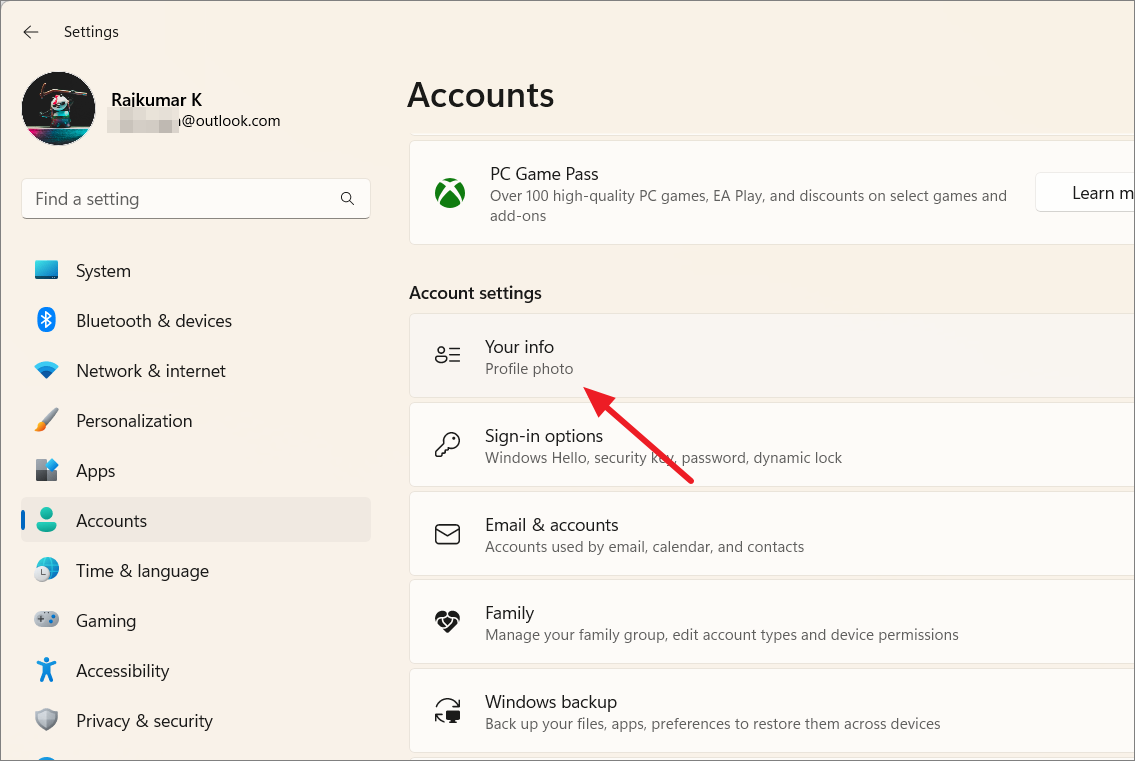 Under the Account settings section, you'll see a link that says 'Sign in with a local account instead'. Click on that.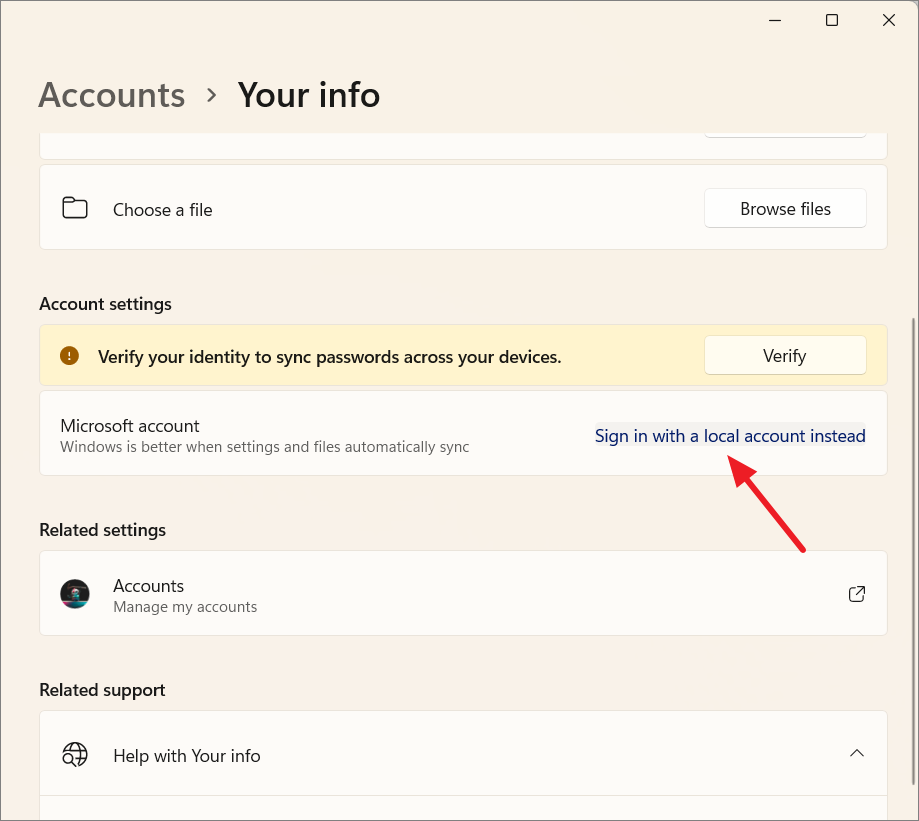 A new window will pop up. Click 'Next' to move forward.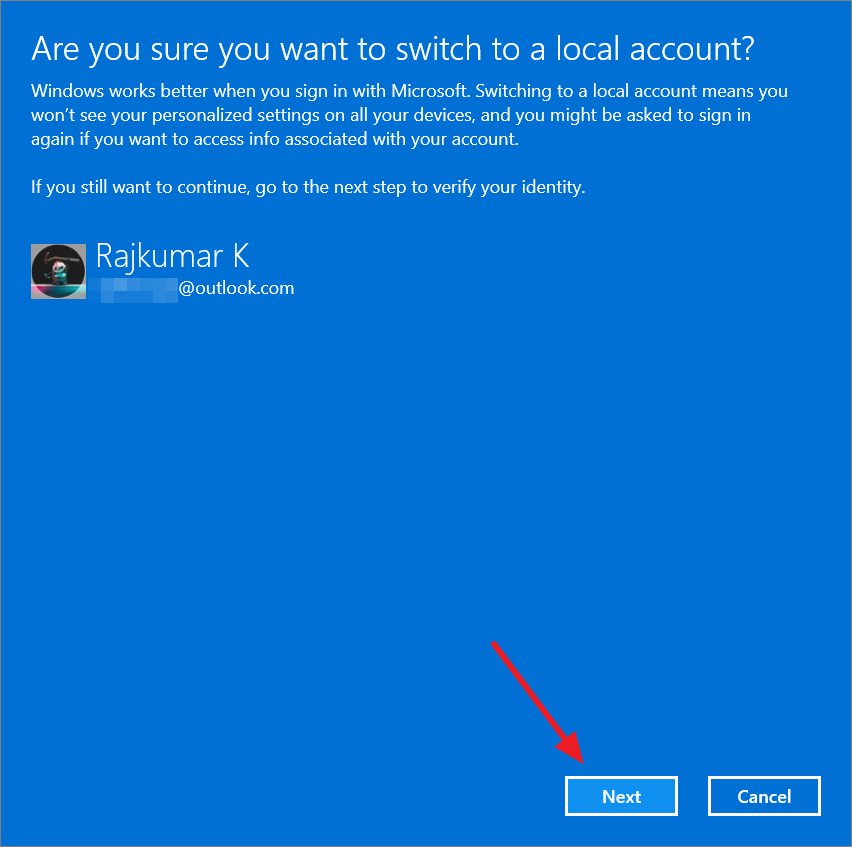 You'll need to type in your computer password and click 'OK'. If it asks for your Microsoft account password, enter that too.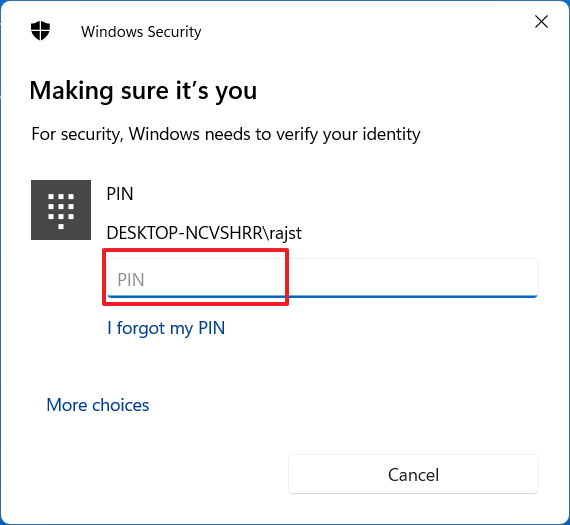 Next, you can pick a new username or use your existing one, create a password and a hint, and then click 'Next'.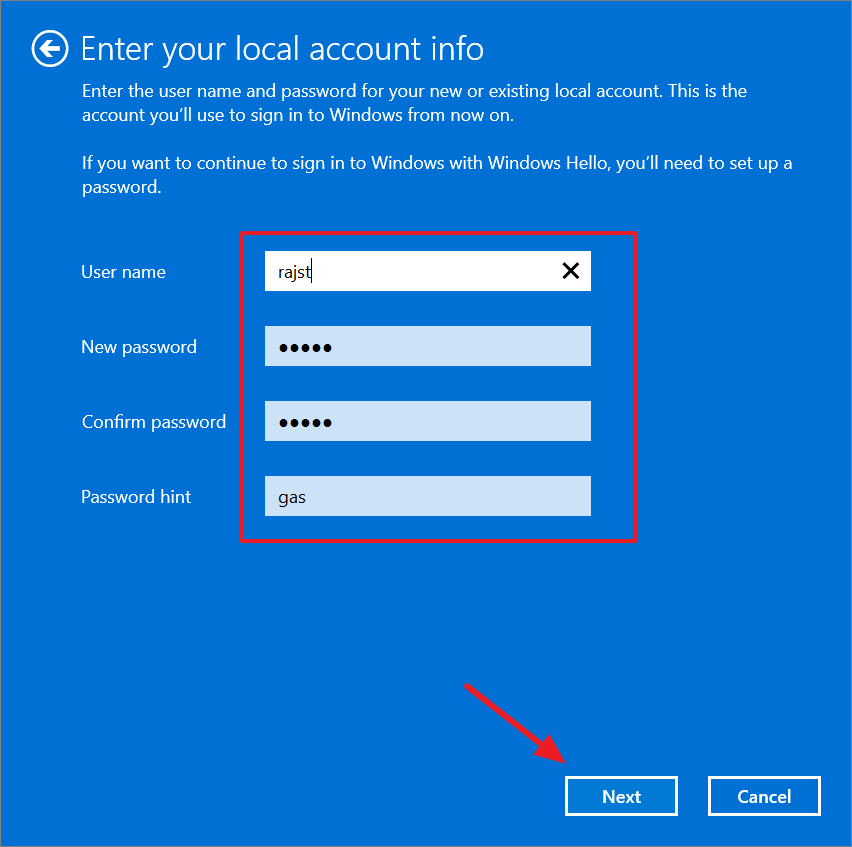 Finally, hit 'Sign out and finish'. This will log you out, and you'll be able to sign in again using your new local account.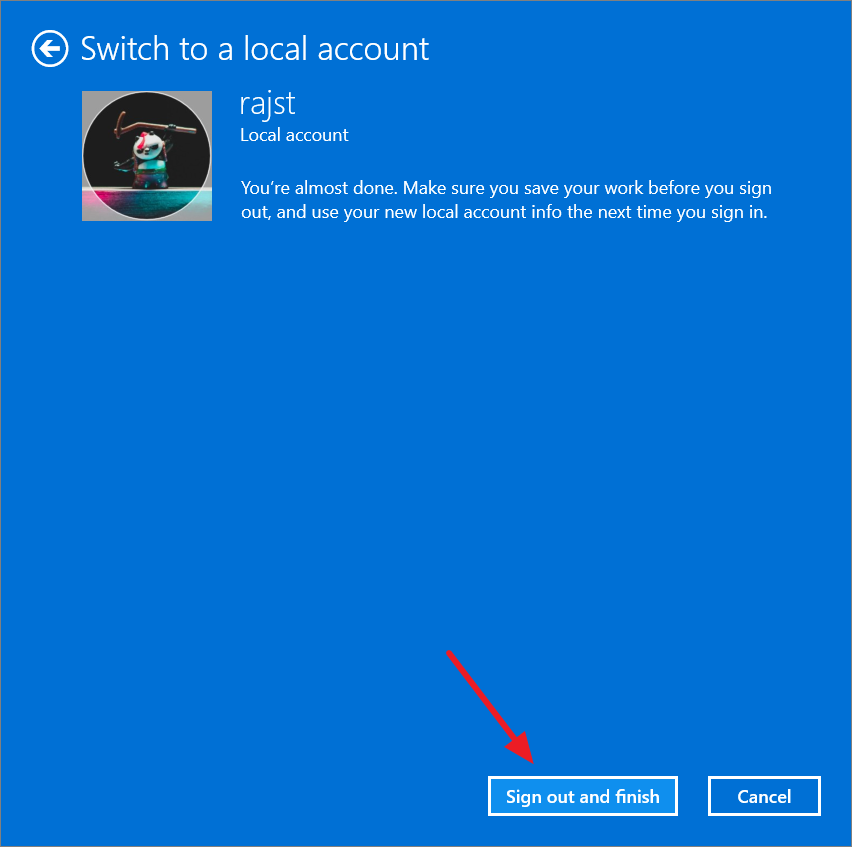 9. Disable Shared Experiences
A new feature in Windows 11 allows you to sync up your app settings and other data across all the devices you're signed into. This can be a very handy feature that lets you switch between devices and continue your work right where you left off on the other device.
Your Windows device sends your data to the cloud, making it accessible across devices. However, if you only use one computer, sending data to the cloud is unnecessary. If you don't want Microsoft to collect and send data your data to the cloud, you can disable this feature.
Open the Windows Settings app, go to the 'Apps' section, and then click on 'Advanced app settings'.
Under Advanced app settings, click on the 'Share across device' option.
Then, turn off sharing by clicking the 'Off' button.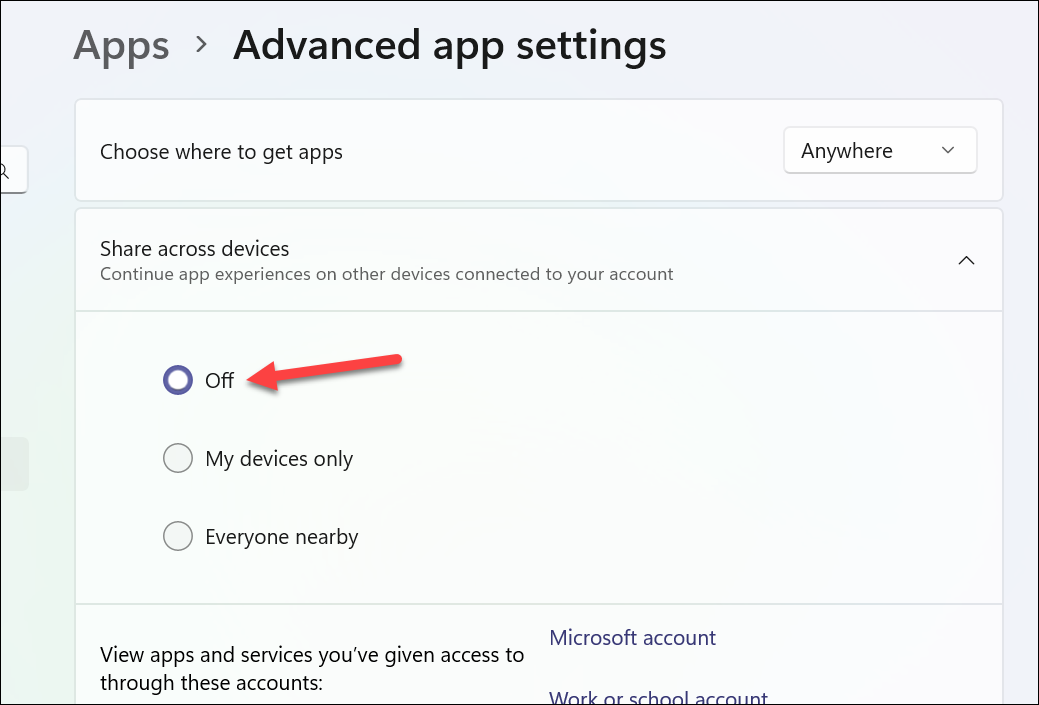 10. Enable Encrypted DNS
Whenever you try to access a website, your computer sends a DNS query to a DNS server, asking it to translate that domain name to an IP address. Usually, your DNS queries are sent in plain text, making it possible for your ISP or others to monitor and intercept your browsing activity.
Enabling DNS encryption helps keep your browsing history private and protects you from phishing attacks and other forms of online threats. Here's how you can enable DNS encryption on Windows 11.
In Windows Settings, navigate to 'Network & internet' and select your primary network connection from the right pane.
On the next page, click on 'Hardware properties'.
Next, click 'Edit' next to the DNS server assignment option.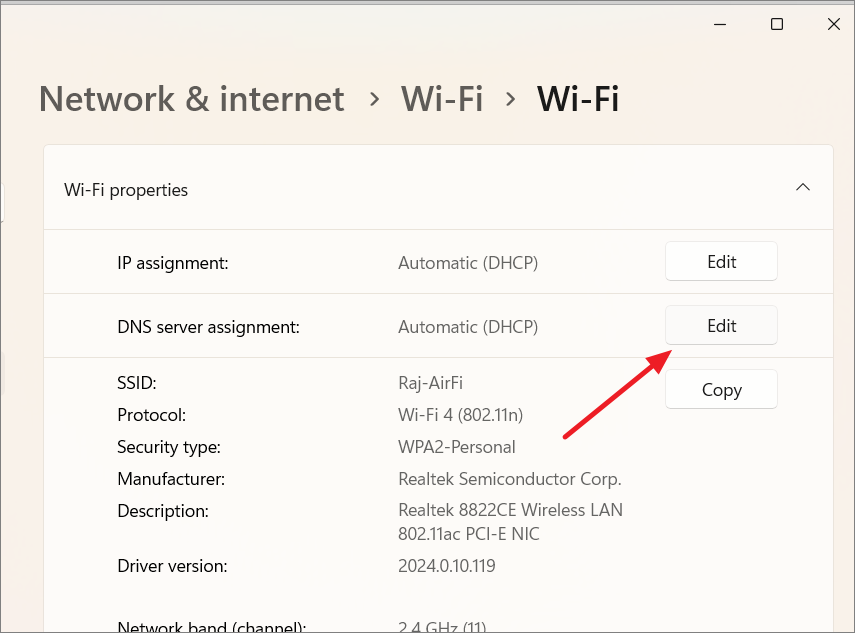 Then, choose 'Manual' from the drop-down.
Now, turn on the 'IPv4' toggle and enter the Primary DNS address in the 'Preferred DNS' box and the Secondary DNS address in the 'Alternate DNS' box.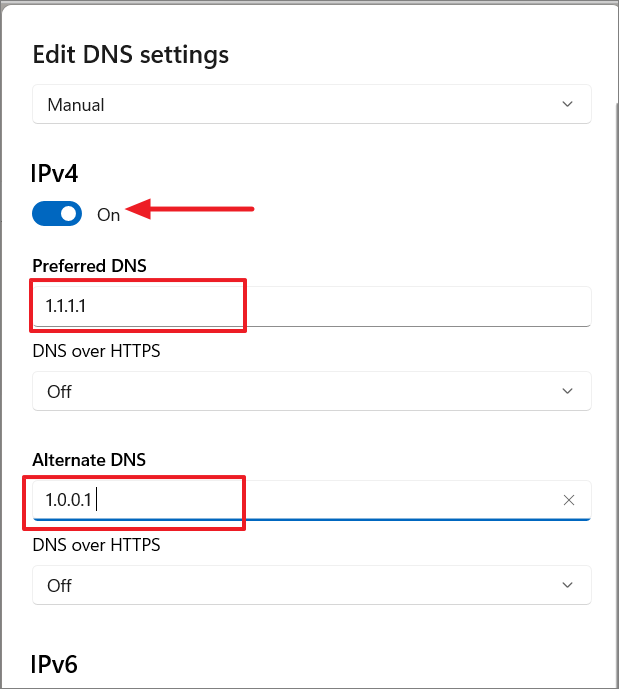 There are several free DNS servers available that can provide a faster browsing experience, improve security, and prevent cyber attacks. Some of the safest options include:
Google (IPv4)
Primary DNS: 8.8.8.8
Secondary DNS: 8.8.4.4
Cloudflare (IPv4)
Primary DNS: 1.1.1.1
Secondary DNS: 1.0.0.1
Quad9 (IPv4)
Primary DNS: 9.9.9.9
Secondary DNS: 149.112.112.112
OpenDNS (IPv4)
Primary DNS: 208.67.222.222
Primary DNS: 208.67.220.220
In the same window, set both 'DNS over HTTPS' options under Preferred DNS and Alternate DNS to 'On (automatic template)'.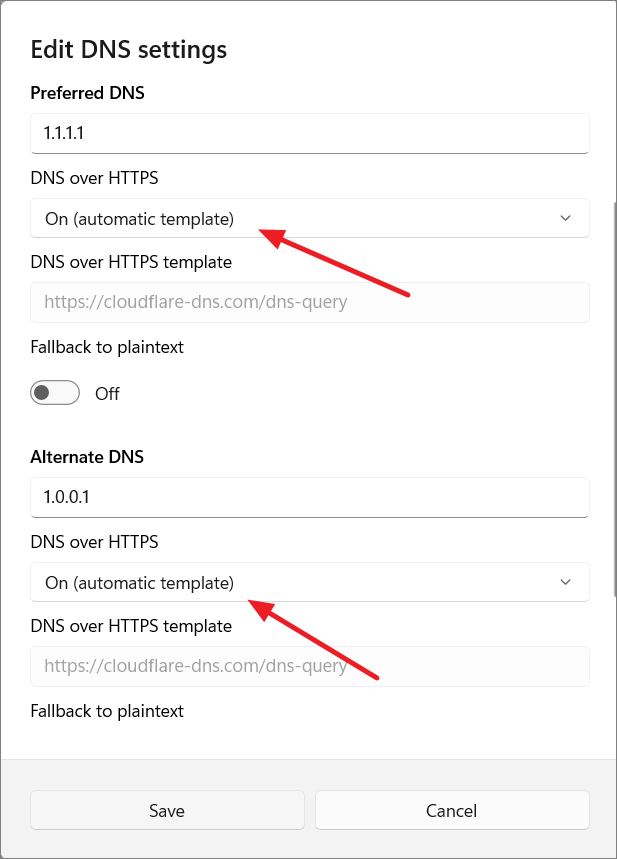 After that, turn on the switch for 'IPv6' and repeat the process.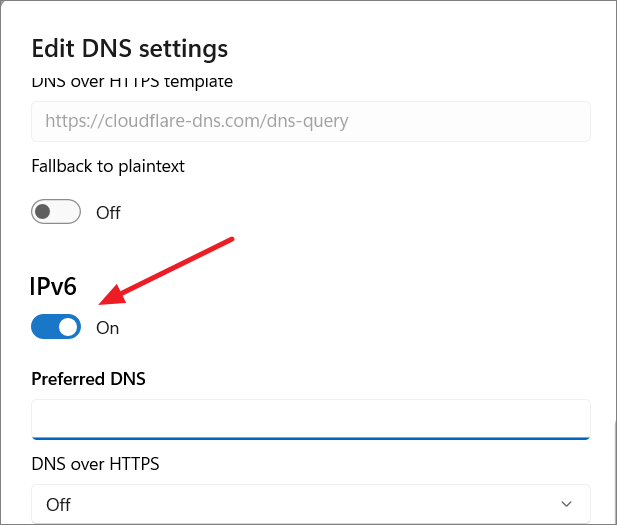 Here are some free, trusted IPv6 DNS addresses:
Google (IPv6)
Primary DNS: 2001:4860:4860::8888
Secondary DNS: 2001:4860:4860::8844
Quad9
Primary DNS: 2620:fe::fe
Secondary DNS: 2620:fe::9
OpenDNS
Primary DNS: 2620:119:35::35
Secondary DNS: 2620:119:53::53
Cloudflare (IPv6)
Primary DNS: 2606:4700:4700::1111
Secondary DNS: 2606:4700:4700::1001
Finally, click 'Save' to save the settings.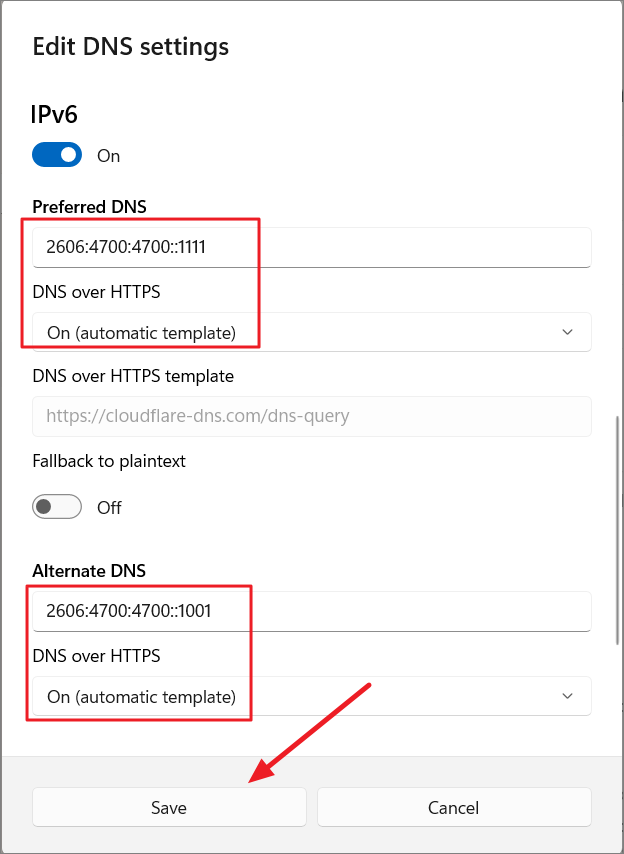 When you choose to use DNS servers from a reliable outside source, you can stop your online activities from being logged. This makes your internet browsing more private. You can also avoid dangerous websites and get to websites that might be blocked.
11. Remove Recommended Start Menu Items
The Windows 11 Start menu is divided into two sections: the 'Pinned' section, allowing you to place your favorite apps and folders on the Start menu for quick access, and the 'Recommended' section, which provides suggestions based on recently added apps and recently accessed files and folders.
These suggestions are generated by monitoring your activity on Windows 11. However, if you were to let someone access your computer, they could potentially view the apps and files or folders (even hidden files/folders), which is an invasion of your privacy.
To access the Settings app, simply press the keyboard shortcut Windows + I.
Once in the Settings app, select 'Personalization' from the options listed on the left.
Scroll down the right-hand side and click on the 'Start' tile.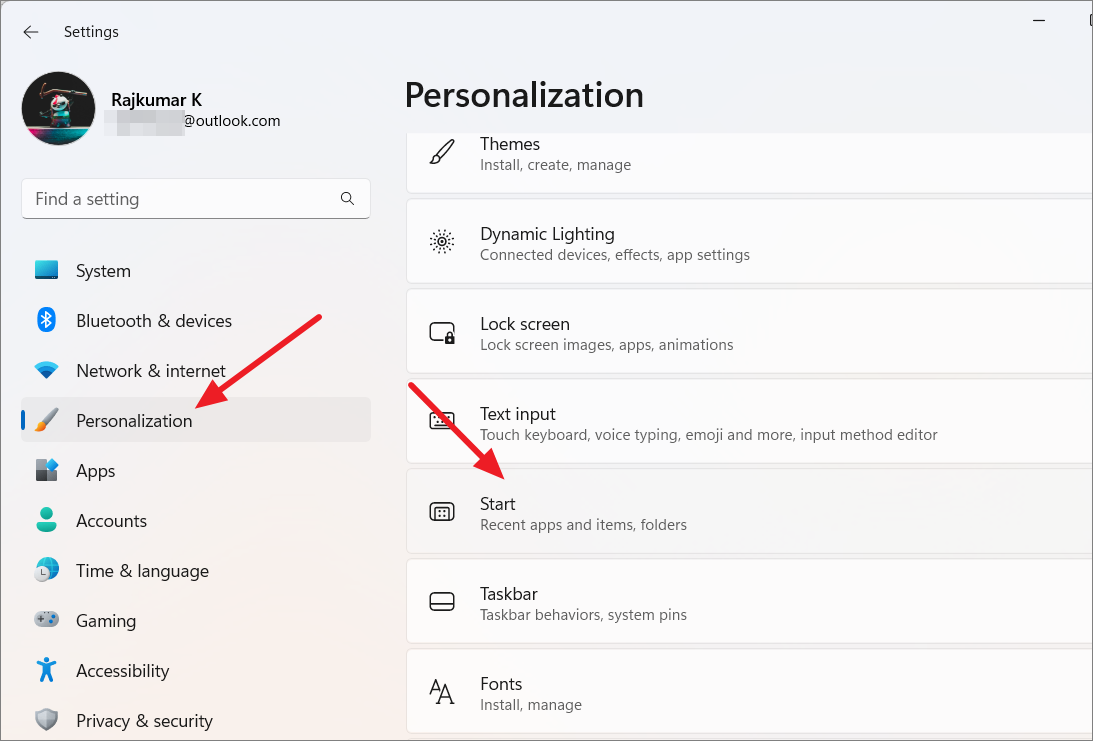 In this menu, you can disable the following two options by toggling them off: 'Show recently added apps' and 'Show recommended files in Start, recent files in File Explorer, and items in Jump Lists'.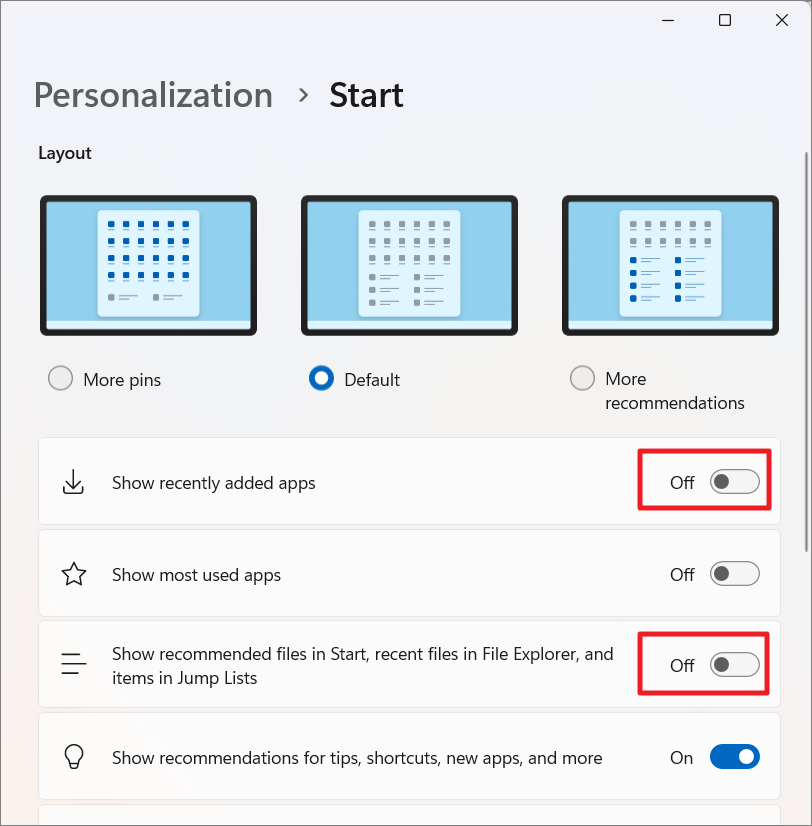 Disabling the second setting will also disable the suggestions in the Quick Access section within File Explorer, along with the options available in the right-click context menu when clicking on the File Explorer icon on the taskbar.
12. Stop Using OneDrive
If you're really careful about keeping your data private on Windows 11, stop using OneDrive. It's for those who are not comfortable with syncing their data and files to Microsoft's OneDrive cloud storage service. Even though you can't completely remove OneDrive, you can make sure it doesn't copy your stuff.
Right-click on the OneDrive icon located in the notification tray on the taskbar. If OneDrive is not running in the taskbar, you can search for it in the Windows search and open it.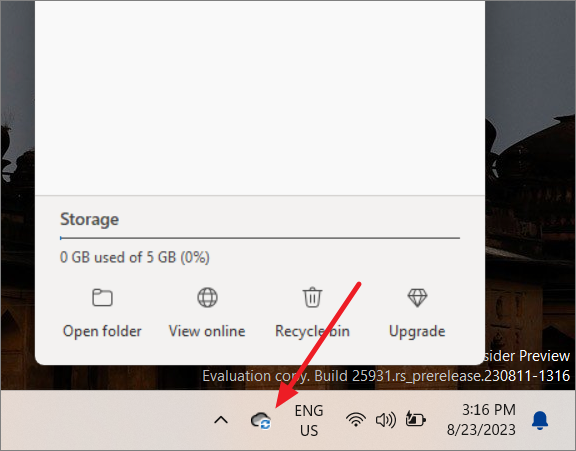 Click the gear icon situated at the upper-right corner of the pop-up and choose 'Settings' from the dropdown menu.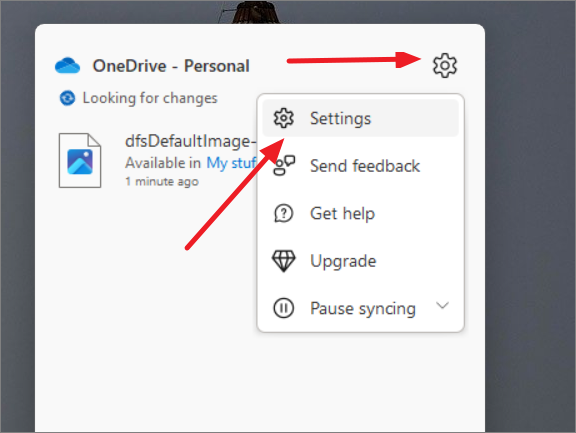 Navigate to the 'Accounts' tab and click on 'Unlink this PC'.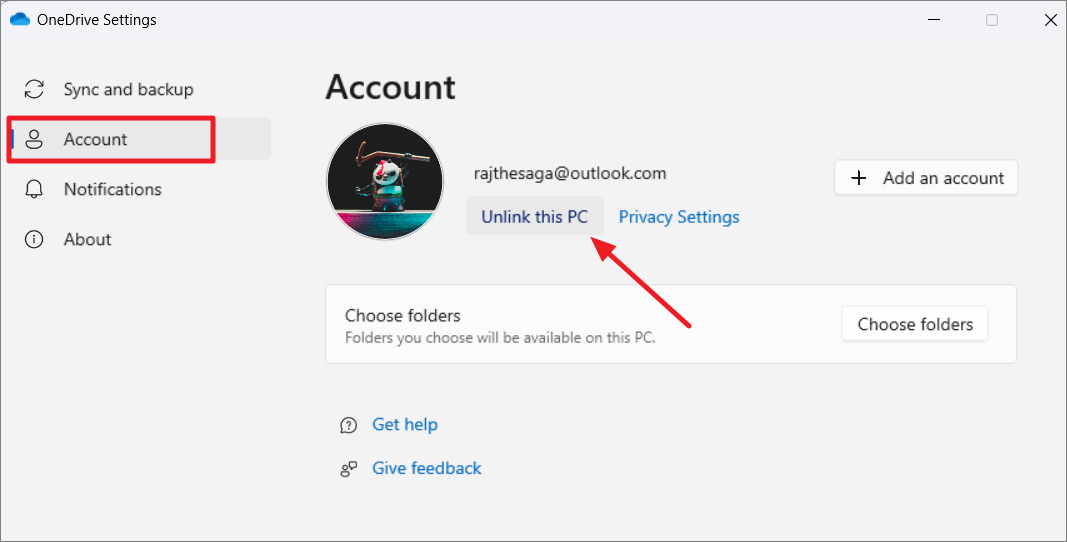 After that, click the 'Unlink account' button.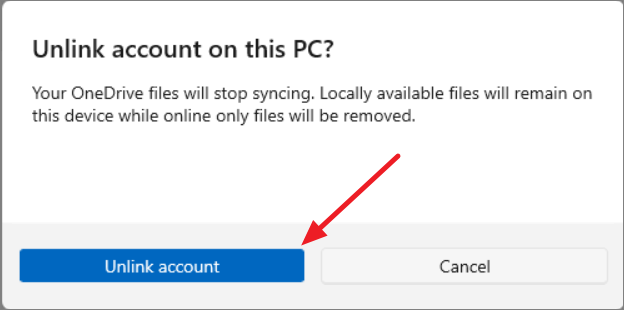 If you want to back up your files regularly, you can use the Windows Backup and Restore feature or the File History feature instead to create periodic backups of your files on Windows 11.
13. Clear Your Microsoft Cloud Data
Even after you've gone through all the deactivation of various features and deleting data, Microsoft continues to track and send your data to their servers. Microsoft may say they are doing this to improve their products, personalize their online experiences, understand user behavior, display targeted ads, and offer better suggestions.
The good news is that you do have the option to wipe out all cloud-stored data. This includes location history, browsing records from Edge or Windows Search, how you've used apps and services, your media-related activities, and even performance data. Even if they say it's to make things better, like showing ads you might like, you can still get rid of this info if you want. Follow these steps to remove your data from the cloud.
Go to Microsoft's privacy dashboard with this link and click 'Sign in'.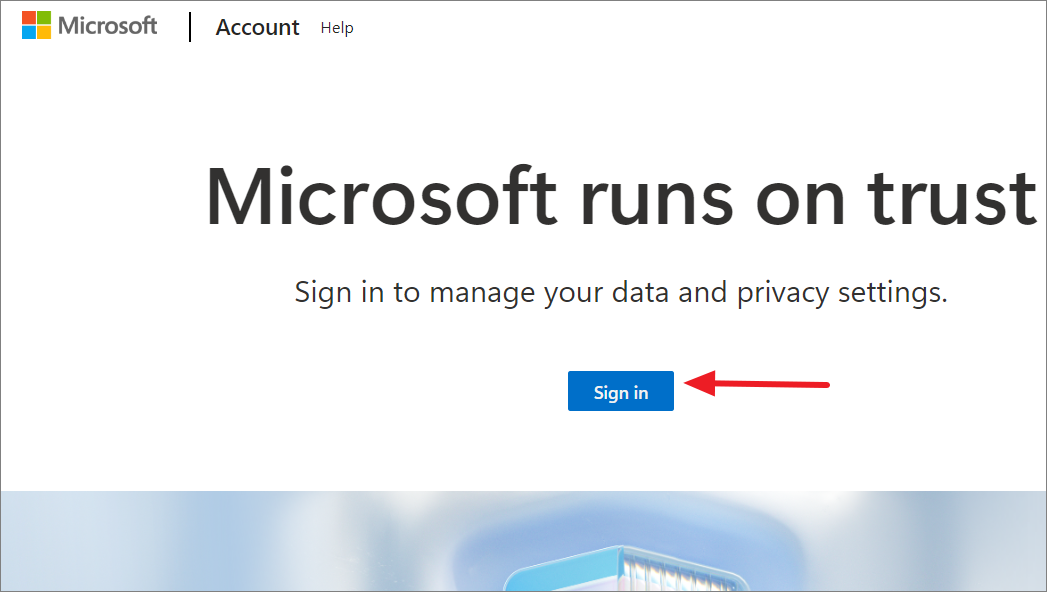 Then, sign in using the Microsoft account linked to your Windows 11 PC.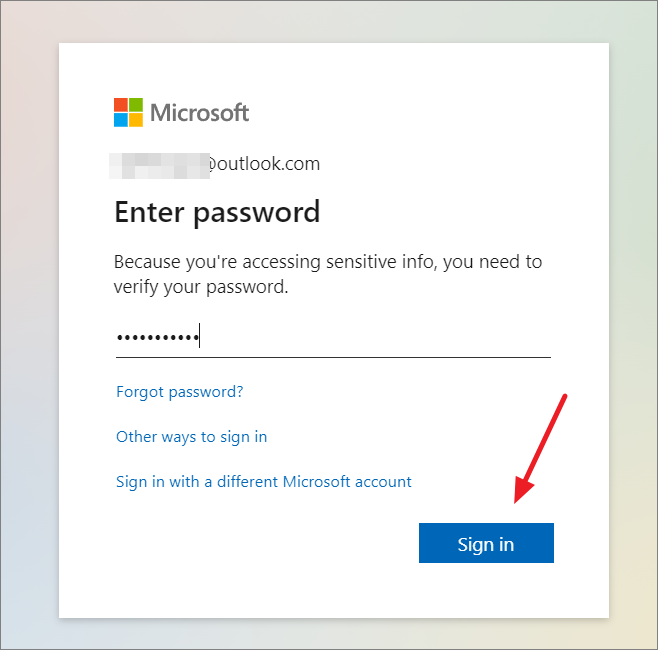 On your privacy dashboard, click the 'Privacy' tab on the toolbar.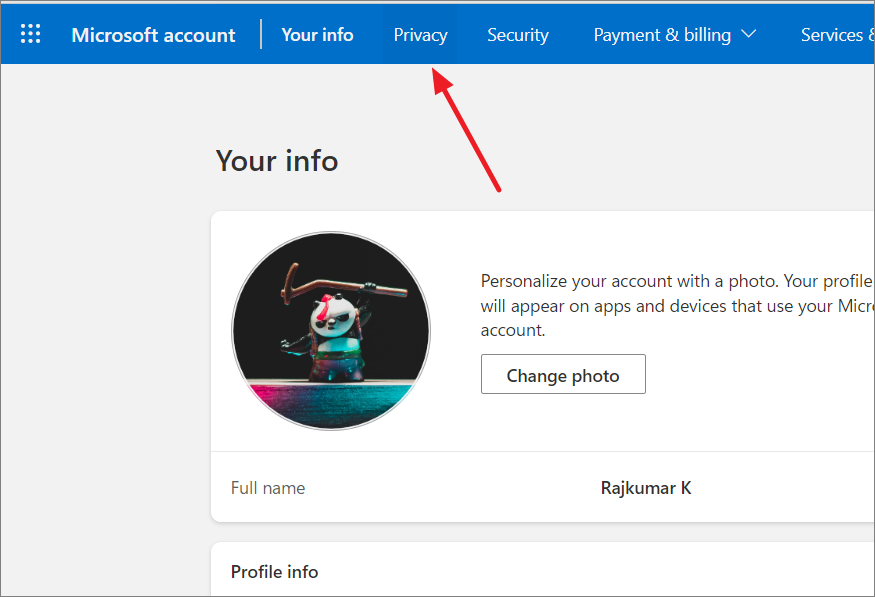 Now, scroll down to the Manage your activity data section and expand the 'Location activity' option. Then, click on 'Clear all location activity'.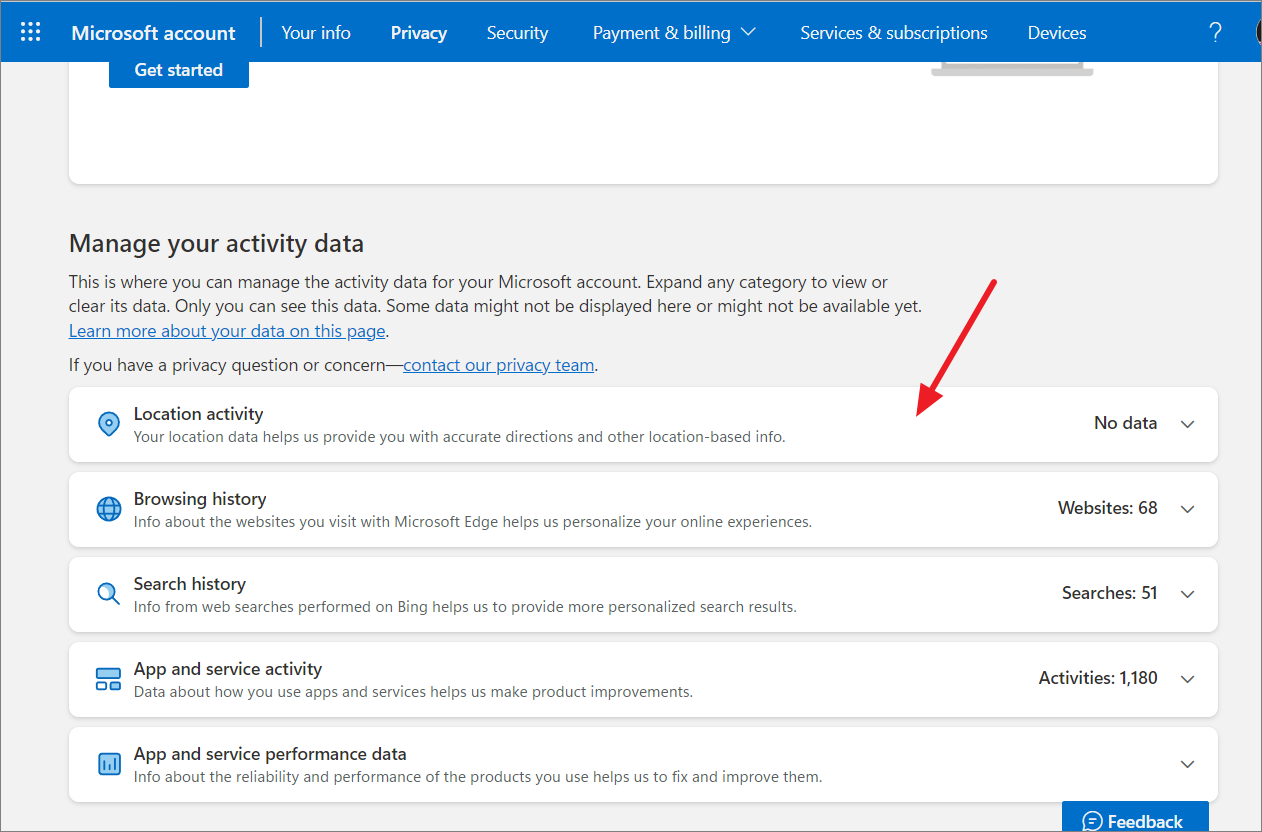 Browsing history holds details about websites accessed through the Microsoft Edge browser. If you're looking to enhance privacy in Windows 11, expand the 'Browsing history' section and click 'Clear all browsing activity'.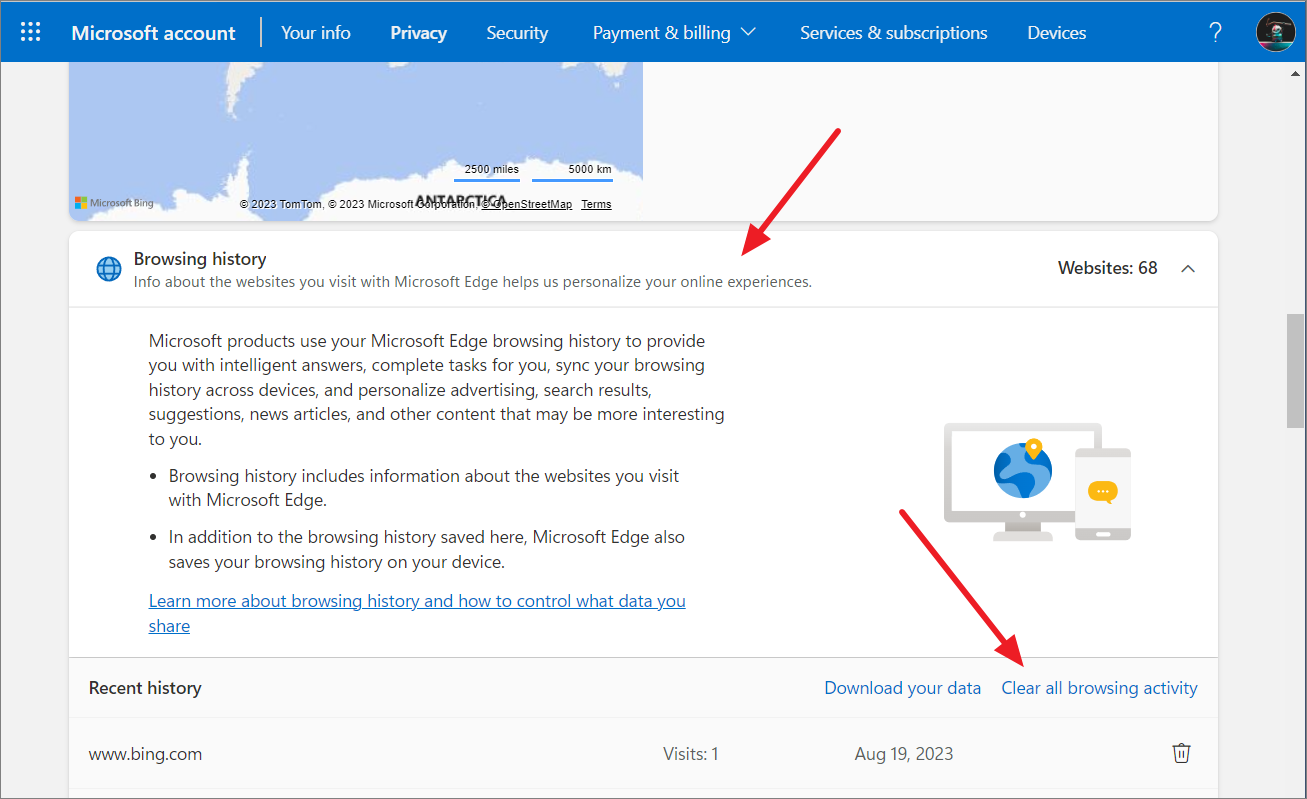 The Search history contains data about all the searches conducted via Bing Search, Windows Search, Cortana, etc. Expand this section, and click 'Clear all search history'.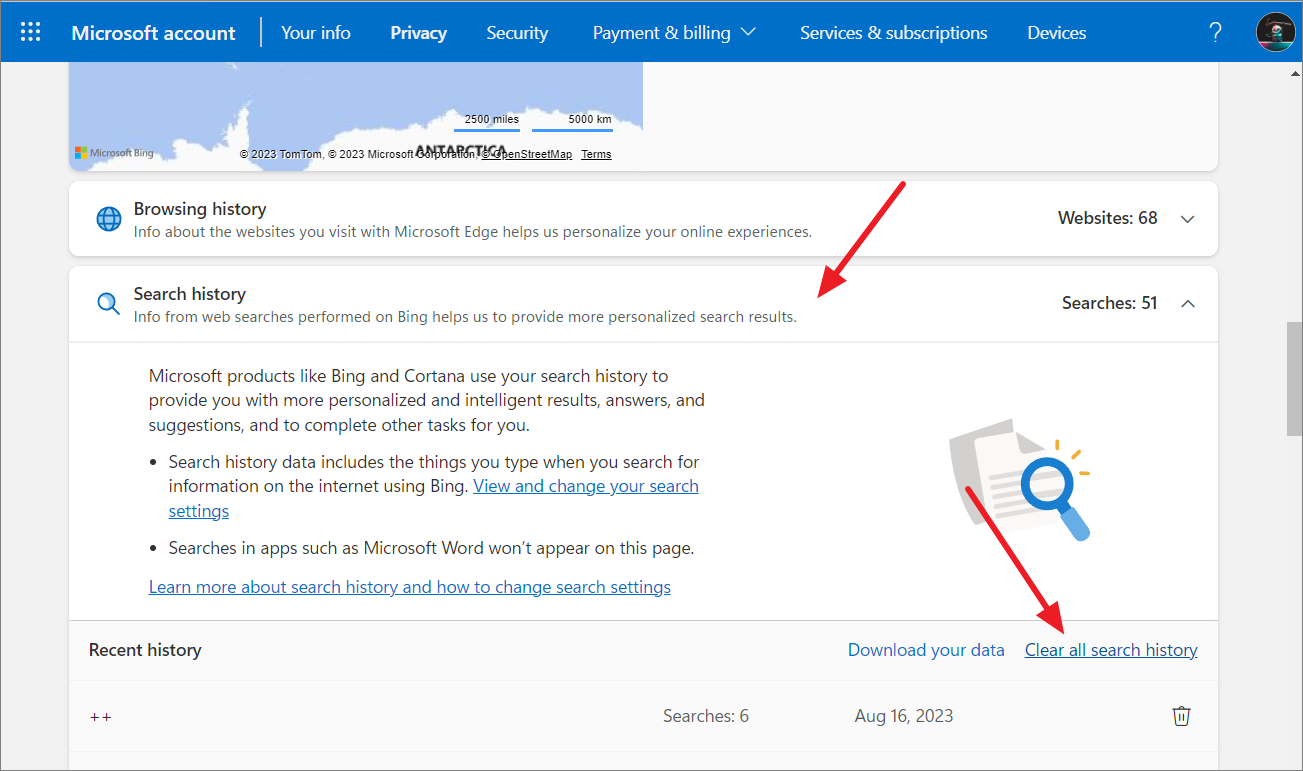 The App and service activity contains information about how you use your app and services. So, expand the 'App and service activity' option and Click 'Clear all app and service activity'.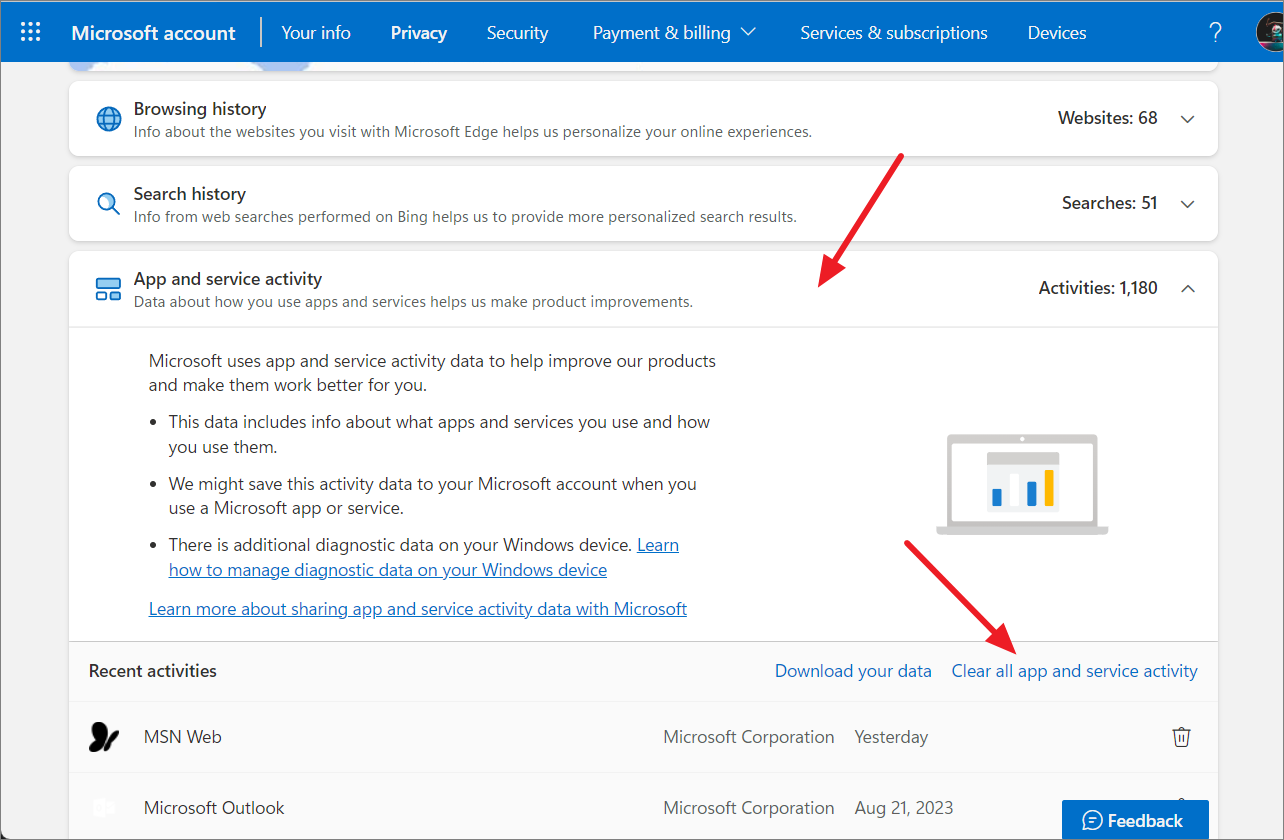 Another data that you should clear is App and service performance data which is a collection of reliability and performance data collected when you're using the Microsoft apps. So, expand the 'App and service performance data' option as well and click the 'Clear app and service performance data' button.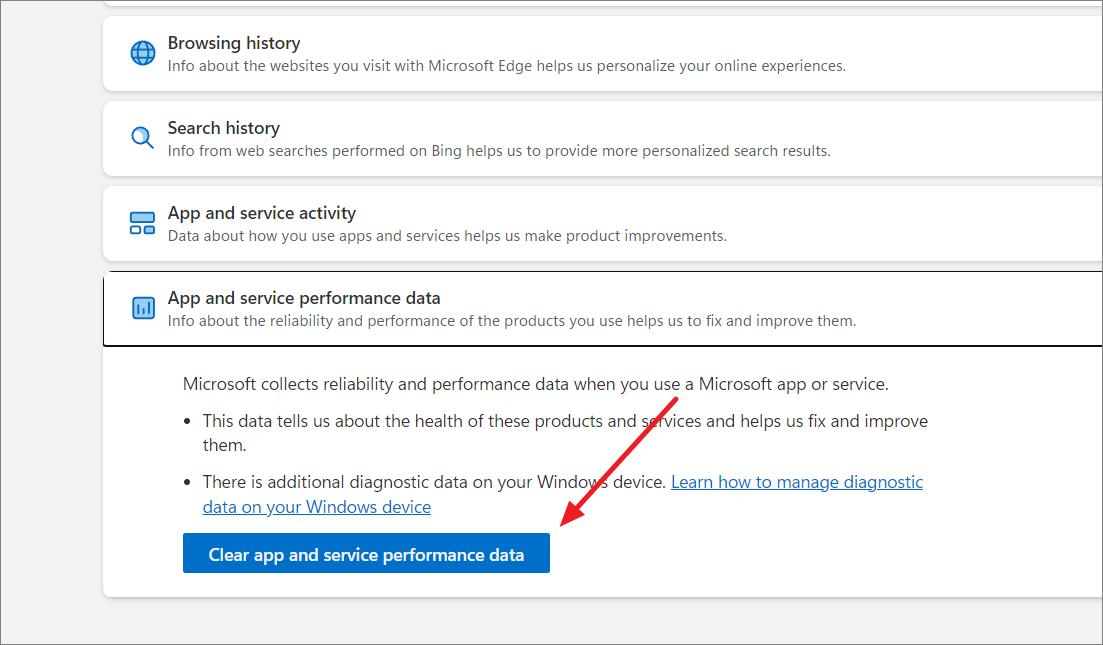 14. Disable Clipboard syncing
Clipboard syncing was added along with several other continuity features in Windows 10. If you use multiple Windows devices connected to the same Microsoft account, you can synchronize your clipboard across these computers. This feature is not enabled by default, but if you had it active in Windows 10, it will remain active when you upgrade to Windows 11.
When enabled, anything you copy to the clipboard gets sent to Microsoft's servers. This might raise concerns, especially when dealing with sensitive information. If this worries you, you can easily switch off the clipboard syncing feature.
Launch the Windows Settings, select the 'System' tab, and click on 'Clipboard' on the right pane.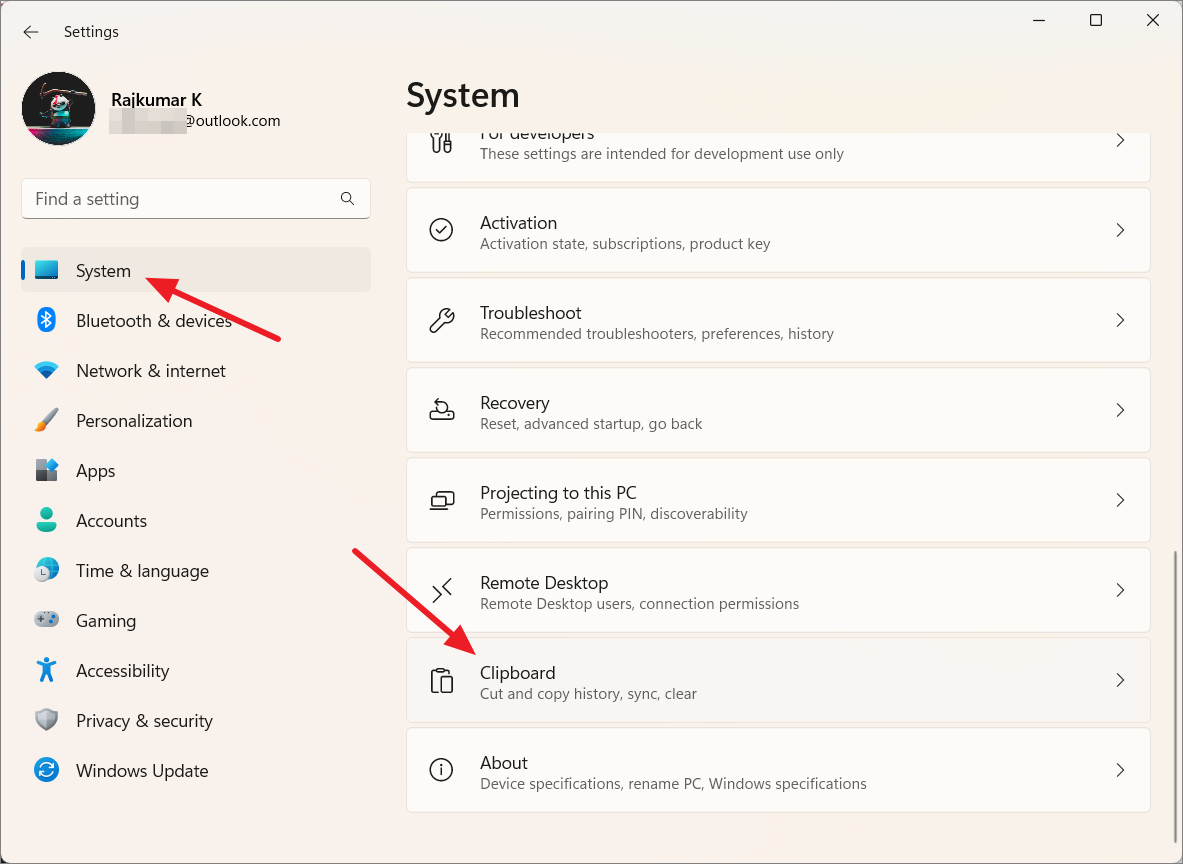 Then, flip the 'Sync across your devices' switch to the off position.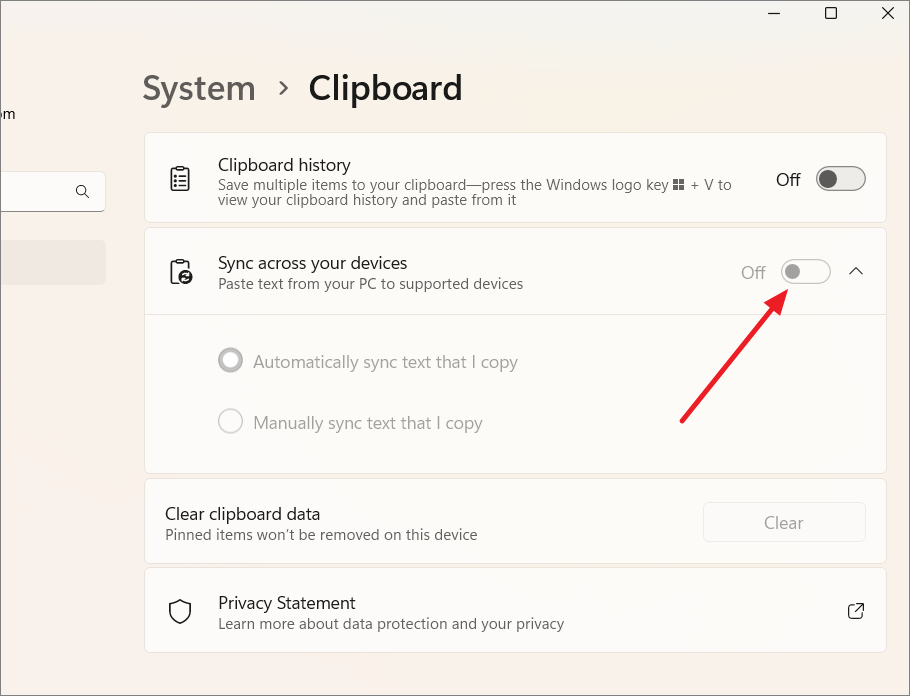 15. Use a VPN Connection
When you're connected to a VPN, your browsing data becomes unreadable to anyone trying to snoop, whether it's cybercriminals or even your local internet service provider. This comes especially handy in keeping your information safe from potential risks when you're on public Wi-Fi.
What's more, a VPN hides where you actually are by masking your IP address, making it seem like you're browsing from a different country. This doesn't just amp up your privacy but also lets you access content that might be off-limits in your area. Whether you're working remotely or just protecting personal stuff, the VPN acts like a digital bodyguard, securing your connection and stopping unauthorized people from getting in.
However, not all VPN services are made equal. Picking a reliable and trustworthy one is key for better security and privacy. While using a VPN might slow down your internet a tad because of the encryption, the protection it gives you is totally worth it.
---
That's just about everything you can do to protect your privacy on Windows 11. In an ideal world, your data will be completely private. But we don't live in an ideal world, we live in a capitalist world where data is a hot commodity. So, protect your privacy as much as you can using the measures above.