Windows Registry is a huge database that contains important data and settings for the proper functioning of the operating system, services, system apps, and processes. If a registry is broken or corrupted, it may cause its associated process or application to stop working properly or damage your data beyond recovery, or in some cases, it may show you the blue screen on your PC.
The registry contains information regarding almost everything on your system, so whenever something is changed in your computer, like a new app is installed or removed, or a setting is changed, or a device is attached, the registry is automatically updated. Because of this, the registry is highly susceptible to damage or corruption. However, it is also easy to fix broken registries in Windows 11. We'll see how to fix or delete broken registry entries on Windows 11 in different methods, one by one.
Common Causes of Broken or Corrupted Registry Items
There are several reasons why registry items may get damaged or corrupted:
One of the common cause is fragmented registries. These error occurs when you uninstall or upgrade an application, but some of the unused values, duplicate keys, and redundant entries stays in the registry, resulting in slowing your PC.
Some abrupt shutdown or power failure, or crashes can also corrupt the registry items.
Another major cause for registry errors are malwares and viruses. Malwares modifies and stores values in the registry, causing registry problems. Even after the malware is neutralized, it may leave behind some values in the registry.
Windows registry tends to accumulate thousands of useless, empty, corrupt entries over time, resulting in clogging your computer.
Faulty hardware or devices can also cause registry items to break.
You may have accidently added, modified, or deleted wrong entries when you are editing the Windows Registry trying to add a feature or change a setting.
Create a Backup of Windows Registry
You should backup your registry before making any major changes to your computer, like trying to modify or fix the registry. So it is best to backup your Windows registry before you start fixing or deleting the broken registry item. Also, the best time to backup your registry is when you have a clean system or right after installing your OS.
To open Windows Registry, press Win + R, then in the Run box, type regedit and press Enter. Alternatively, you can search for Windows Registry in the Windows Search bar and open it.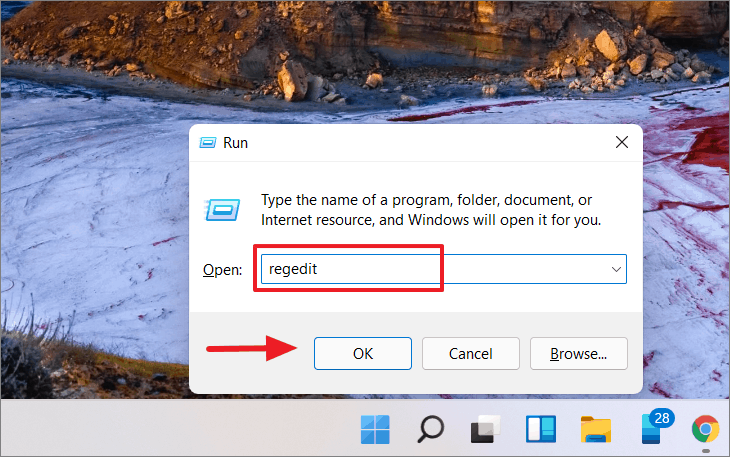 If User Account Control asks for permission, click 'Yes'.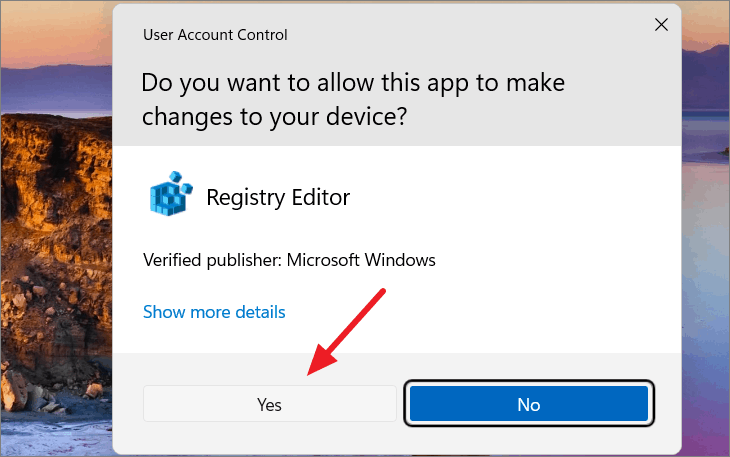 To back up the registry, right-click on 'Computer' in the left panel and select 'Export'.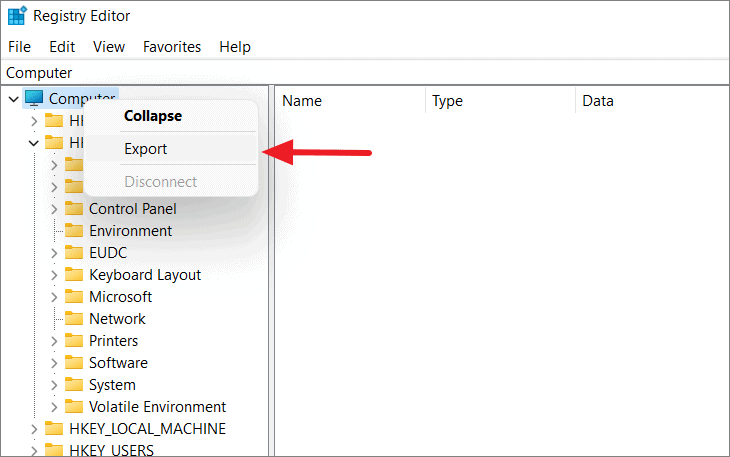 Enter a name for the backup file and select a safe location (like a backup drive or a USB drive). Then, click 'Save' to save the backup file.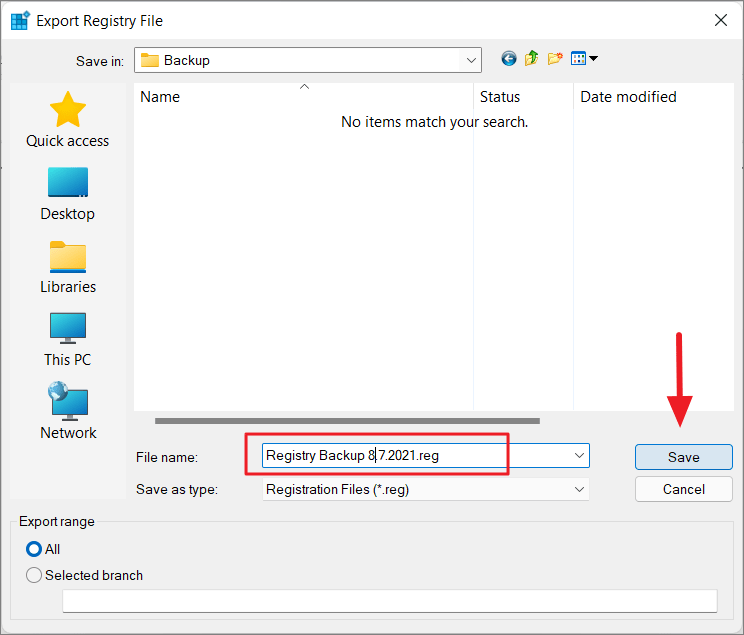 Fixing Registry with a Backup Registry File
If you happen to have backed up your Registry when you had a clean system or before your computer starts acting up, or before the registry errors occurred, you can use that backup file to quickly fix your problems.
All you have to do is open Windows Registry, click 'File', and select 'Import'.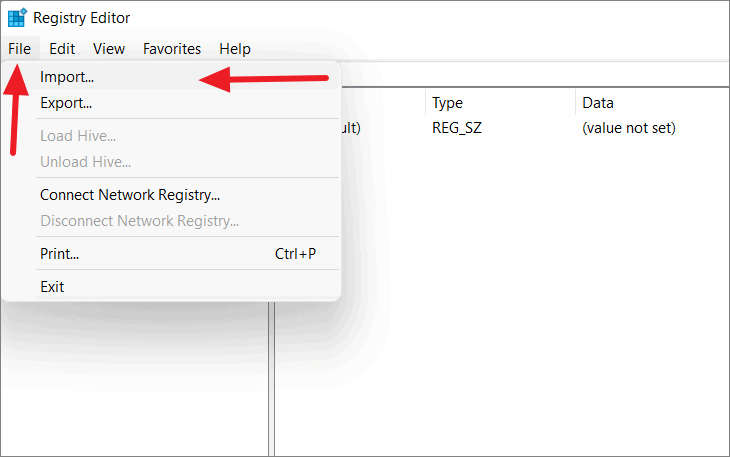 Then, choose the backup file and select 'Open'. And the backup registry file will replace the broken or damaged entries in your system.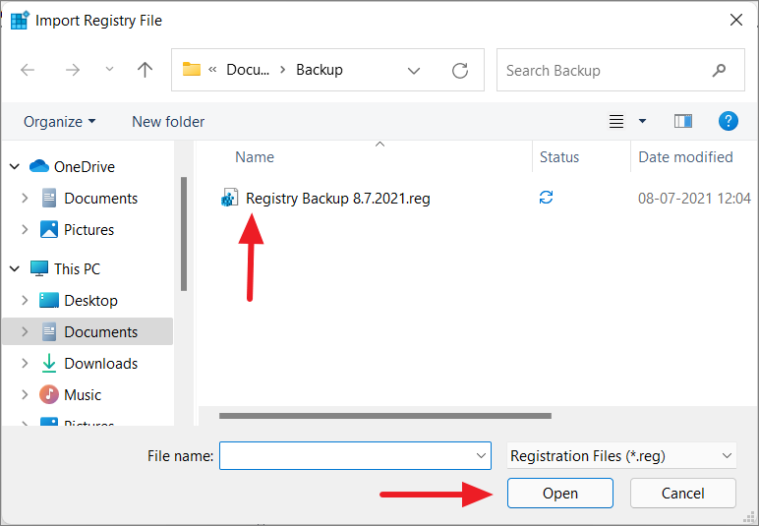 Alternatively, you can also right-click the registry file and select 'Merge'. The registry file will be automatically imported to your Registry.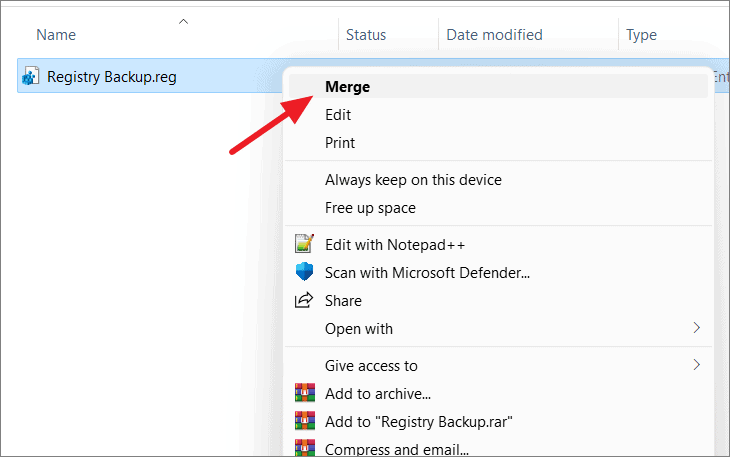 If you don't have a registry backup from before the error has occurred, then try the following methods one by one and see if the problem or error is fixed.
Use Disk Cleanup to Delete Broken and Unused Registry Items
When you uninstall software, drivers, and devices, they tend to leave behind broken and unused registry entries in your computer. These unnecessary junks accumulate over time and clog your system, which leads to slowing down your PC.
Fortunately, Microsoft incorporates the Disk Cleanup utility in nearly all versions of Windows. You can use this disk cleanup feature to delete unnecessary files from your PC. This includes broken registry items.
To access this utility, search for 'disk cleanup' in the Windows 11 Search bar and click the first option in the results.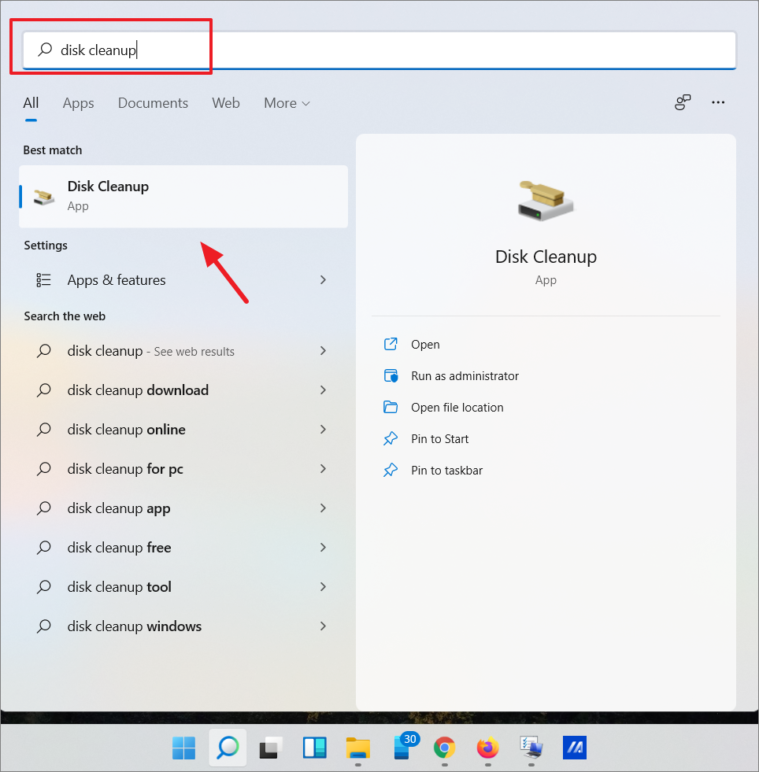 Next, select the drive (C:) on which Windows is installed and click 'OK'.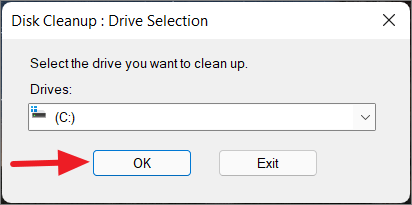 Now, click on the 'Clean up system files' button and select the drive again to deep scan the Windows files.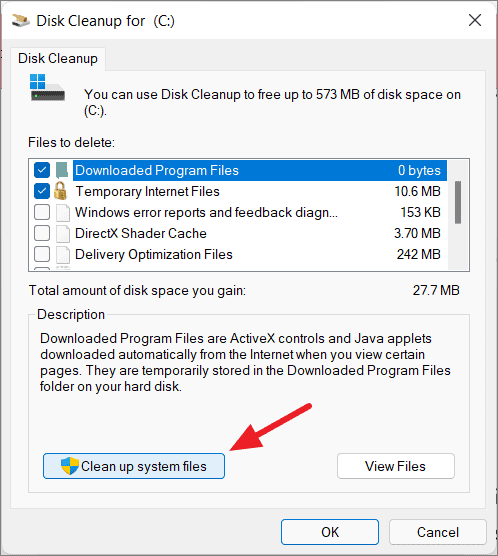 It will take a few minutes to scan for unnecessary corrupted and temporary files.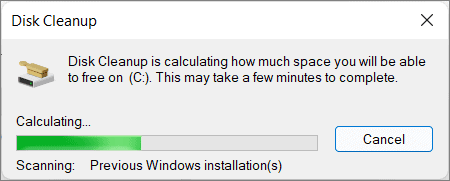 Then, in the Disk Cleanup dialog box, tick the files you want to be cleaned under the 'Files to delete' section. Then, 'OK' when you're done selecting.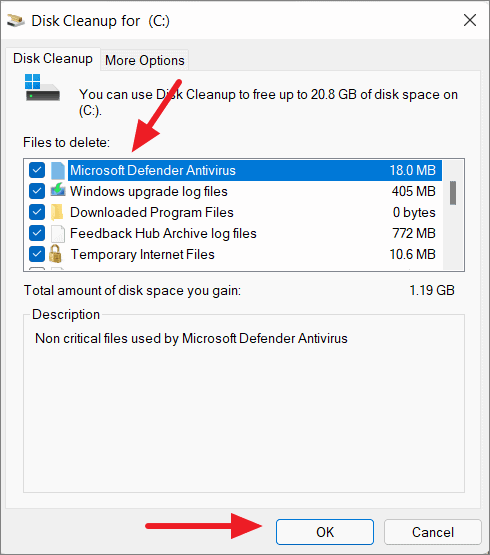 Click the 'Delete Files' button in the confirmation box.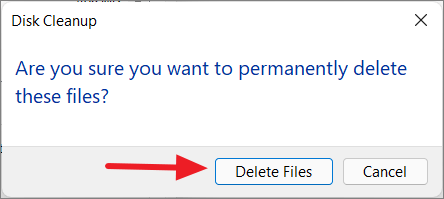 This will get rid of all the corrupted and temporary files on your system.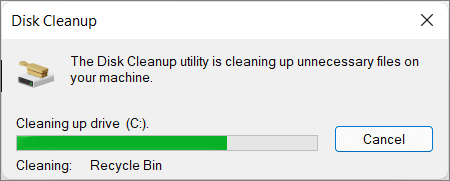 Once the process is done, restart your computer, and the unnecessary registry items will be removed. And this will probably fix your problems and speed up your PC.
Fix Broken Registry Files using System File Checker (SFC)
System File Checker (SFC) is a built-in utility in Windows that allows users to check for damages and corruption in Windows system files and restore the corrupted files with a cached copy. System File Checker can also be used to repair the corrupted or broken registries.
You need to run SFC command-line tool in the Command prompt. So open the Command prompt by searching for 'cmd' or 'Command prompt' in Windows Search and click 'Run as administrator' on the right pane.
In the command prompt, type the following command and press Enter to scan the registry files:
sfc /scannow
It may take a while to complete. Once it's done, the damaged files will be replaced or repaired.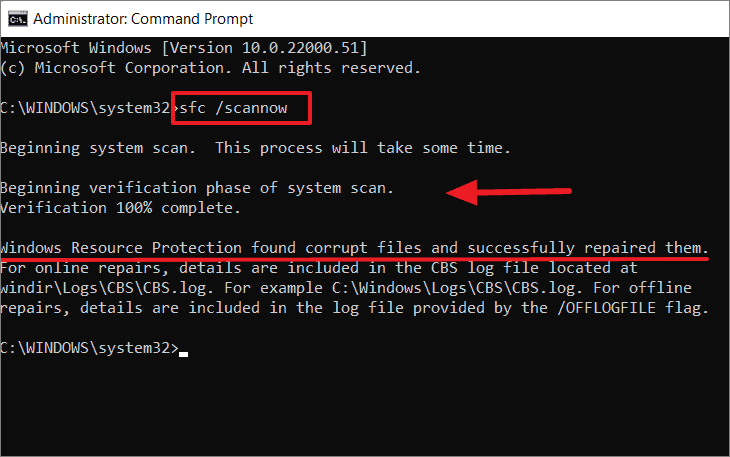 If this method doesn't work, then try another following command-line tool to fix registries.
Fix Broken Registry Files using DISM Command
If System File Checker scan cannot fix the errors, try DISM Scan or Deployment Image & Servicing Management Scan to repair broken registry files.
To run this command, open Command Prompt as administrator, the same way you did for the SFC scan. Then, type the following command and press Enter:
DISM /Online /Cleanup-Image /ScanHealth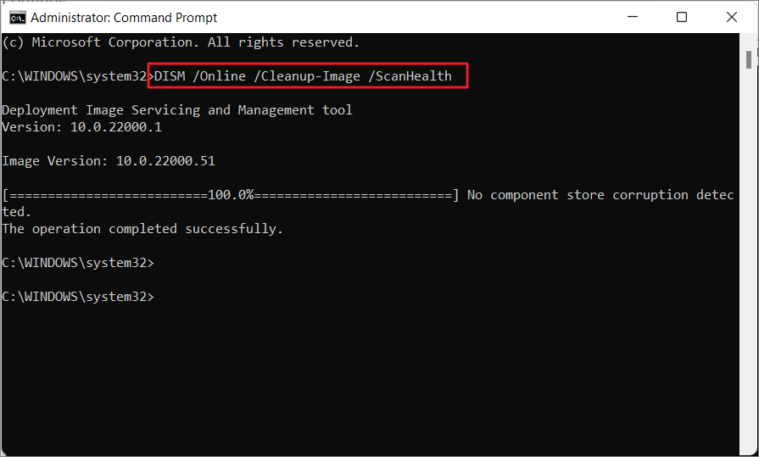 Wait for the scan to complete and see if the error is fixed.
If the issue persists, try the next command:
DISM /Online /Cleanup-Image /RestoreHealth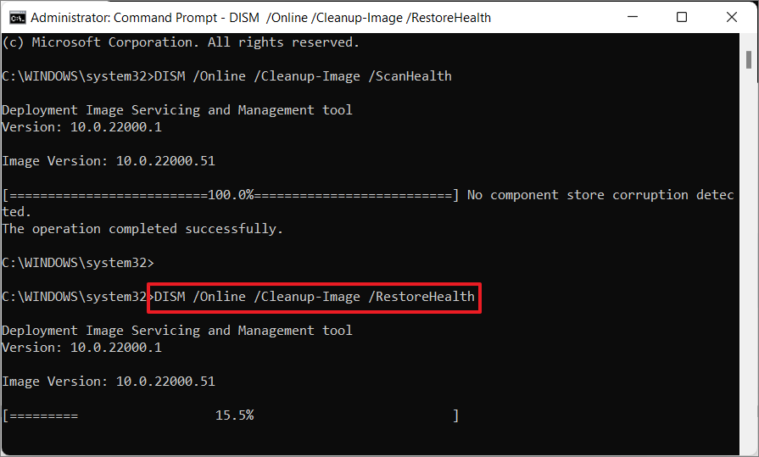 Use Windows Startup Repair to Fix Broken Registry Items
Startup Repair (also known as Automatic repair is a Windows system-recovery tool that is great for finding and fixing errors in registry settings and common boot errors in Windows. It can also be used for repairing corrupted or broken registry items in Windows 11. Here's how:
First, open Windows 11 settings by right-clicking the Start button and selecting 'Settings' from the list of options.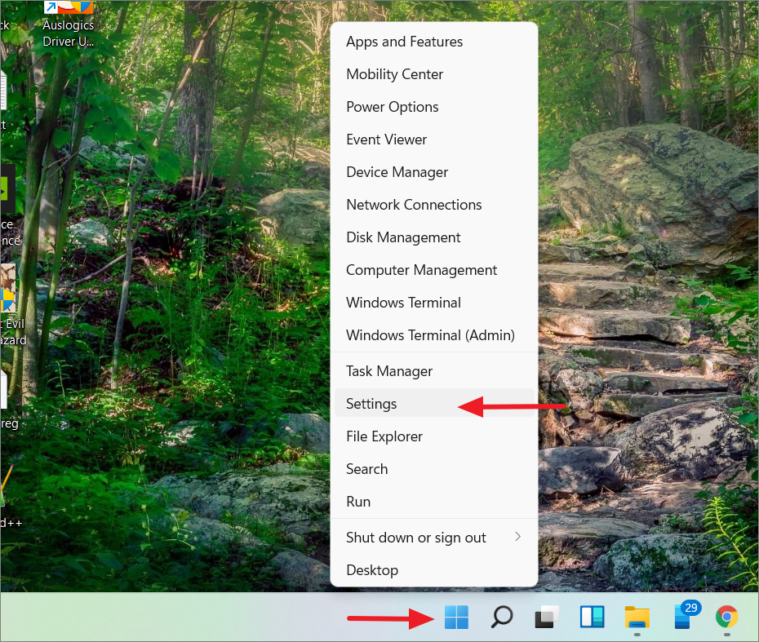 Then, select the 'System' section on the left pane and click the 'Recovery' option on the right pane.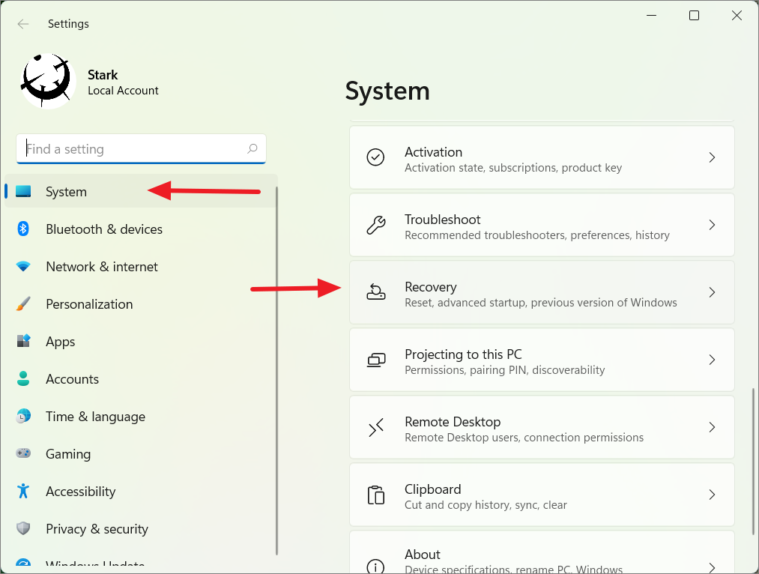 On the Recovery settings page, click on the 'Restart now' button.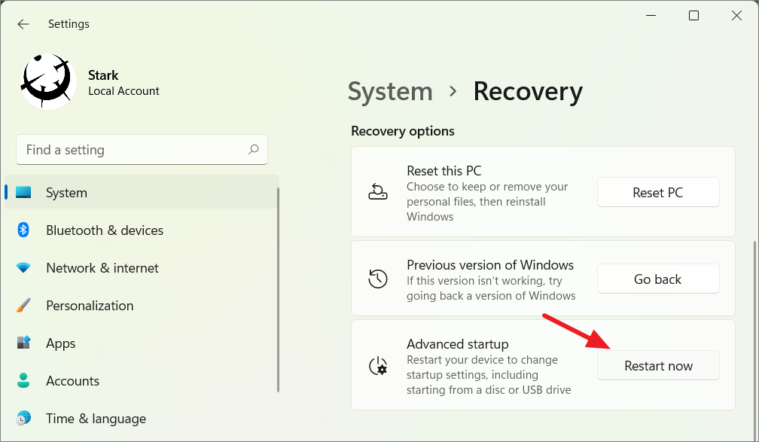 Now, your computer will boot into Windows Recovery Environment (WinRE). WinRE is a recovery environment that helps you with troubleshooting common booting problems, recovery, or booting from external media.
Here, click the 'Troubleshoot' option.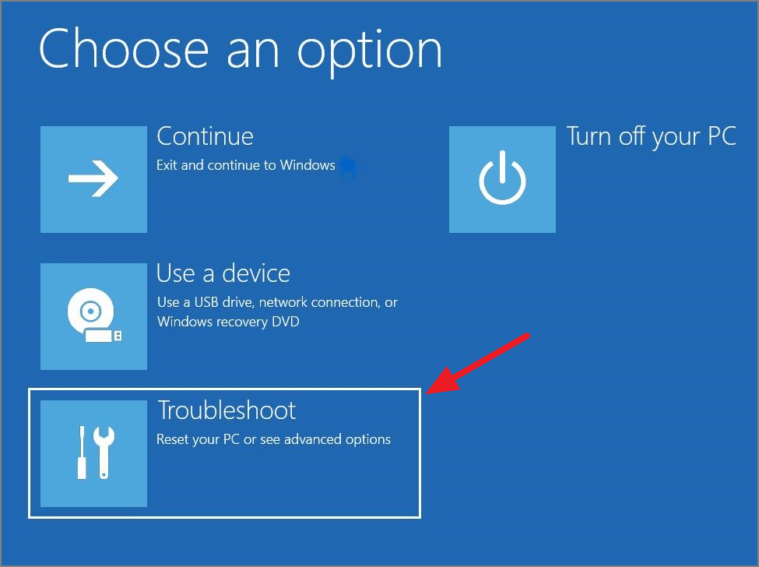 Next, click 'Advanced options'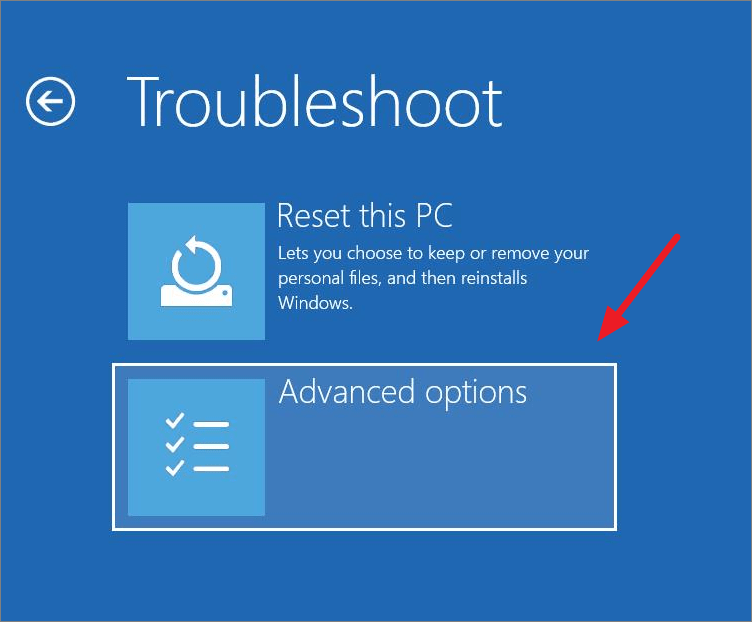 In the next window, select the 'Startup Repair' option.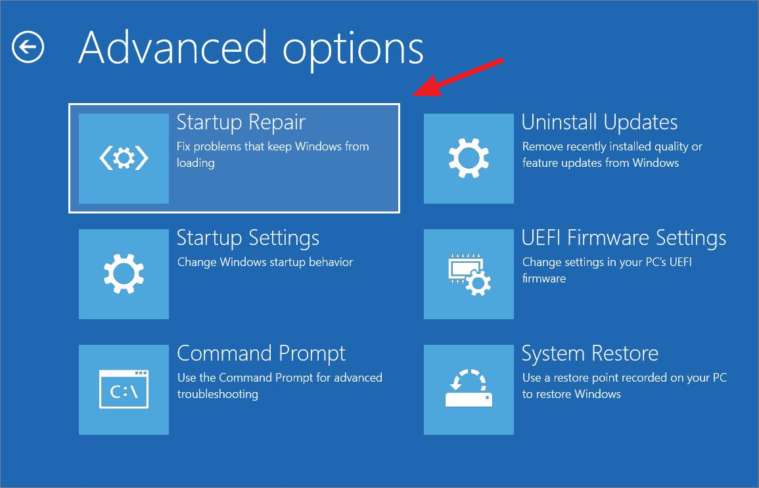 Now, the Startup Repair tool will diagnose your system and fix the registry errors.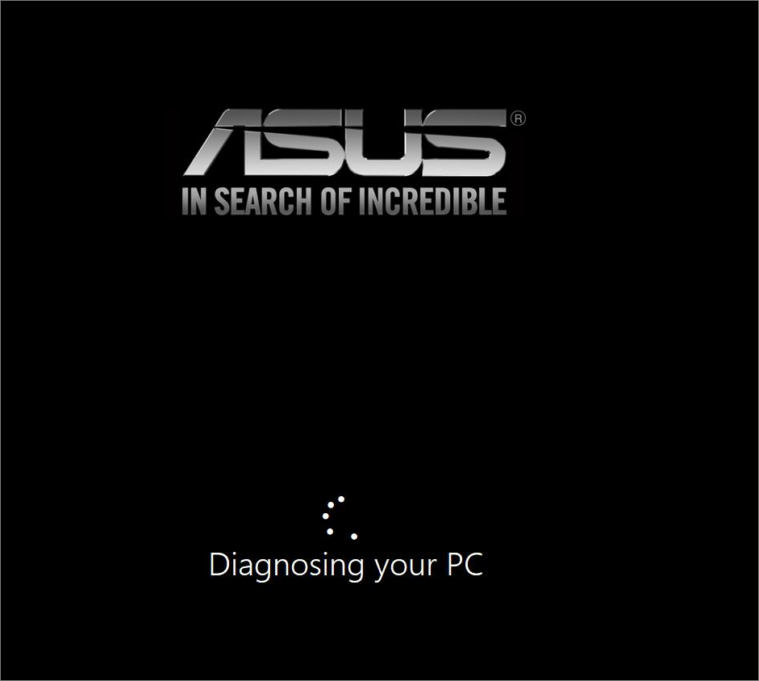 Restore the Windows Items with System Restore
Another way to repair or restore your system's registry items is by using the Windows System Restore tool. Windows System Restore feature automatically creates restore points whenever there are major changes in your system, like software installation, device installation, Windows update, etc. Besides that, the restore points can also be created manually.
A System Restore Point is an image of the system configuration and settings that allow you to restore your Windows installation and important system files (like drivers, installed programs, Windows Registry, and system settings) to a previous state.
If the registry errors occurred only after a certain app or update or driver or when malware is installed into the system, you can use system restore to restore the system to a previous point in time before that app or malware is installed. Let's see how to do that:
Search for 'restore' or 'create restore point' in the Windows search and open it from the result.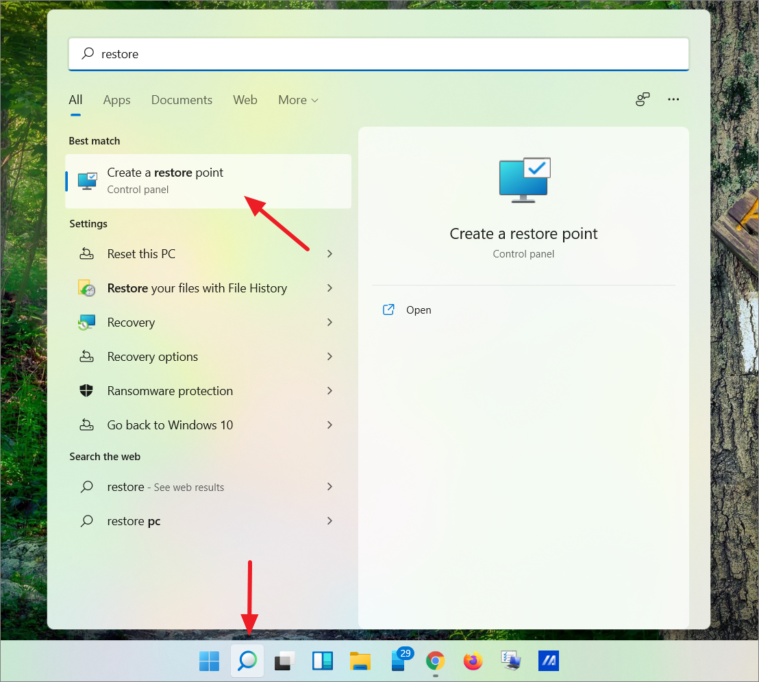 In the System Properties window, under the 'System Protection' tab, click on the 'System Restore' button.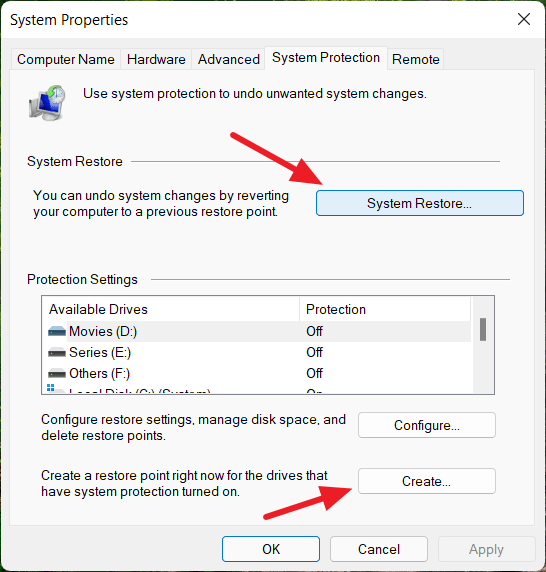 If you want to create a new restore point, click 'Create' to create a manual restore point.
In the System Restore dialog, Windows will show you the most recent restore point as a recommended point. Select 'Recommended restore' if this is the point before the error occurred, or select 'Choose a different restore point' to see earlier ones and click 'Next'.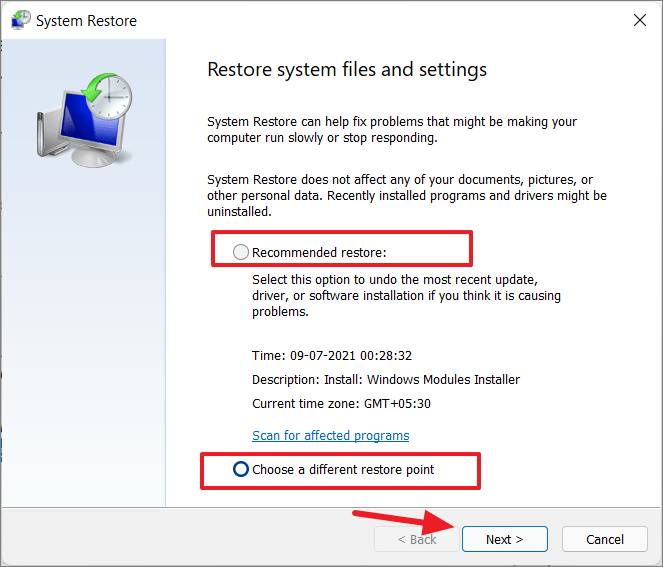 The next screen will show a list of all restore points available (manual and automatic) with timestamps and brief descriptions. Select the restore point and click 'Next'.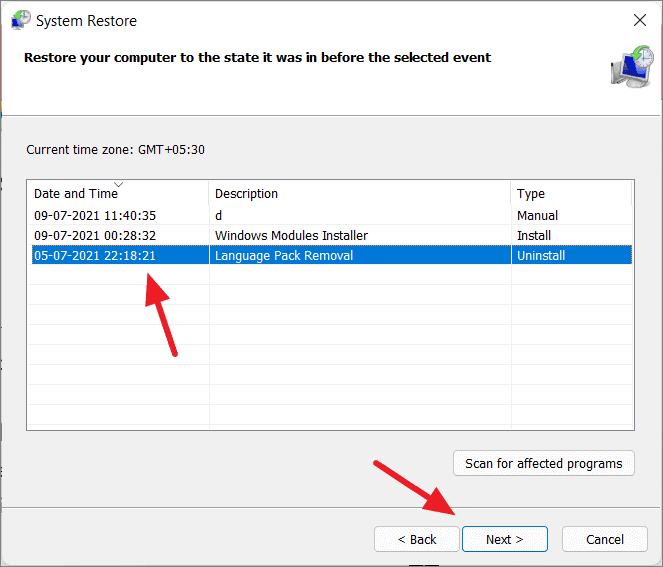 At last, click 'Finish' to confirm the restore point. Your system will restart, and Windows will be restored.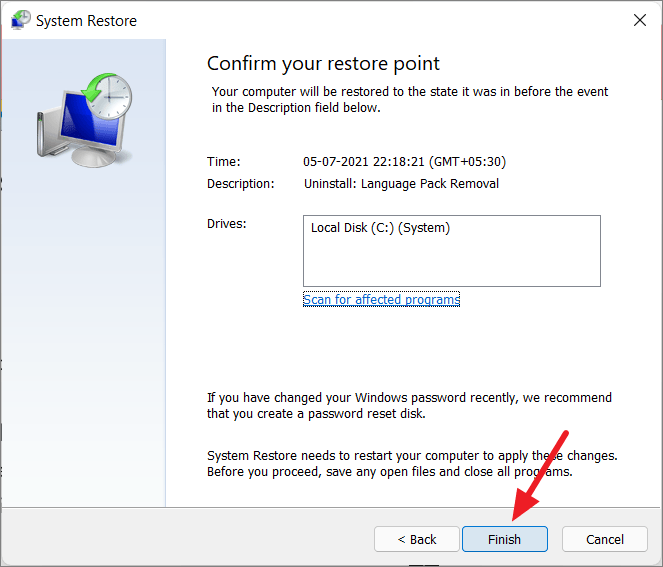 This will probably solve your registry problems. Also, system restore will not affect any of your personal files, so you don't have to worry.
Restore Registry using the Secret Registry Backup
This method is similar to the above method, it restores the Windows Registry back to a previous state when the system was working properly. Windows stores a secret backup of the registry, which we can use to roll back the registry to the point where it was working fine without errors. Follow these steps to do that:
First, you will have to boot to Command Prompt in Recovery mode. To do that, go to the 'Recovery options' in the Settings as you did for the 'Startup Repair' method and click 'Restart now'.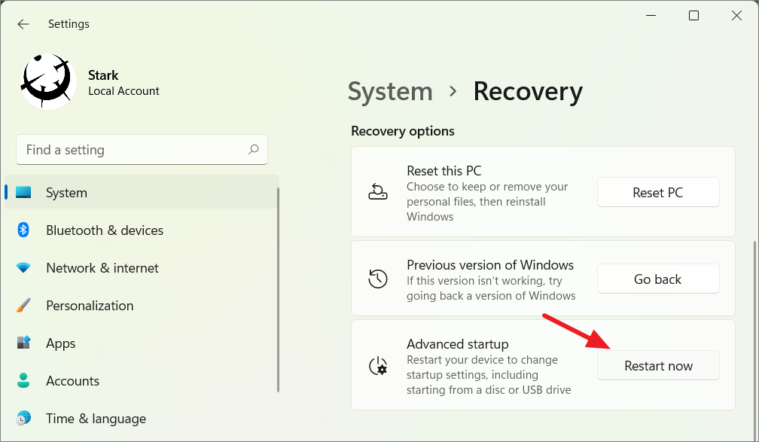 Now, the Windows will boot into Windows Recovery Environment (WinRE). In the WinRE screen, click 'Troubleshoot'.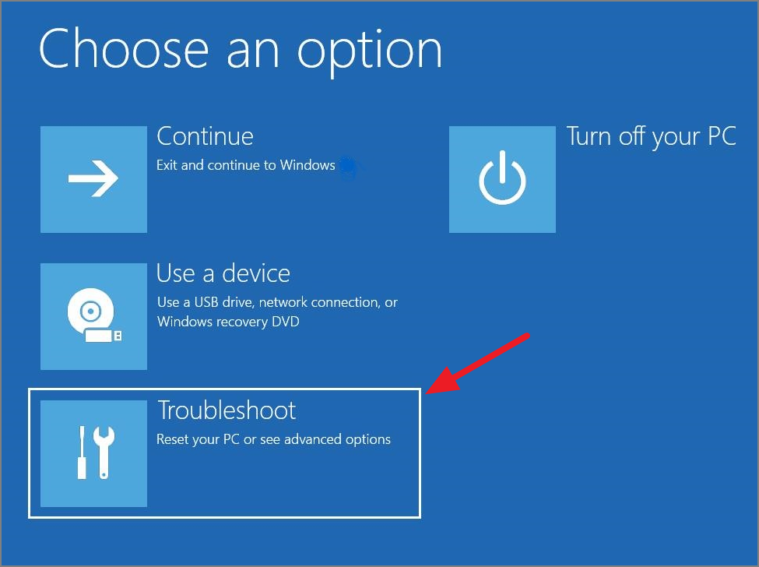 Then, 'Advanced options'.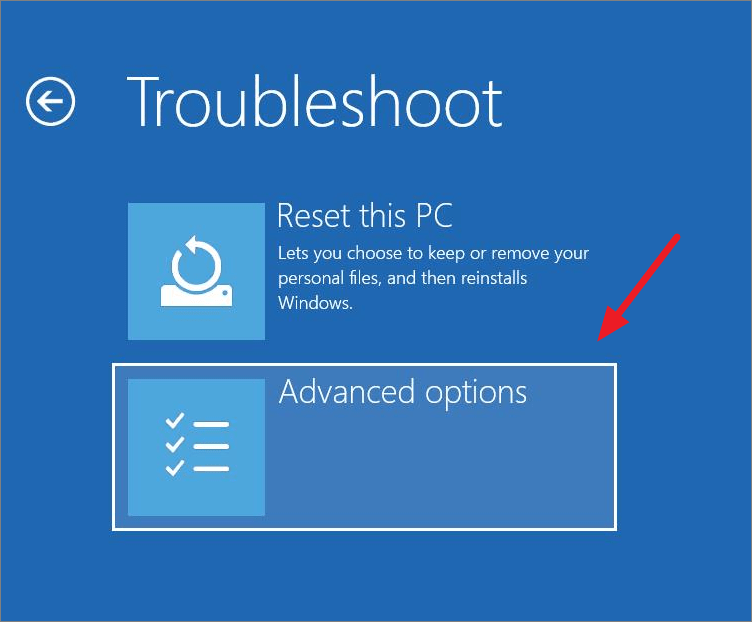 In the next screen, click the 'Command Prompt' option.
Now, Command Prompt will open up in recovery mode and will start on X:\Windows\System32.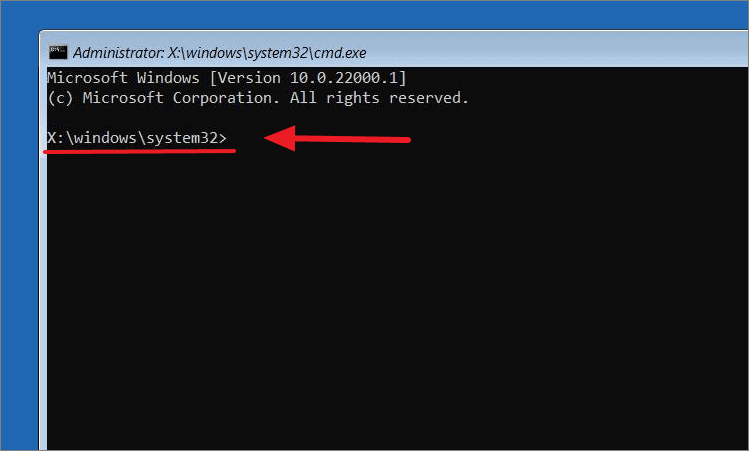 Now what you have to do is move the drive path to where Windows is installed. Even though you installed the operating system on the C: drive when you boot your PC on the recovery mode, it will most likely change to some other drive letter.
You can move to drive by typing the drive letter (eg. E) and colon (:) – E:, and pressing Enter.
If you move to C drive by typing C: or C:\ and typing dir to list all the contents of that drive, you would probably notice, it's not the drive where Windows is installed. In the below example, when we moved to C: drive, it shows the volume in drive C is Movies.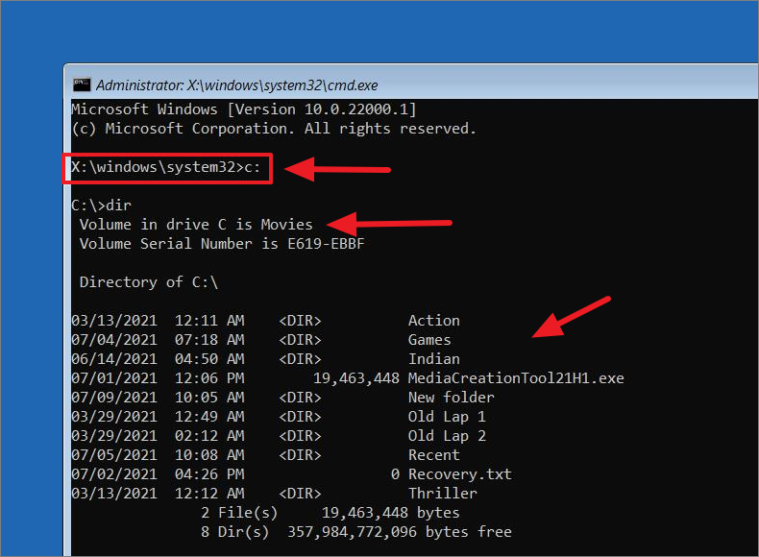 However, in most computers, the drive letter is D:\. You can try each drive letter until you find the correct drive. On our computer, It's the F:\ drive. As you can see, when we moved to F:\ drive and entered dir, it shows the Windows files (such as Program Files, Program Files (x86), Windows, etc.). It means we are in the correct drive. Remember, the drive where OS is located will differ for each computer in Recovery mode.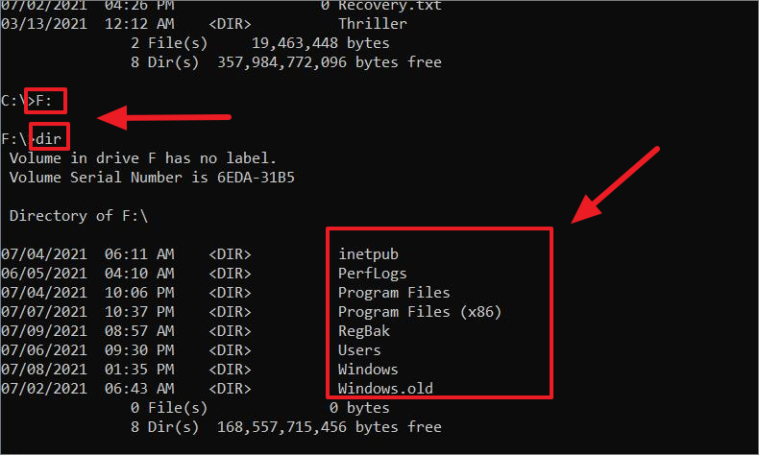 Once you have identified the correct drive (in recovery mode) where Windows OS is installed, issue the following commands one by one in the command prompt.
cd F:\windows\system32
mkdir configBackup

copy config configBackup
The first command takes us to the 'System32' folder in the F: drive. If your Windows OS drive is different, say, for example D:, then use the command cd D:\windows\system32.
The second command creates a backup folder (configBackup) to temporary backup files on the 'config' folder, which is where the Registry files are stored, then the third command backs up the files in the config 'folder' to the 'configBackup' folder.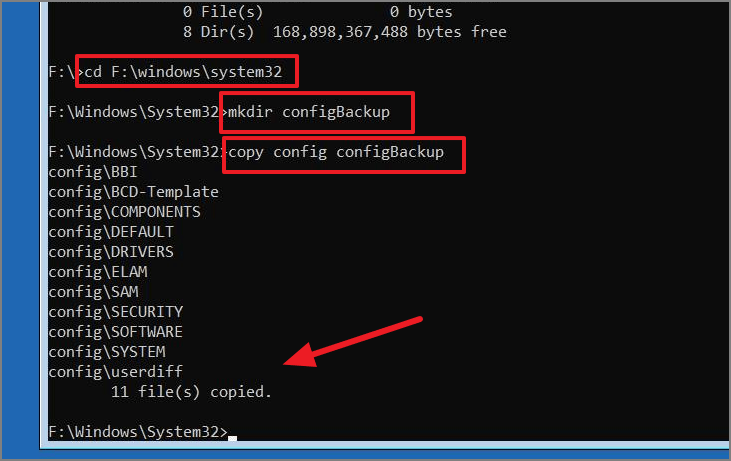 Next, type these commands:
cd config\RegBack
dir
Here, the first command moves the path to the 'RegBack' folder, which contains the secret backup of the Registry. Then, the second command is entered to verify the contents of the RegBack folder.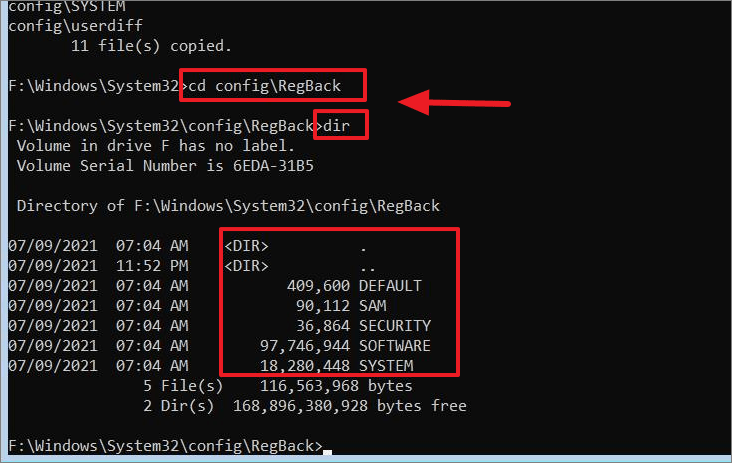 Note: If any of the file sizes of SYSTEM, SOFTWARE, SAM, SECURITY, DEFAULT shows '0', stop this process as you won't be able to restore your registry, and you may further damage your registry files.
Now enter these commands to replace the current registry files with the ones from the secret backup (RegBack):
copy /y software ..
copy /y system ..

copy /y sam ..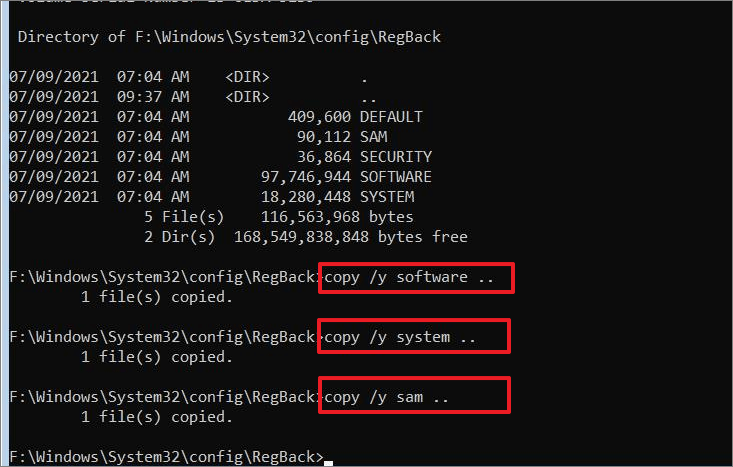 This will restore the registry to a previous point and fix the registry problems in your system.
This is a great way to repair or restore damaged registry hives in Windows. However, if you get the following errors when you trying to execute the above last three commands, it means the 'RegBack' folder is empty.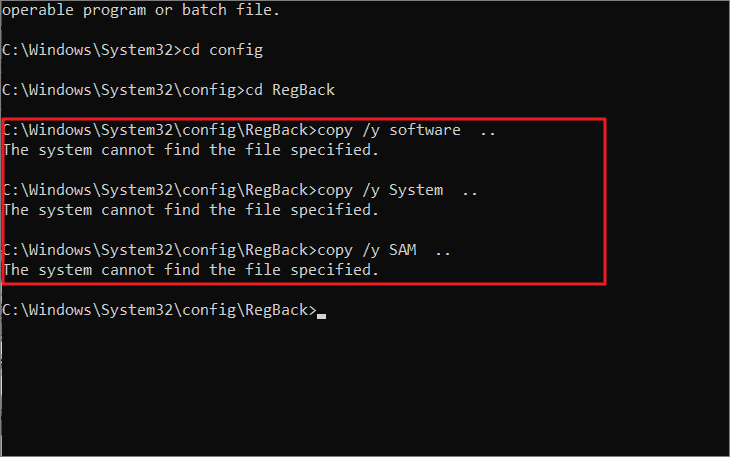 This is due to Windows 10 version 1803, and the later versions (especially Windows 11) have stopped backing up the system registry automatically. Microsoft claims they disabled this feature to reduce the overall disk space footprint of Windows, which is ridiculous since the total size of the folder is only in Megabytes.
If you open the RegBack back folder by navigating to C: → Windows → System32 → config → RegBack, you would find the RegBack folder empty. This due to as we mentioned before Microsoft disabled this feature.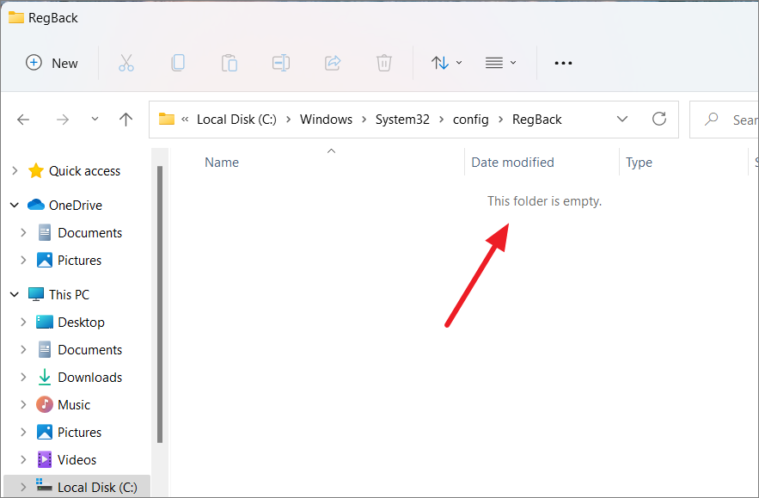 Re-Enable Registry Auto-Backup Manually
If you want to back up the registry automatically, you are going to have to re-enable the auto-backup feature by configuring a special registry entry. Now, let's how to do that:
First, open Registry Editor by entering regedit in the Run command or by searching for it in the search bar.
Then, navigate to the following path or just paste it in the path bar of the Registry Editor as shown below and press Enter. It will take you directly to the 'Configuration Manger' folder.
Computer\HKEY_LOCAL_MACHINE\SYSTEM\CurrentControlSet\Control\Session Manager\Configuration Manager
Next, right-click the 'Configuration Manager' folder, click 'New' from the context menu, and select 'DWORD (32-bit) Value'.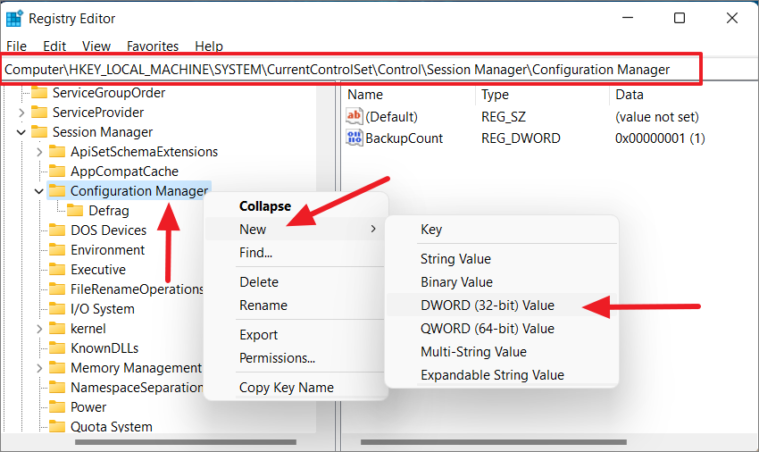 This will create a new registry entry named 'New Value# '.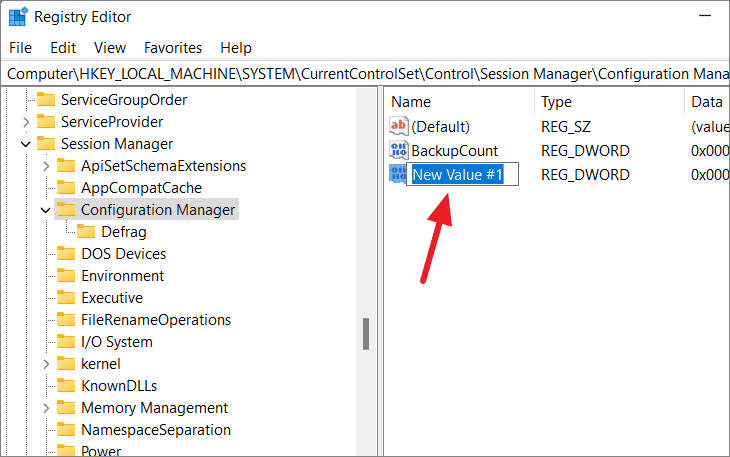 Now, rename the registry value to EnablePeriodicBackup. And make sure it is spelled exactly as mentioned here.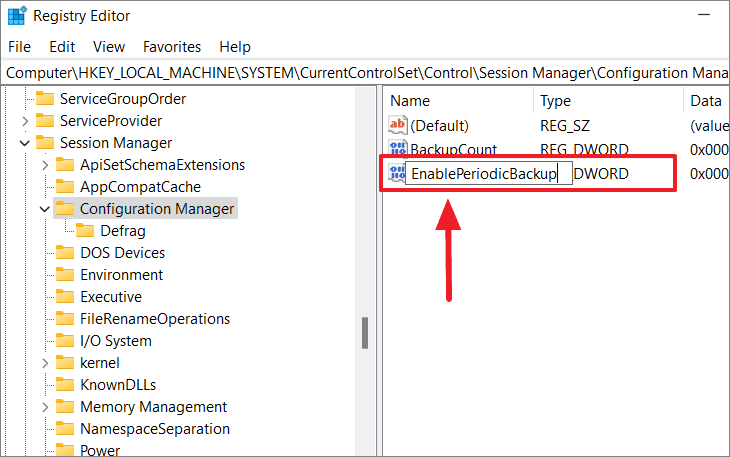 Then, double-click on the 'EnablePeriodicBackup' value, and set the Value data to 1. Click 'OK' to confirm it.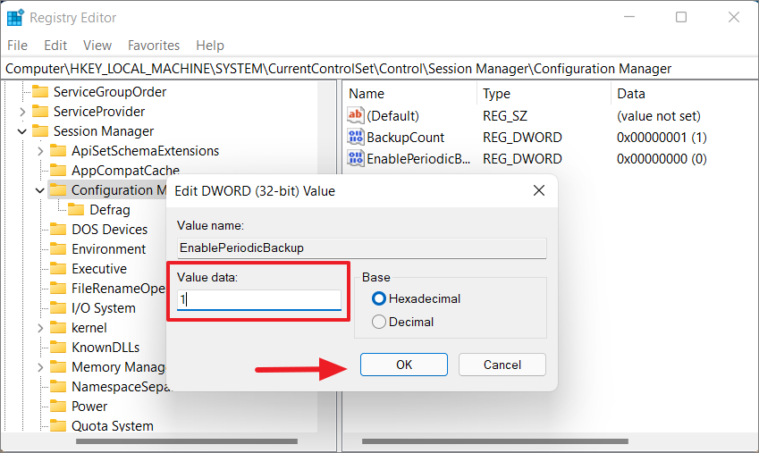 After that, close the Registry Editor, restart your computer. Once it's booted up, go back to the 'RegBack' folder and you will notice it is now populated with registry hives, but each file is '0 KB' in size. It means you enabled the registry backup feature, but the task is not running yet. But Windows will eventually back up the registry when the 'Automatic Maintenance' starts, which happens every 10 days.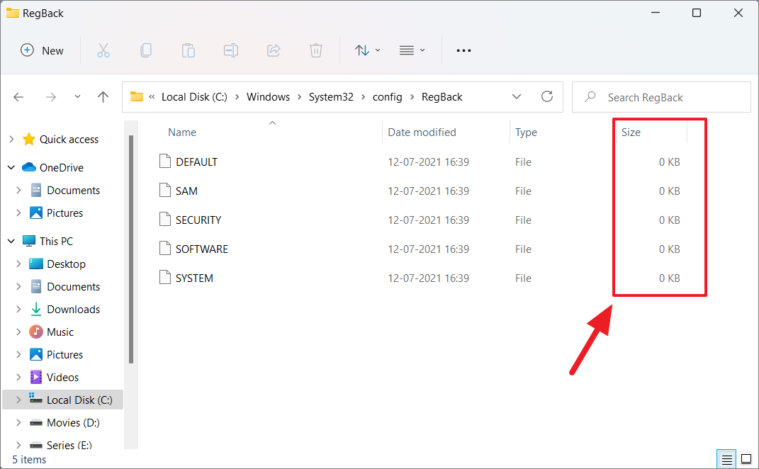 When the Automatic Maintenance feature starts, it kicks off a number of tasks including the 'RegIdleBackup' task, which will update the RegBack folder.
You can also run the RegIdleBackup task manually and save the registry hives in the RegBack folder immediately. Here's how:
Search for 'Task Scheduler' in the Windows Search and click the result to open it.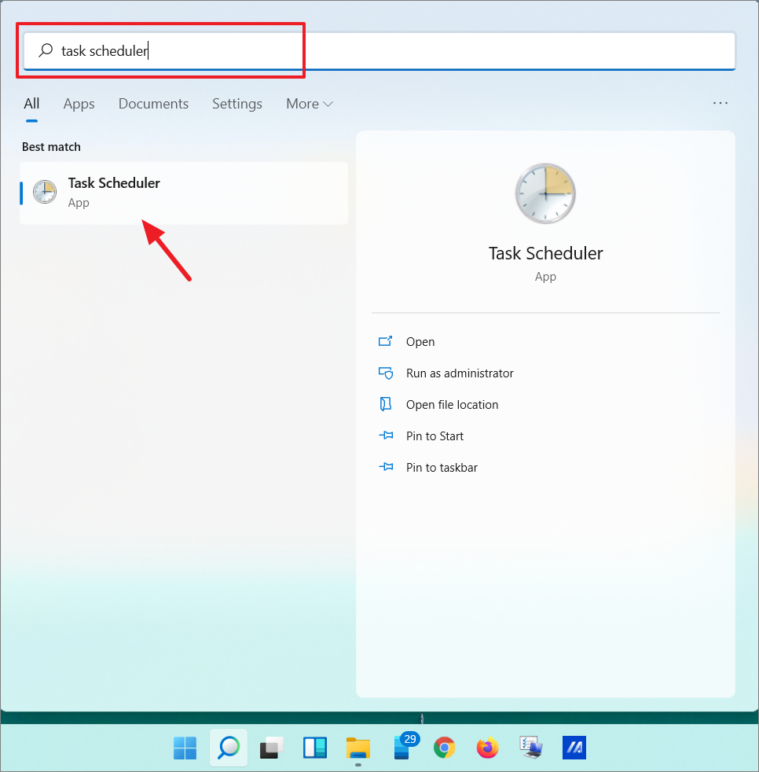 Browse to the following path in the Task Scheduler and find the RegIdleBackup task:
Task Scheduler Library > Microsoft > Windows > Registry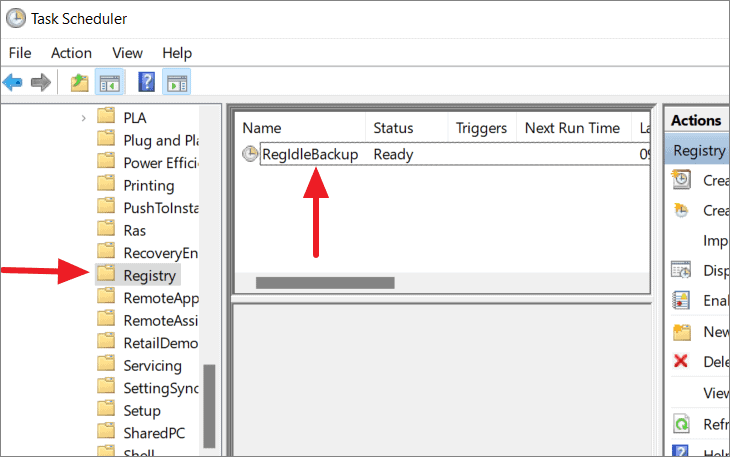 Right-click the 'RegIdleBackup' task on the right panel and select 'Run' in the context menu.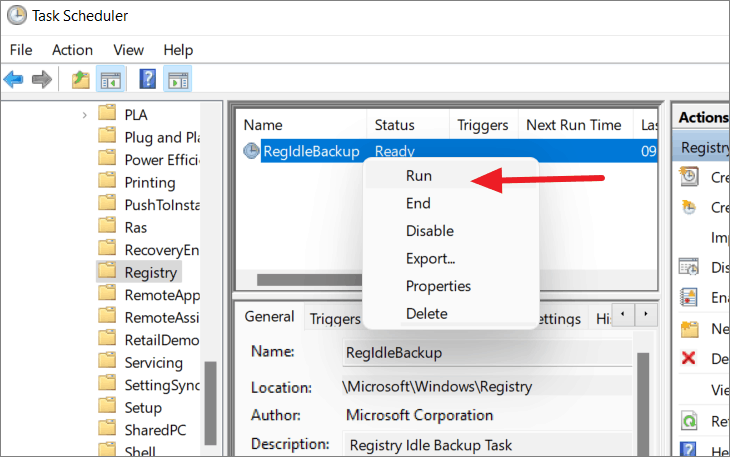 Now, you'll see the Status of the task is 'Running'. This will trigger the task to run and create a backup of the Registry hives (namely: DEFAULT, SAM, SECURITY, SOFTWARE, SYSTEM) overwriting any older backups in the RegBack folder.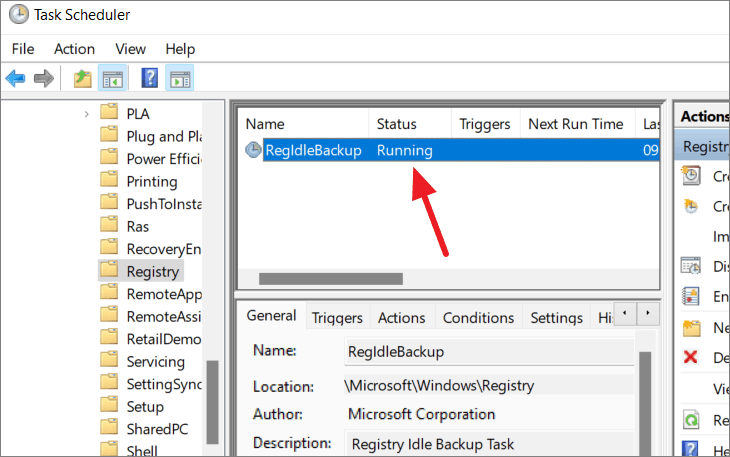 If you go back to the 'RegBack' folder now, you would see the files are overwritten. As you can see the size of the files is no longer '0 KB', which means they are updated.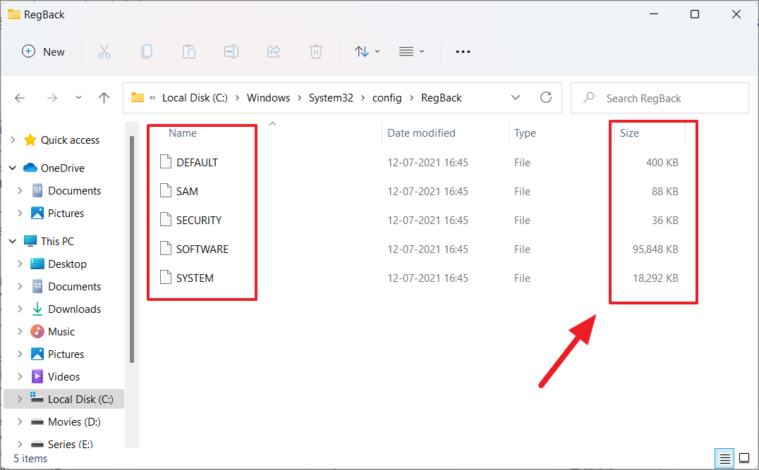 Now, you would be able to replace the current registry files with the backup files (RegBack) in the Command prompt at Boot as we showed before.
Setting Triggers for RegIdleBackup Task
As we mentioned before, the RegIdleBackup task automatically runs only once every 10 days. But you can also set it to run daily, weekly, or whenever you want it.
To do that, go back to Task Scheduler and double click on the 'RegldleBackup' task or right-click and select 'Properties'.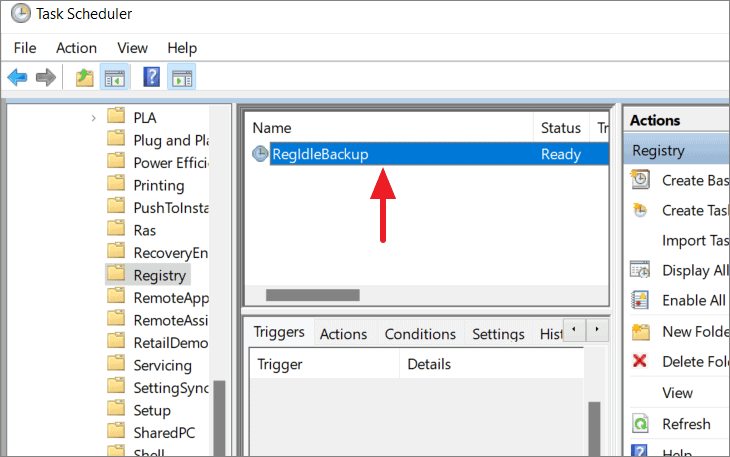 This will open the RegldleBackup Properties window. Here, you can specify when the task should start, the action that will happen when the task runs, and conditions that will determine whether the task should run.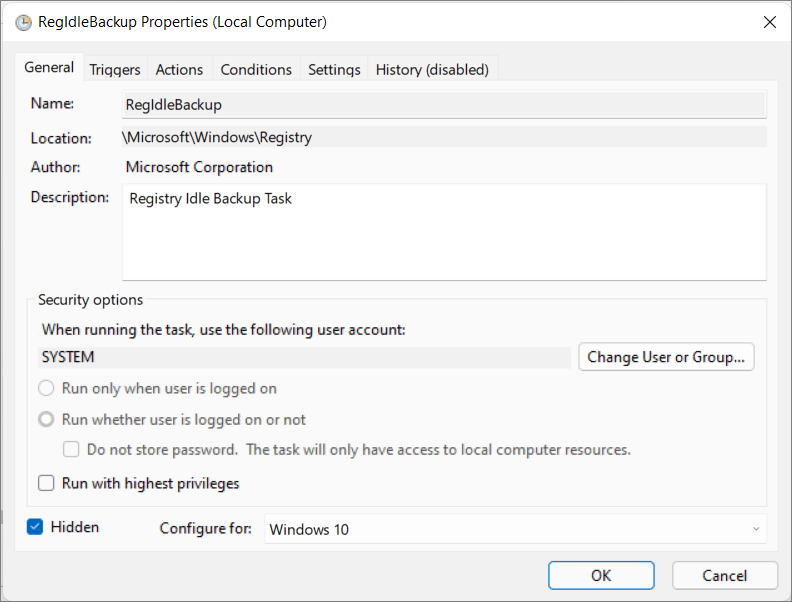 Switch to the 'Triggers' tab of the RegldleBackup Properties and click 'New'.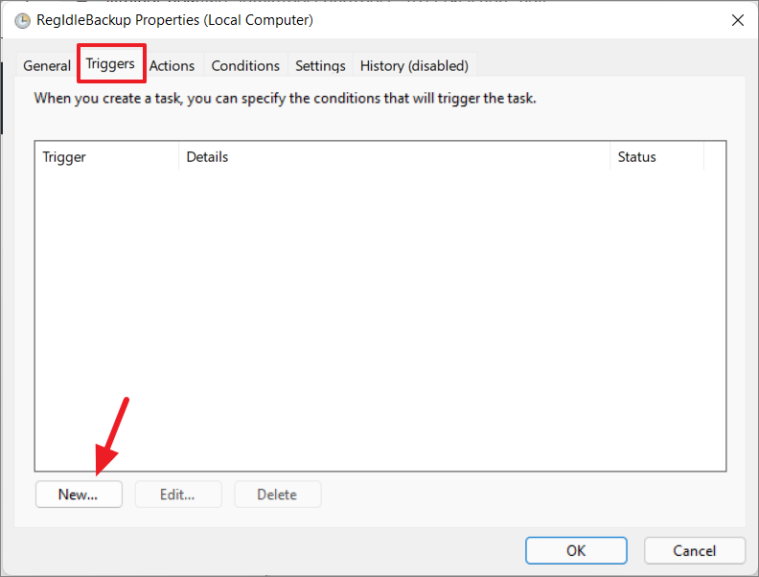 In the New trigger window, you can specify the trigger of the task, like at startup of the computer, at log on, on idle, etc. You can also specify when the task should run, whether at a specific date and time, every day at a specific time, a specific day of every week, or a particular day of every month. Once you specified the trigger, click 'OK'.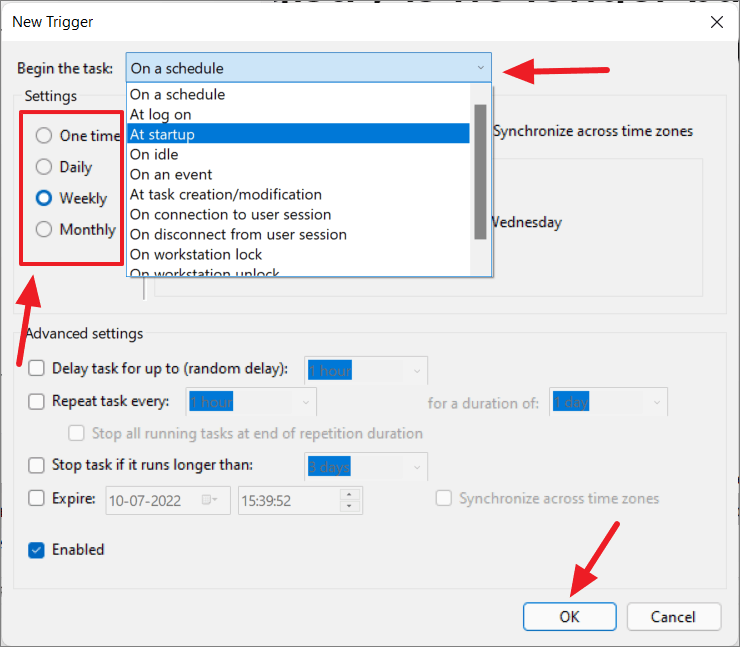 Use Third-Party Registry Cleaner to Fix Registry
You can also use third-party software to fix missing or corrupt registry keys. There are several free and paid software available on the internet. Registry cleaners are capable of fixing a range of registry problems. You should only use trusted and legitimate software for this or else they will cause more problems than fixing them.
Here is the list of free registry cleaners for Windows:
CCleaner
Auslogics Registry Cleaner
Wise Registry Cleaner
Glarysoft Registry Repair
Eusing Free Registry Cleaner
Fix Registry Errors Using Windows Recovery
Another way you can fix registry errors is by resetting your PC using Windows Recovery. Try this method only if all the above methods didn't work.
This method removes all apps and settings and keeps all your personal files or removes everything, including apps, files, and settings. But it completely refreshes your computer restoring it to its original state similar to the freshly installed Windows 11. And it will most likely fix any and all broken registry item errors. Follow these steps to reset your PC.
Open Windows 11 settings, select the 'System' section on the left and click the 'Recovery' option on the right.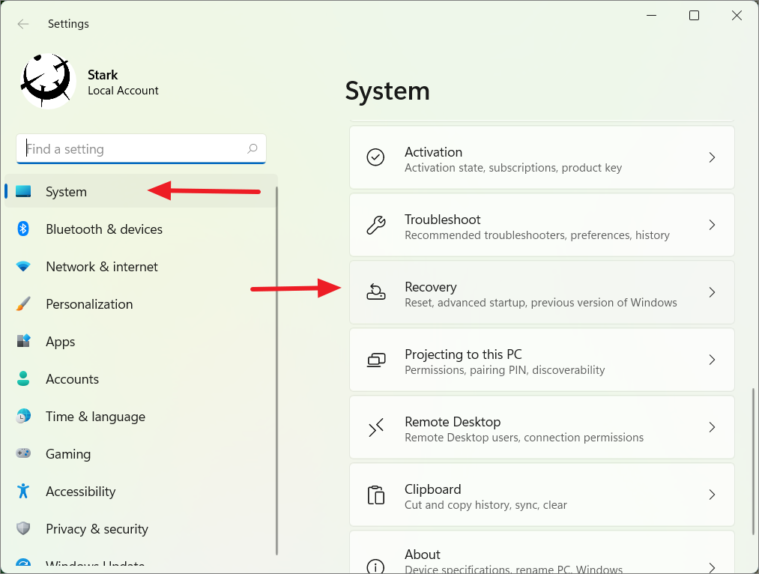 Then, under the Recovery options, click the 'Reset PC' button.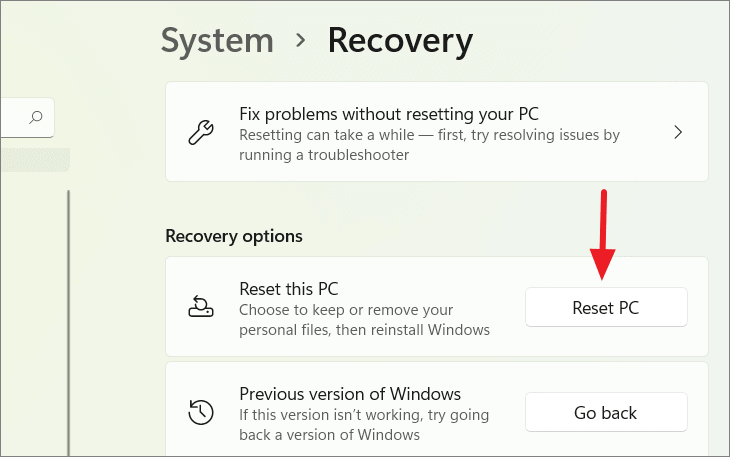 A new blue-colored Reset this PC dialog box will appear. Here, you need to choose the 'Keep my files' or 'Remove everything' option.
Before continuing with this any further, you should know that this method is irreversible. Once you reset your PC, you'll lose all your files and/or all your apps and settings depending on the option you choose.
Choosing the 'Keep my files' option will delete all the software and reset the system to default settings, but the files in the 'C: drive' will be untouched. And your registry errors will most likely be fixed.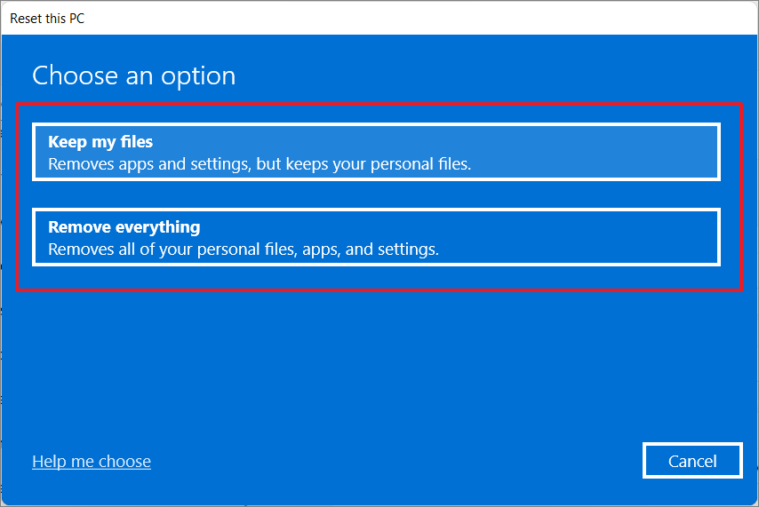 We recommend choosing the 'Keep my files' option first and if it doesn't work try the 'Remove everything' option. Choosing this option will remove everything in the Windows drive and make your computer like you just installed fresh Windows 11.
Reinstall Windows 11
If you exhausted all of these above methods and you still haven't fixed your registry problems, then that means your Registry is beyond repair. You have no choice but to reinstall your Windows 11 from scratch. When you reinstall your OS you would have fresh Registry and Windows files and your system will run without any errors or problems. This method should be your last resort.
That is all the ways you can fix broken or corrupted registries in Windows 11.