Although the storage space when using Gmail may seem infinite, that is certainly not the case. Google gives its users 15 GB of free cloud space and it is cumulative across all its services. And if you've been using Gmail for quite some years now, or you also use other services from Google Suite like Google Photos or Google Drive, you probably have been at the receiving end of messages like, "You're running low on storage space. Try freeing up space or purchase additional storage."
Once you hit the data cap, you won't be able to add anything to Google Drive, or even send or receive emails. But when this message appears, as it eventually will, there's no need to panic. There are some simple ways that can help you on your quest to free up space.
Identify What is Eating Up Your Storage
The first step of any solution is diagnosing the problem. You need to identify which service is hogging up most of the space in your account. Only then can you begin to solve the problem. To check the status of your current storage, go to Google One.
Your current storage will be listed neatly in terms of which service is using exactly what. Now that you know the diagnosis, you can finally start fixing it.
How to Free Up Space in Google Drive
If Google Drive turns out to be the topmost storage hogger in your account, you can fix that problem by going to Google Drive Quota. Click on Storage Used on the right side to sort your files according to size. Then you can start determining which files are of consequence and which need to go into the trash.
You can also go to the Shared With Me folder to see if there are unnecessary items just sitting there taking up precious space.
Just remember to delete everything from the trash too afterward, otherwise, you won't have any freed space.
How to Make Space in Gmail
If your culprit is Gmail, then you are an email hoarder and you need to start deleting those emails as they take up a lot of space too even though it might not seem like it. Apart from deleting spam mails, it's also important to delete unnecessary emails. The best strategy while deleting emails is to try to delete them by size. There is no sort by size option available on Gmail. But you can use the operator size: to do a manual search.
In Gmail's search bar, type 'size:' followed by a number. For example, if you type size:10mb in the search bar of Gmail, it will return all emails larger than 10 MB.
You can also try the operator 'larger:<number> smaller:<number>' to find emails between these sizes. This is a trial and error method at best, but this way you can find large emails and delete them to free up space.
Another choice is to bulk delete old emails by using the command older: and then specifying a date and deleting all emails prior to that date.
You should also delete your spam, and trash folders as the emails there take up space too.
How to Free Up Space in Google Photos
Photos can take up a lot of space out of your allotted quota, especially if you store them in their original quality. But on Google Photos, you can store all your photos for no space at all. Open Google Photos on your computer and go to Settings. Choose High Resolution or click on Recover Storage.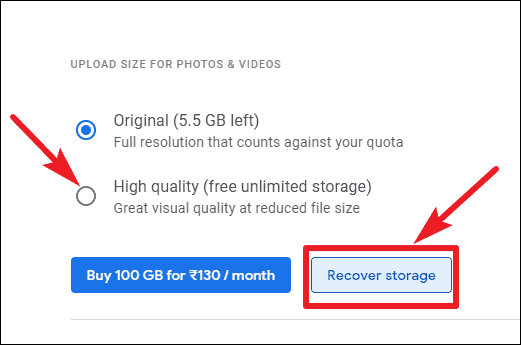 Doing so will compress all your images into Google's high-resolution format which uses less space and is free instead of the original quality. But only opt for this solution if you are willing to give up original picture quality as once you convert your pictures to High Resolution, there's no going back.
That said, Google Photos 'High quality' setting supports up to 16 MP photos, which is more than sufficient for most of your photos.