Zoom is one of the most popular collaboration software these days. "Let's Zoom" has become a permanent resident of many people's vocabulary around the globe, especially with the ongoing crisis the world is facing right now. People are using the platform to host meetings for work and school. Many others are using it to keep their social life at least somewhat active virtually and not become complete hermits during the COVID-19 mandated lockdown.
And albeit people chiefly use Zoom for video meetings, it doesn't mean that that's all the app offers. Just like any other WSC app worth their salt, you can chat with other users or groups on Zoom. You can have private chats or group chats with members internal as well as external to your organization.
And on top of that, you can also search for messages from within a chat on Zoom. So even if the messages have piled up but you desperately want to find an older message, you can easily do so with the advanced search that Zoom offers.
Using the search box, you can search for messages as well as files shared with other people. Open the Zoom desktop client, and go to the Search box towards the top of the screen.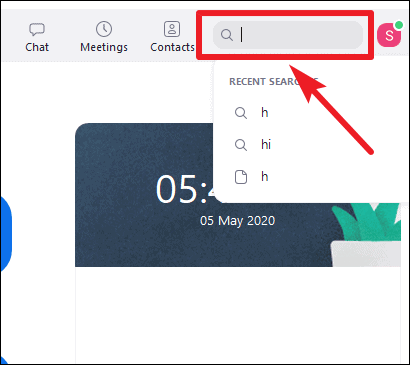 You can also use the keyboard shortcut 'Ctrl + F' to quickly go to the search box. Type the message or filename you want to search for and press the Enter key.
The search results would return everything that matches your query neatly categorized into different piles of 'Messages', 'Files', and 'Contacts' so you can easily navigate the search results and find what you were looking for.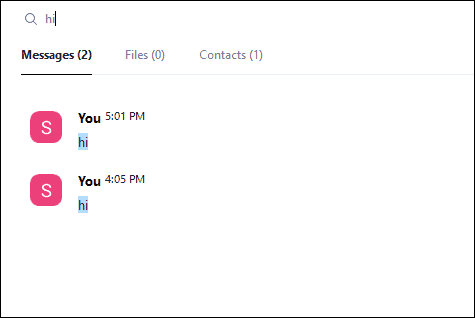 Note: The chats that take place in a meeting are not saved like the rest of the Chats on Zoom, that is of course when you choose to save them. So you cannot search for them using the Search function on Zoom, as they are either saved locally on your computer or the Zoom Cloud.
---
You can not only use Zoom to host meetings with several participants, but it also provides you with a place to chat with your fellow beings. And all the chats on Zoom can also be searched quite easily. So if you want to find any older messages or files you exchanged with your contacts for any purpose, you can do it without having to scroll endlessly in the chat.