The Google Meet Grid View extension took the world by force when it first came into our lives, enabling us to view all participants in the meeting at a time when Google Meet officially offered just 4 video feeds on the screen. Since then, Google enhanced the Google Meet Tile View enabling a tile layout of up to 16 people at the same time without any need for external extensions.
But that hasn't waned the usage of Google Meet Grid View extension as it is still pretty useful in meetings with more than 16 participants, and meetings on Google Meet can have a lot of participants (up to 250).
A quick history lesson: The Google Meet Grid View extension was released by a school teacher who made it for their school due to the Covid-19 pandemic and it was based on the user script by Chris Gamble. Now, Chris Gamble has released an official Chrome extension based on his code that gets frequent updates, while the original Chrome extension will no longer be updated as the guy who released it is on a leave. Not that you needed all that information, but the gist of it is that it will be in your best interest to shift to the new extension.
Uninstall the Previous Google Meet Grid View Extension
To make the change to the official extension from Chris Gamble, you'll need to uninstall the old extension from your browser as having both of them could mess with the functionality.
To uninstall the extension, right-click on the Google Meet Grid View extension's icon on your address bar.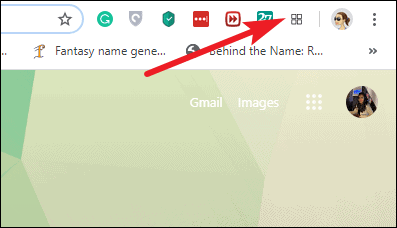 A context menu will appear on your screen. Select 'Remove from Chrome' from the menu.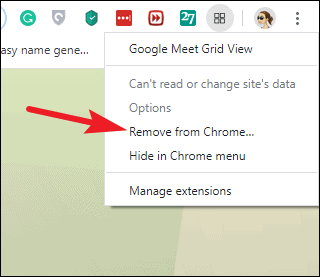 A confirmation message will pop-up on your screen. Click on 'Remove' to uninstall the extension successfully.
---
Install the New Grid View Extension by Chris Gamble
Now that the old extension is no longer in your way, you can download the new extension released by the maestro himself. Go to the Chrome Web Store from the link below to get the new extension.
Click on the 'Add to Chrome' button to install the extension on your browser.
A confirmation dialog box will appear. Click on 'Add extension' to confirm the installation.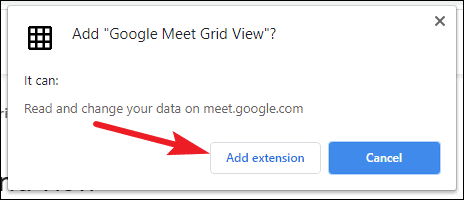 The icon for the extension will appear on your address bar. The new extension has a 9×9 grid square as the icon whereas the old one had a 2×2 grid icon, so you will know that you have installed the correct one.
---
The new extension has all the features the old one offered and then some and it also gets more frequent updates, so rest assured you are in good hands now.