Are you keep running of space in your hard drive? Does your Hard drive keep getting messy as you add more files to it? Then you need a good file compressor for compressing, archiving and organizing files for easy and safe storage.
There is plenty of great file compression and extraction software are out there, including the most popular ones, WinZip and WinRAR. But they both cost around $40. If you are not interested in paying that much money for a simple file compressor, you can use 7-zip, a free, lightweight compression software with a high compression ratio.
7-Zip is one of the best file archivers available for Windows. It is an open-source file archive software that can compress and uncompress files as well as encrypt files. This post will show you how to use 7-Zip in Windows 11, including how to download and install 7-Zip, compress, extract, and encrypt archive files and folders using 7-Zip.
Why You Should Use 7-Zip
7-Zip is completely free to use – both for personal and commercial.
The software can be localized in 87 languages.
It has a high compression ratio for 7z, ZIP, and GZIP formats compared to its peers.
It provides 256-bit AES encryption support for 7z and ZIP formats.
The software lets you compress files approximately up to 16 exbibytes or 264 bytes in size.
It is available in a lightweight command line as well as versions available.
It can be Integrated with Windows Shell.
Supported formats: Packing/ Unpacking – 7z, XZ, BZIP2, GZIP, TAR, ZIP, and WIM formats
Supported formats: Unpacking only – AR, ARJ, CAB, CHM, CPIO, CramFS, DMG, EXT, FAT, GPT, HFS, IHEX, ISO, LZH, LZMA, MBR, MSI, NSIS, NTFS, QCOW2, RAR, RPM, SquashFS, UDF, UEFI, VDI, VHD, VMDK, WIM, XAR, and Z.
How to Install 7-Zip on Windows 11
If you haven't already installed 7-Zip on your Windows, then follow these steps to download and install 7-zip.
First, open the 7-zip.org website in a web browser. Then, choose the 7-zip version you wish to download. If you have 32-bit Windows, select the '32-bit x86′ version or choose the '64-bit x64 version' for 64 bit WIndows.
Click the 'Download' link to download the setup file.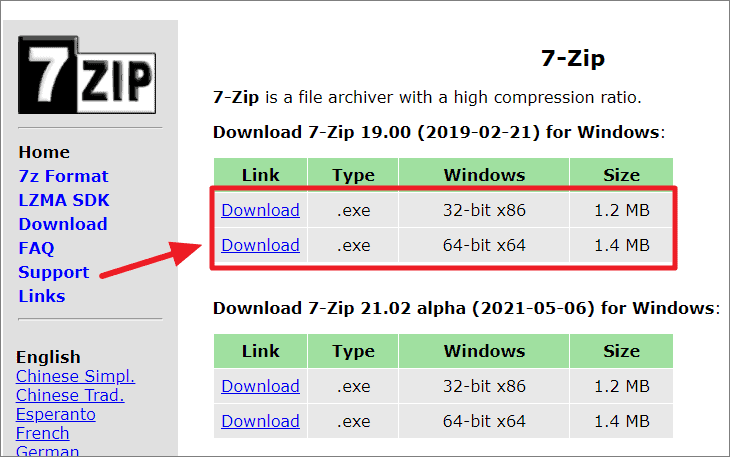 Then, open File Explorer and navigate to the folder where you downloaded the 7-zip setup file and double-click on it to install.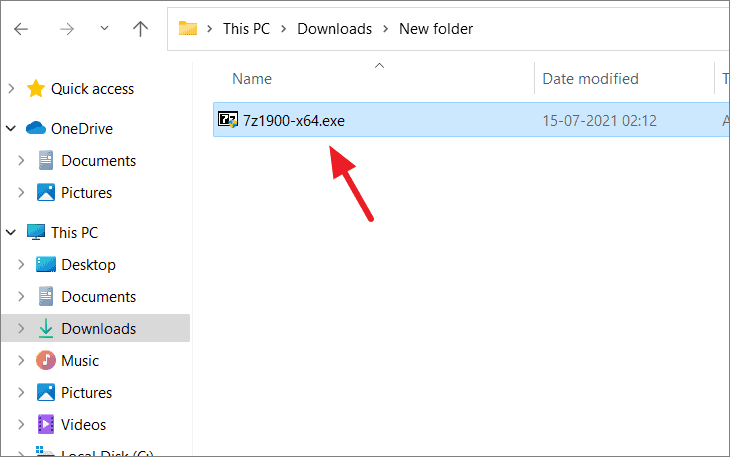 If User Account Control asks permission, click 'Yes'.
A new 7-Zip Setup window will appear asking where you want to install the program. If you want to change the directory, click the button with three small dots (…) and select the destination folder. Or if you want to continue with the default folder, click the 'Install' button.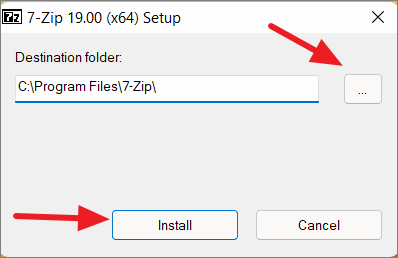 7-Zip is a lightweight application, it will be installed in seconds. Once the installation is done, click 'Close'.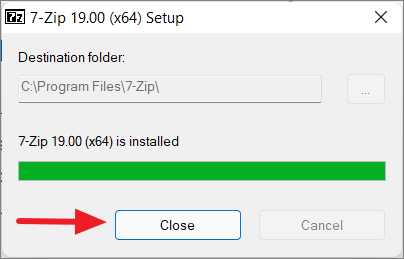 Setting Up 7-Zip in Windows 11
Before you start using the 7-Zip, you need to set this application as the default program for opening archive files and create archive files. Here, how you do that:
Once the app is installed, search '7-Zip' in the Windows search and open it as administrator.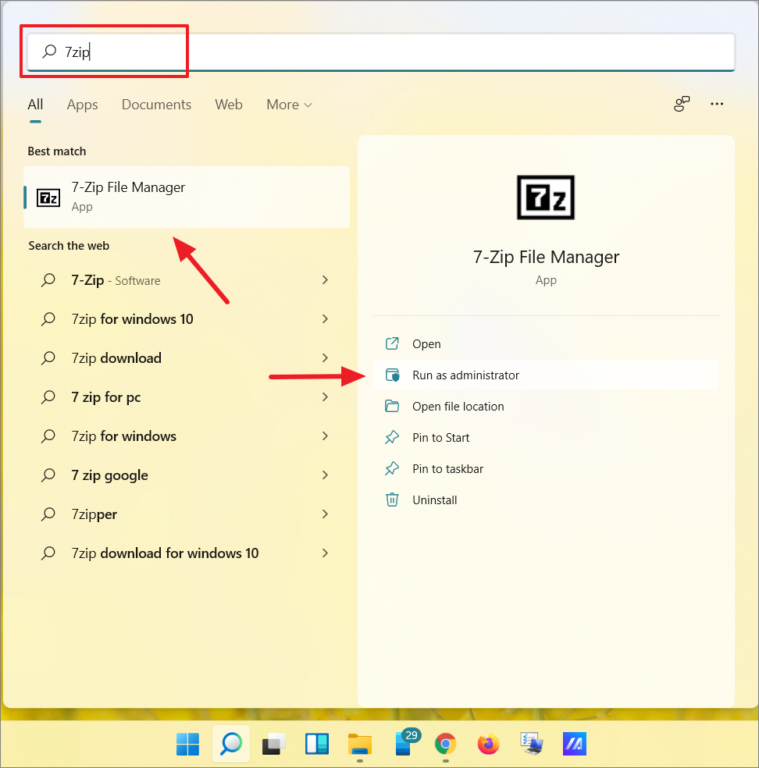 Then, click 'Yes' for UAC permission.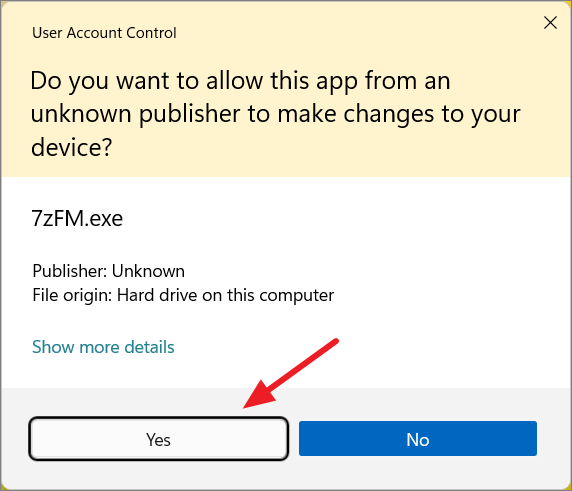 In the 7-Zip application, click the 'Tools' menu, and select 'Options'.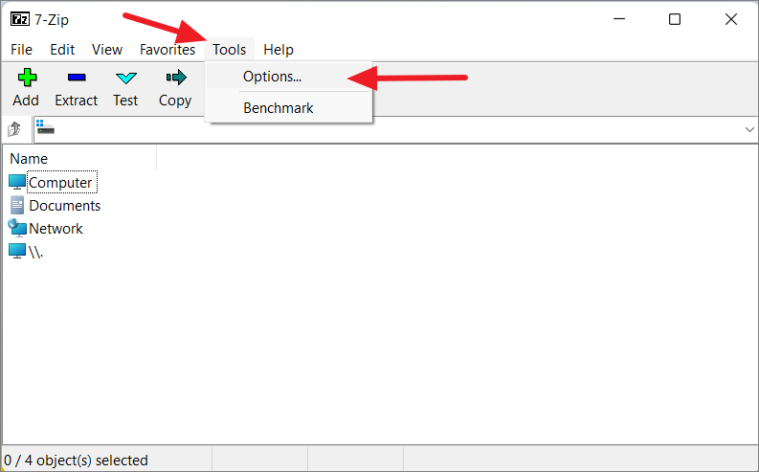 In the System tab, click the first '+' button to make 7-Zip the default archiver for all archive types for the current user. Even if you have other archive software in your system, clicking this button will make 7-Zip your default archiver.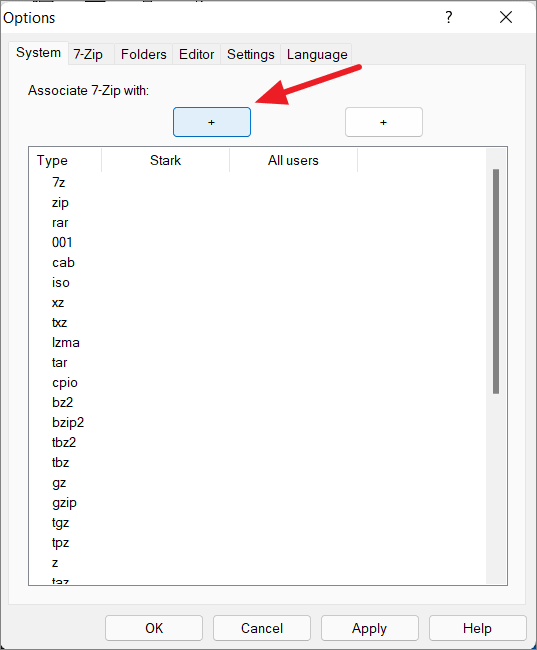 Click the second '+' button to make this app default for all users. Then, click 'Apply' to save the configurations and press 'OK' to close the dialog.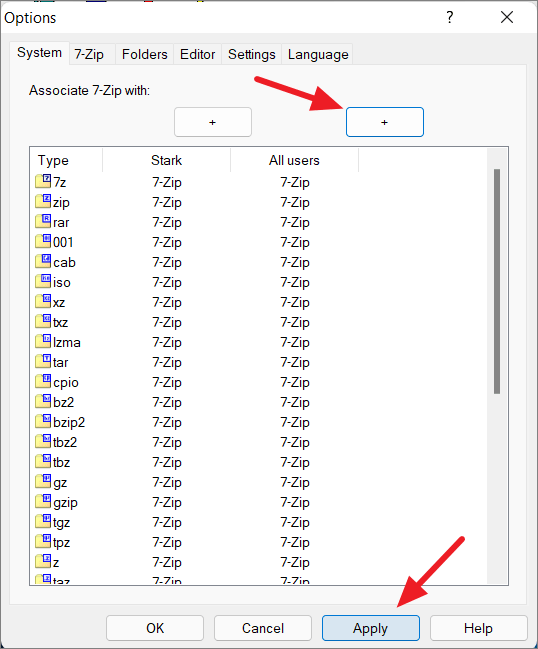 You can also associate and dissociate 7-Zip with files types individually. You can add and remove file types by just clicking on them.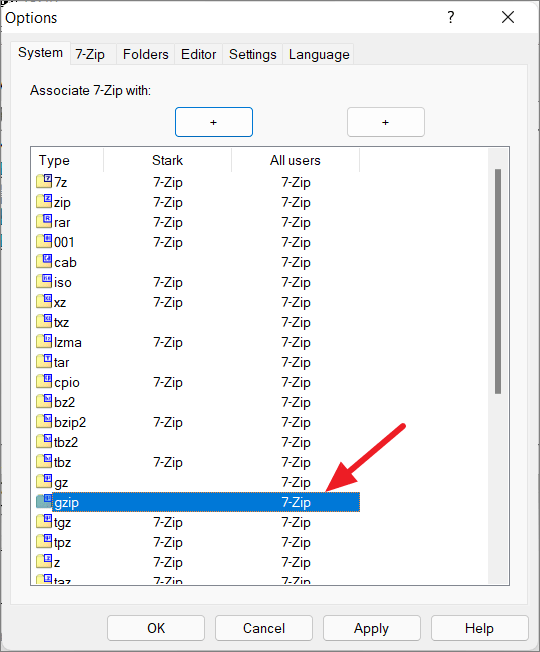 Now, when you right-click on a compressed file, you will see options to open this file in 7-Zip and compress this file to a ZIP file.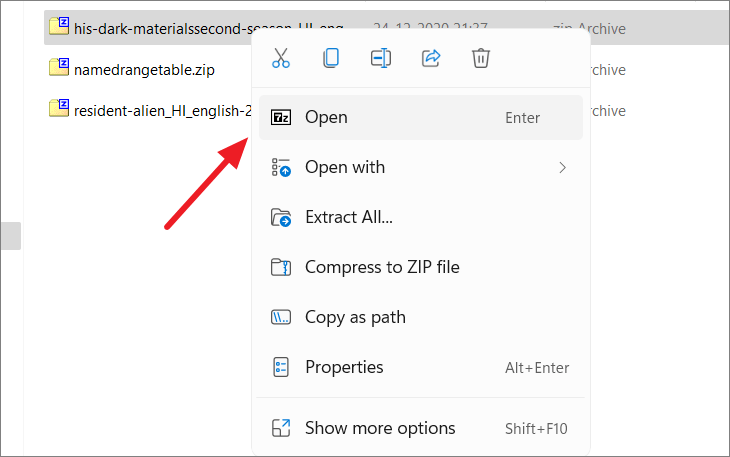 In Windows 11, when you right-click an archive file, you will see the new context menu with only one 7-zip archive option. If you want to see the classic context menu with more 7-zip options, you have to click 'Show more options'.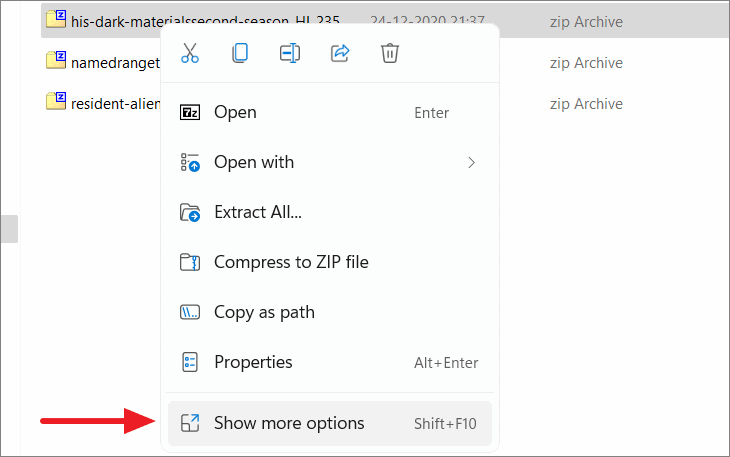 You will see the old context menu with more options and as you move your cursor over the '7-Zip' option, you will get more 7-Zip menu items.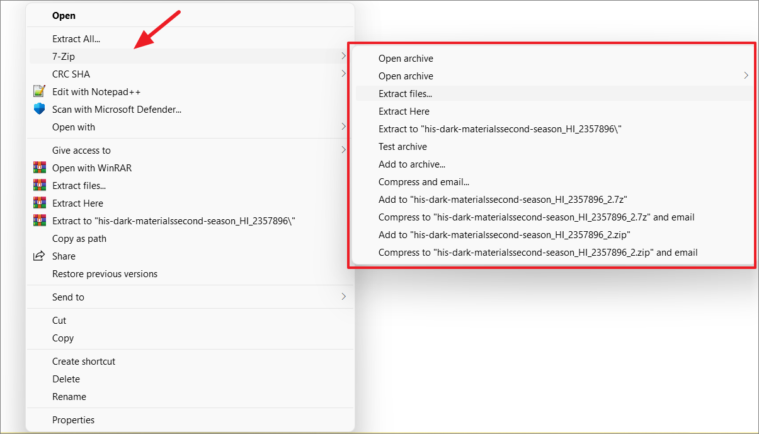 You can also customize these context menu items in the 7-Zip app. To do that open the 7-Zip app and go to Tools → Options. Then, switch to the '7-Zip' tab and add and remove context menu items here.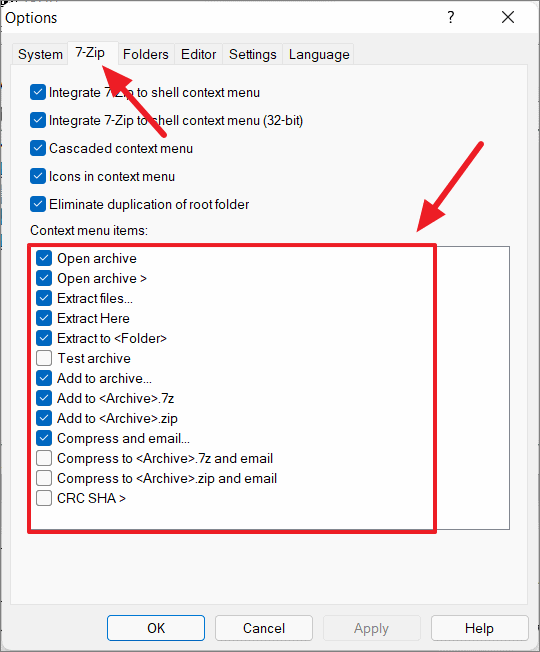 How to Compress Files using 7-Zip
We've discussed how to install and set up 7-Zip. Now, we will see how to use 7-Zip for compressing files and extracting files and folders. First, let's see how to compress files.
Select one or multiple files you want to archive in the File Explorer or Desktop, then right-click on the selection and select 'Show more options'.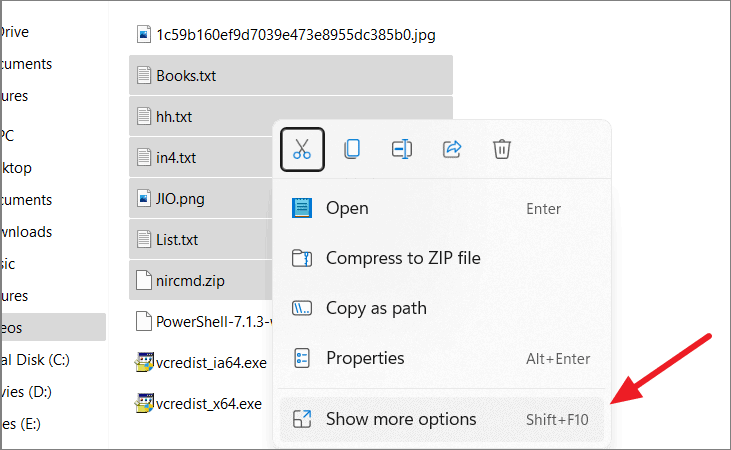 Then, hover over the '7-Zip' and select either 'Add to filename.zip' or 'Add to filename.7z' for quick compression.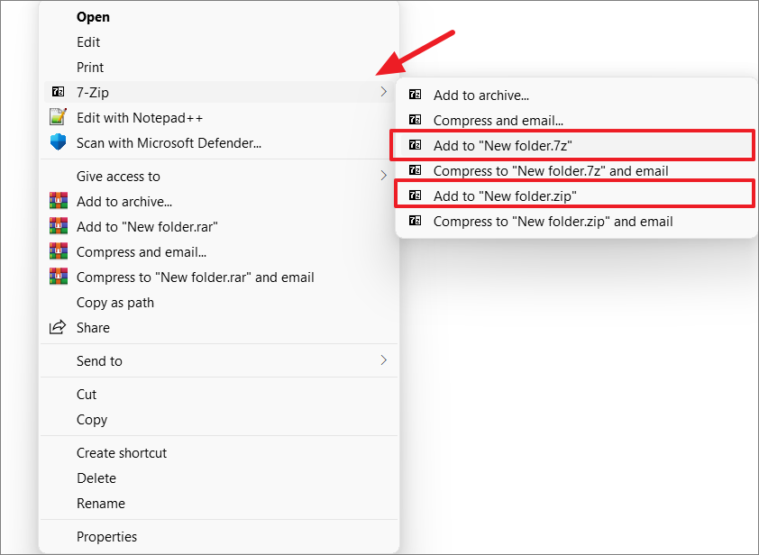 Since the 'zip' and '7z' formats are the most popular and efficient archive types, these formats are given as the default archive formats in the context menu. But 7-Zip is capable of archiving files into four different formats, including zip, tar, wim, and 7z.
To choose a different file format and customize the compression settings, select the files you want to archive, right-click and select 'Show more options'. Then, hover over the '7-Zip' and select the 'Add to archive' option.
In the Add to Archive window, you have various settings to manage the compression as desired. You can rename the file in the 'Archive' field. You can also change the destination for saving the compressed file by clicking the square dots button next to the Archive field.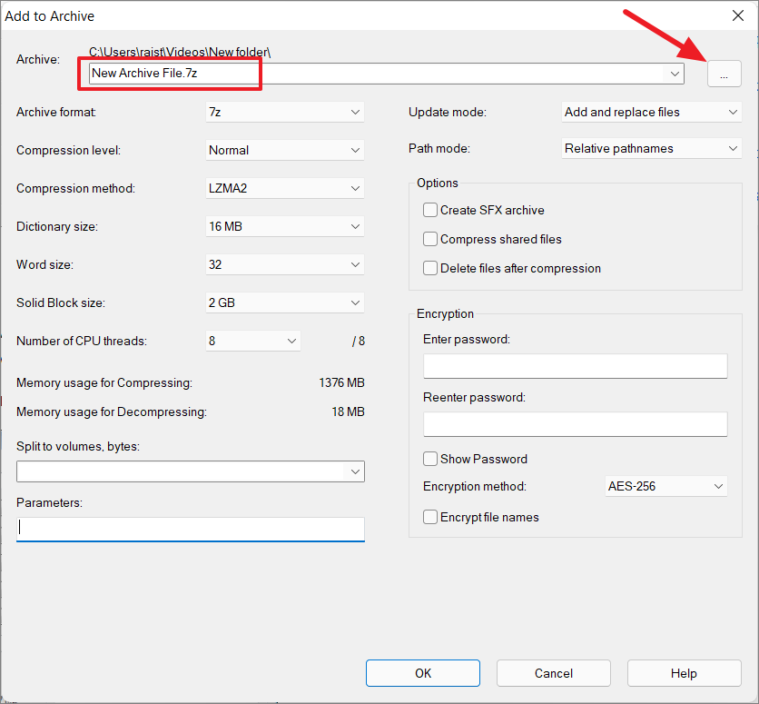 If you want to choose a different archive type, select a file type from the 'Archive format' drop-down. You can choose between 7z, tar, wim, and zip formats to compress.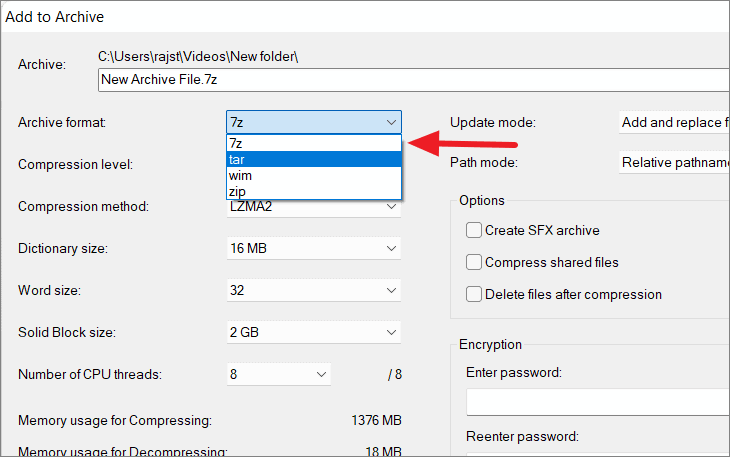 Increase and decrease the compression time with the Compression level setting (from Store to Ultra). The options range from 'Store' for the fastest compression to Ultra for the slowest compression time with the most space saved. And the default option is 'Normal', which offers a more stable compression speed.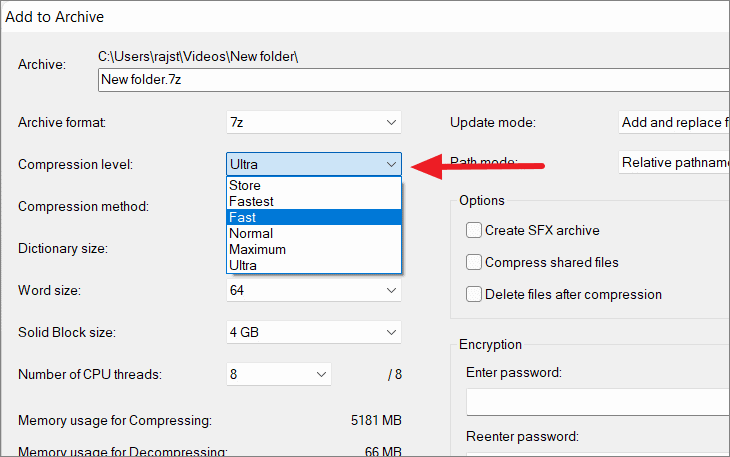 Change compression ratio with different algorithms in the 'Compression method' option.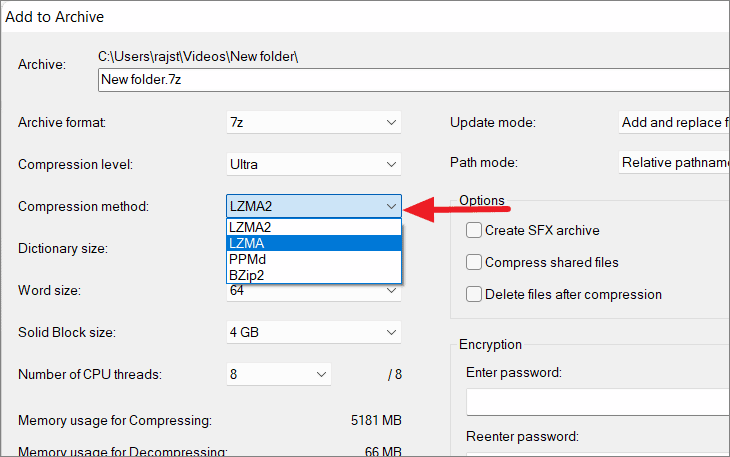 If you want to split the archive into several parts, set the file size in the 'Split to volumes, bytes:' setting. Once you're done configuring the settings, click 'OK' to start the compression.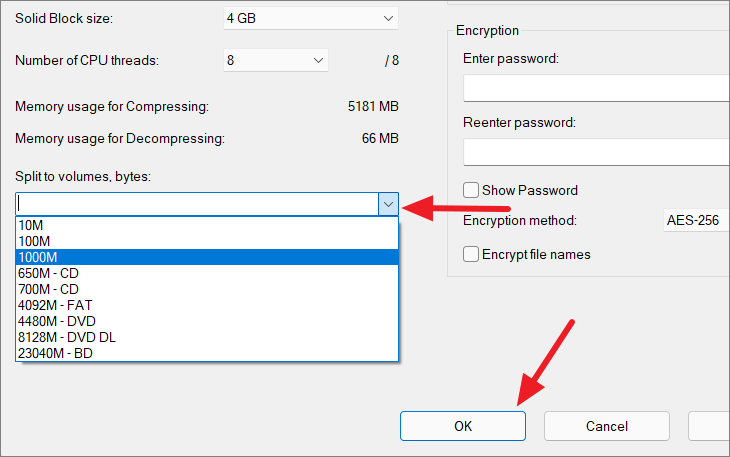 This will create the new compressed file in the archive file format you chose. Follow the same steps if you want to archive folders.
The time for compressing files will range from seconds to hours, depending on the number of files, folders, size, and your computer's performance.
Encrypt a File with Password Protection using 7-Zip
7-Zip not only archives files, but it can also password protect your files. 7-Zip supports encryption with the AES-256 algorithm, which is one of the strongest versions of AES. That means the encrypted files are not getting decrypted without the proper password. This is very useful when you want to store or share files with critical information.
First, select the file(s) or folder that you want to encrypt, right-click on them, select 7-Zip, and then click the 'Add to archive' option.
In the Add to the Archive dialog box, choose a name and destination for the encrypted file, select the Archive Format as 'zip' or '7z'.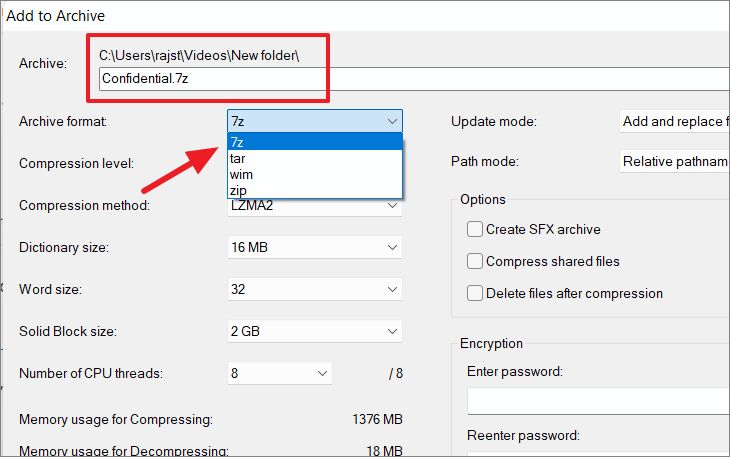 Then, enter and reenter your password under the Encryption section and make sure that the 'AES-256' option is selected from the Encryption method drop-down. If you're using 7z format, you can also tick the 'Encrypt file names' box for added security. Once you're done, click 'OK' to start the compression.
Also, it is recommended to use a password with at least one number, at least one upper case letter, one lower case letter, and special characters to create a strong password.
How Extract Files using 7 Zip
Extracting files is easier than compressing files. Select the archive files that you want to extract or if you have split archives files, select the first file of split archives (filename with '.001'), right-click and select the 'Open' option (with the 7z logo).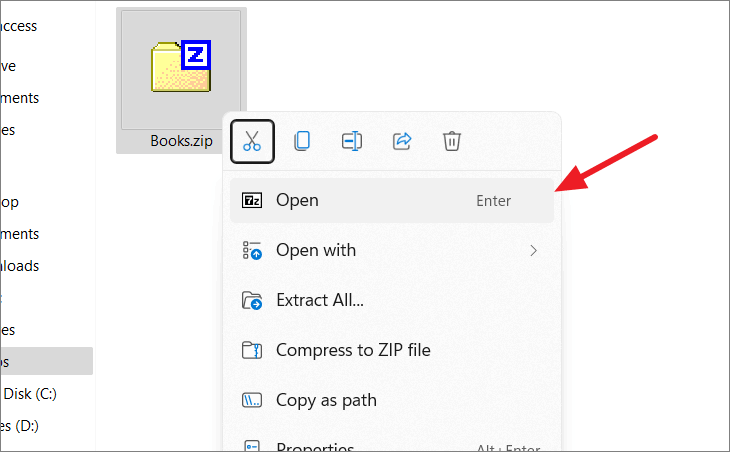 In the 7z app, click the 'Extract' button.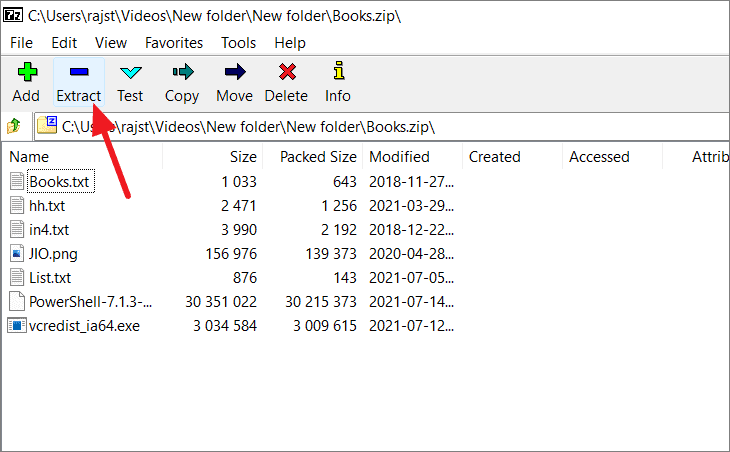 In the Copy dialog box, select a destination folder by clicking the square dots button (Browse button). By default, it will show you the folder where the archive resides as the destination. Then, click the 'OK' button to start extracting files.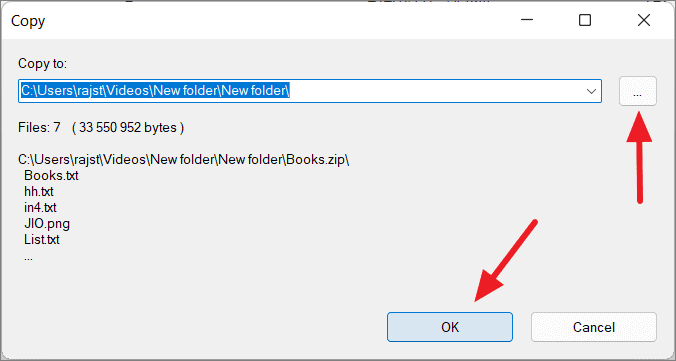 The files will be extracted inside the current folder or your chosen destination.
If you want to see more extraction options, click 'Show more options' from the context menu of the compressed file.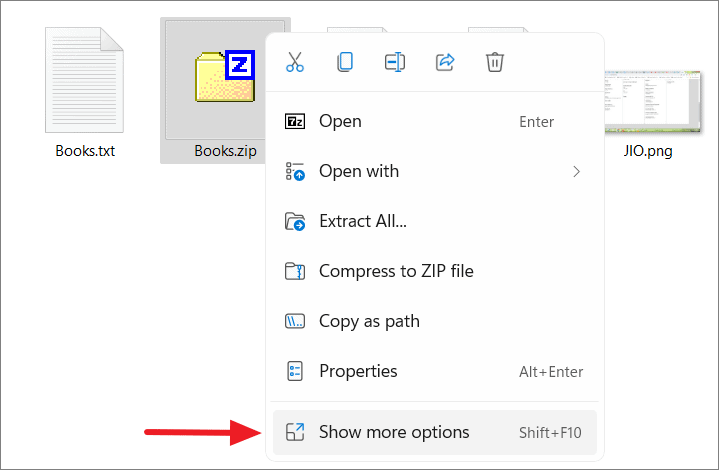 Then hover over '7-Zip' to see three extraction options. Select 'Extract files…' option to choose a destination and extract, select 'Extract Here' to extract all the files to the current folder, or select 'Extract to "filename\"' option to extract files to a new folder named the same as the archive file.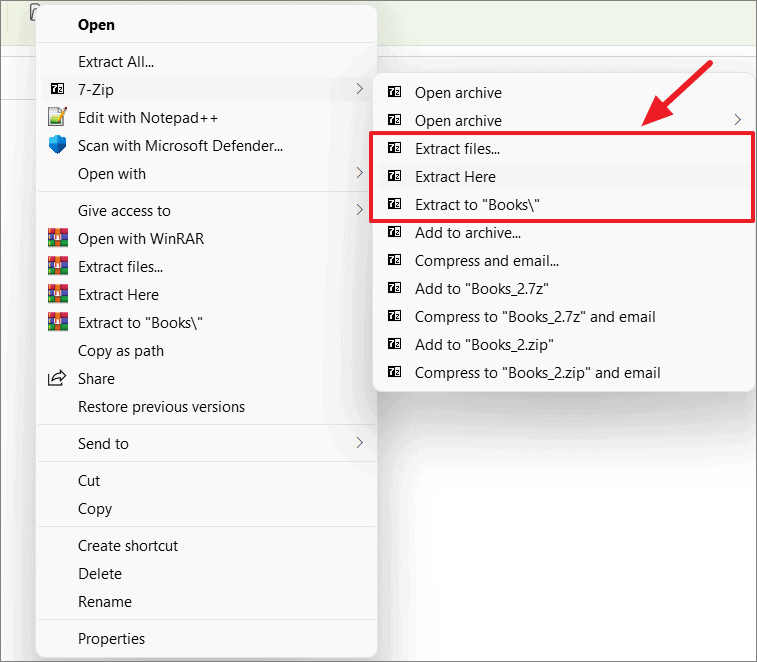 Extract a Single File from an Archive File using 7-Zip
If you want to extract a single file from an archive file containing multiple files, follow these steps.
Double-click on the archive file or right-click and select 'Open' to list all the files compressed into it in a new 7-Zip window.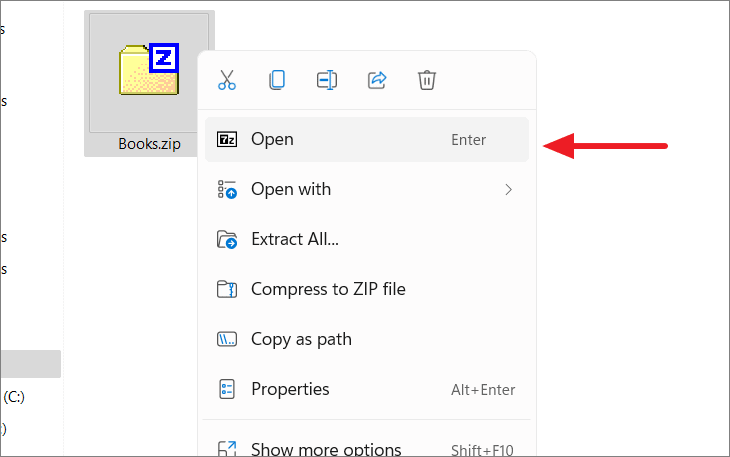 Now, select one or more files and click the 'Extract' button or simply drag and drop the files you want from within the 7-Zip app to any folder you wish.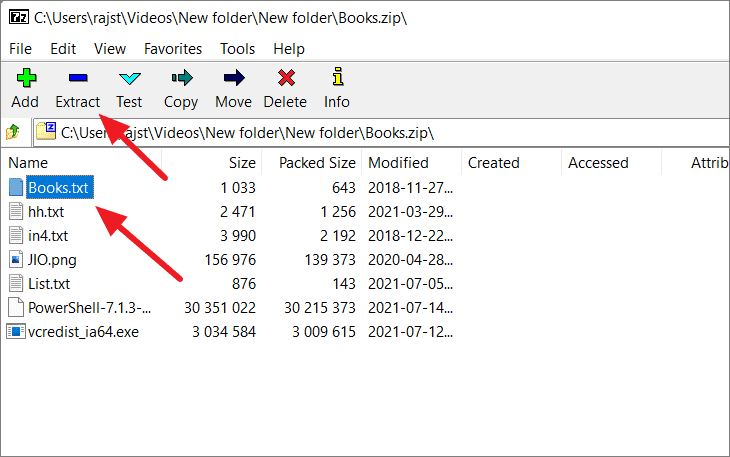 Doing this will only extract the highlighted file(s) from the archive.
Extract or Open an Encrypted Archive File using 7-Zip
If you want to open or unpack an encrypted archive file using 7-Zip, then do this:
To open an encrypted file, right-click the encrypted archive file and select 'Open'.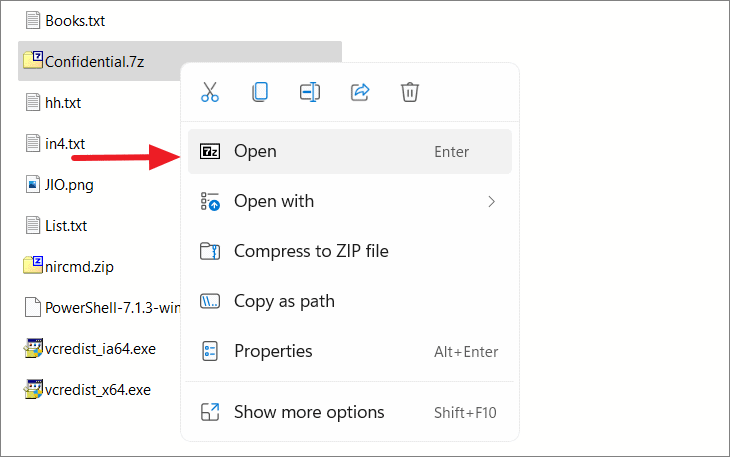 Then, you will be prompted for a password. Enter the password and click 'OK" to see its contents.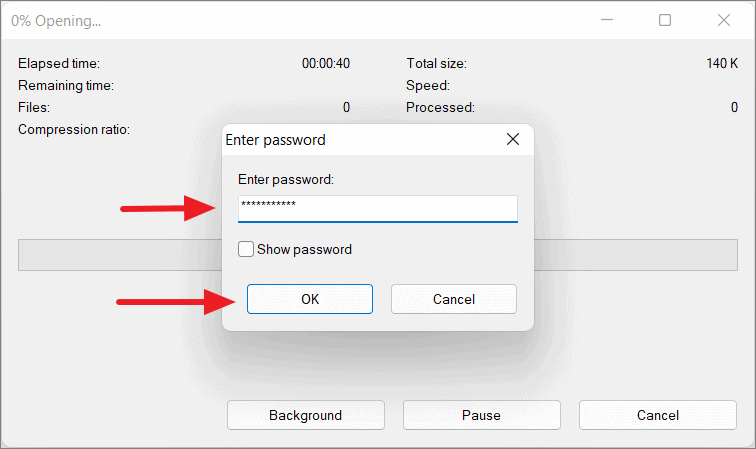 If you want to extract the files, right-click, and select 'Show more options'. Then, open the 7-Zip menu items and choose one of the three options to extract the files. It will ask you for a password, enter it to start the extraction.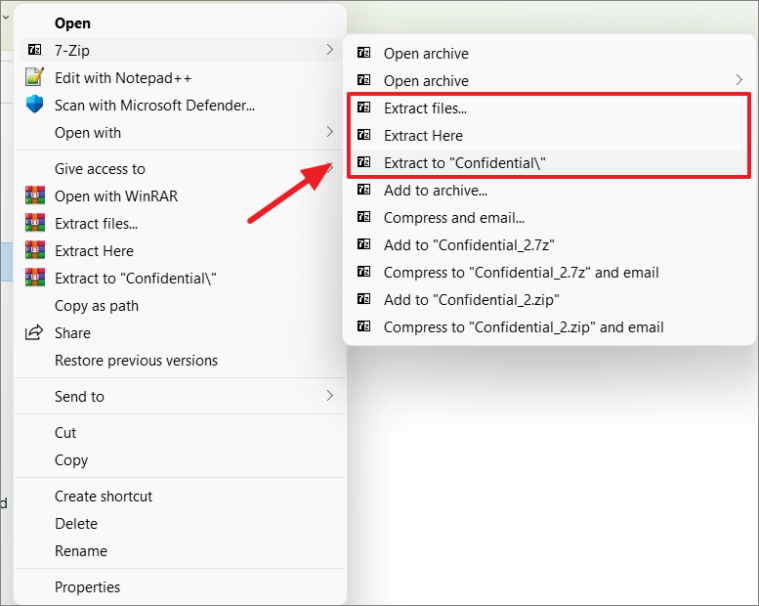 ---
That's all you need to know about using 7-Zip on Windows 11. Happy archiving!