If you own an iPhone or an iPad, but a Windows PC instead of a Mac, keeping your data in-sync across devices can seem like a daunting task. The two platforms aren't exactly chummy with each other, speaking in terms of compatibility. In fact, Apple is notoriously famous for maintaining exclusivity.
But some of these are just misconceptions. Managing your iCloud account and all its data on a Windows PC is rather easy. Although you can also go to icloud.com to view your data on your PC, to have the best iCloud experience, Apple and Microsoft have made the iCloud Windows app.
With the iCloud Windows app, your photos, documents, and bookmarks on your PC will update automatically across your Apple devices.
Downloading and Setting Up iCloud on Windows 11
Before you download the app, make sure that iCloud is set up on your iPhone or iPad and you are signed in with your Apple ID. You can download the iCloud app for Windows 11 from the Microsoft Store.
Open the Microsoft Store on your PC and search for iCloud. Then, click the 'Free' button to download and install iCloud.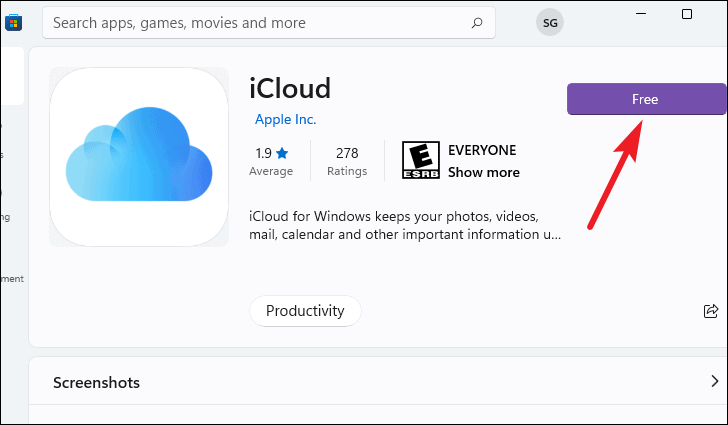 Run the app after it installs. It might take a few seconds to set up the first time.
Then, sign in to iCloud with your Apple ID. If you have two-factor authentication on, you'll need to enter the code to complete the sign-in.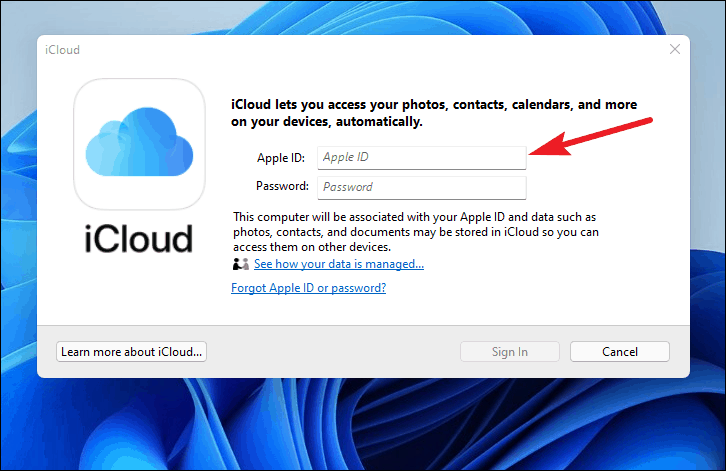 After you sign in, a prompt will appear asking whether you want to send diagnostic and usage information to Apple. You can choose either 'Automatically send' or 'Don't send'. And whatever you choose can be altered from the settings later on.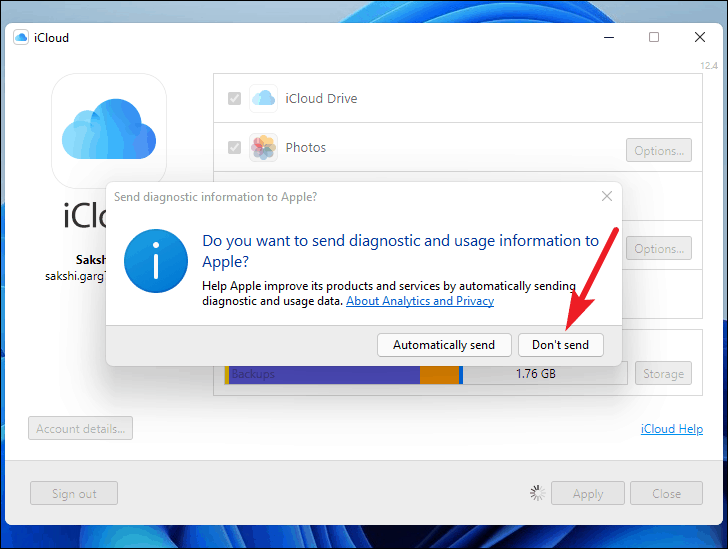 Then, select the iCloud features you want to use to use on Windows and click 'Apply'.
For options such as 'Photos' and 'Bookmarks', you can also configure further options. Click the 'Options' button next to each.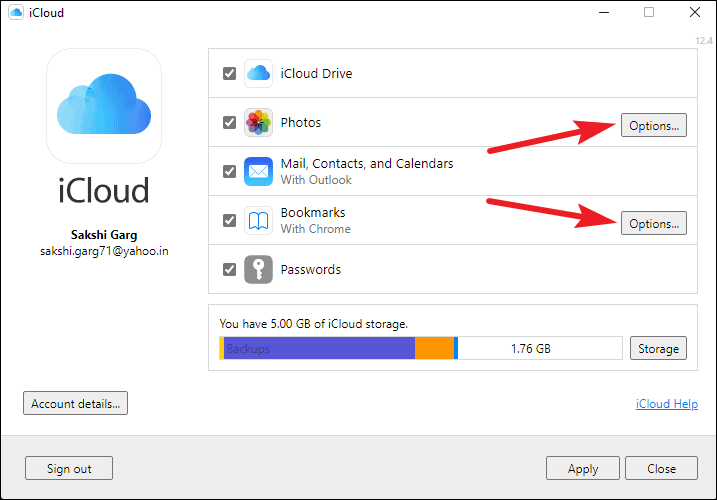 For Photos, further options include whether you want to use iCloud Photos and Shared Albums on your PC. For shared albums, you can also change the location of the folder.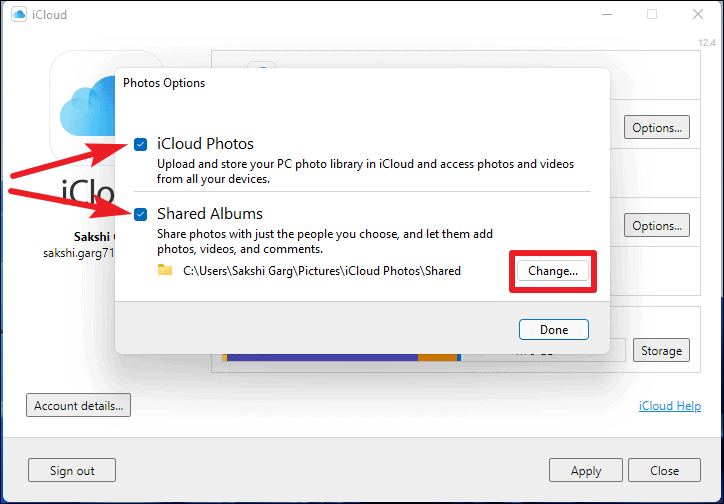 For Bookmarks, you get to choose the browser with which to use them. The bookmarks from your selected browser will appear on your Apple device and the ones on there will be synced on your PC browser. It shows your default browser automatically. But you can select any other browser as well.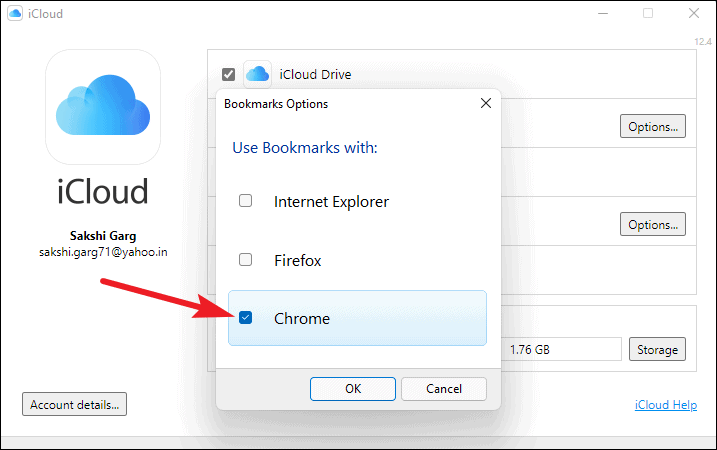 Then, click the 'Apply' button.
If you have selected to use Passwords on Windows, a message will appear that it requires the iCloud Password extension for <browser>. Click the 'Download' button to use it. Or uncheck the option for Passwords. If you already have the extension downloaded on your browser, you won't get this message.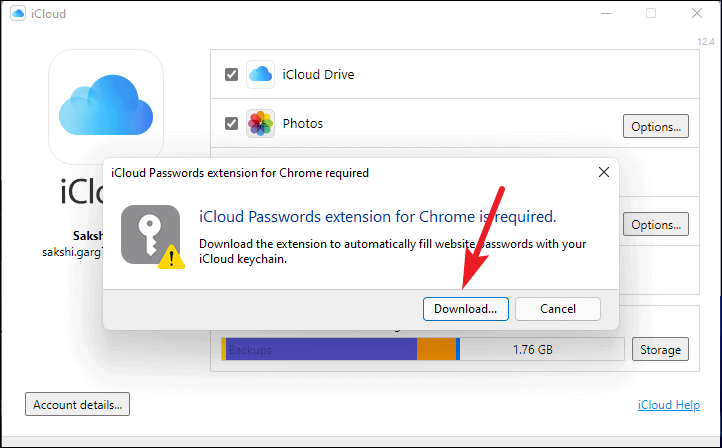 Then, if you are using the 'Bookmarks' feature, a confirmation message prompt will appear asking whether you want to merge the bookmarks on your PC and Apple device. Click 'Merge' to proceed or 'Cancel' to unselect Bookmarks.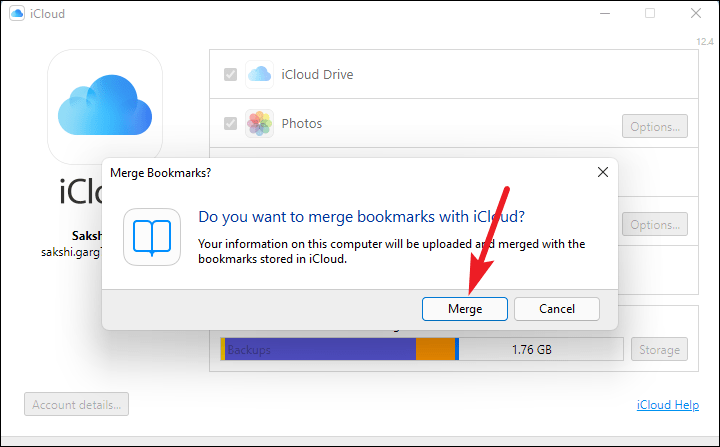 Note: You can change the preferences you set during setup at any point later on.
iCloud will be set up and ready to use.
Using iCloud Photos
If you choose the Photos feature while setting up iCloud, iCloud will create an 'iCloud Photos' folder in the File Explorer. Using iCloud Photos, you can upload photos and videos from your PC to iCloud and access these photos across your Apple devices.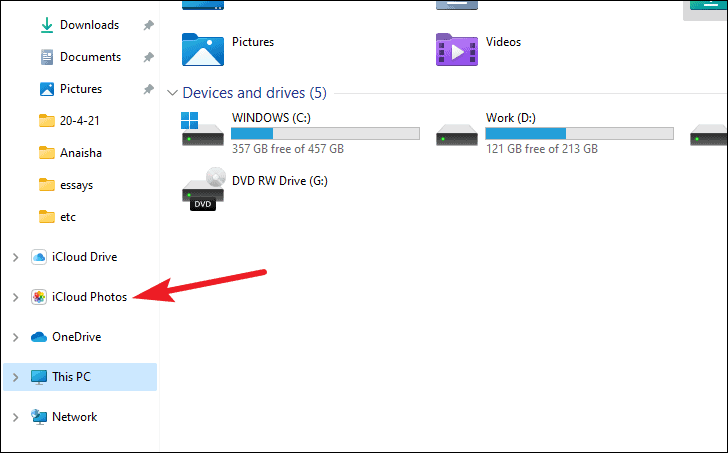 To upload photos from PC, open the iCloud Photos folder from File Explorer. Then, drag and drop the photos you want to upload to iCloud to the folder. iCloud Photos should also be on your Apple device for you to be able to see them there. Otherwise, the photos you upload will be available on icloud.com
Likewise, if your Apple device has iCloud Photos turned on, all new photos and videos you take on your device will be available on your PC. You can download them on the device or keep them in the cloud to save storage space. The photos that are in the cloud will have a 'cloud' icon next to their name.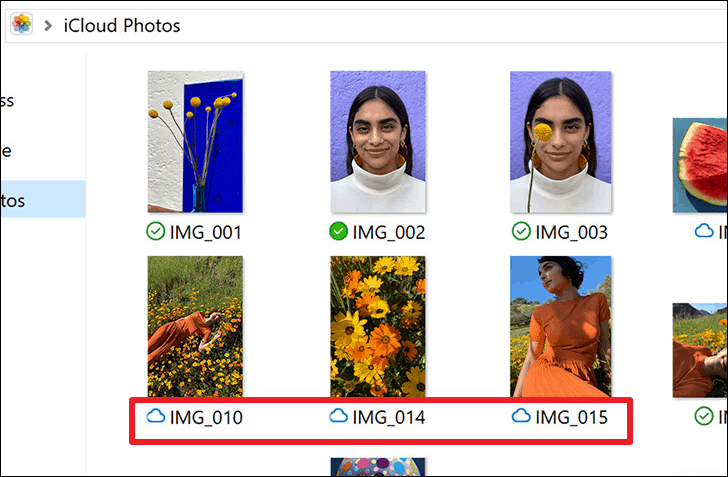 To download a photo, double-click the thumbnail. Downloaded photos will have a 'tick' icon with a white background to indicate their status.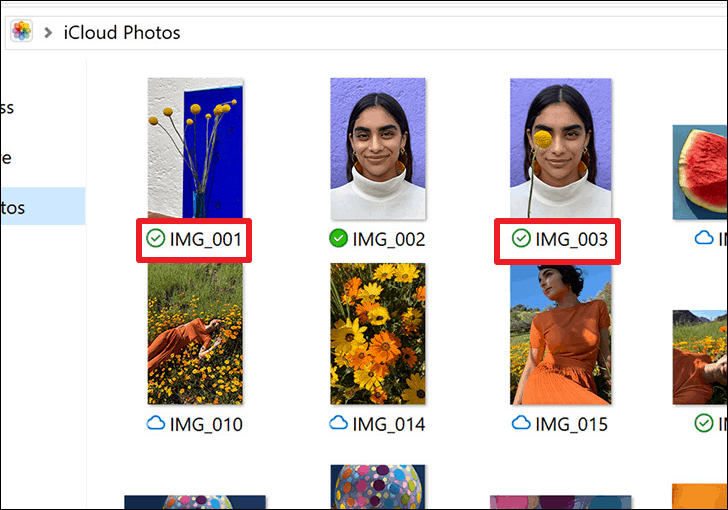 You can also keep downloaded photos permanently on your PC. Select the photo(s) you want to keep and right-click it/ them. Then, select 'Always keep on this device' from the context menu.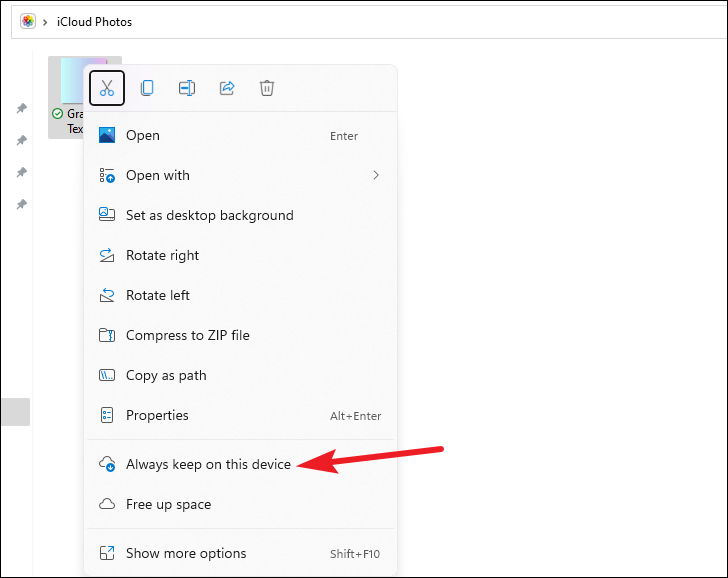 Permanently downloaded photos have a 'tick' icon with a green-filler background.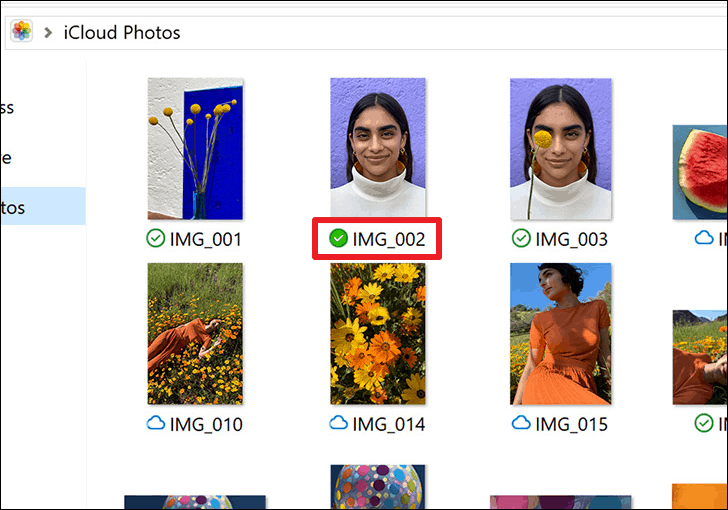 To revert them from their permanent status, open the right-click menu again. The option 'Always keep on this device' will appear selected. Click it once to unselect it.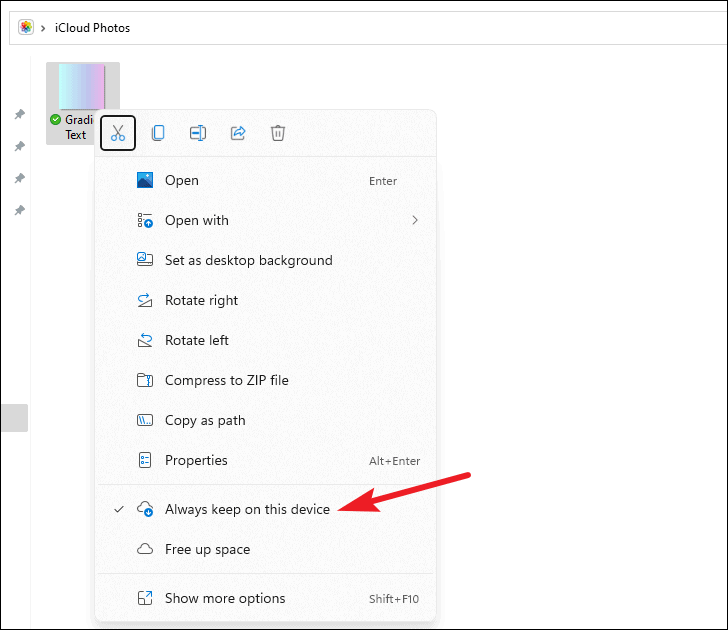 You can also remove photos as downloads from your PC and only keep them in the cloud. Select the photos and right-click them. Then, select 'Free up space' from the context menu. The photos will not be stored on your PC anymore.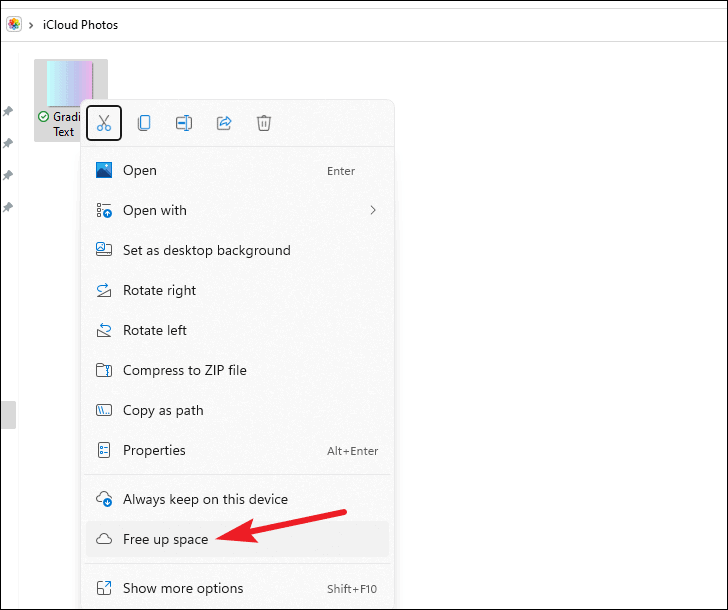 Using Shared Albums
You can also share photos using iCloud for Windows 11. The shared album folder is created by default at the location C:\Users\<USERNAME>\Pictures\iCloud Photos\Shared if you don't change its location during setup.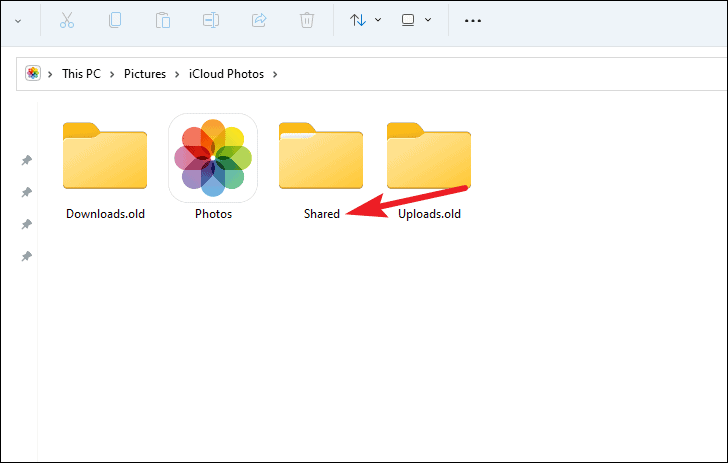 Shared Photos should be on from your Apple device for any photos to be visible on your PC. Shared Albums lets you view and share your photos and videos with others. You can also like and comment on photos and videos you share and those shared with you.
A shared album can have a maximum of 5000 photos and videos. To share more photos and videos if you exceed the limit, you'll have to delete some old media. This media does not count towards your iCloud storage limit.
Using iCloud Drive
If you turn on iCloud Drive, the folder for the same will be created in the File Explorer.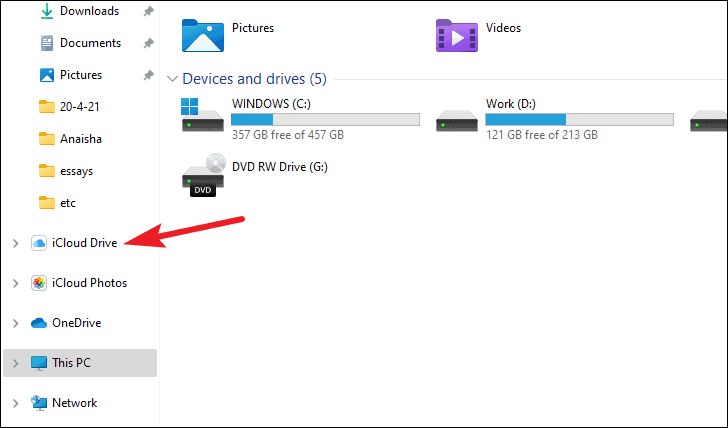 The iCloud Drive folder contains all the documents in separate folders as you've saved them on your Apple device.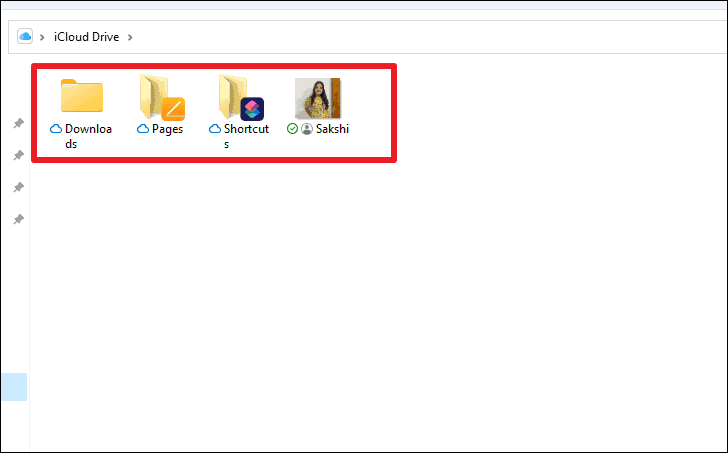 You can view and download these documents on your PC. The documents that are saved on the cloud will have a 'Cloud' icon next to them.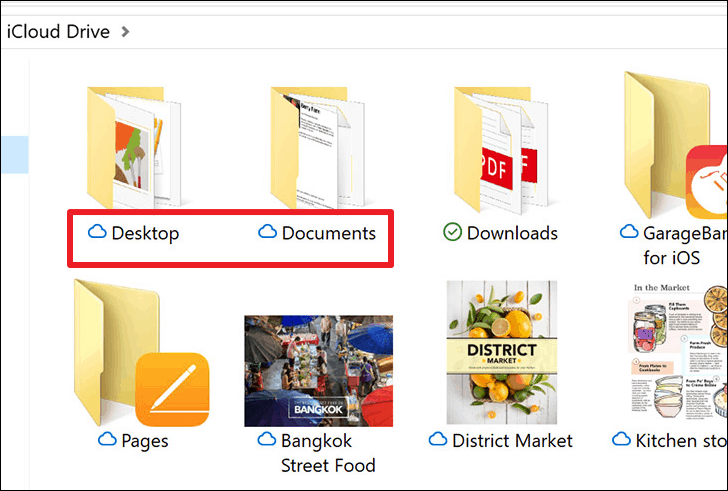 To download documents that are in the cloud, double-click the document and it'll download. Downloaded documents will have a white tick next to them to indicate their status. You can keep them on your device temporarily, permanently, or send them back to the cloud.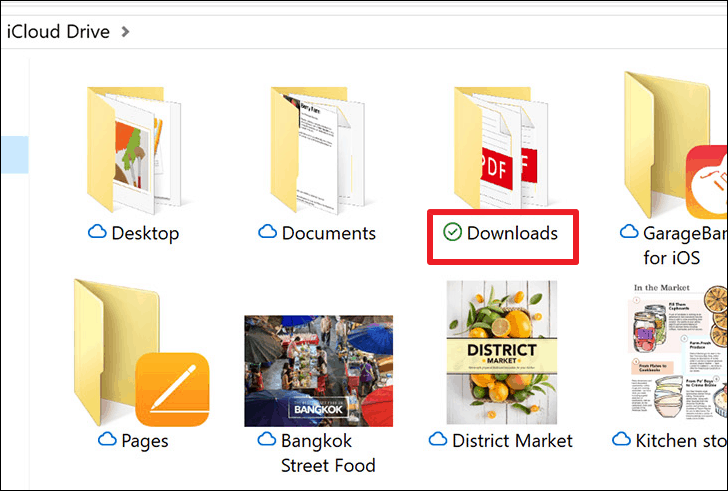 To keep a document permanently, right-click the file and select 'Always keep on this device'.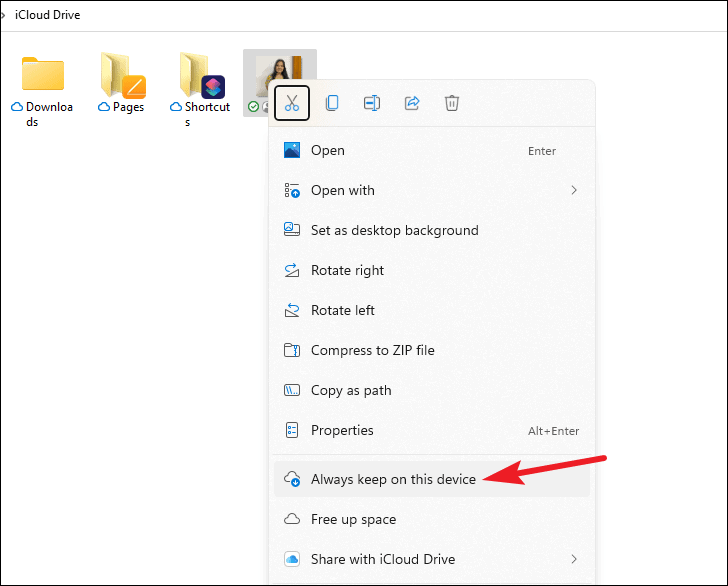 Permanent files will have a green tick next to them. To keep them on the device still but not permanently, uncheck the option for 'Always keep on this device' from the right-click menu.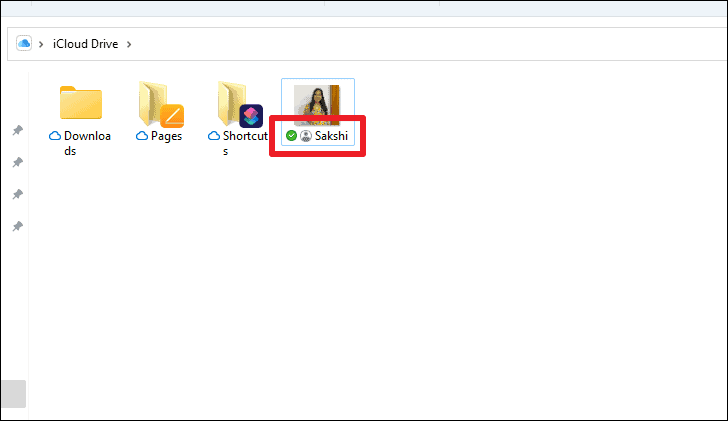 To delete the documents from your PC and save them only on the cloud, right-click and select 'Free up space' from the menu.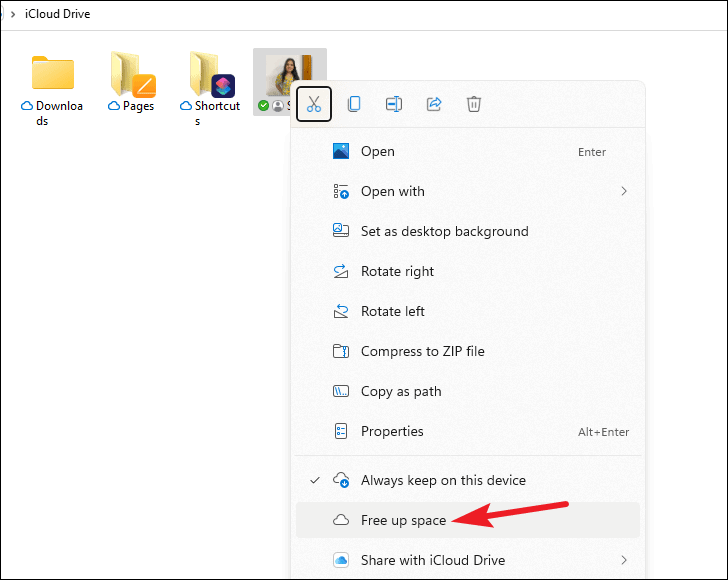 You can also upload documents using iCloud for Windows. Any folders or files you create from the PC will automatically appear on your other Apple devices.
Share Folders with iCloud Drive
You can also share files and folders with other users using iCloud for Windows 11. Sharing files and folders using iCloud Drive allows you to collaborate with other users on them.
To share an individual file or a folder containing a group of files, right-click the file/ folder. Then, select 'Share with iCloud' from the menu. Then, click the 'Share File'/ 'Share Folder' option.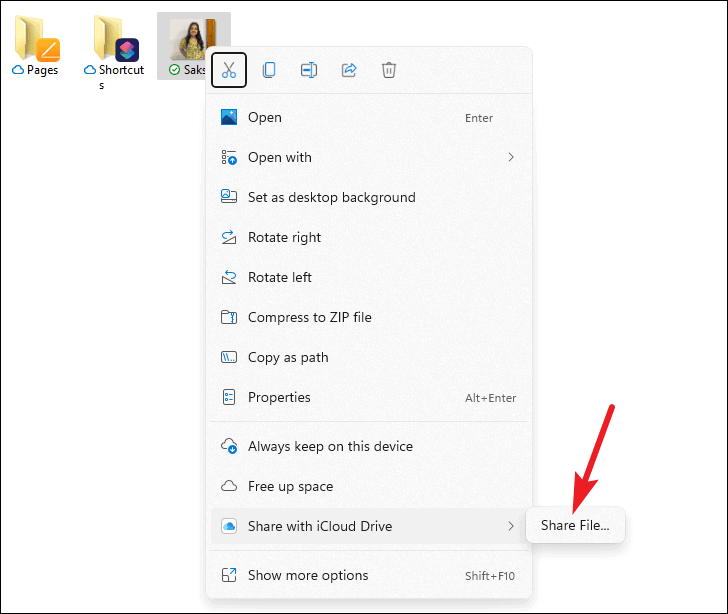 The iCloud Sharing dialog box will appear.
Under the 'Sharing Options', you can decide you can access the documents (people you invite or anyone with a link) and the level of permission they'd have (whether they can only view or make changes).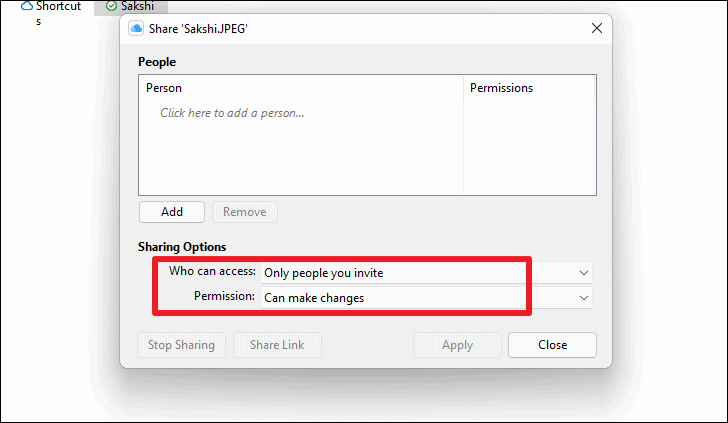 If you've selected the 'Only people you invite' under 'Who can see', then you have to invite people. Add the email address of the people with whom you want to share the documents in the 'People' textbox.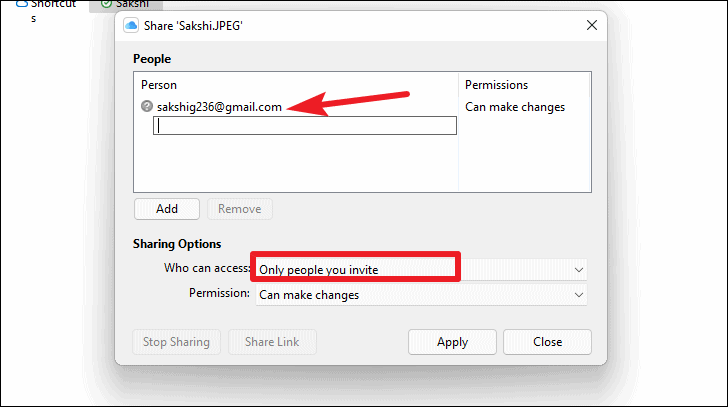 If you've shared 'Anyone with a link', just click 'Copy link' to get the sharing link after applying the changes.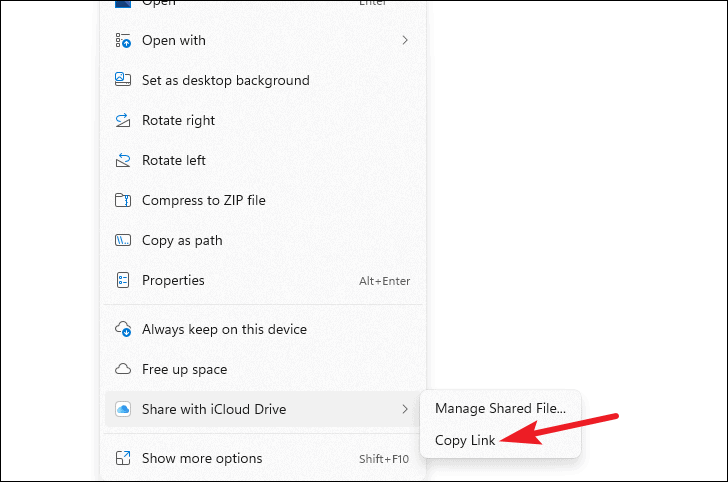 The level of permission can also be set differently for all participants. Go to the participants' list and click the permission next to their name. Then, you can select different permission for them than what you have applied for the whole document.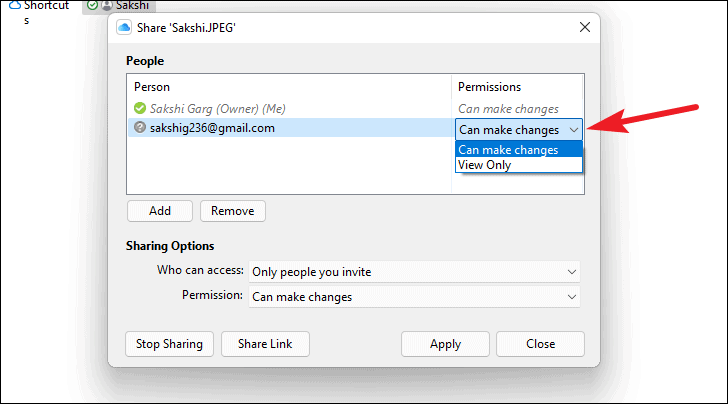 Click the 'Apply' button to share the documents.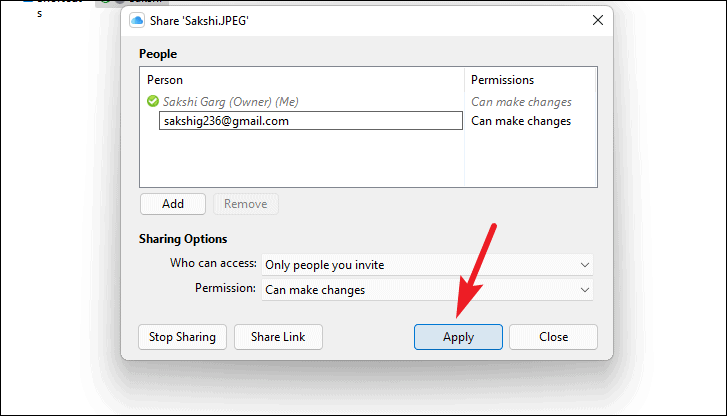 The documents that you are sharing using iCloud Drive will have an additional 'People' icon next to them to indicate their status.
Once you've shared the document, you can manage the people you're sharing it with (remove people or add ones) and change permissions.
Right-click the document and go to 'Share with iCloud'. Then, click the 'Manage Shared File'/ 'Manage Shared Folder' option.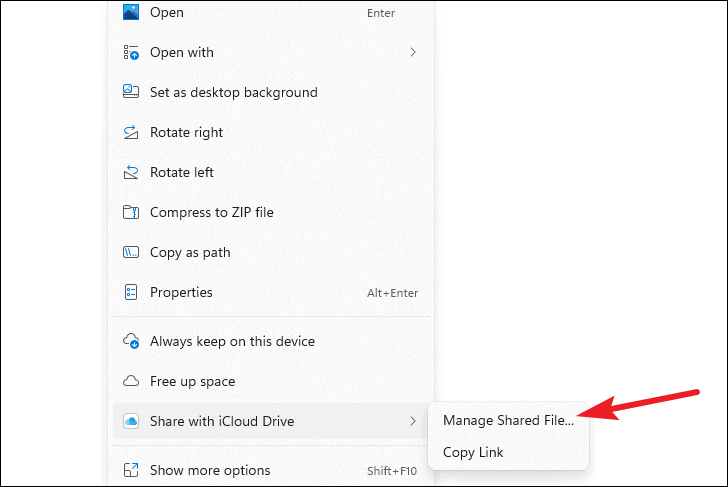 To revoke someone's access, select the people you want to remove and click the 'Remove' button.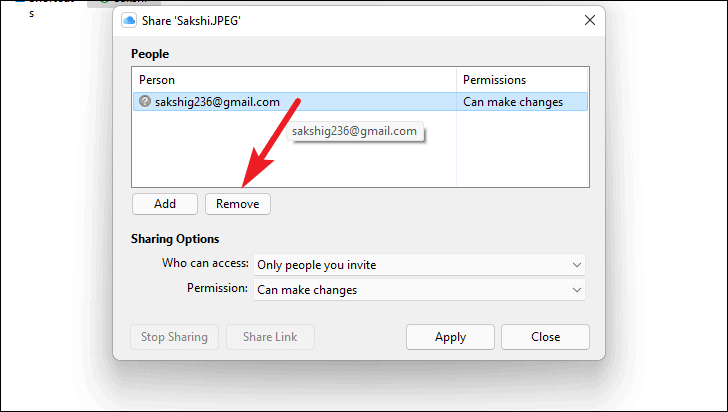 To add people, click the 'Add' button and enter their email address.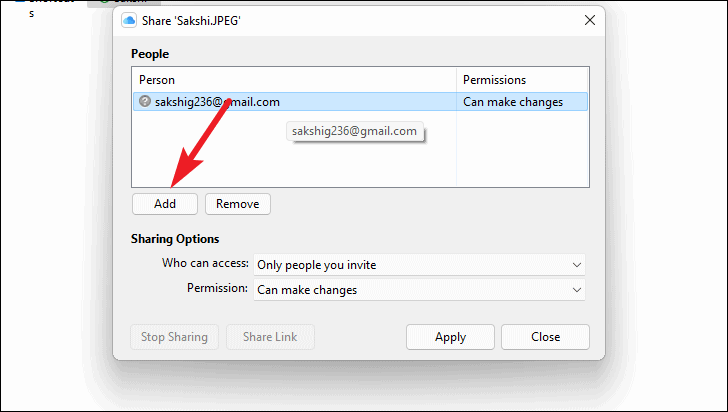 To stop sharing the document completely, click the 'Stop sharing' button.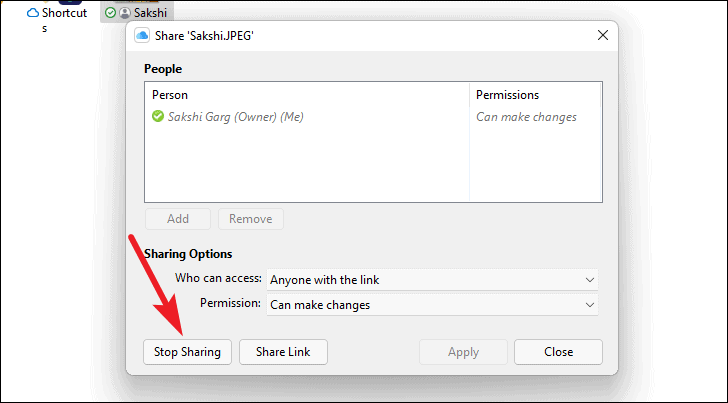 Using Passwords with iCloud
Even if you've enabled Passwords during setup and also downloaded the iCloud Passwords browser extension, you still have to approve iCloud Passwords from an Apple Device before you can use it on a Windows PC.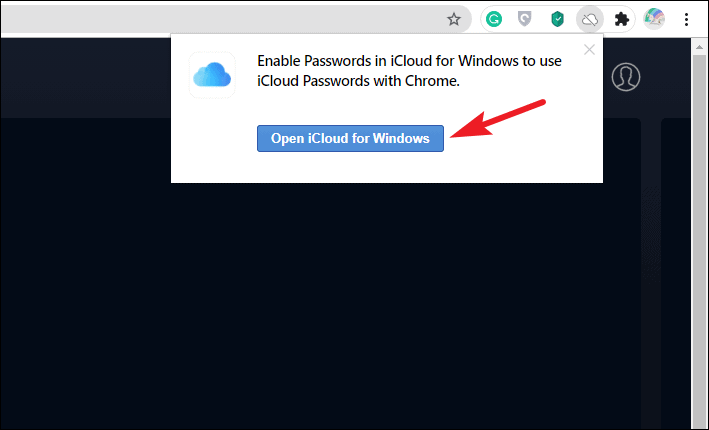 You need your iPhone or iPad, or a Mac running macOS BigSur or later to approve iCloud Passwords for your Windows PC.
Open the iCloud app on your Windows 11 PC and click the 'Approve' button next to Passwords.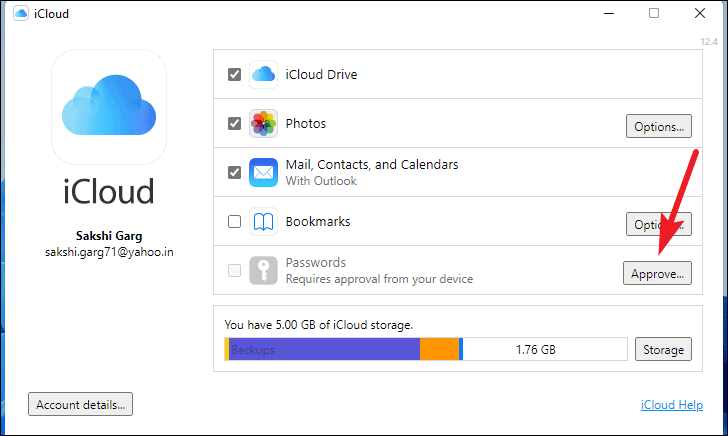 Then, sign in to your Apple ID. To approve the sign-in, you'll need to enter the code received on your Apple device. Enter the code and iCloud Passwords will be approved.
Then, you might have to check the option for 'Passwords' and click 'Apply' once again to save the changes.
Now, open the browser and go to a site that uses iCloud Passwords. Click the iCloud Passwords extension icon.
It'll ask for a verification code, and the desktop app will provide the verification code right there on the screen. Enter the code to finally enable the extension. The extension might ask you to re-enter the code every few days to make sure your passwords cannot be used by anyone else.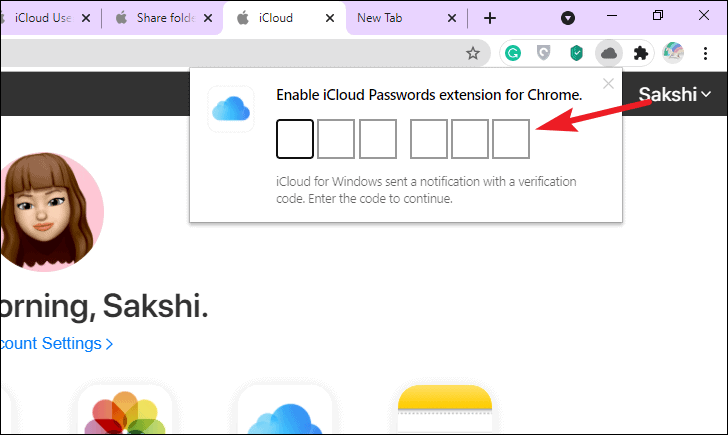 Then, when you need to autofill a password, click the extension icon.
---
Using iCloud for Windows, juggling between data on multiple devices will be a breeze. Once you set it up and get it running, it'll do most of the work for you. You can even use your calendars, emails, and contacts updated on all devices. iCloud even adds a tab for 'iCloud' in your Outlook desktop app on Windows.