Writing is a tough task and sometimes, no matter how long you stare at the screen, coherent sentences simply refuse to form. But not writing is not an option for many in the digital age where written content is far too important. Social media posts, blogs, emails, newsletters, websites – written content is everywhere. And we didn't even consider creative writing yet.
Whether you need to write for your business or you're just looking for a little nudge for your creative pursuits, we know someone who could help you write. Canva's newest writing assistant – Magic Write!
What is Magic Write and How Does It Work?
Magic Write is a writing assistant that's powered by AI (Artificial intelligence) that can help you write effortlessly. You can use it to generate sentences, paragraphs, outlines, lists, and much more by simply providing a prompt.
It can write anything for you, from social media posts, emails, blogs, website content, business plans, and cover letters to poems, journal entries, and creative writing. Even if you don't want it to write the entire content for you, you can use it to brainstorm ideas for you and use them in your writing.
Magic Write is a part of Canva Docs. Now, what's that? Canva Docs, a part of Canva's evolution into a Visual Worksuite, is a new addition to the design app. Their goal is to provide users with a format where visuals and text can come together in the most natural way. Essentially, Canva Docs allows you to create documents, but they still retain the magic of Canva. Hence, you can create documents that can put visuals first, unlike every other type of document editor there. So, if you need to create documents where photos, videos, or any other type of graphics don't stick out like sore thumbs and look like they truly belong there, Canva Docs is the way to go.
Now, getting back to Magic Write, it works in two ways. You can either offer it a prompt and generate text from it or use your existing text to generate more text. It can only generate information according to the prompts or text you enter. So, to get accurate results, provide instructions with as much context as possible.
Limitations of Magic Write
Magic Write is an AI assistant and like all other AI assistants, it has some limitations you need to be mindful of while using it.
You can only input a maximum of 200 words and generate a maximum of 500 words as output using Magic Write.
It only uses information up to mid-2021 currently, so it can generate outdated information.
It might generate inaccurate text or text that isn't unique.
It can deliver offensive or harmful content despite all the filters and checks implemented in its programming. In such a case, you can report it to Canva. But if you proceed with using such text that Magic Write generated, you'll be legally responsible for it as per Magic Write's terms and policies.
Who Can Use Magic Write?
You can use the AI-powered assistant only if you have access to Canva Docs. Canva Docs is still in Beta release and you need to get on the waitlist to get access to it currently.
The tool is available for both free and paid Canva users, but the usage policy differs. For Canva Free users, Magic Write is only available for a lifetime of 25 uses. That is, Canva Free users can only generate up to 25 pieces of content using the tool with their account. Whereas Canva Pro, Canva for Teams, and Canva for Nonprofits users get up to 75 monthly Magic Write uses for each user. It's not available for Canva for Education users, though.
Also, Magic Write is itself in the Open Beta stage and currently only supports English, French, Spanish, Portuguese, and Indonesian language texts.
Using Magic Write
Go to canva.com/docs and click 'Create a Document' to create a new Canva Docs document.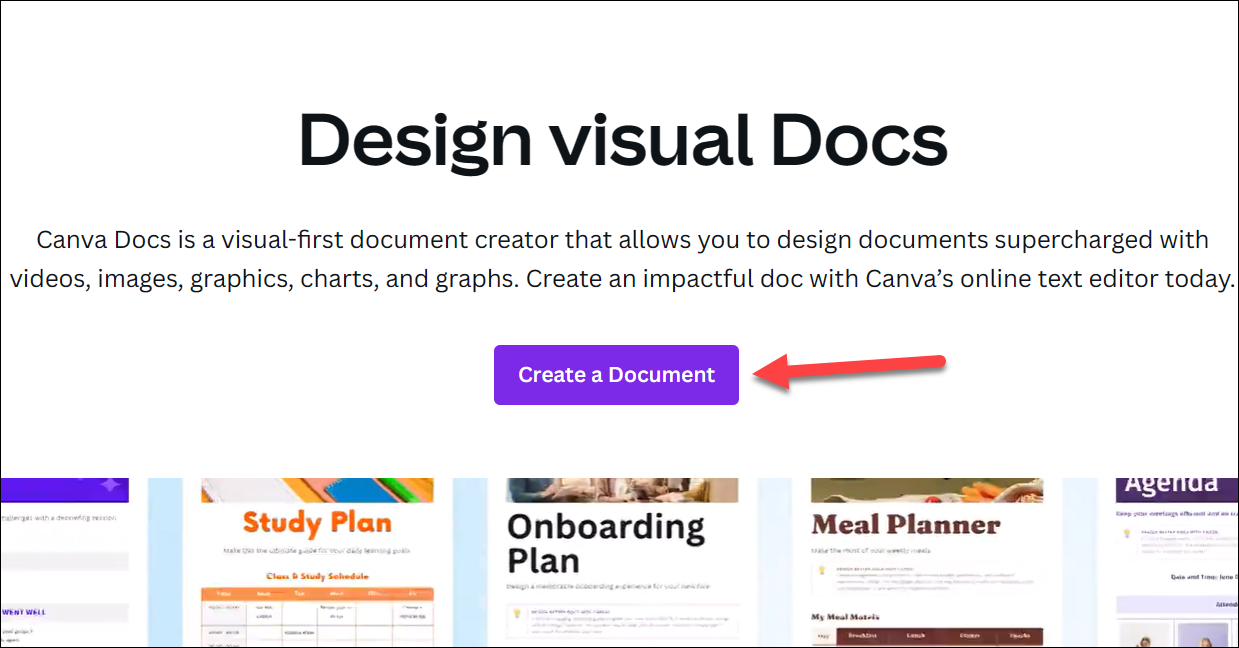 A blank document will open in the familiar Canva editor with the toolbar on the left and the editor on the right.
To generate text from a prompt, click the '+' (Add Magic) icon on the text editor.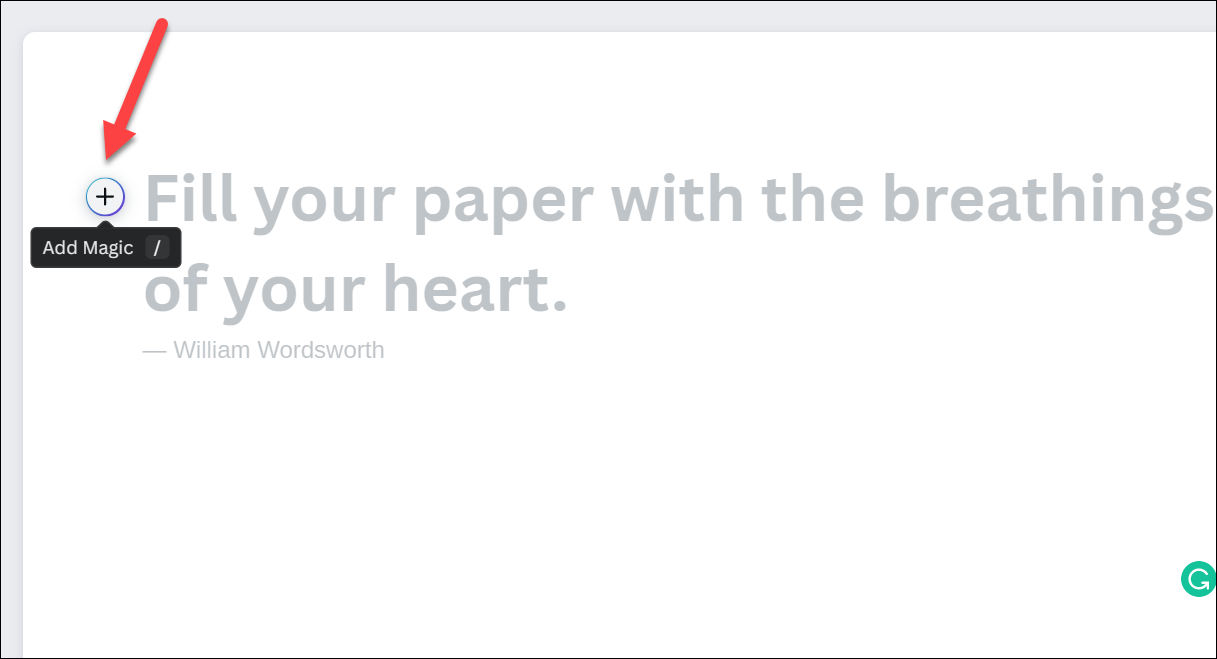 You can also use the / magic command to open the Magic Menu.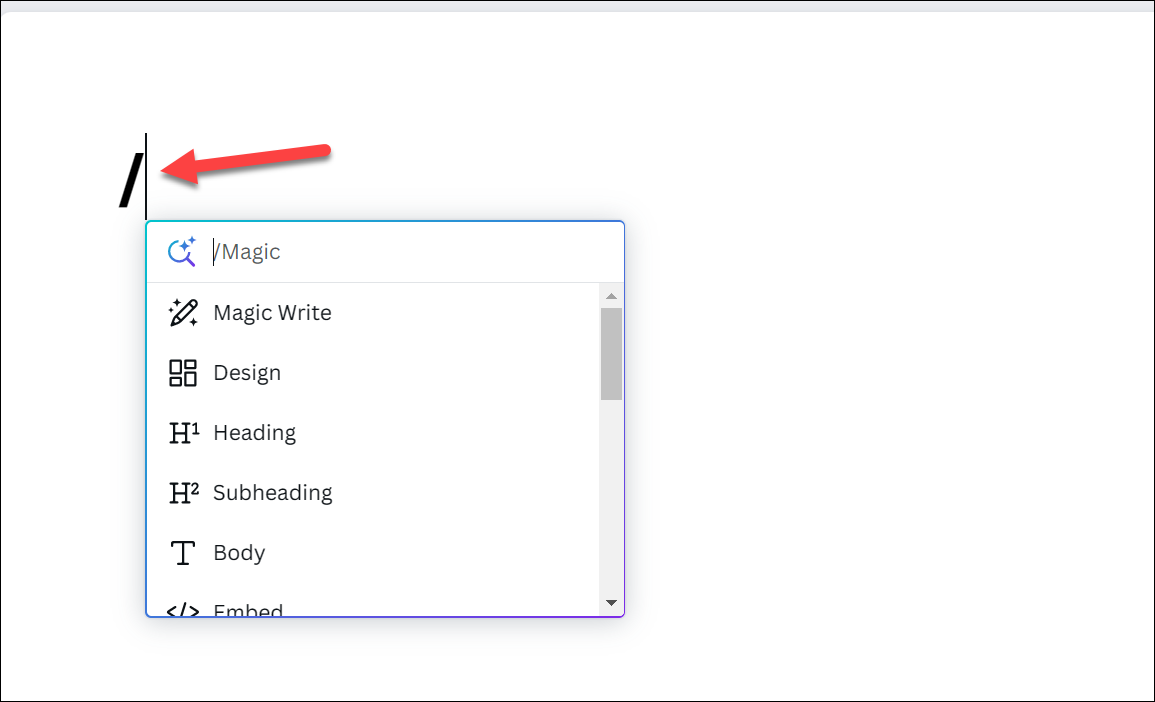 Select 'Magic Write' from the menu.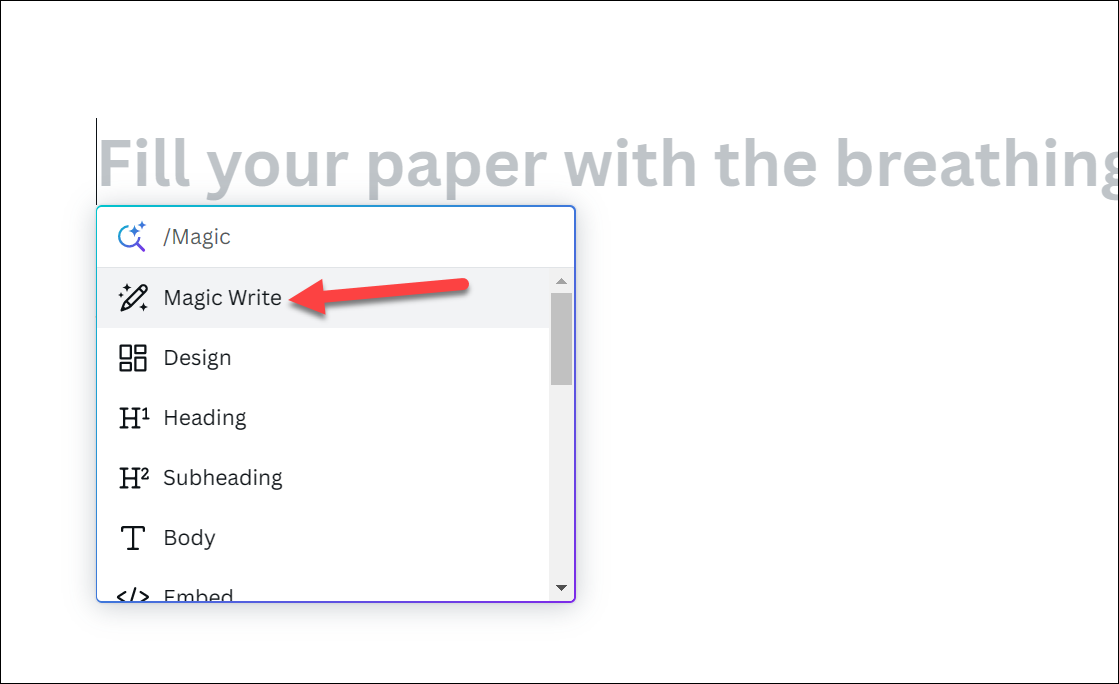 Then, enter the prompt or describe the text that you want to generate. Remember that you have an input limit of 200 words and the more instructions you provide to the AI, the better results you'll get.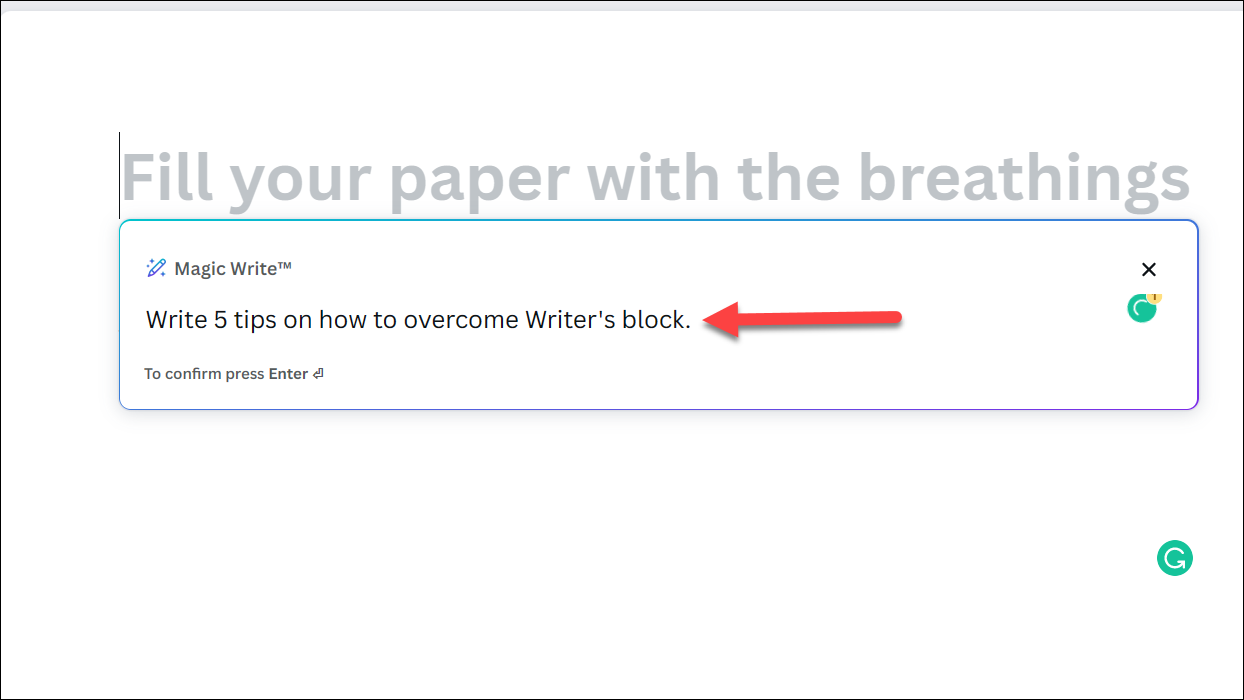 Then, press the Enter key on your keyboard. This would count toward one use of Magic Write from your limit. AI will generate the text. You can either use it as it is after proofing and editing it. Or you can use it as an inspiration to write more content.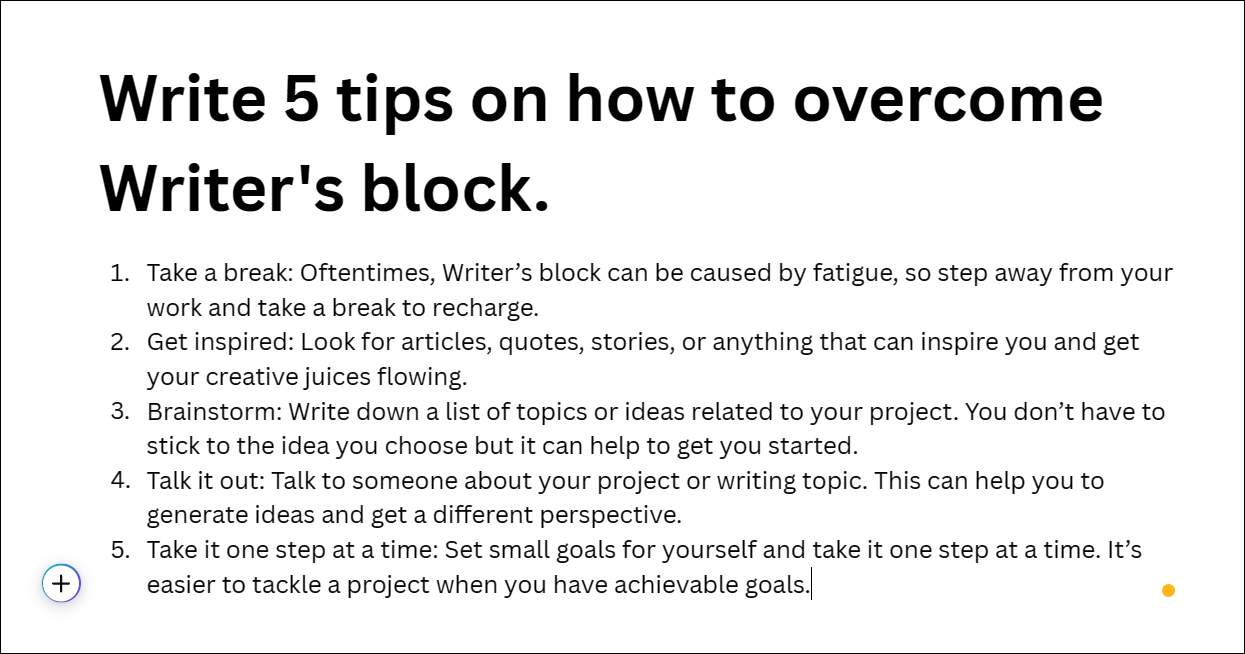 To generate text from existing text, highlight it and then click the '+' icon.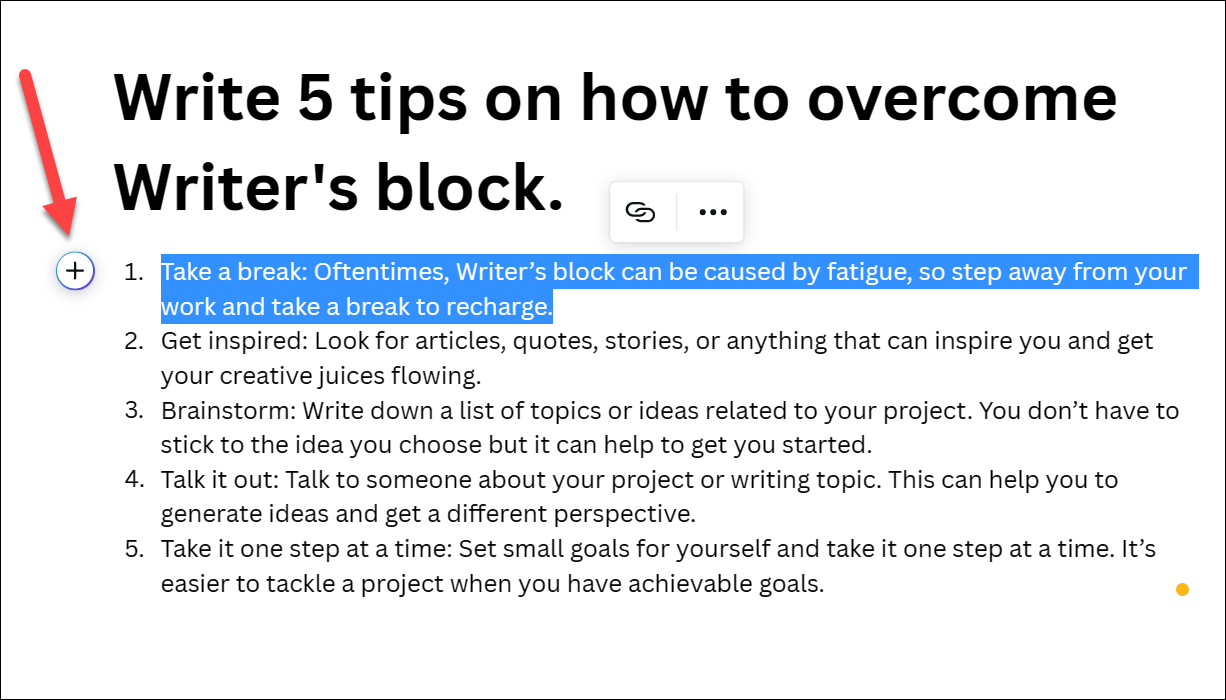 Select 'Magic Write' from the menu.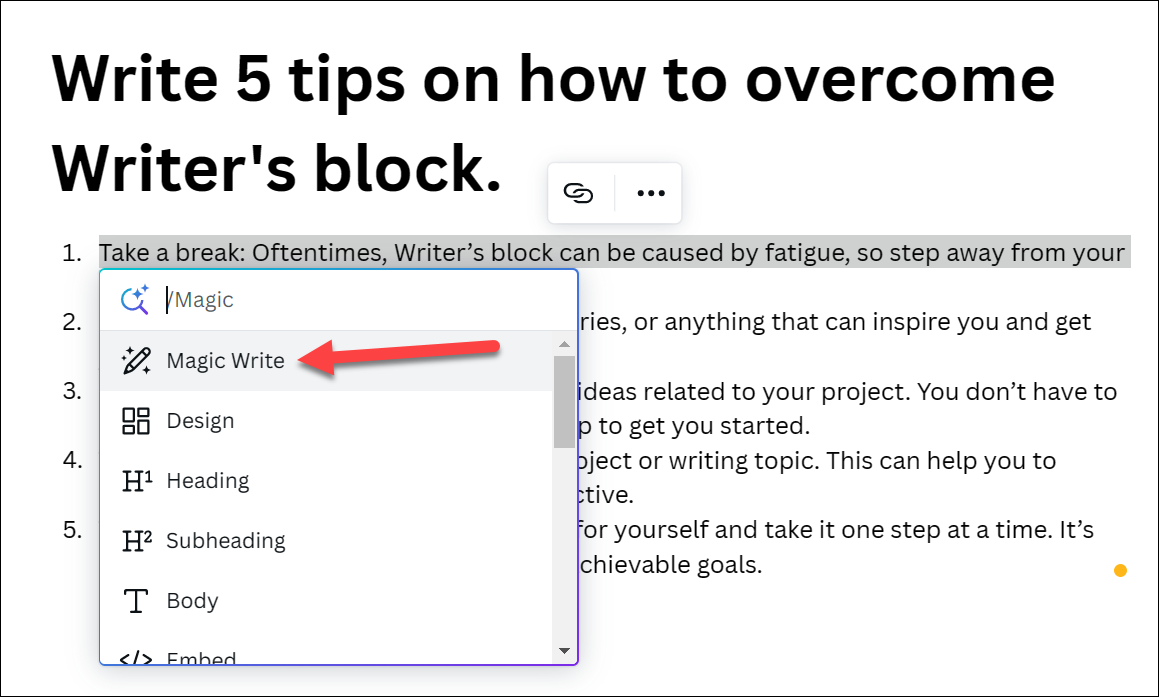 The existing text would appear in the instructions box. You can add more instructions after this text if the word limit allows it. To enter instructions in a new line, press Shift + Enter on your keyboard.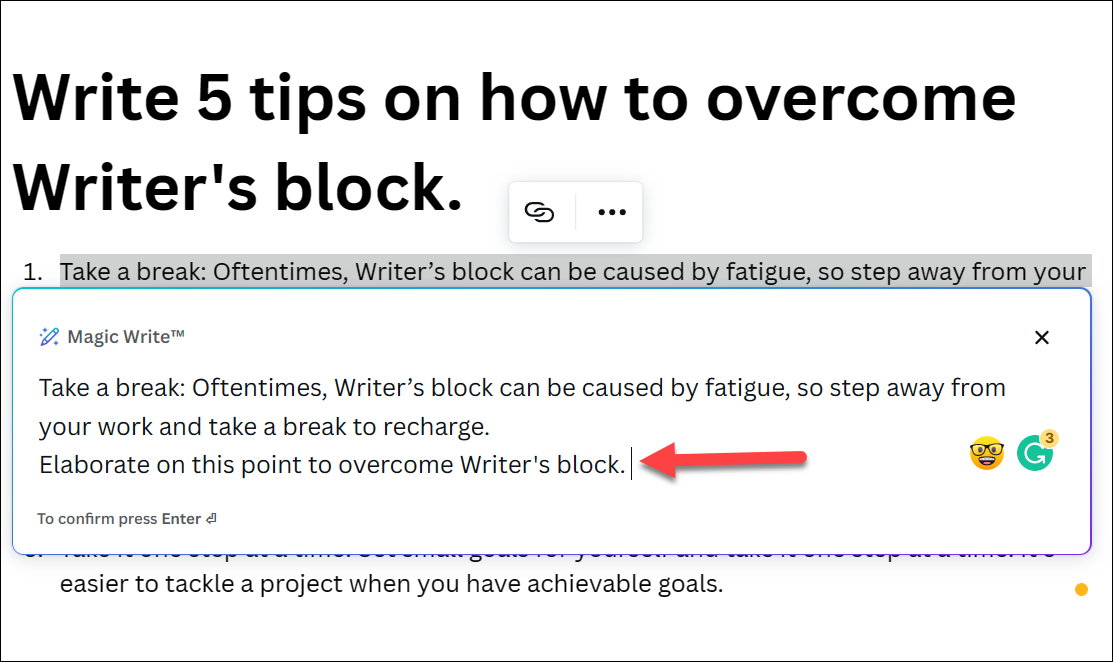 Press Enter to confirm. Your content will be generated.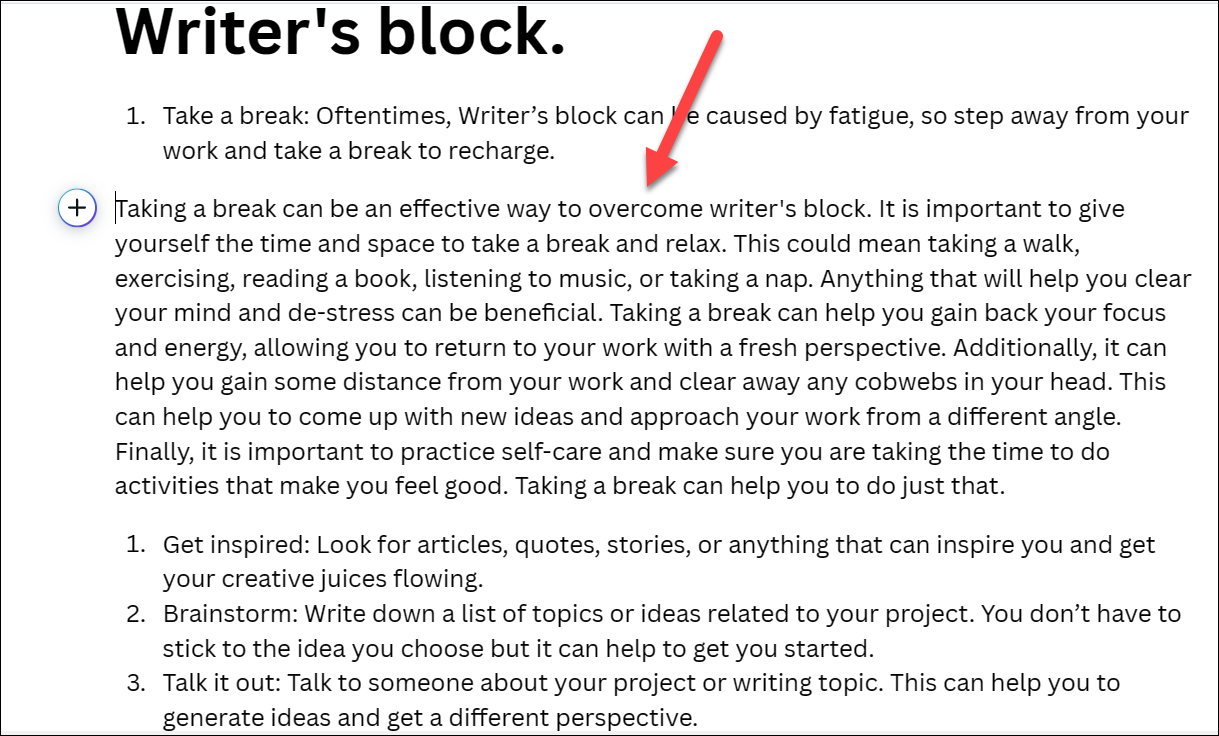 Tips for Using it Effectively
To use it most effectively, use it as a co-author to help you generate ideas and provide you with a starting point instead of relying on it solely. Using it as a co-author and adding the human touch to the AI-generated content also helps you produce content with personality.
Also, remember that it does not have its own thoughts or beliefs. It only generates content by trying to match your instructions as accurately as possible. So, always provide in-depth instructions on your first go as each query counts towards your Magic Write usage limit.
You can even include tone of voice in your instructions to the AI. Whether you need a formal tone or playful one, simply include it in your instructions and AI will keep it in mind while generating your content. For example, we gave it the same prompt as before, but with an additional instruction about keeping the voice of tone playful.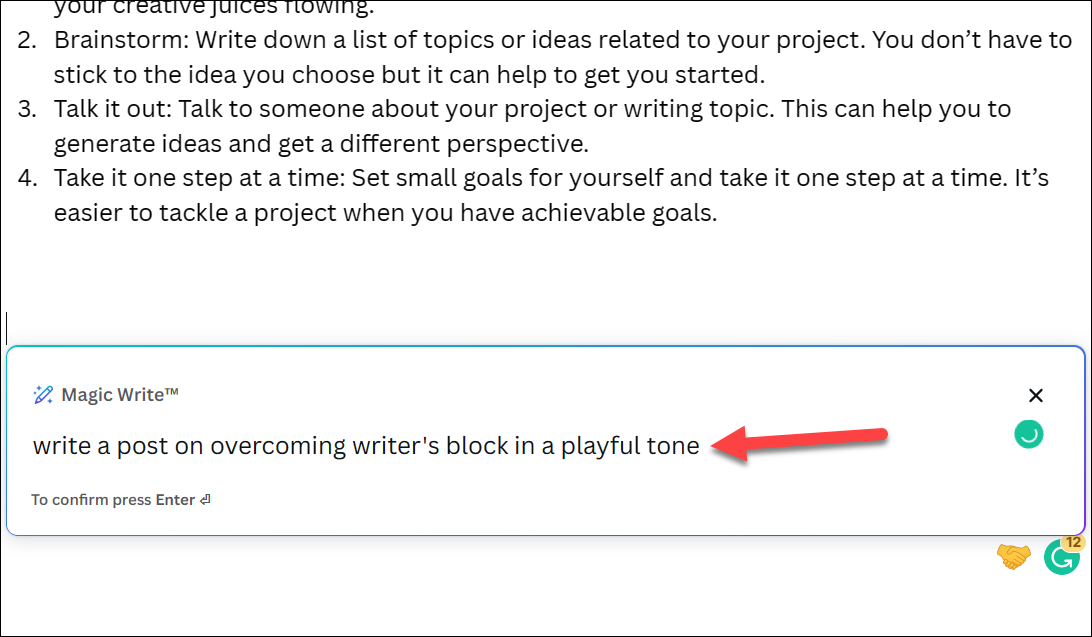 You can see the difference in the outcome below.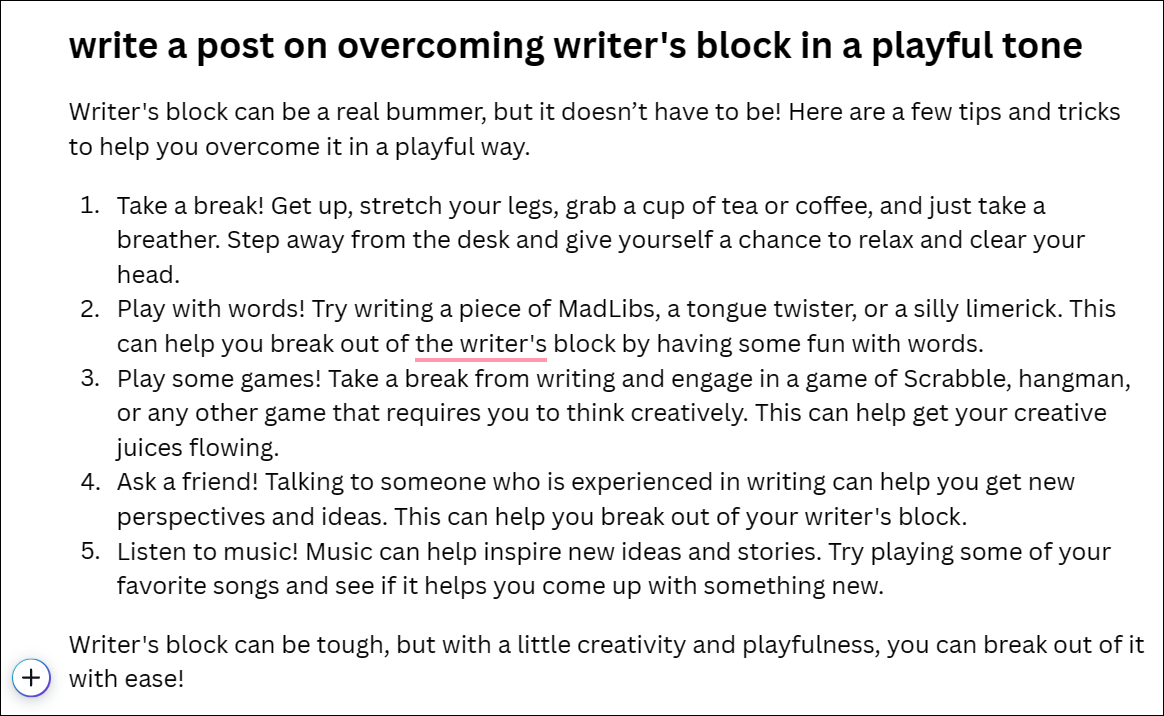 Moreover, always use your judgment before sharing the content that Magic Write generates. Remember, it can generate information that is outdated or not accurate, or unique. So you need to scrutinize the text for its accuracy before sharing it. Ultimately, you'll be responsible for the content you share and not Canva.
---
That's all it takes to generate up to 500 words on any topic in mere seconds using Magic Write in Canva Docs. Use it to write professional content or even simple notes for birthday cards, thank you notes, or wedding invitations.