NFTs may have been around for a few years but they've only gained traction in the mainstream media since last year. Non-fungible tokens (NFTs) are tokens that live on the decentralized blockchain. Their tokenization on the blockchain makes them one-of-a-kind, thus making them non-fungible.
Now, they're everywhere you look – fetching headlines for the billion-dollar market they've become. In fact, they're becoming so mainstream that they're even pouring into the centralized application world. Twitter and TikTok are burning examples of centralized apps wanting in on the action.
So, what's this about TikTok and NFTs? TikTok recently made (or, at least tried to) its first foray into the NFT world. But it suffices to say that the whole thing was a complete mess and lead to nothing but disappointment. What was the whole deal?
TikTok launched 'Top Moments' Collection
In a bid to become a part of the growing trend, TikTok announced that it will be collaborating with top TikTok creators and NFT artists to launch an NFT collection.
Dubbed "TikTok Top Moments," the collection would allow users to be able to own TikToks from their most favorite creators.
The collection featured six "culturally significant" TikTok videos from creators such as Lil Nas X, Bella Poarch, Rudy Willingham, Curtis Roach, Brittany Broski, FNMeka, Jess Marciante, and Gary Vaynerchuk.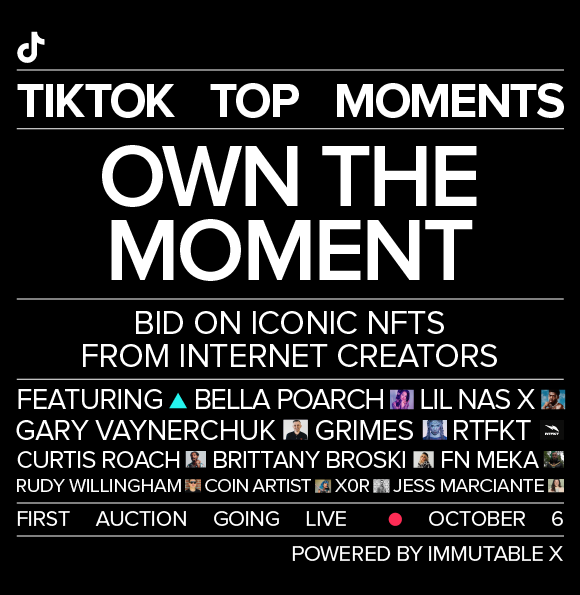 They were all different kinds of TikToks that had an impact across entertainment, culture, and the TikTok community. The proceeds from the sales would have gone to TikTok artists and NFT creators.
The NFTs were set to launch on Immutable X, a layer 2 solution for Ethereum which is more eco-friendly than layer 1 Ethereum.
Whatever Happened to the TikTok NFTs?
To say that the whole thing fell flat on its face would be an understatement. The whole thing was haphazardly put together and never reached fruition.
Out of the collection of six that was supposed to drop at a one-week interval from each other, only two NFTs dropped. The rest of the launch never happened.
So if you're wondering if you can still own one of these NFTs, you can't as they aren't available as NFTs.
A little background information: The launch failed due to a variety of factors. The first launch was supposed to be for the Lil Nas X x Rudy Willingham's TikTok. The TikTok was a stop motion video made on the song "Montero (Call Me By Your Name)". But TikTok could not obtain the music publishing rights to the song. So, Lil Nas X dropped out and the NFT could not be launched.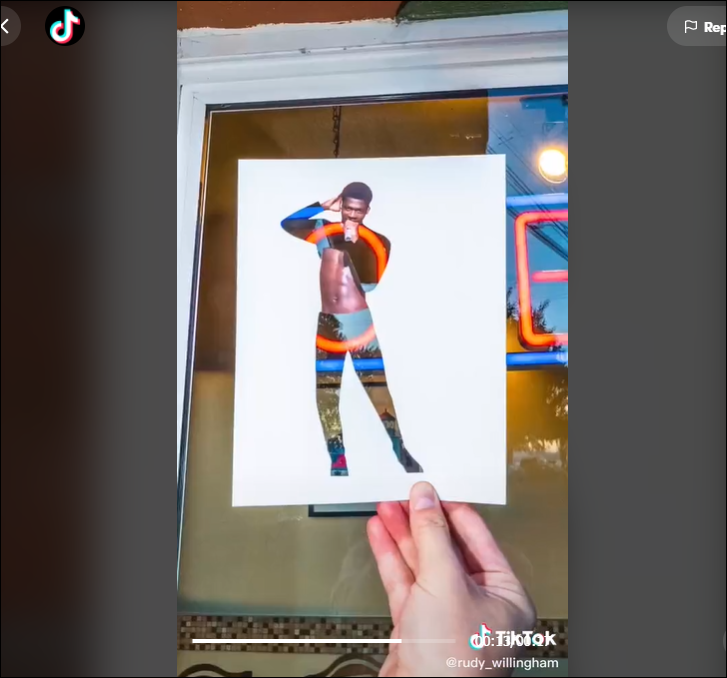 After that, it seemed like the whole thing fell like dominos. Most of the other creators backed out as well. Speculations are that the artists could have backed out as they didn't want to get off on the wrong foot with the crypto community.
The world of crypto and NFTs, i.e. Web 3.0 in general, is a decentralized world. And the beauty of NFTs is that artists don't have to rely on any corporations like Instagram, Facebook, or TikTok to monetize their content. Furthermore, artists don't even need corporations like TikTok to broker any NFT sales.
So, the crypto world wasn't too enthusiastic about the involvement of a corporation like TikTok in the whole project. And the entire project didn't garner as much attention as the company had hoped.
The only NFTs that did launch were from Curtis Roach and Jess Marciante. But even though this project did fail, TikTok is still hopeful that there would be other NFT projects in the future. So, if you really want to own a TikTok NFT, all you got to do is have patience and see if it happens.
Can I Turn My Own TikToks into NFTs?
Yes, of course, you can. That's the beauty of NFTs. You don't need TikTok to launch your videos as NFTs. Anyone can create and sell NFTs in NFT marketplaces.
But one important thing to remember when creating NFTs is that you should own the rights to them. So, if your TikTok video uses a video from another creator, you'd need either their permission or the publishing rights to mint it as an NFT. Otherwise, there would be legal repercussions.
You also need to keep another truth in mind before you make your foray into the NFT world. Even though you probably heard of a lot of NFTs making millions of dollars, the reality is that they are still rare occurrences. Even NFTs fetching hundreds of thousands of dollars is rare.
In reality, most NFTs only sell for a few hundred dollars. And there are gas fees associated on most platforms for the Ethereum blockchain. So, tread carefully. Research before you decide to sell your NFTs. And keep your expectations in check.
---
NFTs are one of the hottest trends of this year, and everyone wants in. It doesn't matter if you're an artist, crypto enthusiast, or a corporation, everyone's getting sucked into its vortex. But what happened with TikTok's collection is an example of how you need to be careful when dealing with NFTs or it could all go south real fast.