Anything you want to share with friends and family – photos, audio, video – seems like it would be a pretty simple deal these days, doesn't it? But with videos, things are a little bit complicated. Videos come in all sizes, large and small. So how large is too large, or is there no such thing? Does iMessage put any constraints on the length of videos you can send, or there is no limit?
Sadly, it does put a limit on the length of videos you can send. Now, remember that length is a completely different matter than size. And it seems like these restrictions keep on changing. And lack of official support documentation from Apple makes matters further frustrating. But we've tried our best to resolve this matter.
Restrictions on Video Length
On the current iOS 14.4, experimentation proved that the maximum length of the video that you can send via iMessage is around 4 minutes and 20 seconds which is an improvement over the previous 3 and a half minutes in the previous iOS versions. If a video is longer than that, iMessage will ask you to trim it to send it. But the size of the video will have some role to play while sending a video.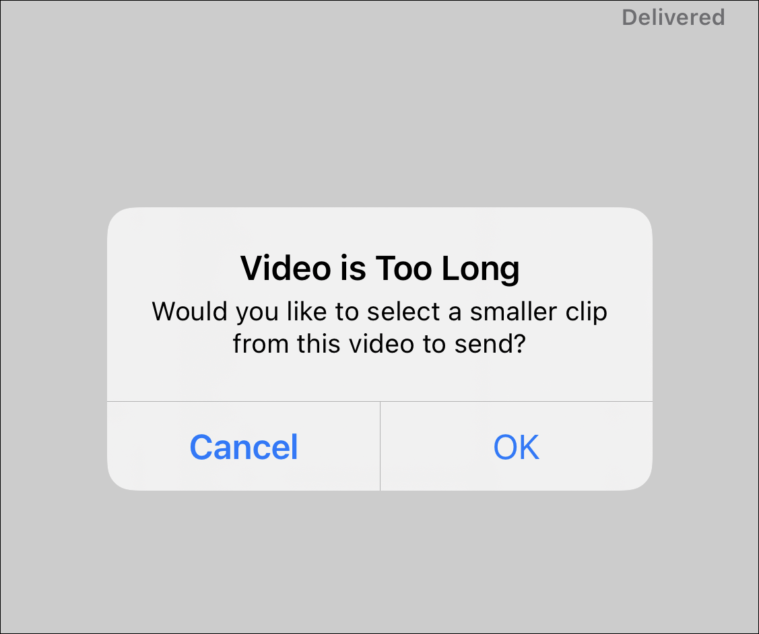 Restrictions on Size
Now, what about the size? Previously, the consensus in the community was that the maximum size of the video you could send over iMessage was 100 MB. That no longer seems to be the case. We were successfully able to send a video of around 1.75 GB via iMessage.
But when the videos are greater than a certain size, Apple will compress them. For some videos, the compression is so great that they are almost rendered useless. Some videos were so compressed that it was almost impossible to make out any faces in the video as it got so blurred. And the size of the video seemed to have no direct connection.
The quality of the 1.75 GB video after compression was much better than the video that was just 320 MB (the video where it got impossible to identify any faces). Many people in the Apple community have had the same complaints (blurred videos) when sending videos via iMessage.
---
So, when it comes to just the length, you can send videos that are shorter than 4:20 minutes. But the shorter the video, the less you'd have to worry about quality.
Alternatively, consider using AirDrop to send longer videos whenever possible, even if they are shorter than the 4:20 minute marker. That way, you won't have to worry about the length, size, or quality of the video.