Cisco Webex is a video conferencing tool that allows you to hold a meeting, share files, and attend online classes. It provides a platform for users to communicate with each other through real-time audio and video. It also allows conversations between participants and hosts through chats.
Often students abuse this privilege by sending and receiving private messages between each other. The instructor or the host is clueless about the ongoing discussions in their class as they can only see messages directly sent to them. No one wants this inappropriate use of school services.
Thankfully, you can limit these conversations by preventing users from sending and receiving private messages in a Webex meeting.
In an ongoing WebEx meeting (where you're the host), click on the 'Participant' option from the top menu bar. Then select the 'Assign Privileges…' from the available options.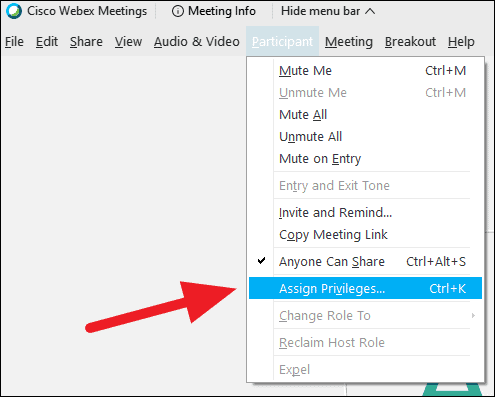 A 'Participant privileges' box will appear. From there, make sure the 'Communicate' tab is selected and then under the 'Participants can chat: Privately with' section, uncheck the 'Other Participants' box, and hit the 'OK' button on the bottom left corner of the box.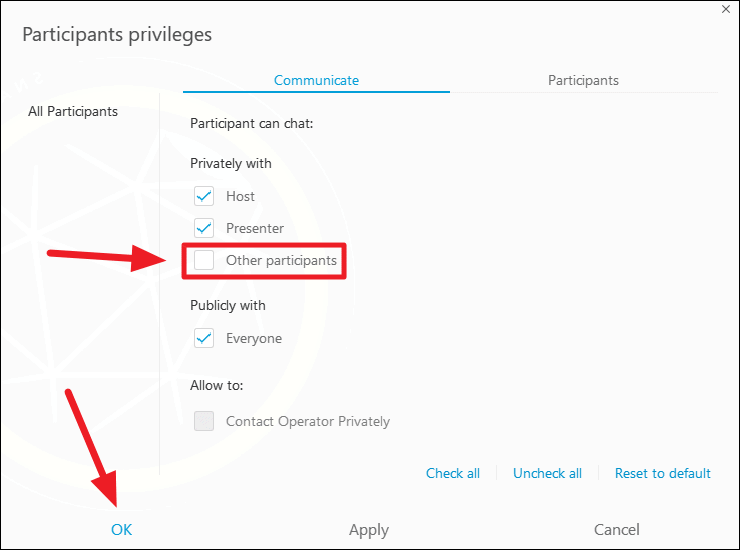 This will limit all private communication between other participants and allow participants to chat only with the host or the presenter.
---
Removing a private chat feature completely from students must be the last resort for instructors. It can also prevent useful conversations between students sharing thoughts on an assignment. It can just as easily become an inconvenience more than a punishment. Often students have alternative applications available, through which they can communicate despite the restrictions. The bigger question is whether you want the conversations to happen within the school-managed system or outside of it.