💡
In this guide, we'll show you how to download and use Tiny11, a lightweight version of Windows 11, to install the OS on older PCs. The process involves downloading the Tiny11 ISO file, creating a bootable drive, changing the boot order on your computer, and following the installation steps.
Windows 11 is an impressive operating system, but its strict system requirements have left many users with older PCs searching for alternatives. One such solution is Tiny 11, a lightweight version of Windows 11 that allows installation on almost any computer.
What is Tiny11?
Tiny11 is a toned-down, lightweight version of Windows 11 (11 Pro 22H2 edition, to be specific). It was made specifically for older computers that cannot run Windows 11 in an official capacity.
💡
Note:
It is not an official version of Windows 11 and was made by
NTDev
, an independent developer who experiments with Windows. Microsoft has nothing to do with Tiny11.
When compared to Windows 11, Tiny11 needs drastically fewer resources. It only needs a meager 8GB space in comparison to the 20GB that the standard installation requires; you can even cut down the 8GB space it takes by applying compression to the system files. Moreover, there are no rigid requirements for RAM. It works perfectly fine with even 2GB of RAM, though there are cases where it worked with even less – 200 MB to be exact, but of course, the system was frustratingly slow and would even go into BSOD.
The latest release of Tiny11 ensures it doesn't need the TPM, Secure Boot, or CPU requirements that prove to be the hurdle in installing Windows 11 for many users.
How is Tiny11 Different from Windows 11?
NTDev was able to make Windows 11 so tiny by taking out a lot of functionality. You'll find that Tiny11 does not have many apps, which the developer calls bloatware, like Microsoft Teams, Microsoft Edge, sponsored apps, etc. You can easily download the browser you want to use from the Microsoft Store or Winget though. Or you can download the browser of your choice on another computer and transfer it to your Tiny11 computer using a flash drive.
It does have accessibility features such as Narrator or Magnifier or apps like Notepad, Paint, and Calculator. You will also have access to the Microsoft Store so you can use it to download the apps that you want, like Xbox games. The developer has also left most of the security features, like Microsoft Defender Antivirus, Core isolation, and Data encryption intact.
Tiny11 also uses a local account by default whereas the standard installation of Windows 11 requires a Microsoft account. Of course, there's the option to log in to your Microsoft account, but with Tiny 11, it's a choice.
NTDev has added the Windows Store Component back in the latest update, though. So, you can install new features, languages, and optional features on your system. It should also make it easier to install Windows updates on Tiny11. You can also easily install drivers, .NET, and other security updates from Windows Update.
But you should remember that it is not a serviceable update. As such, it won't receive direct patches or updates from Microsoft.
Should You Install Tiny11?
With an unofficial installation like Tiny11, you should carefully consider whether you need to install it. If your system can support Windows 11 officially, even Tiny11's developer would advise you to steer clear of it.
Of course, the advice isn't because of a lack of safety, but a lack of features. As mentioned above, Tiny11 is a stripped-down version of Windows 11 and does not offer many features and apps you would otherwise find in the standard installation of the Operating System.
The main purpose of Tiny11 is to provide Windows 11 for older systems that cannot otherwise install it. But do not expect any miraculous performance from the build; you will occasionally even run into errors when using it.
As to the question of the safety of Tiny11, we would say it should be safe to install it, given the long reputation of the creator in the community and the stellar reviews the software has from current users. But you should remember that it is not an official build and there could always be risks associated. Do not install it on your main machine without due diligence.
Tiny11 is definitely a better alternative for users who want to install it on their Virtual Machine. Many users find it faster than the standard Windows 11 for running in a virtual environment, given its small size and the lack of "bloatware".
How to Install Tiny11: A Step-by-Step Guide
You can either upgrade from Windows 10 to Tiny11 or perform a clean installation. We'd recommend performing a clean installation as many users faced errors while trying to upgrade from Windows 10. But you can absolutely try upgrading first, and if you run into an error, then turn to clean installation. You'll also require an activation code for Windows 11, just like the normal Windows. You can use a standard Windows 10/11 Pro key to activate it.
To install Tiny11, you'll need to download the ISO image, create a bootable media and install Windows 11 using the bootable media you created before.
Step 1. Download the Tiny11 ISO file
To download the ISO image, go to this link on Internet Archive. This is the official link from NTDev; there are also many modified versions of Tiny11 running amok on the internet and they might not all be safe so we recommend using the link above.
You'll need to log in to Internet Archive to download the software; you can sign up for free on the website if you don't have an account. Click the 'Log in to view this item' button to log in.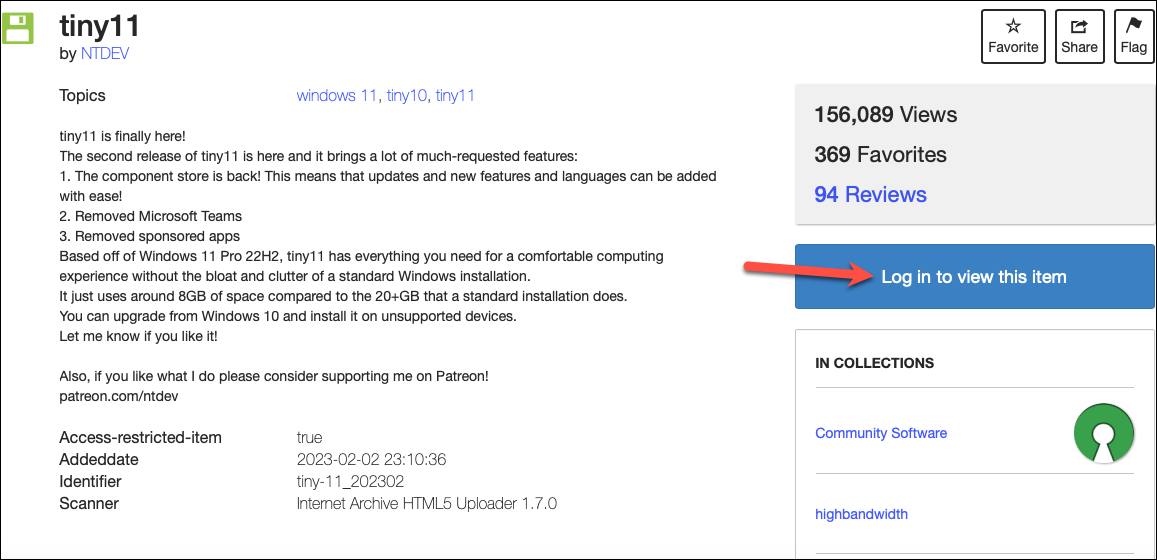 Then, enter your credentials and log in. If you don't have an account, click the 'Sign up for free' link. You can then use your Google account for a fast sign-up or enter the required details to create your account.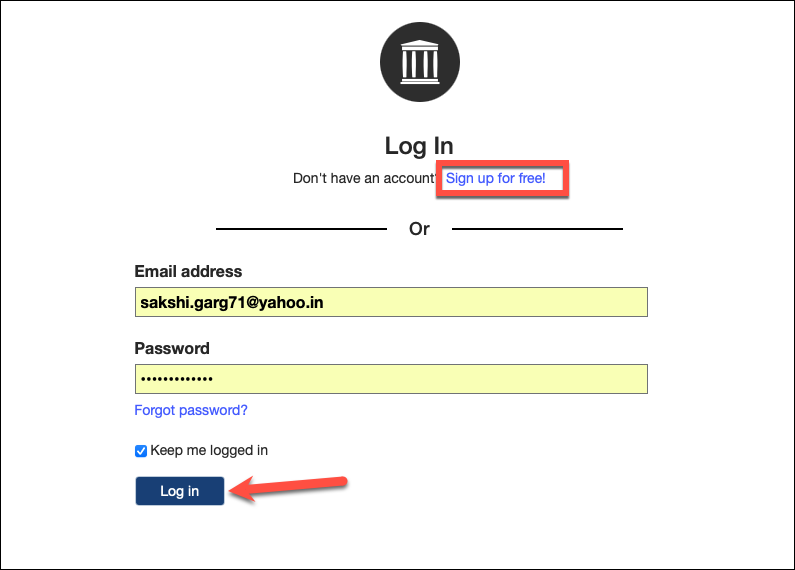 Once you're logged in, click the downward arrow next to the 'ISO Image' option.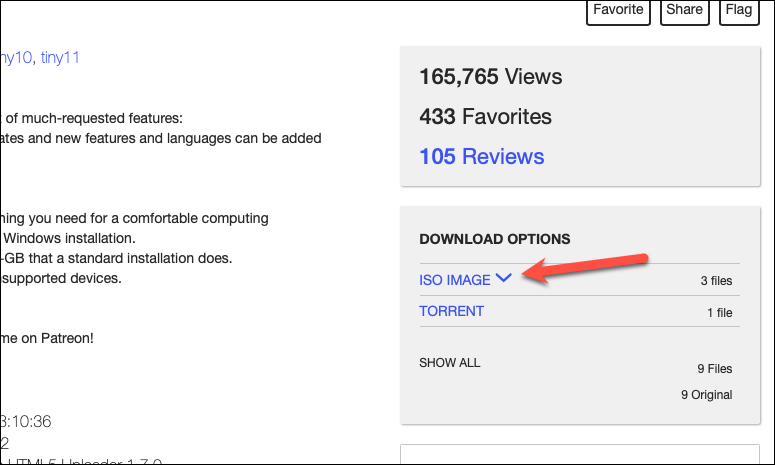 Then, download the tiny11 b2(nosysreq).iso file. This is the latest file at the time of this writing that does not require the TPM/ Secure Boot requirement. If you're installing it on a system that meets the TPM/ other system requirements, you can download the tiny11 b2.iso file. They're both around 3.6 GB.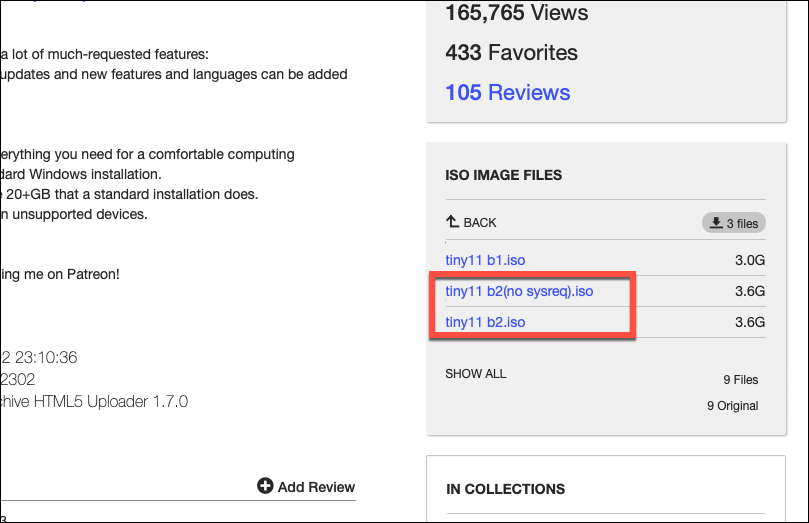 The download will take some time, around a few hours, even with a fast internet connection because of Internet Archive's bandwidth-limiting scheme. You can also go the torrenting route for a faster download if there are enough seeders and peers.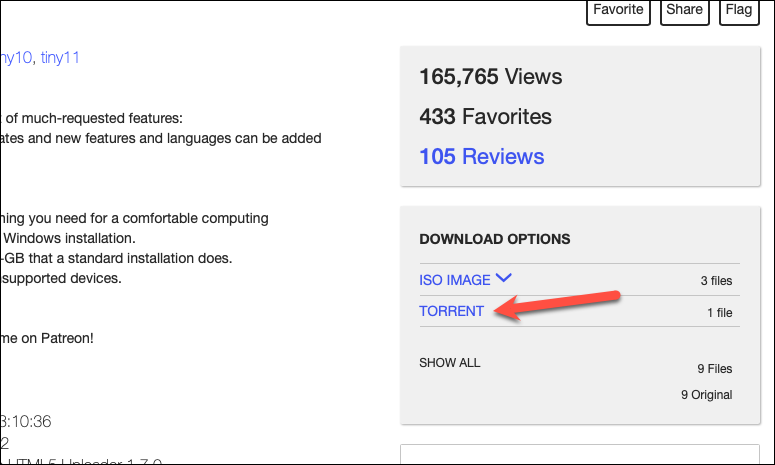 Step 2. Create a Bootable Drive
Once the file downloads, you'll need to create a bootable flash drive (or CD) for the ISO file. You can use the freeware Rufus to create the bootable drive if you're creating a flash drive. You can follow the steps in our guide to create a bootable media; although the steps are for Windows 11, they'll work the same for Tiny11.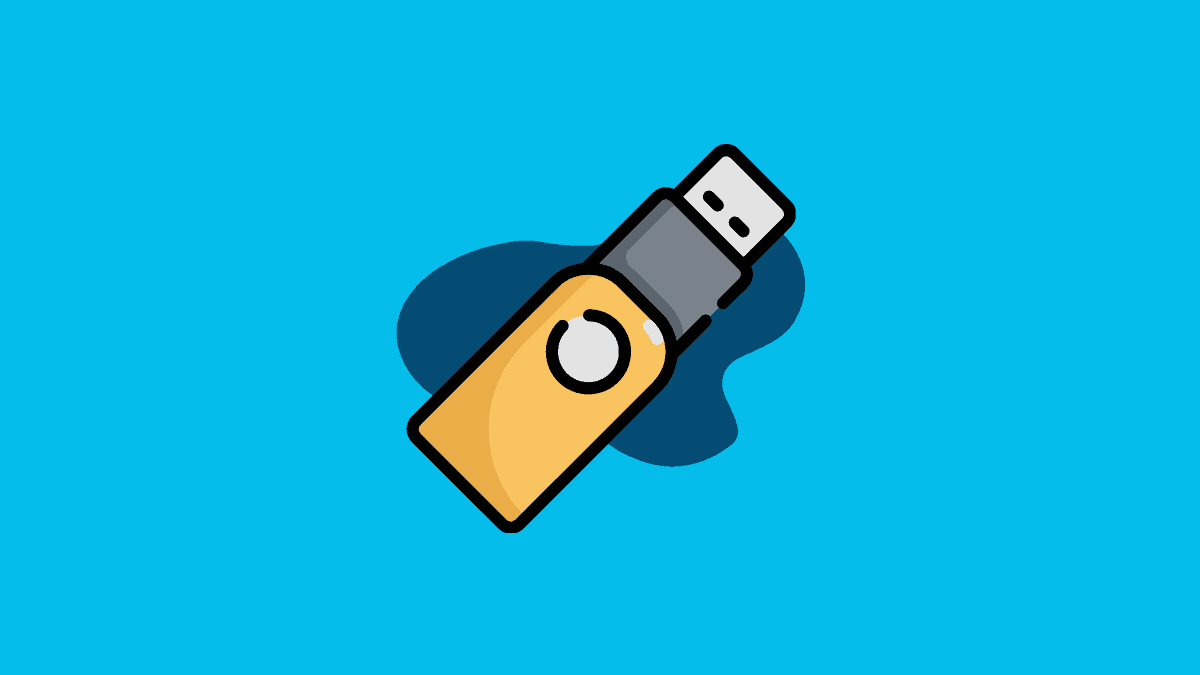 If you want to create a virtual machine, you can directly mount the ISO file once it downloads to the VM. While trying to install it on a VM, make sure that you have at least 2 CPU cores allocated to the VM. Tiny11 cannot bypass the requirement for the number of CPU cores required to install Windows 11.
Step 3. Change the Boot Order of your Computer
To install Tiny11 using the bootable media, you'll first need to make sure that your computer can boot from the media your created. That involves changing the boot order in the BIOS or UEFI settings.
Entering the BIOS settings and the interface of the settings themselves will vary from manufacturer to manufacturer. Typically, you enter BIOS by restarting your PC and pressing the BIOS setup key, like DEL, ESC, F1, F2, etc. for your PC. You can check the exact key required for your PC from your manufacturer's website. You can also enter BIOS using the Settings app; instructions can be found here for Windows 10 and here for Windows 11.
Turn off your PC, plug in the USB Drive, and enter the BIOS settings. On our computer, we pressed ESC to enter the BIOS settings on startup.
Once you're in the BIOS settings, access the Boot options menu. On the test PC, the boot options menu could be accessed using the F9 key. But again, the interface and the key required will differ from manufacturer to manufacturer.
Next, change the boot order to your connected USB drive (or CD if you created that). Use the arrow keys to navigate between choices and press Enter to select the option.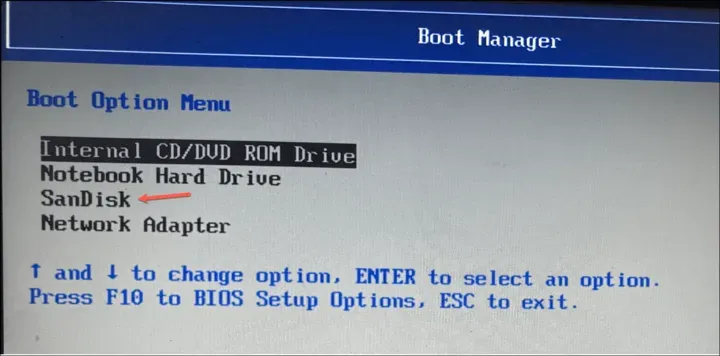 Once you press Enter, the system might take some time to get things ready. Wait patiently while that happens, and do not turn off the computer.
Step 4. Install Tiny11 (Windows 11 Lite) OS
You will finally reach the 'Windows Setup' screen. Now, all you have to do is follow the on-screen instructions to complete the installation.
Select the language, time format, and keyboard method and click 'Next'.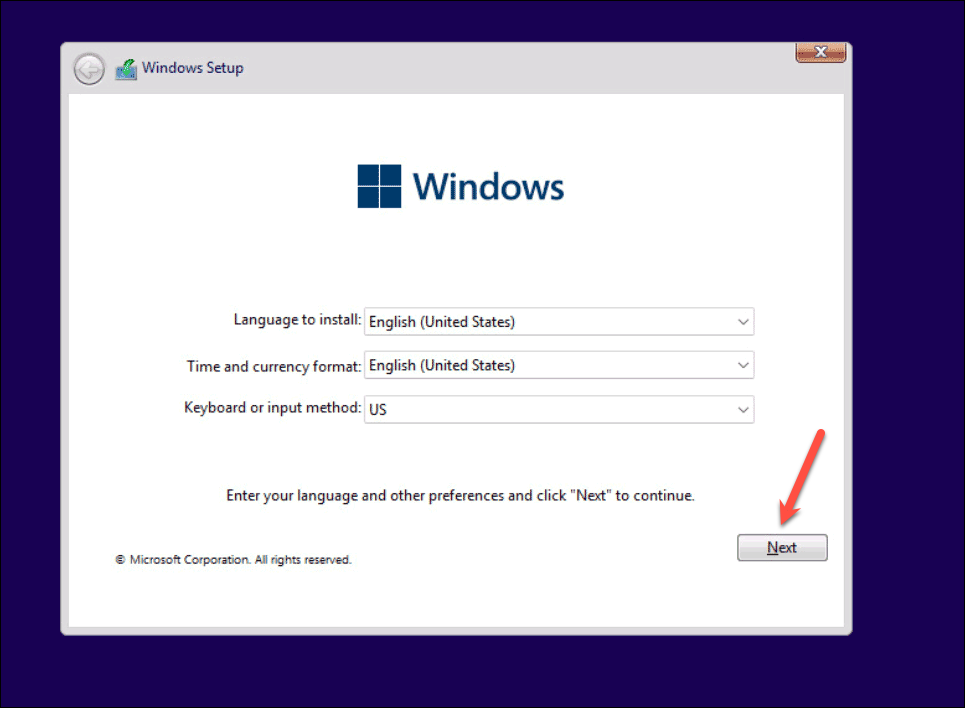 Accept Microsoft's Terms by checking the 'I accept the license terms' option and clicking 'Next'.
Select the drive where you want to install the OS and click 'Next' at the bottom.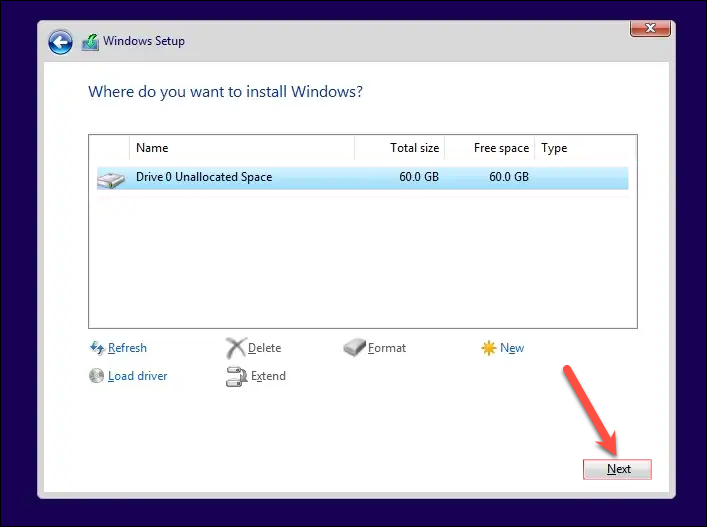 Complete the further steps such as selecting the country and the keyboard layout method.
Set up the local account by entering a name for the account and a password. You can sign in to your Microsoft account later from settings if you want to.
Complete the rest of the security instructions on the screen. Once you complete all the on-screen instructions, the installation will start. And once the installation completes, you'll be running Tiny11 OS, i.e., a lightweight Windows 11, on your computer!
---
Tiny11 is a great option for users who either want a Windows 11 Lite version for their VM or older computers that don't meet the requirements for Windows 11. But we'll iterate once again that this is not an official build, so proceed with caution. You might also encounter some errors.