These are trying times. There's no denying that. Due to the COVID-19 pandemic, everyone has to either work from home or attend online classes for schools and universities. During these grim times, videoconferencing apps like Google Meet have enabled us to stay connected and continue to be productive members of society.
But when there are so many people in an online meeting, the sound can become a problem. Many users feel the microphone should be mute when entering a meeting and stay that way throughout until the user needs to speak. Then, they should be able to unmute it while speaking and then back to mute again to avoid unnecessary disturbances and background noise.
Unfortunately, Google Meet does not offer this feature as of now. But save your disappointment. Let us introduce the 'Google Meet Enhancement Suite' extension for Chrome using which you can get the 'Push to Talk' feature in Google Meet.
With 'Push to Talk', you can enter the meeting with your microphone off. Then, at any point during the meeting, you can push a button (and keep pushing it) to 'unmute' and speak, then release the button to return to the 'mute' position – just like a walkie talkie. It keeps the communications clear and free of unnecessary disruptions as well as background noise.
MES is a Chrome extension, so users with Google Chrome or new Chromium-based Microsoft Edge can access it. Open the MES extension on the Chrome Web Store in your browser. Then, click on the 'Add to Chrome' button to install it to your browser.
A confirmation dialogue box will appear on your screen with the message that the extension can read and change your data on Google Meet. Click on 'Add extension' if you want to proceed.
The extension will be installed, and its icon will be on the right of your address bar.
Click on the MES icon on the title bar to open the UI for the extension. Then, from the list of options, click on the checkbox for 'Push to Talk' to turn it on.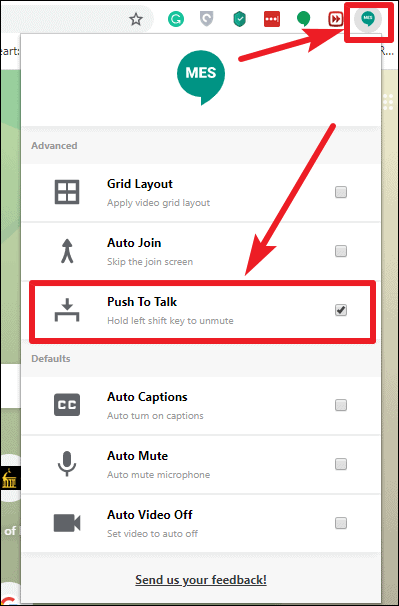 Now, as long as the option for Push to Talk is on, your microphone will be off by default in Google Meet.
Press and hold the 'Shift' button in a meeting to unmute your microphone while you speak. When you release it, you will go back to mute automatically.
If you do not long-press the Shift key but instead just press it once, it will work like the unmute-mute key, just like the default 'Ctrl+D' shortcut key in Google Meet. That is, pressing it will unmute you and you will stay unmute until you press the 'Shift' key again.
---
Google Meet has made online meetings easier. We can hold meetings with as many people as we like. But there's one fact no one can deny, it still lacks some essential features that users want, like Push to Talk. But thankfully, there's a solution for just about everything in the modern world. The 'Google Meet Enhancement Suite' is the fix to this problem. Adding this extension to your browser will give you the 'Push to Talk' feature in Google Meet meetings. The extension can also be useful for other needs, like Grid View in Google Meet video meetings, Auto Join, and much more.