The pandemic has forced us all to stay home and work, attend classes, and even socialize right from the confines of the walls we call our homes. Video conferencing apps like Google Meet have been our saviors in these unprecedented times. The app lets us connect virtually with our peers, family, and friends.
But things can get boring quite easily in the virtual setup. If you're looking for something that will bring some cheer and fun to your daily Google Meet meetings, no matter how small it might be, you've stumbled into the right place. Google Meet Party button is a Chrome extension that adds a 'Party' button to your meetings. So it quite literally brings cheer and merriment to your meetings with something as small as just a single button.
Installing the Google Meet Party Button Chrome Extension
To get the Google Meet Party button, you need to download the Chrome extension. Open the Chrome web store on your browser and search for 'Google Meet Party Button'. Or, you could also click here to dart there in a flash.
Click on the 'Add to Chrome' button to install the extension.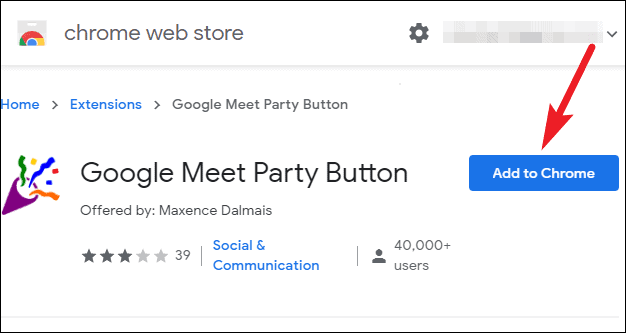 A confirmation dialog box will appear asking if you want to add the extension. Click on the 'Add extension' button to complete the installation.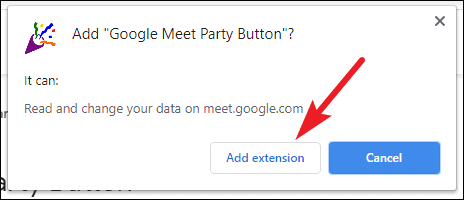 The extension icon will appear on your address bar along with the other extensions, ready to be used in Google Meet meetings.
---
Using the Google Meet Party Button
Now, go to meet.google.com and join or start the meeting you want to attend. You'll find two 'Party Popper' icons towards the upper left corner of your meeting screen that weren't there before.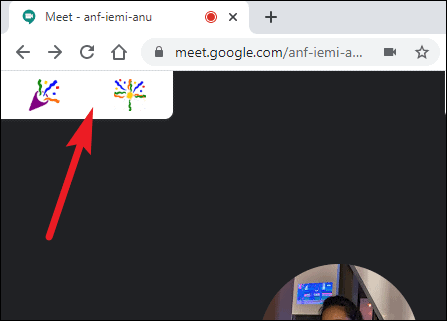 The first button creates a simple explosion of confetti in the middle of your screen. The second one creates a more extensive explosion that covers the entire screen and even goes on for a longer time.
The first is free, and everyone in the meeting who has the extension installed will be able to see it.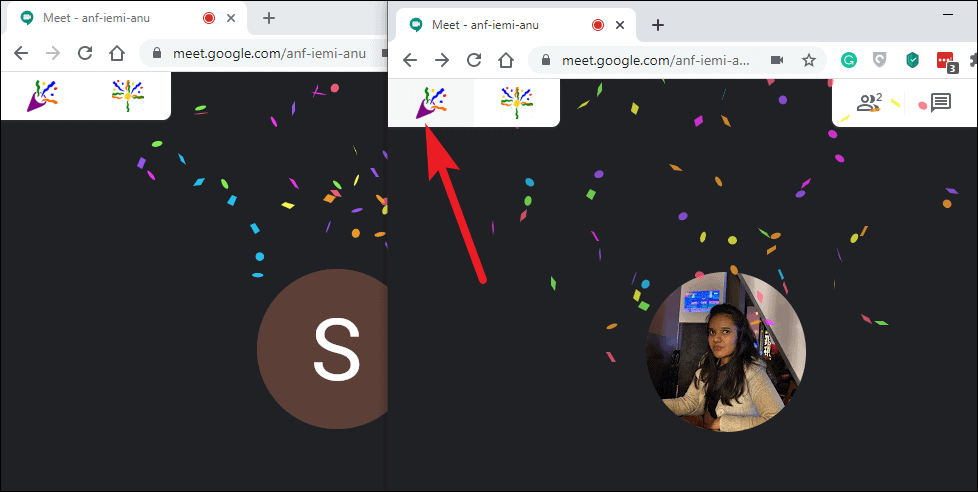 Note: Only the participants who have the Google Meet Party Button extension installed will be able to see the party popper effect on their screen.
The second is a Pro feature that requires you to buy a license for the extension. Everyone in the meeting with the extension installed will be able to see the 15-second lengthy firework effect on their screen. So, basically, the other participants don't need a Pro account to see it.
If you click the second button with a free account, fireworks will go off on your screen, but no one else in the meeting can see it.
---
Just one button can add fun to your meetings. You can express your happiness and enthusiasm at anything in the meeting with just a single click, without even interrupting the active speaker. It's sure to bring a smile to everyone's face in the meeting when you use it.