Google Meet is the teleconferencing app where G Suite users can hold meetings with organization members as well as outside guests. You can exchange all the important information seamlessly in a meeting with colleagues no matter where you all are working from, or if you are a teacher, you can effortlessly conduct online classes using Google Meet.
But there's another tool in the arsenal for Google Meet users that can be really helpful. You can record the meetings on Google Meet. Recording a meeting can come in handy in a lot of instances, like if people can't attend the meeting but you want them to be able to have access to all the happenings. You can also record lectures, training material, or presentations to share with people at any time instead of having to repeat them.
Who can Record a Google Meet?
As long as the G Suite admin for your organization has enabled recording for Google Meet, any member of the organization can record a meeting. That means, if you are an outside guest in some other organization's meeting, you cannot record whether or not the organization has meeting recording enabled.
When you record a video meeting, all participants in the meeting are notified about it.
Note: Google Meet recording is available only for G Suite Enterprise and G Suite Enterprise for Education subscribers.
---
Where is a Google Meet Recording Saved?
You can record a meeting if you are the meeting organizer, or from the same organization as the organizer. But no matter who starts the recording, the recordings are always saved in the organizer's Meet Recording Folder in Google Drive.
Both the meeting organizer as well as the person who started the recording will receive the recording link via an email. For a scheduled meeting, the recording link is also added to the Calendar event. You can then share the link with anyone.
---
How to Record a Google Meeting
Go to meet.google.com and start or join a meeting. In the meeting screen, click on the 'More options' icon (three vertical dots) at the bottom of the screen.
Then, select the 'Record Meeting' option from the context menu.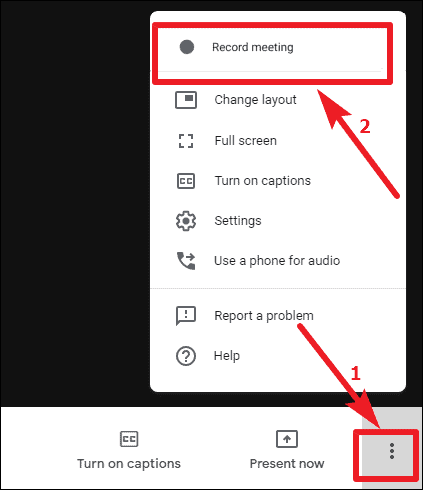 A message box will appear telling you that you should not record a meeting without the consent of other participants. Click on 'Accept' if you have consent from everyone involved, or ask for their consent and then proceed.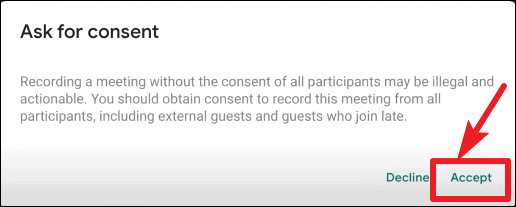 The recording will start in a couple of seconds and all participants of the meeting, organization members and guests alike, will be notified about it.
Note: You can only record a meeting on Google Meet if you are using it from the computer. Mobile app users do not have recording capabilities yet.
When you are done recording the meeting, click again on the 'More options' icon and select 'Stop Recording' from the options on the menu.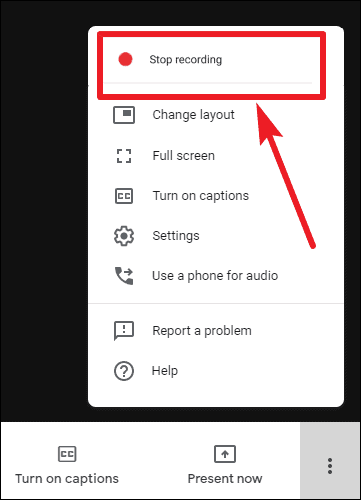 A confirmation dialog box will appear. Click on 'Stop recording' to confirm.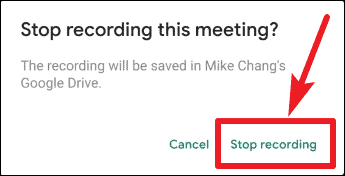 The meeting participants will be notified again when the recording stops.
---
G Suite users can easily record meetings on Google Meet if their organization allows it. Recorded meetings are stored in the meeting organizer's Google Drive.
Google Meet recording is available only for G Suite Enterprise and G Suite Enterprise for Education subscribers.